10 Time Tracking Software for Teams
September 28, 2023
by Kat Ciesielska
No comments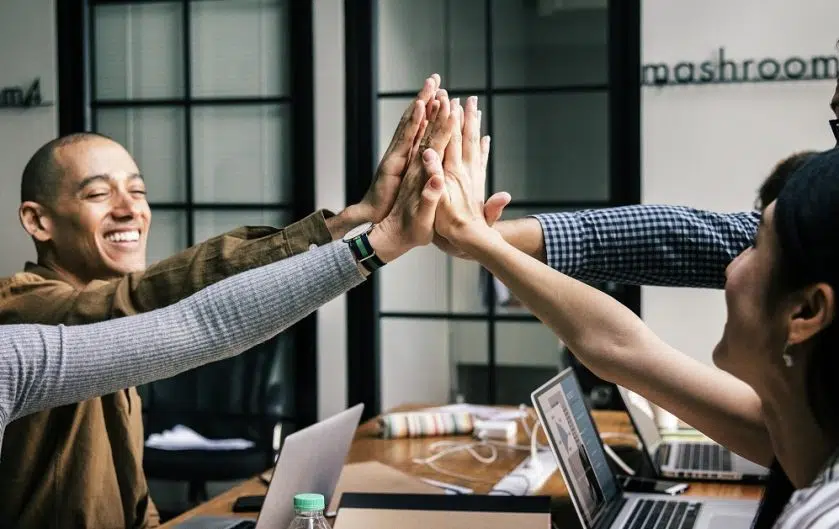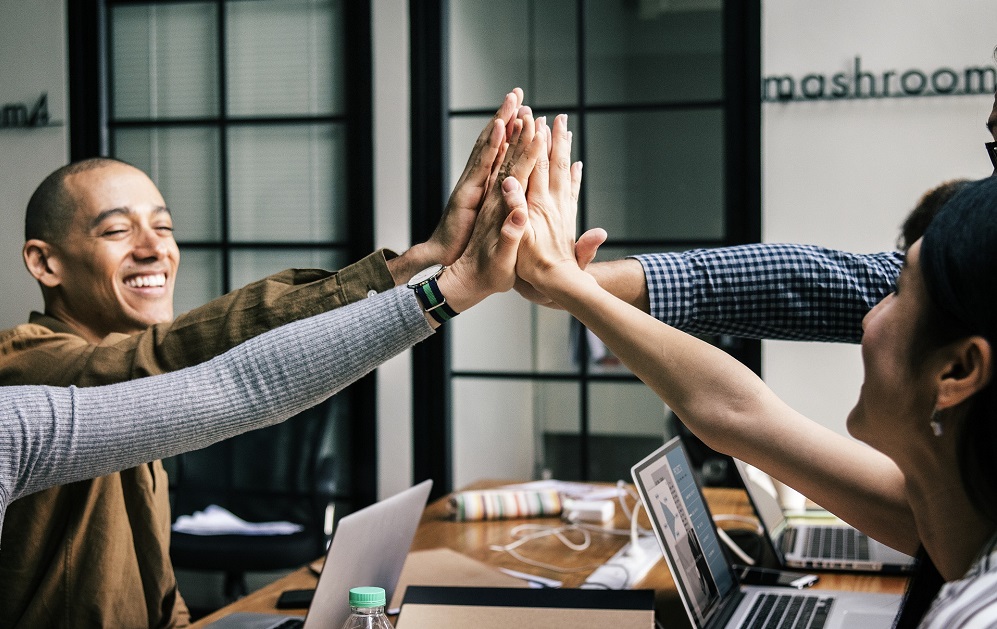 There is no great company without a great team. However, even the best team on the Earth won't bring you success if it's unorganized. Team time tracking app is a great solution for every manager. Especially when you're working remotely or you pay attention to the budget. 
It will give you the possibility to see how your team members spend their time during your business hours, but that's not about controlling or validating privacy. 
Time tracking app will help you to motivate your team, estimate the budget for future projects, check the profitability of your actions, and decide when comes the moment to hire new employees. 
One tool can help you save time and money, boost your team's productivity, and get results faster. This is what your business needs if you're planning to grow it. 
Benefits of time tracking for teams
If you're still not convinced that team time tracking software is something you should implement in your business, let's take a look at the benefits of using it. Whether you decide to youse just basic time tracking features, or look for a comprehensive, automatic time tracking app, read my post and find out how it can improve your business' growth.
TimeCamp and similar apps weren't created without a reason. And now they are so popular because they really make people's lives easier. 
I've asked some of our customers what they love the most about time tracking, and I added some of my own observations. Probably it's still not everything you can take from a time tracking app, so feel free to add your ideas in the comments. 
Some possible benefits are: 
1. Flawless project management: because it's so much easier to control any project if you, as a project manager, can see how much time employees spend on assigned tasks. When you're tracking the time of every member, you can estimate how much do they need to finish the project, and if there's a need… help them. There will be no more stressing out about the deadline. The best thing about this is, that with every new project, you and your team will be better at estimating the time and controlling it during the process. With all the analytics, you can export from the time tracking app, you will not just learn how to manage the time but also boost the productivity of the whole team. And that's the second benefit. 
2. Possibility of boosting productivity in many ways: Just take a look at which tasks take more time for some of your team members. Maybe someone is better in one specific area? What takes someone 3 hours may take just 1,5 to someone else. Without the time tracking app you would never be able to notice this. But now you can! Gather them on Microsoft Teams meeting, Google Meets, or Zoom and let them learn from each other! You will see the difference during the next project. 
But that's just the beginning. Do you think that your team likes contests? Let's be honest, who doesn't? Use your time tracking app to arrange some competitions. How about finishing a similar task in the shortest time possible (while keeping high standards of course)? Let your team see each other's dashboards in TimeCamp and watch them race! The satisfaction of being number one is great, but you can always add some special prize. Maybe a cinema ticket? SPA? Boardgame? Extra off day? Some outstanding lunch? You know them best. 
3. Getting control of profitability: Stop making agreements that are bad for your company! Time tracker is a wonderful tool that helps you realize how much time do you need for each project or task. That means that you can finally see how profitable are all the projects you start with team project time tracking. 
Seeing in your own eyes how much effort your team needs to close some deal or finish something for the customer will give you the power you couldn't get before. Now you can consciously decide if the effort is worth it. Choose customers and projects that will be best for your company. Sometimes what seems effortless consumes too much of your people's time. Sometimes the hard is managed faster than you could expect. 
Use the time tracking app to decide what you want to do and choose the best projects for your business. 
4. Better Human Resources management: when you track employee hours, you know how much time does your team needs for every project and can plan their work more accurately. You can also understand if there's a real need to hire someone new. No more guessing if this is the right moment for an extra specialist. 
But that's not everything. Hiring people is one thing, but getting the best from your current team is even more important. When you track time, you can help your employees to get extra motivation, notice their strengths and weaknesses, help them in better time management and achieving their goals. 
👉 Check also our list of top goal trackers
You can also create better job descriptions, and explain to your future employees how much time will they spend on each activity. That will help them to decide if your organization is the right place for them. And it can save both sides a lot of time and money. 
5. More detailed and relevant reports: no matter if you're the one who needs to prepare reports for the management, or you're a Chef yourself. You need relevant information. Thanks to the right time tracker, your analyses will be on top. 
Choose from many pre-build report types or create your own templates. Then watch how your job is getting done faster. Some apps, like TimeCamp, will even let you invite someone (customer or other members of the board). This allows you to show everyone interested how projects are going. 
6. More savings and profits for your organization: everybody knows that time is money. That is why time tracker is a perfect tool to make savings and simply earn more. 
When you control your workforce, master project management, and see what's profitable for you and what's not, you're in charge. You can make profits even in the areas you wouldn't expect. Nothing can surprise you, so the business grows fast and stable.
Use your tracking time software-wise, and everyone will be happy: your employees, customers, and you (and your boss if you're not the one).
Check 10 time tracking software for teams I honestly recommend:
TimeCamp – 100% free time tracker app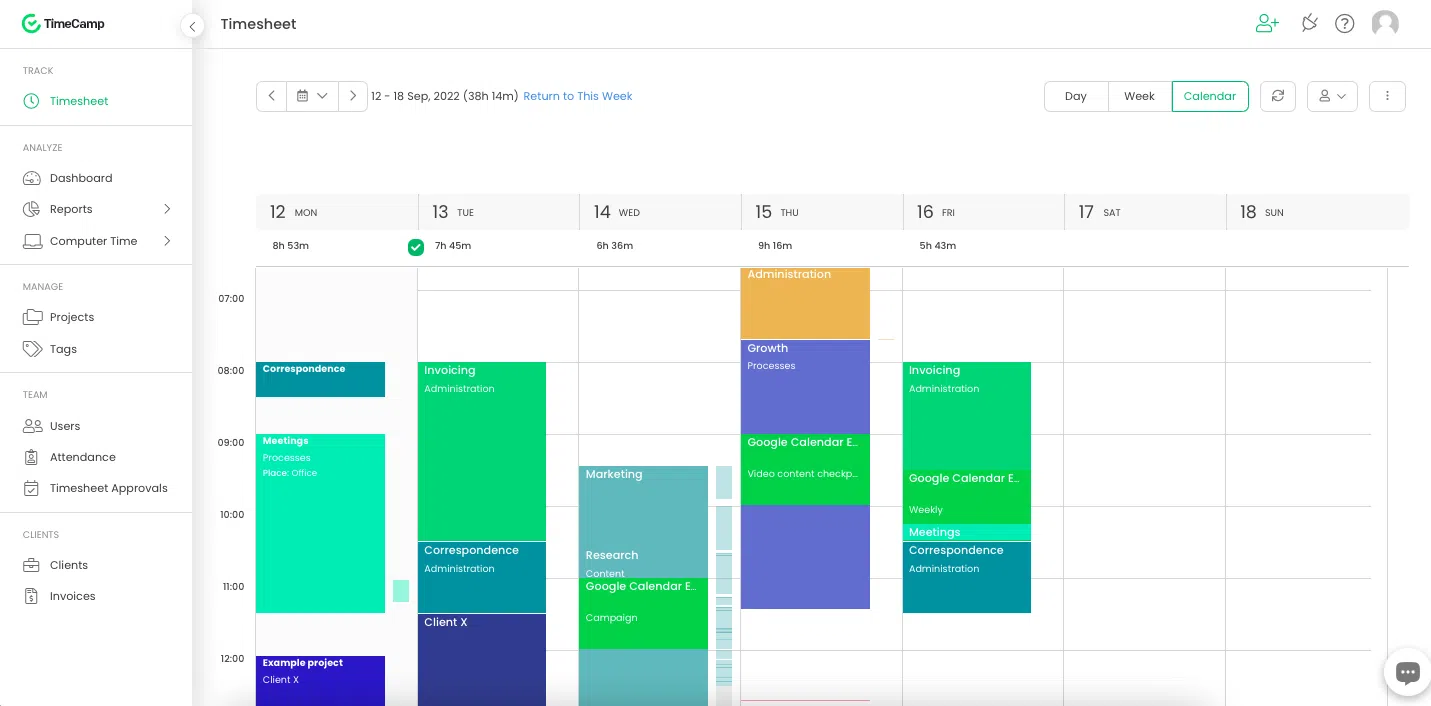 If you're looking for a complex, but easy to use at the same time, time tracking app for teams, here we are. TimeCamp is the best time tracking software made for freelancers and for teams. With few ways to track time – including the fully automated option or an intuitive timesheet to log time manually – your team members won't have any trouble using it. This one I can promise because I use it every day by myself. Besides, TimeCamp integrates with numerous project management tools and other apps (including personal calendars like Google Calendar), so you can track time conveniently within the app you use or import the entire project structure to TimeCamp.
👉 Check Time Tracking Software for Freelancers
Fast and intuitive timesheet management will save you time and streamline team's productivity tracking. Generate reports for attendance – they will help you even more, especially if not everyone in your team works full-time. Simple clock-in-clock-out and payroll automation will change your life. If you get some help from freelancers, our time tracking solution will help them with invoicing based on time entries. And you will be sure that you pay for the time they really spent on your project.
You can track your team's productivity, but also the project profitability. Features like billable hours will help you estimate future projects and control your budget for billing clients more accurately. Detailed reporting based on timesheet data you will receive is easy to understand, but it has all the data you need. Project management has never been so effortless.
In the completely free plan, you get access to the platform for unlimited users and unlimited projects projects, geofencing, time clock kiosk, bulk edit, and more. If you want to make more from the tool, there are also 3 plans, including the full customized one. And if you choose to be billed annually, you'll get a favorable discount. The mobile app and automatic time tracker app for desktop are also worth trying!  
Harvest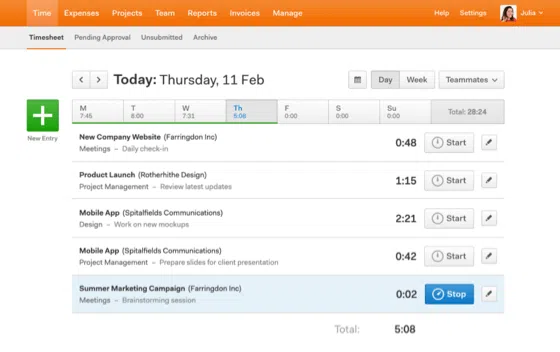 Over 50+ companies already found time tracking very helpful thanks to this app. A nice and user friendly interface encourages people to use it every day to log work hours, and it offers detailed reports. 
Your team can write down everything they did in a timesheet, but that's not the only way. You can also integrate the software with other tools you use in your organization to run time tracking automatically. There is also a possibility to turn the time tracker on and off manually. You can easily create invoices from your time entries to bill clients.
Integrations with Zapier, IFTTT, and Integry help to improve project management flow and eliminate duplicating tasks and save the time of your team. 
Harvest also lets you check your team's capacity based on attendance data, so you can plan every project carefully and decide if there's a need for extra people or not.
The free plan allows you to have one sit and two projects but can also try the time tracker app for 30 days and then decide if you want to purchase it or no. Unlimited users and unlimited projects are available in paid plans.
Time Analytics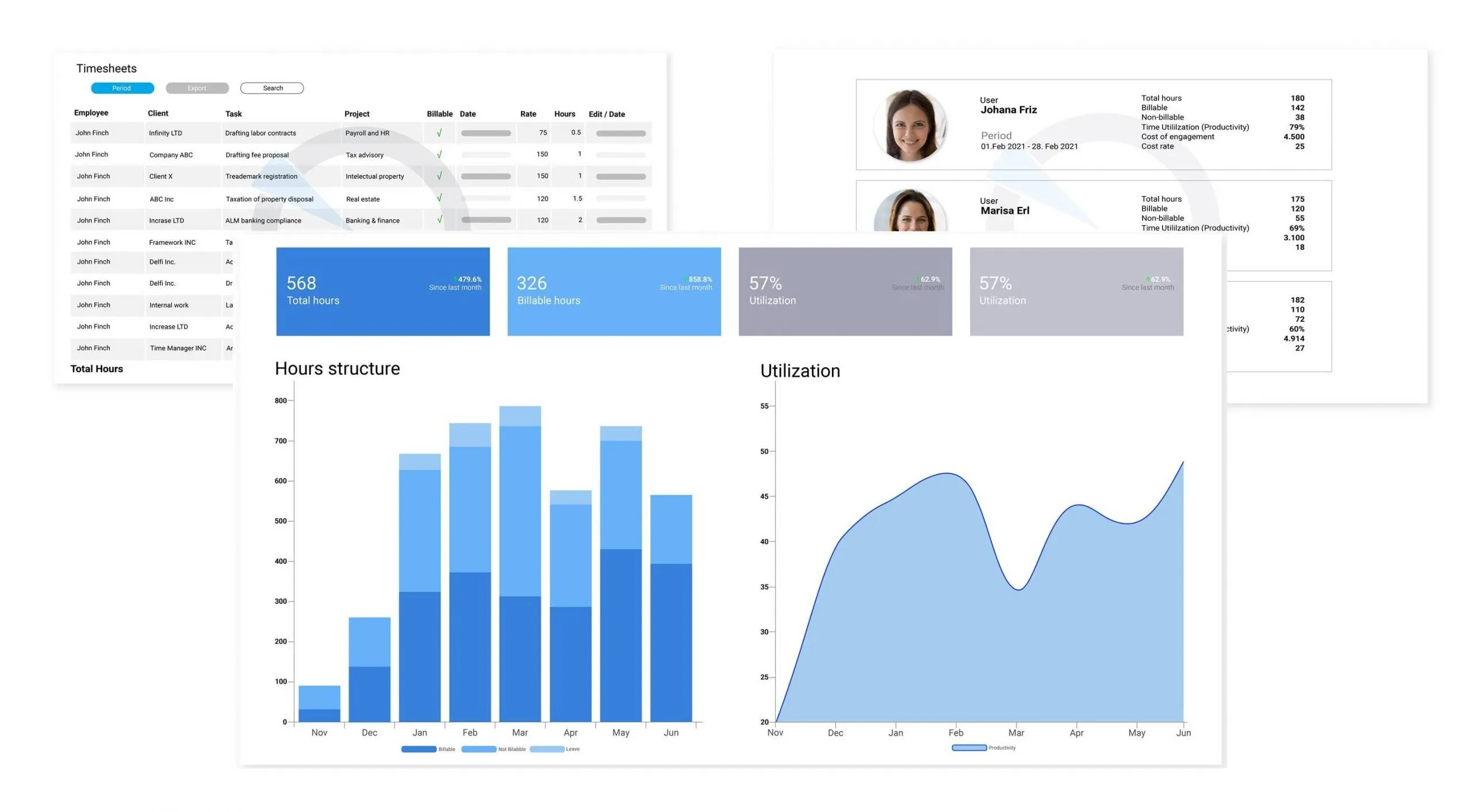 Time Analytics is a web app time tracking solution that allows employees a great degree of freedom. However, its results are tangible, as it also provides a high level of accuracy. 
This timesheet-based solution offers manual and automatic time tracking. The tracking process is very simple, and the interface is extremely intuitive. That is to say, using the platform will allow any employee to submit their timesheets in a few minutes. 
Time Analytics has an integrated PTO request feature. The managers can review and approve requests directly through the platform. Assigning tasks is also an integral part of the software. Both of these functions guarantee a high level of transparency and accountability.
The software also provides a plethora of reports that can help the management make the right decisions. The reports are visual and clearly show the best and worst-performing clients, projects, as well as employees.
Time Analytics offers a 14-day free trial with full functionality as well.
ProProfs Project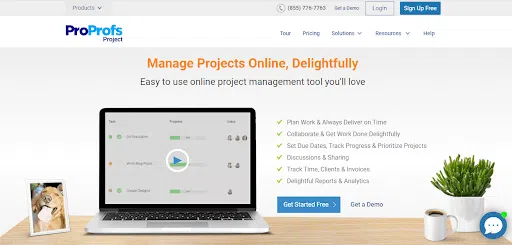 ProProfs Project is a feature-packed time tracking tool. Its simple and intuitive interface lets you track accurate billable hours for each team member effortlessly. Thus, you can track employee productivity right from the tool's dashboard.
This time tracking platform has everything you need to track and analyze employee performance at a glance.  This way, you know which team member is working on which task at any given time. The tool offers solid automation capabilities, easing overall project management while helping extract client invoices instantly.
The best thing about this tool is that it allows you to view how the projects are progressing with interactive Gantt charts, Kanban board, and more. These views display each task's status, where your resources are allocated, and by when a project is expected to be completed with just one click.
Key features of ProProfs include:
Real-time alerts and notifications
Advanced reports and analytics
Automatic invoice generation
Multiple project views i.e., Gantt chart, Kanban board, and more
Task comments, instant messaging, and file sharing
You can go ahead with their 15-day free trial version and see if it suits your project and team needs.
Toggl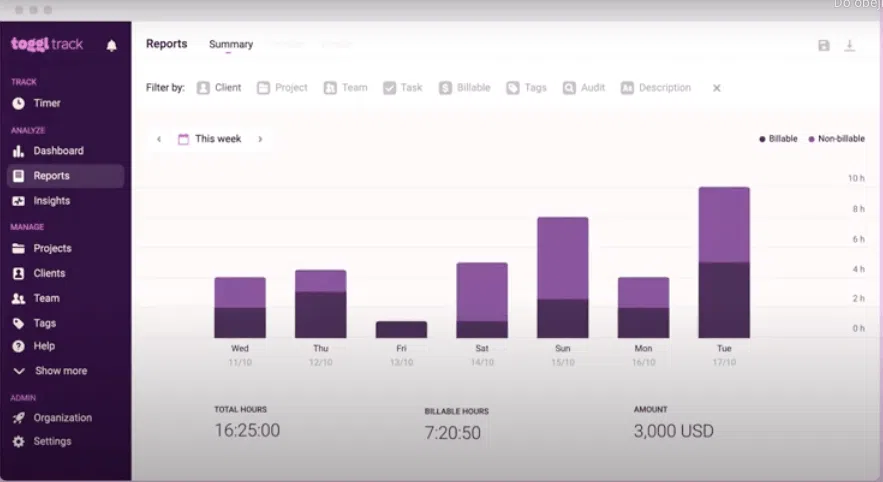 Toggl offers actually more than just one solution for management. When you visit their site, you will find three apps: Toggl Track, Toggl Plan and Toggl Hire. The last one is really interesting for HR teams, so you might take a look as well. 
However, today we are focusing just on Toggl Track – a time tracker. This is one of the apps that freelancers really like, and you might have heard of it from them already. But solo-version is not the only way to use it. Your team will love how friendly this software is and how many useful features it has.  
The software offers you easy-to-understand time reporting, background tracking, calendar integration, and more. You can track time on your phone using a mobile app for Android and iOS.
What I like about this software is that it helps those of us who tend to forget about stuff: like setting on the timer at the beginning of a day. Track time without the need to remember more things! You can try it for free for 30 days or arrange a call with their sales team. They will prepare a valuation for you. 
RescueTime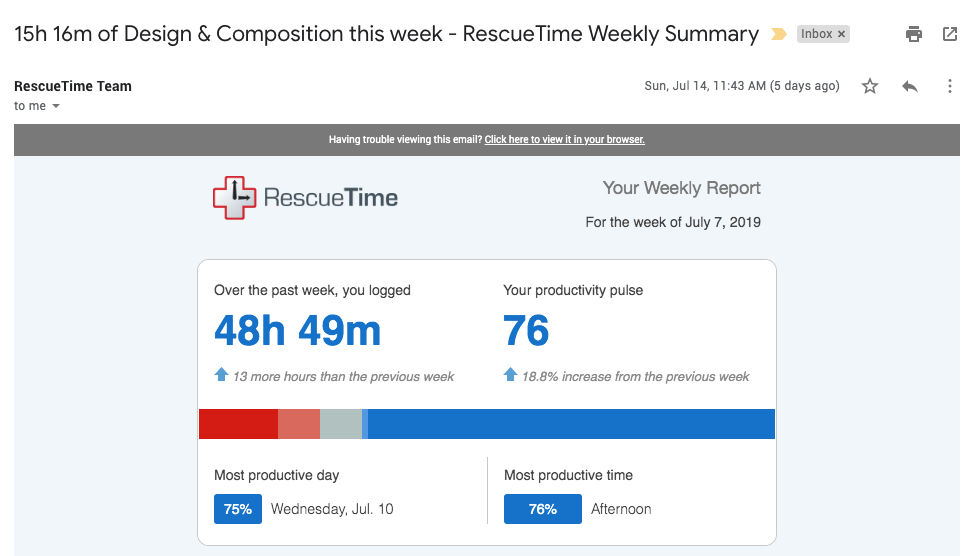 This simple time tracking app may not be so popular, but it's definitely worth trying to measure time spent on tasks. It also offers detailed reports and interesting integrations with project management tools, but that's not all of it. 
If your team has many meetings and calls, you will love the one-click off-time option. This feature doesn't mean that you're not doing your job, and you're taking a break. It is counted as work, simply tagged as offline activity. 
It is a perfect time tracking app for a sales team as your team members spend a lot of their time on their phones. Time spent on important conversations will be finally included. It offers a mobile pp.
You can try this software for 14 days for free and check by yourself. 
Hubstaff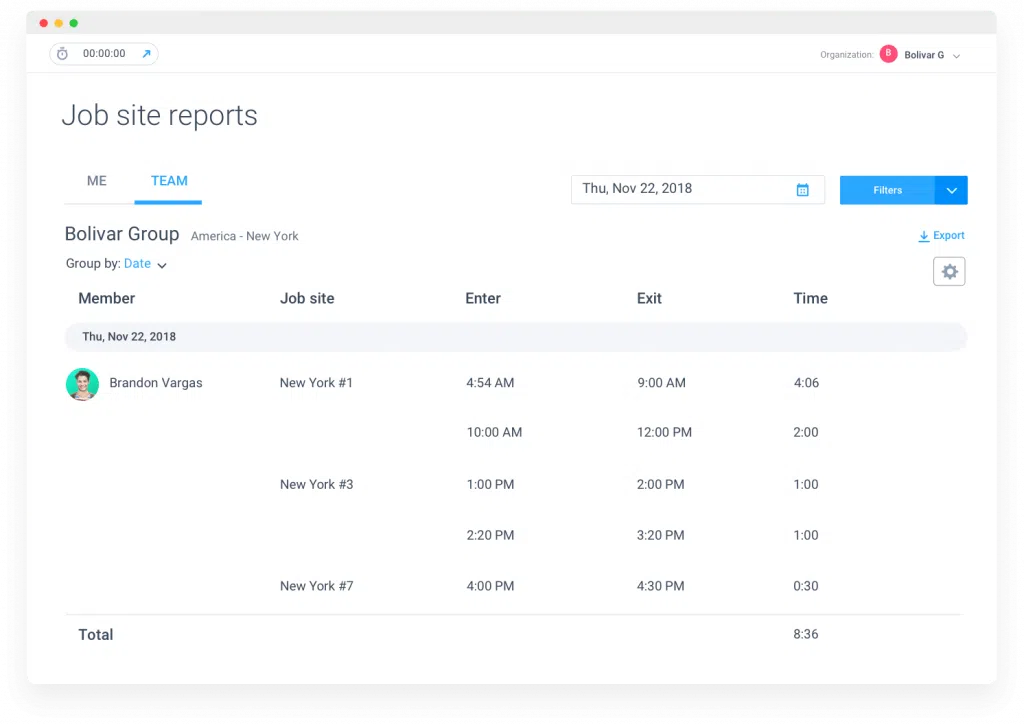 This time tracking software is also a really great choice for sales teams. Especially if yours is not working from the office. Before you couldn't know much about their time spent on their way. 
Thanks to its GPS real time tracking option, it will help you to track your salesmen's meetings. With the possibility of checking exactly how much time do they spend in each location, you will be able to plan better. Your employees will like it for sure as well, as they won't be worried about traffic and other situations out of their control you might not have believed in before. All hours will be counted now properly. 
One main dashboard for you and great analytics will make your job even easier. And faster. This is a great help to boost your productivity. 
This web app is also effortless to use and learn. The whole set-up takes just a few minutes, and you can enjoy monitoring your team's time. Use the web tracker or mobile app to help them achieve their goals!
You can test it for free for 2 weeks. 
monday.com

Monday.com is one of these pretty complex project management tools, perfect for bigger companies. It helps in planning, project management, and tracking time in your team. It offers additional features based on real-time data and integrations with best time tracking tools that help project managers accurately track the team's productivity.
Many templates and repetitive tasks will make your life easier, and integrations guarantee good coordination between your other tools and monday.com. You can also choose what view suits you best: timeline, calendar, or kanban. You decide!
What is also worth mentioning is the possibility of automating some elements of working with this with its advanced features. You can also easily start and stop the time tracker for different tasks directly from the web app. Mobile app is also available
Free plan is available. You can try monday.com for free without a credit card for 14 days. 
Check our monday.com time tracking!
BeeBole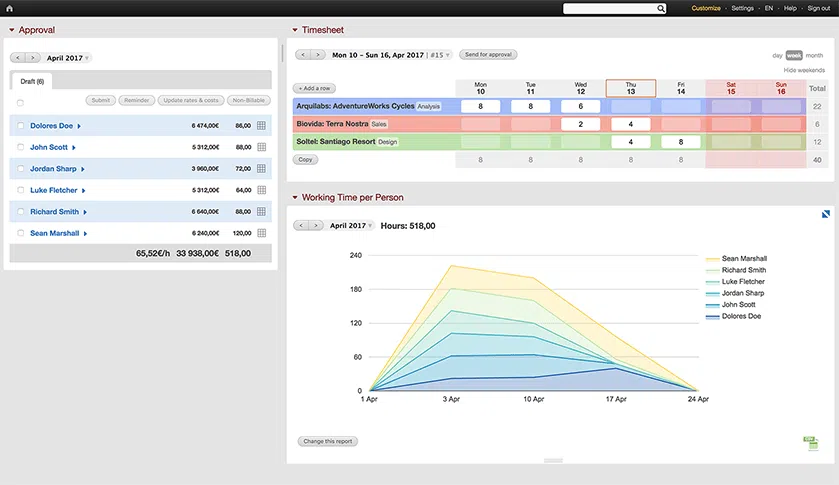 BeeBole team created the employee monitoring software because of their own experiences. They used to cooperate with many companies, and they saw back in 2008 that tracking time and managing productivity was terribly handled. Instead of boosting productivity and helping employees with finishing their projects, it just caused stress and mess. 
That is why they have developed their own time tracking software, and they keep working on it. This time tracking app lets you choose how each user should clock in (daily, weekly or monthly) which is a huge help in managing the team. Furthermore, you can integrate BeeBole with Google Suite and let your team log in via Google Credential. Your team can log not just work but also their holiday, and you can add national free days to the calendar. It's especially useful when you're estimating projects' timing. You can also track work hours on-the-go, because BeeBole supports all phones, tablets and operating systems (Android, iOS, Windows). 
They are focused on simplicity and flexibility, and they're constantly working on their time tracking app to make the user interace more user-friendly. They don't offer free time tracking apps, but a flat rate that includes unlimited projects for unlimited users. If they have achieved their goal is up to you, check their 30-days free trial. 
Timeular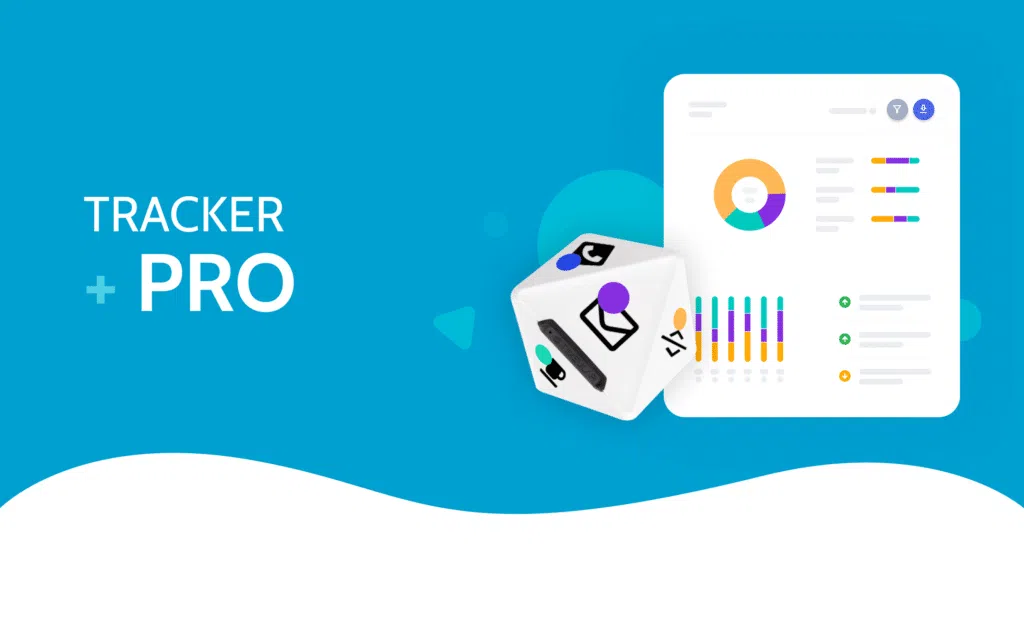 Timeluar's team members like to call themselves the world's first 8-sided tracking dice that automatically tracks activities when it's flipped. At the beginning of working with this time tracking software, your team needs to assign and customize each side of the dice. You can also create special spaces for each project or anything else you need. 
Timeular lets you track your time from any device you're using. Everything will be synchronized later on. Thanks to this, users don't need to put much effort into the app. 
The tool is effortless to use and doesn't require a lot of your time to be managed. The possibility to integrate it with over 3,000 apps gives many possibilities to make your work easier. You can control your projects in a very pleasant way. 
What's interesting, you receive a 1-year warranty and a 30-days money-back guarantee. Check it out.
Zistemo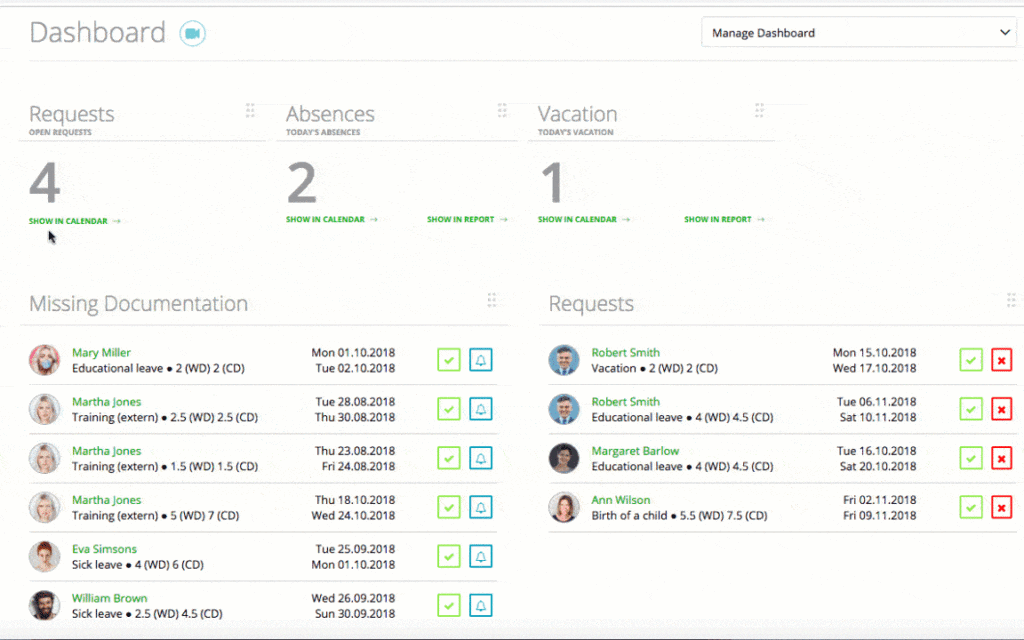 Zistemo is well-known by big companies which pay attention to attendance. You might have seen it already on some best time tracking lists. However, that's not the only thing this software has to offer. 
This time tracking app helps you with project management in a very nice way. Live notifications on mobile, powerful time reports and the possibility to customize this software to your organization are strong pros. Employees will love it, and you will gain the control you need.
At the same time, Zistemo is easy to use. You can try it for free and later decide on a monthly payment which can save you some cash. 
Actually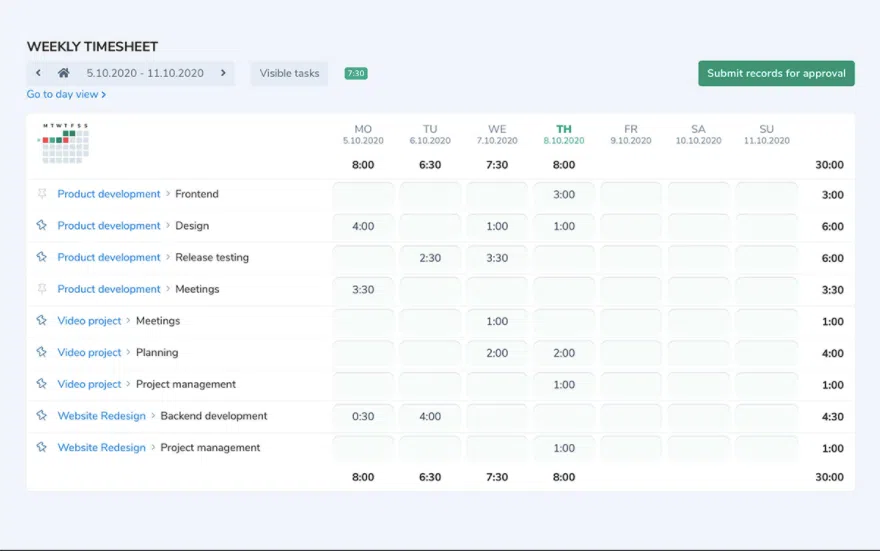 Actually is time tracking software for teams that you will really like. You can see from the first contact with the app, that it's simple and clear. Learning how to use it takes a short time, and the results will be wonderful.
Great especially for project management for teams. You can pin the most frequently used tasks, and add new ones in a second. Color coding will help you to see the progress and navigate. This is a boost for the productivity you've been looking for. But there are some other features too.  
To make your work even smoother you can compare the project's actuals with a set budget in a visual project's status. 
You can try Actually for free for 14 days. Later on, the price will depend on the number of people on your team. It starts from 4 euros per person, so it's a pretty nice deal. 
Forecast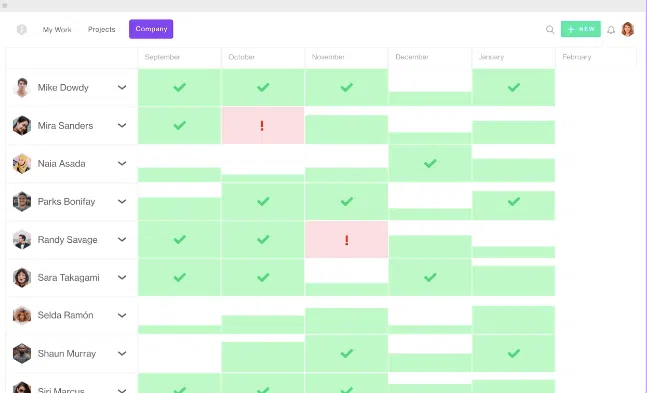 If you're a fan of AI (artificial intelligence), this time tracking software is definitely for you. Forecast uses AI to boost your productivity and save your time. It learns from the previous work and helps you to fill the timesheet faster. But that's not everything. 
The most important thing is that thanks to the learning feature, Forecast will help you in estimating new projects. There will be no more guessing or long analysis of the past projects. This time tracking tool will do this for you. Track time, trust AI, and watch how your productivity rises. 
Granular and holistic reports will be a great time management help as well. You can try Forecast for free for 14 days without entering the credit card's data or book a demo. Later you will have 3 pricing options to choose from. However, this time tracking software is really for teams: you need to have at least 10 team members. 
Apploye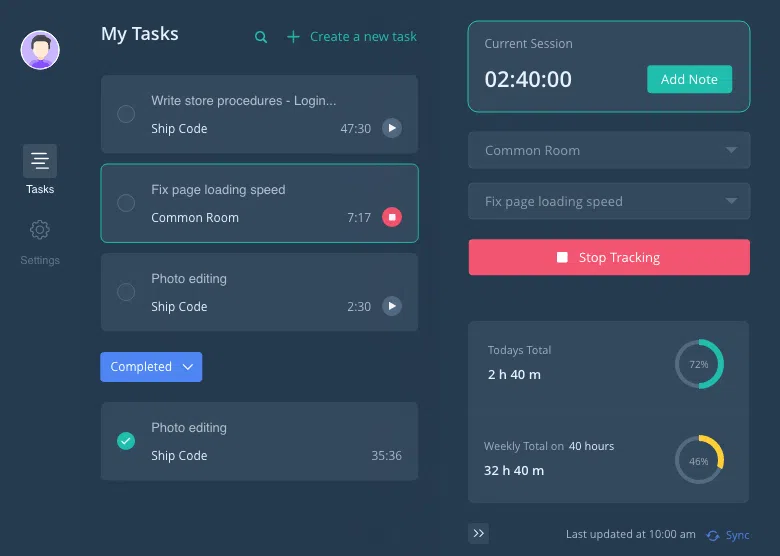 Apploye provides an intuitive platform for time tracking and employee monitoring for remote teams, in-office, and hybrid companies. It has rich desktop and mobile apps compatible with your favorite operating system. 
Freelancers, startups, small and medium business organizations, and large enterprises can use this tool. It improves personal efficiency as well as team efficiency. You can observe every ins and outs of your team and projects. 
👉 Read more about small business time tracking.
The main features you may get from Apploye are:
Automatic time tracking, manual time entry, Pomodoro timer, idle time tracking, clock-in, clock-out, and time entry notes,
Timesheets, reports, performance-based comparison, activity and productivity time reports,
Apps and website usage tracking, activity tracking, GPS location tracker, geofencing, screenshots, multiple screen tracking,
Project budgeting, billing, task management, scheduling, notifications, alerts, attendance and leave tracking,
Payroll, invoicing, client billing, members and team management, 
Pricing- Four pricing plans, starting solo is $4 per user per month. Standard costs $5 per user per month. Premium is $6 per user per month, and elite is $7 per user per month. You can get 50% discounts on a yearly subscription.
Now it's time to start using your time tracking app
This is it. You know how time tracking works and how it can help you to grow your business. I've also shown you 10 interesting softwares. Some of them (like TimeCamp) offer free plans even for unlimited users, so there is no reason why you shouldn't start time tracking from now on. 
Choose your tracking app, set your goals, show it to your team and watch how your plans are becoming the reality!