Time Tracking Hacks for Successful Business
November 3, 2023
by Tomasz Celler
4 comments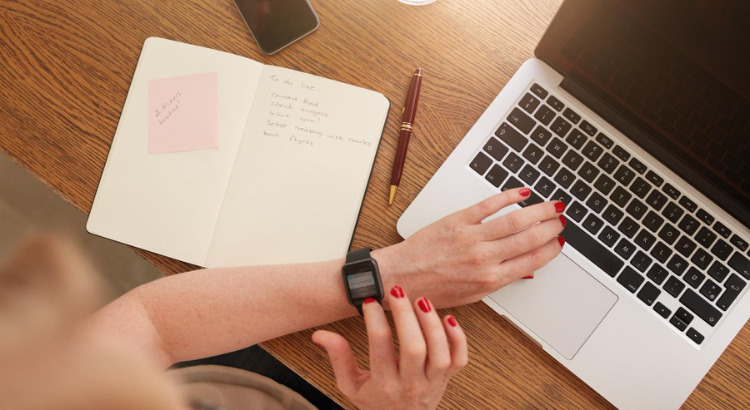 Tracking time is one of the easiest ways to keep track of employee productivity, especially for projects that are outsourced, completed at home, or done while traveling. It doesn't surprise anymore that this kind of solution has a group of supporters growing rapidly. However, many employees still view time tracking as a hassle.
Check these time tracking hacks we prepared for you and create a more efficient time logging system at your company!
1. What is time tracking software?
For many, this may seem like a no-brainer, but if you still don't use an online or electronic time tracking app, it's worth it to give it a try. There are a bunch of advantages that may convince you: this kind of software does much of the work involved with time and project management for you, saving your company hours of effort.
There are many different types of online project time trackers available, depending on your needs. We can divide them into easy and free trackers and more complex ones with paid subscriptions.
However, why don't you choose an employee monitoring software that offers affordable pricing (and a free plan for unlimited users!) and plenty of features that monitor the progress of projects and measure team productivity? TimeCamp is more than ordinary time trackers – it's your eye on work hours to make sure the projects are profitable and employees are well-paid.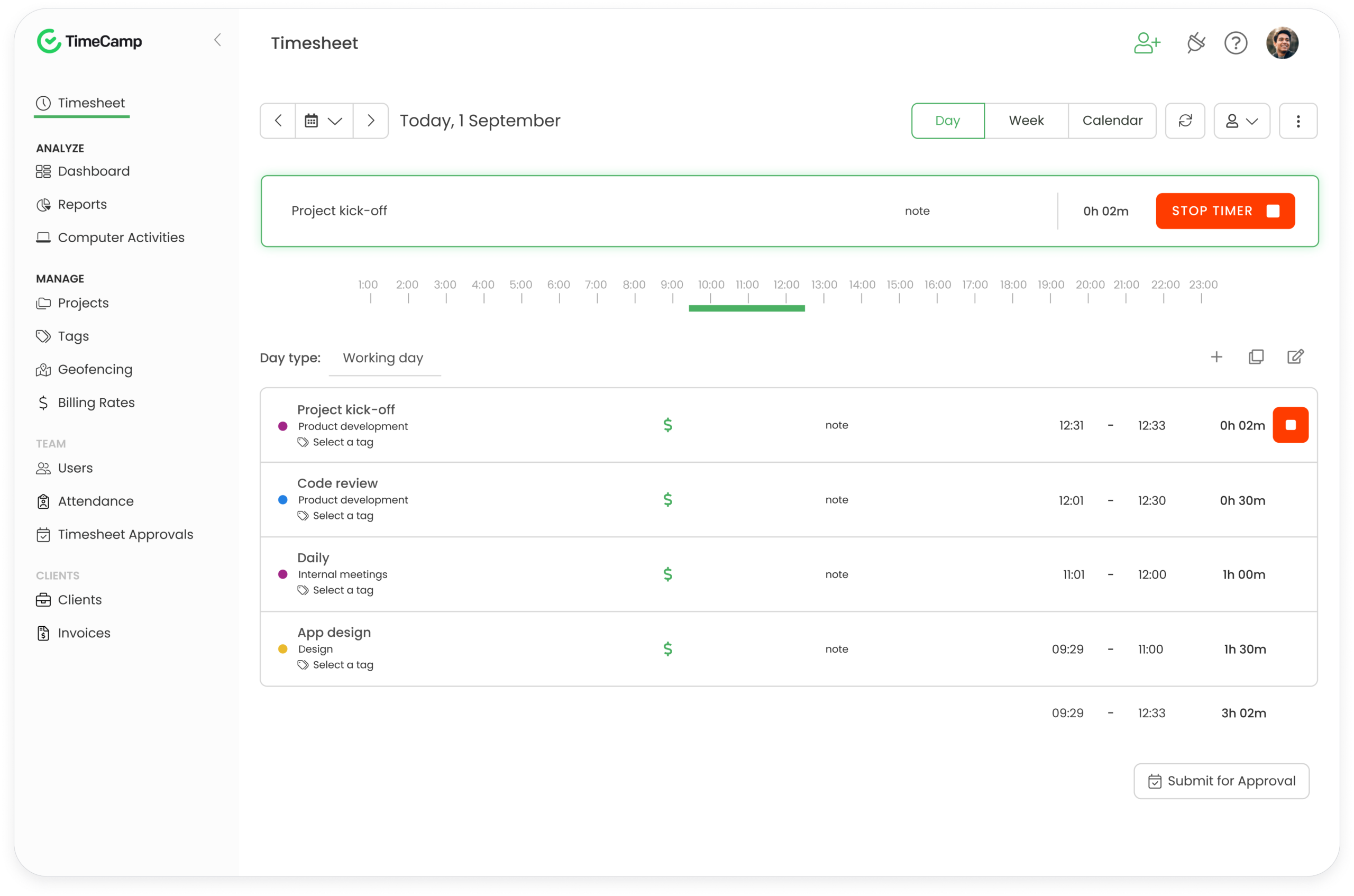 2. Explain the importance of time tracking in your company
Often, when employees avoid tracking their time, it's because they do not understand why it is important for the company and are simply SCARED OF IT. That's why they look for ways to cheat time tracking software, which leads to incorrect records and inaccurate reports analysis.
Good time tracking practices should be well explained.
Have a friendly chat with your employees at your next meeting and emphasize that it's not about watching their every move but more about figuring out how everyone works as a group and where the time goes. An honest conversation that includes addressing their doubts should prevent employees from cheating time trackers.
Highlight that it also works in their favor in multiple ways:
Correct time tracking software records with billable hours allow for preparing accurate payroll lists, so they're paid fairly, which is especially important for remote employees,
Time tracker reports help to organize work hours to manage multiple tasks effortlessly,
Time tracking apps allow self-time organization and help achieve employees' proper work-life balance and motivate in times of decreased productivity,
Automated tracking apps seamlessly track time spent on work-related tasks so employees can stay focused on what really matters and save time on filling timesheets manually,
There's no need to control remote employees to check if they do their work properly (especially with aggressive methods like computer mouse movement tracking, that's spying!), so it's the best way to avoid the stressful effects of micromanagement.
3. Offer multiple ways of tracking time with a valuable tool
Nowadays, remote access is common, and people can work everywhere. However, companies need to be aware that not everyone is constantly going to have access to their phone or computer with time tracking software installed on it.
With TimeCamp, you can offer your employees convenient time tracking features by:
Implementing a time tracking software that works as the same program as a web, desktop app, and mobile tracking app, and check if the tools run multiple operating systems,
Providing a manual way to log time as well will help employees track their time even under unusual circumstances, for example, while traveling or working from other work computers,
Letting them review their timesheets before sending them for approval,
Showing them how to analyze their own productivity thanks to the optional activity tracking that enables non-work-related websites and social media sites tracking to identify areas of improvement,
Explaining how to read time tracking reports to find out how much time it takes to complete tasks and, thus, manage projects more efficiently,
Enabling filling timesheets with hours spent on a specific task for an entire week at once.
4. Allow your employees to review their progress
Let your employees, especially remote workers, check the time consumption of their projects, unproductive activities, and actual working time. Not only reviewing the progress will help them stay on track, but also it will be easier to show them the areas of improvement. Remember that it is also a great way to create general accountability about time management throughout your company.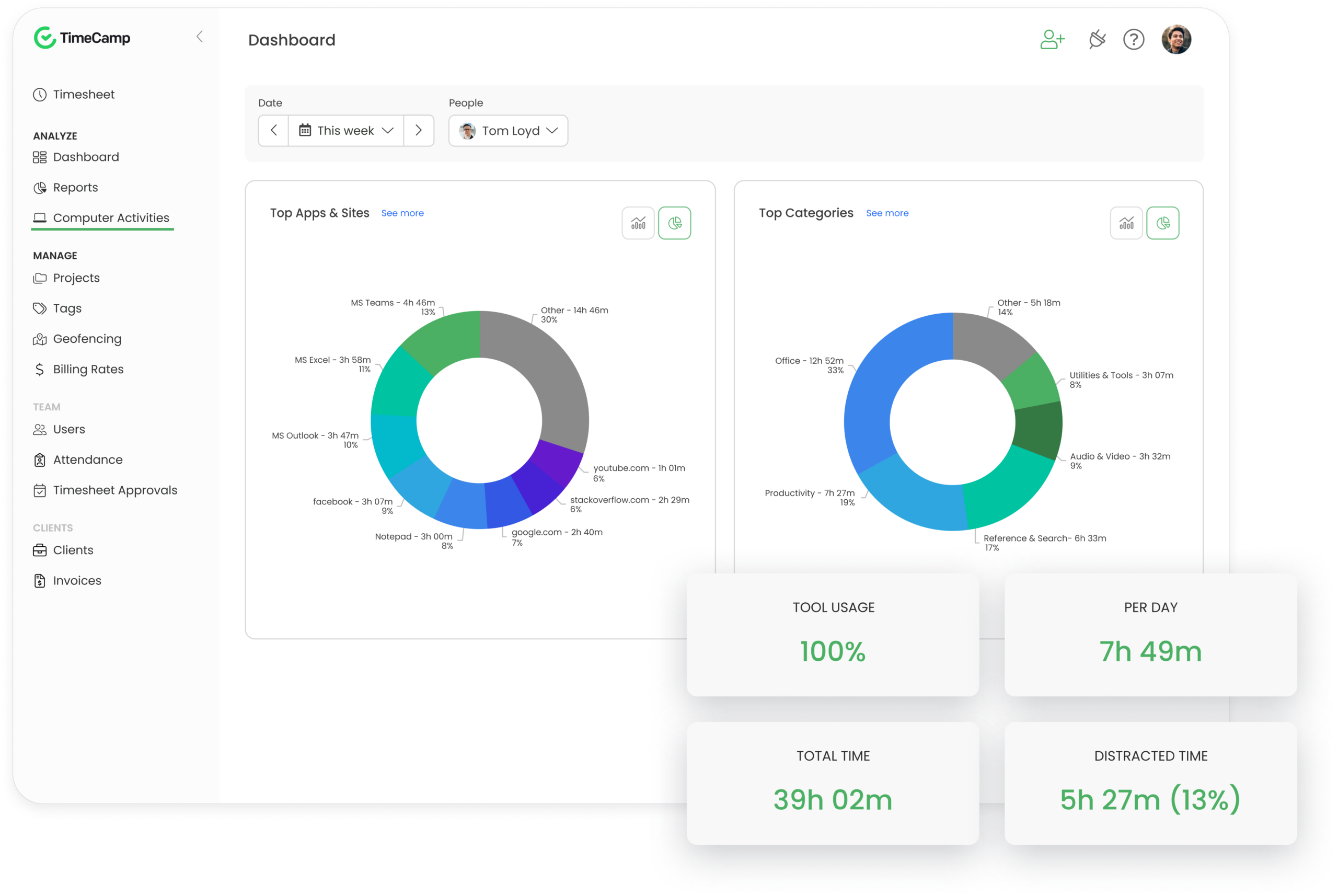 5. Have a routine for approving timesheets
A time tracking tool with timesheet approvals gives you the possibility to have a finger on the pulse of your employee's effort and project progress. With all information in one place, you don't need to browse each timesheet day by day. You will also be more likely to spot and correct mistakes or incapacity this way.
Everything will be done more efficiently if you'll design a clear process for it, especially in today's fast paced world.
6. Analyze your time tracking data
Tracked time needs to be accurately analyzed. Luckily, there's no need to do it all by yourself – as a perfect employee monitoring tool, TimeCamp turns automatically tracked time into a wide range of reports that help you monitor the progress of projects and employees' performance. Meanwhile, you can stay focused on the proper analysis of employee time.
Generating reports from your real-time tracking tools data will allow you to see:
how employees use their time as a group,
productivity of each employee,
how much TIME and MONEY specific work-related task or a complete project has taken,
which project was the most cost-effective,
employee time off and absences,
employees' location, which is truly helpful for the efficient management of on-site employees,
projects estimates and actual resource consumption for specific tasks and projects, and many more.
You can then use this information to delegate tasks so that they will get done efficiently.
Let TimeCamp accurately track your working hours!
As you can see, time tracking apps give you a lot of possibilities in keeping the pulse on your employee's work, payroll process, and time consumption of projects.
Implement employee time trackers with TimeCamp, a perfect option for office and remote teams. It offers a free plan that includes unlimited projects and multiple time tracking ways. Teams with more specific requirements will surely be satisfied with three totally affordable paid plans tailored to streamline time, profitability, and attendance-related processes.
Move your working hours tracking to the next level with TimeCamp! Sign up for a free account or check all paid features for 14 days entirely for free.