Content:
What's Up With Apps for Timesheets?
What's Up With Apps for Timesheets?
Timesheets are everywhere. They're an inseparable part of everybody's work. You either have to fill them in or approve them. Some people love them and some people hate them. But the truth is, if you use the best app for timesheets that's out there and that corresponds to your needs, you, your team, business, or organization will prosper.
Make sure to check out these links:
Why do people care so much about timesheets? Why is your boss so obsessed with them? Because they help in various things. They help to monitor employees' work (no, not to spy on them!), make their work more efficient and smooth. They also give a clear picture of financial issues and allow people to organize work. Hence, if you find the best app for timesheet that everyone in your company will find useful, the entire organization's work will be seamless.
Paper timesheets have become a thing of the past. If in today's world you don't use an app for timesheets, you stay behind. And it can be observed especially in the field of people and time management. Also, if you don't think about employees and their work in the context of time management, your company will fall into chaos.
Apps for timesheets can be considered in two categories, simple and comprehensive. The latter can be used for more activities than those concerned only with timesheets, for example as a time tracking software, project management software or accounting software among any other. Yet sometimes it's hard to find the boundary, especially if you use one app instead of several different tools.
Check out our recommendations and choose the best app for timesheets which corresponds to your business needs!
See more: Check how you can automatically fill in timesheets with Top 10 Time Tracking Software With Desktop App
TimeCamp has many practical features which can help in or even completely eliminate monotonous work with timesheets. It's probably the best app for timesheets thanks to extensive features:
Fully automatic, the desktop app works in the background, not disturbing your work. Also, you don't have to switch between different apps or tasks, TimeCamp detects it all.
The feature of tracking time based on billable or non-billable hours makes it easier to precisely estimate the costs of a project.
Thanks to detailed but comprehensive reports, your employees can see how much of their time was spend on productive and unproductive activities.
You can easily convert your reports into Excel files.
The feature of graphical timesheet gives you the possibility to clearly see work progress.
With an extensive list of integrations work becomes smooth and painless.
GPS tracking feature – NEW!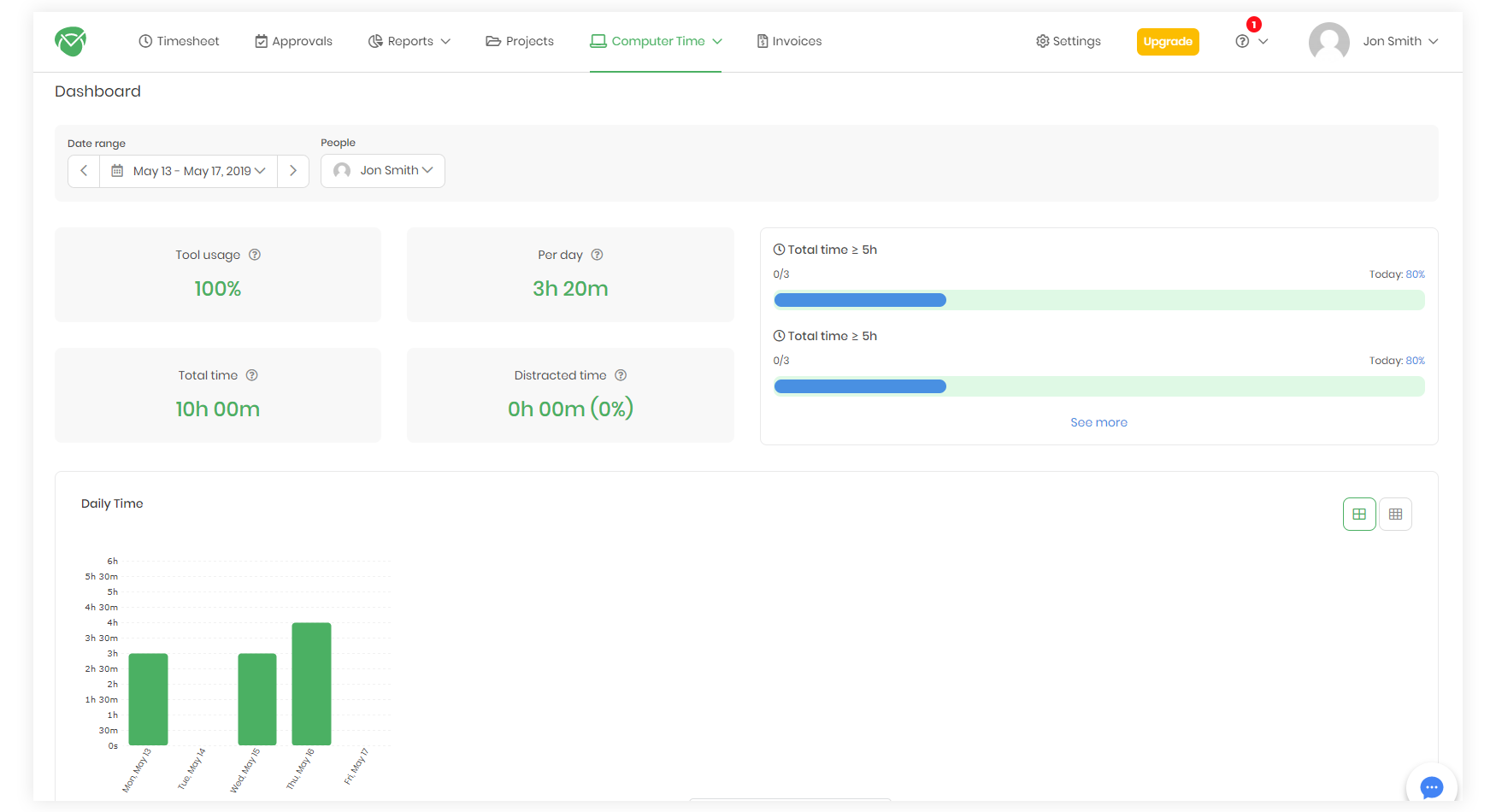 Using TimeCamp is much more effective and easier than manually entering information into a timesheet. It also helps you and your team always stay on top of your work! The app tracks all your activities so that you can focus on your work, instead of fixing problems with timesheets.
See how TimeCamp works!
Harvest is the right tool for all people who want to find out what their employees do at work. It's easy-in use with a friendly interface and the most necessary features that the best app for timesheets should have. It tracks time and expenses to give you information on all the crucial data. You can easily access all the information about your team's work, projects progress, time and budget spent on work, etc.
Once all the data is tracked, you get comprehensible reports on it which can serve as a perfect and detailed timesheet – time spent on work, the state of the budget, workflow, etc.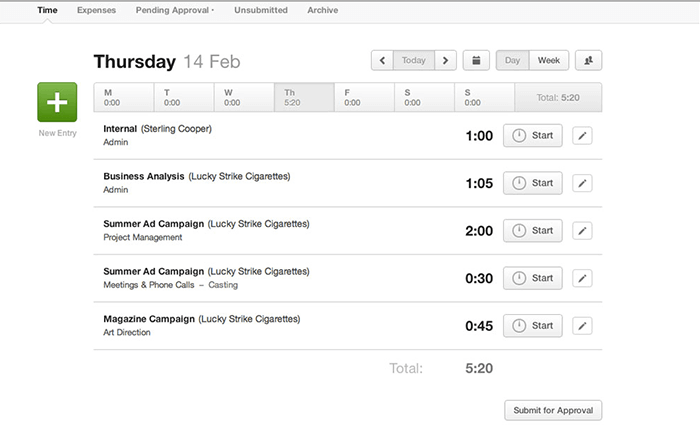 See the comparison between Harvest & TimeCamp!
If you work as a Project Manager, Zoho Projects will be the best app for timesheets. With this software, you can create fantastic timesheets. You have the ability to manage milestones, tasklists, and tasks, subtasks, recurring tasks, and dependencies. This software also gives you the ability to collaborate with your team to connect their work and create a seamless workflow.
It's a great app for people who like to have detailed information regarding timesheets and their employees' work, for example, to be able to quickly analyze company's progress, financial situation or projects' stages.
⇒ Looking for Zoho time tracking solution? Check out our integration with Zoho!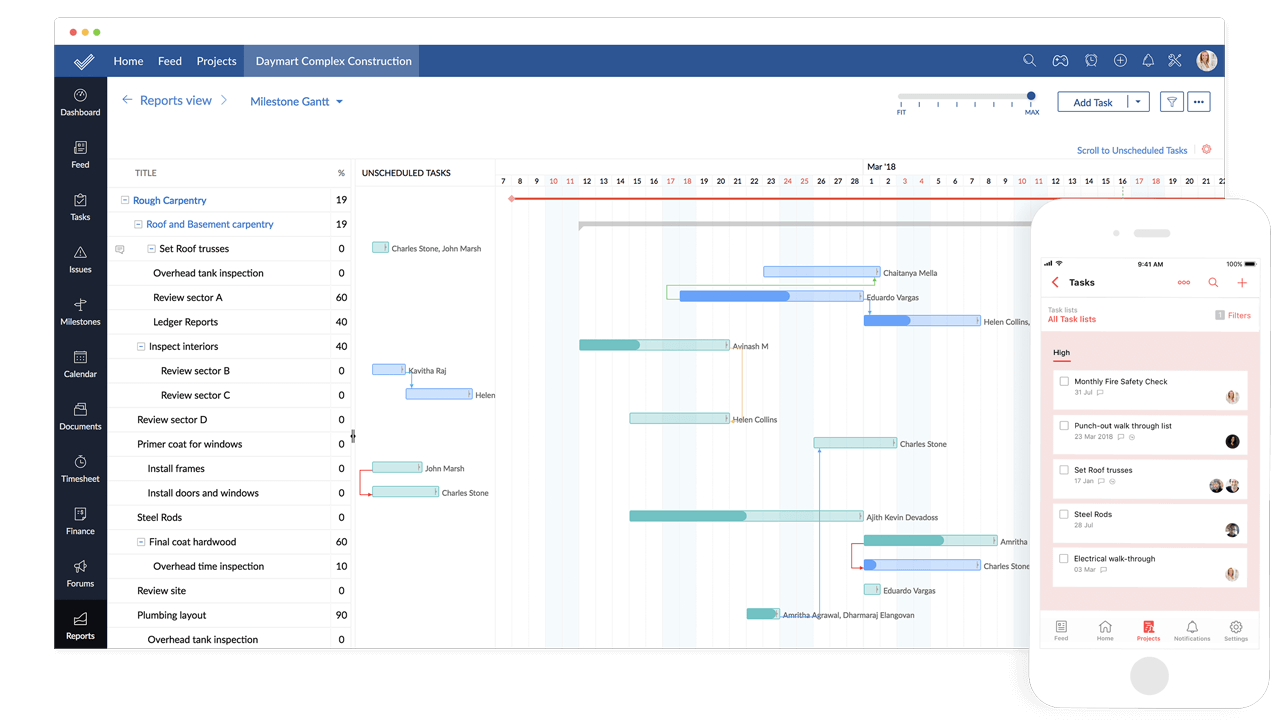 Toggl will be the best app for timesheets for people who are looking for a simple and intuitive solution. Toggl is praised by many users for its ease of use, functionality, and design. It is not a timesheet software in itself but it is a great alternative for teams looking for a tool that will allow them to track their time and later access all the information in the form of reports. You can download the reports, print or save them.
Toggl is available as an in-web timer, desktop and mobile app. The software can also be integrated with various apps. And if you'd like, you can use Toggl's training to make the most out of the tool.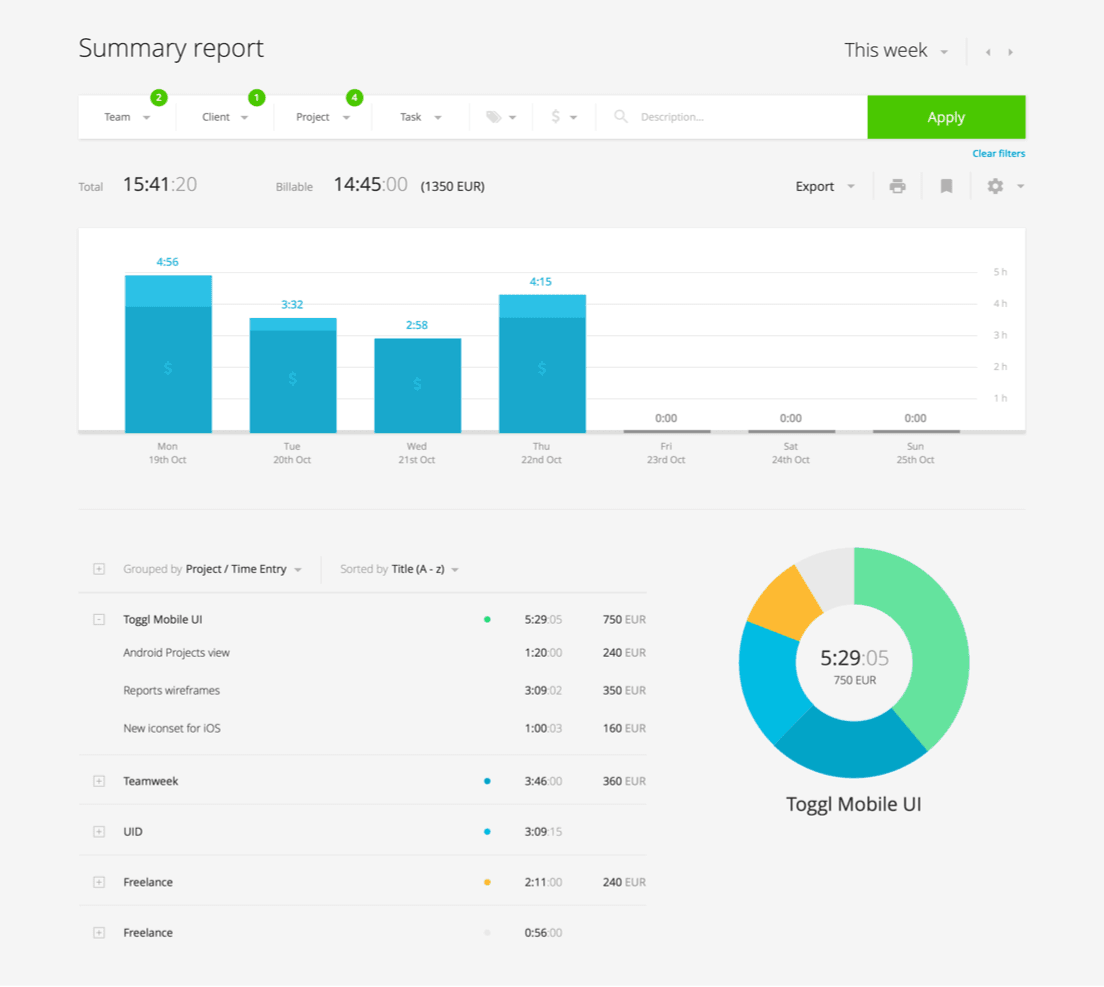 See the comparison between Toggl & TimeCamp!
ClickTime allows you to better manage projects. In the tool's timesheets, you can see all the data online without the need of storing them on your computer or in a cabinet. It's a great alternative to traditional timesheets. In ClickTime you can track time on your phone or laptop, quickly approve employee hours, or look into dashboards and reports to easily manage budgets and plan employee time. It's also a good team management tool.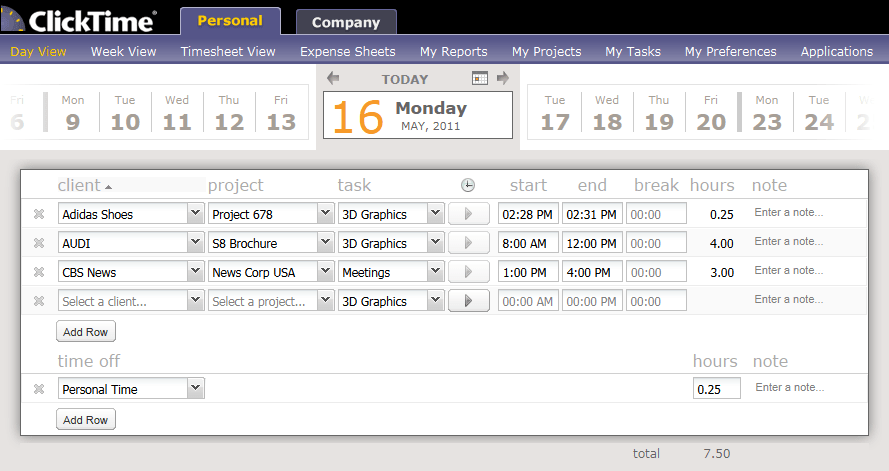 See the comparison between ClickTime & TimeCamp!
Tick is a simple automated time tracking software which is perfect for those who don't have big needs regarding extra features so specific of most time tracking apps. Tick automatically tracks time of particular tasks and gives an insight into how much time we spend on work activities. Later on you can access it in timesheets.
It is accessible from any place, has the option of project budgeting tracking and has clear timesheets. Tick doesn't have many integrations but that may be in favor of those who need basic time tracking software that enables people to automatically create timesheets.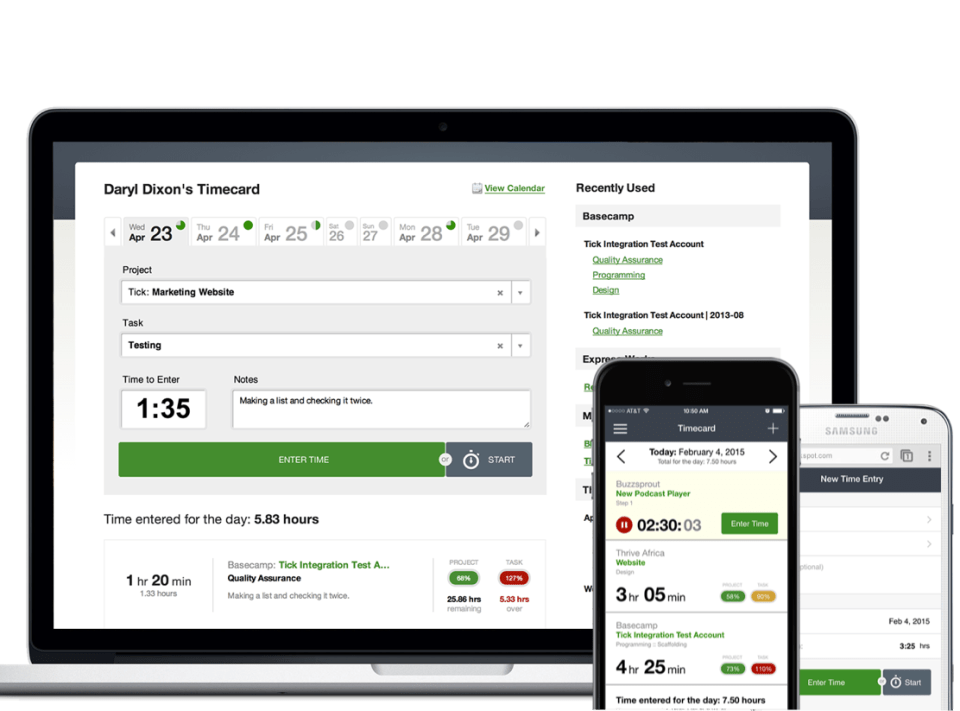 See the comparison between Tick & TimeCamp!
What makes Hubstaff one of the best apps for timesheets? Its features help not only in the proper time management but also in team management. With Hubstaff you can see who's late with the project and how much money and time you're spending on it. The software is especially useful in remote team management and has the feature of screenshots with activity rates. 
It also helps in keeping a hand on calendar, invoices, payments. All reports are automatic.
See also: Best Free Time Tracking Software for Freelancers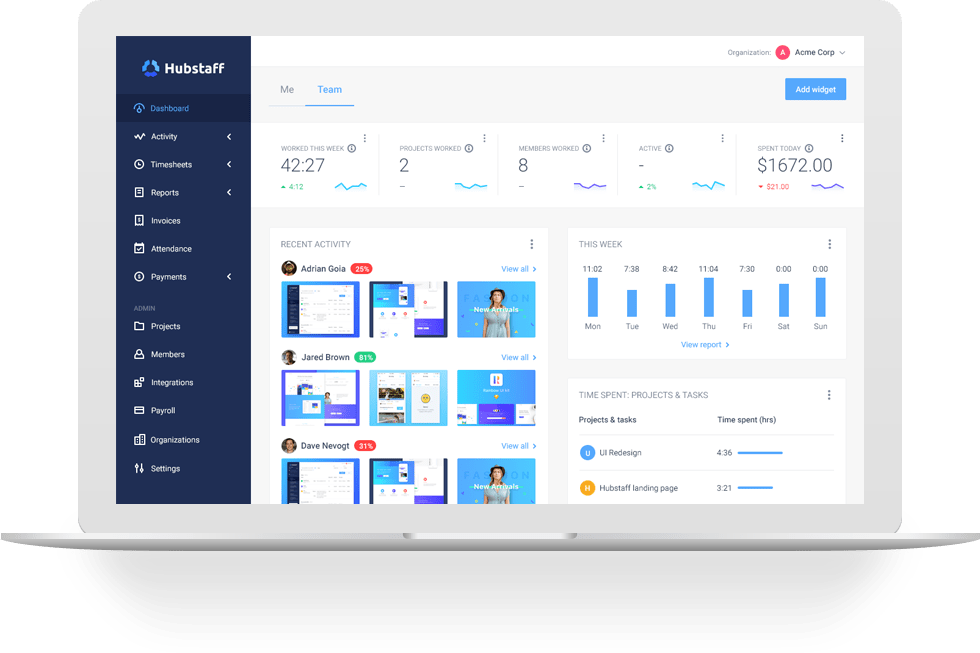 See the comparison between Hubstaff & TimeCamp!
Are you looking for an optimal solution to timesheets? This software will be your perfect match! In Timesheets you will not only be able to observe people's work and workflow. The tool has many other useful features. People can track their time and customize settings as they need, "employees enter hours worked against customers and projects with pre-configured rates and job codes," you can manage leaves, keep all information in one place, and access the tool from mobile apps.
It's the best app for timesheets for people looking for an easy way to monitor employees' work.
Clockify is a free time tracking tool with the features of tracking time, reporting, and project management. Clockify enables you to add as many users as you want. With this tool, you can see exactly how many hours you spend on work, what takes most of your time and, in general, where all the time goes. 
The tool tracks time, creates reports, and helps you to manage all the task. It is very similar to TimeCamp regarding a time tracker but lacks more extensive features. Due to its simplicity and focus only on time tracking, it is the best solution for businesses, freelancers, or startups looking for a comprehensive yet detailed timesheet app.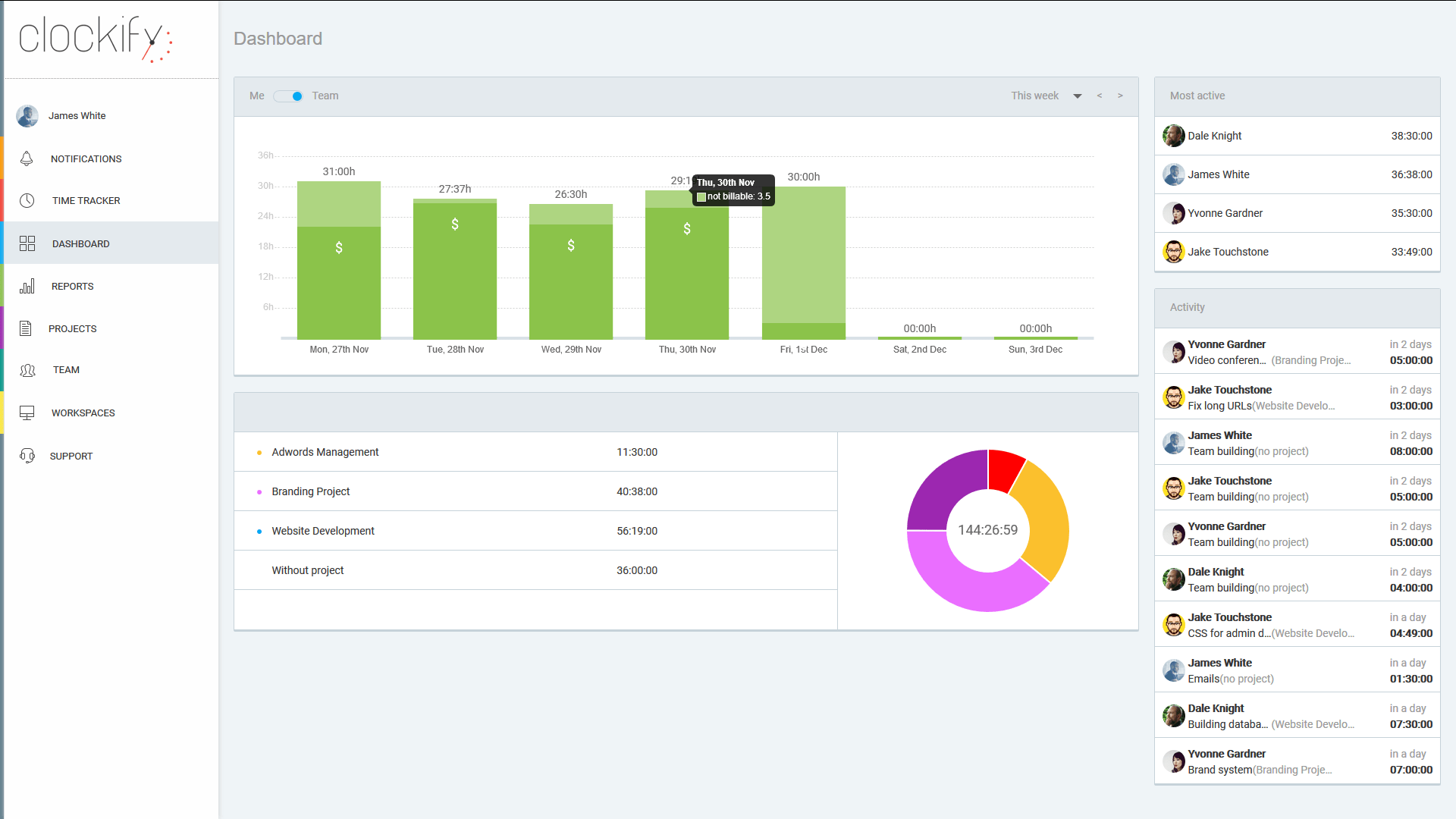 This best app for timesheets is an extensive system which easily enables you to monitor your people's work. If you are looking for a complex yet comprehensive solution, Replicon will be the right tool. It is a great app for large companies with Project Managers or leaders who manage sizeable or even remote teams. 
Replicon allows you to manage global time and attendance, time off, gross pay, wage-and-hour compliance, client billing or revenue recognition. The software makes it possible to manage time and projects based on localization so that you can more accurately scale and configure projects.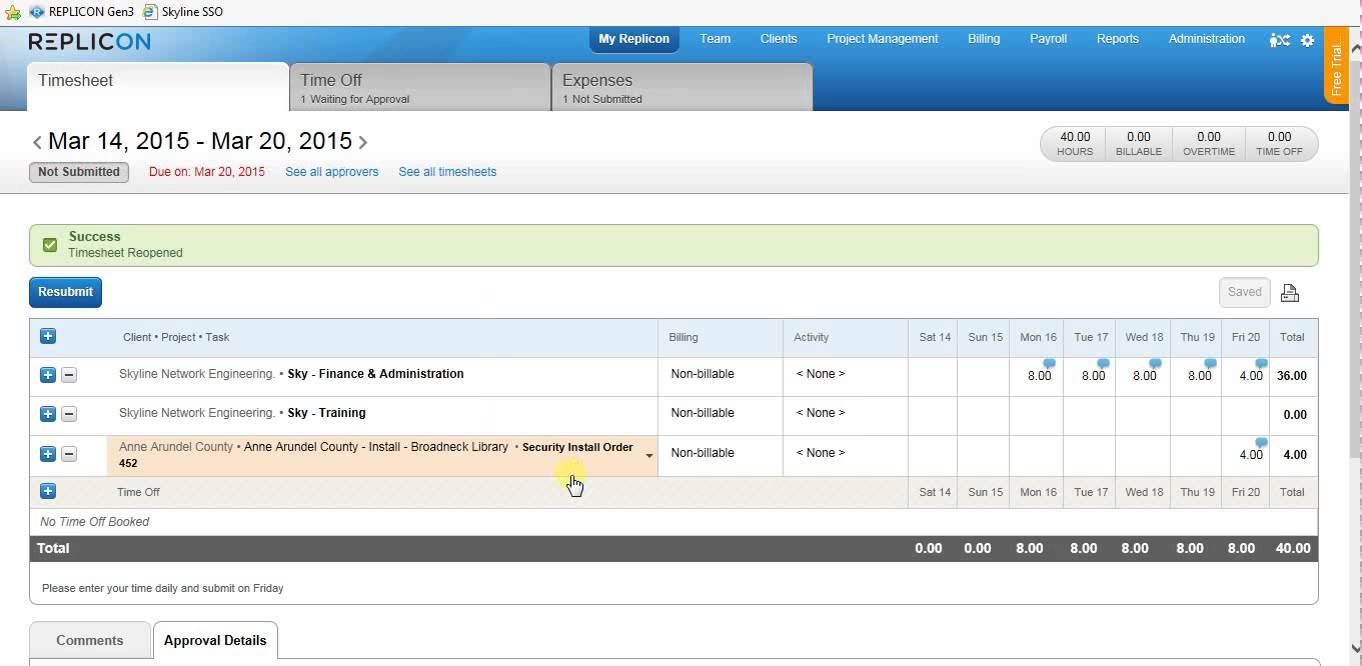 See the comparison between TimeCamp & Replicon!
BeeBole is an app that allows you to keep all things together in one place. It is a timesheet in itself. Here are some of its most important features that every timesheet software should have:
You can track time daily, weekly, monthly and in the real-time.
Integrate your timesheet with ERP and billing software, and G Suite.
You can create customizable dashboard and generate employee reports on time attendance, budget, billable hours, margin and profits and print, export, audit, integrated them.
Thanks to BeeBole you no longer need paper timesheets.
Scoro is one of those tools in which you can work on many levels – track time, manage timesheets, projects, teams. If you're looking for a solution that will enable you to incorporate all aspects of work in one place, Scoro is the perfect tool. You will be able not only to see work hours of your employees but also progress of all tasks and projects, people's productivity level, important dates, budget, etc. It's the best app for timesheets because it works also as your personal reporter on the business' state.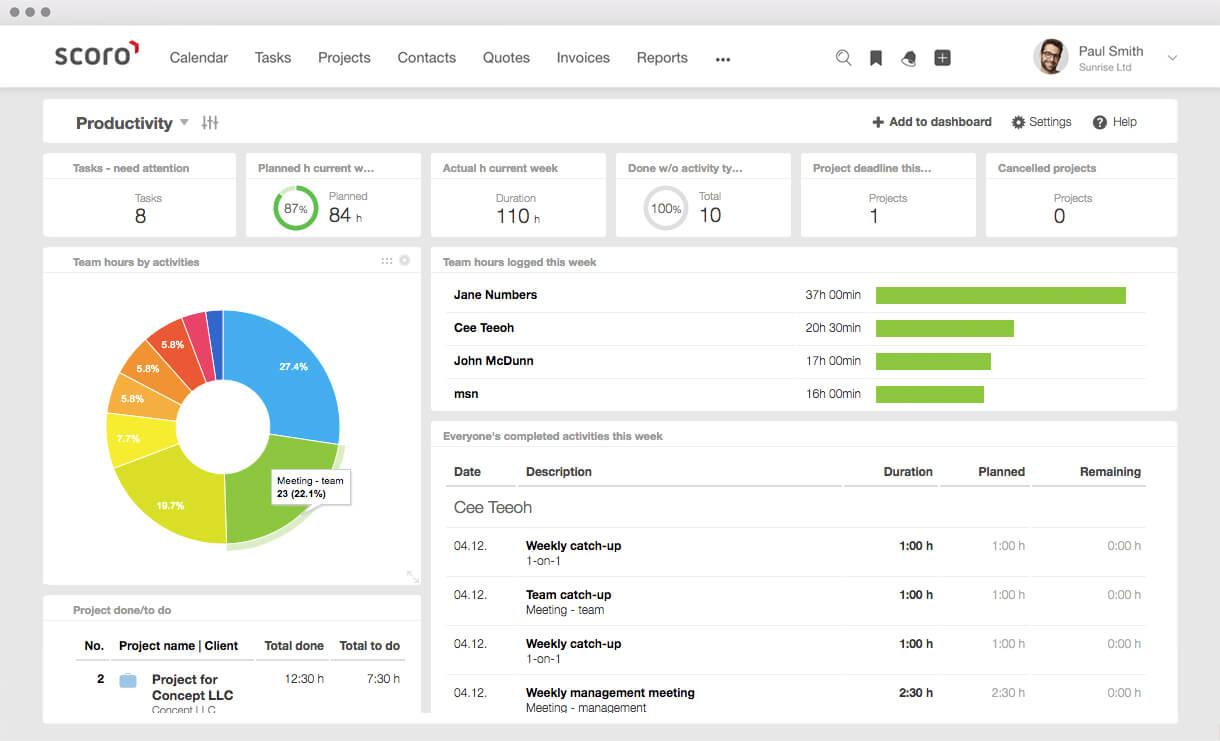 The last best app for timesheets in terms of monitoring timesheets when it comes to time and expenses. It allows you to monitor time worked and time off, track resource usage across projects and non-project activities, review schedules. It also has the accounting feature for billable and nonbillable time and expenses. It's a great app for automatizing the process of timesheet creation and approval. It also greatly enhances team's work.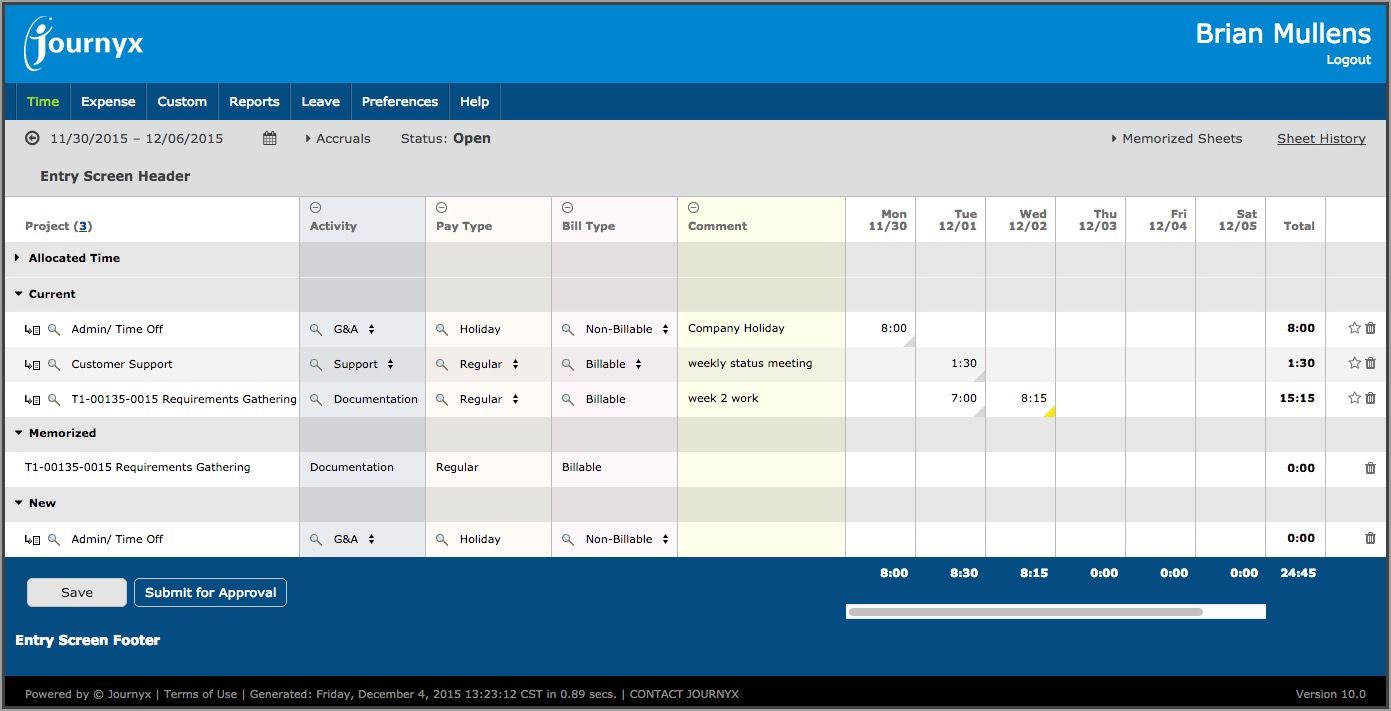 Looking for the right time tracking app for Linux? We've got your back! Check out these Top 10 Time Tracking Software for Linux
Related posts