Top Ten Employee GPS Tracking Apps
March 31, 2019
by Kate Borucka
6 comments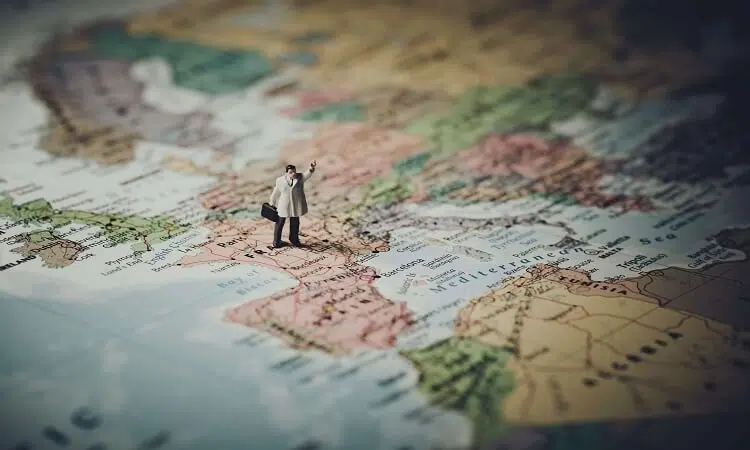 An employee tracking device can help employers keep their staff's performance at the highest level. While it's easy to monitor work hours and activities of employees working in the office, things get more complicated for people whose jobs require often travels.
That's where employee GPS tracking app comes in handy, which works great as a personnel checks tracker.
Why Use GP Tracking System?
App for GPS tracking is helpful for both employer and the staff. It improves productivity, helps to systematize work, and brings many benefits:
Planning – it helps to make sure that deliveries or meetings are always on time, especially when the relationship with clients influences the future of the project; it's important not to lose the client and customers;
Location monitoring – GPS software helps to monitor traffic and potential obstacles on the road which is related to planning – your employee can take an alternative, faster road not to be late;
Reducing expenses – this factor results from planning and location monitoring – it helps to save money spent on fuel, tickets, and other travel-related expenses;
Security for the company – the organization can monitor employees' actions and be sure they don't overstate expenditures;
Higher customer satisfaction – since GPS tracking app lets to optimize time and money, it's easier to reach customers.
Additionally, every business may experience additional benefits depending on their field of operation and style of work.
What Is The Best Employee Tracking App With GPS?
There are plenty of apps with GPS to help your employees in their work. You just need to be careful and choose those that are best for the needs of your business, staff, and your currently used software.
So which app to choose to make sure it helps your business? Here are the top employee GPS tracking apps for location tracking, and not only!
QUICK NAVIGATION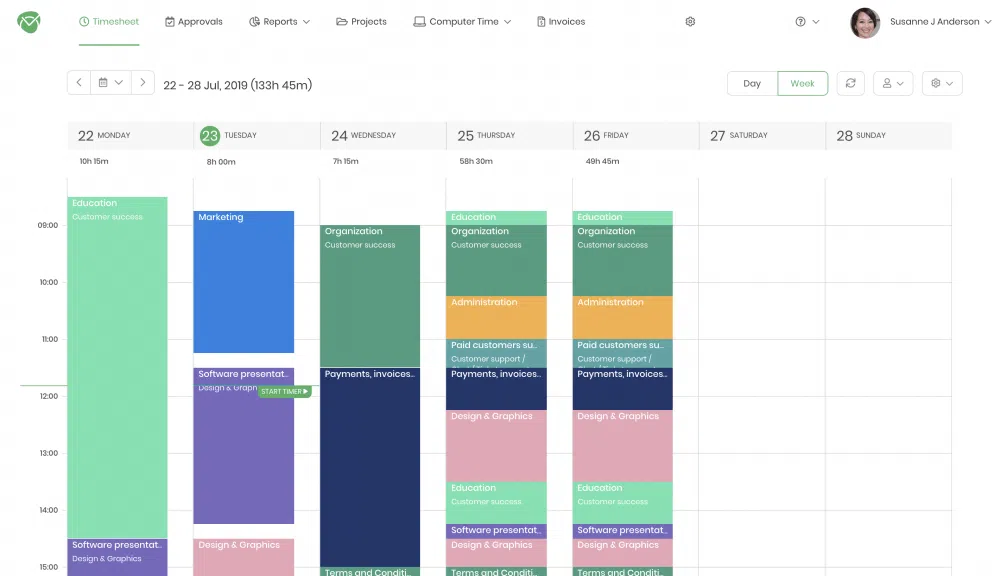 Best for: attendance management and productivity improvement
TimeCamp is one of the most advanced free time tracking software on the market. If you're looking for a tool that will help you save time and money, it's the right choice!
TimeCamp allows you to track your employees' work to improve workflow, communication, and collaboration in your team. Its automatic tracking features make it a great centralized system for project management.
Main features:
Automatic time tracking in the real-time with comprehensive and detailed reports
Accurate timesheets to know when and how your employees work
Monitoring staff activities by categories, including app and website tracking
Monitoring productive and unproductive activities
Tracking time by tasks and projects to know what your employees are working on and what's the projects' state
Attendance management to keep track of vacations, leaves, absences, and more
Budget monitoring
Integrations with the most popular software for project management, accounting, CRM, productivity, and more!
Available on: web, mobile (iOS, Android), desktop (Windows, macOS, Linux)
Pricing:
Free for unlimited number of users
Basic – $5.25 per user (billed annually)
Pro – $7.50 per user (billed annually)
Enterprise – custom pricing
Don't waste any more time!
Sign up for TimeCamp today, free!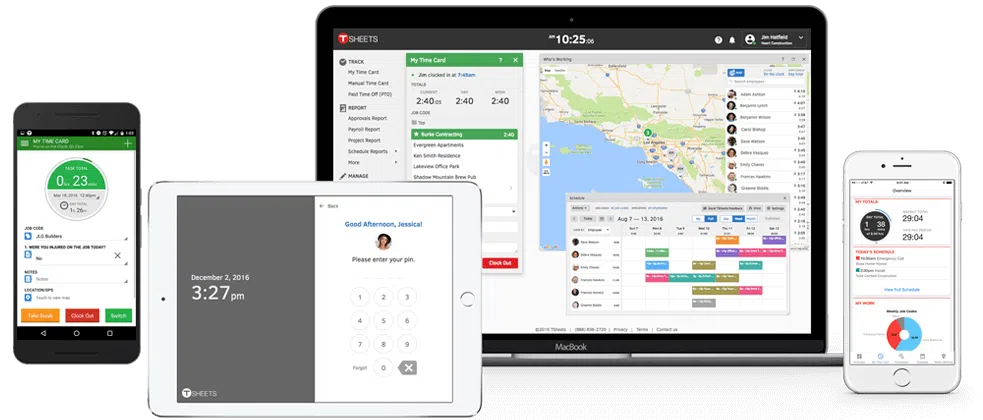 Best for: timesheets and activity reports
TSheets is known mostly as a time tracking software. It provides detailed reports on employees' activity, regardless of their current location. TSheets has features that make it a great mobile workforce tracker. It's suitable for small and large teams, for those who often travel as well as for remote workers. With TSheets every manager can monitor employees' activity and position.
Main features:
GPS location tracking – real-time insight into who's working on what and where
Real-time coordination – GPS shows which team member is closest to the next job site so you can assign them appropriate tasks
The mobile app log and updates employee's location throughout the day
Convenient time tracking with the mobile app
Scheduling
Employees can clock in and out in real time and enter their time manually,
Advanced time tracking features enable your employee to customize time entry for fields, projects, and tasks
Available on: web, as a mobile app (Android, iOS, Windows 8 phone)
Pricing: Free for one user; starts at $8 per user, per month + $20 base fee per month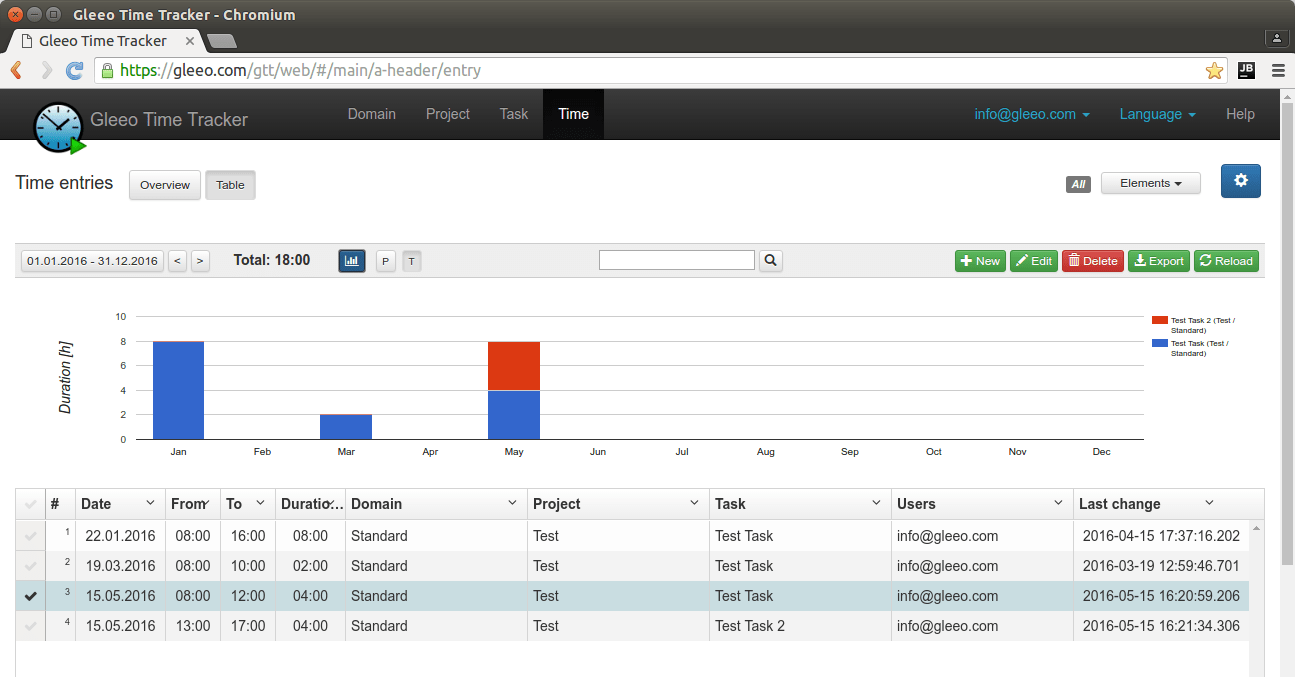 Best for: location-based tracking
Gleeo Time Tracker is a combination of a time tracking app with a GPS tracking device. It allows managers to access all the information about team in one place. It's intuitive and easy to use, and helps to maintain a hierarchical structure of all users.
Main features:
One-touch time tracking – simple start-/stop-buttons
Location-based employee tracking and time tracking with Automagic Premium app
The timesheet can be organized over several hierarchical levels
Exporting data to CSV
A daily, weekly and monthly data is displayed in an animated timeline
Location capturing
Available for: web, mobile (Android)
Pricing:
Gleeo Time Tracker for Android – Free
Sync&Team service $2.50 per user/month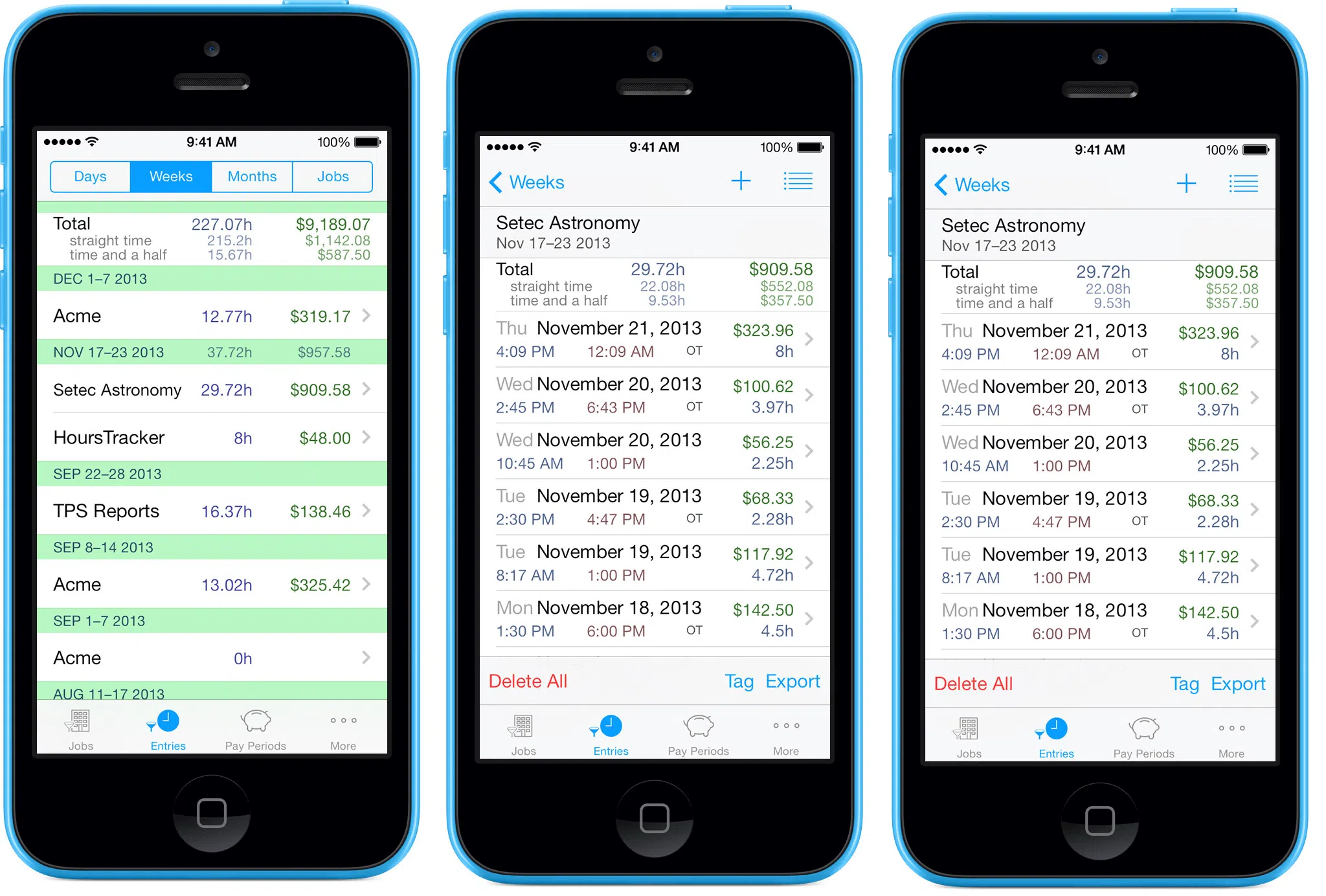 Best for: logging hours on mobile
This attendance app is a combination of three modules: GPS tracking, time tracker, and expense tracker. Its extensive and really fancy features help to automate your work no matter where you are and control every aspect of your job. HoursTracker is a great GPS time tracking app that helps to monitor the shifts of a mobile workforce for every business.
Main features:
The app uses your location to automatically record time entries
Tags help o organize entries with a keyword
Create filters to show or hide jobs and entries based on tags
HoursTracker sends an alert when set hours of work for the day is reached
Available for: mobile (Android, iOS)
Pricing: Available for free; with additional features, pricing starts at $5.99 – $9.99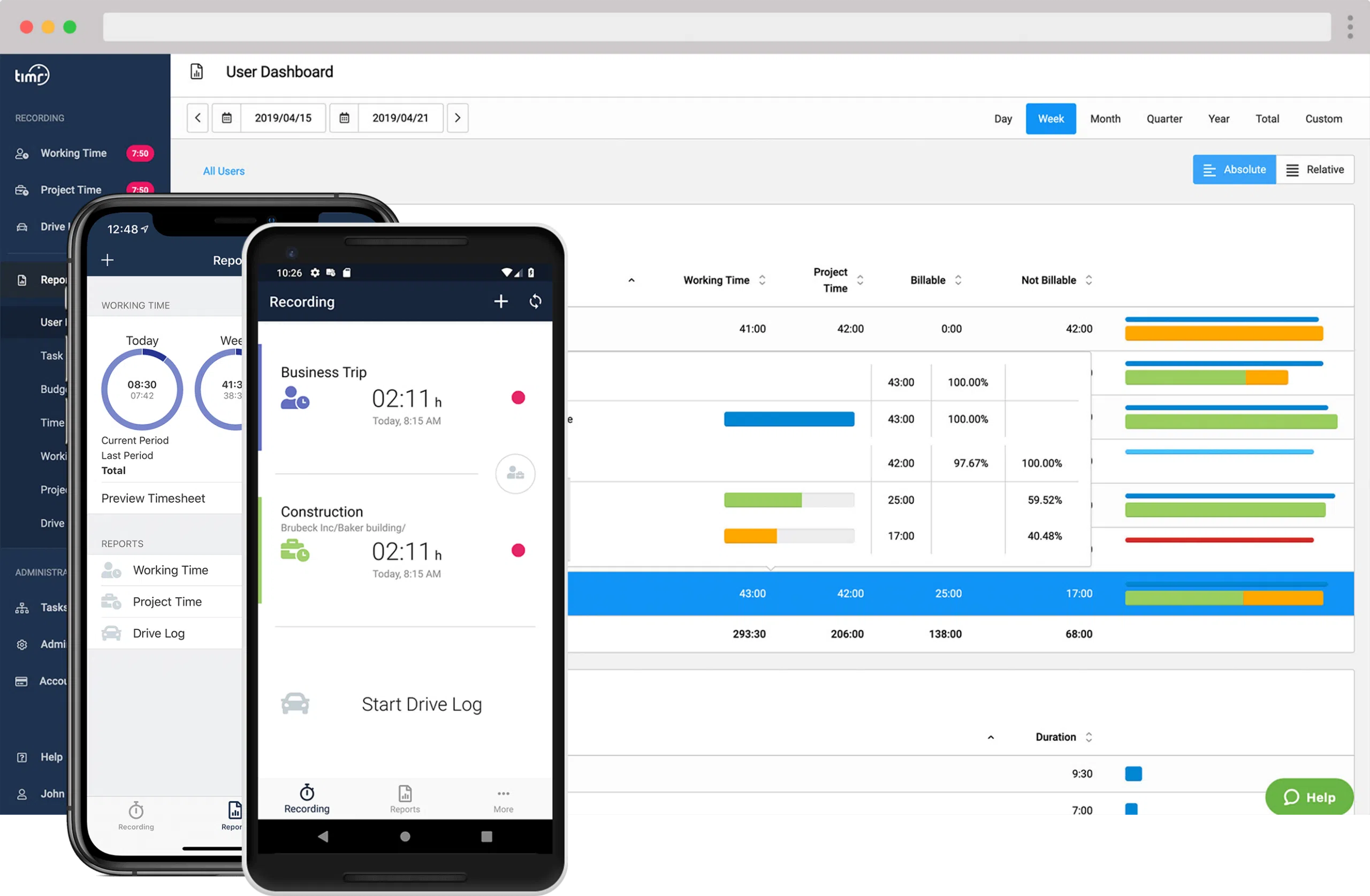 Best for: mobile team management
Timr is a tool suitable for people who need time tracking, project tracking, and location tracking in one. The app provides all features necessary to keep track of all activities necessary to deliver projects on time and on place. Use it if you need to create a centralized system for managing a team, and use GPS for tracking employees and their location.
Main features:
Tracking work hours and project time
Tracking mileage with the GPS
Centralized admin dashboard
Customizable reports
Available for: web, mobile (Android, iOS, Blackberry, Windows)
Pricing: starts at € 8/user per month (discount apply if paid annually)
👉 See the comparison between Timr & TimeCamp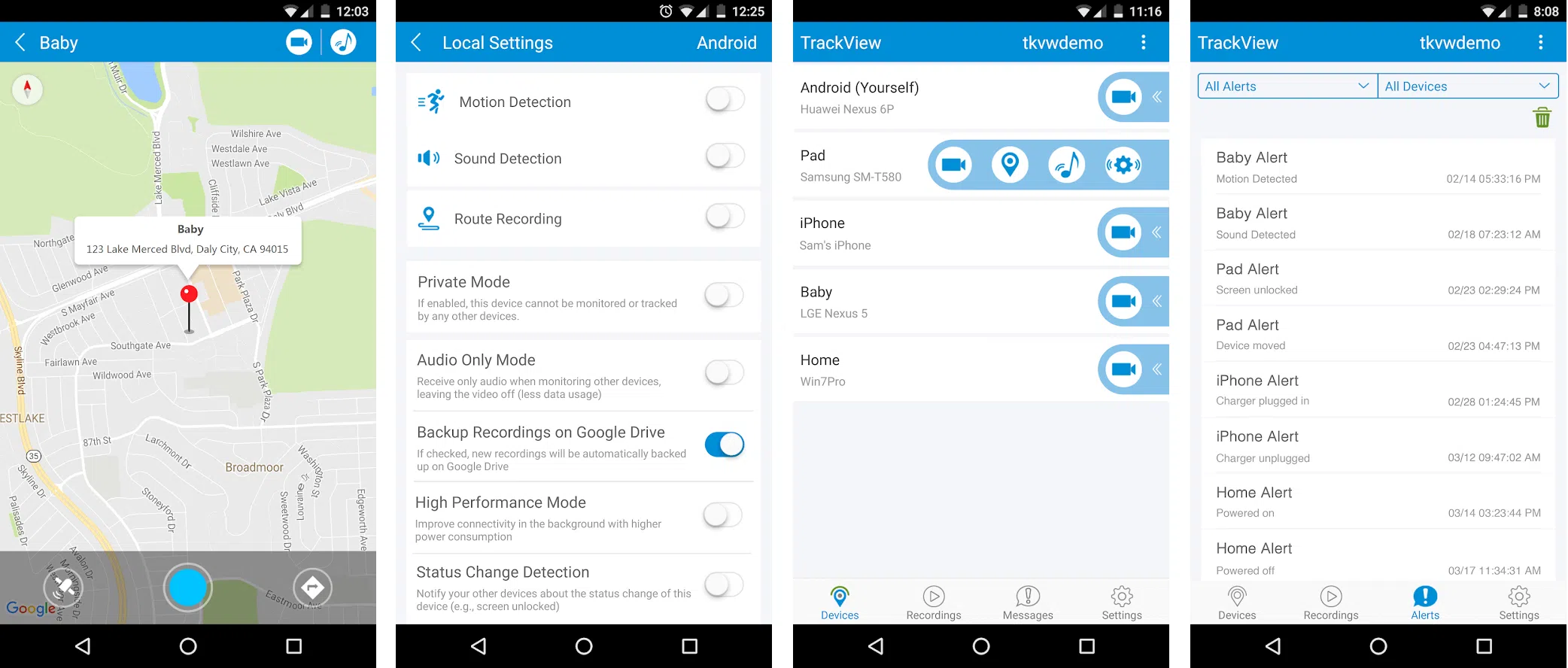 Best for: viewing employees location
TrackView is best for people who are concerned about their privacy, especially those who work solo or need to keep an eye on their employees. This tool allows you to monitor your office and devices, and make sure nothing gets lost.
It might not be an actual GPS tracking app, but it gives you full access to your office and devices whenever you're on a business trip and need to make sure everything is under control.
It's a powerful GPS tracking device with numerous helpful features for tracking employees.
Main features:
Remote location tracking in real-time
Remote video and audio monitoring
Intelligent event detection and instant alert to your selected devices
Remote video and audio recording
Integration with Google Gmail account
Secured access and connection by requiring a secured login using a Gmail username and password. Only devices with the same username and password can access each other. This guarantees that you are the only one who can access your connected devices
Very low battery consumption: by having the devices accessible in sleep mode, battery life is conserved
Remote control of Front and Rear camera switch
Available for: mobile (Android, iOS), desktop (macOS, Windows)
Pricing:
Gold (up to 20 devices)- $4.99 per month
Silver (up to 5 devices) –  $1.99 per month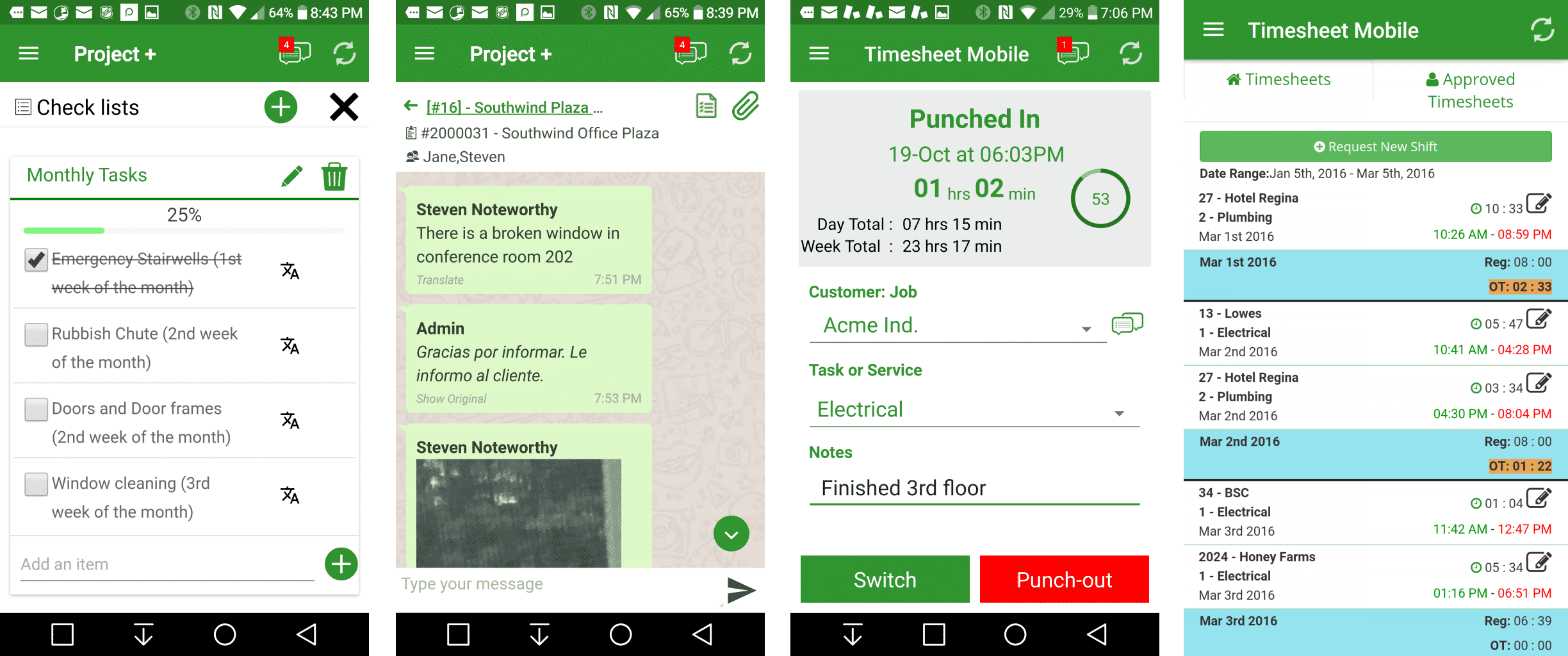 Best for: clock-in/out tracking with GPS
Timesheet Mobile is a great solution for teams working on the move, including field workers. It allows people to connect via mobile devices despite being in different locations. Managers can use GPS functionality to manage and monitor workforce and team workflow.
Main features:
Geofence time tracking – the easy to use timesheet app sends instant alerts to managers when an employee is away from the job site. Punch Prompt geofence technology reminds employees to Punch in/out and prevents timesheet errors
Scheduling with a drag-and-drop feature
Scheduling time off and view holiday, sick, and vacation reports
Timesheet reports
Team messaging
Integrations with QuickBooks Online, QuickBooks Desktop, Xero, Sage, ADP, FreshBooks
Available for: web, mobile (Android, iOS)
Pricing: 
Basics Plan – $3.49 per employee for unlimited punches + $14.99 company subscription
Punch Plan 1 – 15 cents per punch + $29.99 company subscription
Punch Plan 2 – $9.95 per employee for unlimited punches + $29.99 company subscription
Punch Plan 3 – $2.49 per employee for unlimited punches + $149 company subscription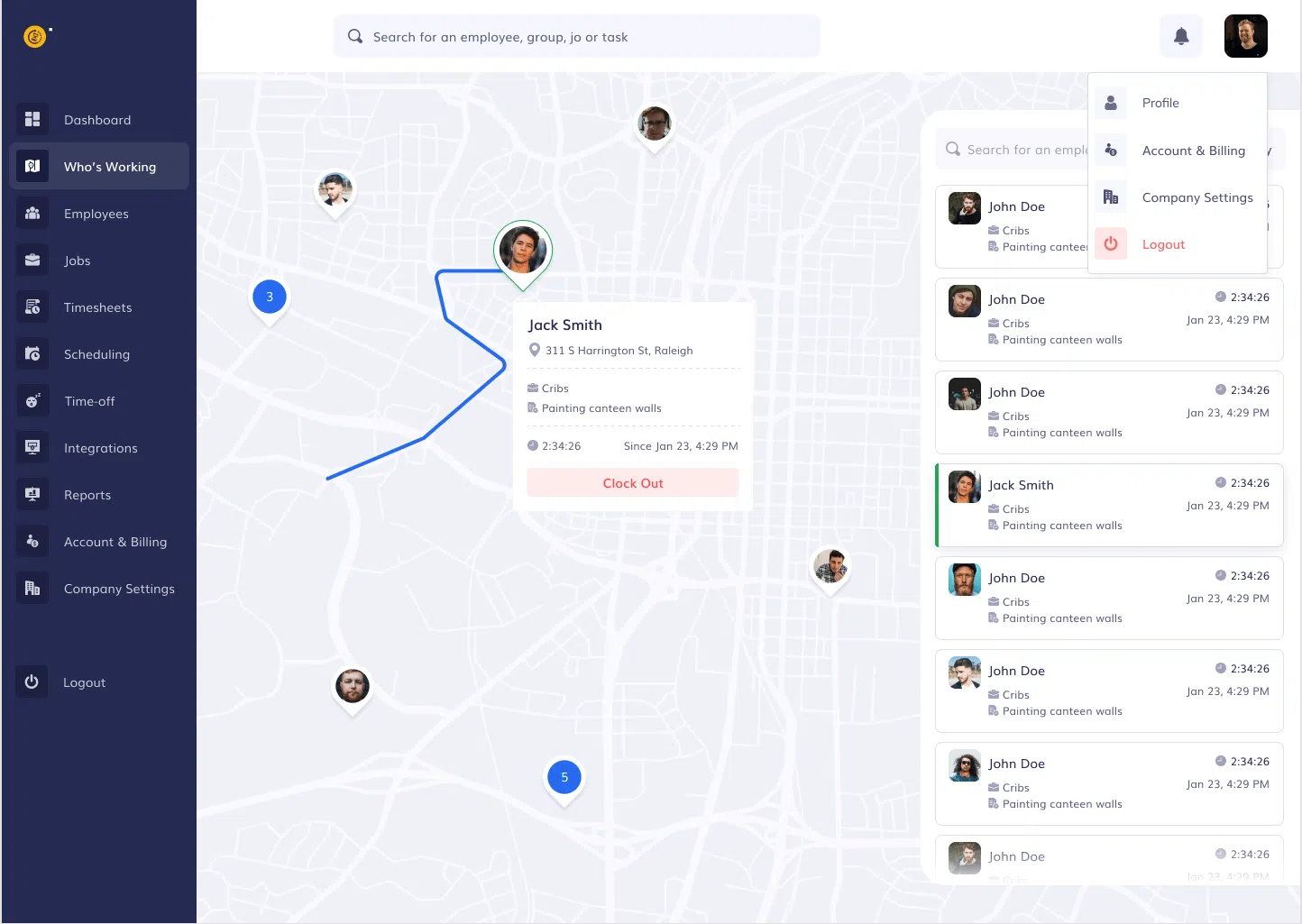 Best for: Time, GPS, and mileage tracking
Timeero is the ultimate time, mileage, and GPS tracker for businesses and teams of all sizes. Timeero is a great cell phone workforce management system that allows you to have insight into your team members' or employees' activities.
In addition to time, mileage, and GPS tracking, teams can also use Timeero for their team scheduling. Your employees get iOS and Android apps that also work offline, and can clock in and out for time, location, and mileage tracking. With Timeero you can monitor your team members from anywhere.
Main features:
Tracking GPS & real-time location tracking
Time tracking
Mileage tracking
Geofencing for the automatic clock in and clock out
Scheduling Team messaging
Advanced time tracking with custom fields, approvals, etc.
Kiosk app,
Integrations for exporting time and mileage with popular accounting and third-party software such QuickBooks Online, QuickBooks Desktop, ADP, Gusto, Rippling, etc.
Available on: web, macOS, mobile (iOS, Android)
Pricing:
$5 per month per user + $10 base fee per month,
includes a 14-day trial with all features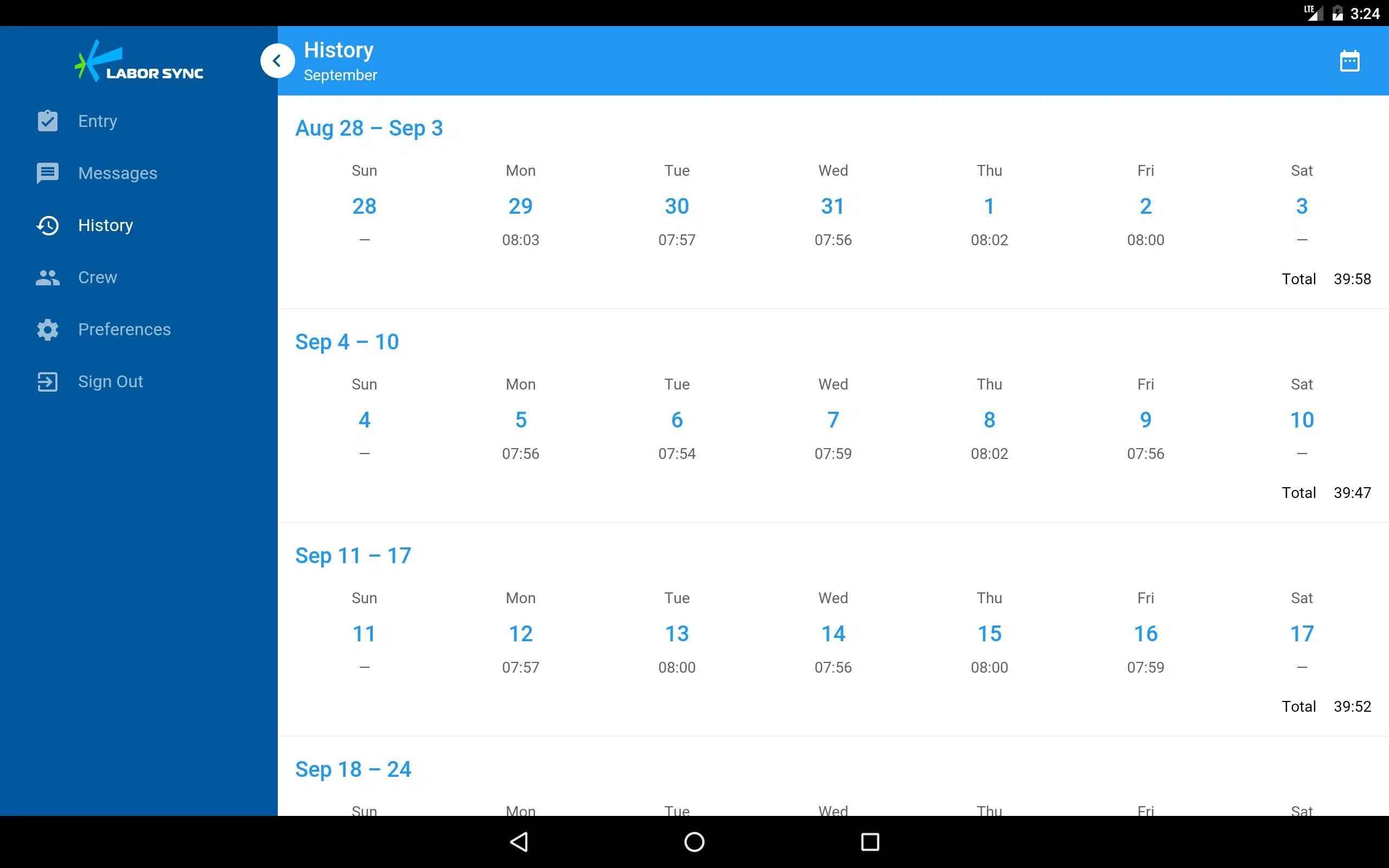 Best for: fleet and crew management
This employee GPS tracking software is suitable for time and attendance management. It helps to keep track of employees' hours and their location via mobile devices.
Labor Sync helps to optimize processes and save time as well as money in your business. Use GPS time tracking from this provider to keep all their information about your employees' locations and vehicles in one place.
Main features:
Payroll
Estimating
Project management
Overall employment management
Customizable reports
GPS-enabled time tracking, you have accurate reports indicating how long each employee is at a job site and the route
Real-time GPS tracking – you can always see what your employees are doing at a specific moment
Field notes and messaging
Available for: desktop, mobile (Android, iOS)
Pricing: $10 per month for active employee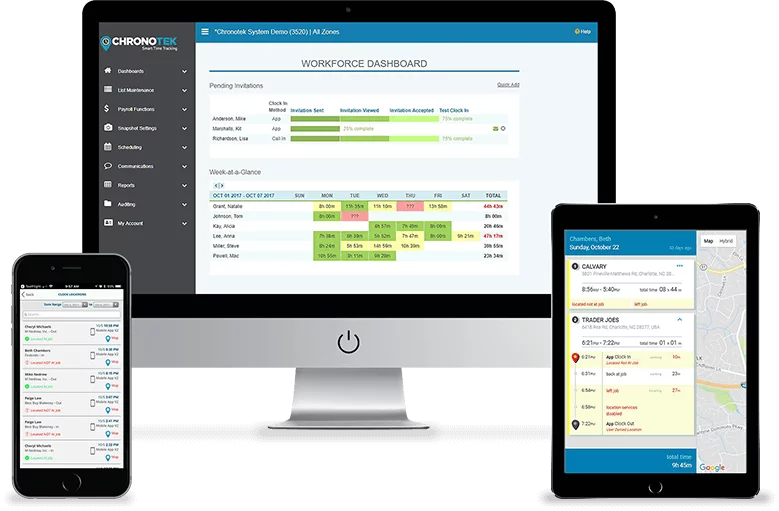 Best for: remote teams
If you're looking for a tool that will track employees' work and location, Chronotek is a perfect fit. It allows your employees to clock in and out no matter where they are.
With Chronotek you will know when and where employees clock in/out, if they left the job site, whether they showed up late for work, missed a job schedule and if they received your messages and calls.
Main features:
GPS tracking with geofence
Workforce messaging
Integrated with Google Maps – travel time cards and mileage are automatically calculated between job locations
Job schedules
Time tracking dashboards with real-time reports
Budget management
Job costing with reports
Custom alert setting
Integrated with many payroll apps
Available for: mobile (Android, iOS devices)
Pricing: $5/employee + a $14 monthly base fee. 30-day trial available
What Is The Best GPS tracking App for Your Business?
There are plenty of options to choose from. Beginning from simple GPS tracking apps with basic functionalities to time tracking software with GPS tracking, or specialist tracking device.
The most important aspects to consider when choosing a tool are your business needs, the way people work in your company, and features you need to track an employee device.
Happy GPS tracking!