Top 11 Time Tracking Software With Desktop App
June 10, 2021
by Kate Borucka
5 comments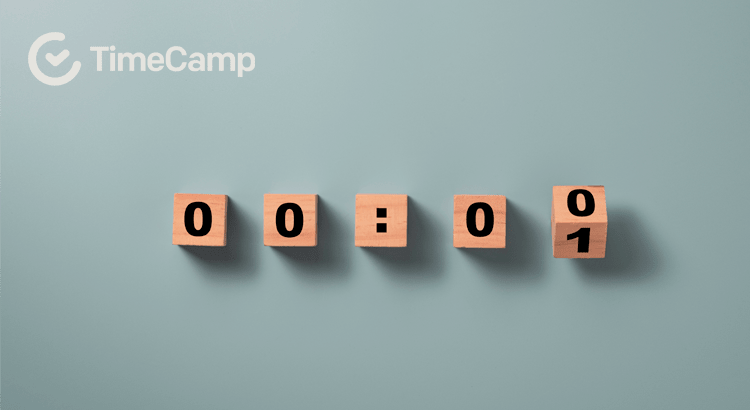 Desktop time tracker lets you conveniently track time you spend on computer activities and monitor how much time you dedicate to work. Such an app is a great addition to time management software as it helps to automate and optimize work.
Why Use Desktop Time Tracker?
A good time tracker can help grow your business as it has many advantages. The right functionalities can help you track profitability and deliver successful projects. But there's more to that.
Here are the benefits of using a desktop time tracker:
Automatic time tracking: desktop apps track time automatically so you don't have to fill in timesheets but can focus on what really matters
Improved productivity: desktop time trackers record computer usage and help to understand how you work, what takes most of your time, and work on productivity
Offline mode for time tracking: desktop time trackers seamlessly sync with the web even when you're offline to accurately track time
Accountability: team members can work on their efficiency and better spend work hours on billable time
Accurate reports and timesheets: with detailed time tracking data you get deep insights into work, hours tracked, and activities for better, data-driven decisions
Desktop time tracking software can be helpful in many industries but is especially useful for remote workers, people who want to improve time management skills, boost productivity, as well as employees who need to report attendance.
It can also help you spot bottlenecks and work on ineffective areas.
How to Track Time At Work?
Time tracking is a popular practice of keeping a record of work hours. And you can do it in two ways:
Fill timesheets manually. You can use timesheet templates, paper spreadsheets, or Excel.
Use automatic time trackers with dedicated features. All you have to do is start a timer and the app generates accurate reports.
How you track time depends on your needs — do you need to track employee time, improve productivity, need detailed timesheets with reports and statistics, or need meticulous work time logs to stay compliant with the law?
However, one of the best ways to track time is a time tracking software with the desktop app. It helps to automate and optimize work.
It may be part of project management apps, productivity and task management software, or a stand-alone solution.
👉 Read more about Best Timesheets Apps!
What's The Best Desktop Time Tracking App?
Many time trackers are available on the market. Each has different features and aims at different niche.
Here's what it's worth looking for in a good desktop time tracking software:
Real-time tracking to get a precise insight into work hours and keep track of performance during the day
Activity tracking to measure productivity and better allocate time
Manual edits in time entries in case you need to make changes in timesheets to have an accurate absence calendar
Tracking billable hours will let you create invoices, manage payroll, and control the budget easily
Free plan or free trial so you can test the app before you decide to subscribe to a paid plan
If you're looking for a desktop time tracking app, here's the list of top time tracking programs with the desktop app. You can use them either as a freelancer, in a team, or for personal projects.
👉 Read more about small business time tracking
1. TimeCamp – FREE time tracking software with desktop app
TimeCamp is an entirely free time tracking software for unlimited users with unlimited projects. It has basic project management features that let you manage all your team within one app.
TimeCamp offers the desktop app which is probably one of the most convenient, distinguishing it from the competition. You can adjust your tasks by clicking on the app and change them according to your needs. You can do it either manually or automatically.
The app also comes with the feature of idle detection and offline time tracking. Additionally, you can add tags to get better reporting, and organize your projects.
Besides that, the app tracks time of all background activities, synchronizes across devices, and is available on different operating systems (Windows, MacOS, and Linux Ubuntu).
This automatic time tracking software enables you to work without being distracted by the app and keeps your productivity at the highest level. TimeCamp has a GPS tracking feature as well!
When you're done with work or personal tasks, you can flexibly operate with your data within the app:
Manage timesheets and attendance
Access data in the visualized form — graphs, diagrams, and timesheets in the form of a calendar with colors in a weekly and daily view
See which activities are productive and non-productive
Reports show you precise time spent on all activities
You can track billable and non-billable hours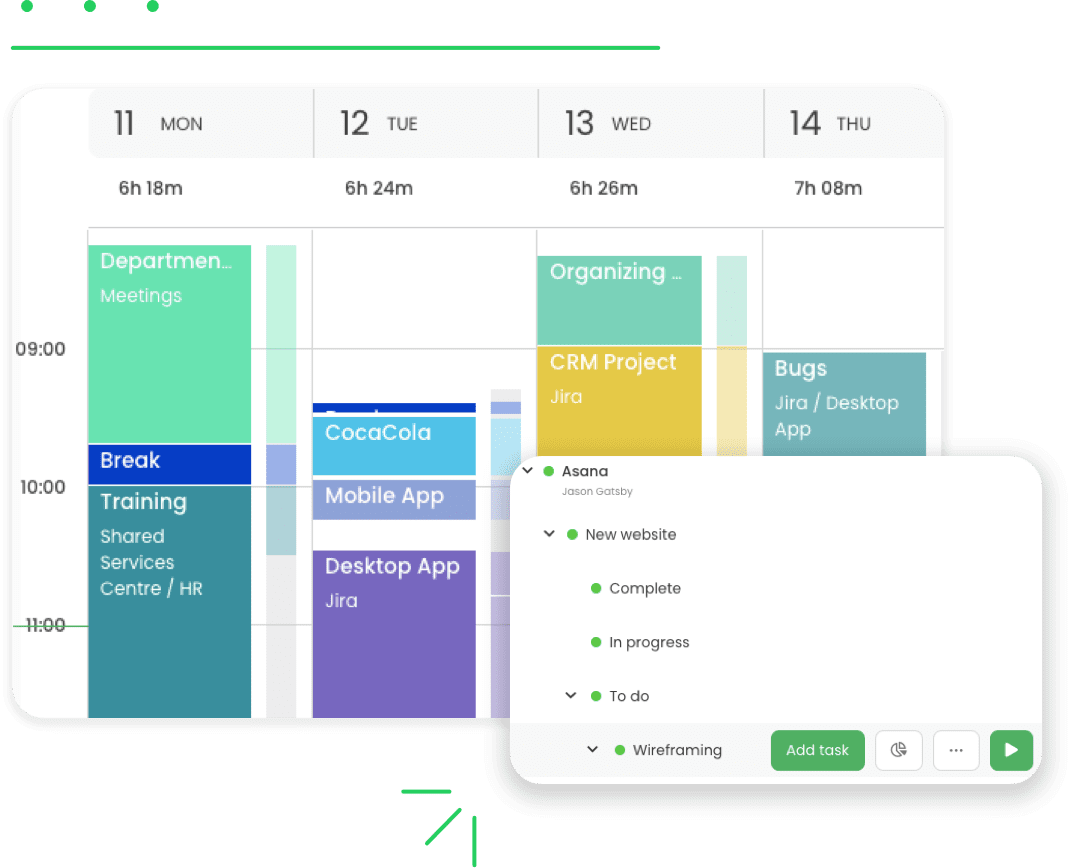 Pricing: The free plan is available for unlimited users with unlimited projects. The Starter plan is $3,99 per user/month billed monthly ($2,99 per user/month billed annually), Basic plan is $7.99 per user/month billed monthly ($5.99 per user/month billed annually), Pro – $10.99 per user/month billed monthly ($7.99 per user/month billed annually), and Enterprise, on-premise, offer custom pricing.
2. Toggl – simple time tracker
Toggl is one of the most popular time tracking software for desktops. Similar to TimeCamp, Toggl's desktop app allows you to track time automatically or add time entries manually. The app works even if you're offline and synchronizes with the servers when you're online.
Toggl's time tracker gives you quick access to all your projects. You can adjust them depending on what are the details of your project — client, task, project's name. The app also reminds you about turning your time tracking on and has idle detection. Also, in Toggl you can use tags to mark the category of your projects, and track time with the Pomodoro timer.
However, the Toggl time tracker doesn't offer many additional features so it's best for simple task management.
⇒ See the comparison between Toggl & TimeCamp
Pricing: free plan is available for up to 5 users. Starter is $10 – per user per month, Premium is $20 per user per month, and Enterprise with custom pricing and unlimited users.
3. Klok – tracking time solo and for a team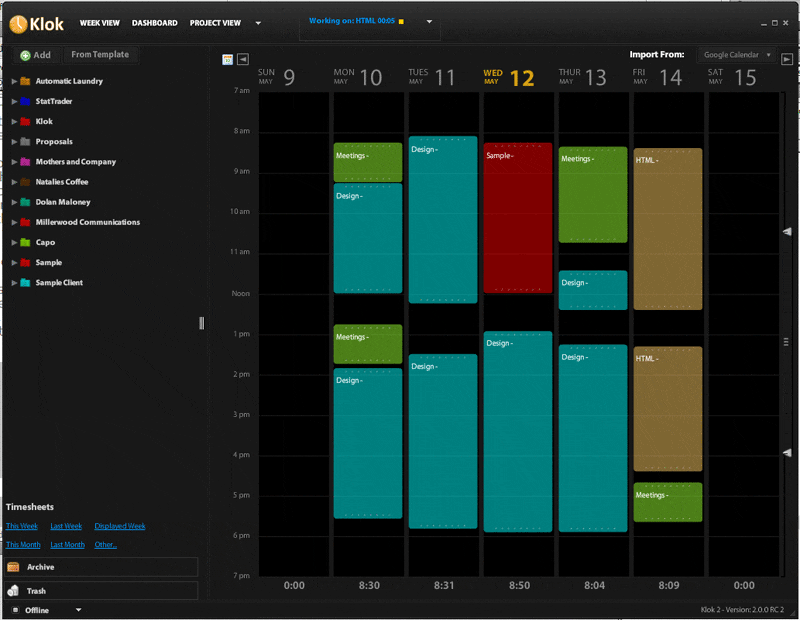 Klok time tracking app is a comprehensible tool that works directly on your computer. To use it, first, you need to install it on your PC.
Klok Team Console is a hub with aggregated reporting that provides analytic view and insights across resources and projects. Also, it allows you to track time across multiple team members. Klok shows your time entries as blocks of time.
The app lets you track time for two separate projects within a day and see every single time entry even if you toggled between projects numerous times. You can track this level of detail with a flexible client/project structure — organize work by client with multiple projects broken down into tasks.
In Klok, you simply start working on an item by dropping on the "Drop here to work on" area at the top of the screen (or right-click a project or task and choose "Work on"). When you start working on something else the timer on the previous task will automatically stop and a new one will start. The time spent on the task will be added to your week view and show up when you view the dashboard or timesheet. You can also stop the timer manually.
All data is stored locally in a file on your computer (set by default or by your preference). You can backup it manually or configure Klok to run a backup on a scheduled frequency and save the backup file location to use an external file share such as Dropbox.
Moreover, you get features such as timesheets, billing and invoicing, reporting, and importing meetings from your calendar.
👉 Check also our list of best time and billing software
4. Hubstaff – time tracking app for remote workers
Hubstaff is also one of the most popular time tracking software, especially among the remote workforce.
Hubstaff's desktop app works similarly to Toggl's. It displays a window in which you have access to your tasks and projects. There, you can create new entries and manage those already existing. The app synchronizes with the cloud and shows reports on your work based on the activity registered by the app, productivity data, and location of every employee.
Hubstaff time tracker collects all data on your activities and how much time you spent on them — apps, URLs, optional screenshots. Everything happens in real-time.
Hubstaff is available as a time tracking app for Windows, mobile app, and web app that lets you access your time tracking data.
5. Harvest – project and cost time tracking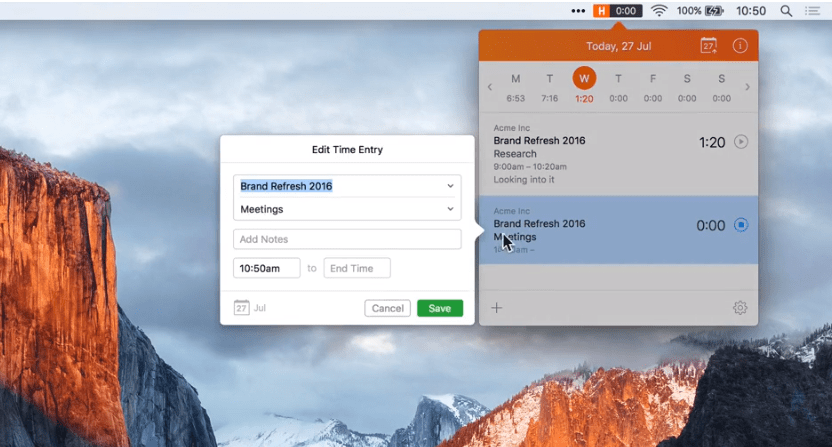 Harvest is a simple online time tracking app available for desktop. It combines the functionalities of a time tracker and basic project management software. Harvest has such features as tracking time and expenses for teams, simple timesheets, log hours, reports, projects, invoicing, tracking billable time, and simple scheduling.
Its app is available for Windows and Mac and lets you easily start a timer from your desktop.
Harvest's app allows you to add entries based on the project or task. You can also see the exact date and time you've so far spent on your activities.
The time tracker app is lightweight, free, and makes it easy to track time:
Start tracking time with the timer in seconds with a click or hotkey
Simple project and task selection dropdown with autofill
Option to remove idle time from a running timer
Show/hide timesheet instantly with hotkeys
View timesheets from previous dates
Quick links to manage project and tasks in Harvest
⇒ See the comparison between Harvest & TimeCamp
 Pricing: free plan is available for one user with 2 projects. Pro plan is $12 per seat per month with unlimited users and projects. 30-day free trial with all features is available.
👉 Read more about time tracking reports.
6. Cattr – free activity tracking for workflow improvement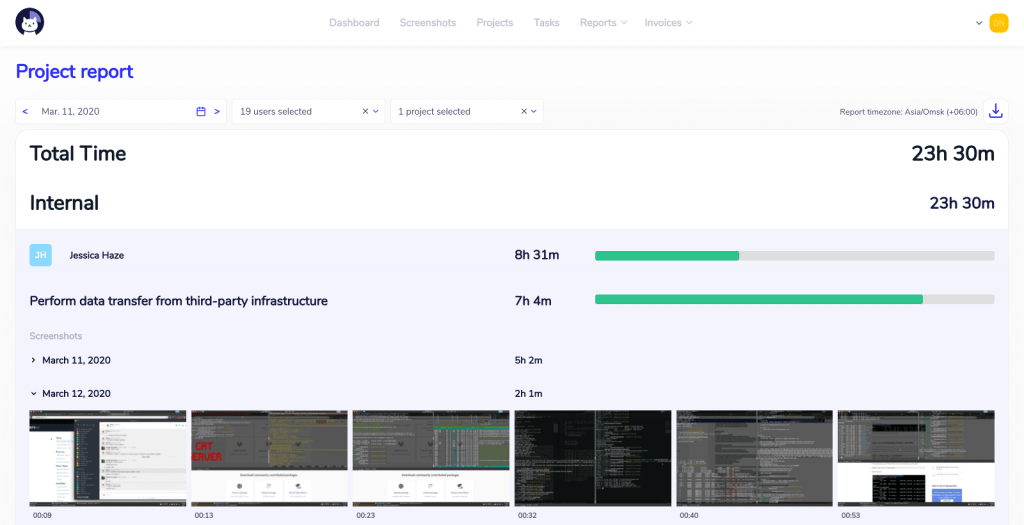 Cattr is an open-source time tracker with desktop app for Windows, macOS, and Linux. It's a lightweight app with simple project management features.
The app has four modules:
Dashboard with Timeline and Team view that displays users, hours worked, timezones, and projects
Projects with projects name, members assigned, and amount of tasks
Screenshots – built-in screenshots capture and activity detection (inclulding keyboard and mouse)
Tasks
Reports with summary time for hours tracked, projects, team members, and users
You can also set different time zones, add time manually, and assign different access roles for an employee and manager.
Cattr will let you understand better how your employees work and plan workflow also for remote work.
Pricing: because Cattr is an open-source platform, it's a free app.
7. RescueTime – time tracking with distraction blocking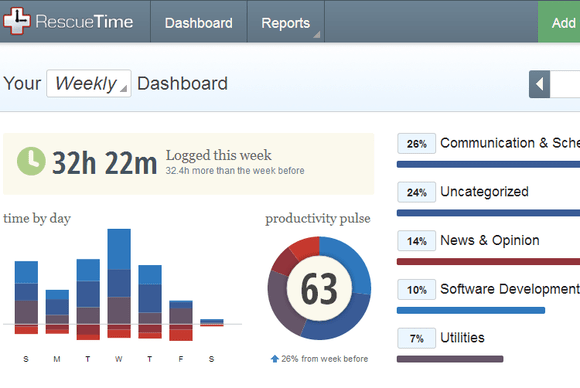 RescueTime is a great time tracking app for boosting productivity and improving time management skills. It's a simple combination of a time tracker and a website blocker. It's available for Windows, Mac, Linux, and Chrome.
The app allows you to set alerts to know when you have spent a certain amount of time on a particular activity. The desktop app tracks all your activities in the background letting you do your work.
In its simplicity, the app helps you become more productive and learn what causes you to lose focus. Additionally, you can block distracting websites, work in sessions, set daily limits on apps and sites, customize what gets blocked, or schedule focused time directly in your calendar.
RescueTime time tracking tool collects website data, browser detailed time, and records the offline time.
⇒ See the best RescueTime alternatives
Pricing: RescueTime offers two subscription plans. Lite – a free plan with basic automatic time tracking. Premium – $12/mo, $78/year with unlimited features. A 14-day free trial is available.
8. DeskTime – activity tracking & employee monitoring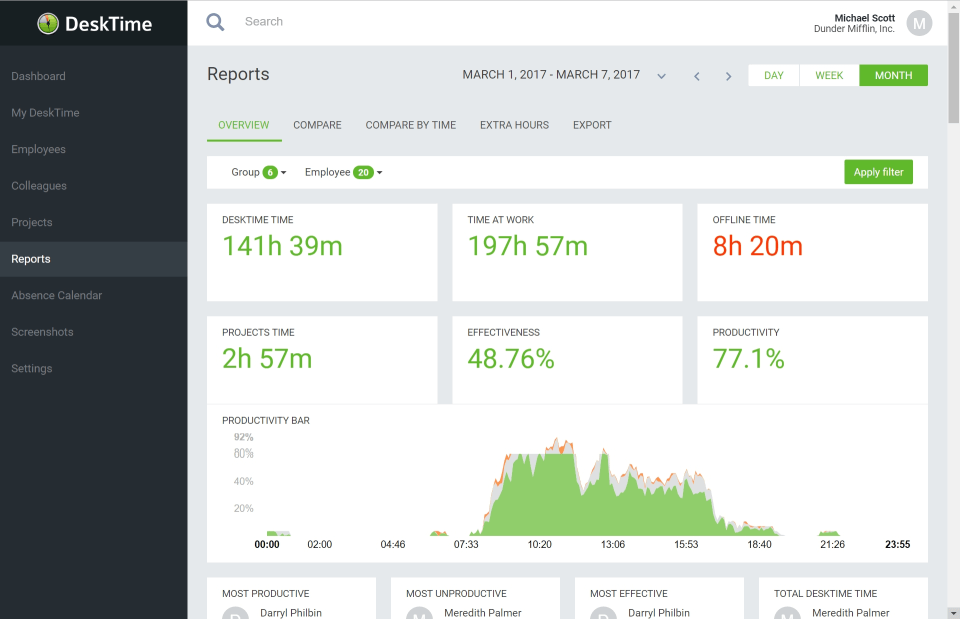 DeskTime is a time tracking app that combines employee activity monitoring features. It tracks activity on a computer by recording every website, program, application, and internet usage.
You can easily access the app from any place to check on your team's progress, see statistics on company and employees' performance, and other information on real-time activities, and attendance statuses.
Additionally, DeskTime has an absence calendar to keep track of vacation hours, sick leave, and other free days. You can also create an employee absence schedule to quickly calculate payroll, and better allocate work.
DeskTime is available for Windows, Mac and Linux, and as a mobile app (iOS and Android).
It's a time tracking app with plenty of useful tracking features, especially helpful for remote workers and those who want to gather data on their computer activities:
Automatic time tracking
Screenshots
URL and app tracking, document title tracking
Project tracking
Activity rate trackers allow you to follow time spent on individual and group projects
Detecting mouse movements and keyboard inputs (exit-intent technology)
Pomodoro timer
Admins can divide tracked applications with colors into productive apps (green), unproductive (red), and neutral (grey). It's possible to set parameters for each department or team member and adjust categories according to specific jobs
Screen tracker
⇒ See the comparison between DeskTime & TimeCamp
Pricing: the free version of DeskTime is limited to automatic time tracking and mobile app. For other features, you need to sign up for one of the paid plans. Pricing starts at $7 per month per user. A free 14-day trial is also available.
9. Tick – minimalistic time tracking app for macOS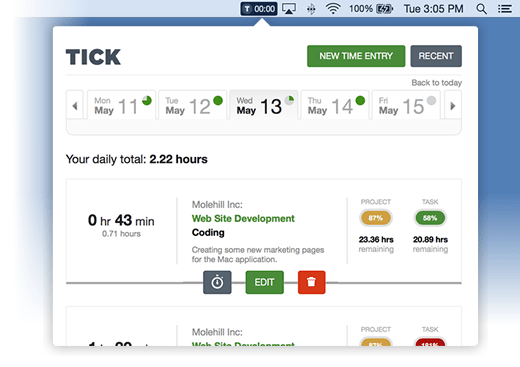 Tick is a simple and friendly time tracking app that is helpful in controlling the budget. The app integrates seamlessly with your free or paid Tick account, allowing you to log new time entries and check on the status of existing projects.
Tick's time tracking app for desktop helps to monitor the budget, employee performance, team's time, and overall state of work. Use it if you need a simplified version of the project management and time tracking tool that helps to detect and eliminate trouble spots in the project process.
Pricing: You can try Tick free for 30 days. With the free plan, you can only create one project. Pricing starts at $19/month.
👉 Read also: 15+ Time Tracking Software for Mac OS X
10. actiTIME – timesheet app with desktop time tracking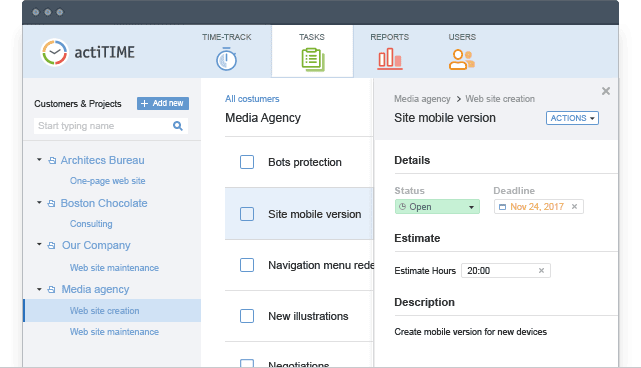 actiTIME is easy and user-friendly timesheet software. It lets you organize project teams, plan workflow, and visualize the scope and current status.
The desktop app works as a simple timer. It has all the most important time tracking features necessary to easily track your time. It shows you a time tracker, tasks, reports, and users. If you're looking for a simple solution, this software will be sufficient enough to satisfy your needs.
Additionally, you can set up your own work structure and turn off the functionalities you don't need to focus on what really matters and boost productivity.
Pricing: As a free time tracking app, actiTIME is limited for 1-3 users with limited time tracking features. Pricing starts at $7 per user per month and depends on the number of users.
11. Timing – macOS time tracking with categories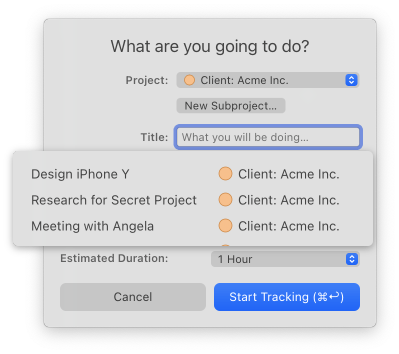 Timing is a productivity app for Mac that records time automatically. The app works in the background and collects data during your work. You can use the Timing app to track your time individually, with team, or to share it with a manager. Timing for Teams allows you to share projects with team members and view their time entries in the web app.
Timing lets you categorize every process. The timeline shows when you worked on what (including websites, apps, folders, and tasks), how much time you spent on work hours, and how efficient you were. You can assign categories to activities, and access all data in detailed records. Timing also has a calendar view to help you plan your work.
The tool, however, doesn't offer more extensive business administration functionalities. Thus, it's a good solution to track and analyze hours.
Pricing: free plan is not available, but there is a 14-day free trial. Pricing starts at €10 per user, per month.
Final Thoughts
The right time tracker for your desktop can help you understand how you're spending time, what apps and websites are most distracting, how much time you spend in meetings, answering emails, and on social media.
It will show when you're most and least productive, and help to find the bottlenecks that are draining on your budget and energy.
Use the free time tracking app to boost profitability, accountability, and productivity.
5 out of 5 stars (based on 2 reviews)