Do you still track employee hours with a spreadsheet? If yes, please stop wasting time on manual calculations - smart companies do it automatically with TimeCamp, a simple time entry system!
Table of Contents
How to enter time online with TimeCamp?
How much does the TimeCamp time entry system cost?
Why use a time entry system?
One could say - to log time. And it's fine because this is the primary purpose of time tracking! However, good time entry software provides you with data valuable time data that can be used to streamline various company processes.
👉 Attendance records in order
Attendance management produces tons of paper - mostly because paper time cards are still widely used and considered the cheapest work hours logging solution, especially among small businesses owners. However, is it worth the effort if you can replace it with an online time entry system that offers affordable pricing?
Time entry systems, also known as time tracking software, track employee time paperlessly, using various online methods of tracking time spent on work assignments. The data they gather is safely stored in the cloud, and you have easy access to it, always ready to help you prepare an accurate payroll list.
👉 Time saver
Many companies still use spreadsheet time tracking, an outdated practice that wastes work hours and has a high risk of mistakes caused by human error.
Time tracking tools, especially those that offer an automatic time entry system, reduce time spent on filling timesheets to the minimum. The difference will be even more noticeable if you give a desktop app a try - the tool works in the background and seamlessly fills timesheets with time entries for a particular day. Smart and saves time for what really matters!
👉 No buddy punch
Traditional time entry systems are often based on paper time cards. This method literally invites employees to mess around with their attendance records - it's pretty easy to clock in an employee who's absent when you only need to put a time card into a hardware time tracking reader.
Implementing a time entry system, you'll be sure that there are no flaws in your attendance management, thus ensuring the company an accurate payroll.
How to enter time online with TimeCamp?
💚 Automatic time tracking
Did you know that TimeCamp seamlessly assigns time entries to the appropriate projects and tasks? Download a Windows, Mac, or Linux desktop app, enable Automatic time tracking features, and enjoy tracking work hours without switching between tasks manually!
Once you download the desktop app, you only need to enable the keywords feature and determine the keywords set for specific projects. This way, the tool automatically recognizes the activity each time when the keyword appears in the open window, e.g., in the file or folder name, in an address of a browsed website, or used app.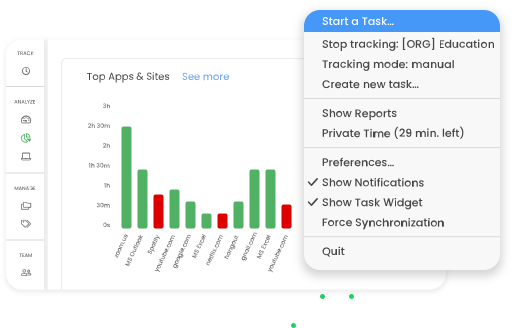 Be as specific as you can when adding new keywords, because the tool won't recognize keywords that are too general, like, e.g., content writing. Try to use the names of the tools you use instead!
Apps for desktop track time in the background and automatically fill your timesheets with time entries of work hours. This method is highly recommended for those struggling to stay focused on their assignments.
👉 Download our desktop app for Windows, Mac and Linux here!
💚 Day and Calendar timesheets
Automatic time tracking is fun, but if you like filling timesheets manually or want to start a running timer and assign tasks later, give the heart of TimeCamp - timesheets, a try.
You can view it as day timesheets, a table with time entries, with a new time entry creator above. Use this time entry system to manually add a new time entry or start a new running timer. Once you finish working on a specific task, stop a timer, add an end hour, and then save - the entry will automatically appear on the list below the bar. Day timesheets allow you also to copy time entries from previous days.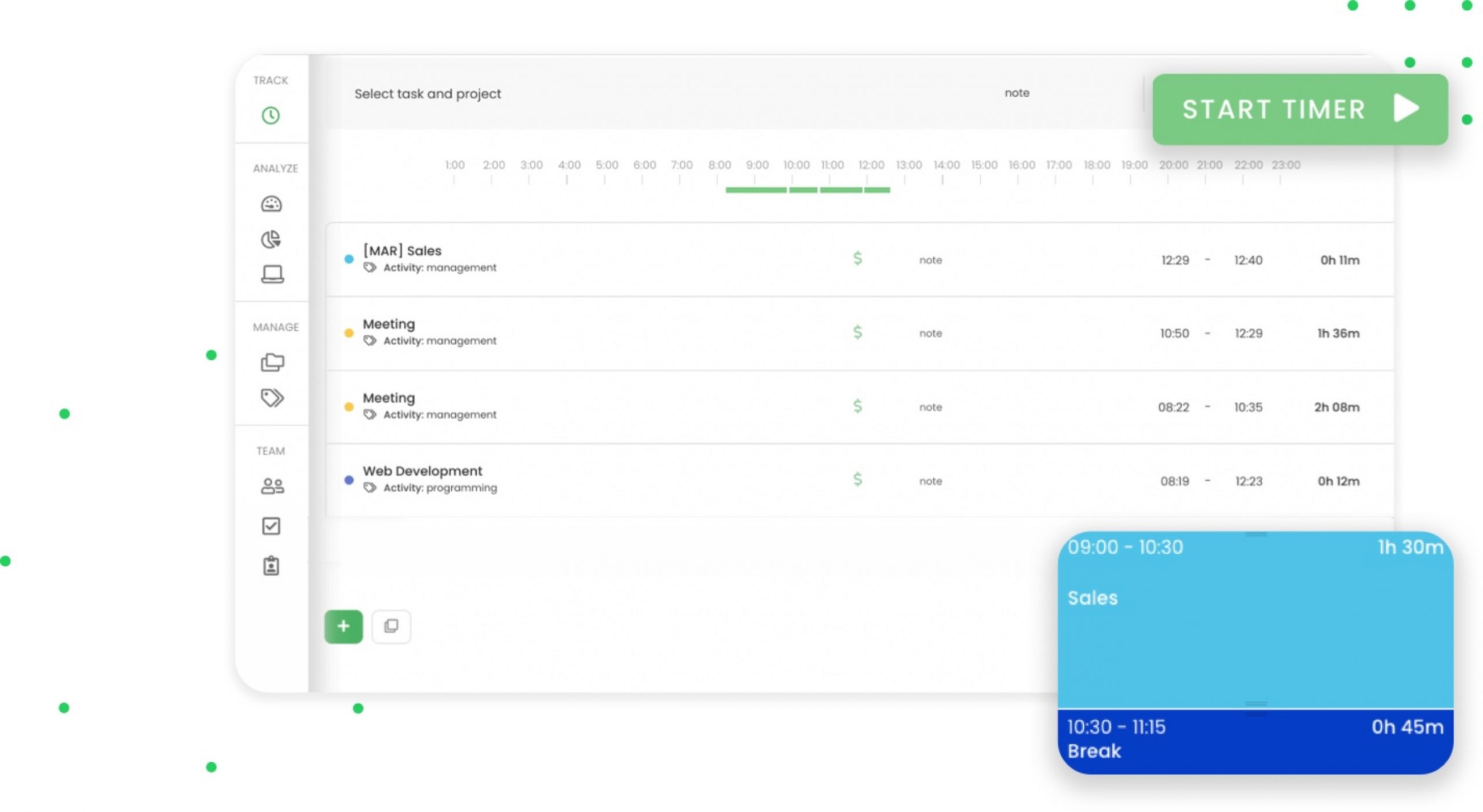 If you prefer a more visual display of your data, check a Calendar view. It displays time entries as colorful blocks of time - each color means the tasks belong to a different project (you can set the colors in the Projects module). To add a new time entry here - just open select the day, find the start hours on the table, drag the cursor down ( holding the mouse button), and then release when ready. You can also start a new timer there.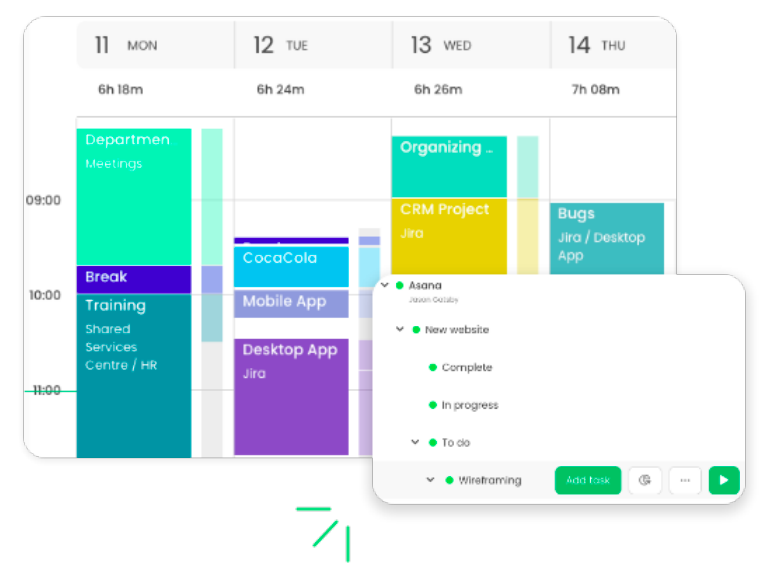 💚 Week timesheet
If you need a time entry system that allows filling timesheets for a few days at once, you should definitely try our Week view! It's mainly dedicated to those users whose workstyle lets them enter time spent working on specific tasks instead of specifying the exact start and end time of their working days. Thus, the start timer button isn't available in this view.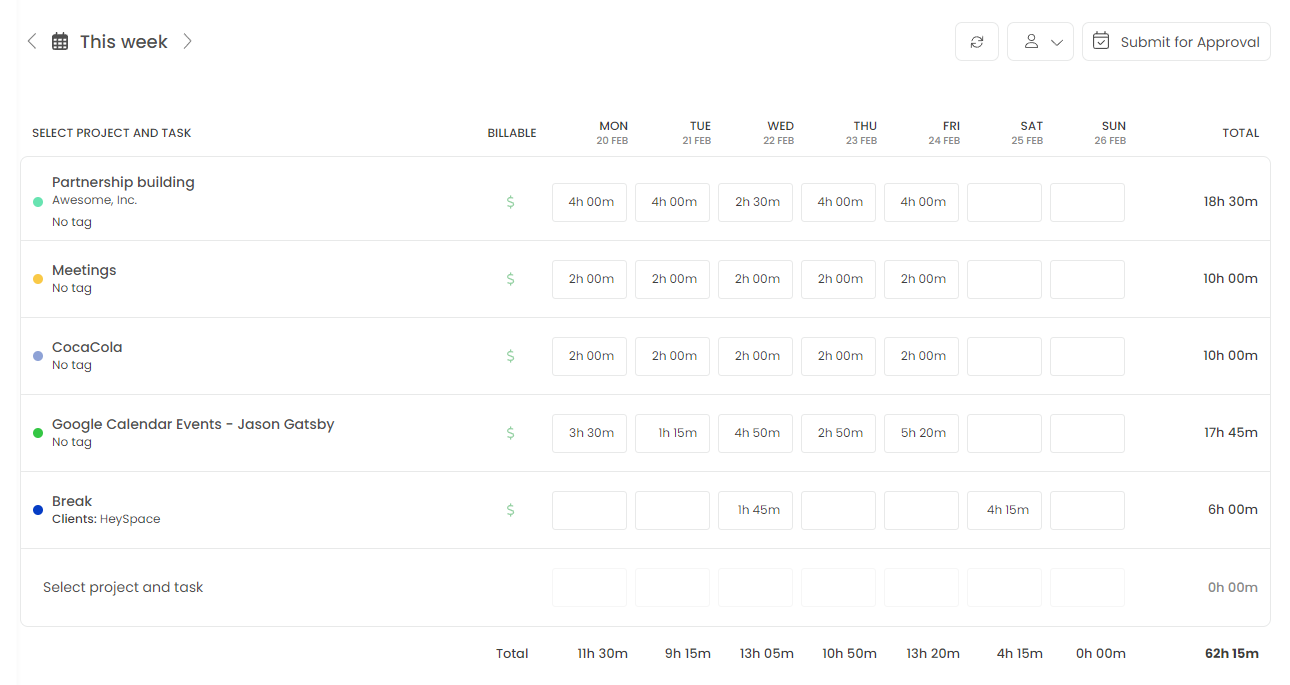 Filling timesheets with a weekly view is super easy - choose a project and task, optionally select tags and decide if the time entry should be included in billable hours, then just input the number of hours you work on this task each day within the selected week.
With a week view, you'll also fill the timesheets for past and future weeks, which comes in handy if you usually do this at the end of the month.
💚 Time clock kiosk
Companies that need just a simple punch-in and out feature can try our Time Clock Kiosk. It's a time entry system that tracks employee time by clocking in and out using a four-digit PIN code, unique for each user. Employees enter their PINs into the shared device placed somewhere in the facility. The kiosk eliminates paper time cards, inaccurate time tracking, and the risk of buddy punch.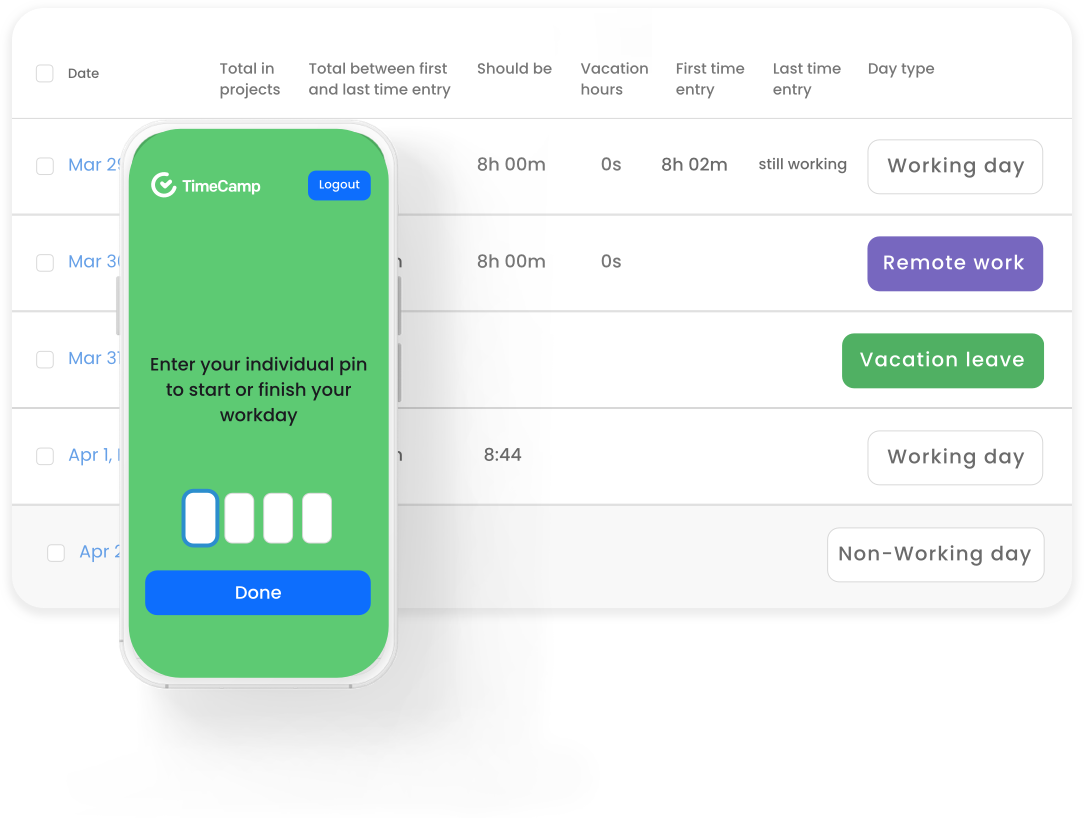 You don't need any particular app to use this time entry system - any device with a stable internet connection is perfect enough. Just enable the Kiosk module, enter kiosk.timecamp.io, and ensure everyone knows their PIN codes.
💚 Mobile app
Field workers and employees that often spend time outside the office will surely appreciate TimeCamp for a mobile device. It's a timesheet app but simplified - you'll add new time entries there or start a running timer, access the summary report, or ad a new project if needed.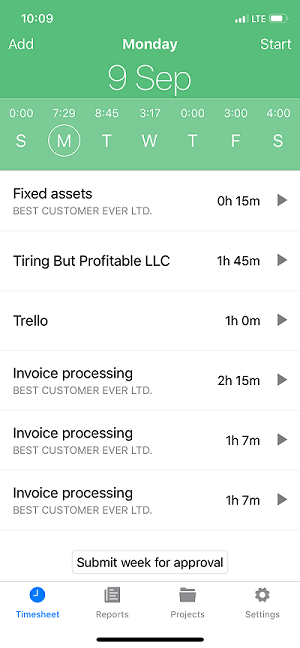 What's most important, TimeCamp mobile app provides GPS tracking, so you can track the location when a timer for a task is running. Generate the location report in TimeCamp for the web to monitor the duration time and timestamp of entries, information about assigned tasks, and users who tracked time.
💚 Integrations and browser plugin
Want to track time spent using other tools? Check the the TimeCamp integration list and find out if our time entry system integrates with your tools!
TimeCamp offers 30+ native integrations with apps like JIRA, Trello, Asana, Clickup, Monday, Zendesk, Salesforce, or Azure DevOps - bet these tools need no extra introduction. Integrations enhance our tool with more advanced project management features and improve the company's payroll system.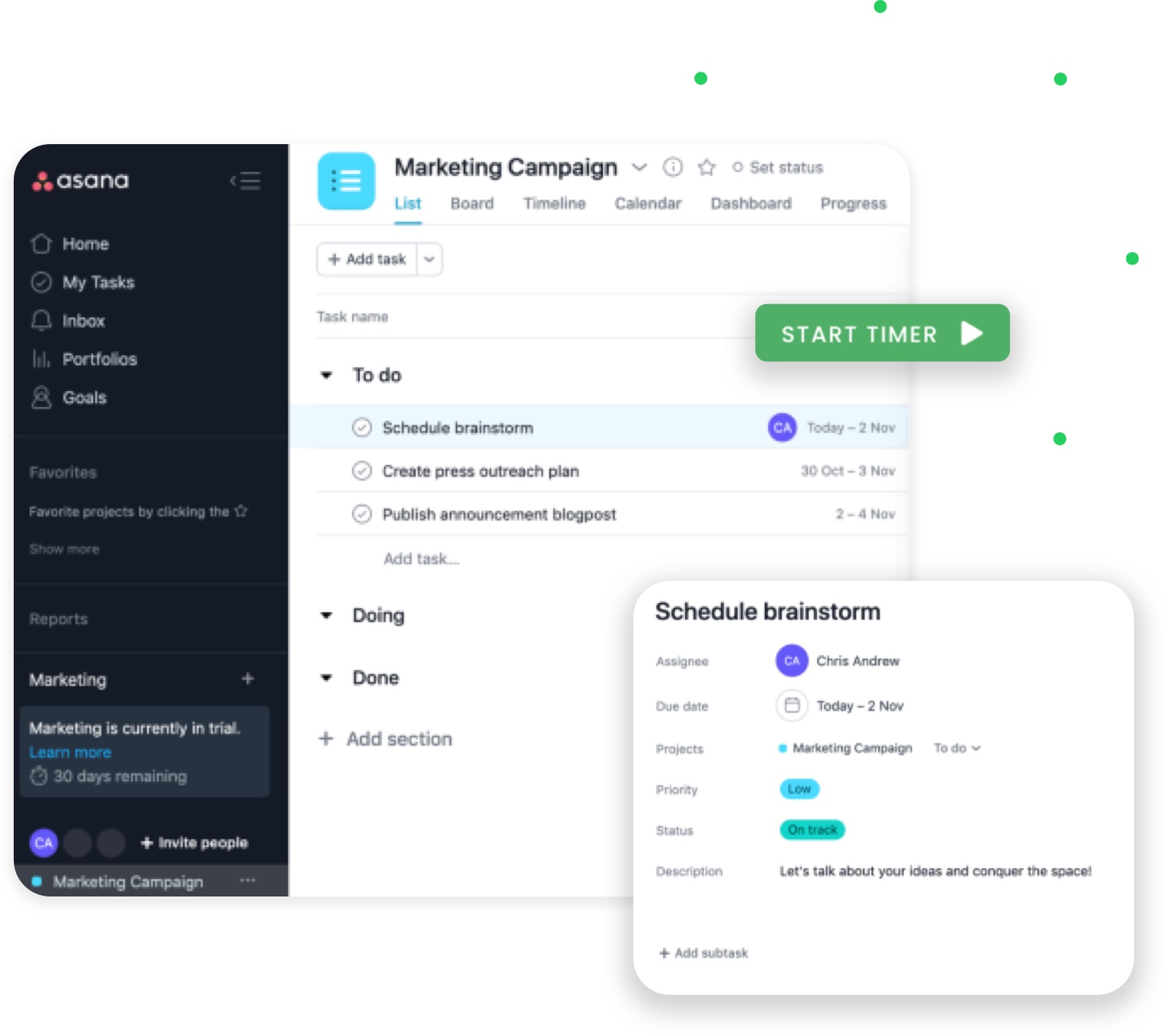 Besides, you can give TimeCamp browser plugin a try! It's available for Google Chrome and Edge and extends the list of integrations to the 70+ tools. Get it right now to implement time tracking service to your tool!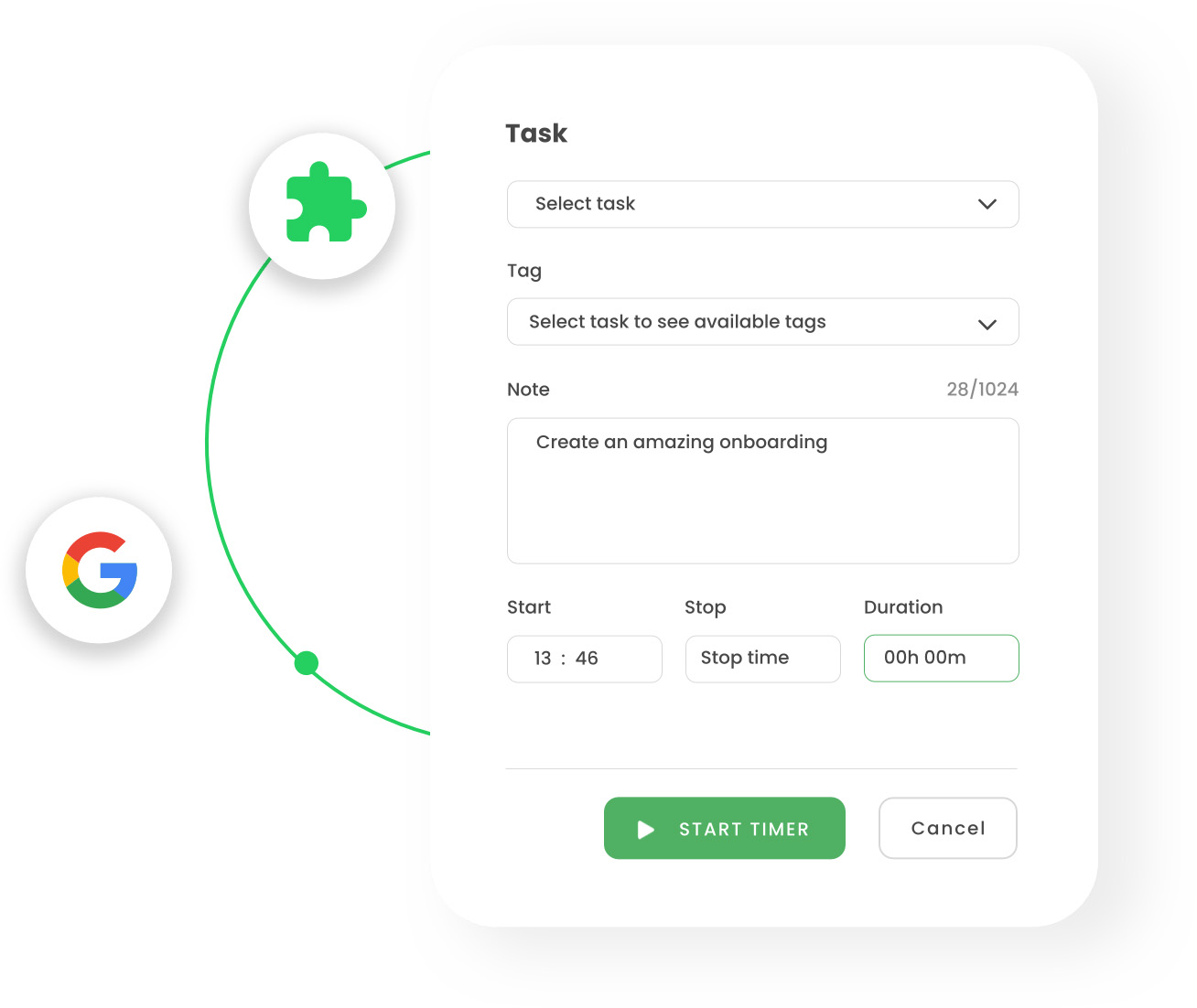 How much does the TimeCamp time entry system cost?
👉 TimeCamp offers affordable pricing for freelancers and teams with both basic and more advanced needs:
Free plan - a free version of TimeCamp time tracker includes all the essentials for effortless time tracking - automatic time tracking, project tree structure, one integration, desktop and mobile apps, and many more,
Basic - $7.99 per user per month billed annually, including custom reporting, billable time and budgeting, productivity tracking, unlimited integrations, and more,
Pro - $10.99 per user per month billed annually, including billing rates, invoicing, timesheet approvals, custom user roles, and more,
Enterprise - custom pricing for teams with more specific requirements.
Free trial available (14 days). No credit card is required.