Employee time tracking software is a must-have for modern small and large businesses. It streamlines many tedious processes that are related to human resources, just as attendance tracking, resource scheduling, or time reporting for efficient project tracking. A good employee tracking app helps you plan your workload smarter, providing you with valuable info on how many hours your employees spend on specific tasks.
Table of Contents
Why use staff time tracking software?
How much does TimeCamp staff time tracking app cost?
Why use staff time tracking software?
👉 All employee timesheets in one place
Paper time cards and spreadsheets are a waste of time and money, and it's so easy to lose them. To keep work hour records in perfect order, track employee time with an online time tracker or incorporate time tracking features into the team management software you've already used.
Thanks to time tracking software, you'll never spend hours preparing attendance and payroll lists based on paper time cards anymore. A time tracker keeps all your employees' records in an easily accessible place, so you can use them anytime and for any purpose you want.
👉  Helps monitor employee productivity
Good real-time personnel time tracking tools not only help you keep employee attendance in order but also enable productivity tracking, especially if they offer reporting features. A productivity report provides you with insights into employee time and performance, so if you suspect a productivity drop in your team, you can quickly find its reason and prepare a recovery plan for improvements.
👉  Supports project planning
Effective project management should always be based on thorough human resource analysis - people and their skills are the most precious resources in the end. Employee monitoring software, especially when it's supported by an employee scheduling feature, allows you to keep an eye on the team's workload and make smarter decisions when assigning team members to tasks in projects.
💚 TimeCamp for staff tracking
Let's check what key features of TimeCamp support efficient employee hours tracking!
✅ Automatic time tracking
Download a TimeCamp desktop app for Mac, Windows, or Linux and enable automatic time tracking to let the tool fill your timesheets automatically with time entries and/or daily activity.
Desktop time tracking apps work in the background - they seamlessly assign employee time to the appropriate tasks, so you don't have to switch between them manually when starting a new task. One you should do is set up a keywords list for projects and tasks to let the app know how to assign time entries to the appropriate projects.
Automatic time tracking in TimeCamp is entirely free!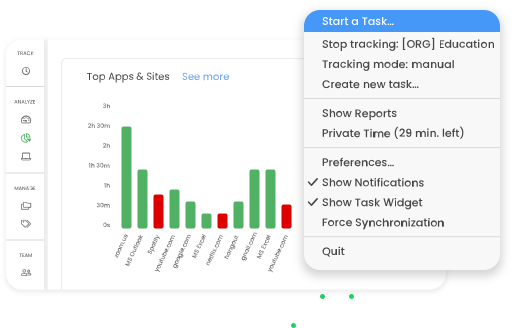 ✅ Time clock kiosk
Computer usage in non-desk jobs, like those from the manufacturing or hospitality industry, is significantly lower, so employee time tracking apps for desktop or web timers are not the first-choice options to track employee hours in this case. There are many companies that still use paper punch cards to clock in and out both off-site and on-site employees, but this method is quite outdated, carries a high risk of inaccurate time tracking caused by human error, and often triggers bad practices like buddy punching.
To replace timecards (and stop wasting paper, by the way), check Time Clock Kiosk by TimeCamp. It's a simple-to-use module that only requires a shared device like a laptop or tablet placed in a visible place in your facility and an internet connection. Each employee receives their unique, 4-digit PIN code and uses it to clock in and clock out within a work day.
Employee work hours tracked this way appear in timesheets automatically, and, thus, in attendance reports, so managers can easily prepare payroll lists based on their records.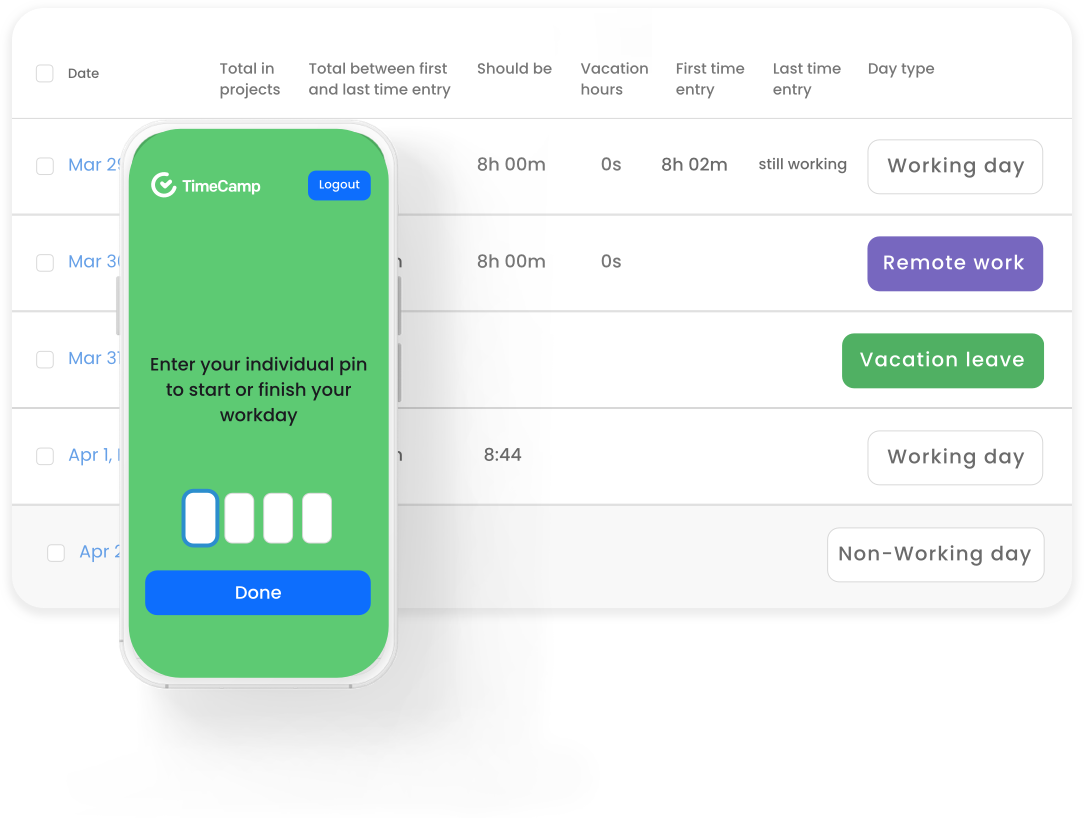 ✅ Reporting
TimeCamp allows you to prepare detailed time tracking reports for both project progress and employee performance.
You can choose from plenty of pre-built detailed reports for:
a summary of the total number of hours logged for tasks and projects,

a specific task or for groups of tasks,

a particular user or the entire team,

budgeting to compare tracked work hours with the estimated budget and assigned billing rates (billable hours included),

estimates to compare time registered for tasks and time or fees that has left from the assigned budget,

revenues to get a clear overview of the income of a certain employee and tasks they tracked time for,

costs to check the cost of logged time, filtered by a certain employee on a specific task,

margin to prepare a comparison between the cost and revenue,

location to keep an eye on GPS tracking app usage and mobile employees' locations,

attendance to create a detailed overview of your employees' absences,

activities to show the breakdown of browsed websites, documents you worked on, or apps you used,

custom reports to create a report based on your own needs using a pivot table and drag&drop variables.
You can also create time reports using a pivot table and drag&drop variables if you can't find a suitable template on the list above.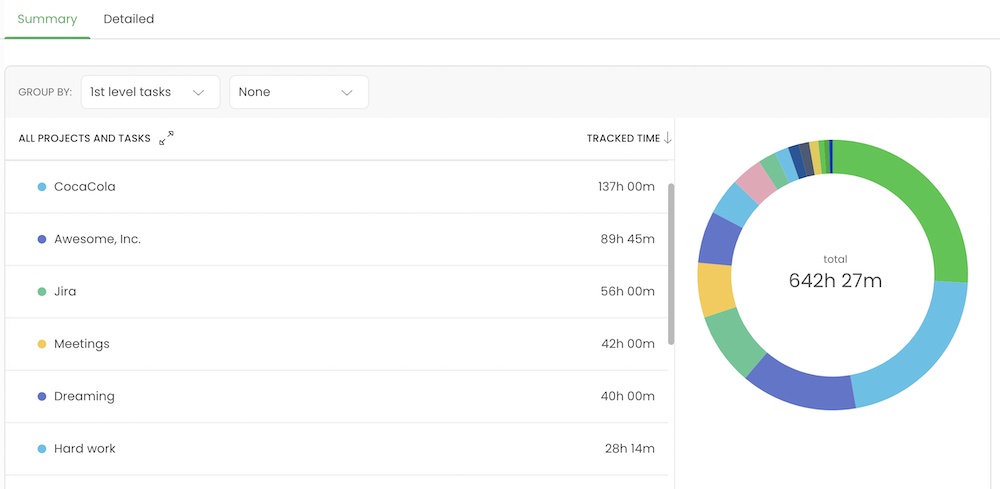 ✅ Integrations 
TimeCamp offers a wide range of native time tracking integrations with 30+ accounting, sales, team collaboration, marketing, dev, or project management tools like Trello, JIRA, Asana, Monday.com, Clickup, Zendesk, Salesforce, Quickbooks or Azure DevOps. By integrating Time Camp with other tools, you can enhance its usage and create an ultimate toolkit with time tracking, billing, and accounting features. Most of the integrations exist as in-app plugins or allow you to import the entire project structure to TimeCamp.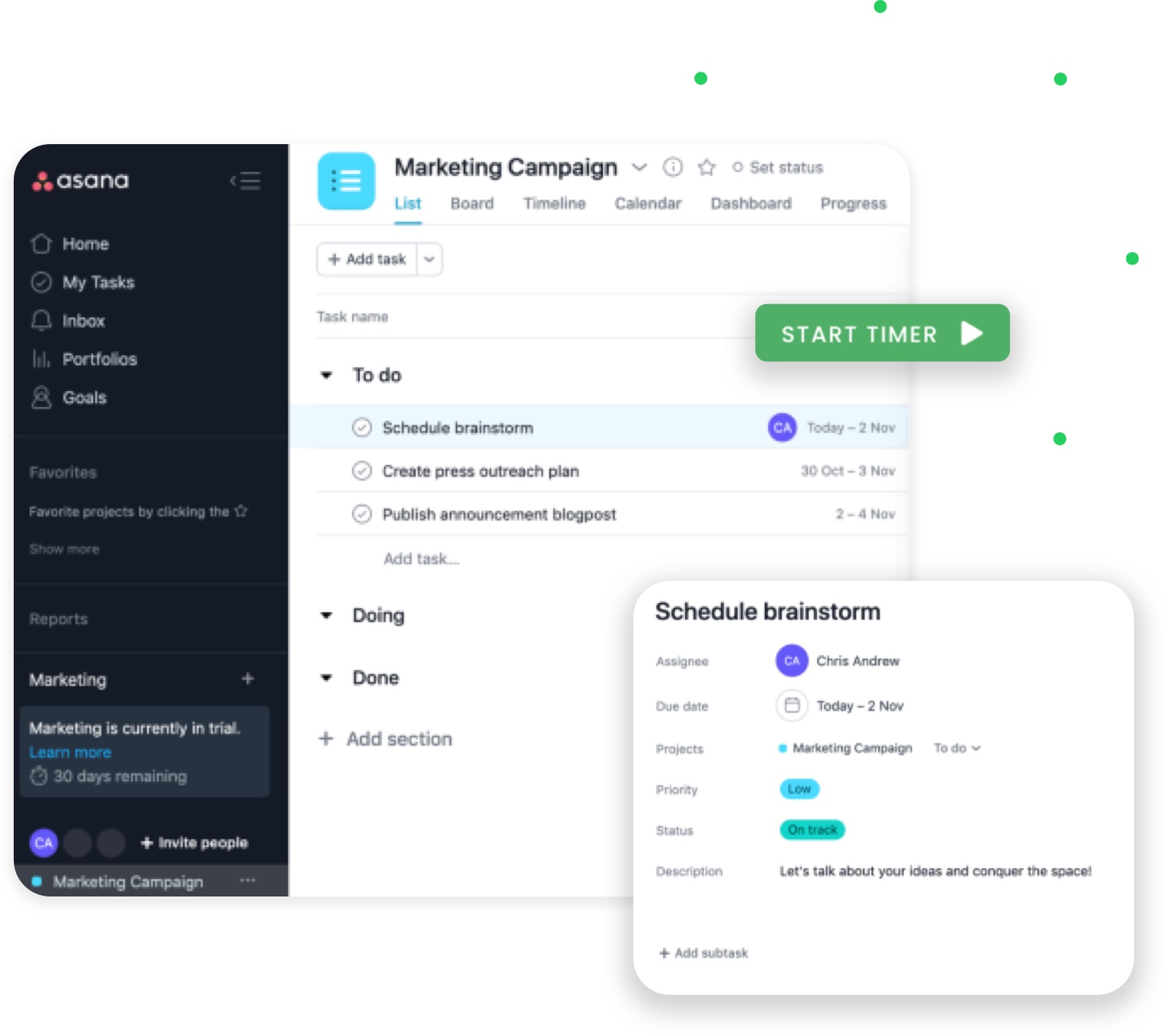 Moreover, you can integrate TimeCamp with your PayPal accounts and stay up to date with payments for already issued invoices.
Besides, TimeCamp offers a browser plugin for Chrome and Edge - it extends the list of integrations to 70+ tools and allows you to track time to tasks on specific project management services directly, within the chosen app.
✅ GPS tracking app
TimeCamp time tracking app for mobile devices (available for iOS and Android) enables a GPS location tracking module. Use it to supervise the location of employees who often need to spend hours outside the office, e.g., to meet their clients.
Create a Location report and get a detailed overview of employees' locations for expense tracking purposes.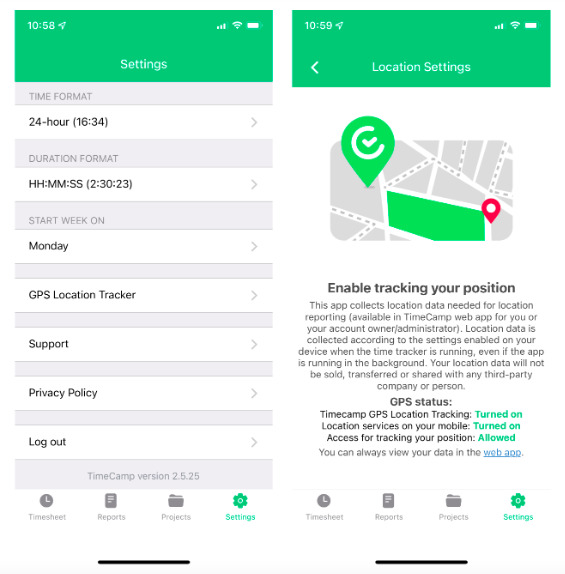 ✅ Overtime alerts
Using time tracking software prevents overworking - you can keep an eye on how many work hours your employees log, and if that number doesn't exceed the default timeframe.
TimeCamp sends you emails when the total number of hours tracked within a week is nearly exceeding the expected weekly total of time spent on projects and tasks.
Besides, TimeCamp has a few other ways that prevent logging overtime. Enable these solutions in Settings:
Automatically stop tracking time after closing the browser window - perfect for these employees who often forget about stopping the timer when they end a workday,

Allow tracking time only during a specific timeframe - define a timeframe when your employees track time (are allowed log working hours), e.g., between 8 AM and 6 PM; it prevents them from staying at work all night - it's time for proper rest (works with desktop apps only),

Stop tracking time, when the daily hours limit is reached - define a total number of hours an employee can log for a specific time frame (e.g., 40 hours per week or 8 hours per day); the desktop app will stop tracking time when an employee exceeds this value.
How much does TimeCamp staff time tracking app cost?
TimeCamp offers a 14-day free trial and affordable pricing for teams and freelancers with various needs:
Free time tracking app - a free plan of TimeCamp for unlimited users includes all the essentials the best employee time tracking software app should have - accurate time tracking, unlimited projects, a time clock kiosk, desktop, and mobile apps, idle time detection, and many more,

Starter - $2.99 per user per month, including unlimited tasks, excel reports export, attendance, time-off, overtime tracking

Basic - $6.99 per user per month, including unlimited integrations, billable time, budget & estimates, apps & websites tracking, project archiving, and more,

Pro - $9.99 per user per month, including billable rates, labor costs, invoicing, timesheet approvals, custom user roles, and more

Enterprise - custom pricing; contact sales team for more details
Keep your time under control with TimeCamp, a staff time tracker app!