Want to accurately track time spent on various tasks? You couldn't find better – TimeCamp, a task time tracker app, does all the job, so you can stay focused on what really matters at your work. Find out why!
Table of Contents
How does TimeCamp task time tracking software work?
Does TimeCamp offer task management features?
How much does TimeCamp free task time tracker cost?
How does TimeCamp task time tracking software work?
TimeCamp is an automatic time tracking software created to track time in the background and fill your timesheets in seconds. Forget tedious spreadsheet filling – once you enable its desktop app or put the timer to good use, you'll never want to track time spent on tasks differently!
TimeCamp offers various ways for task time tracking:
💚 Web app
Basic time tracking view, the very first you see after entering a newly registered account. Its heart is a timer bar that allows adding time entries manually or starting a new timer. Assign a project and task, add tags and notes, and then decide if you want to fill the start/end hours spent working on a task or start a running timer for it.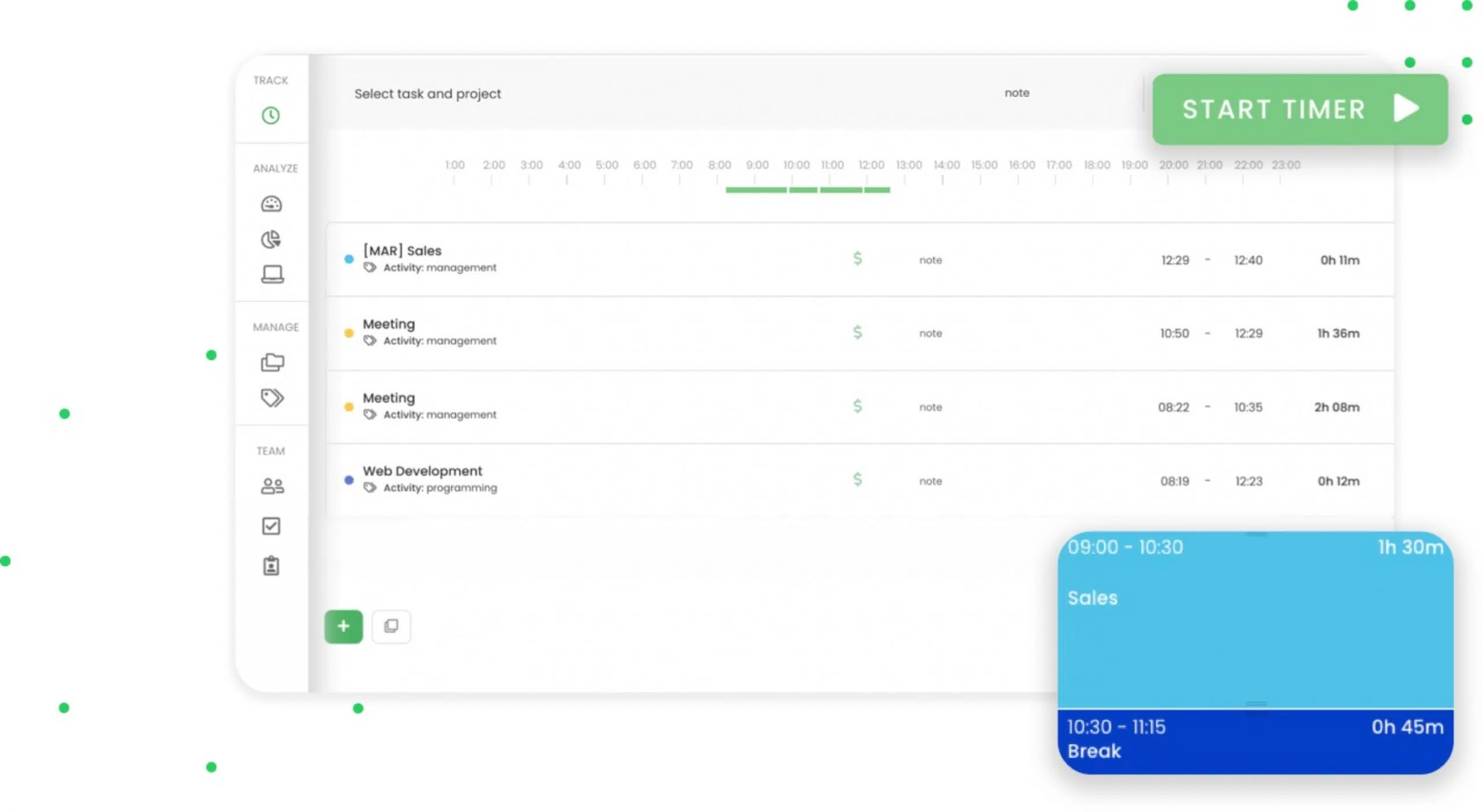 The web app offers three different views:
Standard Day

(more text-like)

Graphical Calendar

(more graphical-like),

Week view

for filling timesheet data for a week at once, a perfect option for users who only want to log hours spent on a particular project or task without inputting start/end hours.
Each view allows you to track time spent working on a particular project or task.
💚 Desktop app
The desktop app in TimeCamp offers automatic time tracking that uses optional activity tracking and assigns time entries to the appropriate projects or tasks with keywords. It works in the background, and once you enable the automatic mode, you can forget about changing a task each time you start working on something new.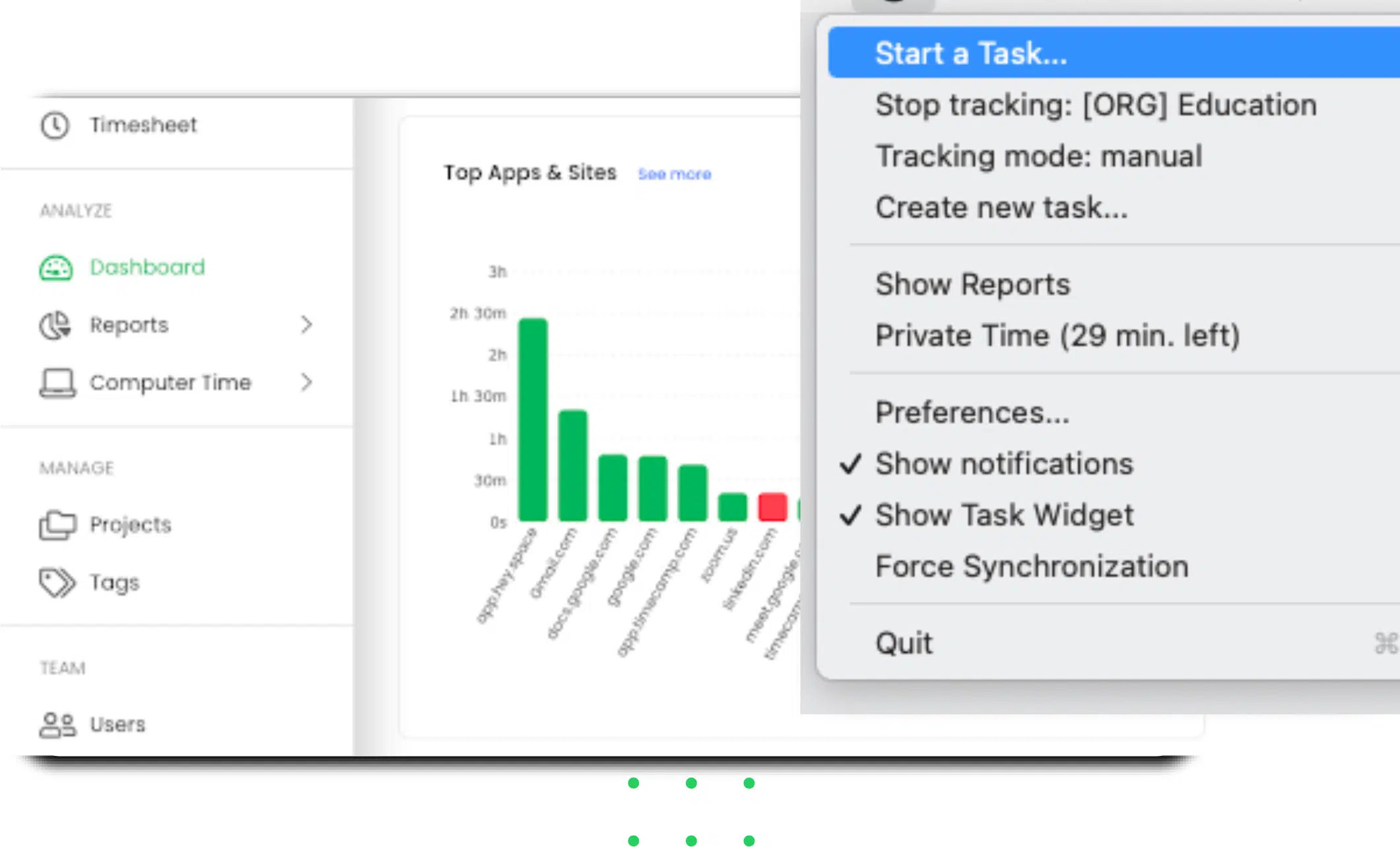 What's more, the desktop app can launch itself when you activate your device, so you won't forget to turn it on and thus waste the opportunity to fill the timesheets automatically.
Download our desktop app for Windows, MacOS, or Linux here!
💚 Mobile app
TimeCamp's versatility helps also track time spent on tasks when you're outside of the office. A client asked for a meeting in their company? Want to work a little when commuting? Need GPS tracking to assign each time entry to the specific location?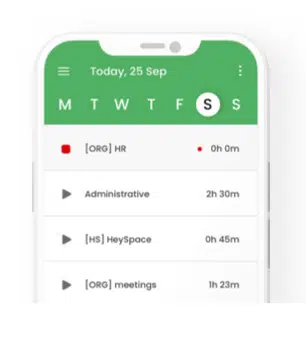 💡 TimeCamp mobile app is available for iOS and Android and provides you with the highest level of task time tracking service wherever you are.
💚 Integrations
TimeCamp integrates directly with 30+ tools, like Trello, JIRA, Asana, Monday, Clickup, Zendesk, Salesforce, or AzureDevOps. It mostly allows you to track time directly from your project management tools, implementing a time tracking button into the task view of your favorite tool.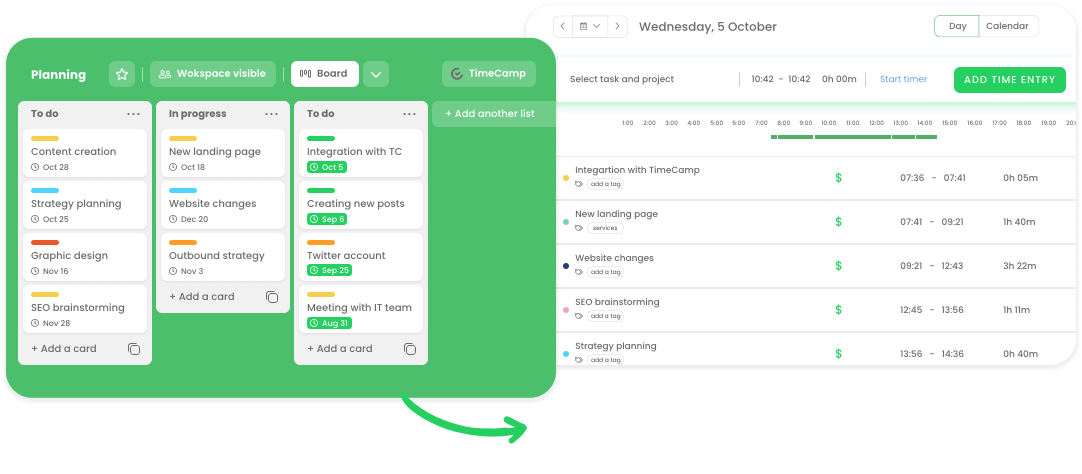 For other apps, you can import the entire project structure to TimeCamp and track time manually for them or start a new timer, choosing the project/task from the task picker of the timer bar in the timesheet view.
Adding TimeCamp, a simple time tracking app to CRM, sales, accounting, or project management tools helps you create invoices or detailed reports from time entries assigned to the particular task that's been already created in the tool you use.
💡 Check the full integrations list here!
💚 Browser plugin
Do you want to track time spent using a particular tool, but you can't find it on our integration list? No worries – TimeCamp is also available as a browser extension for Chrome and Edge, allowing you to add our best time tracker app to your tool!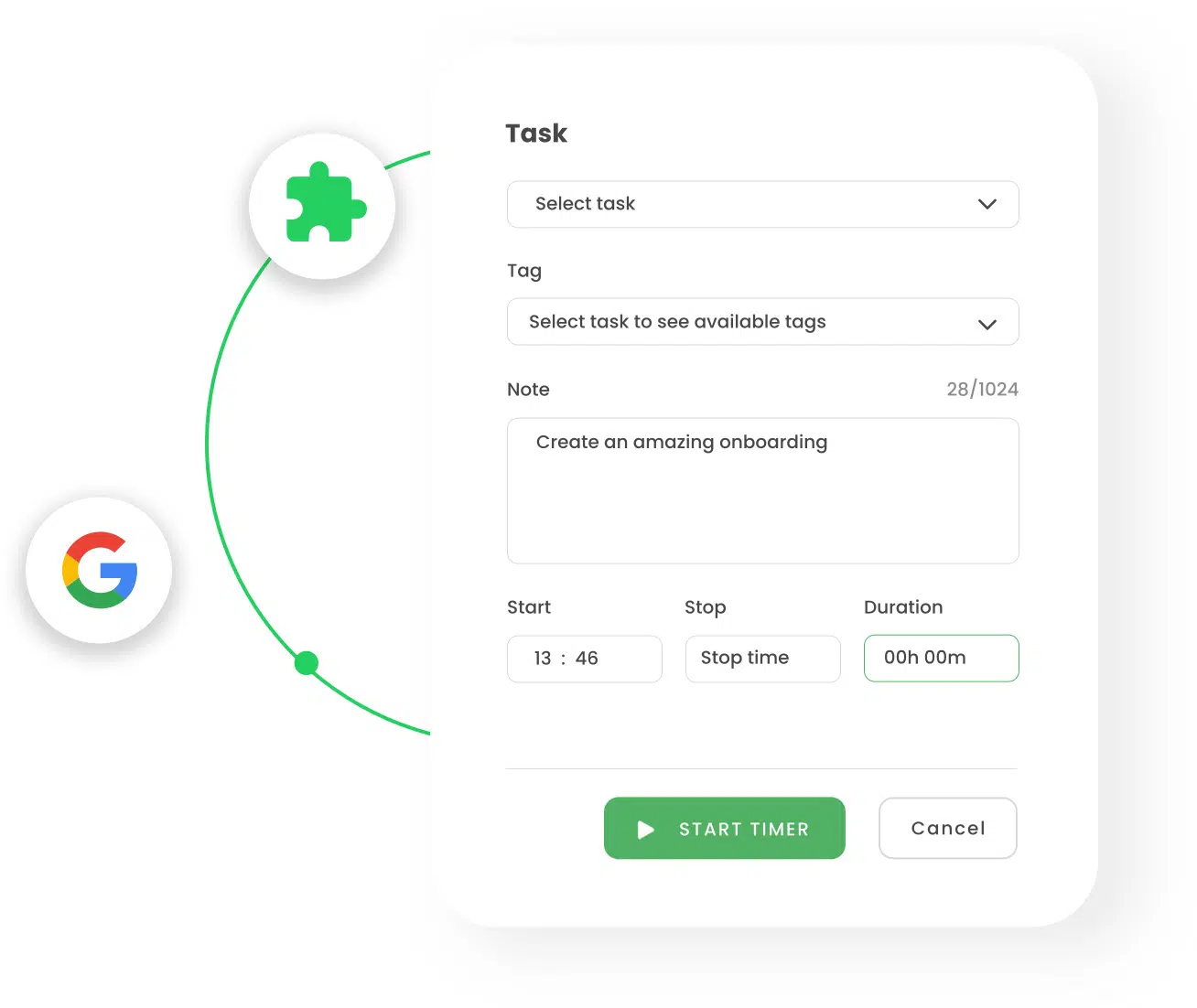 Once you install the plugin in your browser, you can access it from the task/card view of a tool you want to track time for. Just enter it, start a timer, and each time entry created this way will automatically appear in the timesheet in TimeCamp.
💡 Check the TimeCamp browser plugin in Chrome Web Store and Edge Add-ons marketplace!
Time reporting features
Time tracking data collected by apps and features mentioned above is a perfect source of knowledge about employee performance and project progress, especially for project managers and team leaders. TimeCamp offers a variety of pre-built reports for performance and productivity monitoring, as well as for smarter project budget estimations and resource utilization.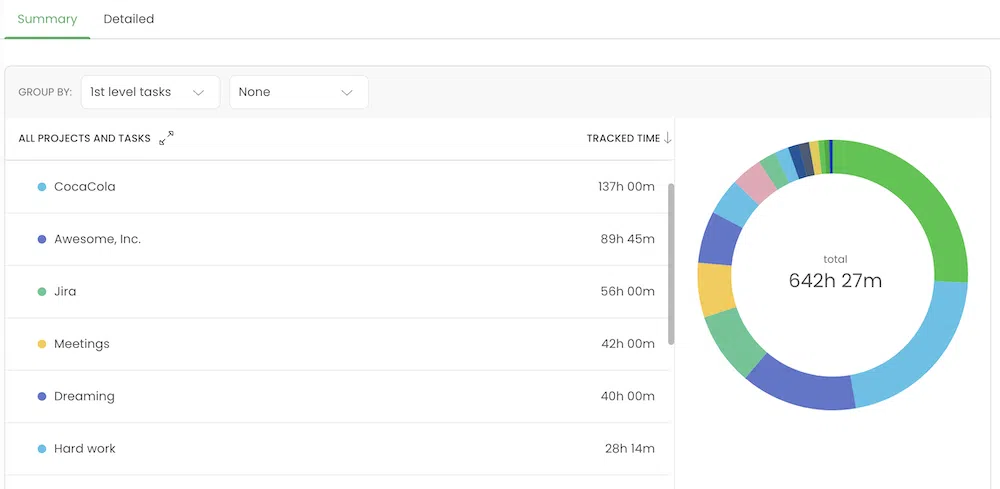 However, if these templates don't meet your needs, you can create a custom report, using a pivot table with a wide range of drag&drop variables.
No matter which way you prefer, TimeCamp always provides you with a complete overview of how your tasks are performing.
💚 Timesheet management
A smart task time tracking software like TimeCamp streamlines the daily pain of filling timesheets but also gives you the tools to manage them. Once the timesheets are filled with time tracked using some of the methods above, employees can send them for approval. Users with appropriate permissions can approve or reject them, and leave a note of what needs to be changed in case of rejection.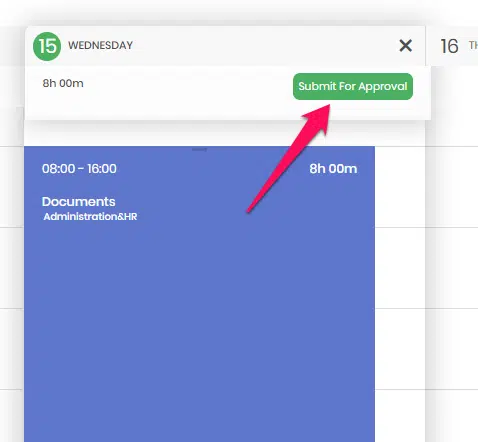 Does TimeCamp offer task management features?
Whether TimeCamp isn't a classic tool for managing tasks, its unique project structure helps manage multiple tasks and hours logged for them. This powerful employee monitoring software allows you to track time and billable hours for specific projects or tasks and maintain time entries in the perfect order.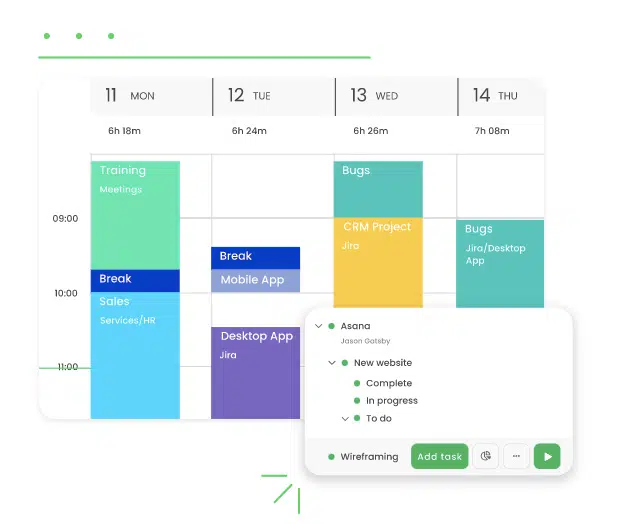 As a free task time tracker, TimeCamp offers unlimited projects and tasks to let you create a structure as detailed as your workflow requires (even in a free plan). All the data from all these apps and devices, synchronize perfectly, so whether you track time using desktop apps, a mobile app, or a browser plugin, you don't have to worry about the final result.
Luckily, we know how to ease this pain! Give a try…
TimeCamp Planner – powerful workflow management tool
TimeCamp Planner, formerly HeySpace, is a clever task planning tool with chat features. It turns every message into a customizable task, so you can be sure you won't miss any brilliant idea anymore.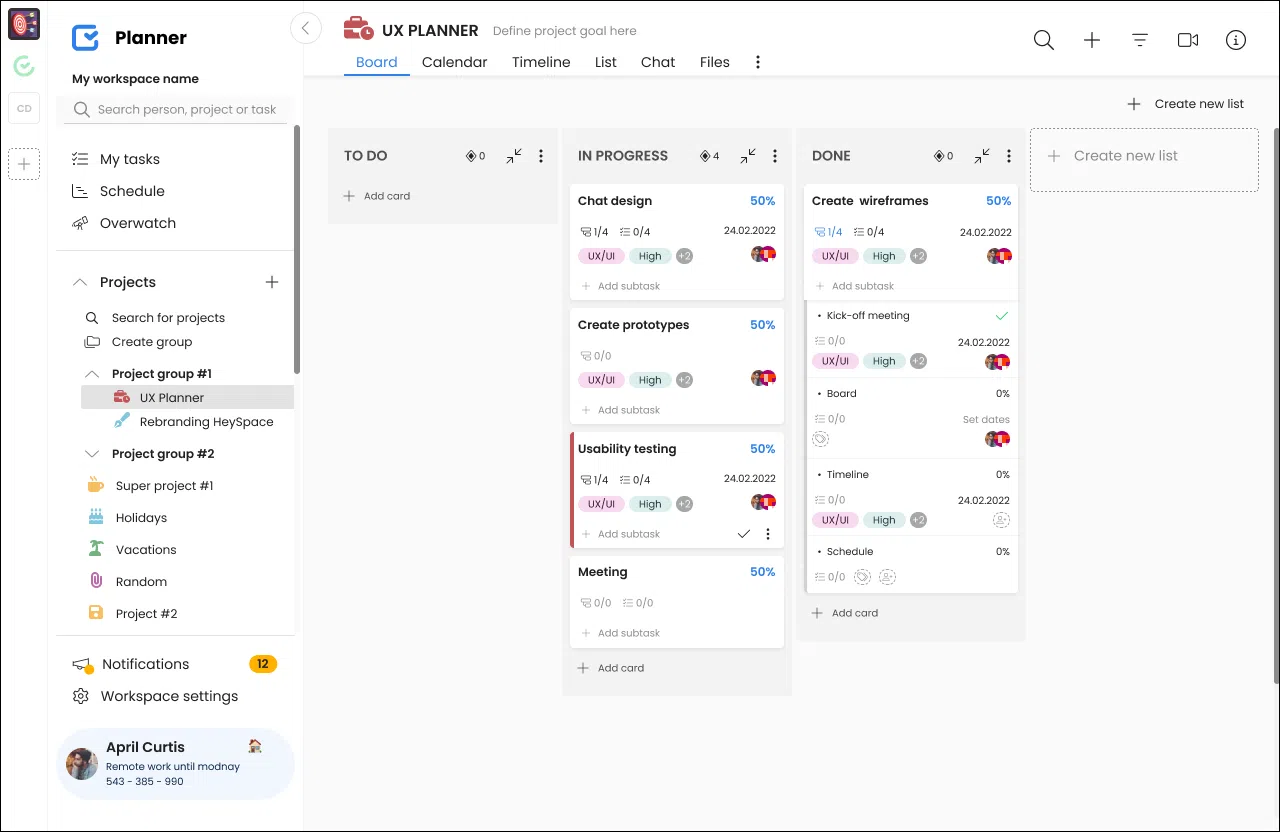 TimeCamp Planner offers a complete overview of your tasks in many different views, such as:
A

standard kanban

board with task customization (start/end dates, progress bar, to-do lists, attachments, and more),

Timeline

to see how the team's tasks are distributed over time,
Overwatch to manage multiple projects in one view,

My tasks

are to keep all the user's assignments handy,

Calendar

to see all the tasks from a daily, weekly, or monthly perspective.
Besides resource scheduling and task planning, TimeCamp Planner provides private chats, group messaging, and conversations within a task view, so you won't have to jump between a task manager and chat software anymore.
💡 Moreover, you can enable time tracking in your Planner – of course, with a TimeCamp integration! Once you connect them, you can track time against different spaces, lists, and tasks. The integration synchronizes every hour, so at the end of your work day, all the entries are safely stored in your TimeCamp account and assigned to the appropriate tasks.
How much does TimeCamp free task time tracker cost?
TimeCamp offers a 14-day free trial and affordable pricing for teams and freelancers with various needs:
Free, simple-to-use time tracker

– a free plan of TimeCamp for unlimited users includes all the essentials the best employee time tracking software app should have - accurate time tracking, unlimited projects, a time clock kiosk, desktop, and mobile apps, idle time detection, and many more,

Starter - $2.99 per user per month

, including unlimited tasks, excel reports export, attendance, time-off, overtime tracking (billed annually),

Basic - $5.99 per user per month

, including unlimited integrations, billable time, budget & estimates, apps & websites tracking, project archiving, and more (billed annually),

Pro - $7.99 per user per month

, including billable rates, labor costs, invoicing, timesheet approvals, custom user roles, and more (billed annually)

Enterprise - custom pricing;

contact sales team for more details
💡 Also, check if TimeCamp suits you right for free for 14 days – no credit card required!