Taking advantage of workflow automation apps saves us time and nerves in compiling all the tedious processes. A comprehensive set of various workforce software helps organizations streamline their human resource management and safely store historical data in a cloud, significantly reducing paper usage. Let's check what workforce management solutions we can find on the SaaS market!
But first...
Table of Contents
Why is workforce management important?
What are the benefits of workforce management?
Types of workforce management software
What is workforce management?
Workforce management combines analyzing, forecasting, and planning workforce supply and demand to cover all company's activities effortlessly.
It's mostly based on reviving staffing levels and adjusting them to the current and future company needs. Correctly done workforce management identifies supply and demand gaps so managers can assign appropriately skilled employees to the correct tasks.
Why is workforce management important?
Well, the answer is more straightforward than you think - a company won't achieve anything without people. No matter how ambitious your goals are, if you struggle to assign employees with the proper skills to the tasks, there are hardly any chances to deliver the project successfully.
Ans you never know if your brilliant idea won't get stolen by competitors who have already mastered the workforce management art and don't plan their employees working schedules recklessly.
Professionals working on startup, approving sale report, presenting and discussing new ideas. Business concept. Vector illustration can be used for startup, office, communication[/caption]
What are the benefits of workforce management?
As mentioned, a sound WFM system saves time on tedious staffing-related processes. Such tools ensure accurate automation and workflow tracking, thus reducing paperwork costs and time wasted. Let's look at the main benefits of workforce management solutions!
With a good workforce management solution, your company will:
Avoid understaffing - identifying gaps between supply and demand helps determine the lack of available workforce and make adjustments when needed,
Adjust hiring strategy - thorough staff data analysis in combination with a detailed project roadmap allows making better decisions on when and who to hire (a full-time or part-time employee, or maybe a freelancer),
Streamline attendance tracking - with an accurate attendance data analysis, you can keep an eye on leave balances,
Manage overtime easier - poorly managed overtime leads to job burnout and threatens employee safety, but setting reasonable daily, weekly, and monthly limits and overtime pay rules may support effective employee scheduling,
Reduce the risk of mistakes caused by human errors - workforce management tools work according to the algorithms; they can't get overworked and don't struggle with lover concentration, so once they're set up correctly, you can rely on them,
Achieve successful employee retention - workforce management solution supports employee empowerment and employee engagement and helps you retain employees,
Reduce administrative costs - WFM systems automatization means more streamlined processes and less money spent on keeping labor costs under control,
Streamline absence management - WFM solutions allow employees to submit leave requests or report a sick leave automatically, so their managers can consider it while creating schedules
Maximize productivity - all the benefits of WFM tools usage mentioned above ensure employee safety and let employees feel more confident in their workplace, positively affecting their work motivation.
These are only a few examples of how workforce management software streamlines the daily company's workflow. As you can see, the WFM systems can provide your company with useful data about staffing, so you can easily manage the current status quo and prepare for future challenges. But how to choose the right workforce management solution?
Types of workforce management software
You can choose the workforce management solution according to the industry your company operates in and its size. Consider if you need fully-packed WFM software or just a tool that supports workforce management processes, like time tracking software or an absence management tool with scheduling.
Let's take a look at the most popular types of WFM solutions!
💚 A complete workforce management software
This kind of WFM system provides companies with the most detailed labor insights, including upcoming staff demand, labor requirements, or potential overtime, minimizing the risk of potential compliance violations.
Such a tool will be the most suitable for a large organization that needs to manage time and attendance of many employees distributed across different branches and departments.
Key features of WFM tools:
Employee onboarding,
Scheduling with staff levels optimization and labor cost management,
Payroll,
Employee forecasting for more accurate staffing decisions,
Performance management,
Employee engagement and workforce productivity tracking,
Given how richly these tools are packed, they'll also be the most expensive, so it would be better to consider if our company really needs such a comprehensive WFM system.
💚 Time tracking software
Workforce management is all about keeping staff time under control. And nothing gives you better insights about your employees' work hours than good time tracking software.
TimeCamp, which is a great example of a powerful employee time and attendance tracking software, provides you with various methods of tracking time for workforce management and project probability purposes.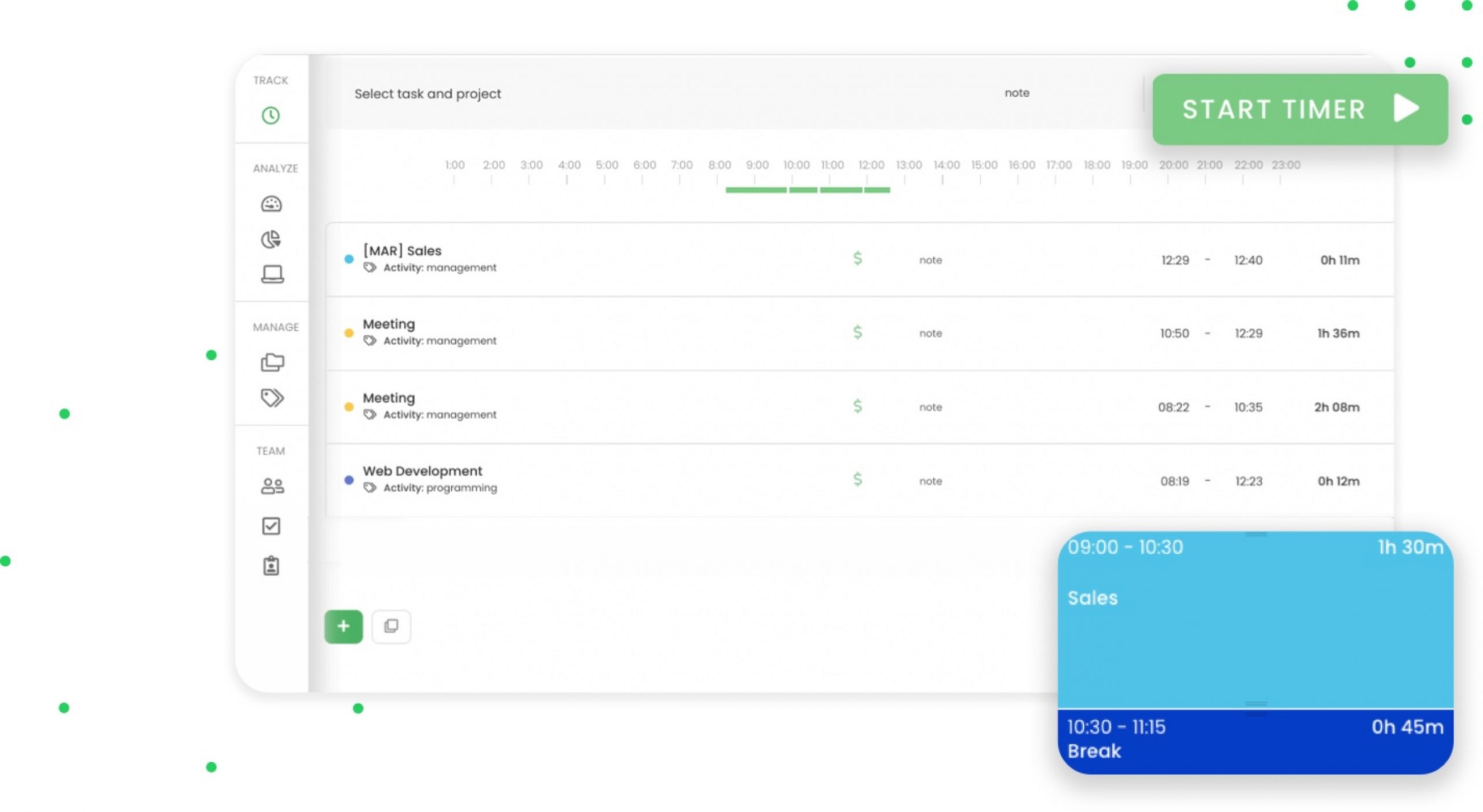 Key features of TimeCamp for workforce management:
Time trackers like TimeCamp are recommended for most businesses - they mostly offer even a free plan that covers basic time tracking requirements.
TimeCamp also offers affordable pricing for teams no matter of size and needs:
Free automatic time tracking tool

– a free plan of TimeCamp for unlimited users includes all the essentials the best employee time tracking software app should have - accurate time tracking, unlimited projects, a time clock kiosk, desktop, and mobile apps, idle time detection, and many more,

Starter - $2.99 per user per month

, including unlimited tasks, excel reports export, attendance, time-off, overtime tracking (billed annually),

Basic - $5.99 per user per month

, including unlimited integrations, billable time, budget & estimates, apps & websites tracking, project archiving, and more (billed annually),

Pro - $7.99 per user per month

, including billable rates, labor costs, invoicing, timesheet approvals, custom user roles, and more (billed annually)

Enterprise - custom pricing;

contact sales team for more details
Watch this short overview of TimeCamp to find out how it works!
💚 Scheduling tools
Workforce management becomes much easier when it's supported by accurate scheduling. With this kind of WFM software, you can automatically create schedules according to the current employee availability in all the company's locations.
A smart scheduling app assigns the right-skilled people to shifts in seconds and sends them notifications when they have been picked up. It also should offer a real-time schedule change to let the employees refuse the shift offer and managers to quickly adjust the shift coverage.
Top scheduling tool features:
Shift coverage,
Schedule templates,
Shift reporting,
Shift bidding,
Labor sharing,
Multiple schedules and locations,
Team messaging,
Overtime management
Most of the scheduling tools also offer affordable pricing, so they should be suitable for all sizes of businesses. However, if your company doesn't hire shift workers, consider if you really need this kind of workforce management tool.