Free Employee Scheduling Software You Can Download for Your Desktop
February 20, 2023
by Kate Borucka
No comments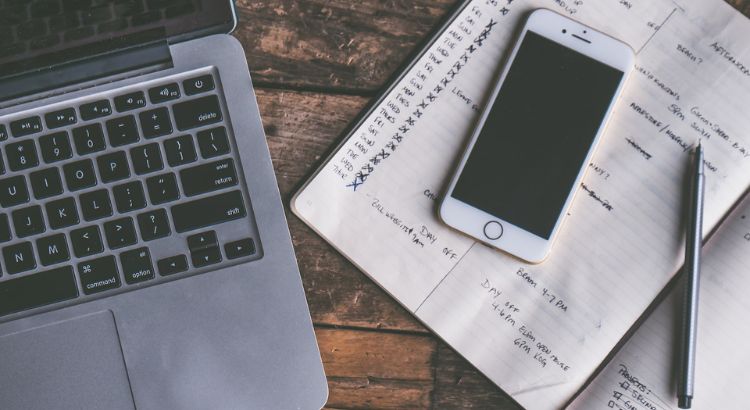 We all use some form of work scheduler. Some people prefer a piece of paper, and others opt for a digital solution. While the traditional way of planning with a spreadsheet and a pen may be enough for individuals, such a system is not effective for teams.
That's why you need a free employee scheduling software.
Check also our list of the daily schedule templates and weekly schedule templates.
Why Use Employee Scheduling Software?
With the growth of flexibility in work schedules, it becomes more challenging to schedule employees shifts. You need to properly coordinate the employee schedule so rosters are smooth and efficient. And in this case, the classical pen and paper method is far from efficient.
Everyone on a team must write down their schedules, then pass them to every other team member. If it's done virtually, it creates endless, messy email threads. Either way, it's a long, time-consuming process. Also, it's easy to get confused, make mistakes, and get lost in all the entanglement of dependencies.
👉  Read also about flextime.
And that's where a free employee scheduling software comes in aid. It serves as a unified system for organizing agenda, managing shifts, and allows you to monitor resources in real-time. So if dealing with shift management and labor costs is a big part of your business, you should use such a tool to streamline workflow, eliminate tedious paperwork, and ultimately—save time and money.
The only downside is such that you need to learn how such a free scheduling app or software works. But just think about it—it's better to spend one hour on learning how it works, rather than devote 1 hour every week or month adjusting the schedule manually.
A good employee scheduling software lets you manage shifts and attendance with just one click.
What to Look For in Scheduling Software?
How to make sure you're using the right tool? There are certain aspects that are worth considering when choosing a scheduling app:
Ease of use—that speaks for itself, nobody likes complicated solutions
A unified system where all features are interconnected with each other for smooth shifts and employee supervision
Integrations with other apps
Free version so you can test the features and opt-out if it's not suited for your business
Ability to download it on your desktop so you can flexibly manage shifts locally on your computer
Time tracking to monitor working hours of employees
Let's not forget that you know best what features you need so your business can operate smoothly. Software that works for small teams may not be best for larger organizations. You can try different solutions, mix, and experiment to find the right fit.
What Are the Best Apps for Employee Scheduling?
You can find different types of employee scheduling software on the market. Some are stand-alone solutions, others are part of a larger system. Most employee scheduling software is cloud-based; some offer an on-premise solution and others are a combination of both.
But if you're looking specifically for free software you can download on your computer, we've got your back.
Here are the best free employee scheduling tools you can download on your desktop.
1. TimeCamp – unified system for project & attendance administration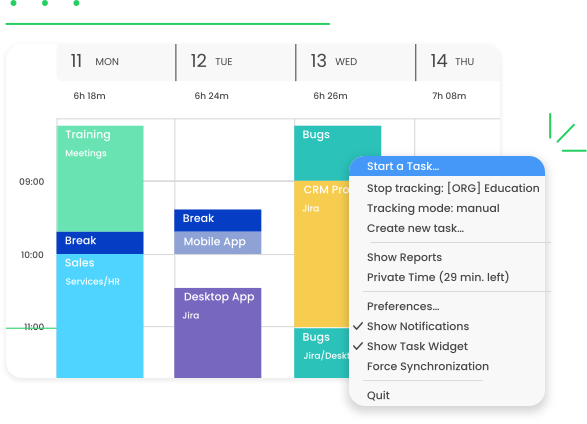 TimeCamp is entirely free time tracking software for unlimited users that not only tracks time but also lets you manage leaves and attendance from any place in the world. The tool is available as a desktop and mobile app, also as a web timer. You can download it for free and have the time of your employees tracked automatically.
TimeCamp provides you with easy time recording and keeps track of the team's attendance and performance. You can see win real-time who works how and when, so you can schedule shifts of your employees based on their availability.
Also, TimeCamp enables you to recreate your organizational structure by adding groups that represent each of the company's units. You are able to divide your employees into different teams, define speciffic settings for each of them and give them exact roles and permissions.
TimeCamp is best for teams that need flexibility, want to improve productivity, and become more profitable by spotting the bottlenecks in business processes. It helps to improve workflow, communication, and collaboration in your team. TimeCamp features and modules make it a great centralized system for managing every aspect of a project.
Among other features of TimeCamp free work schedule app you will find the following:
Free plan for unlimited users
Automatic time tracking with a desktop app or manual with a start/stop button
Timesheets with approvals to monitor ins and outs of your staff
Graphical timesheets integrated with calendar
You can create invoices based on billable hours worked
TimeCamp integrates with various tools and apps (including Google calendar)
TimeCamp free work schedule app classifies working time by particular categories—productive, unproductive, neutral
Budgeting project to monitor used up time
Attendance and leave module with different types of days (remote work, sick leave, parental leave, and more)
2. When I Work – time clock terminal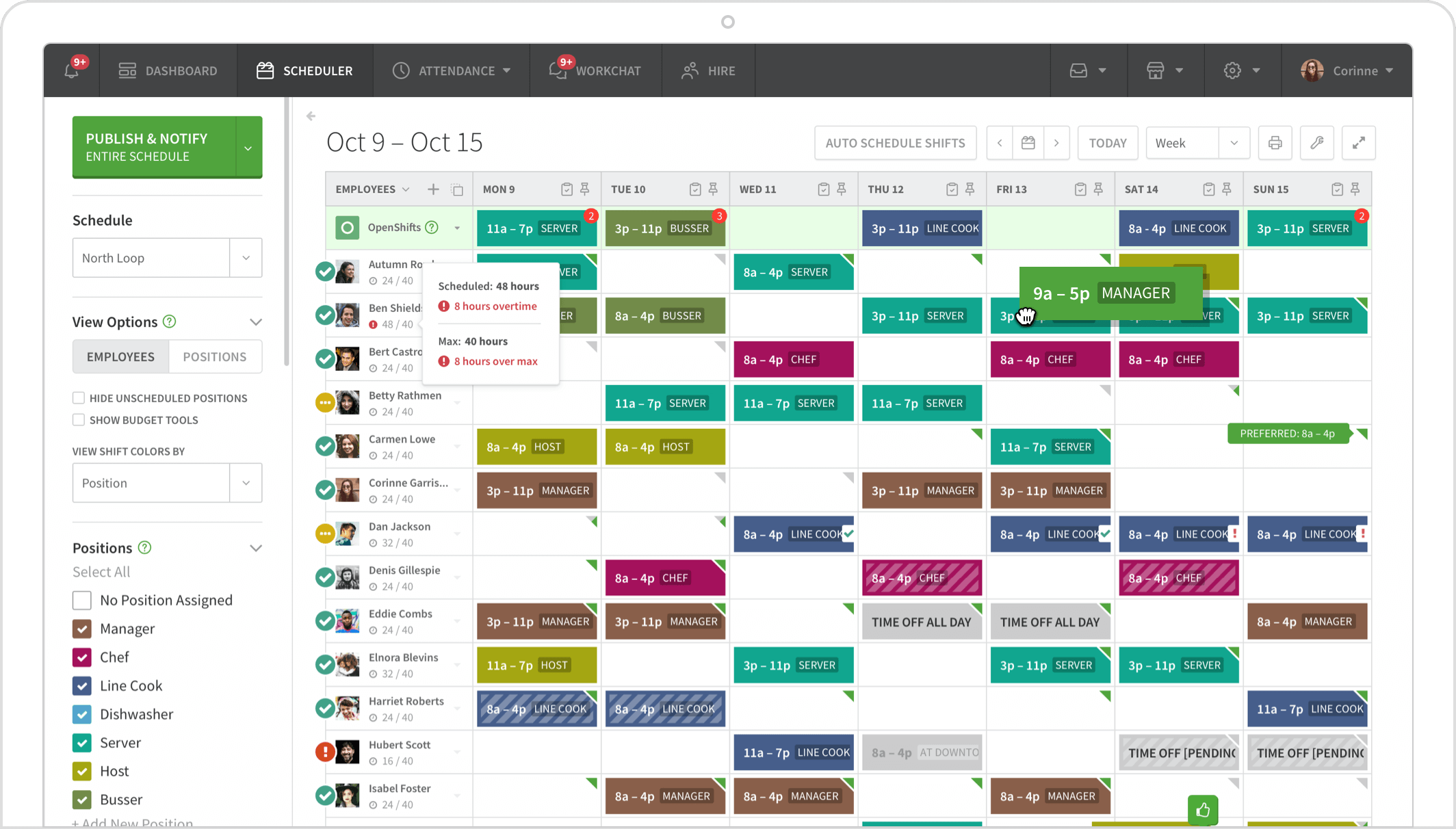 When I Work is employee scheduling and time tracking software. Even though it's a web and mobile app (iOS and Android), you can utilize it as a time clock for computer. In other words, your employees can log in and out and record their work hours during shifts. So it is not a desktop app as such, but it's a great tool that lets you create perfect work schedules for every business.
Employees can use personal and work computers as a time clock and you can administer their work in the web app to track attendance. When I Work lets employees report on their paid breaks upon clock out. The manager has the option to turn off paid break reporting in the account's settings.
The free scheduling app has many built-in features that your workforce can use to better communicate and collaborate, and create fitted schedules.
The free version offers simple scheduling and communication for a single team or location with up to 75 users. The top features include team shift scheduling, team availability, team messaging, shift trading, and time-off requests.
It's a great employee scheduling tool so if you don't mind having your data stored on the cloud, think about choosing When I Work.
3. TimeCamp Planner – communication and collaboration with workflow scheduling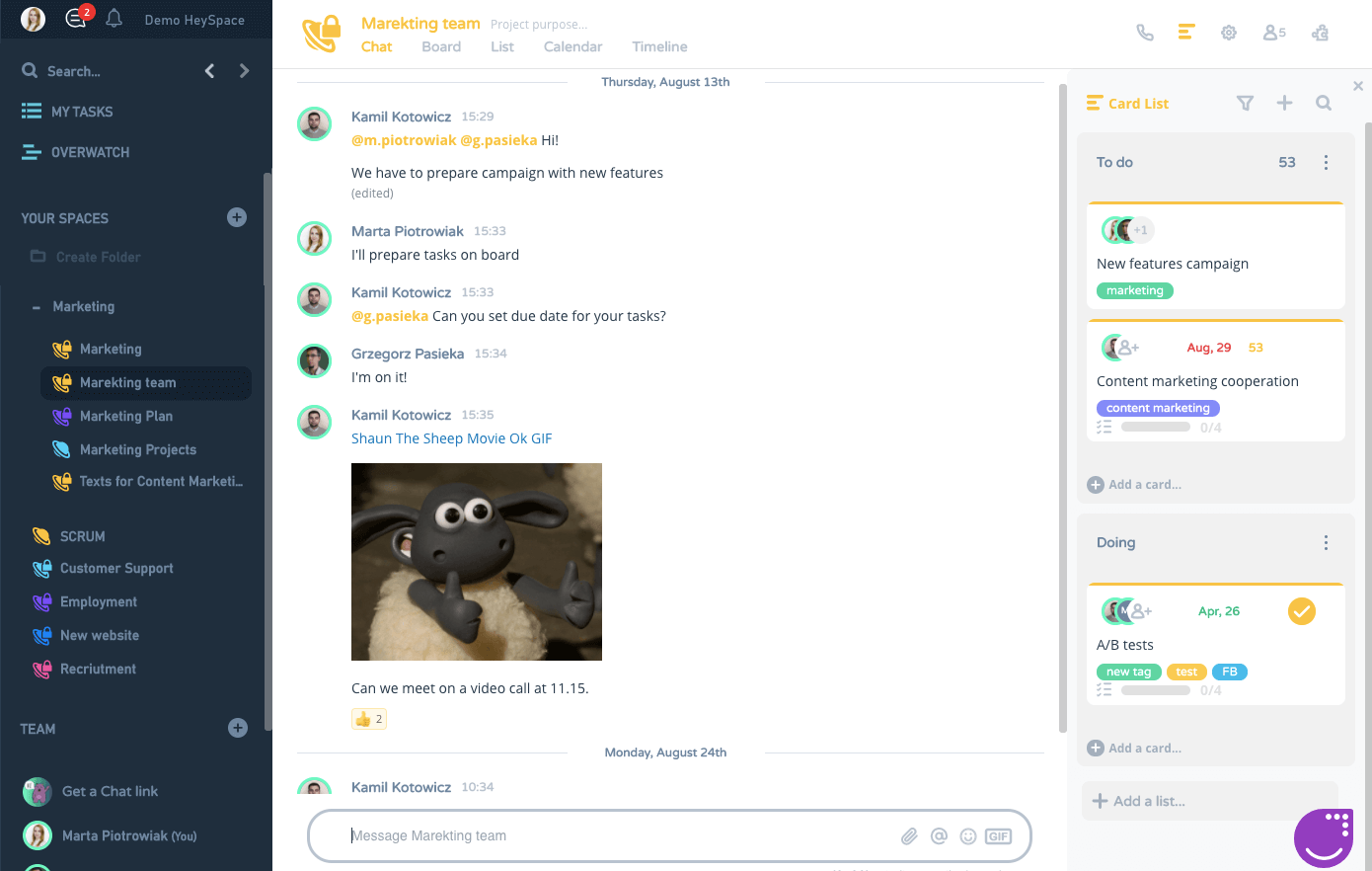 TimeCamp Planner is a task management software with chat. It's a great employee scheduling software especially for small teams, medium-sized businesses, or startups that need a flexible solution to plan and collaborate on work in one place. The software is also great for everyone who works in the agile methodology. You can download TimeCamp Planner on your desktop, phone (iOS, Android), or access it in your browser.
This free software allows you to communicate and collaborate with other employees, teams, and even lets you invite people from outside of your organization. You can use TimeCamp Planner to freely plan your work schedule, employee shift, and all tasks you need to perform.
Here are the main features of TimeCamp Planner:
The flexible design lets you see three boards in one place—your team and spaces (different channels), chat, list of cards with tasks
You can easily convert part of your conversation into a task
The Kanban board with projects and tasks allows you to see employee workflow in one place
Every task can be adjusted – you can set date, assign people to it, add tags, checklists, description, files, comment on it, make tasks recurring
The feature of workspaces allows you to create many spaces, if, for example, you work with various organizations or have different clients
The calendar view lets you visualize the work schedule
Schedule function that allows to match employees' hours to specific tasks
A pleasant and intuitive interface makes TimeCamp Planner easy to use
TimeCamp Planner gives you space to freely and smoothly collaborate with your teams and clients to create perfect workflow and shifts. No more switching between apps and tabs. You have everything in one place.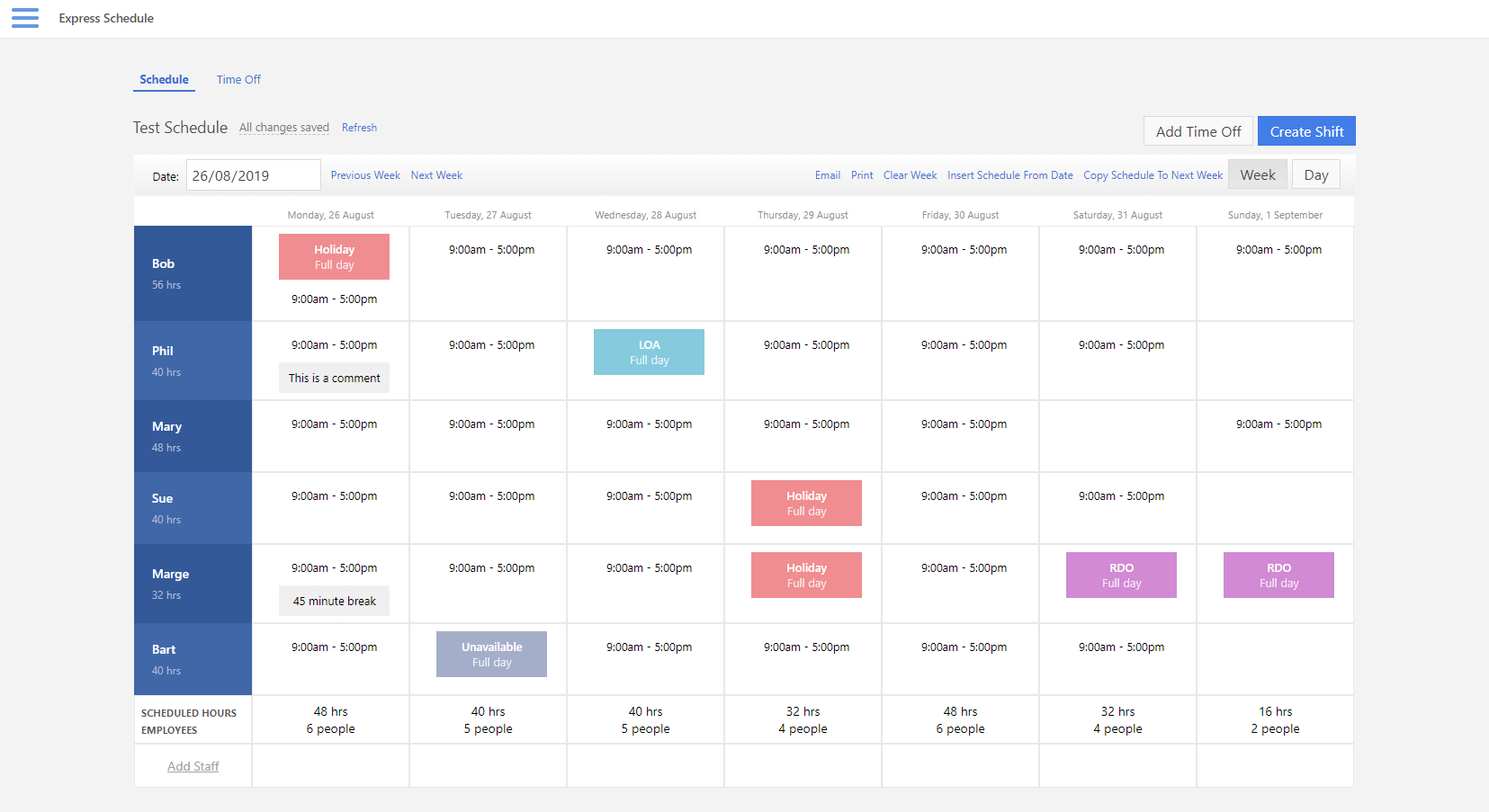 Express Schedule is a robust employee scheduling software available for Windows. It is designed for you to create, edit, and share work schedule and rosters with your staff members effortlessly—saving your business time, money, and streamlining your workflow.
It's a powerful planning tool, considering that it's free, with no extra costs for additional features. It's great for your business if you have several departments, teams, or if you need to coordinate the workflow of a large number of employees.
Here are the features of Express Schedule:
The intuitive drag and drop interface
Copy schedules from previous weeks to save time
Create recurring schedules
Add and edit shifts of any duration by typing directly into the calendar
Print your roster in one click
Email schedules directly to individual employees or the entire staff
Add comments, reminders, and notices to the schedule
Ability to add all common forms of time-off, such as vacations, unavailability, maternity leave, and more
Supports multiple shifts, breaks and leave entries for a staff member on the same day
Use your existing email client, such as Outlook, Thunderbird, etc. to send emails
Add time-off, sick leave, break entries and holidays
5.

Conecteam

–
an all-in-one collaboration and employee scheduling app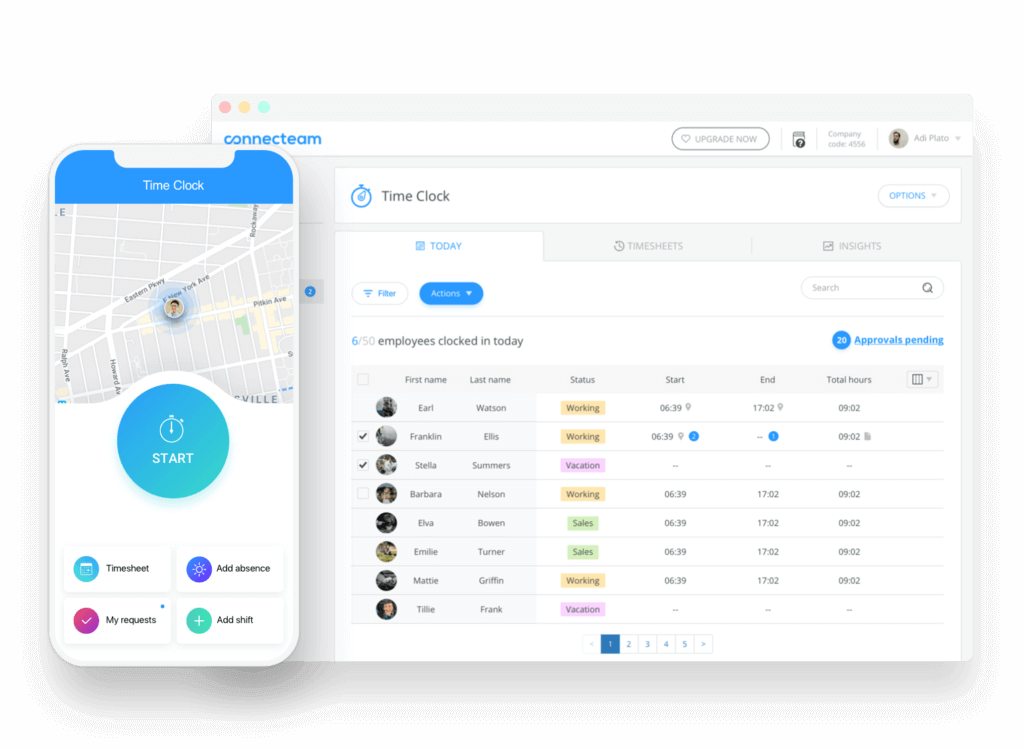 One of the best apps for employee scheduling is Connecteam. This free employee scheduling app and software allows for conducting all your business operations within one platform. It combines time-tracking, scheduling, task management, communication, and HR functions.
All your remote employees can clock in and out using their smartphones. Their activity can be monitored in real time, as well as synchronized with the job scheduler. If you are tending to other responsibilities, you can set notifications that will inform you of late clock-ins or missed clock-ins.
Additionally, you can assign tasks with just a few clicks get updates on the progress, and send reminders to your team members. Task-related channels provide ease of communication and collaboration on projects.
Finally, the Connecteam work scheduler free trial period allows enjoying HR features such as storing documents, onboarding, and overseeing employees' journeys and performance.
Have a look at more features Connecteam free work schedule app offers:
Employee scheduling and shift assigning in one click

Employee time clock with geofencing and GPS tracking

Online timesheets

Quick management of shift-related tasks

Digital forms & checklists

Push and real-time notifications related to completed tasks, messages in the chat
If you feel like these functions are all you are looking for, Connecteam schedule software free download is available at the official website.
6. Bitrix24 – ultimate workspace collaboration and CRM tool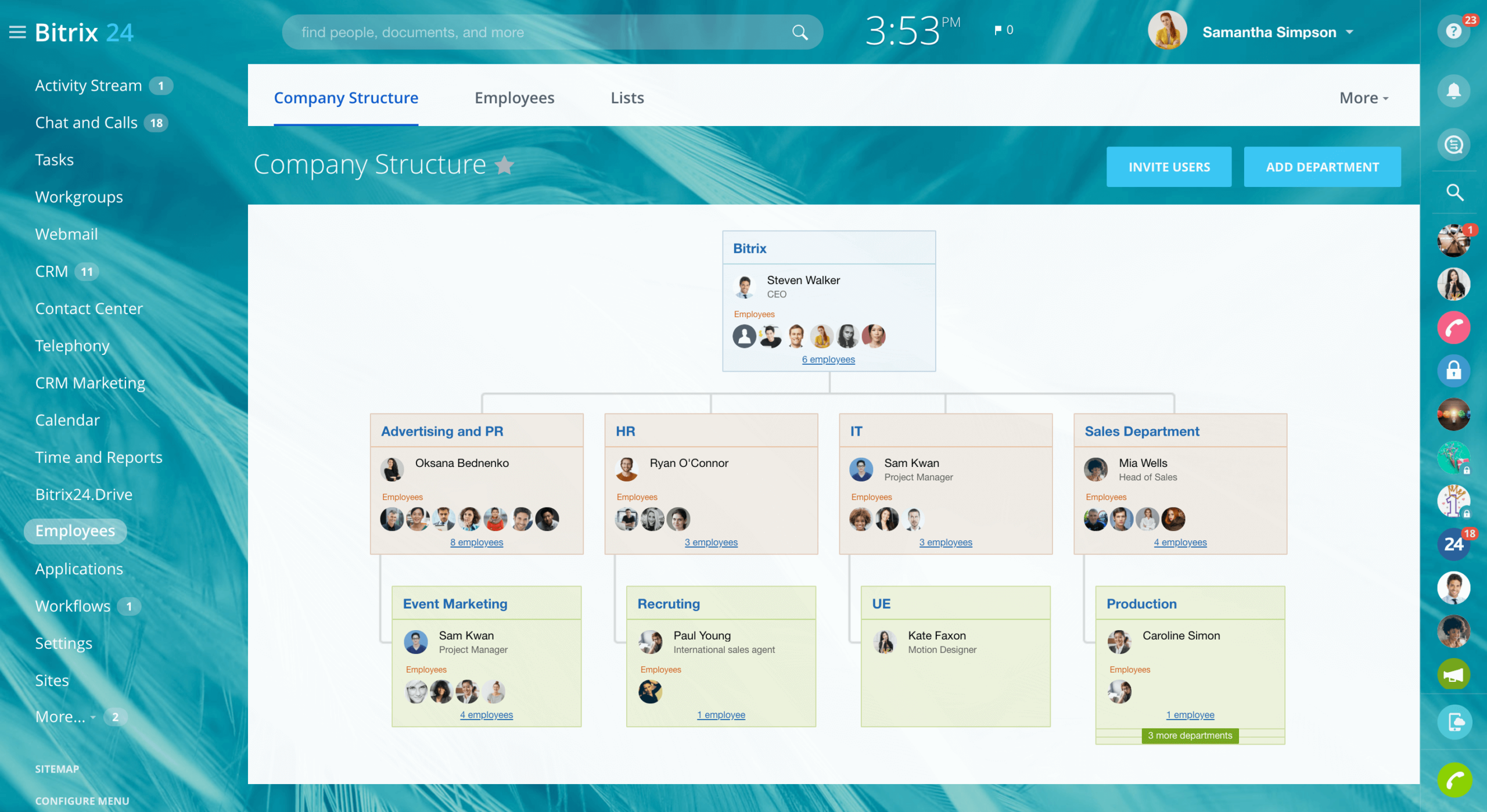 Bitrix24 is a free employee scheduling software suited for individuals, small businesses as well as larger companies. It offers a free work schedule app for mobile devices and a desktop app.
This schedule software free download will guarantee you access to such features as tasks and projects management, customer relationship management, and even a website builder with free hosting and a customized domain name. By partnering with an experienced website design agency, you can further enhance the capabilities of the Bitrix24 website builder, ensuring a customized and professional online presence.
This free scheduling software does not limit functions based on a plan. Instead, it adds more functionality to each area when you make an upgrade.
The good news for large enterprises is the fact that you can choose an on-premise version of Bitrix24. It is an option that will be stored entirely on your server and will guarantee full access to API and the source code. This means that you can customize the software according to your preferences. 
Other features of Bitrix24 free scheduling app and software:
Can be a good replacement for your SaaS solutions

Bitrix24 work scheduler free features are available for unlimited users

Integrates well with more than 100 services and apps

You can customize Bitrix24's features to your preferences (layout, source code, colors, etc.)

Collaboration is available over HD video calls

Website builder guarantees a responsive web design and SEO optimization
7. Excel – for traditional employee scheduling
Old but gold, Excel is still among one of the most popular tools used for scheduling shifts. Why is it among the best apps for employee scheduling? It is all about its simplicity!
If you're an enthusiast of traditional and simplistic solutions, Excel will be the right choice. It's suitable for small teams with a regular time schedule. You can use formulas and other functionalities to schedule shifts and determine labor costs.
As an alternative, you can also use Word, especially, if you're not good with Excel equations. Microsoft offers various schedule templates as well as timesheets, spreadsheets, agendas, and more to help you create the optimal schedule for your team.
And if in your business you use Windows and other tools from Microsoft Store as they are compatible with Excel and let you facilitate schedule building.
8. Microsoft Teams – collaboration & scheduling platform for teams
Microsoft Teams is a collaboration platform for teams. It's the hub for teamwork in Microsoft 365 where everyone you work with can chat, meet, call, and collaborate all in one place. With its Shifts module, you can schedule shifts and plan workflow.
If you're looking for a 360-degree software that will let you collaborate with a team and schedule shifts in one hub in an easy way to access all information about your business in a single platform, Teams is the right choice. Shifts in Microsoft Teams is a schedule supervision tool that helps you create, update, and manage schedules for your team.
The software works best for in-office employees and if you need a rota scheduling tool. It has helpful functionalities:
Create a schedule from scratch or import an existing one from Excel
Add notes to share important news and reminders for specific days
Create and organize groups
Assign a shift, create a new one copy from an existing one, add activities, add open shifts, review shift coverage
Review requests for time-off, shift swaps, or offers
Use time clock to let employees clock in and out of a shift with a mobile device
Share updates only when you want your team to see them
Export a schedule to Excel and send the spreadsheet to your team or clients via email
You can download MicrosoftTeams for free and use it as an employee scheduling software.
Check our Microsoft Teams time tracking integration!
9. GoodDay – managing projects, workflow, and planning schedule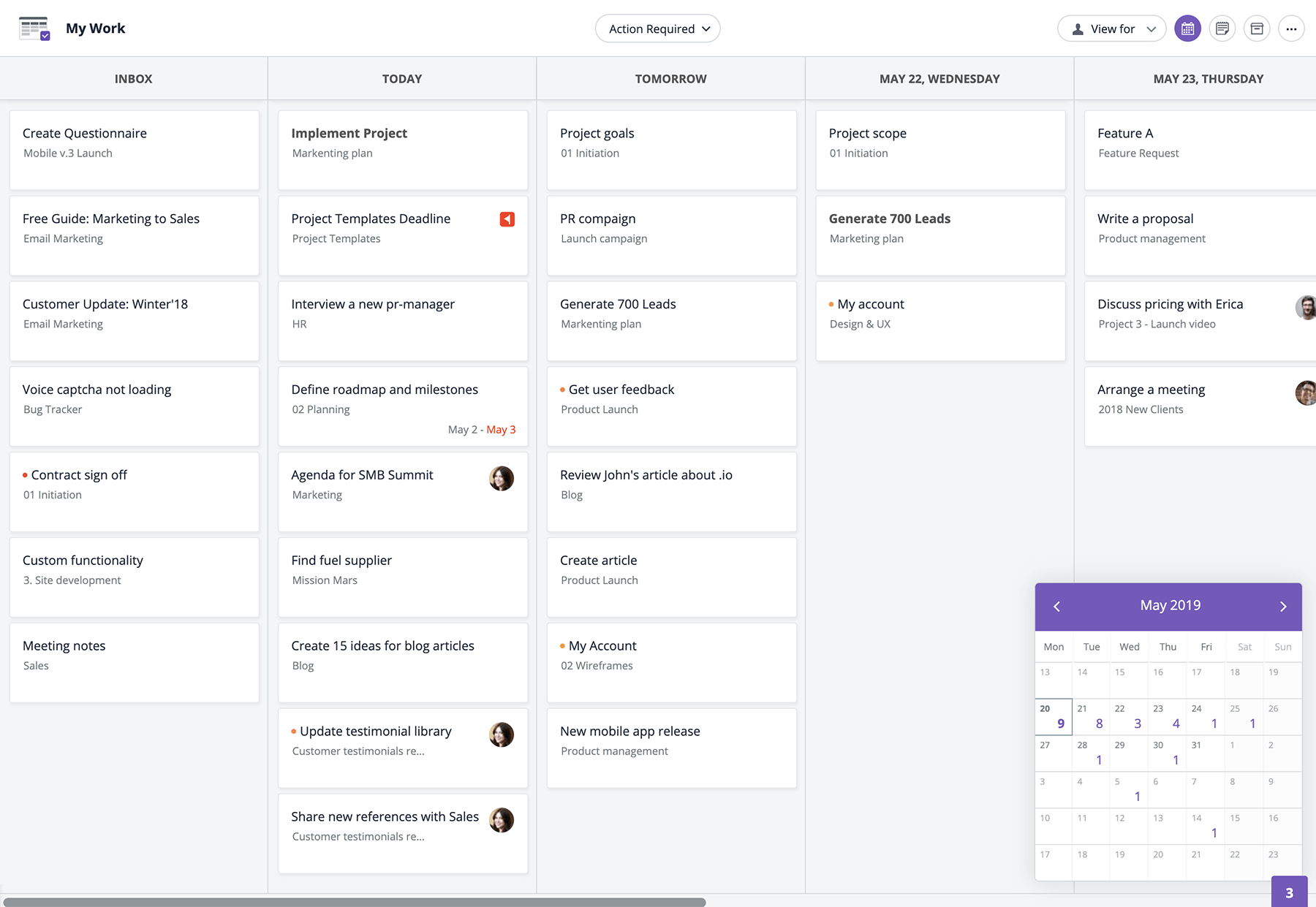 GoodDay lets you manage projects and workflow across the entire company. The free version is available for 1-15 users so the tool is best for small teams. You can download it for free on your desktop (Mac OS, Windows, Linux) and access all functionalities in one place.
GoodDay offers a vast choice of functionalities ranging from managing projects, time, to data management with reports and analytics. You can plan, organize work, create portfolios, custom workflows, message your team, manage tasks, track time, and administer all the data in one place.
Reports and analytics provide you with different types of statistics and numbers on team performance, collaboration, behavior, process flows and more to help you better schedule work.
You can schedule the workflow of your team based on the workload, projects, and track team availability. GoodDay is flexible software for business administration and its work schedule functionality provides a clear picture of all relevant work items and allows scheduling, planning, creating, and prioritizing items with a few clicks.
It's a great free scheduling software for every business that needs versatile software.
10. Teamwork – managing work schedule and projects in a team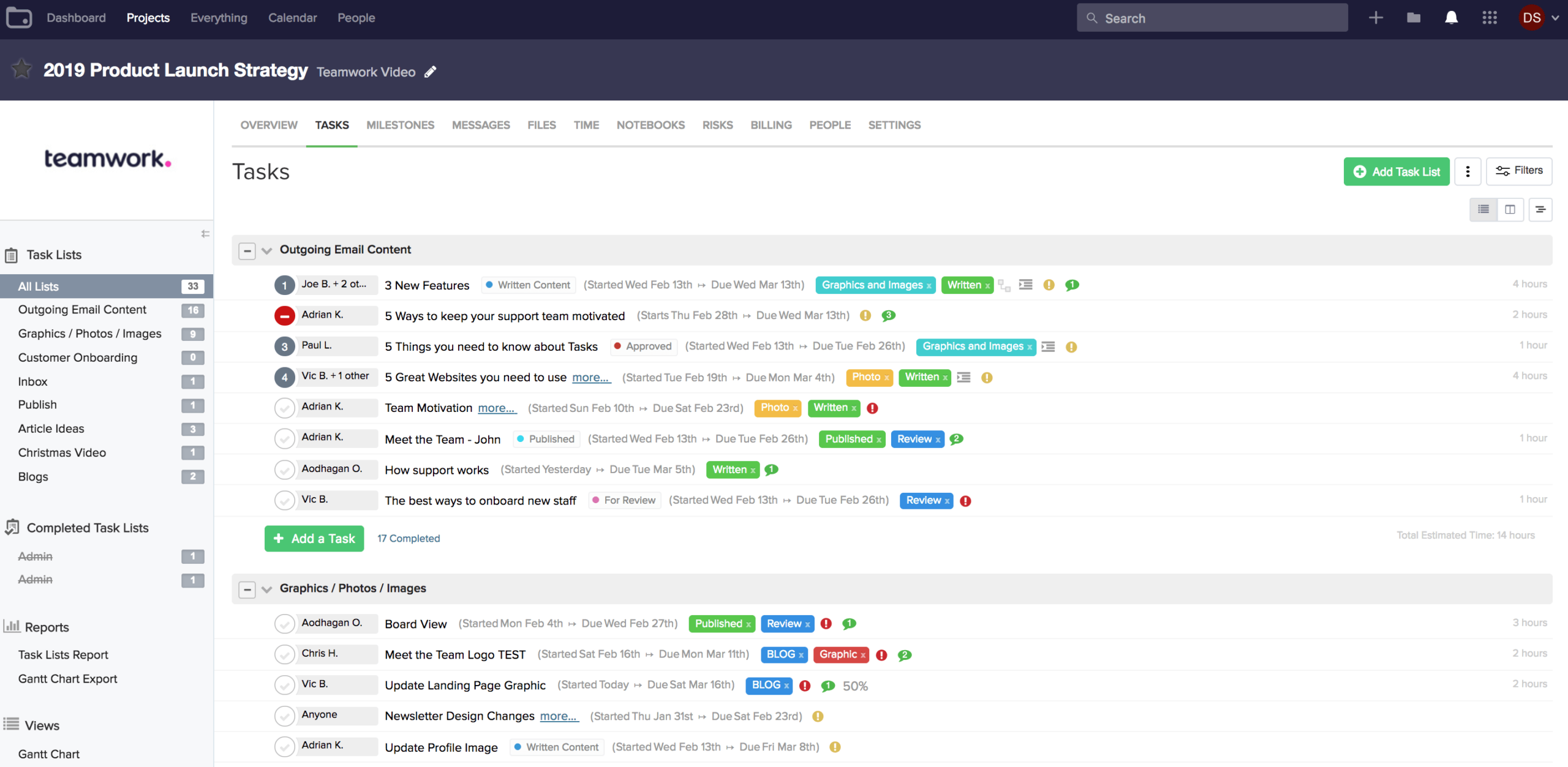 Teamwork is a collaboration platform for teams. It's also a good employee scheduling software that lets you create a work schedule for all your employees, including the remote workers.
Teamwork allows you not only to plan projects but also to take care of every aspect of the scheduling process—who will work on what, how, and for how long.
You can easily stay in sync with other employees and see their work schedule and progress in real-time, and track changes. Teamwork lets you schedule work by balancing workloads in one place so you have the insight into everyone's availability and capacity. And to enhance your schedule, you can integrate the tool with other software.
In addition, Teamwork lets you visualize schedules so you can better prepare for work. The free version is available for 5 team members and it works best for a small team.
Check out our Teamwork time tracking integration!
Conclusion
Free employee scheduling software can help your business grow. It facilitates schedule building so your employees can improve their performance and make work enjoyable. When shifts go smooth and are well-planned, people are happy. And a happy workforce means a successful business.
What is your favorite software among these best apps for employee scheduling?