5 Best Hour Tracking Apps in 2021
September 6, 2021
by Lorea Lastiri
No comments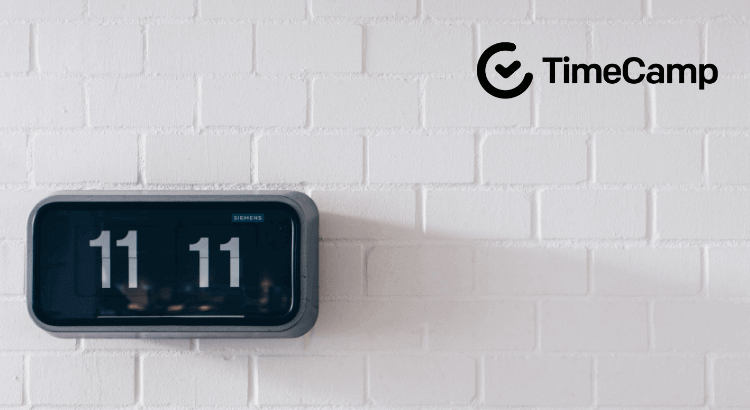 As a business owner, team manager, or freelancer, you understand that time is one of your most valuable assets.
Time management is an effective tool that ensures progress and productivity in a business. No matter the kind of service or business, time management is one of the best ways to promote efficiency and is necessary for a work environment.
With the rise in digital development, time tracking apps effectively manage your hours and schedule work projects. 
Some of the best time tracking apps of 2021 include;
Time tracking is a business model adopted by many organizations to save time and maximize productivity in the workspace. 
For a long time, workers would manually punch time stamps, monitor hours in excel sheets, amongst other painstaking time tracking devices. But most of these methods only encourage more time wastage and aren't practical in the 21st century.
In this article, you'll learn more about the leading time tracking apps, including their unique features and pricing. Then, you'll be able to choose the best device for your company and reach all your productivity goals.
Let's get started!
What should an online time tracking app have?
There are many time tracking apps available, all with different features and functionalities. Regardless, some specs must be present in a good time tracking app, and we'll be focusing on a few of them below:
1. Time tracking
A good time tracking app should record the employees' time or a person's time on any given task. The app must also display the data report in a way that is easy to understand, e.g., graphs. 
Some time tracking apps have geo-tracking features that allow you to check the location of your staff during work hours. It works for both on-site and remote employees, and this feature is essential, especially for large organizations. 
Try TimeCamp - the best time tracking app!
2. Reporting
You should expect to receive analytic reports from your time tracking app. The app usually generates a report with a detailed analysis of the employee's total work activities.
These reports usually include; work summaries, project reports, and activity reports. Depending on how you set them, you can get the reports every day, weekly, or monthly.  
👉 Read more about time tracking reports.
3. Invoicing & automated payroll
Alongside producing timesheets, the time tracker app also helps you manage payrolls and generate invoices. 
You don't need to waste time tracking timesheets and processing payrolls since the software can do both easily. Automatic time tracking functionality is also a great workflow improvement.
4. Timesheets
Another important feature of your time tracking device is timesheets. 
It reviews the data and calculates the work done in terms of billable hours. 
You can choose to receive the timesheets daily, weekly, or at monthly intervals. 
👉 Read more about Best Timesheets Apps!
5. Integrated systems
Many users now choose time tracking apps with third-party integration. You can link your hour tracking app with other workplace app tools such as a planner, a scheduler.
If you're managing a large business with several departments, you should look out for this feature. 
Let's move on to the top time tracking applications in 2021 and beyond.
👉 You can also check the best planner apps.
The 5 Best Time Tracking Apps
Highlighted below are the best time tracking apps showing their features, benefits, and pricing:
1. TimeCamp – the perfect hour tracking app
A feature-packed time tracking software with a solid integration system.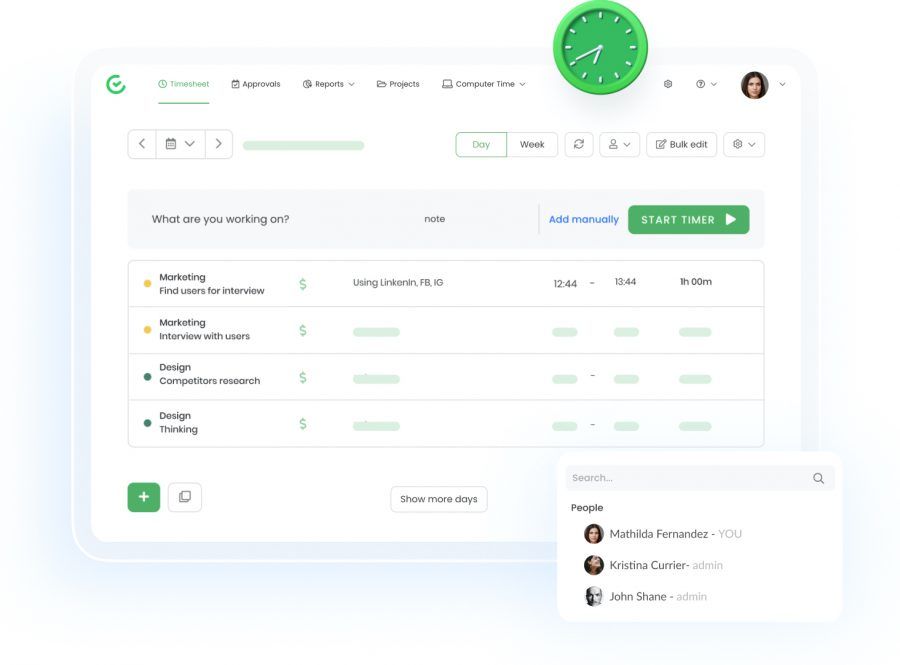 TimeCamp is a time tracking app that operates both manually and automatically. It is cloud-based and easily accessible either through a mobile app or a desktop app. It is available on Web, Mac, Windows, Linux, IOS, and Android devices. 
In addition, it doubles as a time-tracker and billing app. It can also easily link with Asana and other project management software.
So for many team managers and business owners, this is the go-to app. 
TimeCamp is very effective if you're working on a particular task or monitoring your project status. It also has monitoring features that enable you to inspect your employees during work hours. With productivity monitoring, you can check on your staff to see if they're working as you need.  
Also, with its billing functions, you can track billable hours and generate your employee's payroll. 
If you're a freelancer, it'll help you create invoices that you can easily send to your clients.
👉 Check Time Tracking Software for Freelancers!
Apart from these features, TimeCamp is widely known for its excellent integration features. They offer various kinds of integrations with many desktops and mobile apps.
 It allows you to integrate with over 50 project management software. So you can sync your tasks and projects with TimeCamp and begin time tracking with ease.
Key features:
Daily progress reports and analysis.
Generates and stores invoices for clientele.
Alert notifications for when the invoice is received.
Tracks attendance and check-ins.
Performance Tracker.
Pricing: TimeCamp is free for unlimited users, but this only covers limited features. To get the full benefits, you'll need to choose a payment plan. You can also choose to pay monthly or annually.
Basic and Pro monthly plans cost about $7 and $10 per user, respectively. For the yearly plan, the basic plan costs around $6.30 per user, and the pro plan is $9 per user. They also offer discount pricing to non-profits, students, and universities.  
 Extra Tip: You can take advantage of the user-friendly interface and customize the app to suit your preference. 
An easy-to-use time tracking app with special productivity identification features.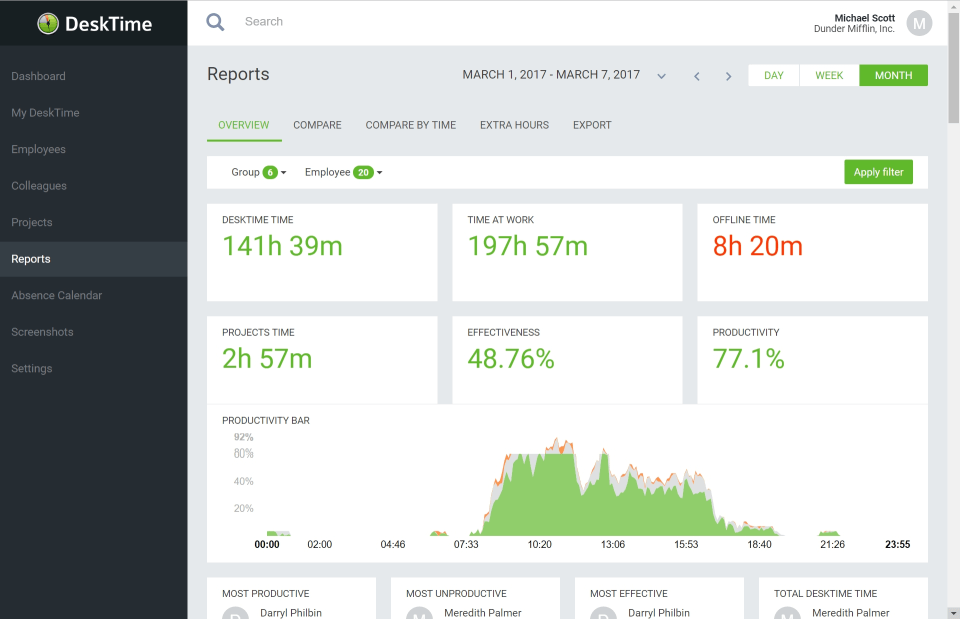 DeskTime is not only a time tracking app; it is also a productivity monitoring app. It performs a detailed review of your working activities and separates web pages/applications into 'Productive' and 'Unproductive.' 
It helps you to identify time-wasting habits and calculates daily productivity levels.
It works with your URLs, programs, apps, amongst others, based on the categories you've provided to show how productive you are. 
You can set the productivity or unproductivity of an app/URL to fit the user's status. For example, Twitter can be a productive app for a publicity team but unproductive for the accounting team. 
DeskTime is excellent for managing group projects in small or large business firms. It gives you a complete picture of your company's overall productivity level. 
Once you set the productivity target, the software will give you a detailed analysis of how your employees work towards this goal. It is available on Mac, Windows, Linux, Android, and IOS mobile devices.
👉  Read also: 15+ Time Tracking Software for Mac OS X
Key Features:
Daily productivity updates.
Visual and Saveable reports.
Time Scheduling.
Pricing: DeskTime offers a lite-free version for single users. For Desk Time Pro, pricing starts at $7 per user for a monthly payment and $3.85 per user for a yearly payment.
DeskTime premium costs $9/user monthly and $5/user for large teams annually. DeskTime Enterprise is used in large companies and costs $14/user for a monthly payment and $7.70/user for annual payments.
Extra Tip: It doesn't require too much configuration and comes with a Pomodoro timer feature.
Effective time tracking app with included expense monitoring settings.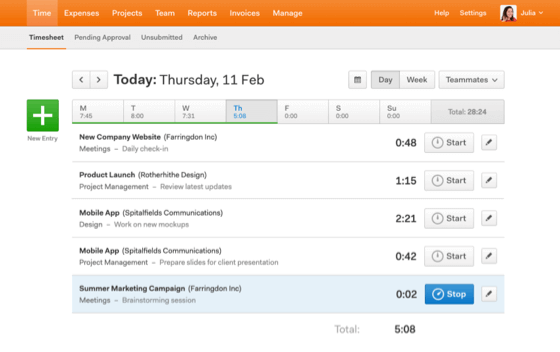 Harvest is an excellent app for tracking personal and individual time management. It records the time spent working on tasks and your general work status.
It also creates appealing visual reports that are easy to understand. It includes an expense tracker, which is especially useful for startups and freelancers in any job field.
It will also help you manage your invoices and revenue flow while also helping you track time as well. It allows you to link payment software like PayPal or Stripe easily. 
When you've completed a project, Harvest allows you to send invoices to your clients directly. 
Key Features: 
Creates invoices to clients and receives payments automatically.
Offers visual reports.
Integrates with payment software.
Pricing: Harvest is free for single users on only two projects. For a solo plan, the price is $12 monthly with unlimited projects. Pricing for a team plan starts at $12 per user, every month also for unlimited projects. If paid annually, pricing is calculated at $10.80 per user. 
Extra Tip: If a client has received an invoice and hasn't paid after the deadline, Harvest will send a polite reminder to the client on your behalf.
Time clock application with adequate hour tracking features.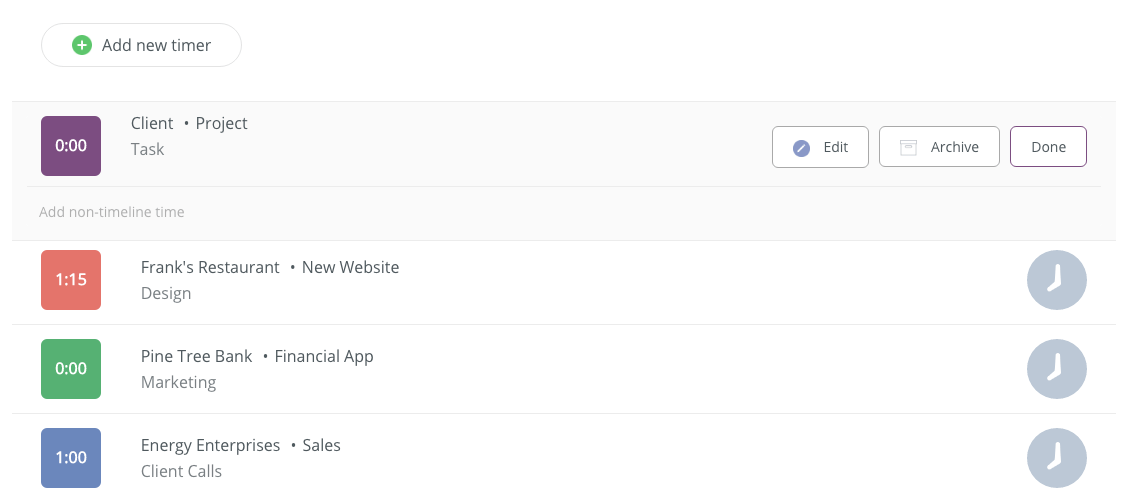 Hours is mainly suited for small-scale businesses or freelancers who only require the basic time tracking features. 
👉 Read more about small business time tracking.
It is only available on Web and IOS devices, which limits its usage. With the mobile app, you can have a running list of timers and switch between tasks as you like.
In addition, it helps you manage your projects and assignments with a color-code system. This means that you can arrange your tasks with different colors to help you identify them.
You can easily adjust timestamps with the app's timeline. So you can correct any errors to ensure that the time tracker works as required.
Key Features: 
Provides Project color-coding
Alert notifications reminding you to start the time tracker
Compatible with Apple Watch
Pricing: Monthly payment is $8 per user, and the annual fee is $80 per user. 
Extra Tip: It is solely a work time tracker and does not offer any productivity monitoring. So it's less effective in large companies.
A timer-based app with a simple featured time-tracking system.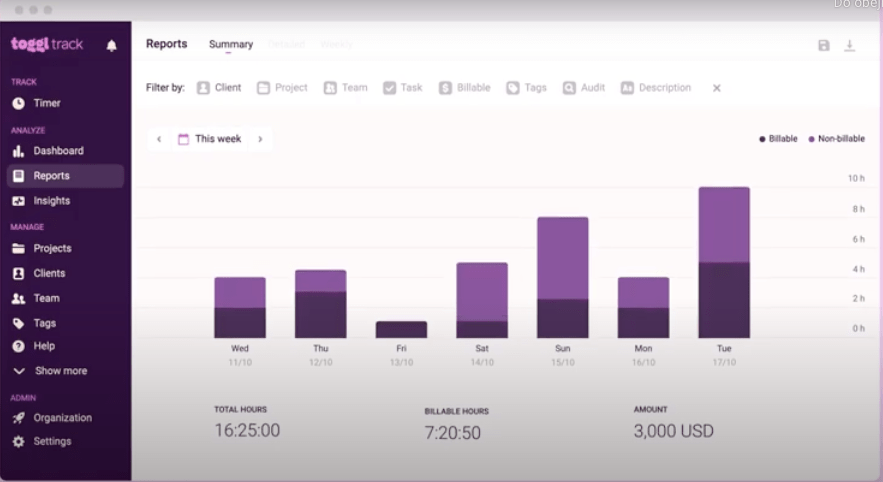 It is basically a timer that can also help you track time. It is commonly used by freelancers, startups, and many small businesses. 
Toggl comes with a timeline and budget plan feature so you can monitor your project and budget expenses at once. You can easily set up a project or task with estimated timelines and a budget for each project.
Once you're done with a task, you can click stop and switch the timer to another task. You can also create and send invoices through the app to the client directly. It also allows you to send time reports to your clients to promote transparency.
Toggl is available on Web, Mac, Windows, Linux, IOS, and Android platforms only. Toggl recently developed a new Android app that you can operate with your existing account.
Key Features:
Allows browser extensions on Google Chrome, Mozilla Firefox, amongst others. 
Provides project timelines and budget estimates.
Pricing: It is free for up to 5 users while the paid monthly plan costs $10/user for Starter and Premium is $20/user. The annual payment for the Starter plan is $9/user/month, and the Premium plan is $18. 
Extra Tip: It is an excellent tool for personal work management. Individuals use it to track their productivity levels.
Conclusion
Time-Tracking apps are a valuable tool for managing time and promoting productivity in your business or organization.
The 5 best time tracking apps in 2021 are TimeCamp, DeskTime, Harvest, Hours, and Toggl. With so many options and available functionalities, it can be hard to choose the right app. 
From the list above, you'll find that TimeCamp is the best option for both freelancers and business organizations. Its integration system is the most developed and can work on several platforms. With TimeCamp, you can manage all your work schedules and productivity goals at once.
👉Check also our list of best time keeping apps
---
Sign up today to take advantage of all the excellent features. It's free for unlimited users. Manage projects easier with us.