12 Best Free Tools for Project Manager (+Free Templates)
January 18, 2022
by Kate Borucka
One comment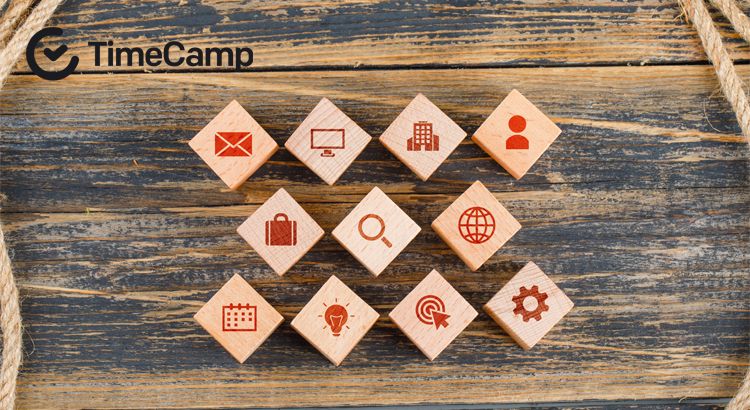 Project management tools contribute to the growth of businesses and bring numerous benefits. Many statistics show that the lack of the right PM system in a company causes project failure, delays, and contributes to poor performance. Without the right project management software, you'll fall out of the loop and won't be able to deliver high-quality projects.
Let's dive into the world of best project management tools, their benefits, and why it's important to use them.
What Are Project Management Tools?
A project management tool is a solution that helps to effectively plan and organize, implement, and manage projects. It also enhances team collaboration and communication by keeping everyone on the same page.
Project management tools fall into different categories, are aimed at different niches, and offer various functionalities. On the market, you'll find such solutions as advanced project management software, to-do lists, apps dedicated to mobile, online project management tools, and a combination of different solutions.
However, the main components usually include the following:
Planning and scheduling: options that enable precise project planning, scheduling all tasks, and resource allocation so projects are delivered on time
Time tracking: allows managers and team members to monitor time spent on work, prioritize tasks, and stay productive
Task tracking: is important to monitor project progress, spot obstacles, and resolve issues
Expense tracking: so project managers can monitor budget and make better financial decisions
Reports and analytics: help to better understand the project, give insight into the project and team performance, and are the source of important data about the company, people, and business processes
Many tools offer additional features such as GPS tracking with location monitoring, built-in chat and communication functionalities, and more. Such solutions improve the overall team and project management.
Project management software can also be helpful in the work of program managers, program coordinators, program directors, and all people who are involved in the project management processes.
Why Use Project Manager Tools?
A good project management tool can help automate and optimize work. Project management tools improve the core business processes, facilitate workflow, and as a result, help companies grow.
Here are the benefits of using a dedicated solution:
A unified system with a centralized hub with all files, documents, information, and important data for business management and resource management easily accessible to everyone working at the company
Better project planning and scheduling—good project management tools offer rich planning features that boost scheduling and streamline workflow and workload management
Improved collaboration—with project management tool, every team can view all their projects in one place, easily access all the necessary information, accomplish tasks and always know what's happening across different departments; that way, it's easier to communicate
Accurate project tracking, including such aspects as tasks and project progress, time, budget, resources and team's availability, changes, or problems
Reporting with analytics about projects with all the data necessary for smart business decisions
Tracking time to stay on budget, time, and monitor performance
Automation features let users automate repetitive activities and optimize work
Better payroll management—many tools have integrated modules that allow businesses to improve payroll, manage budget, and send invoices
A great project management tool will improve processes in your organization, make work easier, and ensure a smooth workflow for all teams.
What Are The Best Project Management Tools?
Even if considered as the best project management tool, not every software will bring benefits. There are several things you need to consider when choosing a tool for your company.
Here's what to look for in good project management software:
A user-friendly, intuitive interface so it's easy to move around; people don't like spending time on onboarding
Free version or trial will let you fully test the app and decide whether it's the right choice for your business
Projects and tasks structure—it should reflect the organizational structure of your team and company so it's easy to track project progress
Customization is important so you can adjust the tool to your needs
Automatic time tracker for easy hours logging and quick timesheet management
Ability to manage multiple projects so you can keep all your data in one place
Reports will let you track progress, work on inefficiencies, and provide all necessary information about team member's work, and tasks
Integrations with other platforms—make sure to look for them if you want to expand the software with your favorite apps (it can help your team focus on work if they have their favorite tools)
Additionally, you need to ensure the project management software corresponds to your business needs, company size, and industry you work in. Another important factor is the methodology you use in your team.
To help you choose the most suitable option, we've gathered a list of the best project management software with the highlight of the most crucial features.
1. TimeCamp
Best for: tracking billable time and monitoring the profitability of projects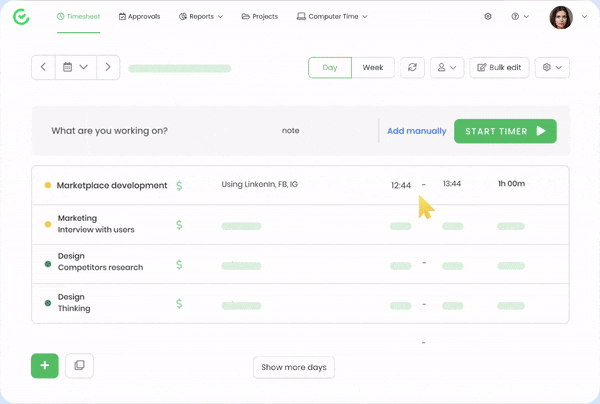 TimeCamp combines project management and rich time tracking features. It's a robust software that helps to eliminate paperwork, long spreadsheets, and automates repetitive administrative activities. Additionally, TimeCamp has all the features you need to manage timesheets and attendance.
The tool allows you to manage all your projects in one place and collect all information about your work including the client's data.
Projects and tasks: TimeCamp provides a neat structure for projects with tasks. You can customize them with colors and tags; tags let you flexibly adjust the software and project structure to the way you want to track your time and organize projects' data.
Automatic time tracking: Timecamp has an automatic time tracker built in the desktop app that works in the background and syncs with the web so you can access all information in real-time. It also detects idle time and tracks time offline as well as activities you spend time on. TimeCamp automatically creates timesheets and you can edit time entries manually.
Reports: you get extensive reports about all company employees' work with distinction to departments and teams. Reports include data on tracked activities and time by projects, tasks, people, days, time entries, budgeting reports, billable, unbillable time, invoiced, cost calculation, computer time reports, and more. You can also customize reports.
Free version: is available with unlimited users and unlimited projects and tasks. For more granular, advanced features, you need to subscribe to one of the paid plans.
Integrations and extensions: TimeCamp offers integrations with the most popular tools and apps either directly, via Zapier, or with the Google Chrome extension. The software imports all data from other tools for better reports and timesheets. Timecamp is available on all platforms (Windows, MacOS, Linux), on the web, as a Chrome extension, Edge extension, and as a mobile app (iOS, Android).
Additional features:
Tracking productive and unproductive activities with categories for effective time management
Rich attendance module for easy leave management (leaves, holidays, days off, etc.)
Timesheets with approvals
Exporting reports to Google Spreadsheet, PDF, Excel, or sharing them via link
Ability to set different billing rates
Time rounding
Graphical view of timesheet for project visualization
Inviting clients as guests so they can see work progress
Notifications and reminders
Admin and user roles for better control of projects
Start tracking time today with TimeCamp! Register for free!
2. Trello
Best for: simple project management with intuitive Kanban boards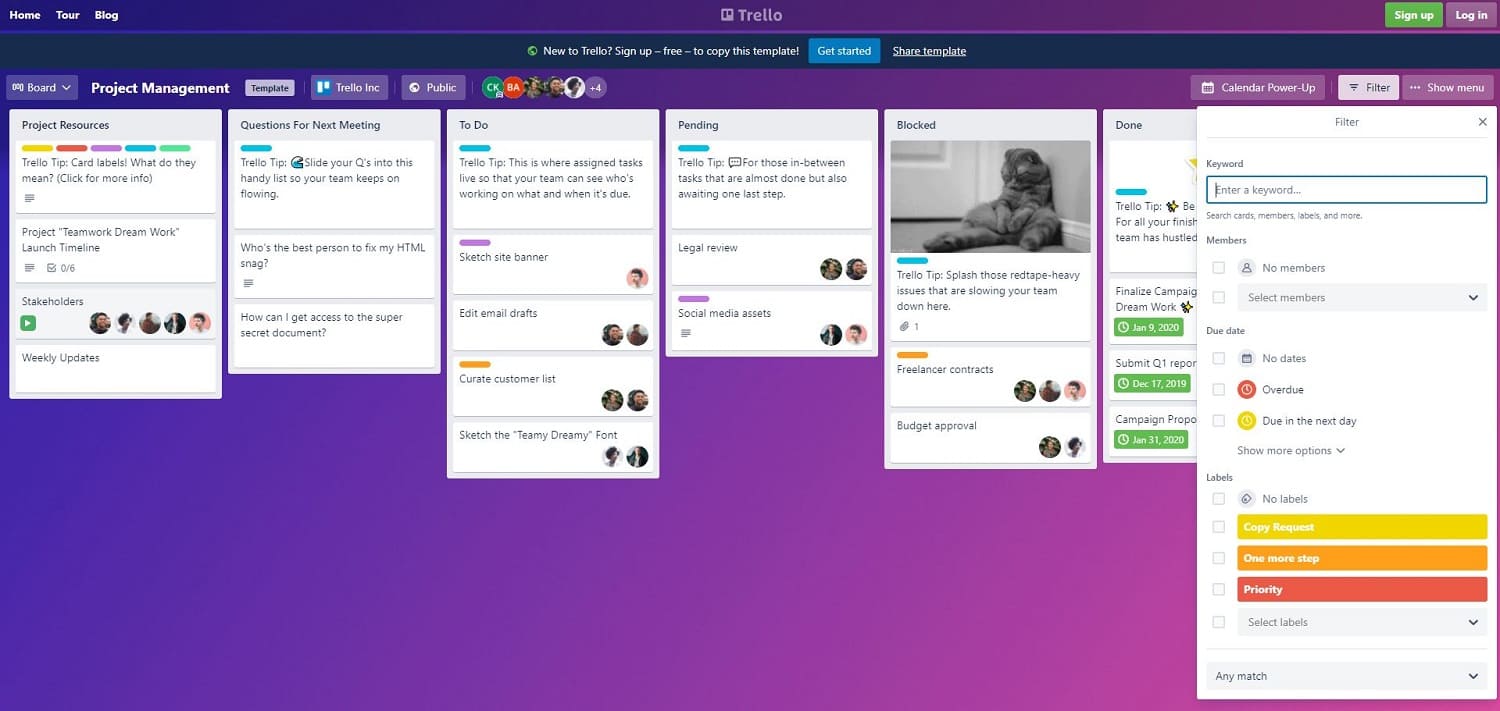 Trello is one of the best project management software for small and medium-sized teams who like to work in Kanban style.
Trello is a universal tool that can have many applications. You can use it as a simple or advanced project management tool, as an event planner, personal goal list, workflow planner, and more.
Projects and tasks: Trello is a visual board for planning and managing tasks. Even though it has a basic design, it has many useful features. In Trello, you create projects on boards with cards and lists and adjust them to your preferences. Also, you can view all projects and tasks in different forms: timeline view, calendar, table view, dashboard with all boards
Automatic time tracking: not available but you can use available add-ons to track time. To improve project management experience and get even more out of trello, integrate it with TimeCamp for rich time tracking data.
👉 See Trello time tracking integration!
Reports: Trello doesn't offer reporting feature but it provides basic metrics about tasks like due dates or assigned tasks.
Free version: The free version of Trello comes with limited functionalities.
Integrations and extensions: there's an extensive repository of integrations available for Trello. You can connect it with most of the available project management tools, and other apps. The app is available for desktop and for iOS and Android.
👉 Check also project management metrics to follow.
Additional features:
Rich task management options: assign tasks to people, add due dates, comments, attach files, add mentions, status, and expand tasks functionalities with add-ons
Built-in automation for tasks
A library of different project templates for all types of teams and tasks
Map view to track the location of employees
3. Taiga
Best for: agile project management for software development teams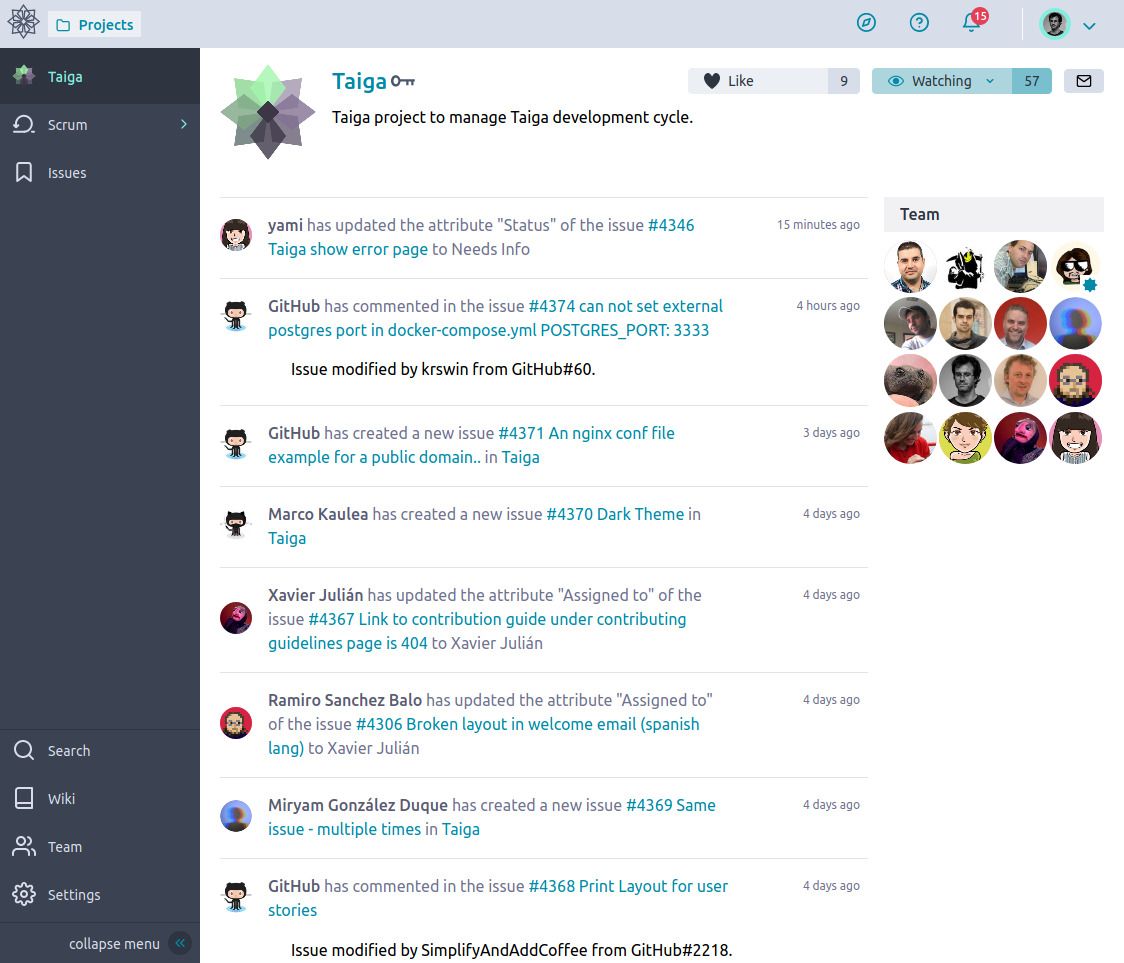 Taiga is one of the best task management tools for developers and agile teams. It helps to organize, plan, and track work. It also allows for team interaction with its flexible features.
Taiga is most suitable for IT, software development, and technical teams. It's a lightweight solution for teams who need an intuitive app.
Projects and tasks: In Taiga, you can plan projects in two ways: Kanban for tracking work in progress, and Scrum to break product backlogs into manageable, executable chunks, and prioritize work in short time cycles. Your team can also track issues and bugs with the Issues Module.
Automatic time tracking: not available. You can only track dues dates and the general progress of works.
Reports: Progress tracking with insights and dashboards for main project deliverables. Taiga focuses on soft reporting across the entire platform with convenient API and live CSV exports. Teams can use their favorite reporting tool and integrate it with Taiga's API or Live CSV exports.
Free version: available for up to 15 users and 5 projects with limited functionalities.
Integrations and extensions: You can extend Taiga with API, Zapier integrations, or by importing data from other tools
Additional features:
Customization of features for flexible management of team and projects
Dashboard with personal performance and team's work
Meetup module for e-meetings to discuss projects
4. ClickUp
Best for: managing projects in a collaborative way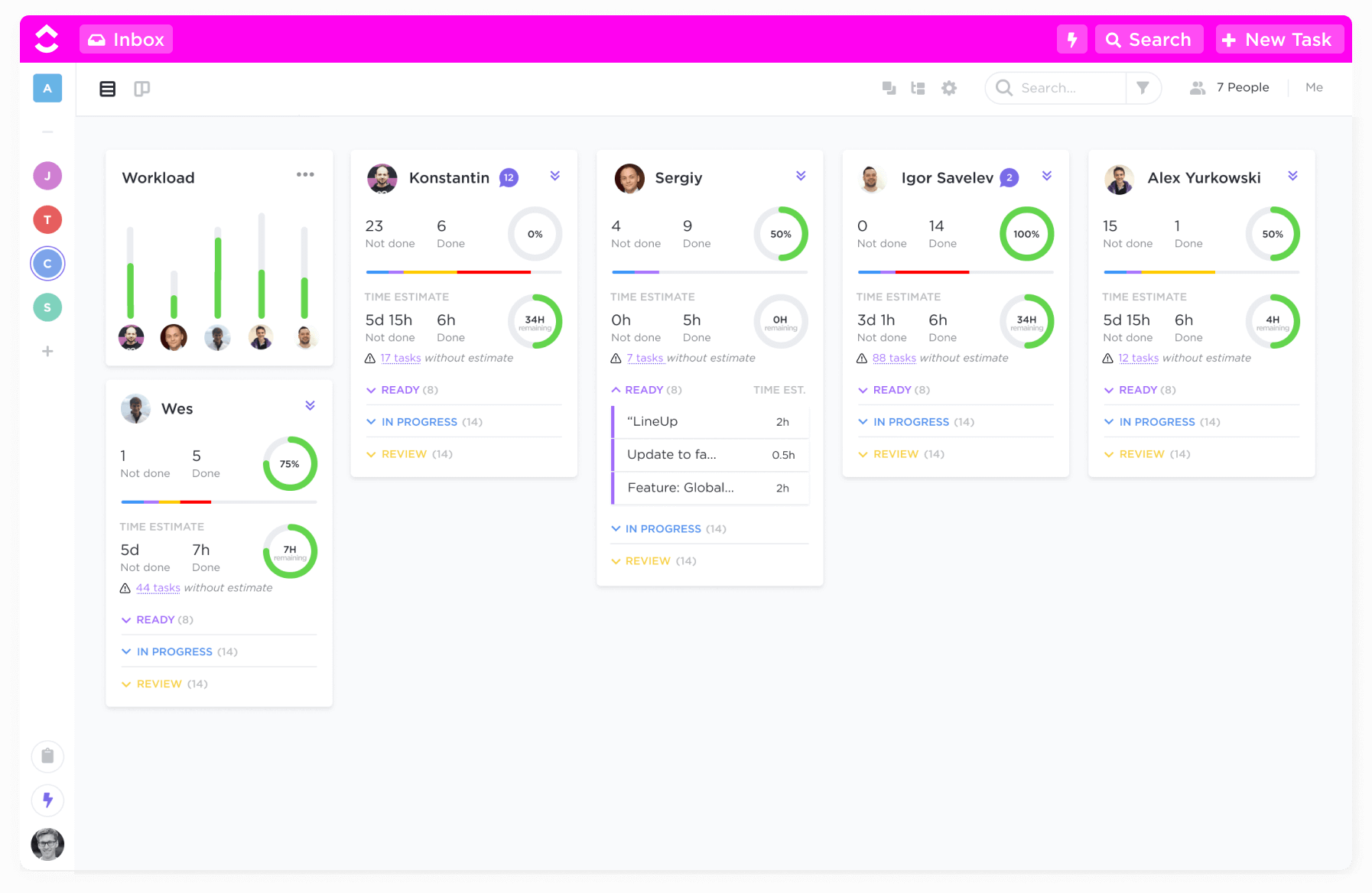 ClickUp is an all-encompassing project management application with team collaboration features. It lets you share information with team members in various formats.
Clickup is a project management tool packed with helpful functionalities. However, it's best for teams that want to improve collaboration and boost productivity with built-in tools.
Check more about ClickUp Time Tracking!
Projects and tasks: In ClickUp, you can view and organize all your projects and tasks in the Everything View. It gives you access to all your content—task lists, boards, Gantt charts, calendar, table, timeline, workload, chat, docs, maps, and activities.
Automatic time tracking: ClickUp provides basic time tracking with simple reports. For more detailed time tracking data, you can integrate ClickUp with TimeCamp.
Take your project management in ClickUp to the next level with TimeCamp! Sign up for free
Reports: Except for the main dashboard where you can access all your resources, ClickUp provides basic reports for tracked time.
Free version: The free plan is available for unlimited users but with limited features.
Integrations and extensions: Your team can integrate ClickUp with other apps and customize the tool according to personal preferences. Additionally, this project management tool is available for desktop (macOS, Windows, Linux), mobile, Chrome extension, and email extension for Outlook.
Additional features:
Collaboration features: chat, comments, proofing, email
Docs that allow for real-time collaboration and file-sharing; they can work as a knowledge base, or a place to store all important documentation and project plans
Tags and filters
Rich customization features
Templates
Goals and milestones
Critical path with dependency-path tracking
Permissions
Guests
5. TimeCamp Planner
Best for: Simple project management with chat and collaboration features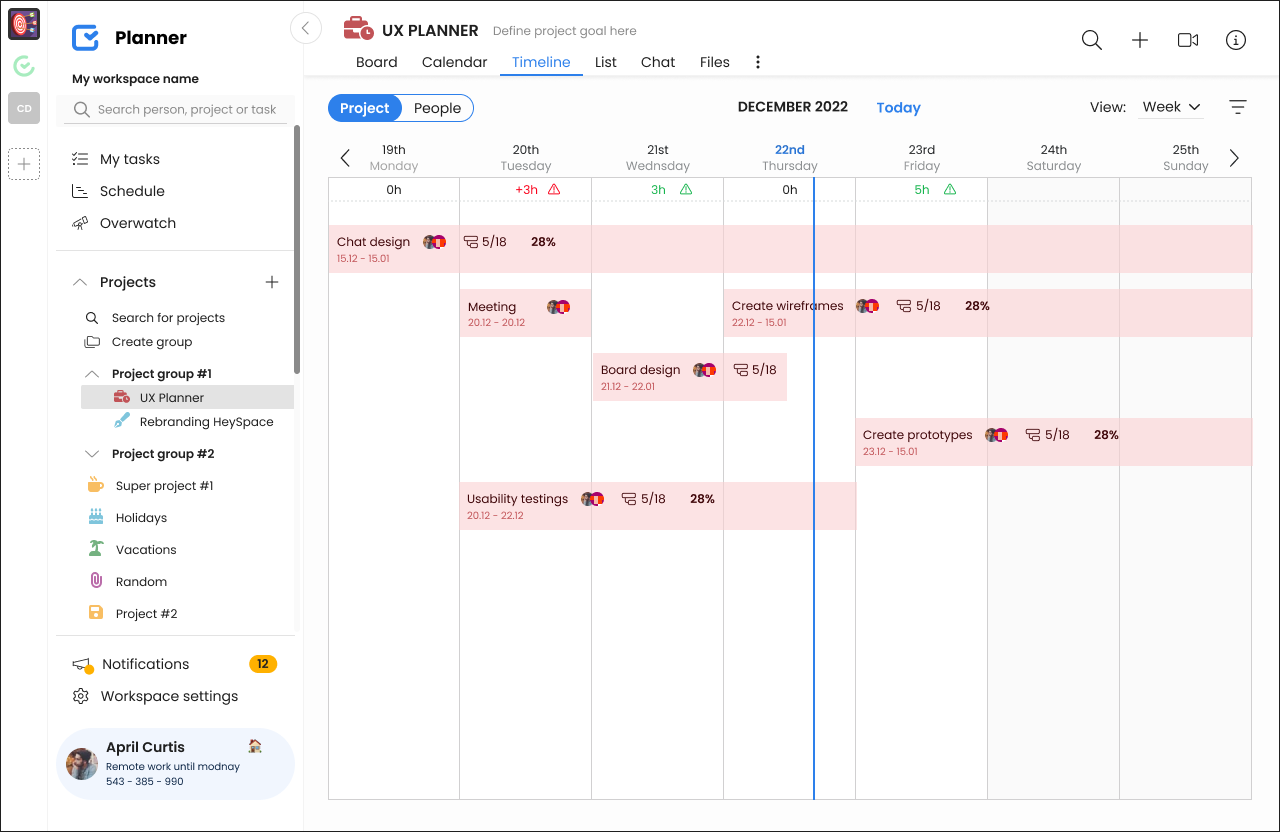 TimeCamp Planner is a mixture of collaboration software and online project management tool. It allows project managers to quickly and easily organize work and manage tasks in one place.
Projects and tasks: Thanks to its ergonomic design you can see three boards in one place—your team and spaces (different channels), chat, and a list of cards with tasks. You get different views for project management—Kanban boards with tasks, tasks with all the details, Overwatch with calendar, and MyTasks view for creating personalized task lists (a personal task organizer). You can also create different Workspaces for different projects/organizations/clients.
Automatic time tracking: available via native integration with TimeCamp.
Reports: You can view the progress and flow of work. Additionally, if you integrate TimeCamp Planner with TimeCamp, you'll get comprehensive reports on tracked time, budget, clients, and other important data for all your project team.
Free version:Free plan is available for up to 5 users; Pro plan costs $2.99 per user per month, billed annually ($3.99 billed monthly). 
Integrations and extensions: TimeCamp Planner integrates with Gmail, Trello, Zapier, Integromat, Google Drive, Dropbox, and Calendar. More integrations are to come so check the tool up for the latest releases. You can also download this task management app for desktop and mobile.
Additional features:
You can easily convert part of your conversation into a task
Every task can be adjusted – you can set a due date, assign tasks to particular people, add tags, create a to-do list, description, files, comment on it, make it a recurring task, watch overdue tasks
You can share files, @mention people, link to Google Docs or Dropbox
Calendar and timeline view for every Space with Personal calendar with all your tasks
Check timelines for multiple projects in OverWatch
Automate repetitive work with recurring tasks
Export your Spaces to CSV
Search feature to quickly find what you're looking for
6. Zoho
Best for: larger teams who need an all-encompassing online project management tool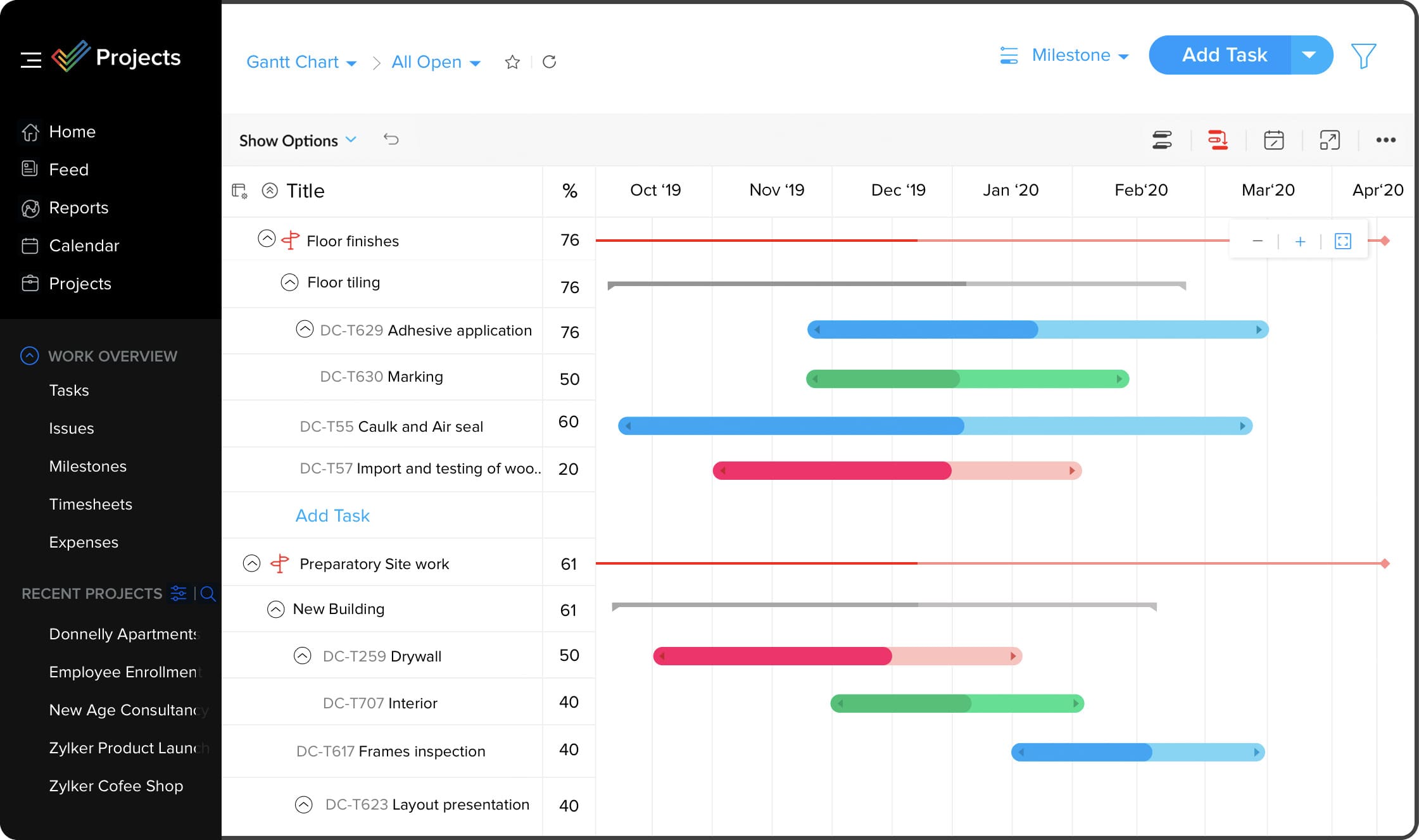 Zoho is a powerful project management suite. It's a web-based project management tool most suitable for teams that need an online office suite to administer projects online.
This project management tool offers many options that allow project managers to effective resource management, data storage, and client management.
Projects and tasks: as an online project management tool, Zoho allows you to organize and view your workload in three ways: classic, plain, and Kanban. You can break a project into milestones, tasks lists, tasks, and subtasks, and create dependency with Gantt charts.
Automatic time tracking: In Zoho, you can use timesheets to log work hours. There's a built-in automatic start/stop timer. And you can track billable hours and set budget estimates.
Reports: there are comprehensive reports like task reports, resource utilization charts, and statistics across projects with a customizable dashboard.
Free version: The free plan is available for 1 user with 20 subscriptions with key features. Also, a free 14-day trial is available so you can test all features.
Integrations and extensions: Zoho project management can be expanded with its other modules via API. Also, Zoho offers many integrations with payment getaways, CMS, docs, and other apps via Zapier. Additionally, you can easily access projects with the mobile app (Android, iOS).
Additional features:
Create custom fields in project tasks for specific project requirements
Finance module to create invoices and track expenses
Ability to set Critical path with Gantt charts
Built-in chat, forms, documents, product updates from the project feed
Check our Zoho time tracking integration!
7. Kanban Tool
Best for: real-time board updates for businesses and freelancers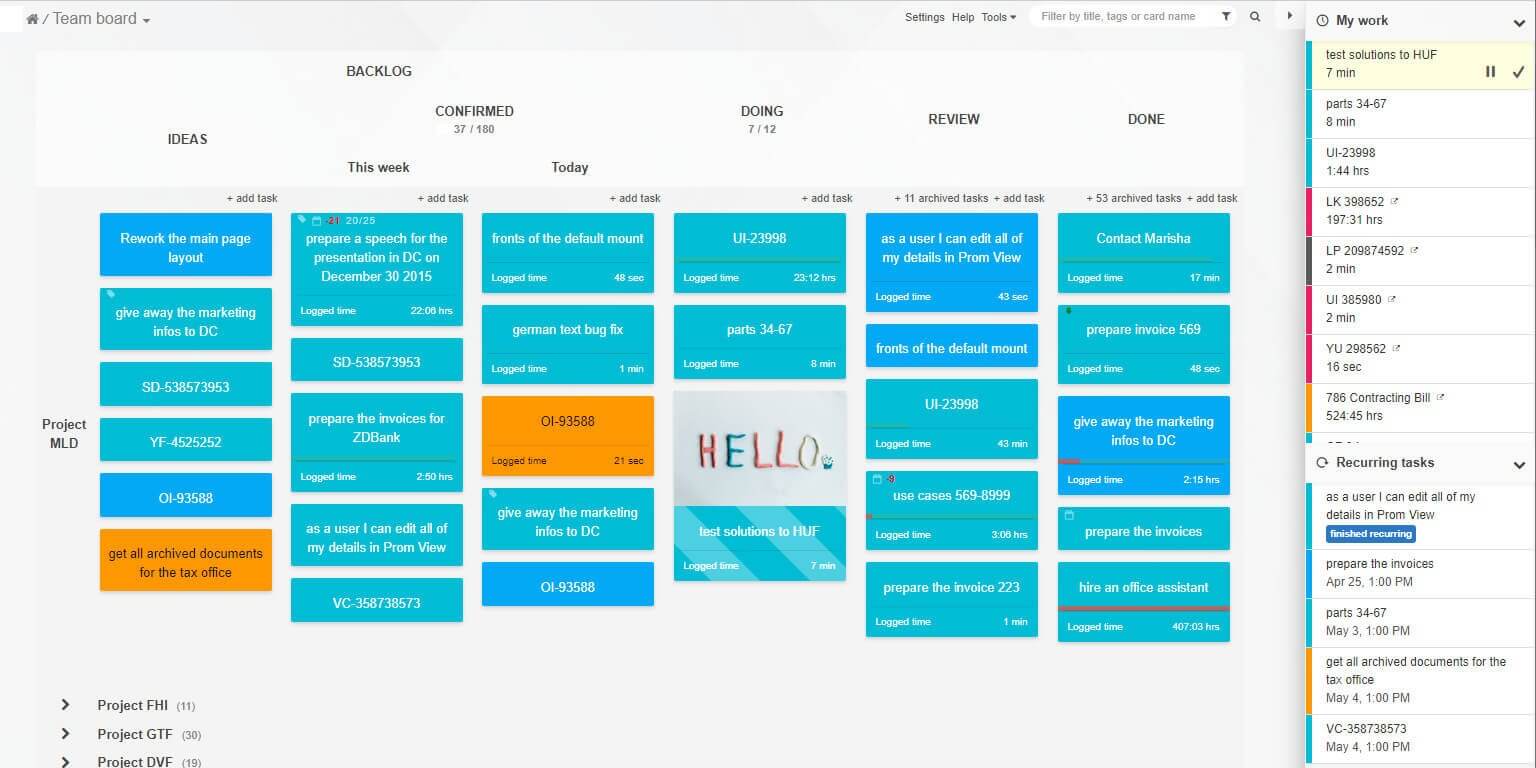 Kanban Tool is one of the best project management tools for individuals. It's a classic Kanban-style online project management solution that can help in personal work management.
Projects and tasks: In this project management tool, you can organize all projects on Kanban boards. Each board lets you add multiple tasks and customize them with extra information.
Automatic time tracking: Basic features for tracking time—simple start/stop automat timer.
Reports: Kanban Tool provides automatically generated reports on performance, analytics for all projects, progress of work, and changelog with the record of all modifications. There are also simple time metrics.
Free version: The free plan is available for up to 2 users with 2 boards. Hence, it's best for freelancers who need lightweight task management software in Kanban-style.
Integrations and extensions: You can integrate Kanban Tool with other apps and project management tools via Zapier, directly with several apps (e.g., Google Drive, OneDrive, or create your own extensions via API.
Additional features:
Board templates
Keyboard shortcuts
Rich customization features for task management
File sharing
Email notifications
Project management options on tasks such as task dependencies, reminders, attachments, file management features, card aging, checklists, timer, due dates
Data export to Excel or CSV files and data import from spreadsheets
8. GoodDay
Best for: project management and collaboration in a unified system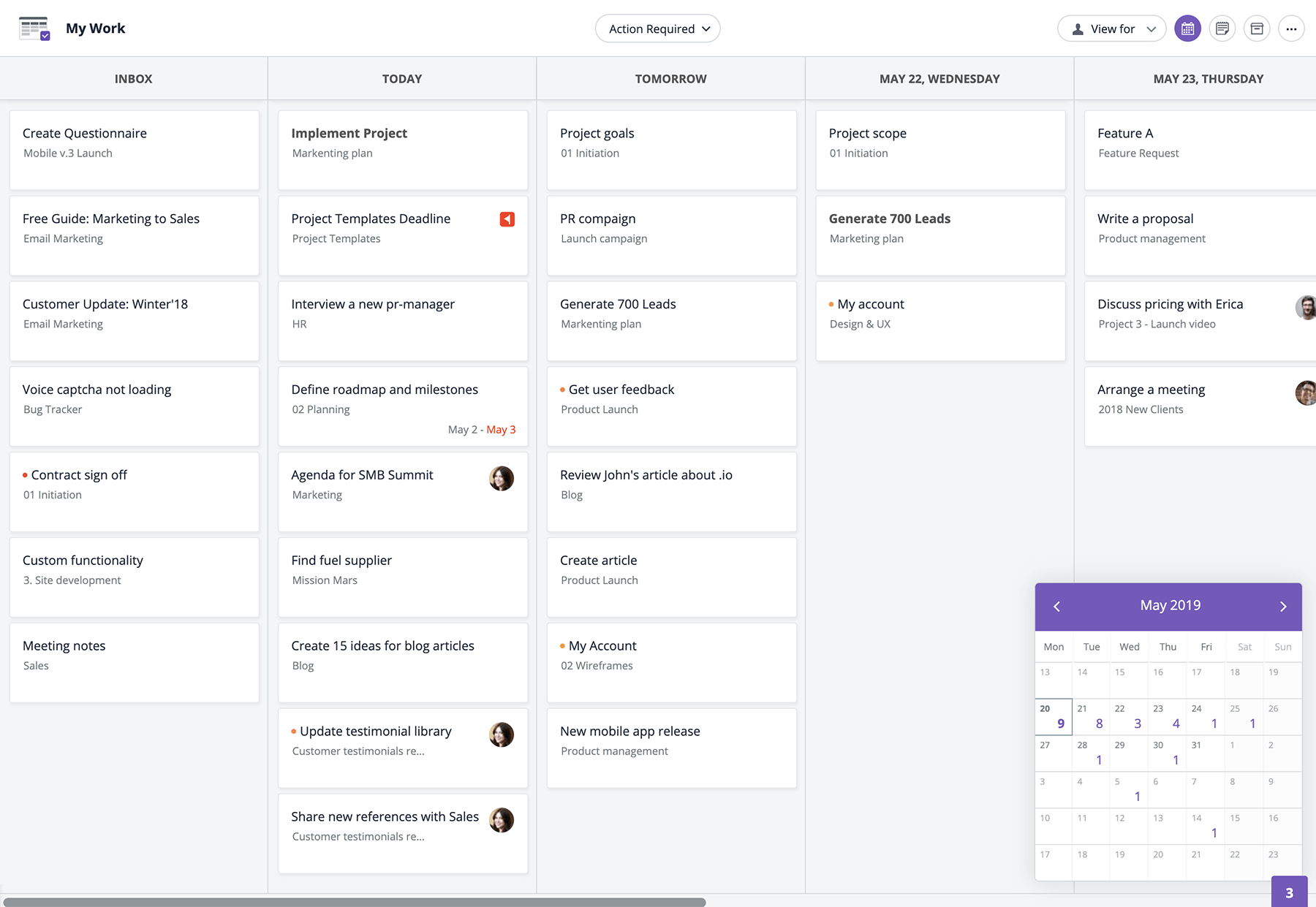 GoodDay is one of those project management tools that are packed with all the features necessary for project planning, task management, and team collaboration.
GoodDay provides an ecosystem that supports all major project management methodologies, including Waterfall, Scrum, Kanban, Prince2, Lean, PMO, and more.
Projects and tasks: In GoodDay project management tool you can access a set of features and modules that allow you to customize and build your own solution. You can organize and view projects in over 20 different ways including task list, task table, Kanban board, view team workload, view your work in a day-to-day work dashboard, calendar, event list, events summary, priorities, project portfolio, and more.
Automatic time tracking: This project management tool offers basic options for tracking time with due dates and estimates. There are also basic timesheets.
Reports: GoodDay offers reports with metrics and analytics for each project with all the important data.
Free version: There's a free version of GoodDay available for up to 15 users.
Integrations and extensions: You can integrate this project management software with several apps (Google Drive, Slack, Gmail, or Dropbox) or with all your favorite tools via Zapier. It's also available for desktop and as a mobile app.
Additional features:
File sharing
Meetings
Notes, documents, and to-do lists
Library of various project templates
Users' access permissions
Tasks messages, discussions, and chat
Notifications
Activity stream with updates for all activities on projects
Personalization features for each team member
9. Redmine
Best for: IT teams and companies that need an advanced project management tool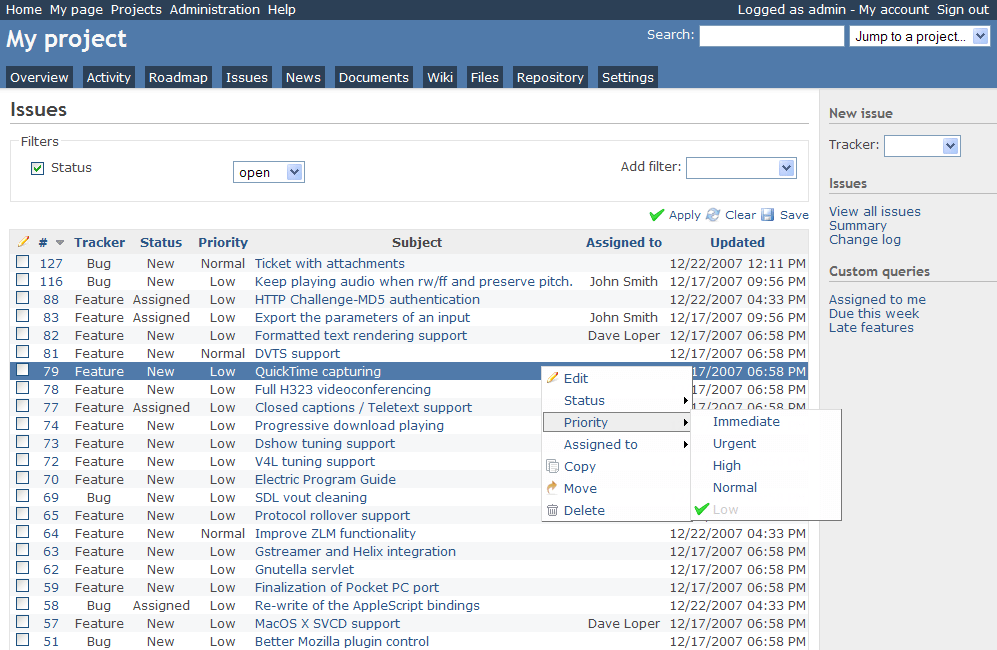 Redmine offers a set of project management tools with advanced features. It's a flexible web application written using the Ruby on Rails framework, it is cross-platform and cross-database.
It has all the necessary features that help in resource management, scheduling, and employee productivity tracking. Although the interface may seem a bit outdated, this project management tool can be invaluable in work management.
Projects and tasks: Redmine projects can have many levels and different attributes (description, assignee, due date, user role, private or public project, and more). You can organize them with subprojects and task lists. There are also Gantt charts and a calendar to visualize work.
Automatic time tracking: Tracking billable time for payroll and client billing only by logging time manually. No automatic timer is available.
Reports: Timelog Report allows users to display their time in a simple report to view time per user, issue type, category, or activity with date and hours logged.
Free version: Redmine is one of the best project management tools that is completely free. There aren't paid plans.
Integrations and extensions: You can create your own plugins to expand the set of Redmine online project management tools.
Additional features:
Overview of a project with insight into work progress
Defining your own roles and setting permissions
Tracking issues
Custom fields with different formats are available: text, date, boolean, integers, drop-down lists and checkboxes
Posting messages, news, and sharing files
Per project wiki and forums
Repository browser and diff viewer
Multilanguage support in the forty-nine languages
Check out redmine time tracking integration!
10. Jira
Best for: project management with Agile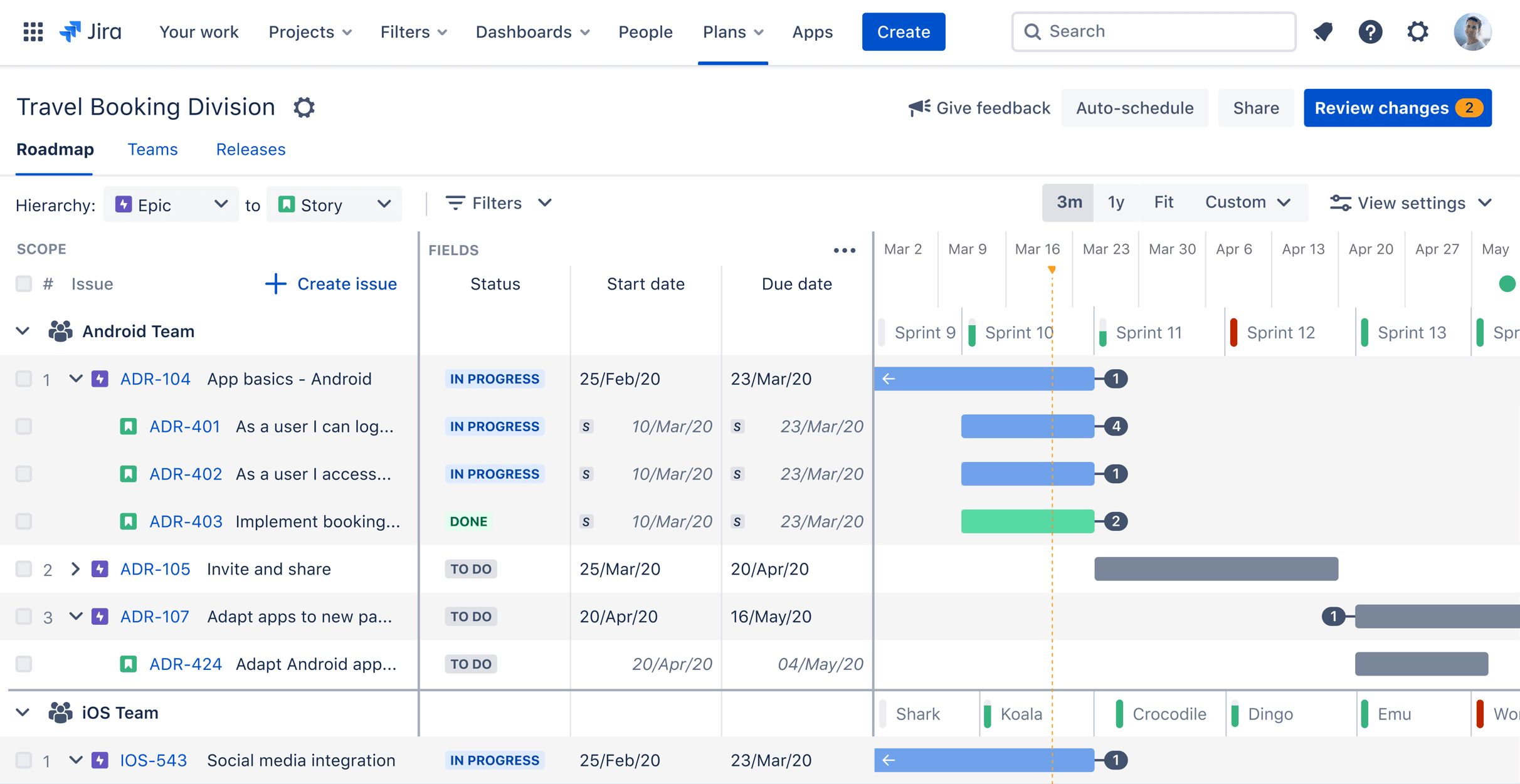 Jira is a cloud-based agile project management tool that supports any agile methodology. It helps to plan, track, and manage agile project developments in a single tool. It's best for managing IT and tech teams that work on software development.
Projects and tasks: Jira allows for project management by creating user stories and issues, planning and prioritizing the most urgent sprints, and distributing tasks to different teams and people across the organization. You can customize project views in scrum and Kanban boards, see the big picture of projects with roadmaps.
Automatic time tracking: not available. Every team member can only log the amount of time spent on particular project.
👉 Track your time directly in Jira with TimeCamp time tracking integration or via Zapier
Reports: You can manage projects in Jira with visual reports with diagrams, charts, and numbers that give you insight into the team's performance and project stage.
Free version: Free plan for Jira is available for up to 10 users, 2GB of storage, and Community Support. If you'd like to add more than 10 users or get access to more support and storage, you can sign up for a 7-day free trial of the Standard or Premium plan.
Integrations and extensions: There are over 3,000 add-ons to extend Jira environment. Jira project management tool is available as a web app, and for mobile devices (Android, iOS).
Additional features:
Automation rules to eliminate repetitive tasks, so you can, for example, auto-assign issues or automate your releases for faster actions
You can customize every issue – attach files, link issues or pages, create subtasks, add a child issue, and more
Inviting clients to view project progress
Adding comments to projects
11. Microsoft Project
Best for: large and medium-sized businesses working in the Microsoft environment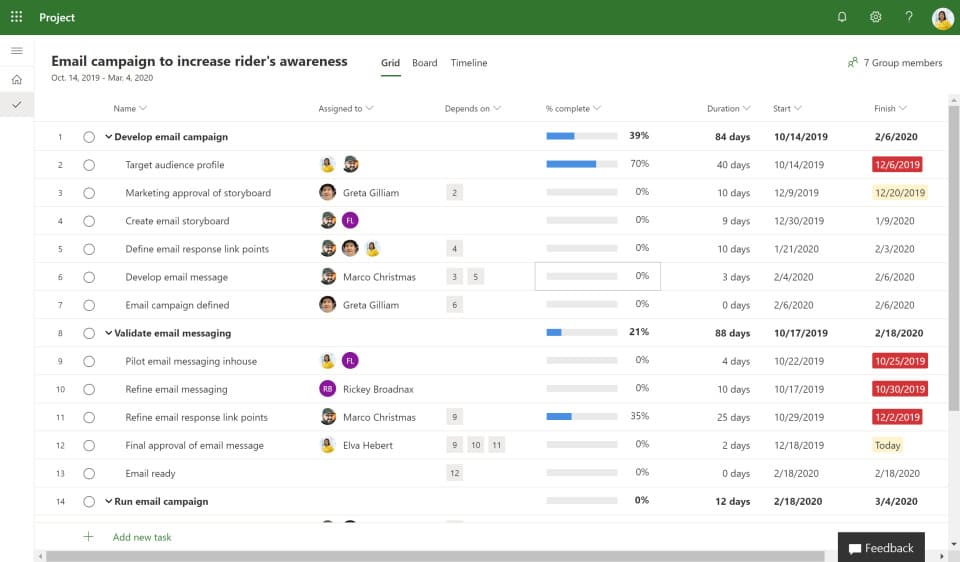 Microsoft Project is the best project management tool for larger organizations that need a solution fully compatible with Microsoft products.
This is the best project management tool for large businesses with a strong organizational hierarchy that know their needs and are focused on reaching specific goals.
Projects and tasks: In this project management tool you can organize and visualize your projects and tasks in several ways: grid view with an ordered list of tasks, board view with custom task boards, timeline (Gantt charts), or grid. Visual, interactive roadmaps for different project types are also available.
Automatic time tracking: not available. You can only log time manually and get basic timesheets.
Reports: You can use pre-built reports to track progress on your projects, resources, programs, and portfolios.
Free version: This project management tool doesn't offer a free version. However, it's worth investing if your company is centered around Microsoft tools or you're an avid user of the suite. Pricing starts at $10.00 per month and the free trial is available.
Integrations and extensions: Project desktop app is available. One license covers up to five PCs per person. Except for integration with Microsoft Office and its tools, there are no external integrations.
Additional features:
Customizable templates
Interactive dashboards with overall status and details of projects and programs
Inviting stakeholders and team members to edit and update task lists, project schedules, and more simultaneously
Logging attendance-vacation, sick leave, holidays
Resource management
Collaboration and communication via integrated Microsoft Teams module
12. Runn
Best for: resource management and scheduling within a project management tool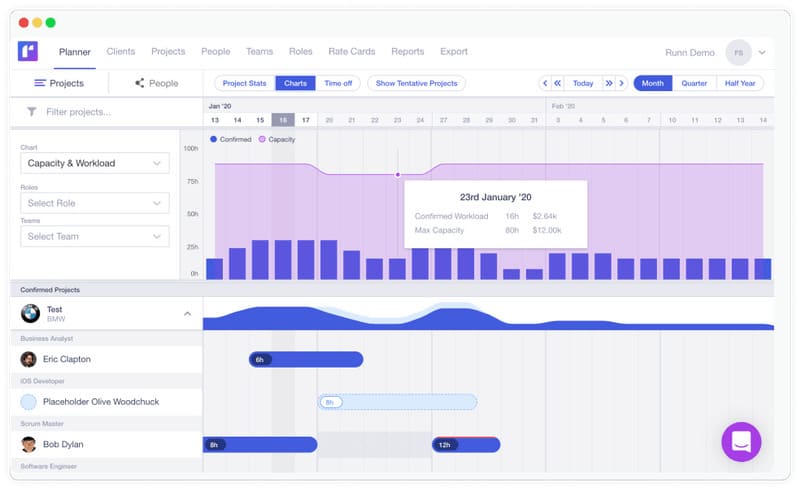 Runn is a project management software that helps in work management and proper resource allocation. It's suitable for businesses that need to track revenue and manage people from one platform.
Projects and tasks: In Runn, you can organize and schedule workload, view team members' activity and availability, and track project milestones and phases. You can view your plan in monthly, quarterly or half-yearly view.
Automatic time tracking: Built-in automatic timer is available within the app as a browser extension. Simple timesheets are created based on tracked time.
Reports: Runn generates reports with analytics on all your projects—financial reports, billable and non-billable time tracked, hourly availability during a day, capacity reports for an entire company, project performance, and KPIs. You can also create customized reports.
Free version: Runn is a free project management tool for up to 5 users with unlimited projects.
Integrations and extensions: Integrations are available only for Clockify, Harvest, and WorkflowMax. Additionally, Runn provides API to build your own extensions.
Additional features:
Time-off and leave management
Quick search, tagging, and filtering
Create repeating assignments
Adding part-time workers
Charts to view planned capacity vs actual state of resources
Exporting and importing data
Project Manager Templates
If you're not a fan of project management software or need an additional form of help, you can use other available forms of project management. One of them are templates for project management.
Here are some examples of different templates that can be a helpful addition to project management tools:
---
👉 Check also: 10 Best Top-class Timesheet Templates Your Company Will Love
---
Many online project management tools offer free templates for various kinds of projects. Using templates
Project Management Techniques
Remember that the tool you decide to use to manage projects should correspond to your business needs and the methodology you follow.
Many techniques are used in project management. Beginning from the most popular Kanban, Gantt charts, and Scrum to Waterfall, PERT (program evaluation and review technique), and Extreme.
You can use all the available techniques with the above-mentioned project management tools. It will help in strategic planning and making smart business decisions.
A good project management tool in combination with the right technique will guarantee success and business growth. Find out which technique and methodology are best for your business and use them to improve project management.
To Wrap It Up
With the right project management tool, it'll be a piece of cake to administer workflow, improve performance, and get more customers.
What are your favorite project management tools? Let us know in the comments!