Best Reporting Tools to Use in 2023
May 18, 2022
by Kate Borucka
No comments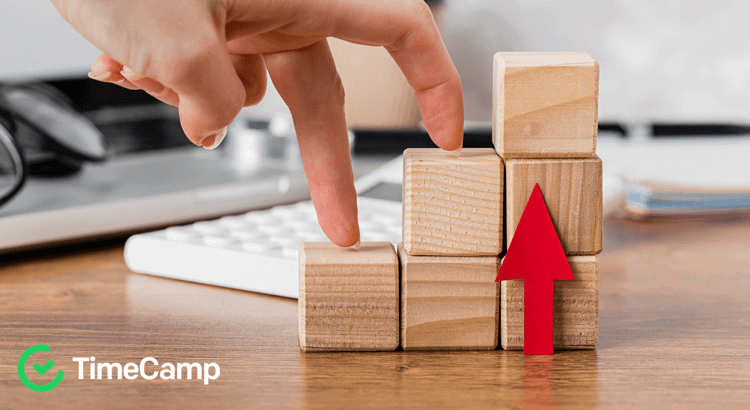 Reporting tools are a powerful resource that can help your business grow. While for smaller companies simple tracking tools may be a good fit, larger businesses need something more. The larger your company, the larger your needs, and the more you need to handle. So how to process and analyze data to get the most out of it?
Here's your ultimate guide on what reporting tools are, what advantages you can gain from using dedicated software, and what to look for when choosing a reporting tool for your business.
What Are Reporting Tools?
Reporting tools or reporting software are used to collect, organize, and analyze data. They provide valuable data sources about business health and help to understand what's happening in the company.
Reporting software may combine different features and have various reporting capabilities. It all depends on the niche and industry their aimed at.
Some of the most popular components of reporting tools chosen by business users include the following:
Reports and interactive dashboards

Ad-hoc reporting functionalities

Analytics

Data visualizations

Performance metrics and benchmarking

A database with all the relevant information about the company, its employees, clients, and processes
The main goal of reporting tools is to help you organize data so you can look for patterns, better interpret them, and make smarter business decisions.
What Are The Different Types of Reporting Tools?
The niche of reporting tools is wide. Some of them may combine various features while others will be dedicated to a specific area of reporting. And you can choose between free reporting tools or paid options. Although the latter usually (but not always) offer more functionalities.
If you're not sure which reporting software will be the right fit for your business, check the most common types of apps.
IT Reporting Tools
This type of reporting tools is used in the IT industry by software developers, software houses, programmers, IT project managers, data analysts, and other related professionals.
It's a niche with specific needs, hence, the key features are focused on IT: bugs and issue tracking, monitoring key statistics, deployment actions, tracking work time, work progress and backlog, and sprint planning among others.
IT reporting tools allow you to create reports and dashboards with interactive visualizations for deliverables.
👉 Check also this article: Why Software Developers Should Track Time?
Project Management Reporting Software
Project management software is one of the most popular solutions chosen by many businesses. It's often used for corporate performance management as it comprises features that help to monitor and manage business health.
Project management software has reports and dashboards with all the necessary information about the company's state, employees, projects, clients, budget, and other relevant data.
Additionally, you can easily integrate it with other apps to have more business data and improve workflow.
Time Tracking
Time tracking software is one of the most popular reporting tools. It's used primarily to track billable time and measure project profitability.
But many users find it helpful in enhancing productivity and time management, controlling budget, but also improving team communication and collaboration.
Some of the most sought-after features in time tracking reporting software include automated reports with timesheets, automatic time tracker, tracking billable time, and invoicing.
What's more, you can easily integrate time tracking software with other reporting tools and external apps to have even more business data for smarter, data-driven decisions.
Dashboard Software
Dashboard software is used for information management and data visualization for business users. It can be a standalone solution or part of other reporting software.
It allows multiple users to quickly access all the necessary information with just a few clicks. Reports and dashboards provide insight into company processes and performance.
Business Intelligence Software
Business intelligence (BI) software is a type of advanced tool that companies use to gather, store, and analyze large amounts of business data from internal and external sources.
It's a unified business analytics platform that provides businesses with rich reporting systems and embedded analytics.
Business intelligence tools are used by professional data analysts, project managers, and teams that need to handle data from multiple sources. Its key features usually include complex reporting functionality, ad-hoc reporting, rich data integration, interactive reports and dashboards with visualization options, scorecards, statistics, and many more advanced features.
Data Visualization Software
Although data visualizations are usually part of reporting tools, some vendors offer standalone solutions that you can use only to view and manage data in visual forms.
Their key features include interactive reports, dashboards, and metrics. Additionally, they offer plenty of options to present data — graphs, charts, statistics, images, videos, comparisons, maps, infographics, reports, documents, scorecards, and many more.
Open-source Reporting Tools
Open-source tools for reporting are free or low-cost business analytics platforms. These are often supported by a community of contributors. What's more, you can freely adjust them with your own features and options.
Open-source tools are most suitable for companies that don't want to spend a lot of money on software. Also, they can be the right fit for you if you want to share your problems and ideas with a wider community of business users, and create your own, custom solutions.
Marketing Reporting Software
Marketing is a demanding niche. For that reason, there are tools aimed specifically at marketers. A reporting tool for marketing helps to track, monitor, and measure the performance of your marketing activities with specialized marketing reports.
So if have a marketing agency, such kind of reporting tool will help you stay on top.
Financial Reporting Tools
Financial reporting tools are used to record expenses, monitor economic stability, and improve the financial health of your business. These are helpful in the work of accountants, financial advisors, consultants, and larger enterprises that need to handle lots of financial data.
Such tools are the main data source for all the financial aspects of the company, beginning from the project budget, payroll, employee rates, taxes, invoices, financial statements, cash flow, etc.
Spreadsheets
Although not as effective as an automated reporting tool, spreadsheets still have many advocates. Especially, when it comes to Excel. It gives you a lot of possibilities to collect and present data.
Excel is an advanced tool and if you know how to use all the formulas, graphs, charts, models, and other features, it can be a great source of knowledge about your business performance.
Additionally, most of the best reporting tools offer an option of exporting your reports in the form of a spreadsheet to easily share data with clients and stakeholders.
👉 Read also: 10 Best Top-class Timesheet Templates Your Company Will Love
Why Use Reporting Tools?
Reporting tools are commonly used by marketing agencies, IT companies, financial agencies, large enterprises, podcast agencies or any other businesses that need to handle a lot of data.
But if you're a freelancer, solopreneur, or have a small company, you can also effectively use dedicated tools to better manage your work and projects.
Here are all the benefits of using reporting tools:
Effective data collection — with reporting software, you can easily gather different types of data depending on your industry, niche, department, needs, etc.

Help visualize data with colorful graphs, diagrams, pictures, and other graphical forms

You get a unified reporting platform with a single tool that gives you quick access to all the information

Automatically generate reports that you can easily export and share with clients and stakeholders

Data integration allows you to make better, data-driven decisions to grow your business and lead it in the right direction

Reporting tools help to measure key metrics, KPIs, monitor them and improve performance by spotting bottlenecks, weak spots, and obstacles

Automation and optimization of business processes

Improved project management

Data security — all your data, information, and projects are safely stored in one place
Reporting tools software helps in improving overall performance and contributes to business growth.
Best Reporting Software
Reporting tools are data management systems that can have various functionalities-project management app, balanced scorecard tools, time tracking and invoicing, task management with basic reporting options, and many more.
No matter which functionalities you need, there are certain aspects you should pay attention to when choosing a tool for your business.
Here's what to look for in reporting tools:
User-friendly interface: to easily move around the tool

Relevant data: data you will actually use, the so-called "actionable insights" that will give you all the information you need. Each tool offers different data analysis functionalities so you need to specifically know your needs

Free trial: will let you test the app before purchasing it and see if it's the right fit

Custom reports and dashboards: to personalize the views and reports so you can better manage work

Integrations: to connect your favorite apps for even more data
To help you choose the best solution for your business, here's a list of the best reporting tools based on functionalities, purpose, and users' opinions.
1. TimeCamp
Time tracking software with automated reporting and performance monitoring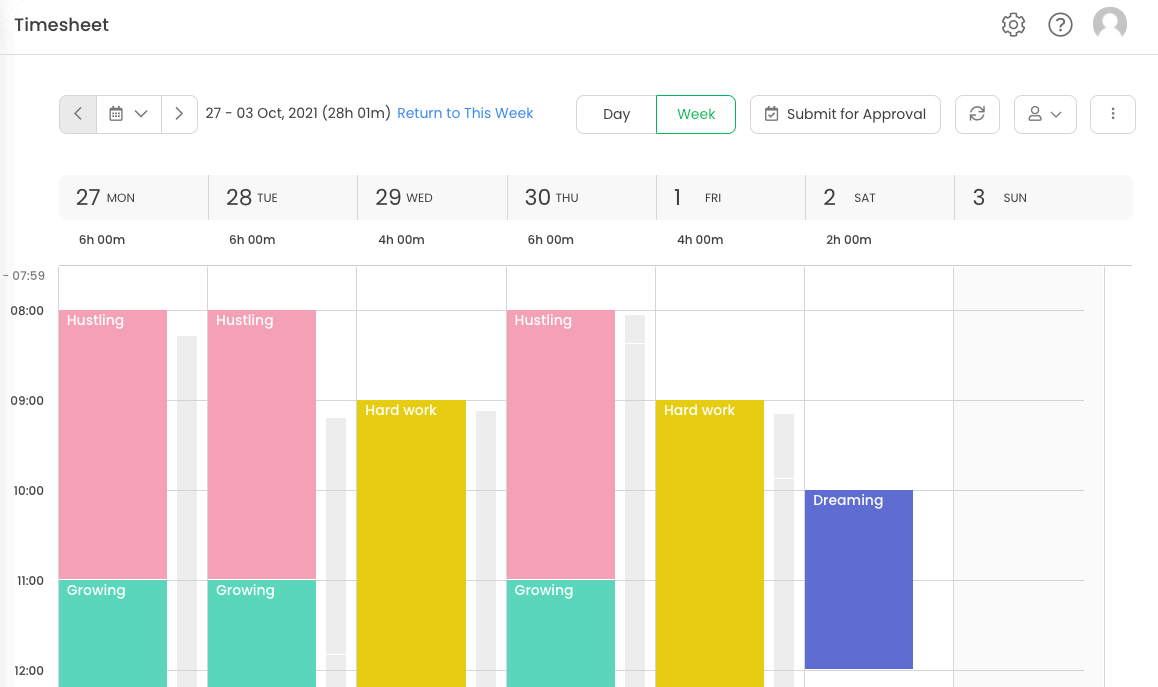 TimeCamp is a free time tracking software that combines project management features with productivity monitoring.
It also helps to monitor the financial aspects of your company, progress of work, and performance.
Dashboards: TimeCamp offers a clean user interface with charts and graphs. You get the most important data about your business health, project progress, and can quickly view what's happening in your company.
Reporting: Extensive reports provide an in-depth analysis of your activities. They also show your productive and unproductive activities, attendance, time off, overtime, underperformance, work by client, project, and more. You can import or export reports to later use them with your favorite tools or share them with clients.
Integrations and different platforms: you can integrate Timecamp with other apps either directly or via Zapier. TimeCamp is available on all platforms (Windows, MacOS, Linux), on the web, as a Chrome extension, and as a mobile app (iOS, Android).
Other features:
Tracking billable and non-billable hours

Different billing rates for employees, projects, and clients

Tags allow you to structure projects and easily manage your data

Productivity monitoring — tracking productive and unproductive activities, setting goals, tracking idle time, optional screenshots

Invoicing with customizable tax rates, PayPal integration, exporting to Xero, Quickbooks, and as documents in different formats

Management roles so managers and team members can view relevant information in reports

Neat timesheets with automatic approvals and reminders, comments, and feedback

Attendance module lets you track absences, leaves, overtime, holidays, remote work, and other types of days and hours
Pricing:
Free – entirely free for unlimited users with unlimited projects
Starter – $3.99 per user/month billed monthly ($2.99 per user/month billed annually)
Basic – $7.99 per user/month billed monthly ($5.99 per user/month billed annually)
Pro – $10.99 per user/month billed monthly ($7.99 per user/month billed annually)
Enterprise – available for 100+ users with custom pricing
2. Zoho Analytics
Business intelligence software for non-tech savvy users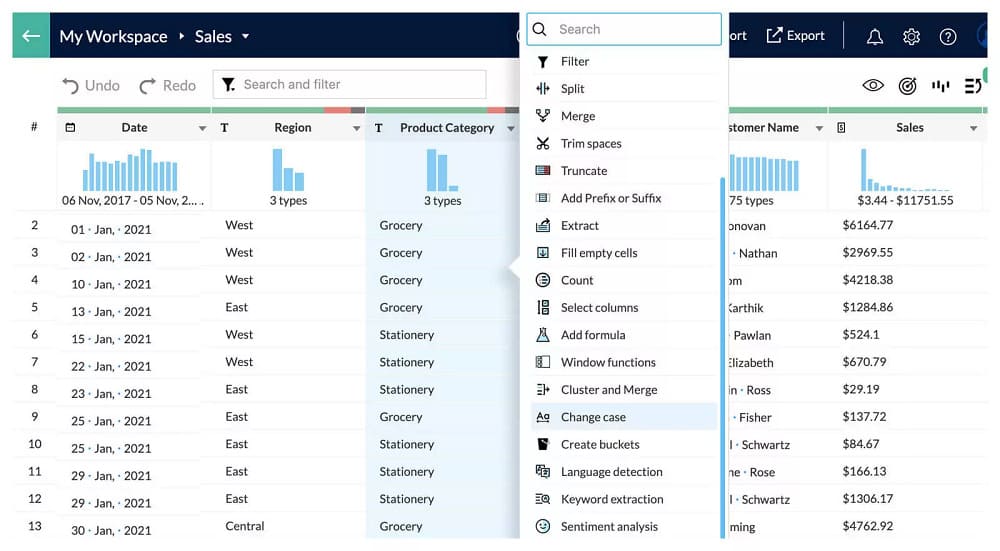 Zoho Analytics is a self-service business intelligence and data analytics software that comprises the most important features necessary to analyze, create data visualizations, and help you better understand facts and figures.
Additionally, Zoho Analytics integrates well with its sister tools from Zoho. Hence, it's a perfect solution for companies that already use Zoho suite.
Dashboards: Zoho Analytics offers rich dashboards that you can easily customize with the drag and drop feature. Dashboards with data are dynamic and have interactive reports.
Reporting: In Zoho Analytics, you get auto-generated reports that you can filter for the needed data and quickly access what you're looking for. Also, you get different data visualization tools (charts, widgets, pivot, summary, and tabular views).
Integrations: Zoho Analytics integrates data from over 250 tools allowing you to use data from many different sources such as files, feeds, web URLs, databases, business apps, and more.
Other features:
You can use Zoho Analytics as a standalone solution or as embedded analytics platfrom that you can integrate within your app

Data alerts for important changes, achievements, or irregularities

Customization features to better adjust the tool to your needs

Collaborative analytics for better teamwork
Pricing: Zoho Analytics offers two types of pricing plans — on-premise (free for a single user; other prices depend on the server you decide to use); and cloud (prices start at €30).
3. SAP Crystal Reports
Business intelligence reporting tool for creating rich reports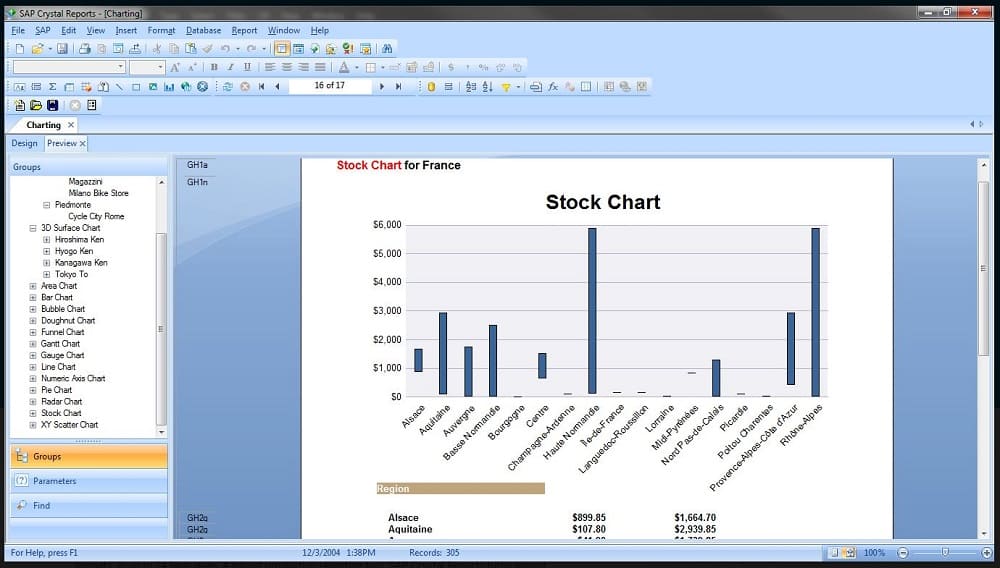 SAP Crystal Reports is a business intelligence application with great self-service reporting functionality that helps to improve and automate reporting process.
It's best for small and medium-sized businesses. SAP Crystal Reports may be a bit difficult to use for beginners so it's best to have an IT assistance that'll help you set up the tool. On the other hand, it's possible to freely customize reports and adjust the reporting software to your business style and needs.
What's more, you can combine SAP Crystal Reports with other available modules such as ERP, database, analytics, CRM and customer experience, HR management, financial planning and management, and many more.
Dashboards: SAP gathers all the information from all the data reporting tools you use to create coherent analytics. Also, you can use it as a standalone solution or with other SAP tools to have multiple data sources. This reporting tool has a clean, easy-to-use interface.
Reporting: The tool lets you create complex reports with custom layout and data. Reports include rich forms of graphs and charts. There's also an ad-hoc reporting feature. Reports work well with different data sources.
Integrations: This reporting tool provides a single API to build and extend apps for workflow automation, better processes management and easier collaboration. It's also well-integrated with Office which makes it a good reporting tool for teams working with Office products — you can easily present data in PowerPoint, Excel, Word, and other Microsoft tools.
Other features:
Access control and security features let you determine who can view the data

Ability to track historical data

Real-time metrics and data tracking with consistent and frequent updates

Rich data visualization options

You can use SAP reports and dashboards with other SAP modules for more advanced business planning and management

Scorecards help to visually track KPI's
Pricing: Different prices apply for different options. Pricing starts at $495 per user for a full product.
4. Mediatool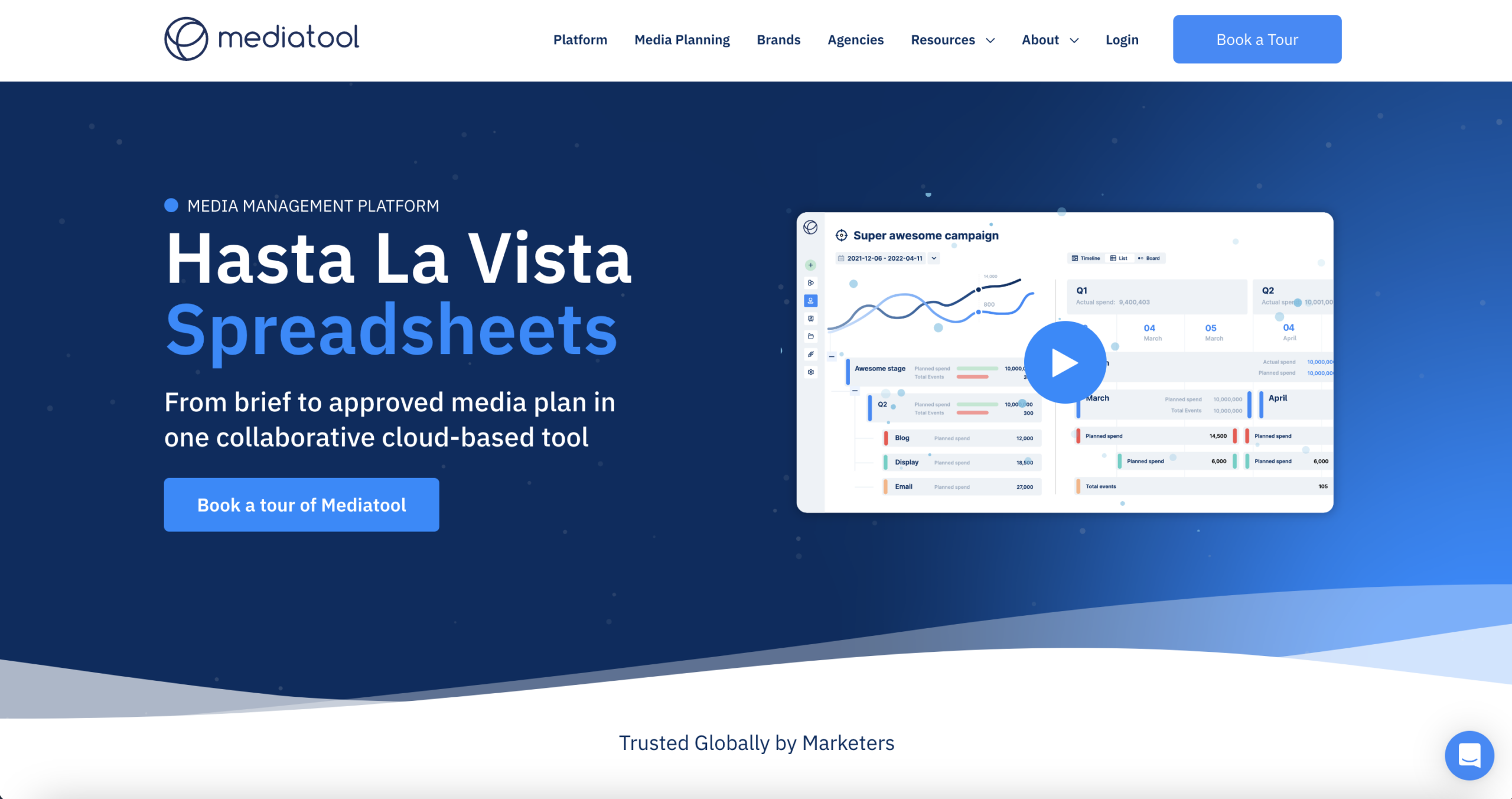 Mediatool is a powerful media planning tool platform that offers a range of features to help businesses manage their media campaigns more effectively. One of the standout features of the platform is its comprehensive dashboard, which provides users with an intuitive interface for managing their campaigns in one place. The dashboard offers drag-and-drop functionality, custom views, and collaboration tools to streamline workflows and improve efficiency.
Mediatool also offers robust reporting capabilities that allow users to generate custom reports and gain insights into campaign performance across various channels. The platform's reporting functionality is highly customizable, making it easy to generate the specific insights that businesses need to optimize their campaigns.
You can visualize your data thanks to Mediatool with this path.
1. PLAN 
Combine all your marketing data into a single platform

Establish budgets and performance metrics

Enhance collaboration and efficiency
2. MEASURE
Consolidate data in real-time

Integrate all your marketing channels

Say farewell to silos
3. EVALUATE
Generate customized reports

Demonstrate ROI with ease

Secure buy-in for future campaigns
4. IMPROVE
Build confidence in your role
Improve campaigns and decision-making

Encourage innovation and save time
Mediatool also boasts a wide range of features designed to help businesses manage their media campaigns more effectively. These features include budget tracking, audience targeting, and real-time data integration, all of which help businesses make data-driven decisions about their media strategies.
Pricing. Finally, Mediatool offers flexible pricing options to suit businesses of all sizes and budgets. Pricing varies depending on the level of features required, and the platform offers a range of packages to meet the needs of different businesses. The pricing structure is set up as per user per month, with a minimum of 10 users in the account or more to individual brands, companies with a multi-brand structure, and agencies with a small to the large client base.
5. DashThis
Marketing reporting software best for marketers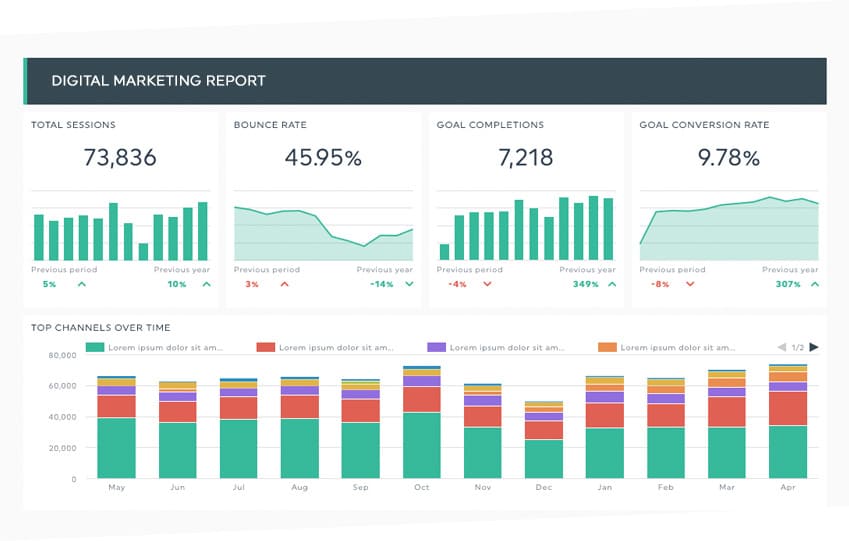 DashThis is a marketing analytics platform with automated reporting. It's a simple tool that provides reports and dashboards with all the important marketing data.
It's a good data analytics platform for marketing campaigns as it helps in data collection from such areas as SEO, e-commerce, SEM, PPC, social media, email marketing, advertising, and more.  However, if you actively utilize email marketing campaigns, be sure to encrypt your domain, incorporate DMARC, and review your DMARC report on a regular basis to reduce the possibility of getting hacked.
Dashboards: DashThis lets you create a custom solution with as many dashboards as you need to have insight into different marketing data and segment it as you need. This reporting software gives you the flexibility to combine multiple data sources for a unified dashboard with all the data you want. Dashboards update automatically with the new data.
Reporting: with DashThis reporting tool, you have a data source for marketing reports with simple graphs and charts for data visualization. You can share reports by email, with a URL, or with a PDF. There's also automated reporting to quickly provide business insights to your clients.
Integrations: There are over 34 connected integrations via API with the most popular apps like Facebook, Google Ads, Ahrefs, Moz, Twitter, Shopify, Google Sheets, and many more.
Other features:
Library of templates for beginners; you can also design your own templates

Comments and notes allow you to better communicate with team members and clients

White label options let you better custom reports and personalize the tool
Pricing: Starts from $39/month, with a 15-day free trial.
6. Tableau
Best reporting software with business intelligence and embedded analytics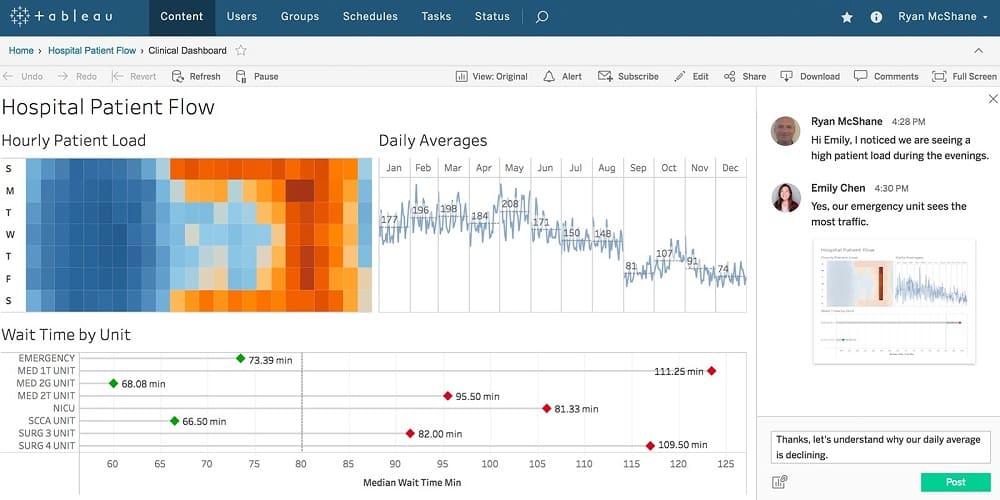 Tableau is one of the most popular business intelligence (BI) and reporting tools. It's an advanced solution with a set of products with various data reporting tools.
Tableau reporting tools software is a relational database system that gathers complex data and generates graphs-like data visualization. Because of its rich reporting capabilities, it's best for corporate performance management and advanced data analysis.
This reporting software creates deep, meaningful reports that can help turn raw data into key metrics that'll improve reporting process in your business.
Dashboards: Tableau reports and dashboards are based on drag and drop actions. It has an intuitive user interface that offers unlimited data exploration with interactive dashboards.
Reporting: Tableau embedded analytics allows your business for complex data collection and interactive data visualizations. That way, you get rich reporting capabilities. You can freely create reports of any kind, export them, schedule reports, and present data in the most convenient way with interactive data visualizations.
Integrations: Tableau allows you to automatically gather data from multiple sources through hybrid connectivity — you can work with any type of data (on-premises, in-cloud applications, or flat files). Also, it integrates well with third-party apps.
Other features:
High-performance and smooth data collection makes it one of the best reporting tools

Good for complex data analysis

You can create interactive maps and analyze data across demographics, regions, territories

Available as a mobile app for iOS and Android

Collaboration and sharing functions

You can join the Tableau community to learn from other people, get support, and grow your business with Tableau reporting software
Pricing: Tableau offers a 14-day free trial. Pricing starts at $15 user/month and depends on the set of reporting tools you choose.
7. Wrike
Best reporting tool for team collaboration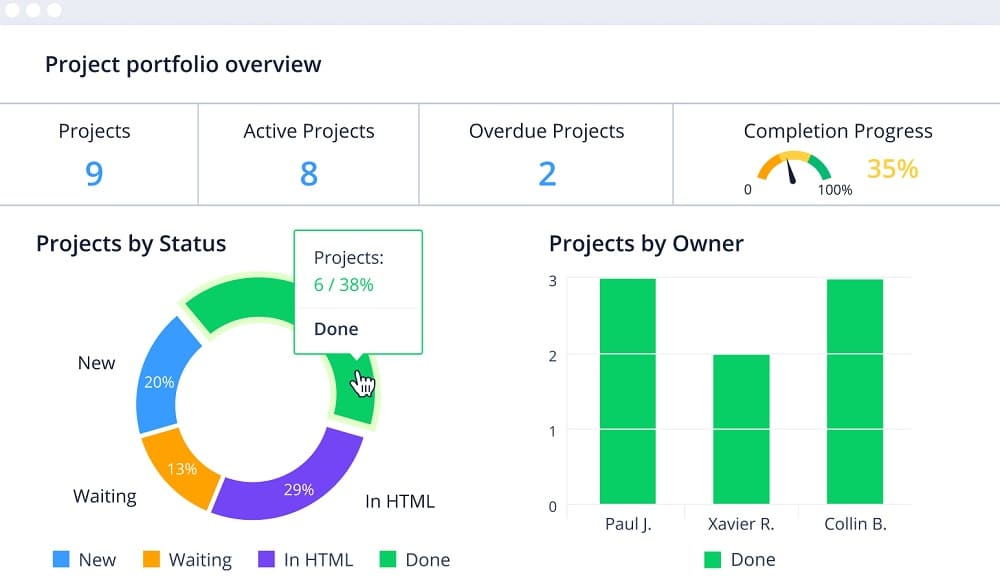 Wrike is a universal reporting tool with basic project management features. It's best for simple self-service reporting and work management.
Wrike's features give an insight into workflow and workload, and enhance team collaboration across departments.
You can adapt this reporting tool to your organizational structure and custom with the features you need the most with multiple options to organize information.
Dashboards: Wrike reporting tool is a good solution for planning, scheduling, and allocating resources because of its custom features. In the dashboard, you can use these analytical widgets that you need, and interact with them for updates and relevant information.
Reporting: Wrike reporting tool provides real-time reports with data visualization. You can create reports based on your own preferences or use pre-built templates. Simple project reporting gives you oversight of workload and project status. Also, you can schedule reports with insights to receive them into your mailbox, or share them directly with clients and stakeholders.
Integrations: You can connect Wrike to other apps, either directly, or via API. What's more, you can customize the tool with internal automations by using the drag-and-drop feature.
Other features:
Different templates for workload management via visualizations: product roadmap, OKRs, Kanban boards, calendars incoming requests and approvals, Gantt Charts, and more

Built-in proofing and approval features make it possible for employees to request and receive feedback

Basic time tracking allows you to monitor budget

Live editing allows teams to work together on projects and tasks

Data security provided with Single Sign-On (SSO), Two-Factor Authentication (2FA), and custom roles
Pricing: Wrike offers a free trial with all the features available for you to test for two weeks. After the trial, you can either use the free plan (available for 1-5 users and with limited features), or subscribe to one of the paid plans; pricing starts at $9.80 per user per month.
Check our Wrike time tracking integration!
8. MeisterTask
Best reporting tool for IT and Agile teams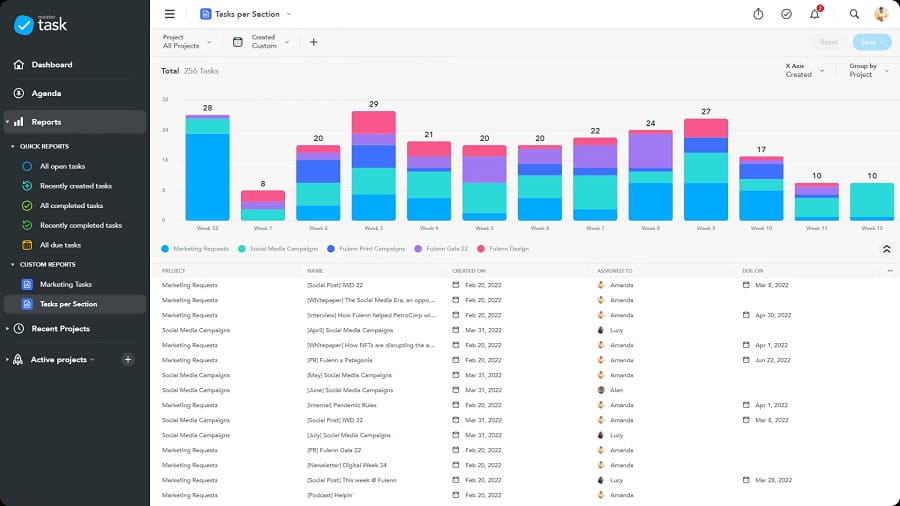 MeisterTask is a reporting tool that helps in simple project management and task management.
MeisterTask is based on Kanban boards. Thus, it helps to visualize workflow in a simple way providing transparency to all team members. It's a good reporting tool for IT teams and people working with Agile methodology as it allows for easy tracking of deliverables and spotting bottlenecks.
Dashboards: MeisterTask is built on a three-block structure — dashboards with projects and tasks. It has an intuitive design which makes it easy-to-use. You can customize dashboard to see the most relevant information.
Reporting: You can generate reports with basic information about project progress and resources. MeisterTask doesn't offer complex reports with extensive business data.
Integrations: MeisterTask reporting tool lets you connect with other popular apps. You can also use it with other MeisterTask platforms — MindMeister for mind mapping, and MeisterNote for documentation and notes.
What's more, if you need more advanced time tracking reports, you can integrate MeisterTask with TimeCamp directly in the app. Reports are automatically generated in TimeCamp to give you insight into project tasks, billable time, and your team's workflow.
Other features:
Automating repeating steps in your workflow

Ability to customize tasks with assignees and watchers, due dates, simple time tracking, checklists, attachments, task relationships, and tags

Communication features let your team stay informed about work progress (comments, mentions, email notifications,)

Admin options with roles and permissions

Available for desktop and mobile
Pricing: MeisterTask offers a 30-day free trial. A free plan is available with limited features. Pricing starts at €8.25 per user/month.
Check out MeisterTask time tracking integration!
9. Freshbooks
Best financial reporting tool for financial reporting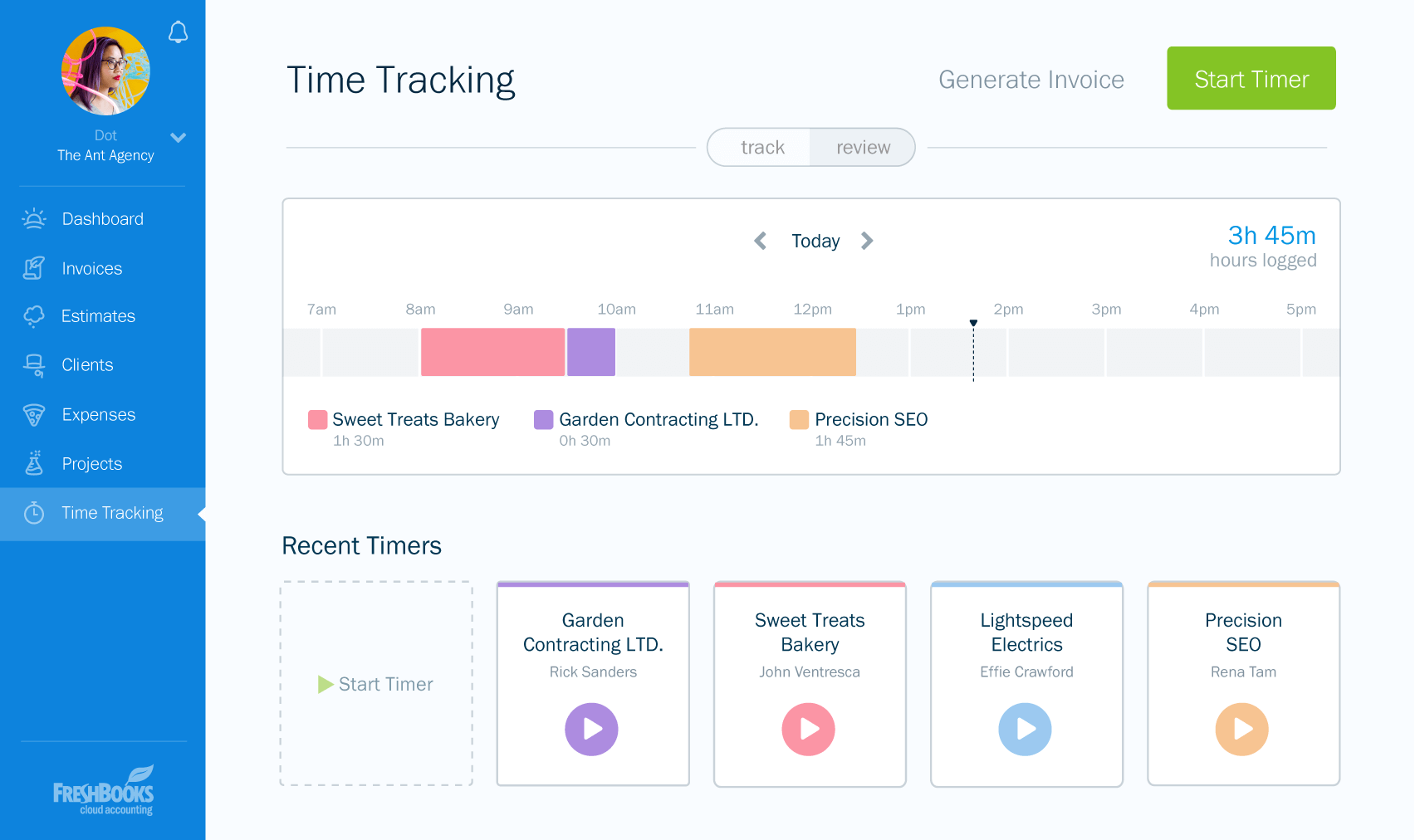 Freshbooks is a reporting tool aimed at small and medium-sized companies, and freelancers.
It's one of the best reporting tools for accountants, financial advisors, bookkeepers, or anyone who needs to manage the financial aspects of a business and keep the budget under control.
Dashboards: Freshbooks gathers the most important financial metrics and data about your business in one customizable dashboard. You can include any information you need to quickly view how your business is performing.
Reporting: Reports in Freshbooks are connected to your dashboard. You can choose from such reports as profit and loss, sales tax summary, accounts aging, payments collected, accounting reports (General Ledger, Trial Balance, Chart of Accounts), expenses, invoice details, mobile mileage tracking, time tracking and project profitability, and more detailed statements. There's also an option to filter them, and save, export, or print to share with others.
Integrations: You can integrate Freshbooks with over 100 most popular apps (time tracking, team and project management, payroll software, and other finance software). Or you can use the API to connect it to your favorite tools.
Other features:
Invoicing

Expense tracking with an option to add and organize all your expenses – receipt photos, emailing receipts to your account, importing expenses from your bank account

Logging hours with basic time tracking for simple time tracking reports

Accepting payments as credit card payments online, in-person, and over the phone with advanced functionalities

Customizable features give you better insight into financial health of your business
Pricing: You can try all the features in Freshbooks with a 30-day free trial or sign up for one of the paid plans. Pricing depends on the set of functionalities you need and starts at $15
10. SplashBI
Best reporting tool for Excel for enterprises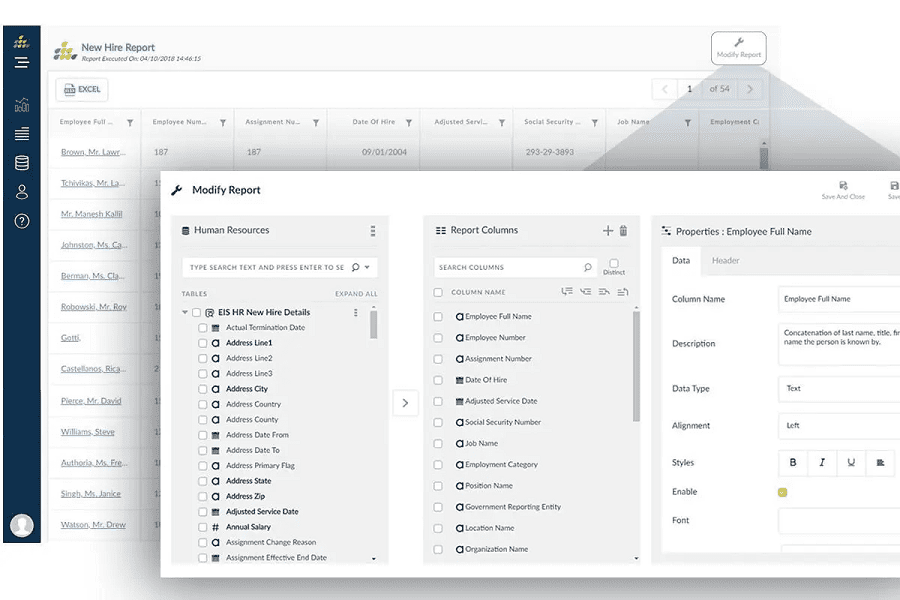 SpalshBI is a business intelligence (BI) platform suitable for avid Excel business users. It's rather advanced analytics and reporting tool that may require more technical knowledge to fully use its potential.
It's the best reporting tool for people who like to operate data in spreadsheets but want a modern and automated platform to blend, report, visualize, and analyze all the data in one place.
Dashboards: SplashBI is a data visualization software with in-depth interactive dashboards with customizable parameters. SplashBI interactive dashboards are easy-to-use with the intuitive drag-and-drop feature.
Reporting: You can track and analyze data in reports from a general overview to the most atomic data. SplashBI lets you generate reports in multiple formats — Pivot Table Excel, CSV, PDF, HTML; there's ad-hoc reporting
Integrations: SplashBI is a powerful reporting tool that can be deployed on private clouds or on-premise and other third-party or custom products that you use. Options for integrations are limitless with powerful data integration possibilities for different data sources.
Other features:
Over 36 types of real-time KPI Charts

100+ types of interactive visualizations

You can create your own ad hoc reporting layouts

Reports are fully compatible with Excel

SplashBI provides embedded analytics so you can freely use different data sources for reporting
Pricing: You can test SplashBI with a 14-day free trial. Because this reporting tool offers various ways for customization, pricing is tailored to the features you decide to use.
11. BIRT
Best open-source tool for reporting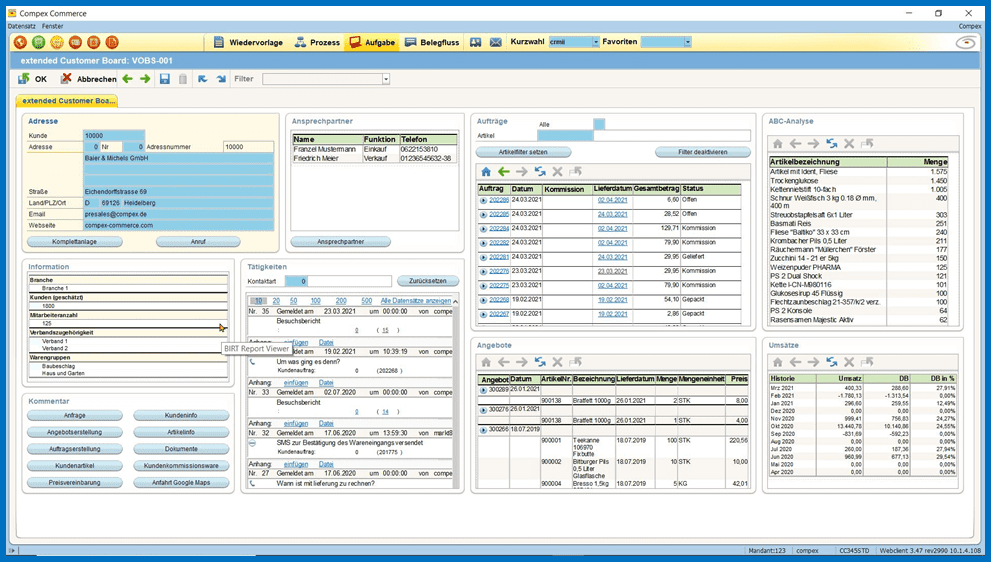 BIRT (Business Intelligence Reporting Tool) is an open-source software project. It lets you create a business intelligence reporting tool with extremely advanced functionalities, just the way you need to.
BIRT comprises two elements: reporting (textual) and charting (visual). It can draw and combine data from many different data sources (databases, files, Java, Javascript, web services, etc.).
Dashboards: BIRT is one of the best reporting tools with interactive dashboards and numerous visual properties. It gives you plenty of options for configuration.
Reporting: The most common reports for BIRT include: lists with a simple list of data that you can group and organize; charts of a different kind; crosstabs (or cross-tabulation or matrix); letters and documents; compound reports with different reports combined into a single document; reports with current and historical data, and many more.
Integrations: BIRT integrates with any data source in any environment. However, you may need the help of developers to set up this reporting tool. Using BIRT requires having programming knowledge as you'll need to work with scripts, frameworks, servers, and other technical elements.
Other features:
Projects to organize all your files

Deep project and reports structure

Library of reports

A rich community of contributors

Limitless options for customization
Pricing: Because BIRT is an open-source business intelligence and reporting tool, it's free of charge.
12. DashClicks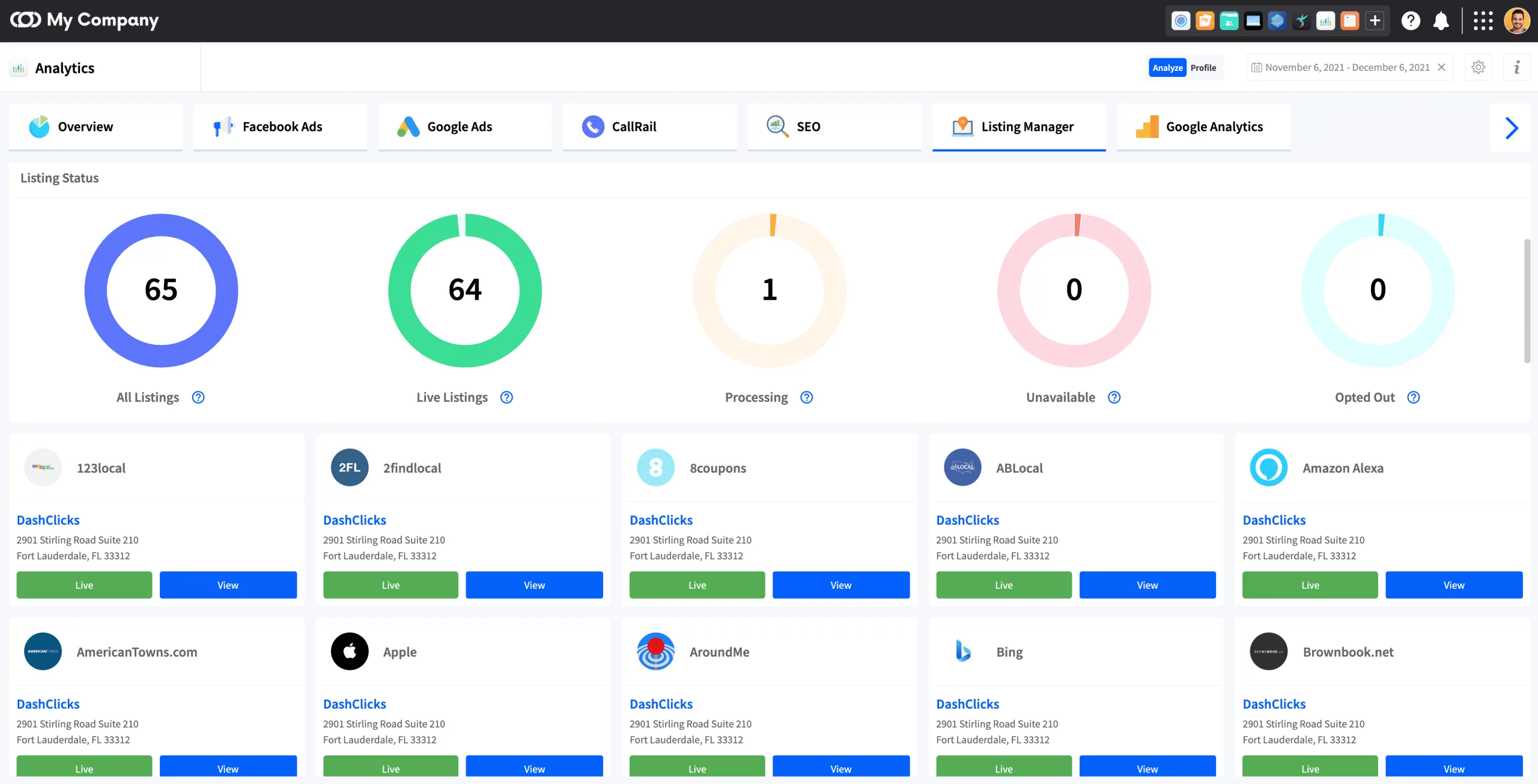 DashClicks' white label reporting software called "Analytics" lets you view granular data insights, helping you make smarter decisions and, in turn, drive higher conversions. The real-time marketing reporting software enables you to monitor and report on all of your marketing campaigns in a single place.  
This famous white labeled Analytics platform is considered ideal for marketing agencies. It saves you time and you are able to achieve your goals faster. 
Dashboards: You can create your own white label client reporting dashboard view using drag-and-drop widgets. As data changes within the apps, every widget gets updated in real-time. Also, all users within your account can customize their own white label dashboard to see the data that holds the most relevance to them. 
Reporting: You get white label reporting that's accurate, quick, and in real-time. Another noteworthy feature of the software is custom date-based reporting. You can choose the date range from predefined options or create a custom date range to view all your data.
Integrations: You can integrate all your third-party marketing and analytics integrations into the software from an ever-increasing list. The platform currently allows for these integrations—Facebook Ads, Google Analytics, Google Ads, and CallRail. You can also syndicate all of your directory listings with a Listings Manager subscription service. 
Other features: 
You can keep a track on how your chosen keywords are performing for your SEO campaign by the day. 
You can simultaneously utilize every analytics integration. 
You will find an overview snapshot for each integration.
Pricing: To use DashClicks' Analytics, a free plan is available. You can also choose from 3 paid plans, with price starting from $97 USD/month.
13. ClicData
An intuitive Data Platform that offers real-time project progress and update tracking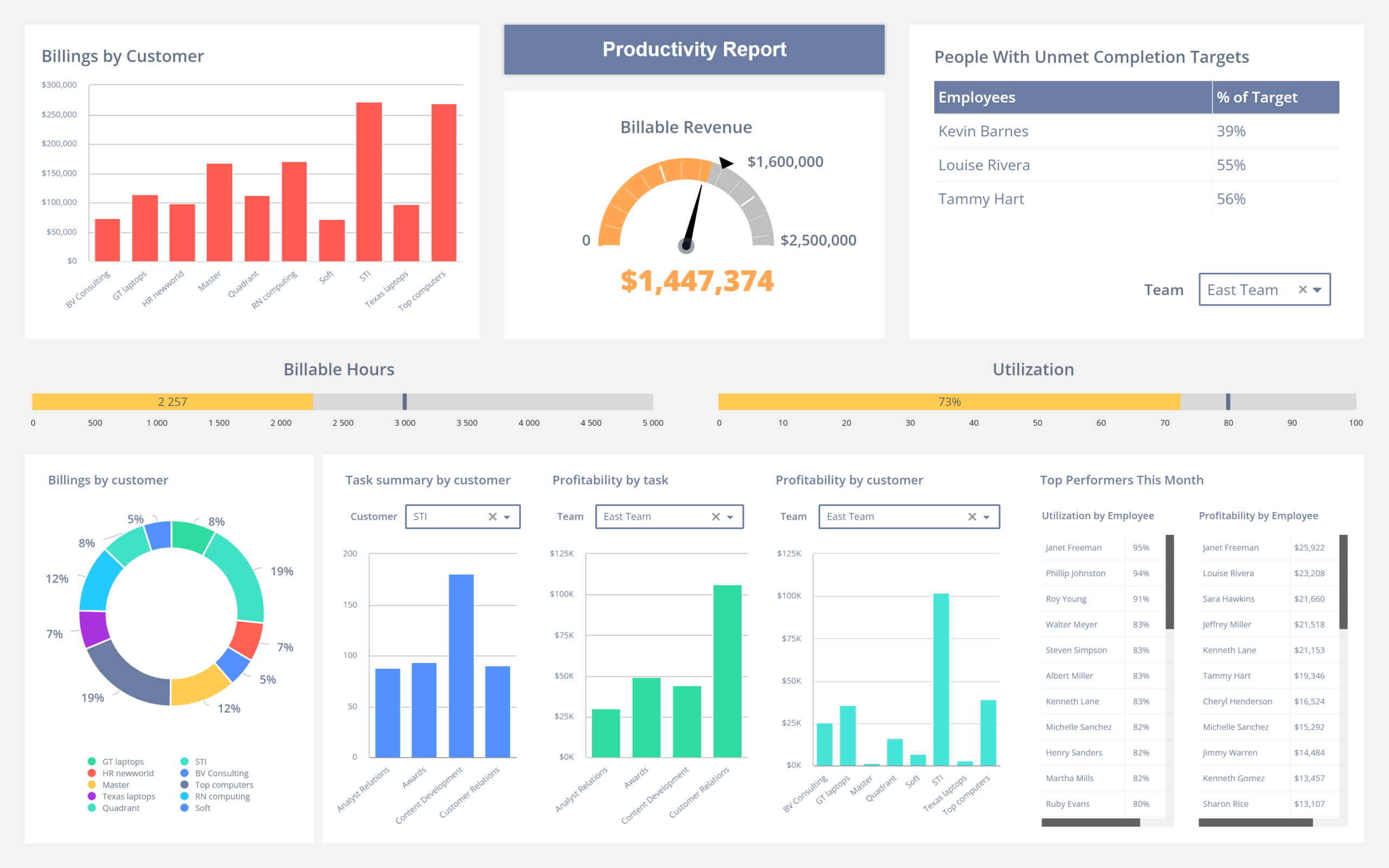 ClicData is a powerful Data Analytics and Business Intelligence platform that empowers managers and analysts to measure performance of their operations and projects against targets. You can monitor your project progress, budget spendings, or billable hours, staff utilization, and profitability in custom and up-to-date dashboards. ClicData is 100% cloud, you're free to access it from any device without the need of IT. ClicData connects to all sorts of project applications such as Airtable, Trello, Basecamp, ProofHub, and many other through API.
Dashboards: ClicData dashboard designer enables you to create custom and fully interactive dashboards with smart & easy drag-and-drop features within minutes. The interface is user-friendly and you can choose from an extensive library of +70 data visualization widgets to make sense of your data. You can easily combine data from your project software with your invoicing data to keep track of your project performance from the financial perspective.
Reporting: ClicData has rich reporting capabilities. The platform allows you to create complex reports with advanced analytics, ad-hoc analyses. You can start visualizing performance, trends, forecasts, and results with charts, gauges, indicators, tables, and much more. Reports are easily shareable with your teams or clients using live links, PDFs, or emails.
Integrations: ClicData integrates with 250+ data sources including marketing, CRM, invoicing, HR, project management, or ERP. You can also integrate with Slack to receive automatic alerts when your goals are reached – or not! ClicData also integrates with Zapier to pull data from 1,000+ applications.
Other features: 
Embedded and White Label dashboard in any application or website for a seamless experience for your teams or customers
Advanced Predictive Analytics and Machine Learning integration
Collaborative Analytics and shareable reports using live links for better teamwork
Advanced data security with session tracking, 2-factor authentication, and Single Sign-On (SSO)
Pricing:ClicData offers a 14-days free trial. Then you're free to pick your plan: the Personal starts at $73/month for 5 users and packaged for small analytics projects, the Team plan starts at $247/month for 20 users and includes API integrations, the Business plan starts at $481/month for 50+ users, all connectors and extended storage capacity.
Who Are Reporting Tools Best for?
Using reporting tools software can be beneficial for all users, no matter the industry. On the whole, you'll receive plenty of useful information. And with the right solution, you ensure unified business analytics, smooth flow of information, and data security.
So if you want to automate and improve business processes, get actionable insights, and guarantee business continuity, try a solution dedicated to your industry and area of expertise. Good luck and happy reporting!