13 Best Time Tracking Software for Architects
September 29, 2022
by Kate Borucka
No comments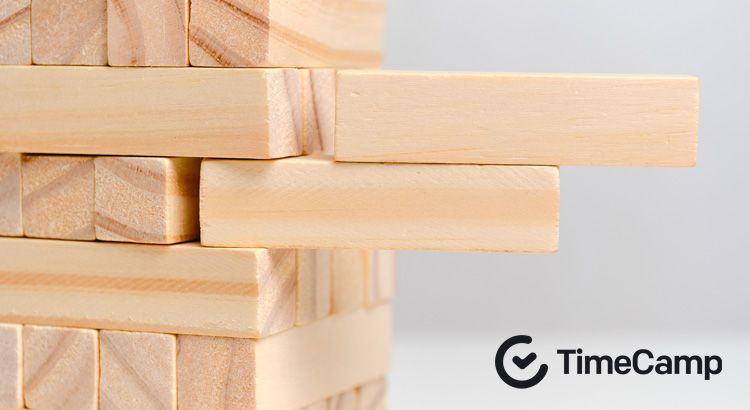 Project management software for architects can be a great enhancement in the work of every creator. Their job is difficult, challenging, often complicated, and includes lots of numbers. Especially when it comes to financial aspects, calculating a budget, and estimating the time necessary for executing a project.
Plenty of automatic time tracking software is available for various industries and professionals, but architects tend to be omitted. Their work is tremendously important. If it wasn't for them, we would still live in miserable sheds and walk on muddy roads. And it's important to remember about architects to help them improve how they work.
Here's a short guide to project management software tools for architects.
What Is Project Management Software for Architects?
Architects need a healthy combination of software and manual work that can bring more efficiency into their profession.
And architecture project management software helps to improve and optimize the entire process for architectural projects. Beginning from planning and designing to tracking the whole lifecycle of a project with attention to all the details. It's also a great solution to digitizing data and documentation for easier work management.
Project management software for architects can be used by project managers, architecture firms, engineering firms, and self-employed architects.
Why Use a Project Management Software for Architects?
Project management software for architects' main purpose is to make work easier. It may contain different features, combine modules of various types, and target different needs.
And these can greatly improve work by providing you with everything you need for better task management as an architect:
Integrated system for all your projects with all important data about your work in one place

Better scheduling for projects deadlines and people's work

Accurate client billing with tracking billable rates

Higher productivity—the right app will eliminate tedious, repetitive activities

Better project management—resource planning and allocation, precise forecasting, and budgeting
Which Software With Time Tracking Is Best for Project Management?
When you're an architect, you need to consider many different factors when choosing the right project management software.
Depending on your business needs and preferences, there are different architect software comparison criteria. Here's what it's worth looking for:
Ease of use: your work as an architect is already demanding and it's best to keep things simple. A steep learning curve in a new software means you'll need to dedicate more time to learning how to use it rather than actually using it.

Necessary features: look for features that correspond to your business needs

Collaboration features: as an architect, you may find it helpful to share information about the progress of work with clients and other team members

Integrations: connecting the architecture project management software with your favorite tools will enhance and streamline workflow
To help you find the right tool, we've prepared a list of the best project management software for architects.
1. TimeCamp
Tracking billable rates and project progress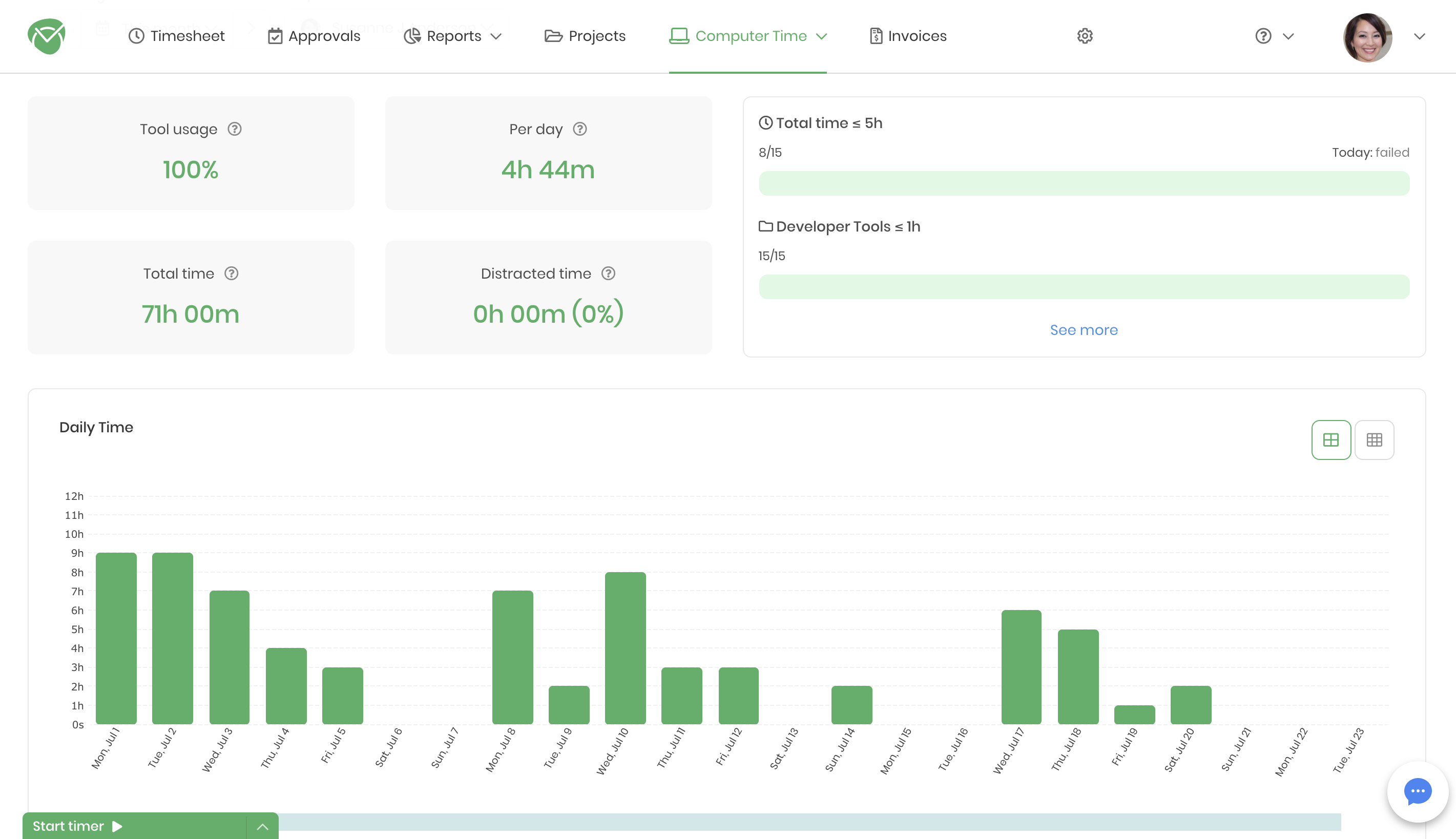 TimeCamp is an intuitive, user-friendly time tracking software for architects who are too busy to manually collect all the reports and manage projects. The tool optimizes and automates work, and helps to keep track of all activities.
Also, you can easily report back on the project's progress to the client thanks to extensive database information.
Main features:
TimeCamp is a time recording software that tracks all your activities, no matter what they are—designing a new building, gathering information necessary for reports or delegating tasks to co-workers

You can create multiple projects, split them into smaller tasks or create individual tasks not depending on any project

Invoicing feature makes it possible to create invoices based on reports and send them to your clients right away

TimeCamp gathers all data in one place and gives you detailed reports on your work, your project's stages, budget, and other numbers which you may find necessary

The software also works as a project management tool to enhance the communication and cooperation between you, the clients, and other engineers engaged in the project

An extensive list of integrations helps you operate between different apps and software to smoothen your work

A mobile app allows tracking time even when you are on the construction site or in the field without internet access. The app will automatically synchronize all the information after you regain the connection.

Pricing

Free

– a free plan of TimeCamp for unlimited users includes all the essentials – accurate time tracking, unlimited projects, a time clock kiosk, desktop, and mobile apps, idle time detection, and many more,

Starter – $2.99 per user per month

, including unlimited tasks, excel reports export, attendance, time-off, overtime tracking (billed annually)

Premium

–

$4.99 per user per month

, including one integrations, billable time, budget & estimates, apps & websites tracking, project archiving, and more (billed annually),

Ultimate

–

$7.99 per user per month,

including unlimited integrations, billable rates, labor costs, invoicing, timesheet approvals, custom user roles, and more (billed annually)

Enterprise – custom pricing; contact sales team for more details

👉 Read more about construction time tracking software.
Get the best time tracking software for architects - sign up for TimeCamp!
2. Hubstaff
Basic project management with location tracking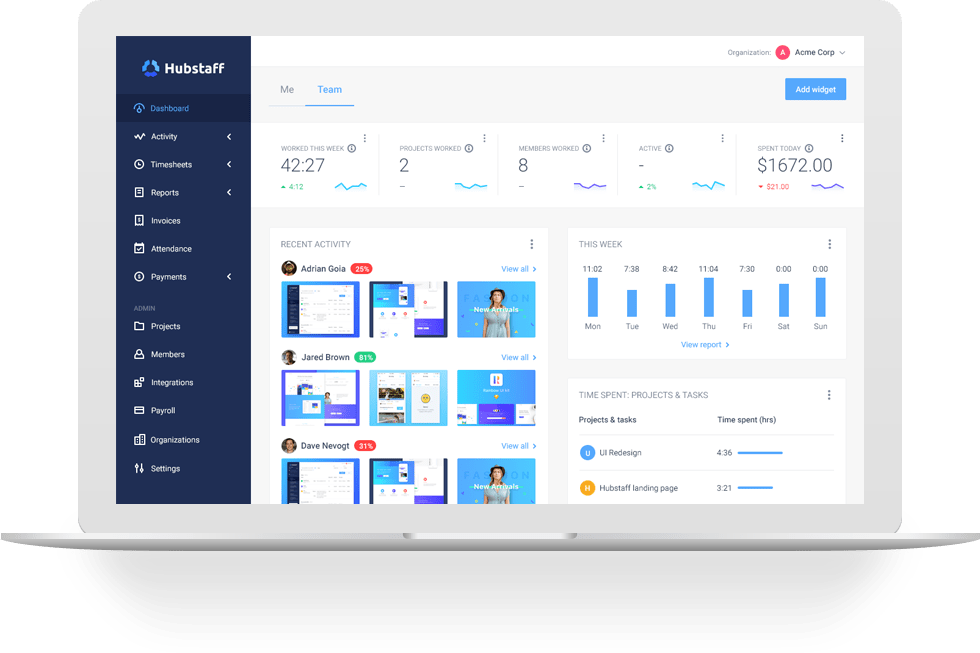 Hubstaff is a simple and handy project management software most suitable for architectural firms that need to replace messy excel spreadsheets with minimalistic timesheets. It's also helpful in team collaboration as it offers team management features.
Hubstaff has a friendly user interface and is easy to use. And since it's available for mobile devices and has location tracking capabilities, you can use it as an onsite work management app.
Main features:
Location monitoring—tracking through GPS, web-based reports

Online timesheets

Team dashboard

Reporting

Scheduling with employee attendance tracker and staff scheduler

Invoicing

Setting up pay rates once for each member of a team or project, so payments are automatically sent based on hours worked during that pay period

Numerous integrations with other tools and platforms
Pricing: Hubstaff offers a free 14-day trial. The free version is available with basic features. Pricing starts at $7 per user per month.
 3. TallyPro 
Simple timesheet management with basic reporting

TallyPro is a suitable project management software for architects with basic project tracking features. It lets you organize all your projects, report on the work progress, and improve financial planning.
TallyPro also allows you to manage all resources and control every aspect of the project, as well as analyze staff performance and report back to your clients.
Main features:
Billable and non-billable categories for projects

Web-based platform easily accessible from anywhere

Integrated billing with auto-generated invoices

Automatic data recording

Resource planning and performance analysis

Has all your data encrypted and backed-up
Pricing: TallyPro is free for a single user. Business Plan is £20 per employee per month, and Enterprise Plan has custom pricing.
4. SQUAVA
Timesheet management with integrated time tracking capabilities

SQUAVA is a timesheet management software for architects and professional services firms. The tool offers basic built-in project management features. It's a unified system of tracking time, budget, and progress of projects.
Also, SQUAVA is fantastic for checking on your backlog. The tool enables you to monitor the current state of the required resources and easily plan future work.
Main features:
Tracking time with rich timesheets and reports

Flexible billing based on time and materials, lump sum, or cost plus fixed fee contracts, or a combination of them

Backlog reports available in real-time for balancing the workload

Budgeting with cost tracking

Automatic invoicing

Record of bank transactions and financial management features
Pricing: SQUAVA has one pricing plan – The Only Plan – $40 per month per user.
5. Monograph
Simple task and project management software for architects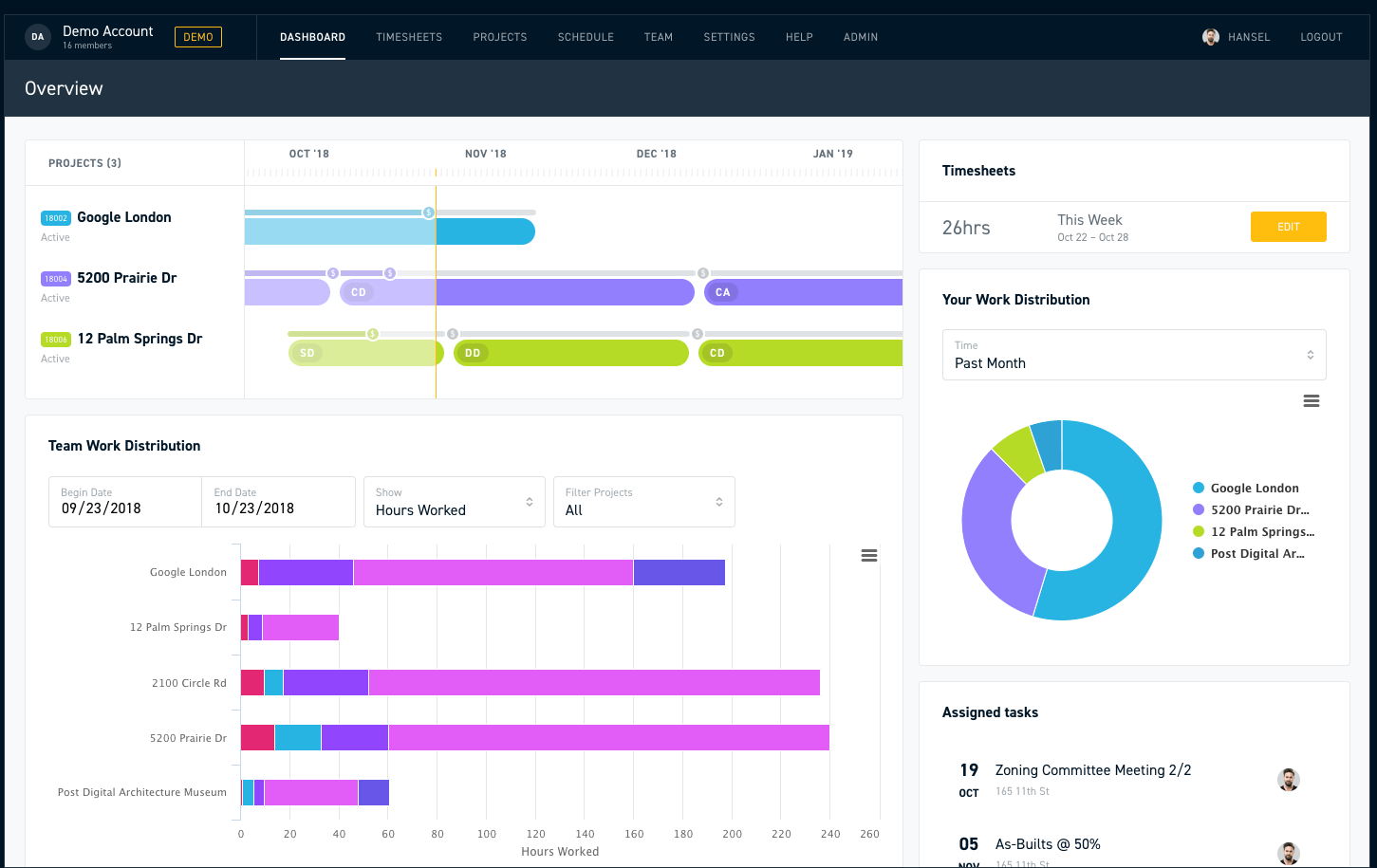 Monograph is an architectural project manager software designed specifically for architects. It's a simple and intuitive tool that helps to organize work and streamline complex processes.
With Monograph, you can plan and manage projects, track time, and report on work. It's straightforward software for architects built by architects.
Main features:
Project planner with resource and budget allocation

Project management features with Gantt Charts

Resource management

Tracking time and timesheet management

Invoicing

Ability to log expenses

Reporting with visualization
Pricing: You can choose to pay a flat rate—$45/user/month or $480/user/year ($40/user/month).
6. Bill4Time
Tracking time and expenses for architects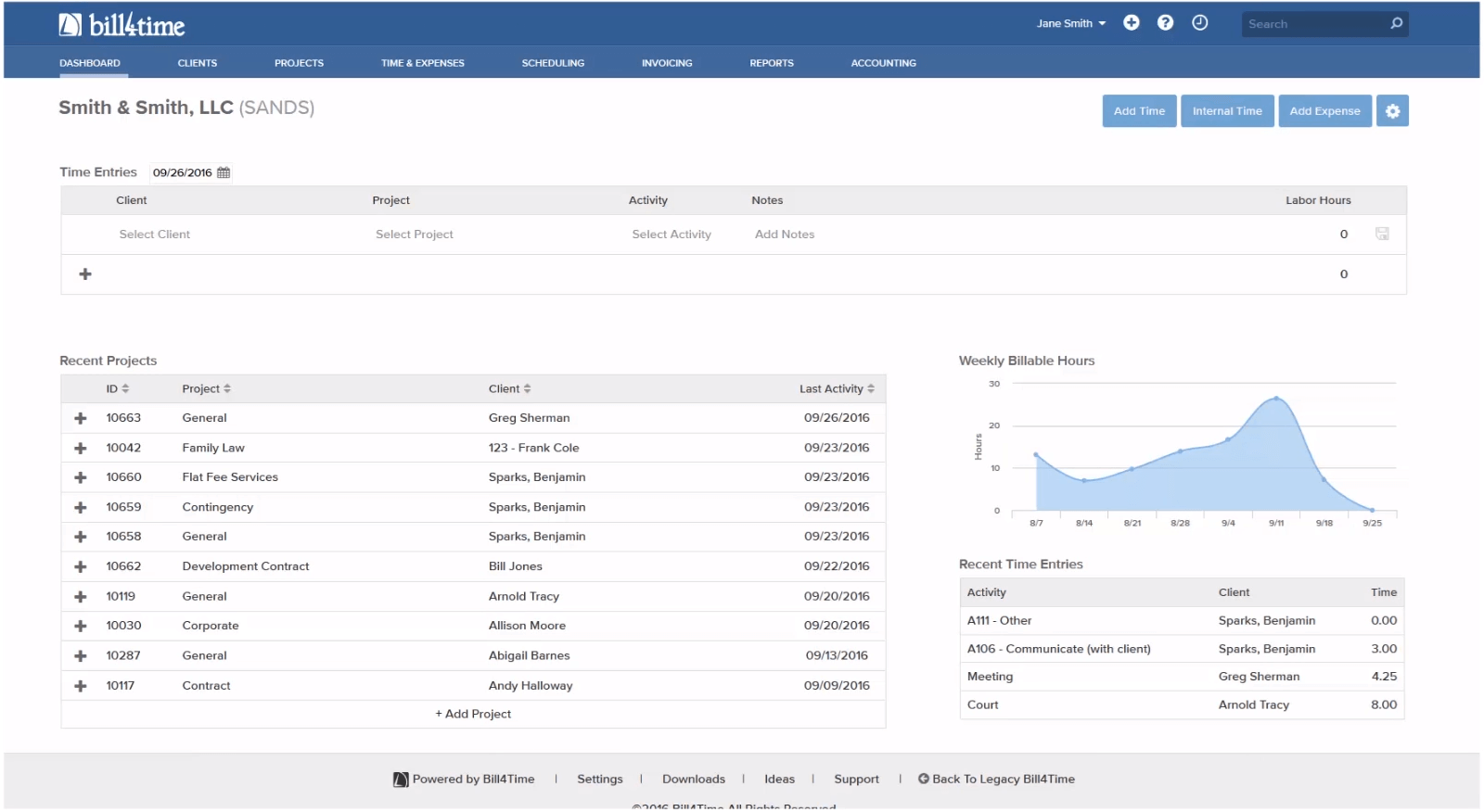 Bill4Time is a great software for architects who need to manage and track their budget. It helps to control all the financial aspects and ensure there are no mistakes. The app allows the team of your architects to stay on track but it also ensures smooth communication with your clients in terms of information exchange.
Thanks to the client portal, everybody always knows what's happening. There's no room for mistakes with such a powerful database.
Main features:
Time and expense tracking

Billable and non-billable hours tracking

Billing and invoicing feature

A wide variety of reports, including client summary, internal time, invoices, expenses, and more

Integrations with accounting software

Online payments and client portal to let your customers stay on track

Contact, project and document management to better track project progress
Pricing: You can choose from three plans—Time & Billing – $27 per user/month (billed annually); Legal Pro – $45 per user/month (billed annually); Legal Enterprise – $80 per user/month (billed annually).
7. BQE CORE
All-in-one project management architecture software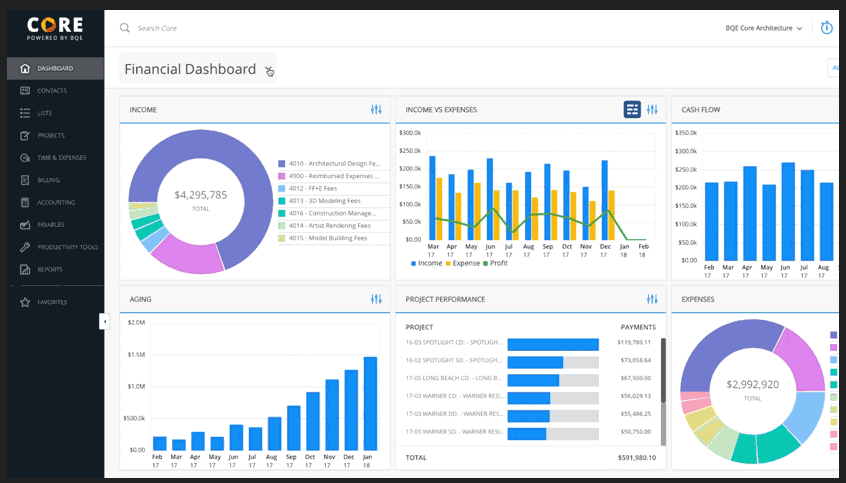 BQE CORE is the best project management software for architects who need a unified hub to manage work. It's a solution that combines a variety of features that make it easy to deal with daily issues of an architecture firm, such as participating in developing the requirements the client wants, coordinating a team, designing, and administrating the contract with all its aspects. 
BQE CORE is a robust time management software that helps to plan and monitor the project lifecycle. It also provides deep insights with statistics and KPIs for better performance.
Main features:
Project management features: tracking and managing a budget, tracking profitability and project advancement, task and people management, project planning

Available as a web and mobile apps

Tracking time, timesheets, time cards, and

Multiple, customizable dashboards with a graphical interface

Time and expense tracking with billing and invoicing

Automated reporting and analytics with different metrics and values

Rich accounting and money management features

Billing, invoicing, and payment processing

Multi-level submittal and approval processes for time and expenses, budgets, estimates, vendor bills, and invoices

CRM tools for client management
Pricing: BQE CORE comprises different modules and the pricing depends on the options you choose.
8. TimeTrack
Web-based attendance tracking app for architecture project management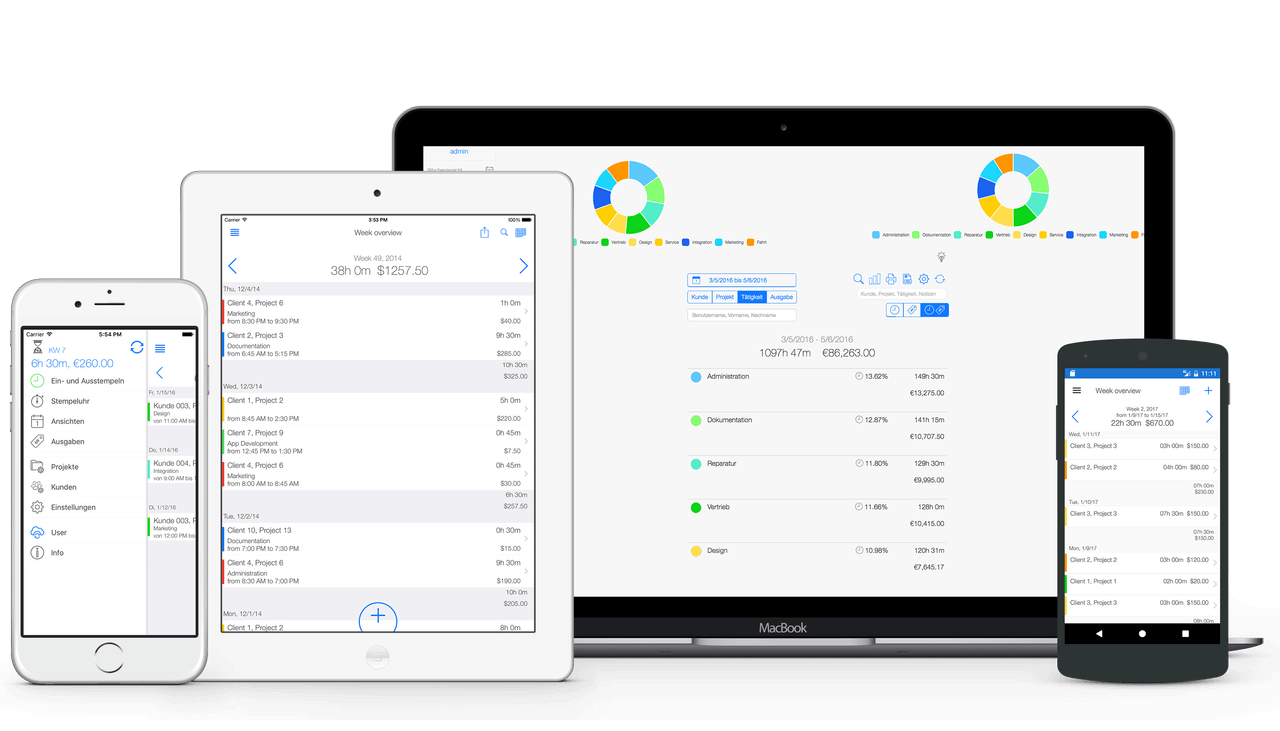 TimeTrack is one of the best architectural project management software because it's straightforward and doesn't require additional onboarding. It has the basic features that allow you and your team to record working time and improve all processes related to planning, designing, and evaluating projects' profitability.
TimeTrack helps to eliminate tedious paperwork, manually fill up timesheets, and makes your team's work fast and effective. It's also a good resource allocation software for architects with attendance tracking features.
Main features:
Tracking time and progress for multiple projects

User rights: tracking time with numerous options on different levels (manager, leader, employees, etc.)

Synchronizes across different platforms: available for iOS and Android as well as for Microsoft platforms

Project evaluation with different filters

Adjustable timesheets

Attendance tracking with leave administration
Pricing: TimeTrack offers a free version with limited features. Upgrades start at $3.99. You can also buy an on-premise version. Features vary on the pricing plan.
9. Synergy
Simple business intelligence and digital project manager for architects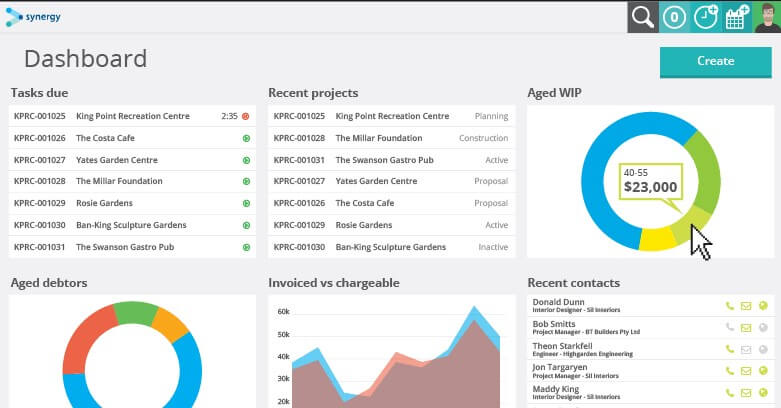 Synergy is a cloud business and project management software used by architects and engineers. It's precisely tailored to architects' needs and that's what makes it a perfect solution for this industry. It's a tool packed with extensive and elaborate features.
Not only will Synergy help in delivering successful projects, but it will also give a boost to your entire business.
Main features:
Project Portal that allows you to keep track of all aspects of the project

Billable and non-billable time entries

Assigning rates and costs to projects, rate and costs calculator

Dashboard with important information in the real-time

Advanced accounting add-ons with financial planning help

Project collaboration for smooth work with other professional services firms

Real-time reporting with custom reports
Pricing: Synergy offers different pricing plans: Professional ($10 USD user/month); Business ($25 USD user/month); Enterprise ($44 USD user/month).
10. BigTime
Project management for architecture and engineering firms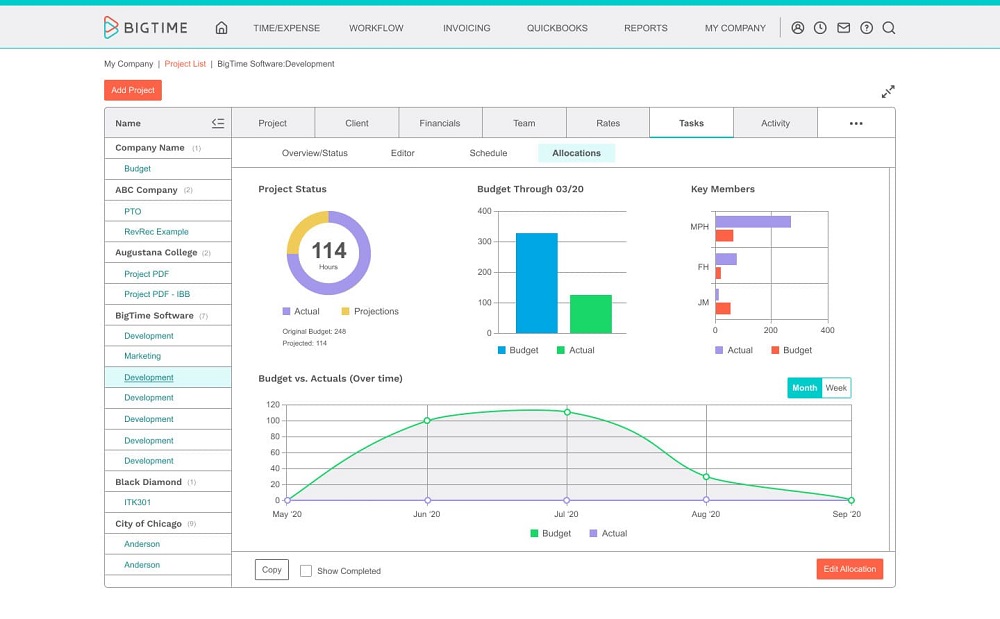 BigTime is the best project management software with a simple user interface for firms with complex projects. It offers a set of digital tools architects can use to plan, track, and monitor projects and activities at the company.
Not only does BigTime help to manage architectural projects, but also makes it easy to run business processes.
Main features:
Resource management functionalities: scheduling, budgeting, skills matching, staff and utilization metrics, other team members' capacities

Project planning features: estimates, due dates, project budget, project tasks, the ability to see real-time task completion against schedules

Visualization features with Gantt charts and task dependencies

Time and expense tracking

Timesheets with reviews and approvals

Integrations with other tools
Pricing: BigTime offers three prcing plans with different set of features – Express at $10 per month, Pro at $30 per month, and Premier at $40 per month
11. ProCore
Best project management software for construction projects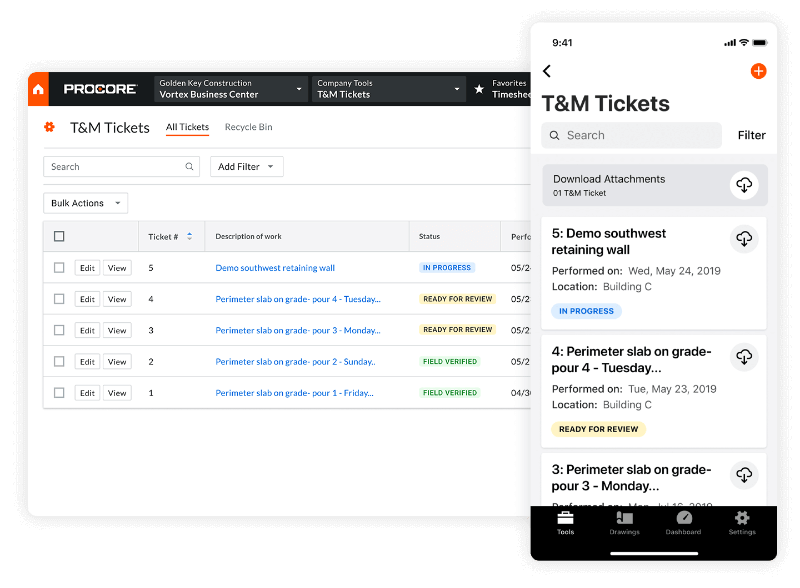 ProCore is the best architect software with money management features included. The tool can help architectural firms in managing projects at all stages, beginning from preconstruction to ad hoc project planning, financial management, and final project delivery.
ProCore PM software offers rich features and doesn't have a steep learning curve. It's easy to use and helps in replacing messy excel spreadsheets.
Main features:
Tender management

Document management lets you store and update project documents

Task management and project management tools allow you to give access to everyone involved in the project

ProCore offers professional estimation features with advanced and automated options

Reports with timesheets

Quality and safety risk insights, and issue coordination

Budgeting, forecasting, and financial planning help with billing and invoicing
Pricing: not provided by the vendor. Pricing depends on your business needs and the products you choose.
12. ArchiSnapper
The best reporting software for architecture firms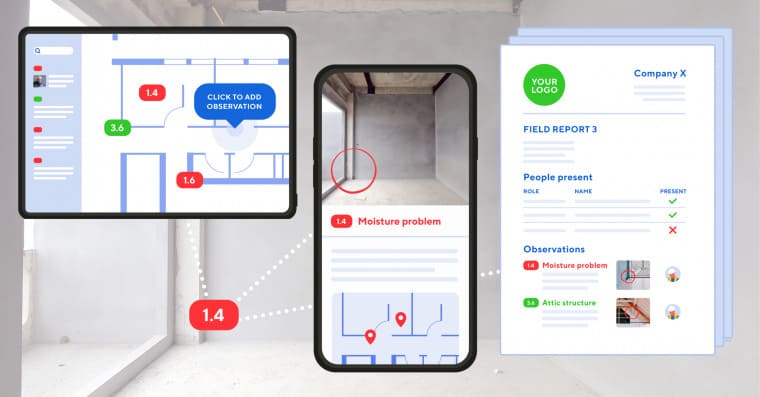 ArchiSnapper is a field report and punch list app for architects and contractors. Its main purpose is to bring you a unified hub for reporting and collaboration.
ArchiSnpper helps to automate work, optimizes processes, and lets you store all the information about projects in one place.
Main features:
Rich document management options: you can import existing files, capture photos, sketch and annotate, store drawings and documents, and organize all important items

Collaboration on the same project with all parties involved

Checklists and to-do lists help to create reporting and analytics

Gantt charts with task dependencies help plan and manage work
Pricing: $34/month per user for up to 25 users with all features. A 14-day free trial is available.
13. Mosaic
Project and resource management for architecture firms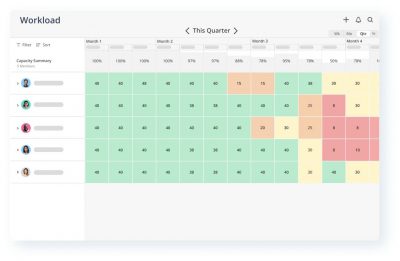 Mosaic is a tool dedicated to architecture firms. It offers timesheets, planning features, and budgeting to help keep your projects on track. As a resource and people management aid, Mosaic keeps people engaged and ensures everyone in your company is treated equally.
Although it's an easy-to-use tool with an intuitive design, it offers many useful functionalities.
Main features:
Visualization to track scope creep for your architectural project with work assignment, notes, and roadmap

Live timesheets to keep up with budget

Managing employee capacity and workload

Dashboards with real-time reports

Capacity hiring can help you better manage your people and build the right teams for each project

Integrations with third-party apps
Pricing: Mosaic has three pricing plans with different features—Team Plan at $9.99 per user per month, Business Plan at $14.99 per user per month, and Enterprise Plan with custom pricing.
Which Software for Architects Will You Choose?
Are you an architect? Which time tracking software do you use? Are your favorite project management tools on our list? Or maybe we missed it? Let us know in the comments!
Remember that not every architecture software is suitable for all businesses. You should look for one that corresponds to your company's needs, has all the necessary features, and is flexible in use for your team. Choose smartly and stay productive!
4 out of 5 stars (based on 1 review)