15 Best Timesheets Apps for Efficient Time Management in 2023
December 15, 2022
by Kate Borucka
One comment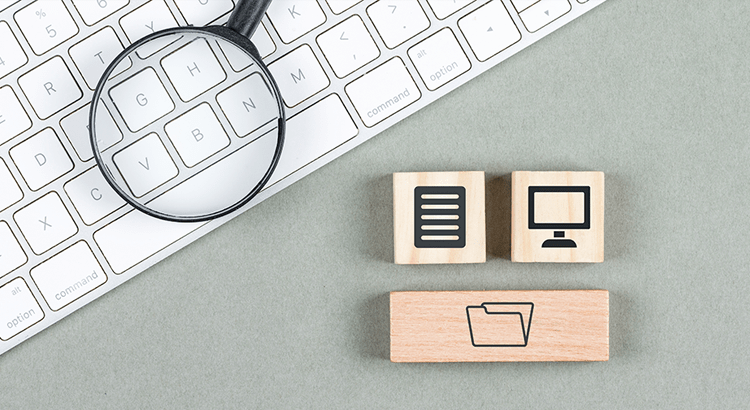 Timesheets are everywhere. They're an inseparable part of everybody's work. You either have to fill them in or approve them. Whichever side you're on, it's hard to track work hours without the right timesheet tool accurately.
To help you better manage your time, we've prepared a short guide on the best employee timesheet applications.
Below, we listed some of the worth-trying employee time tracking apps that'll help you fill your timesheets in seconds. But before the time tracking tools comparison, let's dig deeper into why track employee time and what features the employee time tracking app should have!
Why Use Timekeeping Apps?
Why do people care so much about timesheets? Why is your boss so obsessed with them? And why should you use a dedicated timesheet app?
Because it's hard to manage any business without timesheets. They help to monitor employees' engagement (no, not to spy on them!) and make their daily jobs more efficient and smooth.
Employee timesheet app also helps easily track hours spent on particular projects, properly allocate budget and resources, and ensure all numbers add up. It's a convenient solution for businesses of any type.
Additionally, there are many benefits to using the employee timesheet app:
Fewer mistakes – today's time sheet apps automatically track and report time spent on all activities (including apps and websites usage), so you can be sure all the data is accurate
Transparency – all projects, tasks, information, and numbers are stored directly in the app. It helps to keep things clear and easily accessible
Unified system for organizing work – many applications come with numerous advanced features allowing you to create a centralized system of business management
Smooth payroll processing – when you use timesheet system, you can save a lot of time on payroll. Your employees can easily report and clock hours, track hourly rates, expenses, overtime, and more
Integrations – add-ons make it even easier to manage business across multiple platforms and devices
Paper time cards have become a thing of the past. If, in today's world, you don't use a timesheeting app, you will stay behind. Without the right software, your company will sink in paperwork.
👉 Check our list of the best PTO tracking software
👉 Read also our list of best time keeping apps
How to choose a perfect timesheet app for employees?
Companies that have never tried any time tracking automation before may struggle with properly implementing time tracking software into their structure. Not to mention choosing the only one when the market is full of various timesheet software that offers similar features and differs only in pricing.
Speaking of features – let's find out what are the essentials of a work timesheet app!
✅ High availability
A modern employee time tracking app should be versatile – filling timesheets manually is simply a waste of time. An automatic time tracker is more convenient, especially when it's available for multiple platforms and devices and works in the background. No need to spend hours on paperwork – an online timesheet software fills time cards with just a few clicks.
That's essential when your company hires remote teams or a mobile workforce.
✅ GPS tracking
GPS tracking features definitely streamline mobile employee time tracking. Such tools, mostly working as mobile apps, punch in and out the employees whenever they arrive at the new location and fill the timesheets with job details.
However, accessing such an advanced feature may be a problem if you'd rather choose a free timesheet software.
✅ Client billing
An ability to track billable hours is definitely a must-have for accurate client charging. An employee time tracking app helps you know how long it usually takes to complete a project and can set an appropriate hourly rate.
This way, you keep an eye on project profitability and run a sustainable business that pays its employees fairly.
✅ Task management
Maybe you won't consider it as an essential feature, but believe me, even basic task tracking in an employee time tracking app is a lifesaver. First, it helps you create a project structure within the app and track time spent working on each task, but it also effortlessly imports the structure from a project management tool if you decide you need an advanced solution.
✅ Employee attendance tracking
Timesheets usually mean tons of paperwork to track time and employee attendance properly. Luckily, if you use a timesheet software that seamlessly fills timesheets with working hours and allows tracking vacations and sick leaves, it's much easier to have the employee time under control.
✅ Free timesheet software
The first-choice time tracking software of teams that need to count every penny is probably the free timesheet software (or the cheapest one, with the lowest price per user per month). Fortunately, many time management apps offer a free plan that even supports unlimited users, just like TimeCamp.
For companies that need just basic time tracking, a simple offer with mobile apps, but without any fancy features like facial recognition or employee scheduling, should be enough for the beginning.
What Is The Best Timesheet App?
Apps for timesheets can fall into two categories, simple and fully-featured. The latter can be used for more than just time management, for example, as an advanced time tracking system, project and task management software, or accounting software. So it's not always easy to find the right tool.
Check out our recommendations and choose the best app for timesheets that precisely corresponds to your business needs! (All available also on mobile devices – a mobile app for Android and iOS).
Use them with your planner or calendar templates to perfectly organize every day and week!
1. TimeCamp
Best for: automatic and user-friendly time tracking with timesheets and reports for free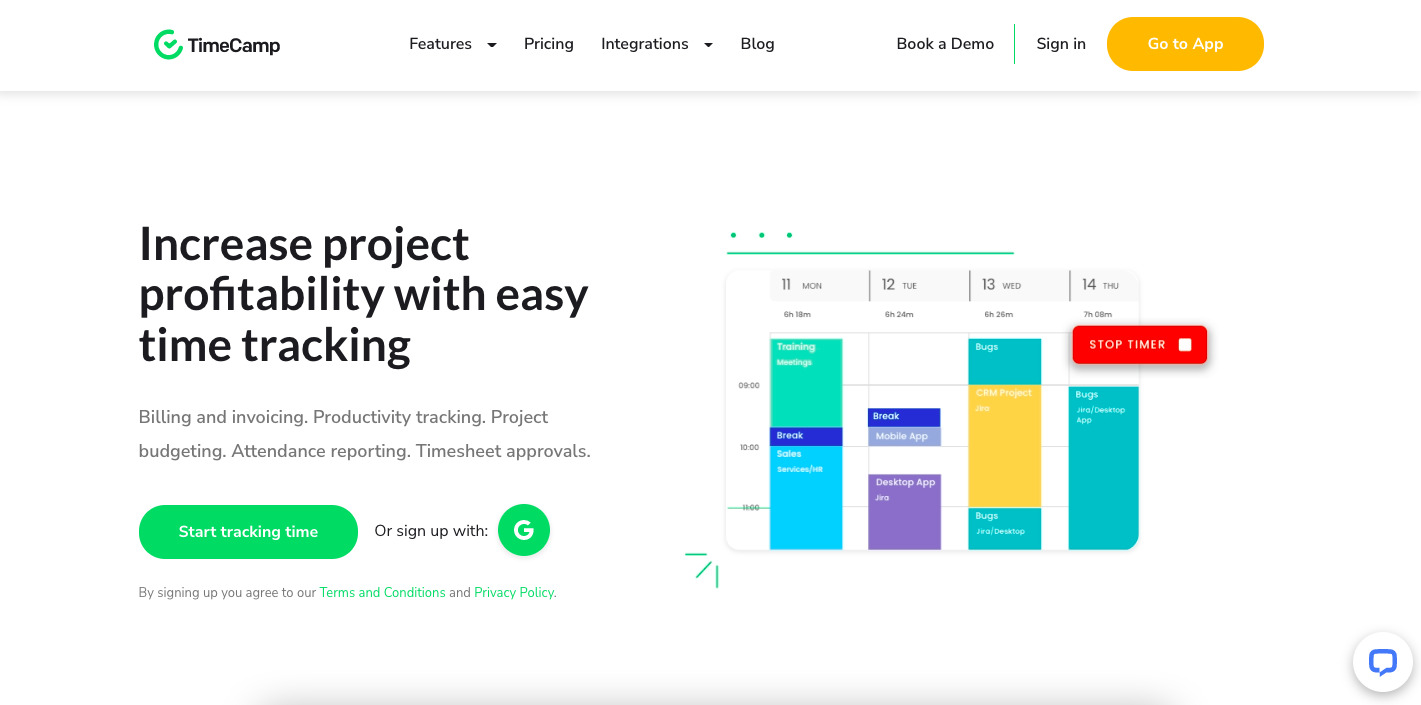 TimeCamp is a robust time tracking app and one of the most popular Zoho alternatives, which is now totally free for unlimited users. Its practical features can help in or even completely eliminate monotonous paperwork. The software automates and optimizes workflow.
Using TimeCamp as a timesheet app is much more effective and easier than manually entering information. There are approvals, the ability to edit entries, a time clock with a start/stop timer, and extensive timesheet data.
The automatic time tracker records all activities so you can focus on your duties, instead of fixing problems with spreadsheets and doing paperwork.
Main features:
Fully automatic, the desktop app works in the background. Also, you don't have to switch between different apps or tasks, TimeCamp detects it all
The feature of tracking time based on billable or non-billable hours makes it easier to estimate the costs of a project for hourly employees precisely
Thanks to detailed but user-friendly reports, your employees can see how much of their time was spend on productive and unproductive activities
You can easily convert reports and export them into Excel files, PDF, CSV, or to Google Spreadsheet
The feature of graphical timesheet gives you the possibility to clearly see the project progress in a week
Ability to create projects and tasks, subtasks, and add tags
Automatic reminders and idle time detection
Project time and cost tracking, billable hours,
You can track time against estimates, track breaks, overtime, and expenses
An extensive list of integrations makes it easy to connect with other tools and browser extensions that makes this list even longer,
Free plan for unlimited users
Wonder how does TimeCamp work in real time? Watch the short walkthrough video!
⇒ Available as a mobile app (Android, iOS), desktop (Mac, Windows, Linux), and web app.
💰Pricing: The free plan is available for unlimited users with unlimited projects. The Starter plan is $3,99 per user/month billed monthly ($2,99 per user/month billed annually), Basic plan is $7.99 per user/month billed monthly ($5.99 per user/month billed annually), Pro – $10.99 per user/month billed monthly ($7.99 per user/month billed annually), and Enterprise, on-premise, offer custom pricing. A 14-day free trial is available.
👉  Read also: 15+ Time Tracking Software for Mac OS X
Stop wasting time on manual timesheets. Try TimeCamp! 💚
2. TimesheetsMobile
Best for: Time tracking of mobile workforce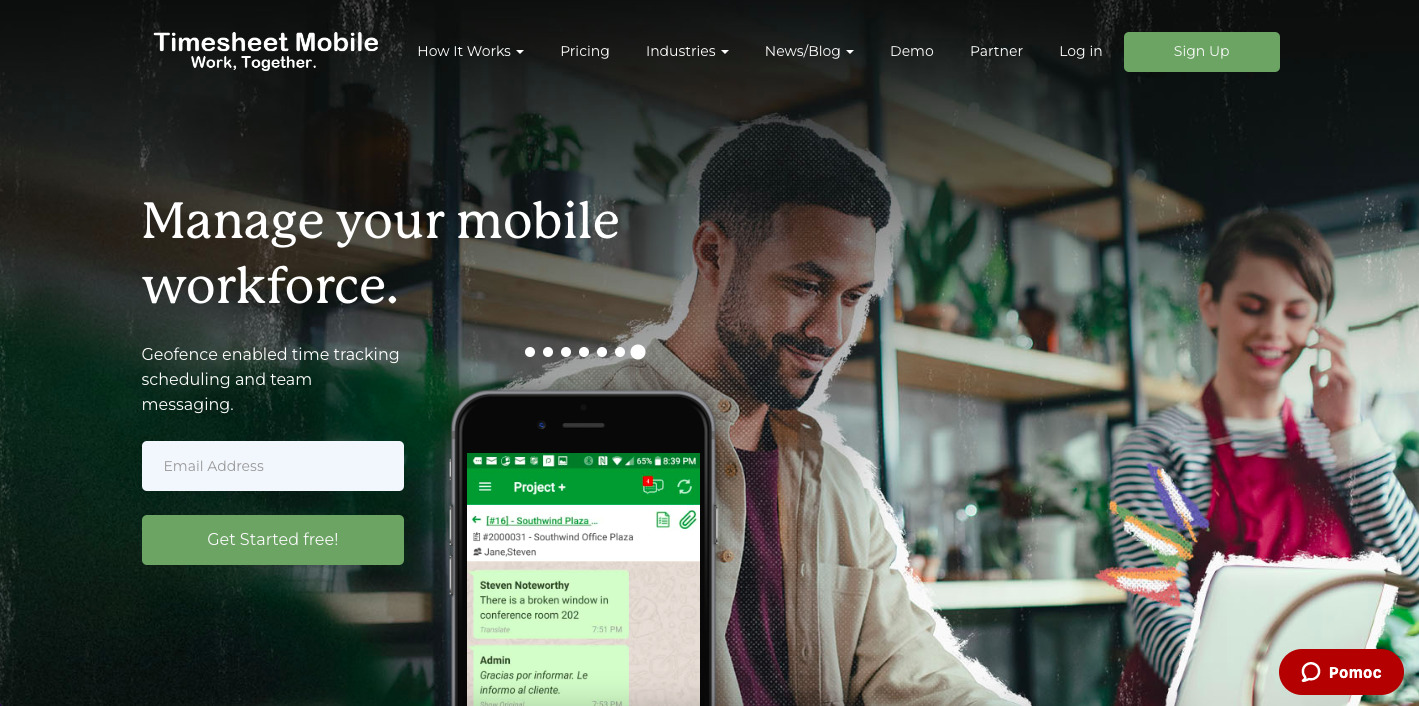 Companies that are hiring a mobile workforce often struggle with tracking how many hours their remote employees really work. The problem lies not only with inappropriate employee scheduling but mostly in using traditional, ineffective ways of time tracking.
TimesheetsMobile solves that problem, providing you with a mobile app with GPS tracking and team messaging, giving your team a tool to stay on track.
Its geofencing and employee scheduling features punch employees automatically when they arrive on or leave the job site and fill the timesheets with start/end working hours and shifts.
The tool also offers time reports – generate them for your monthly and hourly employees to streamline payroll processing and employee productivity monitoring.
 ⇒ Available: This time tracking software is available as a mobile app for iOS and Android devices.
💰 Pricing: Timesheets Mobile app offers four paid plans with various feature tiers; there's a calculator on their website that calculates the pricing based on the number of employees and the need for punching multiple times a day; for example, a basic plan for three users costs $12.75 per user per month for three first months.
A free plan isn't available, but you can try the tool for free for 30 days.
3. Zoho Projects
Best for: having a project management hub with all projects and timesheets in one place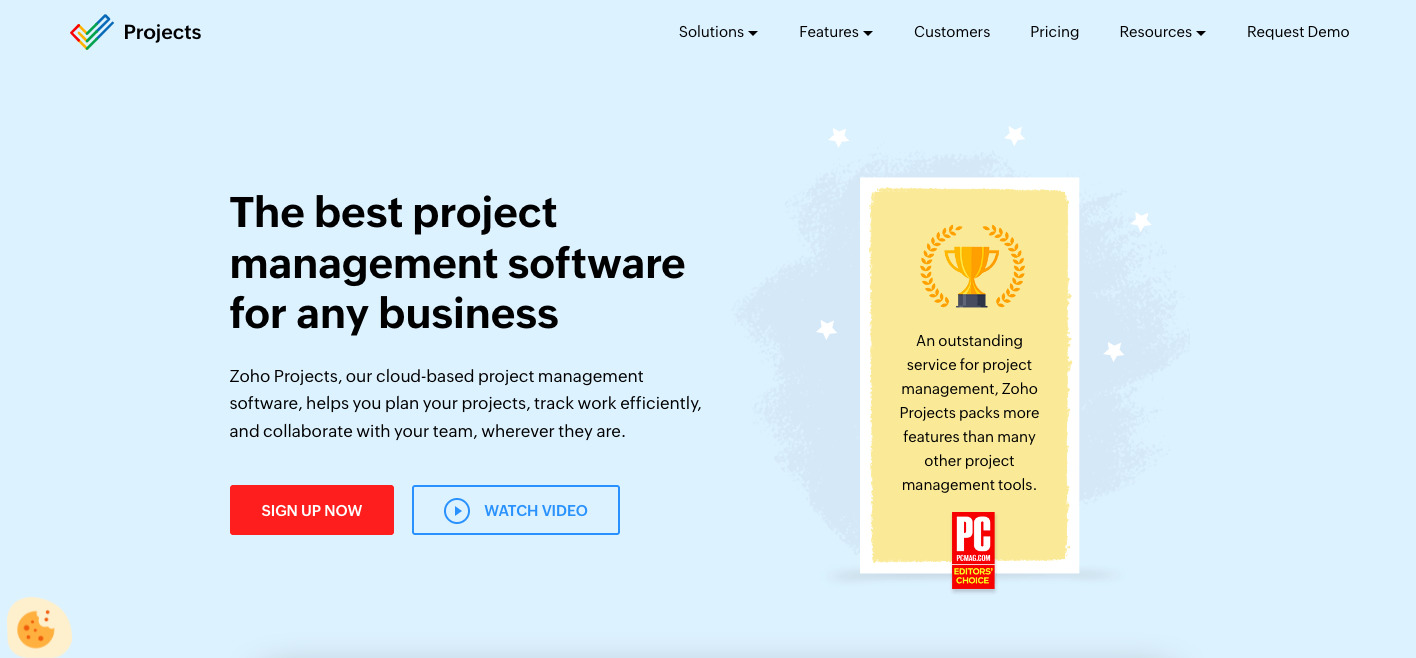 Zoho Projects is a powerful tool for managing employee time. With this app, you can create fantastic timesheets. You have the ability to manage milestones, task lists, and projects, tasks, subtasks, recurring tasks, and dependencies.
This timesheet software also gives you the ability to boost your productivity and collaborate with your team to connect and create a seamless workflow.
It's a great timesheet app for people who like to have detailed information regarding total employee hours to quickly analyze the company's progress, financial situation, or projects stages.
👉 Looking for Zoho time tracking solution? Check out Zoho time tracking integration!
 ⇒ Available as a web app, and mobile timesheet app (Android, iOS)
💰 Pricing: 10-day free trial is available; a free plan is available for 3 users. Pricing starts at €5 per user/month.
4. Homebase
Best for: off-site and remote employees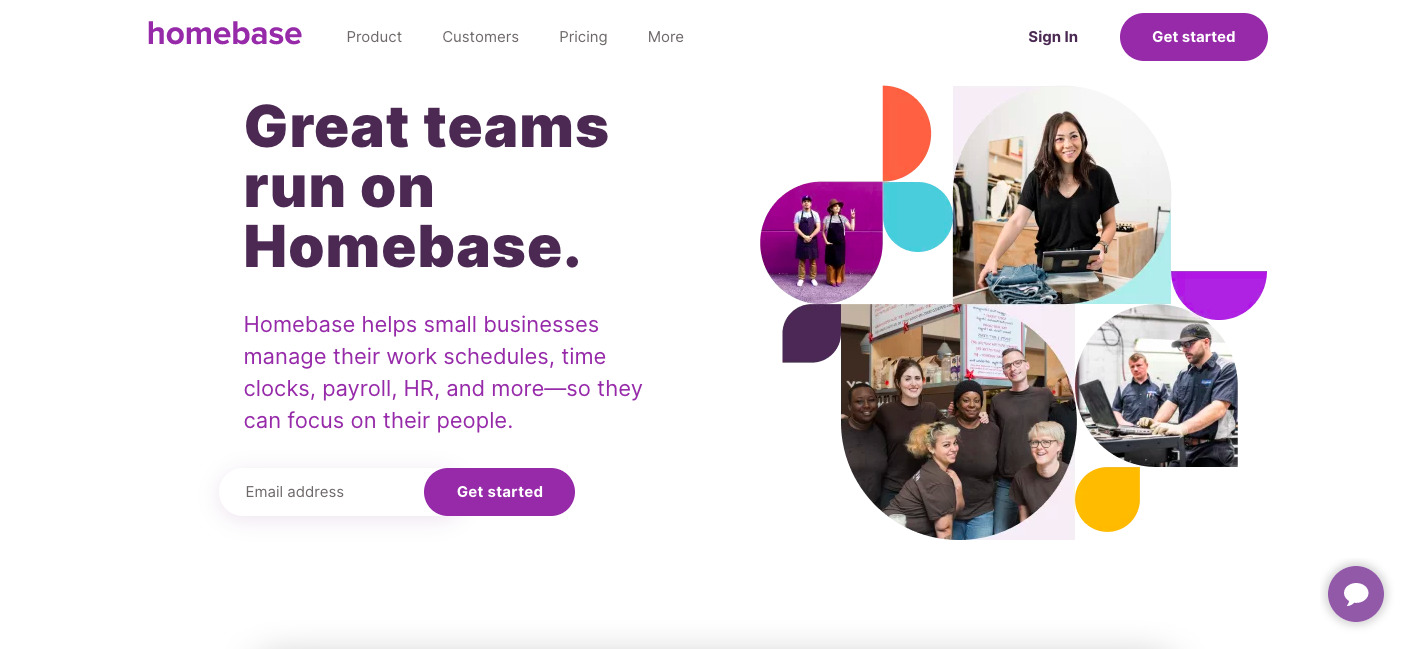 Homebase is an employee scheduling software with extensive features. It's suitable for team supervision as it combines HR and project management functionalities.
Homebase, that serves also as an employee time tracking software, allows you to track work hours, breaks, and overtime of your staff to easily calculate payroll. It automatically identifies missed breaks or clock-outs so you can easily correct them. The app keeps records of all your timesheets, including edit history.
Homebase can be integrated with top payroll software to automatically sync your hours to payroll.
⇒ Available for web and as a mobile timesheet app (iOS, Android)
💰 Pricing: A free version is available for one user. Pricing starts at $19.95 per user/month.
5. Clicktime
Best for: logging work time in online timesheets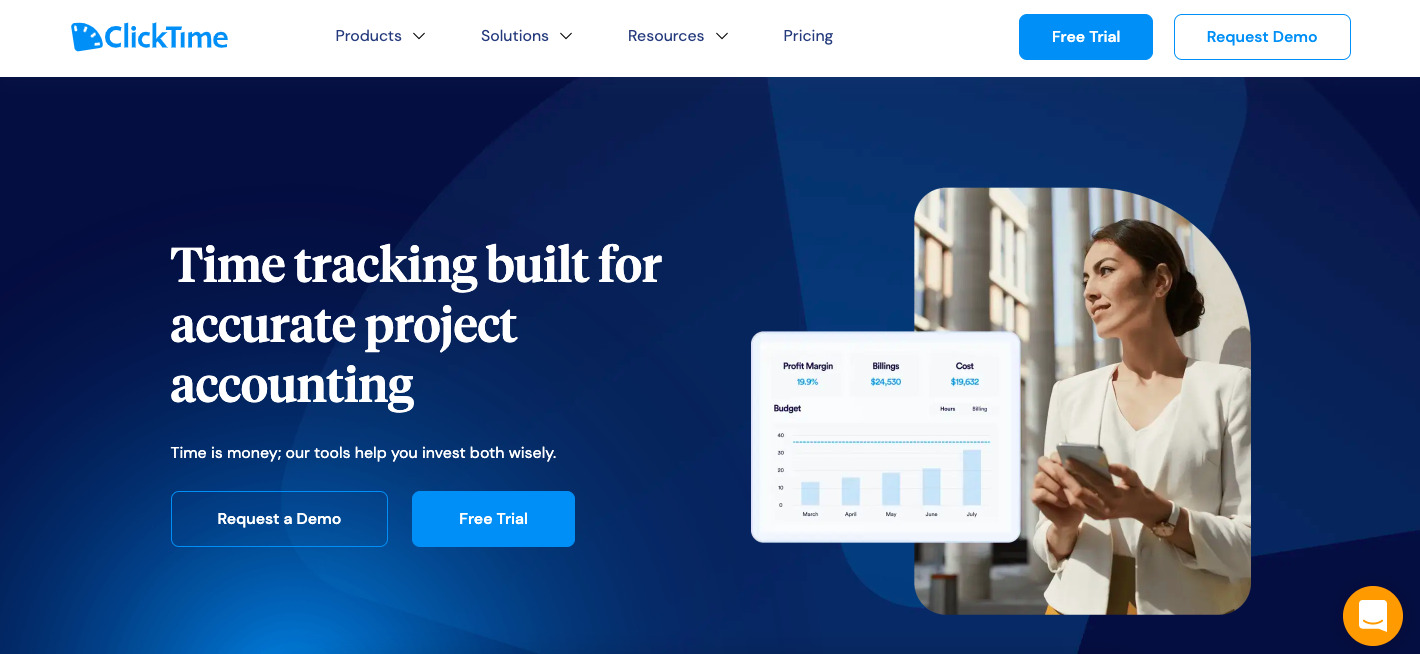 ClickTime is a cloud-based time tracking software that lets you track, manage, and report on employee time. Simple timesheets and powerful reports reduce costs and improve performance. In the tool's online spreadsheets, you can see all the data without the need to store them on your computer or in a cabinet. It's a great alternative to traditional paper timesheets. It can be your first timesheet app – give it a try.
In ClickTime timesheet app you can track working hours on your phone or laptop, quickly approve employee hours, or look into dashboards and reports to easily manage budgets and plan employee time from anywhere. It's also a good team management tool.
ClickTime is a great tool for businesses and professionals that need an all-encompassing timesheet app. It also offers timesheet calendar templates if you need an addition to the software.
👉 See the comparison between ClickTime & TimeCamp!
⇒ Available as a cloud time tracker and mobile app (Android, iOS)
💰 Pricing: ClickTime offers only a free 14-day trial. Plans start at $9 per user per month.
6. Tick
Best for: lightweight time tracking with simple timesheets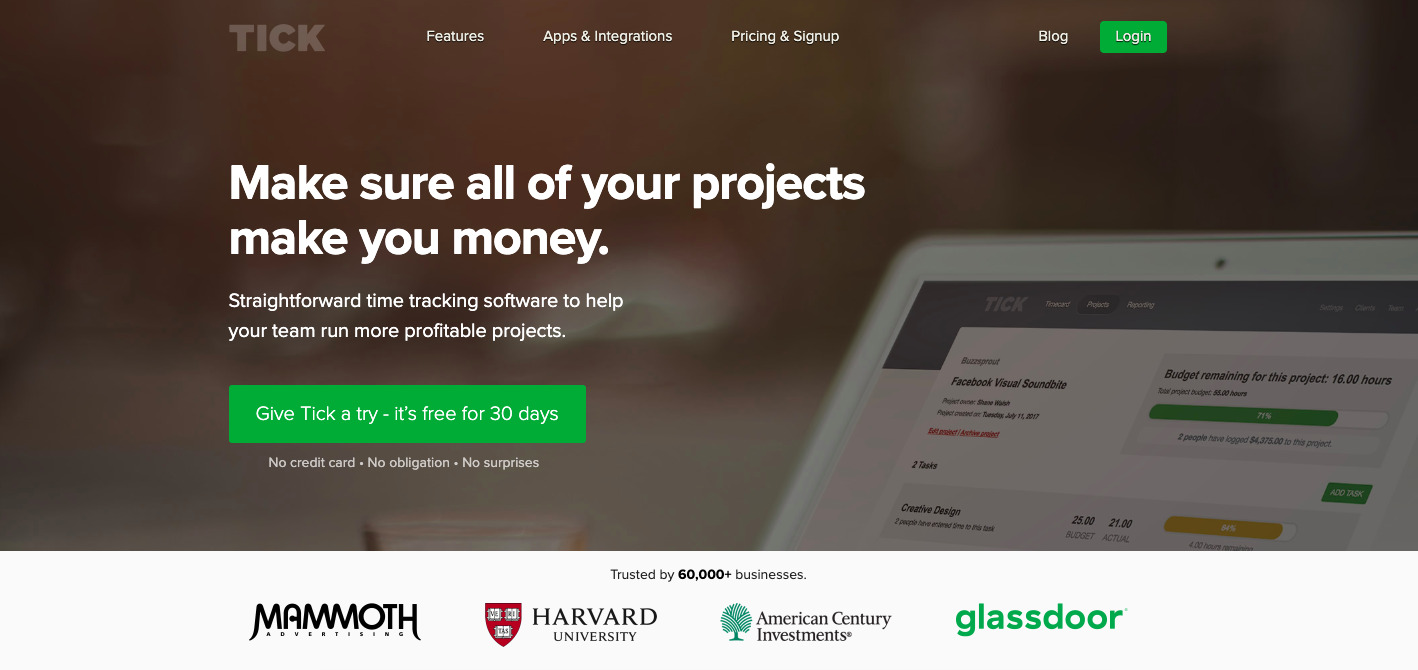 Tick is a simple, automated time tracking software that is perfect for those who don't have big needs regarding extra features so specific to most time tracking apps. Tick automatically tracks time for particular tasks and gives an insight into how much time is spent on activities in a simple report. Later on, you can access all data for review in timesheets.
It's a convenient application accessible from any place. It has the option of project budgeting tracking and has transparent reports. Tick may be in favor of those who need a basic employee timesheet app that enables people to automatically create employee payroll.
⇒ Available as a mobile app (Android, iOS), web app, time tracking app for Mac, Apple Watch, Chrome extension
💰 Pricing: Tick is free for 30 days. Pricing starts at $19 per month.
7. Hubstaff
Best for: GPS tracking with online reporting and timesheets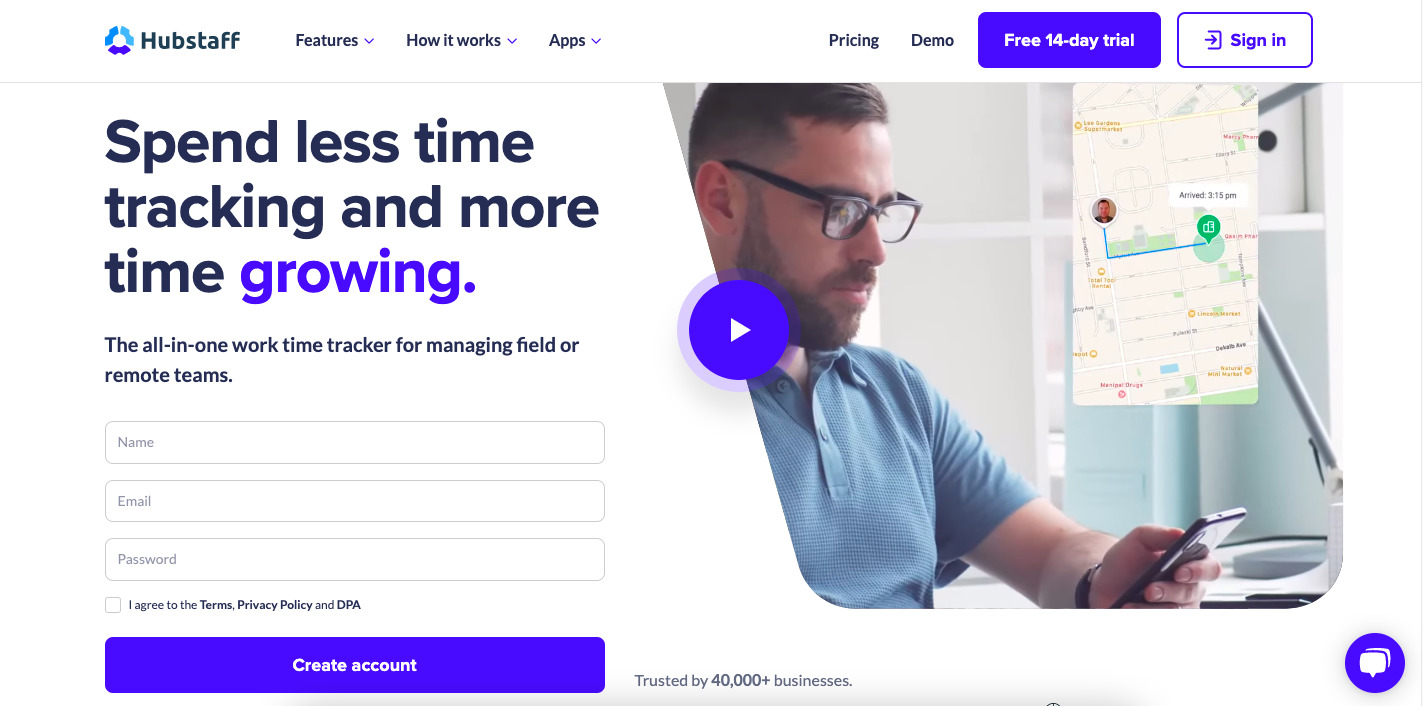 Hubstaff features help to manage team, workflow, and improve efficiency. With Hubstaff you can see who's late with the work and how much money and time you're spending on it. The software is especially useful in remote team administration and has the feature of screenshot tracking with activity rates.
It also helps in keeping a hand on the team's calendar, invoices, payments. All reports are automatic. Hubstaff is an advanced employee hours tracker with many helpful features – GPS tracking with , productivity monitoring, payroll, automatic reports, team scheduling, and billable hours recording helpful in keeping track of hourly employees.
 ⇒ Available as a desktop app (Windows, Mac, Linux, Chrome OS), mobile app (Android, iOS), Chrome extension
💰 Pricing: Hubstaff is free for a single user. Pricing starts at $7 per user / month.
8. Timesheets
Best for: managing team with classical timesheets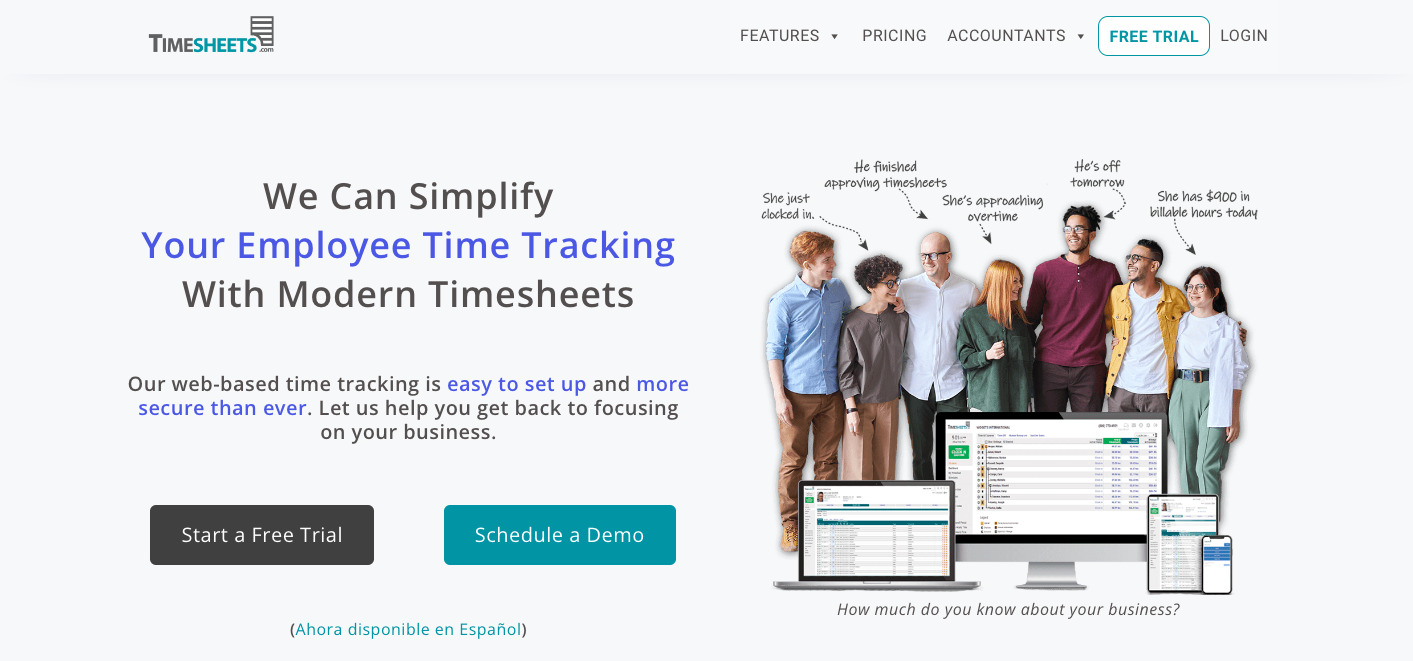 Timesheets lets you observe people's work progress and workflow. The tool has many other useful features. People can track their time and customize settings as they need, you can administer leaves, keep all information in one place, and access the tool from mobile devices.
It's a suitable timesheet solution for people looking for an easy way to monitor employee work and keep track of all your projects. At the same time, it's an advanced solution with powerful reporting features – employee documents are stored in one place with the HR suite, you can make payroll and billable time calculations, and report overtime. Leave management system handles employee requests, supervisor approvals, and accrual calculations.
It's also possible to track expenses and mileage from anywhere and even upload receipts from your phone. There is a free trial available so you can try out Timesheets.
⇒  Available as a mobile app and as a web app
💰 Pricing: Timesheets is free for a single user. The Standard version is $4.50 per user and Nonprofit – $3.60.
9. Clockify
Best for: free online employee timesheets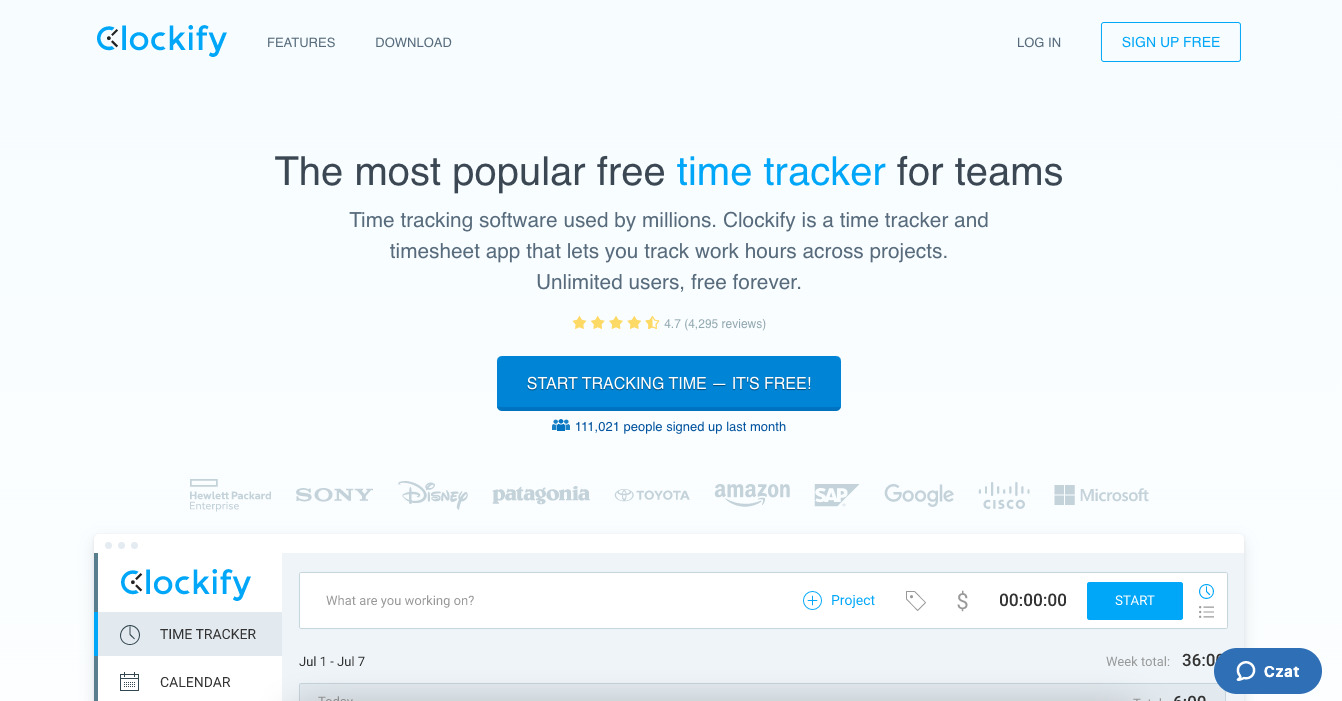 Clockify is a free employee timesheet software with the features of time tracking, reporting, and simplified task management. It enables you to add as many users as you want in the free version. With this tool, you can see how many hours you and employees spend on work and what takes most of their time.
The tool tracks time, creates a summary of your work, and helps you to manage all the tasks. Due to its simplicity and focus only on time tracking, it is the best solution for businesses, freelancers, or startups looking for comprehensive free employee timesheet software. Also, in the free trial you have access to all the extra features.
⇒ Available as a browser extension (Chrome, Firefox), app for Windows, Mac, Linux, and as a mobile app
💰 Pricing: Clockify is available in a freemium plan but for more extensive features you need to subscribe.
👉 See also our list of the best Clockify alternatives
10. Replicon
Best for: in-depth analytics and calendar templates for timesheets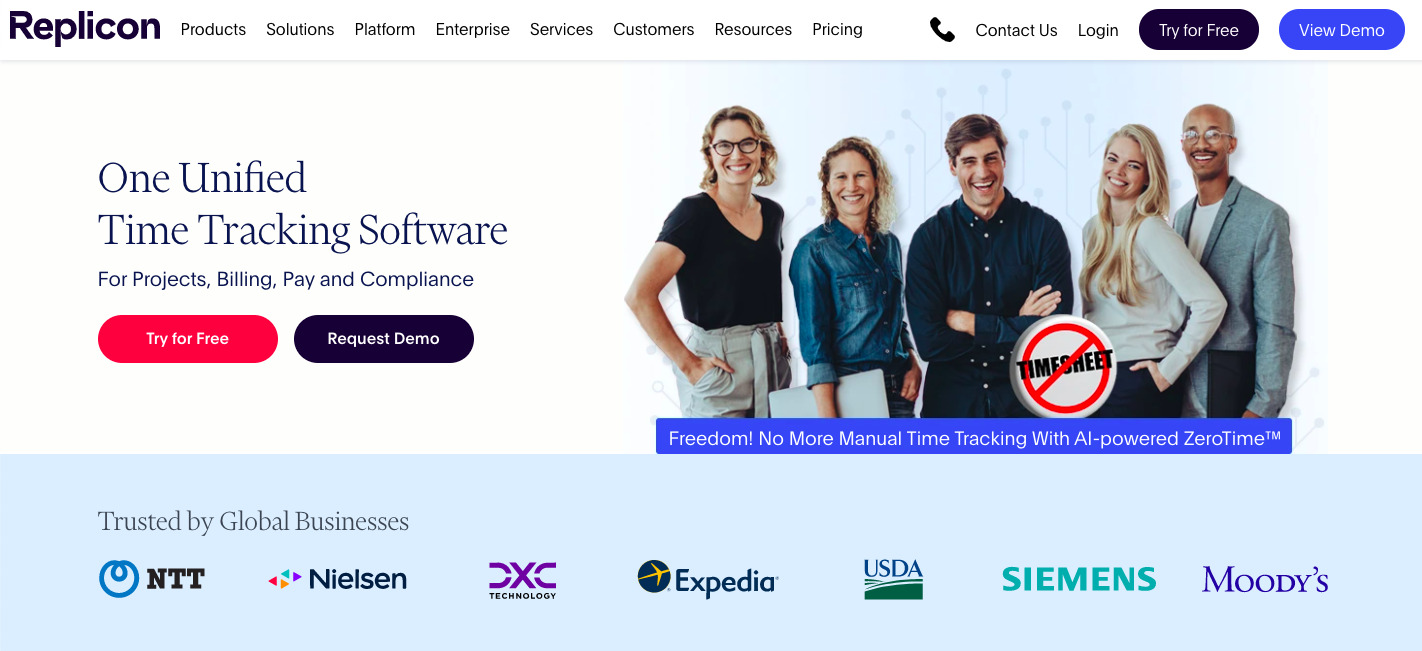 Replicon is an extensive system that easily enables you to monitor your employees' activities. If you are looking for a fully-featured yet uncomplicated solution, Replicon will be the right tool. It is a great timesheet system and time tracking app for large companies with PMs or leaders who manage sizeable or even remote teams.
Replicon allows you to manage global time and employee attendance, time off, gross pay, wage-and-hour compliance, tracking billable rates for hourly employees, client billing, or revenue recognition. The software makes it possible to manage time and projects based on localization (GPS tracking) so you can more accurately scale and configure tasks.
You can adjust Replicon to create a time tracking app perfectly tailored to your needs.
⇒ Available as an online timesheet app, mobile time tracking app (Android, iOS)
💰 Pricing: varies across products and modules.
11. Beebole
Best for: managing team and leaves with timesheet data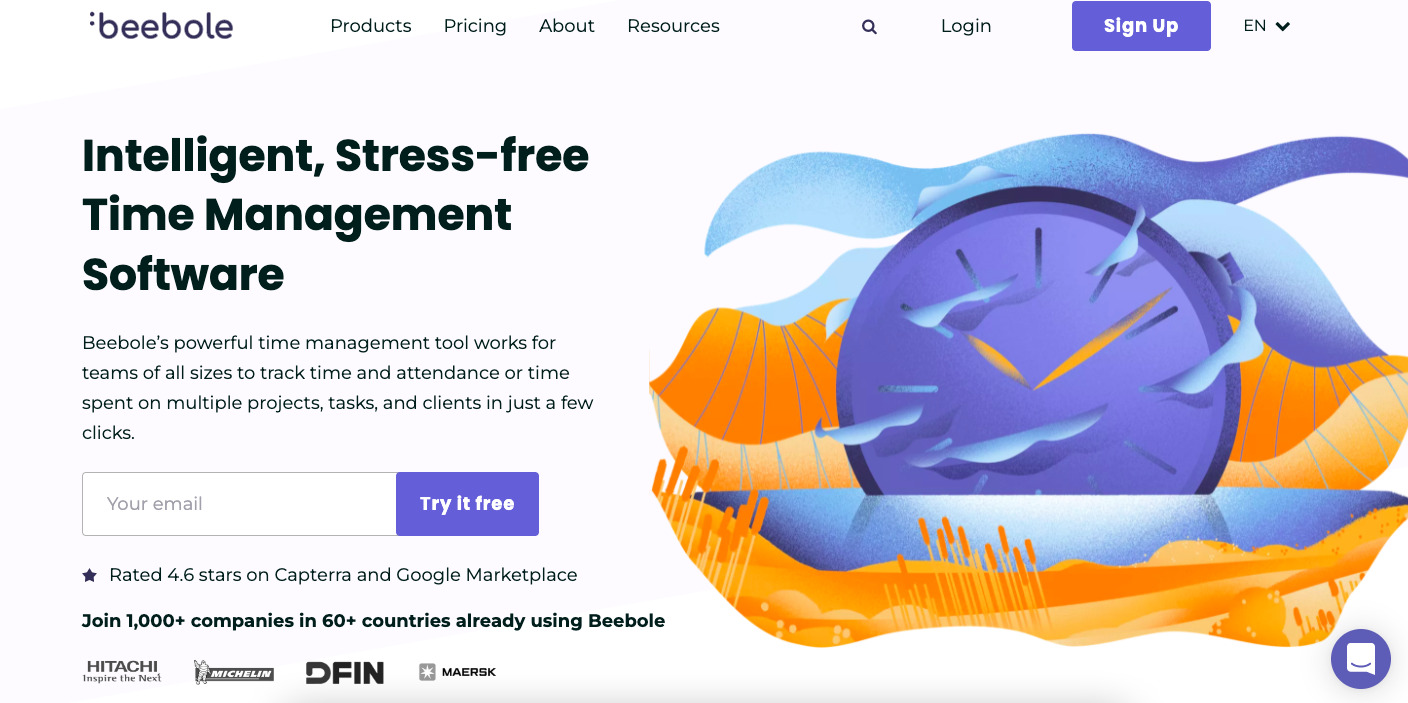 Beebole is a timesheet application that allows you to keep all things together in one place. It is a timesheet in itself. With this tool, you can replace paper documentation with online spreadsheets.
You can track time daily, in a week format, monthly and in the real-time
Integrate your timesheet with ERP and billing software, and G Suite
You can create a customizable dashboard and generate employee reports on time, attendance, budget, billable hours, margin and profits, and print, export, audit them to check teams accountability
You can keep track of employee overtime total hours
⇒ Available as an online timesheet system and mobile apps
💰 Pricing: 6.99€ per person/month.
12. Scoro
Best for: business management with real-time updates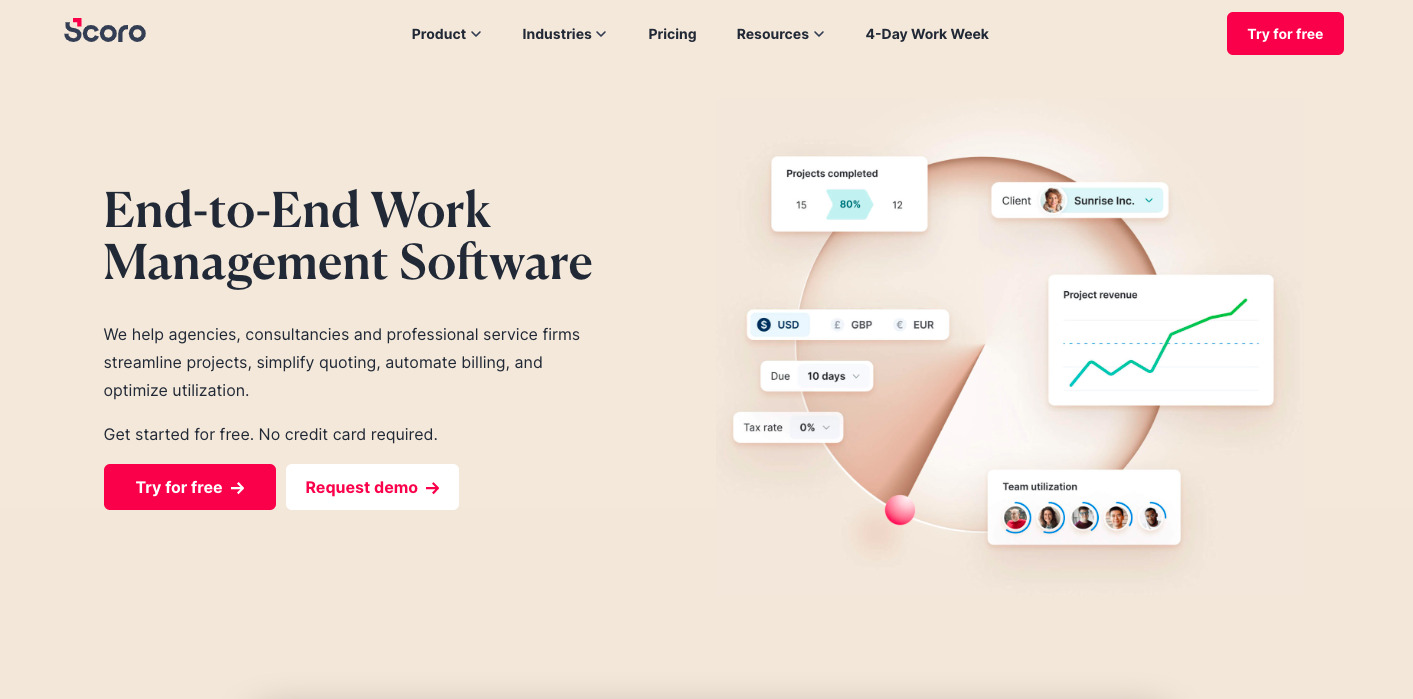 Scoro is one of those tools in which you can work on many levels – track work hours, manage time sheets, assignments, teams, finances, and workflow. If you're looking for a solution that will enable you to incorporate all aspects of managing work in one place, Scoro is the perfect tool.
Not only will you be able to see the hours of your employees in a cloud format but also the progress of all assignments, people's productivity level, important dates, budget, etc.
It's a great tool because it works also as your personal reporter on the business' state and as a project management hub.
⇒ Available for mobile, as a web app
💰 Pricing: Scoro is an expensive solution (pricing starts at $28/per user/month) so it's better to test it out before purchasing. Scoro offers a 14-day free trial.
13. Journyx
Best for: online timesheets with expense management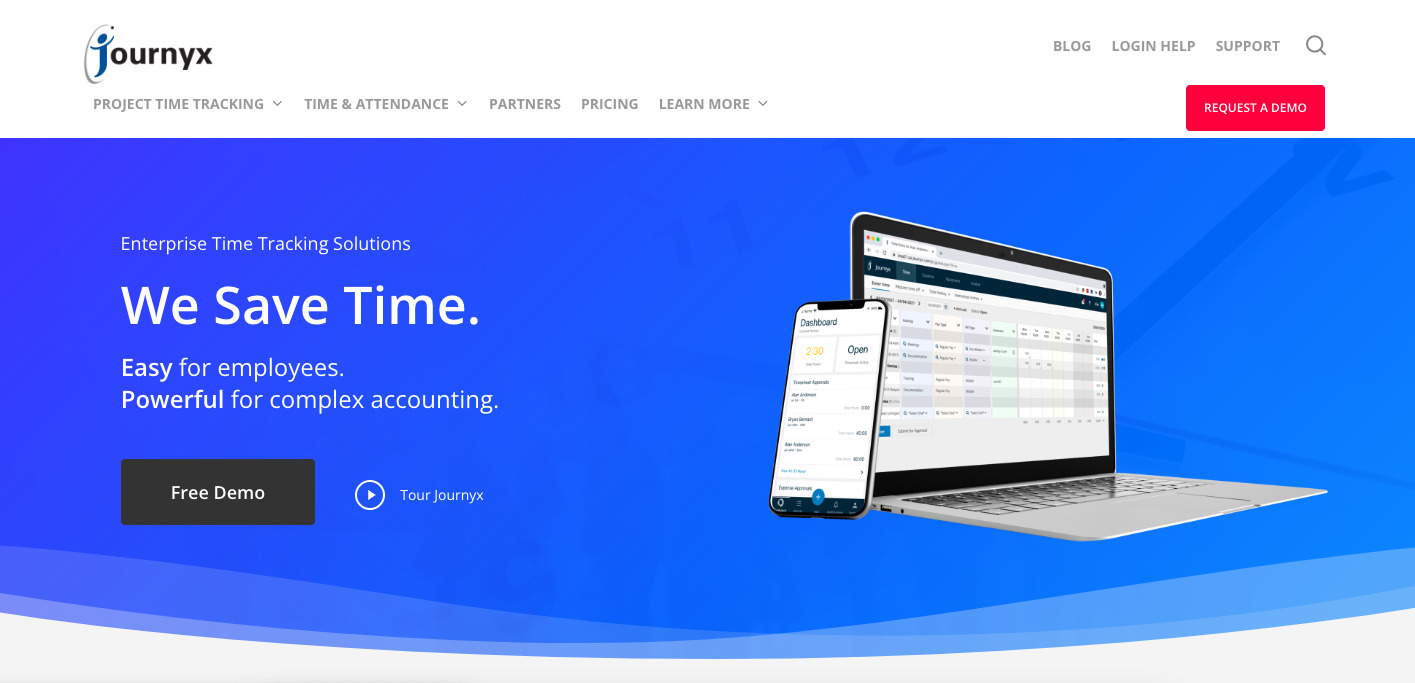 Journyx is the best solution for online timesheets. It's dedicated to time and expenses management. It allows you to monitor the time worked and time off, track time, resource usage across the project and non-project activities, and review schedules.
Journyx also has the accounting feature for billable and nonbillable time and expenses.
It's a great tool for automatizing the process of timesheet creation and approval but also managing workflow.
⇒ Available as a web app and for mobile devices (Android, iOS)
💰 Pricing: starts at $5 user/month.
14. ProofHub
Best for: team collaboration and keeping track of work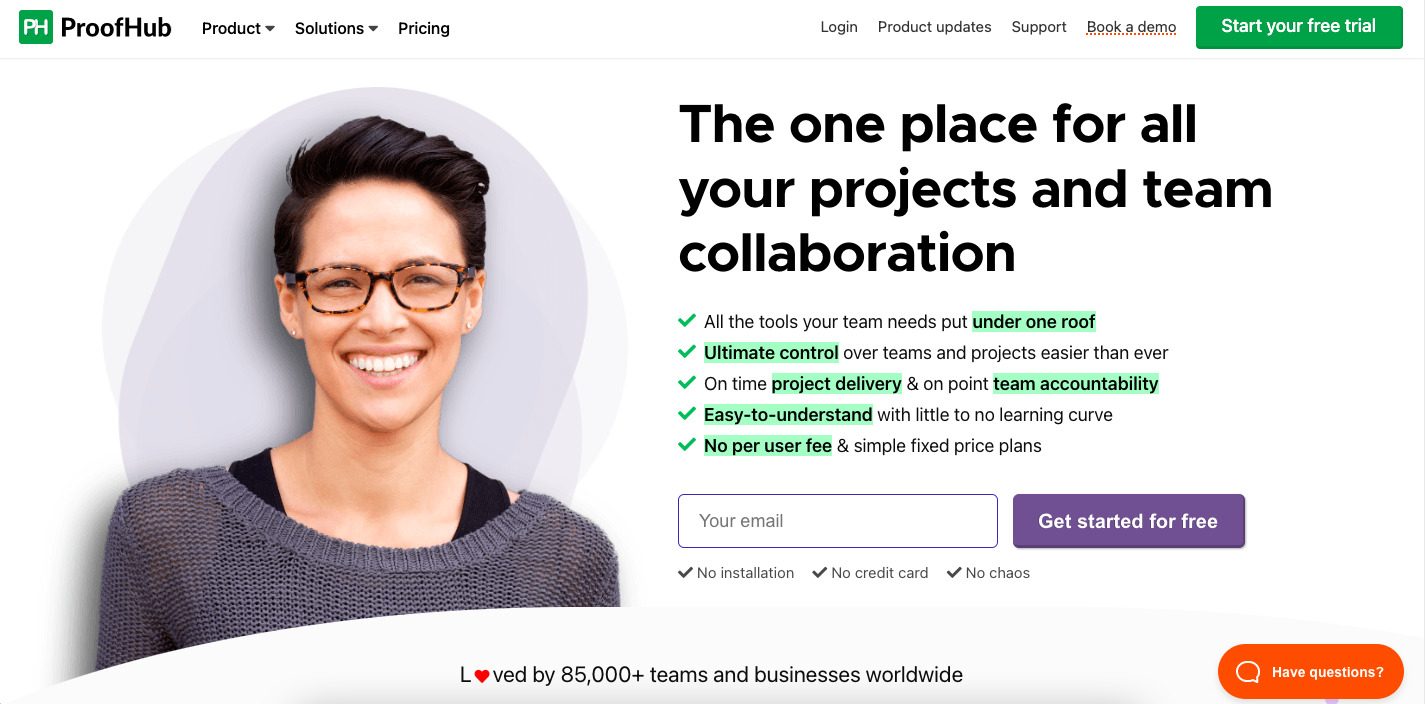 ProofHub is a project management and team collaboration software with helpful time tracking capabilities. For teams and businesses looking for an all-in-one solution to plan their tasks and projects, collaborate remotely, and track time, ProofHub may be a suitable solution.
It lets you track time with its simple, easy-to-use automatic timer. You can also enter time data manually. All your data is stored in beautiful timesheets, which you can easily download or export for invoicing and billing purposes.
You even have time reports to take a quick peek into how everyone in your team is using their time. ProofHub is a great solution for teams looking to not just keep track of their time and productivity, but also want to stay in ultimate control of their projects, tasks, and communications.
⇒ Available as a desktop, web app and as a mobile app (Android, iOS)
💰 Pricing: starts at $50 per month.
15. Harvest
Best for: simple timesheets online with budgeting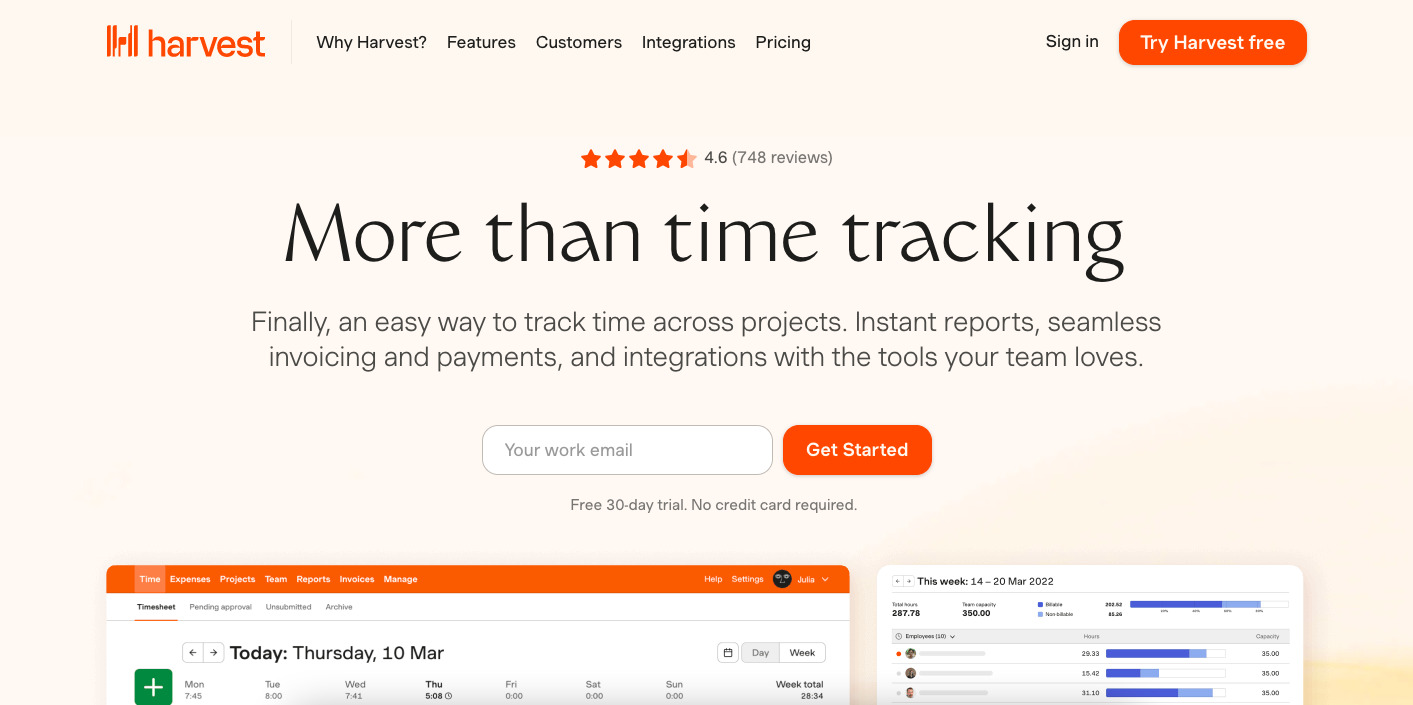 Harvest is a simple time tracking, online invoicing, and reporting tool. It simplifies employee timesheets and billing. It's easy in use with a friendly interface.
It has the most necessary features that a good tool for time sheets should have. It tracks time and expenses to give you information on all the crucial data. You can easily access all the information about your team's performance, projects progress, time, and budget spent on different projects.
Once all the data is tracked, you get comprehensible reports which can serve as a perfect and detailed timesheet. You can export them to Excel or CSV. It's a suitable application for non-demanding users.
👉 See the comparison between Harvest & TimeCamp!
⇒ Available asa mobile timesheet app (iOS, Android), desktop (Windows, Mac), web time tracker
💰 Pricing: Harvest is free for one user with 2 projects. Pro plan is $12 per seat per month with unlimited users and projects. A 30-day free trial with all features is available.
Do You Use Employee Timesheet App?
With the right timesheet app, businesses can boost performance, save time and money, and better handle projects and tasks.
What are your thoughts on employee timesheet software? Do you use them in your company to help employees in their work? If so, what features do you find most useful, and which do you think are unnecessary? Would you rather stay with a basic time tracking app or choose an employee time tracking software with more advanced features?
Let us know in the comment section. We'd love to know your thoughts!
---
Co-author: Ola Rybacka, Content Specialist at TimeCamp 
5 out of 5 stars (based on 1 review)