12 Best Geofence Time Clock Apps for 2023
December 19, 2022
by Kate Borucka
4 comments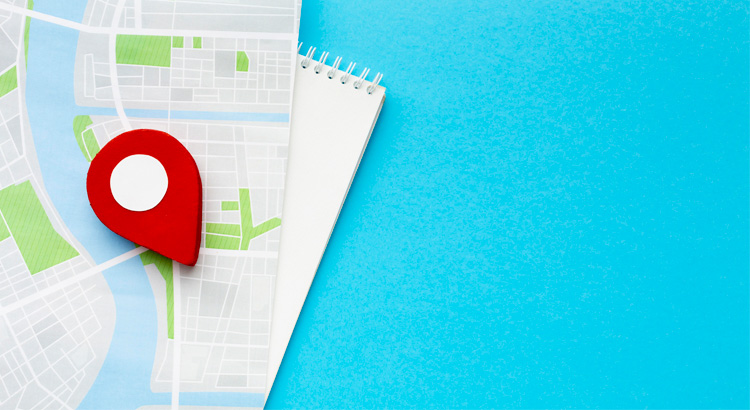 Using employee time tracking software app? If you're wondering why use the geofence time clock tool, how it works, and what are some of the best apps out there, you are in the right place.
In this mini-guide on the best geofence time clock apps, you'll learn why and how to use the tools, what are the benefits of tracking employee location and discover the best geofencing apps. 
What Is Geofence And How Does It Work?
Some time ago, geofencing was part only of GPS tracking apps. But today it is also applied in time tracking software. And as such a combination, it creates a great geofence time clock app.
But what is geofence, and how does the geofence time clock tool work?
Geofence is a predefined, virtual boundary marked on a map that's marked using GPS, RFID tag (Radio Frequency Identification), Wi-Fi, or cellular data signals. 
Such a virtual boundary is like an invisible fence that sets the perimeter of your team's work so you can be sure all projects are on track. It allows employers to automatically monitor the activities of their team when employees are out in the field.
Whenever employees enter the identified geofence zone, the app sends an alert or notification and automatically records the time spent in the area. When the employee leaves the zone, the geofence time clock stops recording the time. Such a job sites feature is a simple but extremely helpful solution. Especially since most of such apps are easy to use and don't require complicated setup, devices, or training for employers and employees.
You can also easily assign employees to the chosen location, and, e.g., a GPS time clock tracking app will seamlessly recognize where they are and how many hours they spend there.
What are the benefits of geofencing apps?
This technology works wonders for many businesses that need to track employees' locations. Some of the most common usages of geofencing and geofence apps with GPS include the following:
Fleet management and monitoring employee location with just a few clicks,
Managing workforce and verifying employee attendance and work hours,
Tracking assets,
Preventing buddy punching,
Collecting payroll data to generate accurate payroll reports and streamline pay period,
Personal use, such as monitoring kids or other family members' location for safety reasons and ensuring family protection
👉 Check here if you are looking for GPS time tracking app
Geofence clock app, when integrated with your current time tracking software and apps your team uses on a daily basis, can be a powerful tool. It boosts productivity, automates work, and helps reduce expenses. And what's most important, it serves companies no matter of size – both big enterprises and small businesses can benefit from the real time visibility that GPS time clock or other geofencing tool offers.
What should a geofencing time clock app have?
Except for the smoothly running geofencing feature, what are the other perks that a good GPS location tracking app should offer?
Low battery consumption – some GPS time clock tools may affect the mobile device battery life negatively, so if you want your phone battery to live longer, it'd be better if you chose other geofencing solutions than a GPS time clock for accurate time tracking for mobile devices,
Integrations – it's hardly possible to find the tool that has all the features you're looking for; that's why a wide range of integrations (e.g., with payroll processing tools) with other apps the tool offers can be a nice addition to the work hours tracking,
Automatic timer – to let your employees save time on filling the timesheets with work hours; use its records also to create attendance lists and streamline the payroll process,
Notifications – Geofencing helps manage employees who are working outside the office, but if you need a level more of control over their work hours, choose the tracking app that allows you to set alerts when they, e.g., fail to reach a location in the given time,
If you're wondering which software to choose, we've compiled a list of the best geofence time clock apps to help you make the right decision!
Geofencing time tracking apps  for your business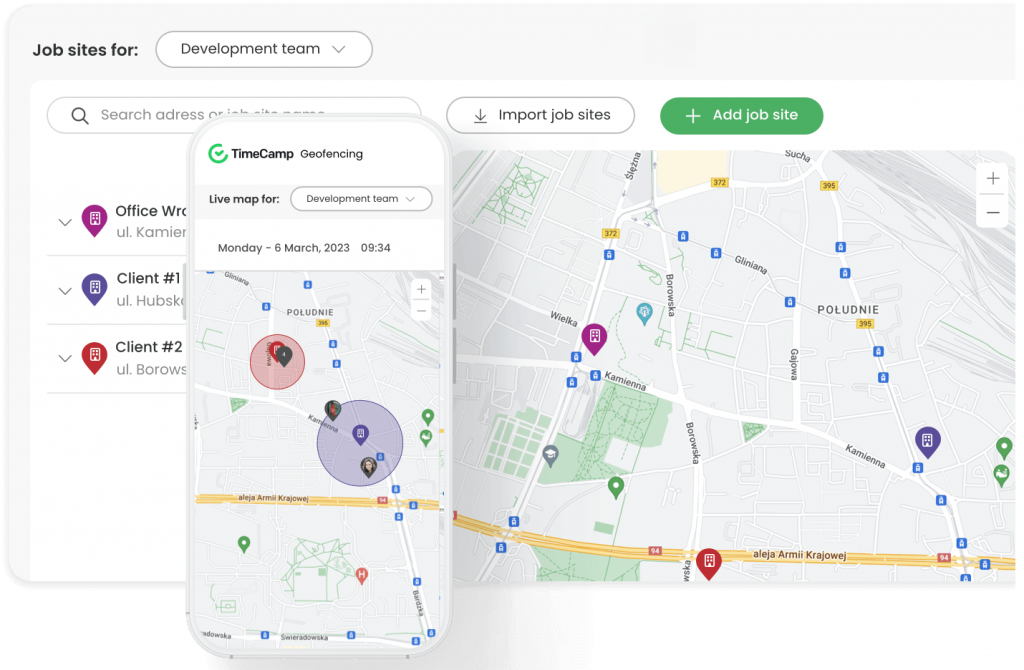 TimeCamp, a comprehensive time tracking solution, offers powerful features to track time inside and outside the office. With its geofencing capability, TimeCamp goes beyond traditional time tracking, allowing you to monitor remote teams and boost their performance. 
It's an intuitive tool designed for businesses of all sizes and types, providing a wide range of features and seamless integration with payroll and invoicing systems to simplify financial processes.
Check how TimeCamp can help you with time tracking for field workers and employees working in different places with geofencing.
👉 Read more about TimeCamp geofencing time tracking.
Main features:
Tracking time in many locations

High accuracy of time-tracking data

The automatic timer starts and stops with the mobile app running in the background

Several types of reports and the possibility to create a custom one

Real-time GPS location tracking

Locations connected to specific tasks

Low battery consumption thanks to running in the background
Available for:
Android

iOS

Windows

Mac

Linux
💰 Pricing:
Free
Starter – $2.99 per user per month paid annually / $3.99 paid monthly
Basic – $5.99 per user per month paid annually / $7.99 paid monthly
Pro – $7.99 per user per month paid annually / $10.99 paid monthly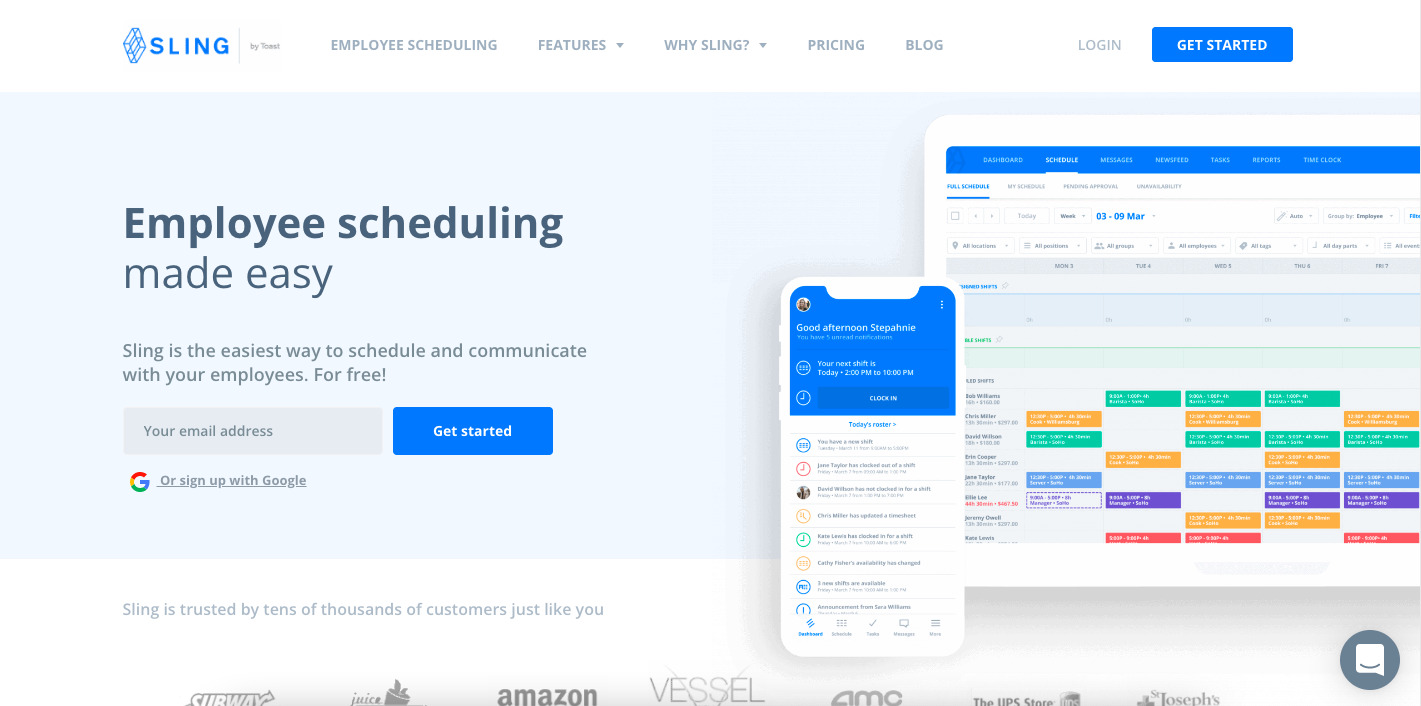 Sling is a fancy and practical geofencing time clock app aimed at maximizing mobility and empowering employees in non-desk working industries. If you need a solution suitable for employees who work in a dynamic environment, Sling will help them become more efficient, improve overall communication and workflow through its centralized system of work management. You can create location-specific tasks to make work easier. Also, Sling comes with plenty of detailed features to help you organize and manage all your work from a single platform.
Main features:
Geofencing and GPS tracking
Time clock for time and attendance tracking
Shift scheduling
Budget monitoring with the ability to set weekly labor budgets for locations, preferred hours and overtime thresholds for employees
Overtime monitoring
Reports for a day, week or month, or for customizable periods
PTO (Paid Time Off)
Messages and newsfeed to always stay in touch with the team
Tasks with to-do lists, due dates, and reminders
You can provide the address for each location on Sling and employees will see it when viewing their schedules
Available for:
💰 Pricing:
Free
Premium – $2 per user per month
Business – $4 per user per month
👉 Check also our list of the best PTO tracking software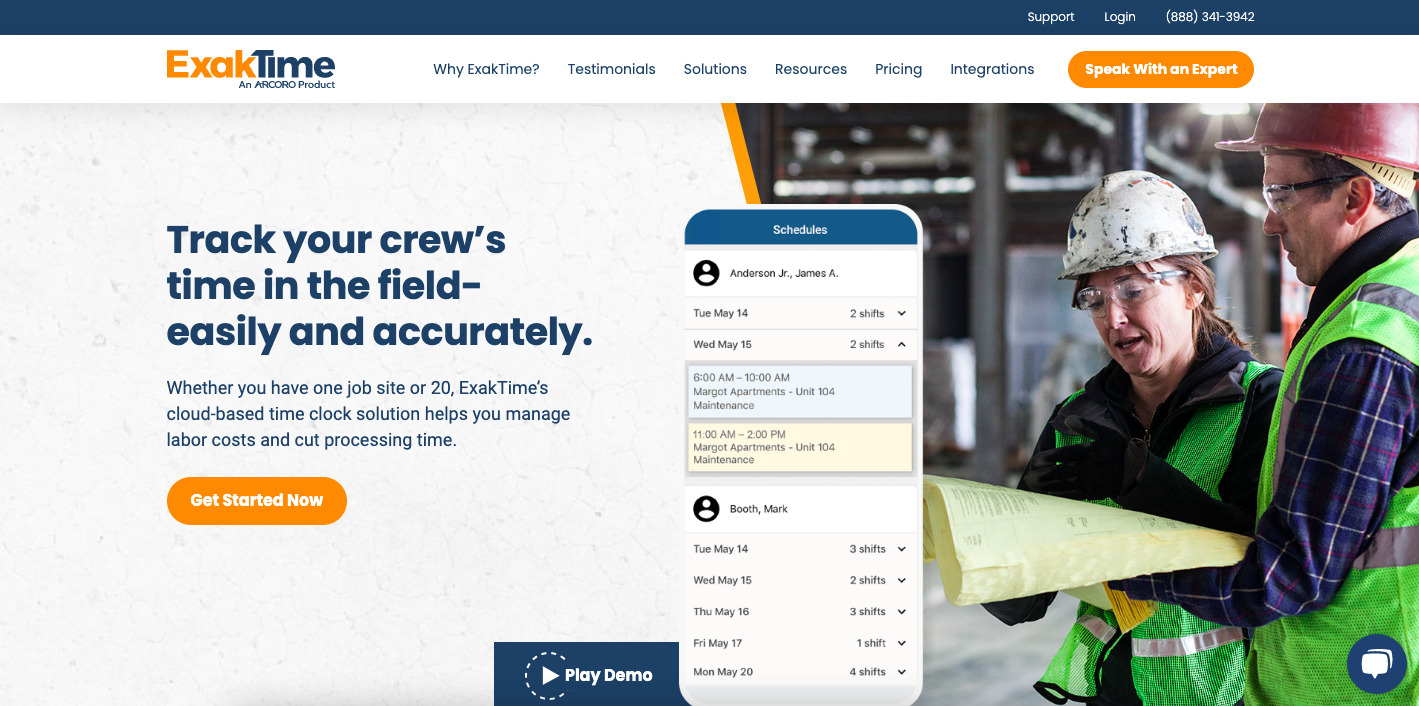 ExakTime is the best GPS tracker for employees who work in the field. It's a web-based solution allowing you to eliminate tedious and time consuming manual timesheet filling. The software automates the work, helps to manage attendance, and schedule workflow. It's simple in use and goes with a variety of helpful features.
Main features:
GPS tracking with geofence
Portable time clocks-rugged time clock
Online and offline automatic time tracking
Ability to connect ExakTime to your favorite payroll system, such as Quickbooks, Sage, and many other tools
Powerful GPS Touch Detail Report provides a detailed list of who clocked in on or off-site and their exact distance from a designated Geofence
Photo ID verification
With Mobile Time Cards, workers can view their total, Regular, Overtime 1 and Overtime 2 hours for the week in addition to daily totals
Equipment tracking (tools, materials, etc.)
Available for:
💰 Pricing: Not provided by the vendor. Free 30-day trial.
👉 Read more about construction time tracking software.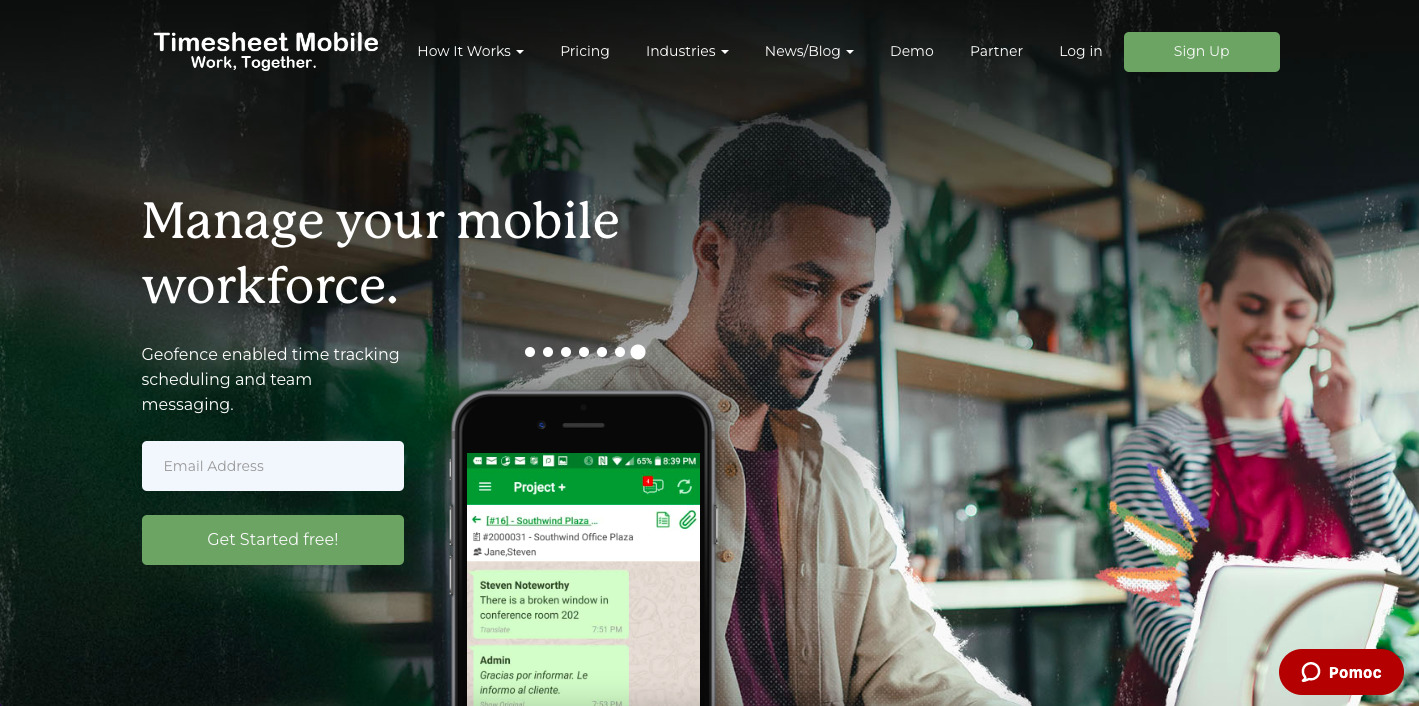 Timesheet Mobile allows you to eliminate paper timesheets, set up employee jobs, assign tasks, and easily manage employee schedules. This employee tracking system will help you and your team keep a hand on the daily agenda and make sure all projects are carried out properly and on time.
Main features:
Geofence time tracking – the easy to use timesheet app sends instant alerts to managers when an employee is away from job site. Punch Prompt geofence technology reminds employees to Punch in/out and prevents timesheet errors.
Scheduling with drag-and-drop feature
Timesheet reports
Team messaging
Integrations with QuickBooks Online, QuickBooks Desktop, Xero, Sage, ADP, FreshBooks
Available for:
💰 Pricing:
Basics Plan – $3.49 per employee for unlimited punches + $14.99 company subscription
Per Punch Plan – 15 cents per punch + $29.99 company subscription
Small Business – $9.95 per employee for unlimited punches + $29.99 company subscription
Medium Business – $2.49 per employee for unlimited punches + $149 company subscription
Large Business – custom pricing
👉 Read more about Time Tracking Software for QuickBooks.
5. Buddy Punch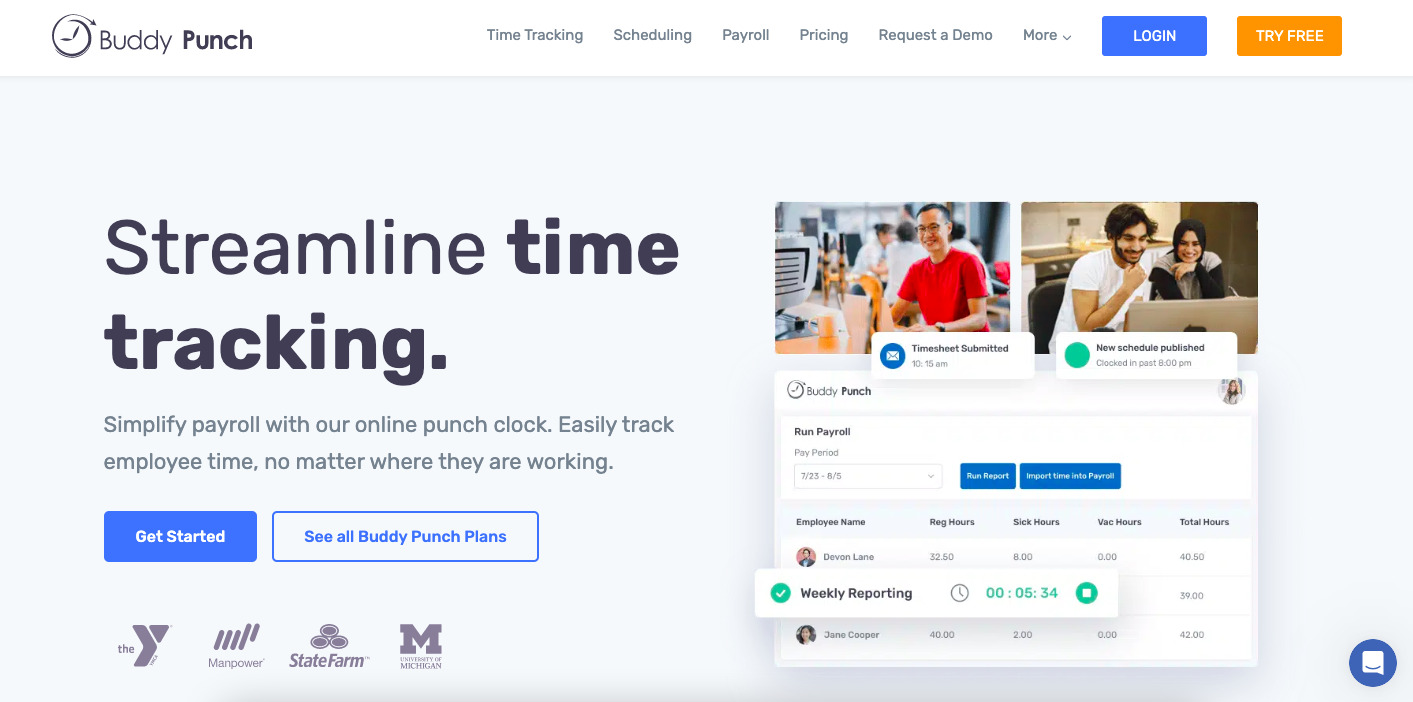 The name of this tool can be a little deceiving, but trust me, it actually prevents employees from buddy punching. Not only is Buddy Punch one of the best geofencing time clock tools but also an excellent employee scheduling software. It's user-friendly and offers a vast set of features and functionalities. With Budy Punch you can track employees and time, schedule work, allocate resources, and eliminate tedious paperwork. The software works great for all types of businesses, small, medium or large.
Main features:
Geofencing
GPS tracking
Overtime calculations
Overtime alerts
Customizable reports
Manager status with approval function
PTO/Sick/Vacation time
Job Codes – allow you to track the amount of time employees spend working on a specific job, or for a particular company throughout their workday
 Time Card Approvals – allow employees to submit their time cards to their Manager or Administrator for approval
Available for:
💰 Pricing:
Time and attendance app – starts from $25/month for 1-4 users (with a 30-day free trial)
Time and attendance + scheduling – starts from $35/month for 1-4 employees (with a 30-day free trial)
200+ employees – custom pricing
6. Hubstaff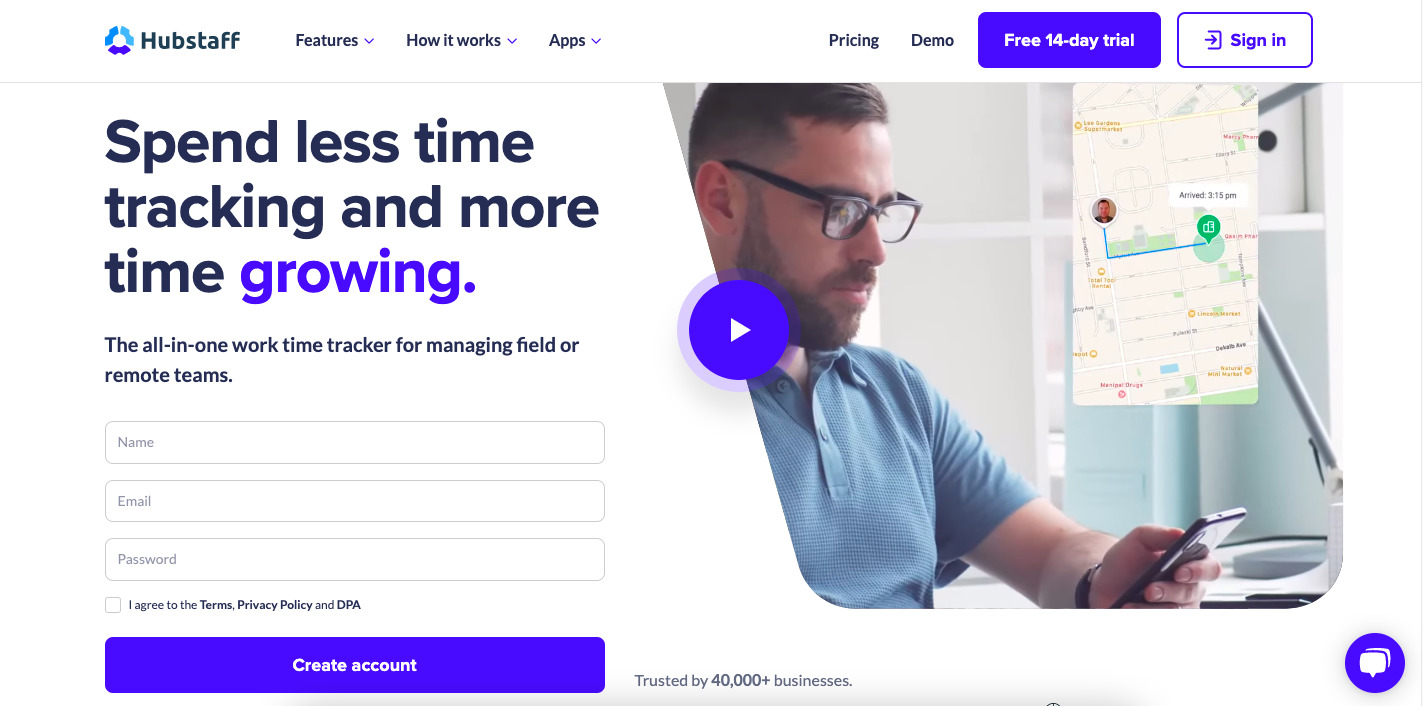 Hubstaff is one of the most popular productivity apps on the market, it's available for almost all desktop and mobile devices. But it's also a good geofence time clock app with basic time tracking features (the feature is known in this produces as job sites). It's a simple solution for individuals, small and medium teams. Hubstaff has all the necessary features that you need to track time, expenses, and projects.
Main features:
One-click time tracking in the real-time
Reports and timesheets with approvals
GPS tracking with Geofence (job sites),
Timeclock app available as iOS, Android, Mac, Linux or as an app for Windows
Setting up different pay rates
Employee attendance tracker and staff scheduler
Available for:
Android
iOS
Desktop app
Chrome
💰 Pricing:
Free – 1 User
Basic – 1 User – $5/ month
Premium – 1 User – $10/ month
👉 See the comparison between TimeCamp & Hubstaff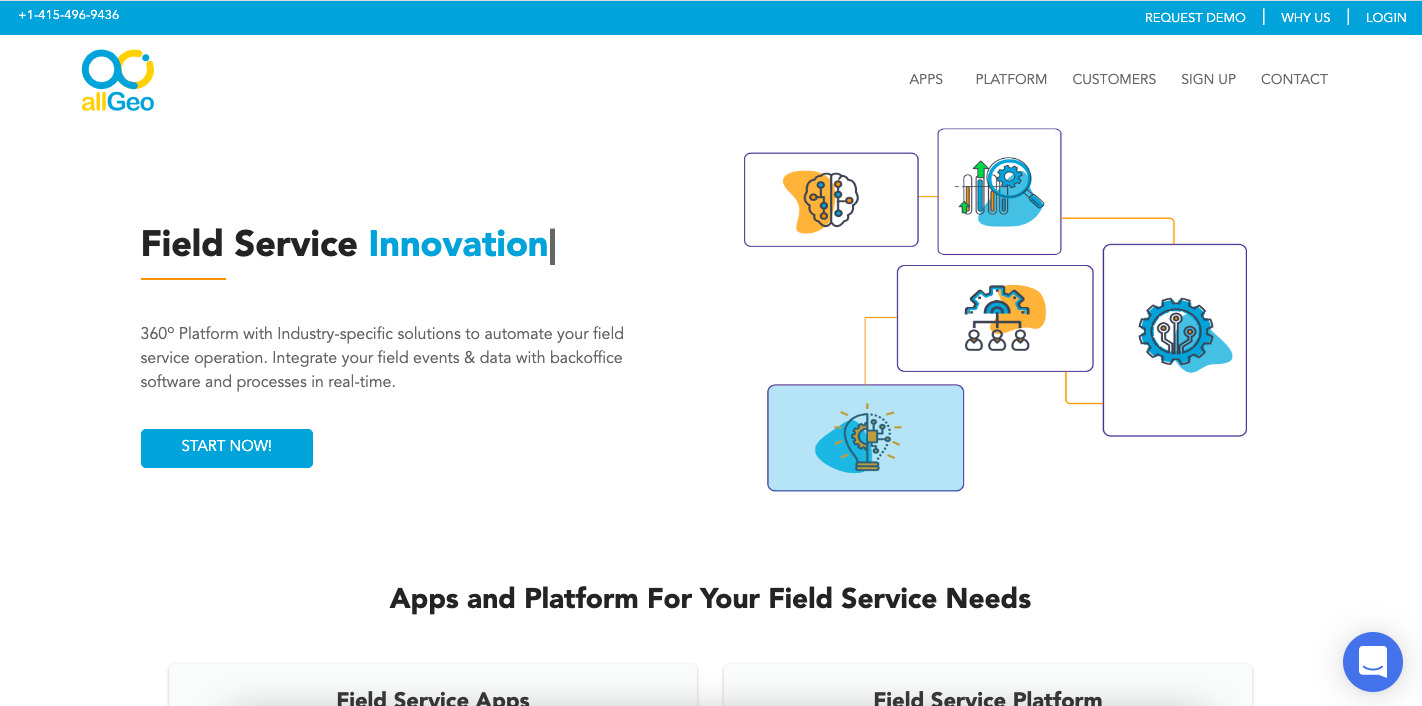 allGEO (previously myGeotracking) from Abaqus is a 360o platform with industry-specific solutions to automate your field service operation. It allows you to integrate your field events and data with back-office software and processes in real-time. A very helpful geofence time clock app for industries that need field service automation.
Main features:
Geofencing
Mobile time clocking
Customizable reports
Analytics
Activity reports that can be generated in formats compatible for uploading into payroll systems
Ability to communicate job status with location-tagged IVR & SMS
Mapping driver and load location
Route history
Alerts
Available for:
Every device with SIM card
For more complex use cases, allGEO also provides a lite-touch app on iPhone and Android to enable employees to select customers and tasks along with job site check-in/checkout. The app can be further customized for various vertical industries.
💰 Pricing: Pricing starts from $5 per user. Pricing depends on modules and number of users. 14-day trial available
8. OnTheClock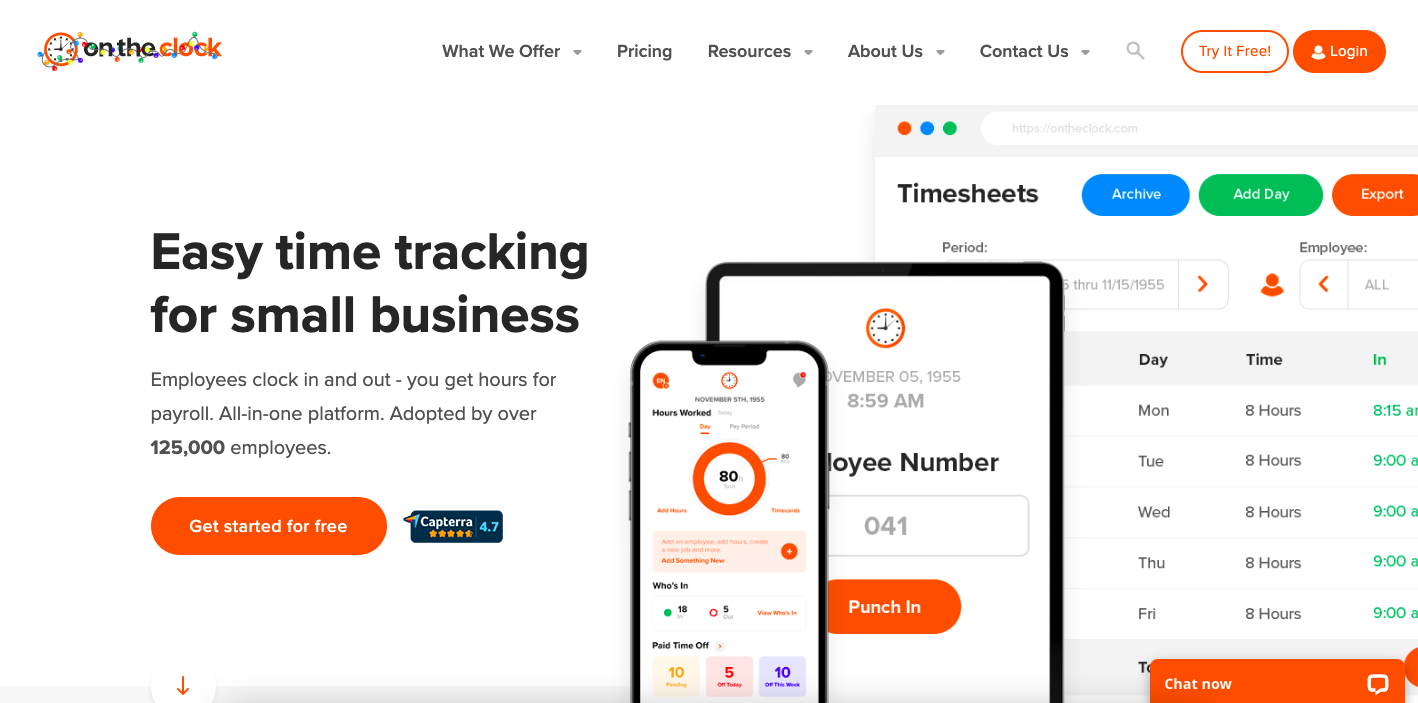 This web-based time clock software is easy but powerful. With OnTheClock employees can clock in and out from any location – job site, office or the road. This time clock app helps to save time and reduce payroll expenses. Its comprehensive features allow gathering all the necessary information about your business in one place.
Main features:
Employee GPS tracking
Device, IP and geofencing
Biometric/Fingerprint
PTO accrual- vacation, holiday, sick and personal
Shift scheduling
Job costing
Weekly, bi-weekly, monthly and semi-monthly pay periods
Export Data to Excel Files or PDF, Easy Signup With Payroll Connect & QuickBooks Ready
Automatic Overtime Calculation & Break Deduction
Available for:
Pricing:
Free up to 2 employees
Starts from $2.50 per month for per employee for more than 2 users
9. Paycor Scheduling (Ximble)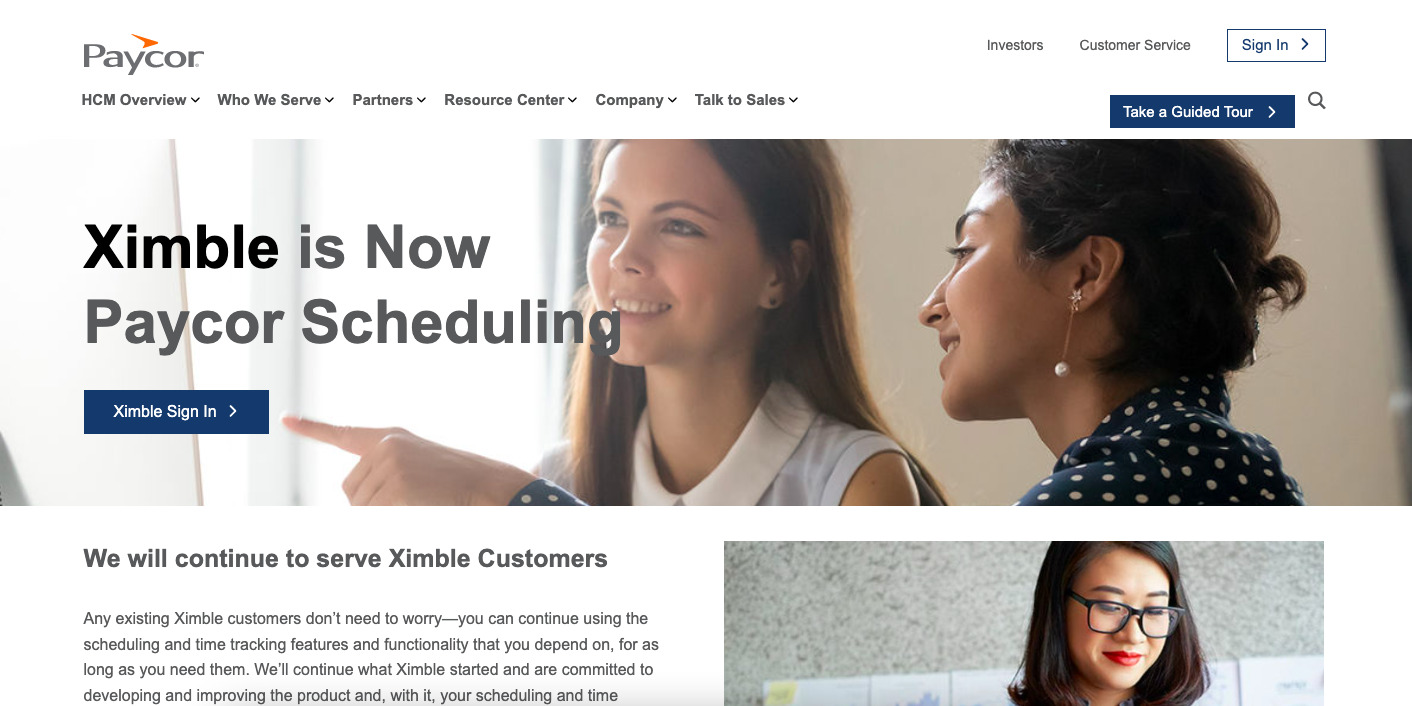 Paycor Scheduling, previously known as Ximble, offers easy-to-use online employee scheduling software with geofence time tracking. It enables you to monitor and schedule work, and its geofence time clock feature allows your employees to easily clock in/out no matter where they are. Paycor Scheduling is a simple software that can help you keep track of your team's work and organize their schedules in a quick way.
Main features:
Employee tracking with geofencing
Time off management
Automatically generated payroll reports and timesheets
Clocking in/out with QR code (create them using a QR code generator), PIN code or facial recognition 
Automated SMS and push notifications
Team chat
Available for:
💰 Pricing: Pricing starts from $1 per user per month. 2 modules available – Time Tracking and Scheduling – either separately or altogether.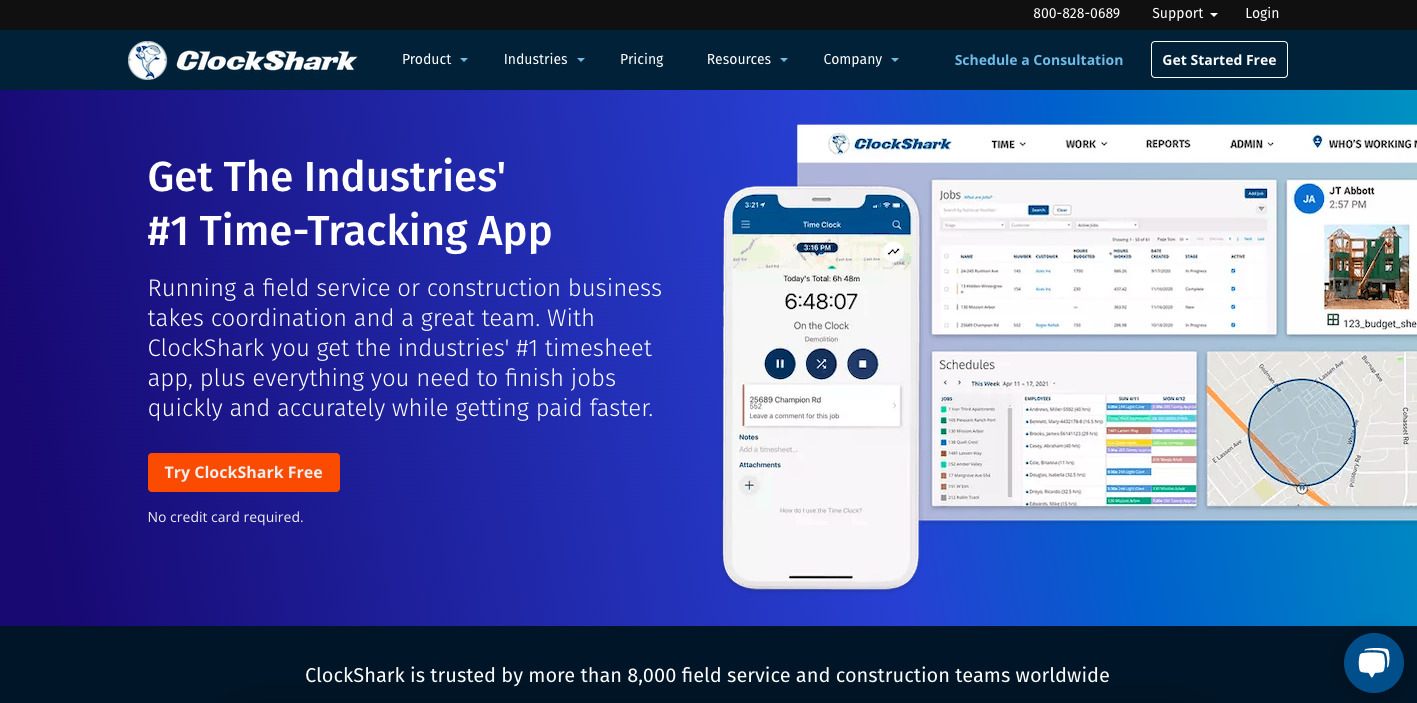 ClockShark is a robust geofence time clock app with timesheets. It's suitable for teams working in every type of business – individuals, small and large teams, freelancers, remote workers, and everyone who wants to keep track of their work. The software comes with a variety of features that help not only to keep track of employee location but allow the staff to keep a record of their work and schedule jobs.
Main features:
GPS tracking
Time tracking with timesheet approvals
Scheduling with the drag-and-drop feature
Web punch clock which allows you to conveniently clock-in and out of your job
Kiosk time with facial recognition
Advanced job costing controls
Third-party integrations with the most popular software: QuickBooks Online, QuickBooks Desktop, Run Powered by ADP, ADP Workforce Now, Xero, Sage 100 Contractor and Zapier
Available for:
💰 Pricing:
Basic – $3/mo per person +$15/mo base fee
Standard – $5/mo per person +$25/mo base fee
Pro – $8/mo per person +$45/mo base fee
Includes 14-day trial with all Pro features
11. JustWorkHours (previously Boomr)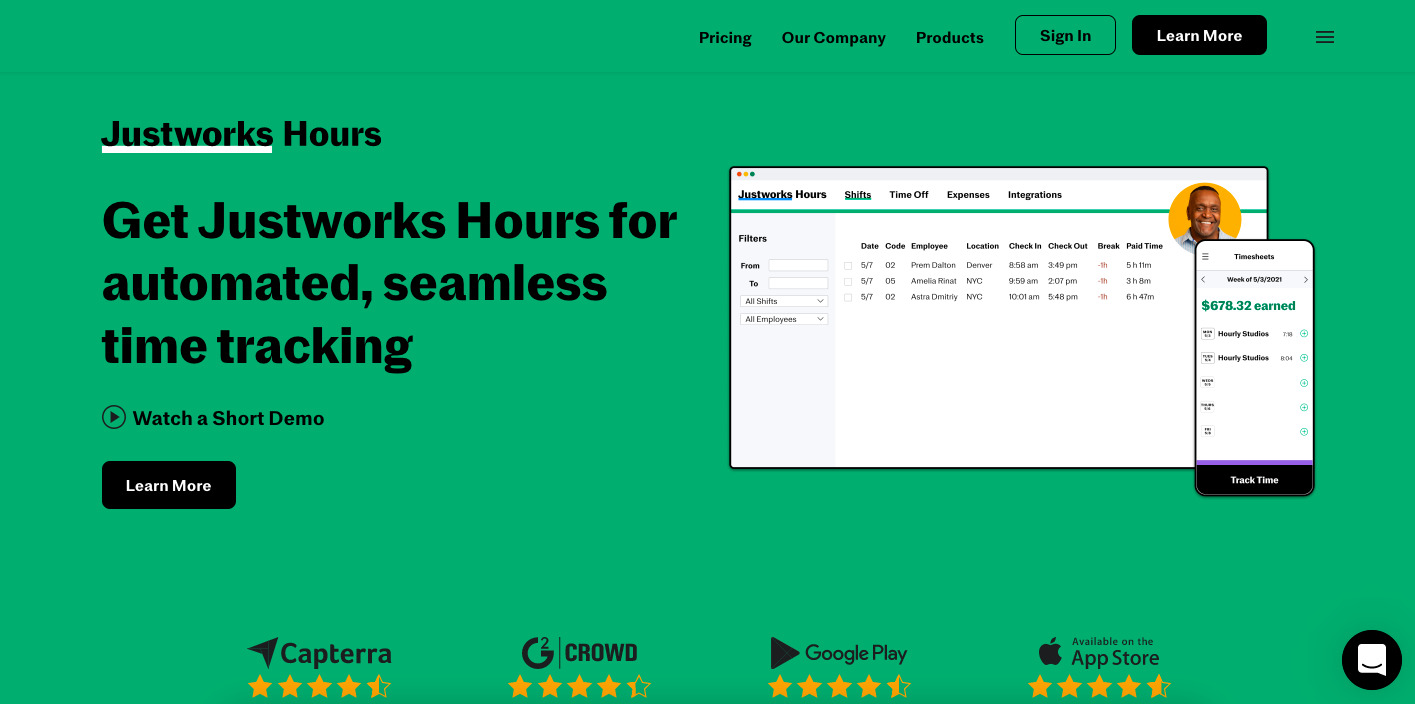 JustWorkHours is a time tracking software for those who need detailed features. It is the best choice for organizations that need fully integrated system for managing timesheets, attendance and payroll. JustWorkHours is a powerful software designed specifically for tracking time and monitoring employees' work. The software is also compliant with federal and state labor laws, and always stays updated with any regulatory changes.
Main features:
One-click employee self onboarding
Built-in team messaging and communication
Geo-stamped timekeeping
Real-time Overtime Watch alerts and reporting
Integrations with other tools
Pricing:
Standard – $4/month per user +$16 base fee per month
Business – $7.20/month per user +$36 base fee per month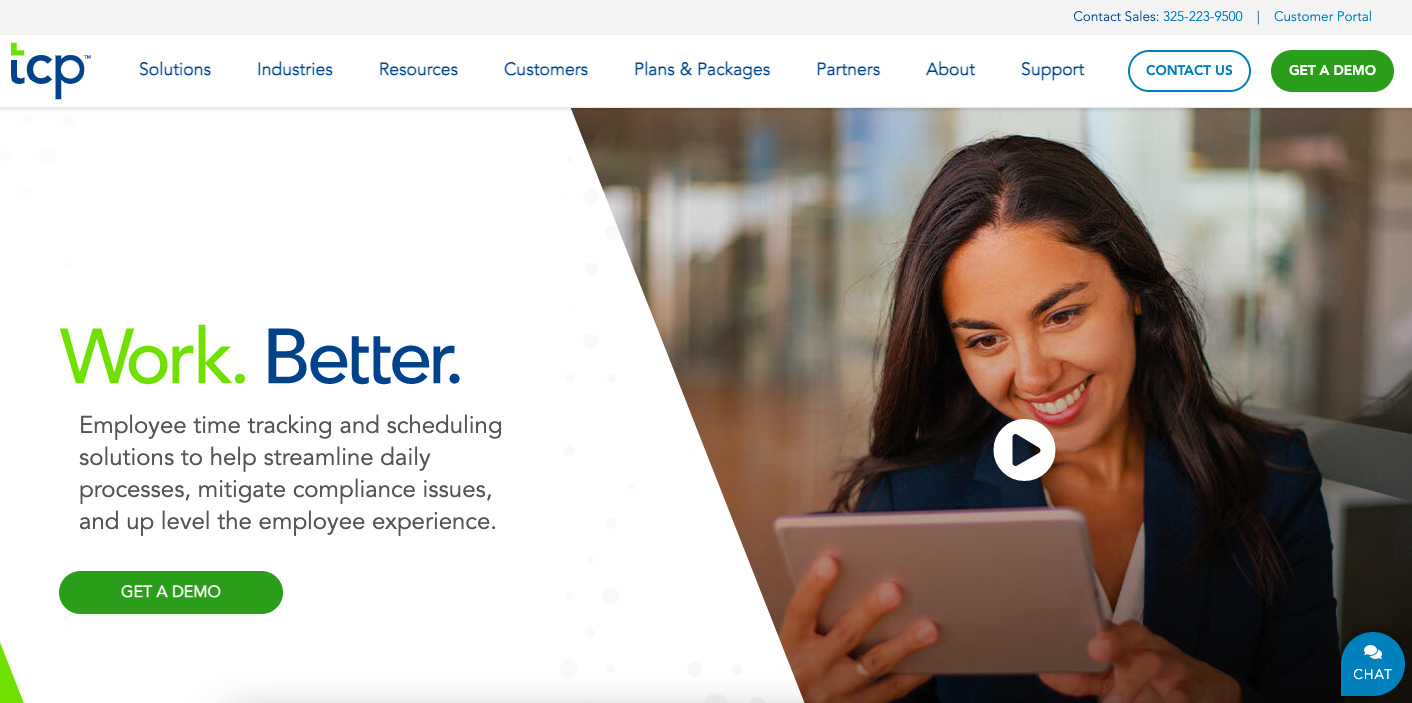 TimeClock Plus is a highly configurable, web-based time clock software. You can configure the tool as you want with different modules. Besides being a robust geofence time clock app, TimeClock Plus is a suitable app for employee management. It also comprises of budgeting feature so you can keep your organization's finances under control. Additionally, the company offers time clock devices. It's a very convenient solution for companies that need to be flexible.
Main features:  
Timesheets with approvals
Labor management
Job Code Breakdown – tracking hours and labor costs against specific tasks or jobs with job and cost codes
Time and attendance tracking
Automated shift scheduling
Leave management
Workforce scheduling
Multiple time zone
Advanced features with numerous enhancements
Available for:
iOS
Android
Available also as a biometric clock
💰 Pricing: Custom pricing
Conclusion
Geofencing time clock apps can boost business processes in companies that operate in the mobile style or hire off-site employees. They track time spent in a particular location, prevent buddy punch, make it easier to fill timesheets and manage attendance.
What is your favorite time clock app with geofence? On which device do you use it?
Or maybe you want to share your story of how geofencing works for tracking employee time and location in your company? Share it in the comments section!
Also, don't forget that TimeCamp offers GPS time tracking - try it now! 💚
---
Co-author: Ola Rybacka, Content Specialist at TimeCamp