Best Replicon Alternatives for 2023
January 11, 2023
by Ola Rybacka
No comments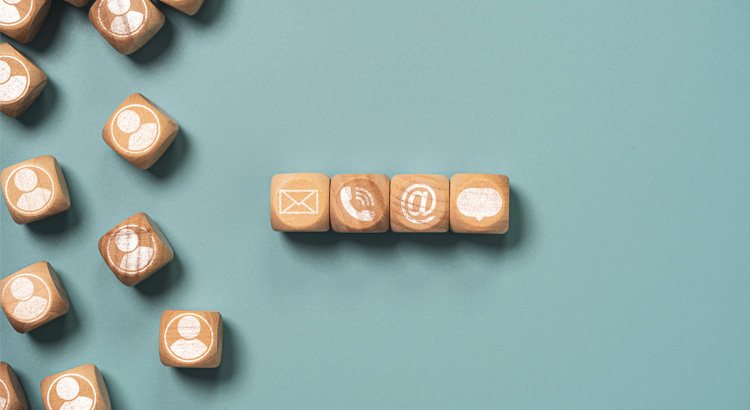 Have you been using Replicon for years but decided to change to another time tracking software? Or maybe you're at the beginning of looking for a perfect time tracker? Check out what are the most recommended Replicon alternatives and what key features they can offer!
What's Replicon?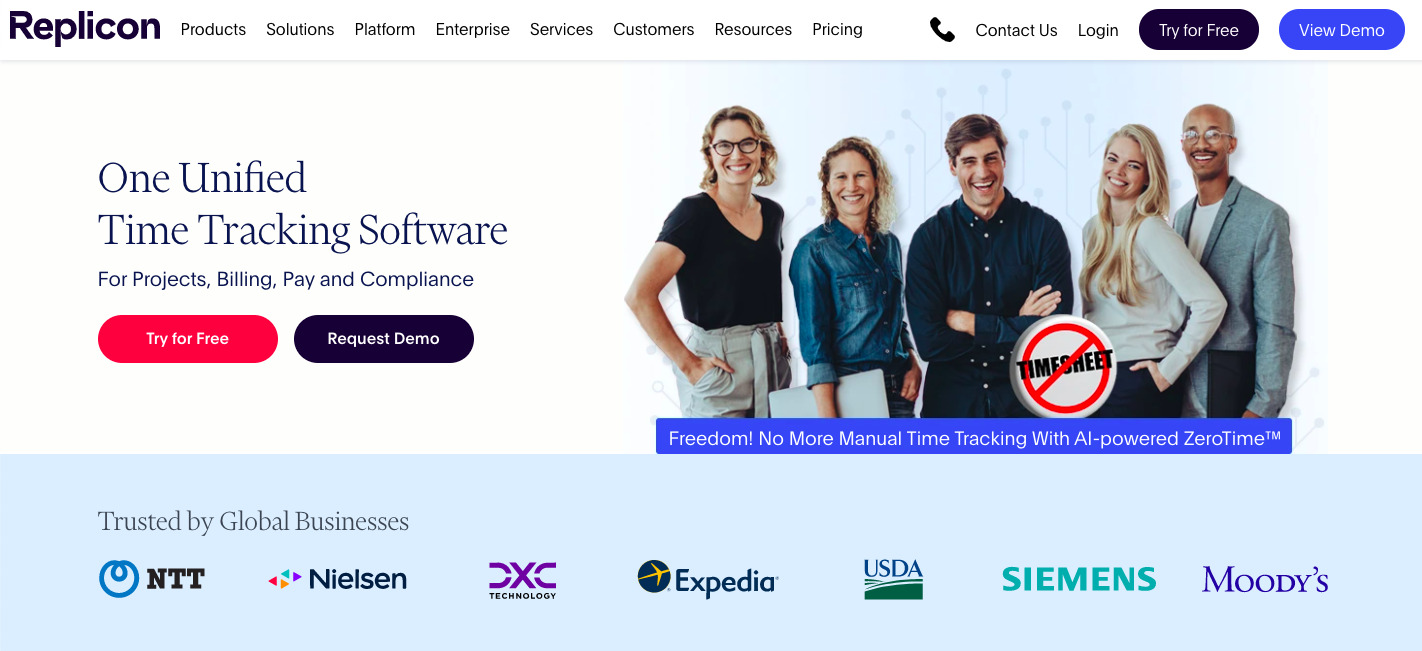 Replicon is a comprehensive time tracking software that offers key features for improving company performance, from estimating project profitability to streamlining time analytics. The tool ensures complete workflow automation for accurate timesheets, filling them with work hours thanks to AI-powered time tracking.
Besides employee time and attendance management, features like expense management and resource management can be found in Replicon's portfolio.
Why look for Replicon alternatives?
Despite Replicon being a well-recognizable and rich-packed time tracking software, it may not suit every company. No matter if small businesses or large enterprises, we all have our specific needs, don't we?
And it doesn't mean that Replicon is the best time tracking tool to cover it all.
❌ It's just too much
Replicon time tracking offers an impressively wide range of features, not only solutions to track hours or project costs. However, such comprehensiveness can be too much for teams that look just for basic time tracking software and are not interested in purchasing services like expense tracking or, in freelancers' cases, team management.
Why pay for the features you'll never use?
❌ Complicated pricing
Among the other time tracking tools available on the market, Replicon offers high yet affordable pricing. However, paid plans differ not only in time tracking features but in tool usage purposes in general.
The cheapest Replicon timesheets plan price starts at $6 and includes just basic key features for time and attendance tracking.
But digging deeper into plans comparison, you'll see the least expensive plan covers only time off and basic workforce management. Other services like timesheets, advanced payroll, or scheduling require additional costs, and all of them can be acquired by purchasing only the highest subscription version.
However, if you're looking for more advanced project time tracking features, you need to choose another pricing plan that also has the same varieties depending on the range of features – it can be a little bit tricky, especially for time tracking beginners.
❌ Limited availability
Replicon offers web app and versions for mobile devices (Android and iOS mobile apps), but it lacks a desktop app. The latter has many advantages – it works in the background, so you can seamlessly track time spent on assignments without any distractions and log working hours straight from your desktop.
That's why I'd rather recommend choosing alternatives to Replicon, which besides mobile apps, also have a desktop app on their offer.
❌ Integrations
Replicon states on its website that its product integrates with 100+ other tools. Sounds impressive, isn't it? However, if you go to their website, you'll see that some of these integrations are marked as pre-built, e.g., with Asana for project management and Slack for team collaboration.
Besides, it lacks integration with Trello, which is now a pretty popular task management solution. 
Need a Replicon time tracking alternative? Try TimeCamp!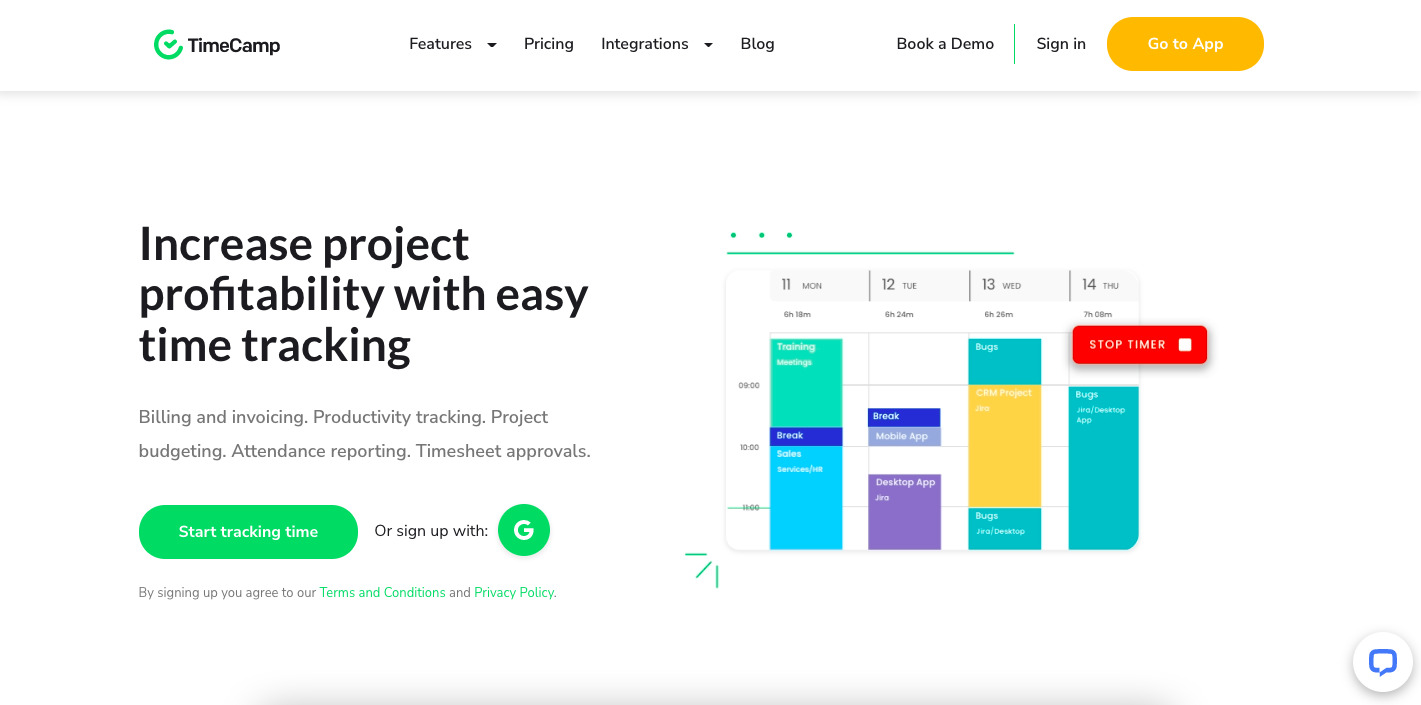 Replicon offers AI-based timesheets, but it's still not enough if you need just to start a timer and let it run in the background and track your time automatically. TimeCamp has it – and you can get it for the web, mobile, for your browser, and as a plugin for the most popular project management software or task management solution.
Client billing based on time logged for a specific task or project and hourly rates? Check! ✅
Besides, TimeCamp has an attendance module with time off that helps your team not only to track their efficiency but also to manage vacation hours, holidays, or sick leaves. All the records can be exported into rich-data reports and then used for project performance and employee productivity analysis.
Except for time tracking, TimeCamp can track your daily activity, helping you with filling your timesheets in seconds.
While you need a third-party app to connect Replicon to Google Calendar, TimeCamp has a direct, easy-to-set-up Calendar integration – just a few simple clicks and you can track time for your Google Calendar entries with our time tracker.
Why is TimeCamp the best Replicon Alternative?
👉 Has a fully-featured desktop app
The application's interface allows you to do everything you would be able to do using the web application.
👉 Fills timesheets in seconds
TimeCamp tracks time, and if you want, your daily activity and automatically fills your timesheets with time entries. You can also copy your entries from previous days. 
👉 Tracks attendance and time off
TimeCamp simplifies payroll processes by tracking employees' attendance and their time off. You can use the data to create attendance reports and make sure everyone is paid fairly and on time. 
👉 Integrates with 100+ apps
TimeCamp integrates directly with many different apps! Whether you need a connection to your accounting, project management, or calendar app, TimeCamp does it for you!
For example, check out how TimeCamp integrates with Asana!
Check out TimeCamp and track time more easily.
What are other worth mentioning Replicon alternatives?
Kelio
Networked clocking terminal for efficient employee time management
👉 For: general HR processes workflow automation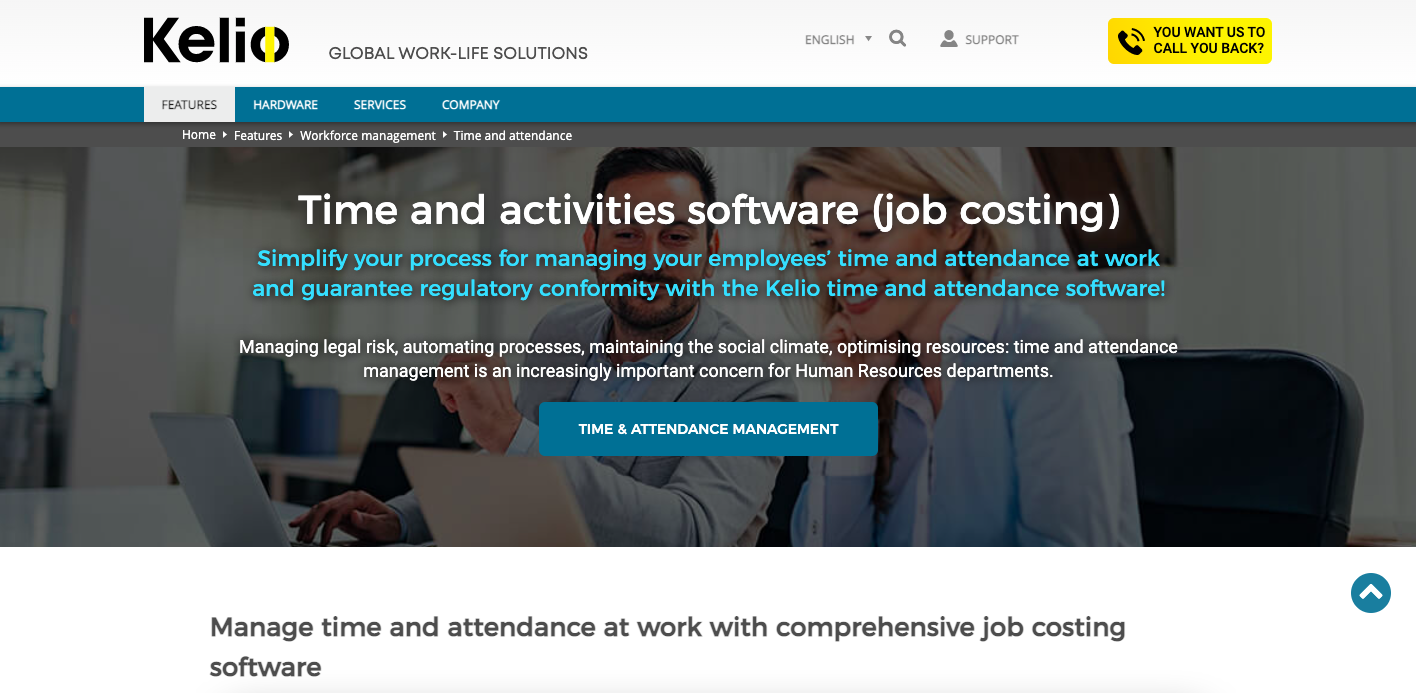 There are still many industries for which online time tracking is not enough – not every company needs complete workflow automation. They'd rather use physical clocking terminals just to clock in and out than digital online timesheets for web and mobile devices.
Kelio streamlines human resource management by offering a networked touchscreen terminal for secure hourly clocking. The tool stands out thanks to its high availability; project managers and HR department employees will definitely benefit from the wide range of clocking service options it offers:
interactive touchscreen,
the all-terrain terminal that works even in extreme weather conditions,
biometric clocking,
mobile devices and PC clocking,
access control hardware,
professional badges.
Besides multiple systems for time clocking, Kelio offers various key features for simplifying workforce management and access control, not forgetting about the specific needs of remote teams. The tool gives you complete control over the remote workforce, indicating who's allowed to work from home, as well as obtaining information about their performance and productivity.
Other significant Kelio features are:
Staff planning to create schedules,
Electronic signatures,
Self-service attendance management,
Visitors monitoring and room booking
💰 Pricing: Not available, as well as a free trial; contact their support for more details.
Bizimply
Time clock app with with photo verification system
👉 For: Advanced workforce and operations management
Getting insights into employee time analytics doesn't require any fancy solutions – basic time tracking software also does it right. Bizimply, as the name says, is indeed a simple attendance tracking tool that uses photo capturing technology to register employee time, whenever they clock in and out. It's a decent Replicon alternative if you need an attendance tracker rather than a tool to track time spent at projects and tasks.
Whether Bizimply doesn't offer time tracking features like automatic employee time logging, its photo verification still serves right to streamline attendance processes and helps avoid buddy punching. What's more, employees work hours can be also tracked with the GPS mobile app, which is a huge deal for employees working on different sites or from home.
Key features for workforce management:
Online timesheets ready to be sent to your payroll software
Automatic forevcasting
Attendance reports with GPS coordinates
Daily lists with notifications for project managers when the task assigned to their team is done
Drag&drop shift scheduling
Leave management with requests
💰 Pricing: Not available on their website, however you can choose from three paid plans, depending on the features you need the most workforce management, human resources, and operation management. Contact their sales to request a quote. No free trial.
WaspTime
Hardware-based automatic employee time and attendance tracking tool
👉 For: Companies that track work hours with hardware solutions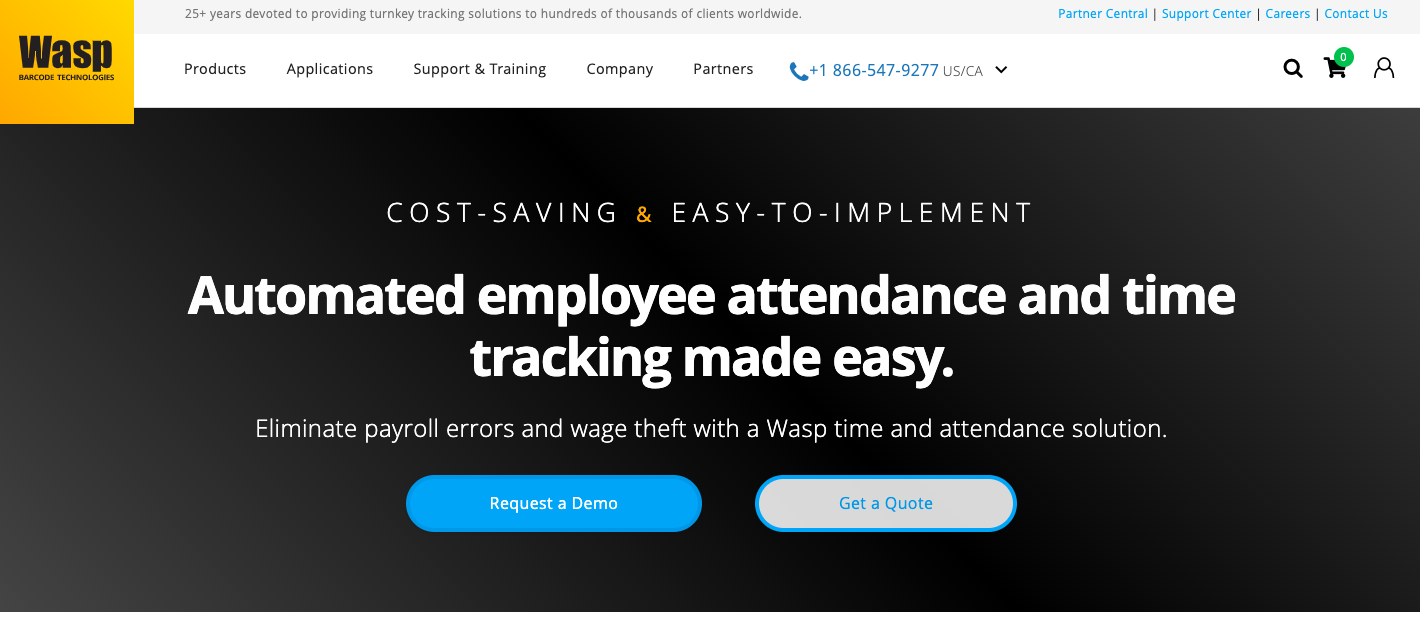 Companies that prefer just tracking employee time (start and end working hours) would rather choose time clocking to reduce labor costs instead of online timesheets with employee productivity reports analysis. WaspTime, a part of the WaspBarcode suite, should meet their expectations then.
WaspTime offers a wide range of time tracking (or rather time clocking) methods. Most of them are hardware-based – biometric (using fingerprints), RFID, or barcode clocks. All these systems gather start and end work hours thanks to the Ethernet network, so proper usage doesn't require building a dedicated PC connection.
Key features of WaspTime:
Time tracking rules to execute time clocking policy
Integrations with payroll software to process payroll quickly
Project managers have access to employees work data, and they can use the tracked time to generate reports and calculate overtime
Unlimited departments supported
Automatic attendance alerts
💰 Pricing: Not available on their website, but you can schedule a free demo with their sales team member and then request the quota.
Zimyo
Online time tracking and attendance management
👉 For: Effortless attendance for small and medium sized businesses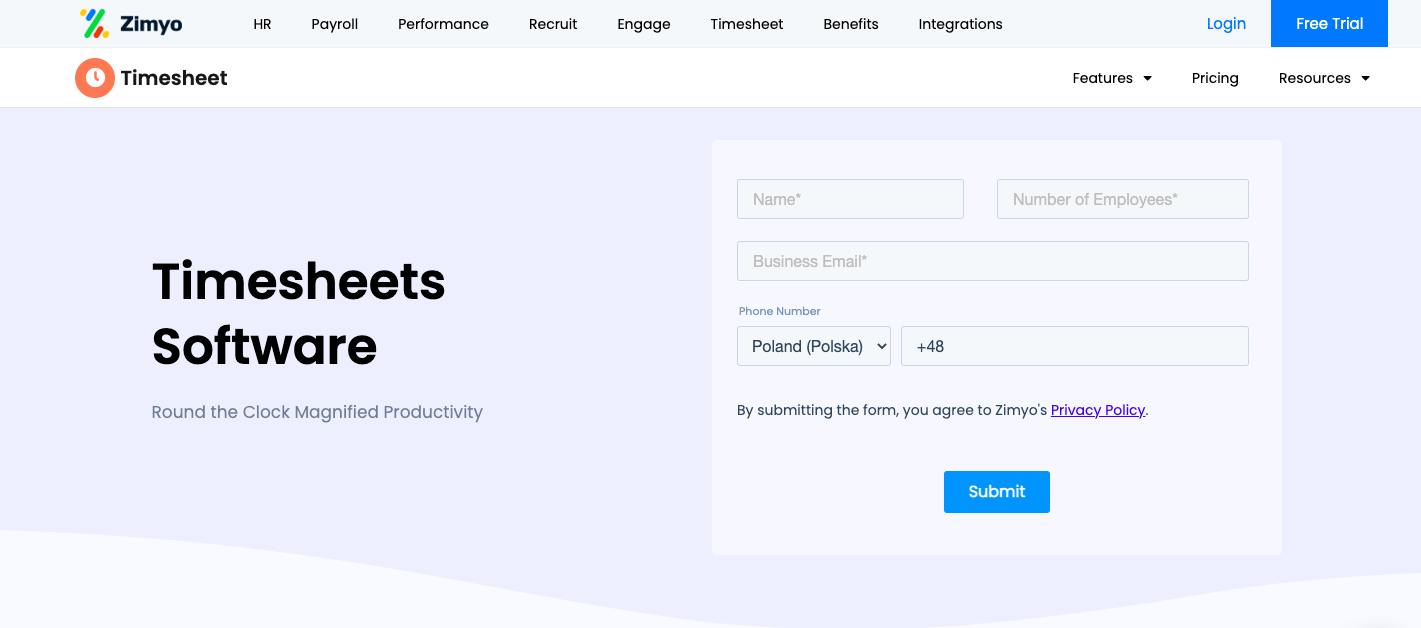 Smart teams that want to save time filling timesheets can give Replicon alternatives like Zimyo a try. It's a time and attendance system that helps employees track time for projects they're assigned to. Based on their time logs, managers can track project progress and employee performance, monitoring project cost, and revenue.
With Zimyo, employees fill out their timesheets and then can easily send them to their executives for approval within the previously set deadline. The tool also tracks billable hours, which allows for avoiding errors when preparing payroll lists and calculating project budgets. What's more, the tool offers a handy dashboard that shows resource usage, making the time analytics processes smarter and more convenient.
Key features of Zimyo:
Employee time log management
Online invoicing
Automatic reminders
Timesheet approvals
Billable rates
Client billing and directories management
💰 Pricing: Zimyo offers three paid plans – you can get Basic, the cheapest one, for ₹60 per user per month. No free plan is available, but you can sign up for a free trial and try the tool for 14 days without any costs.
kiwiHR
Real-time attendance management tool with mobile time tracking
👉 For: Tracking attendance an managing start and end working hours in real-time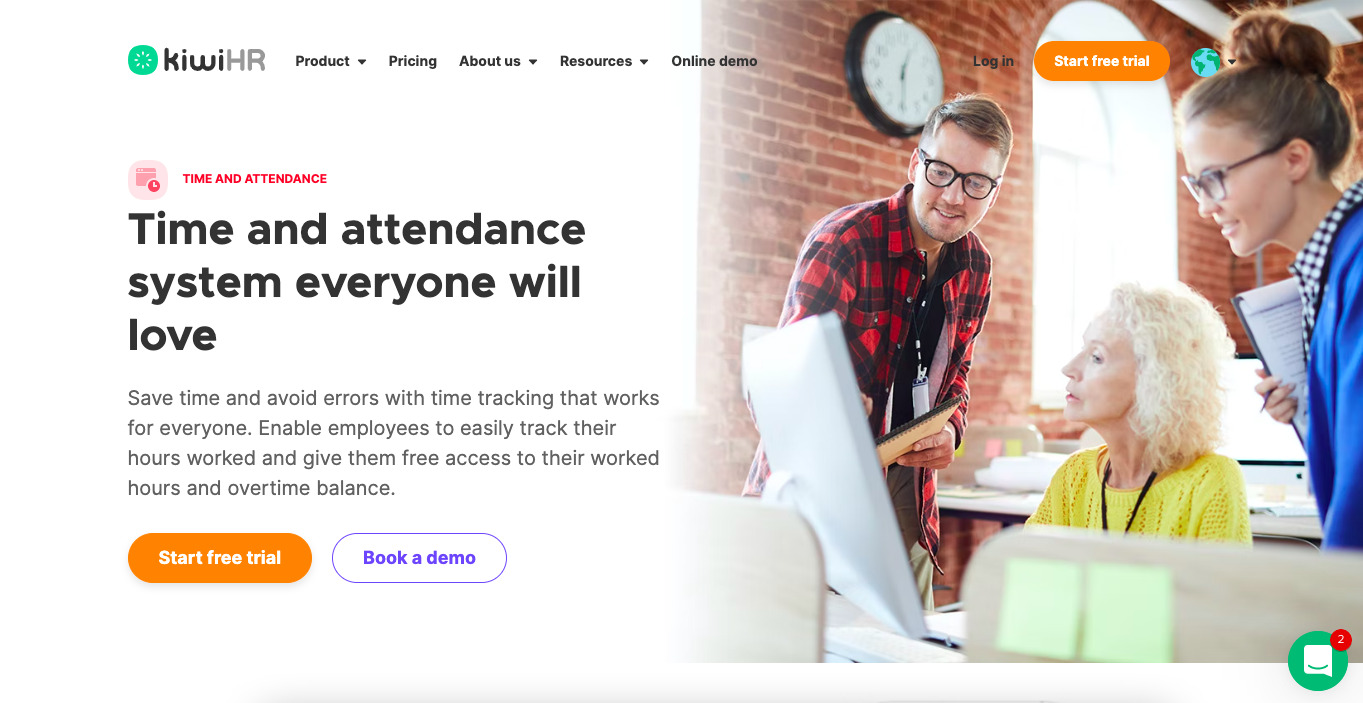 If you need a real-time dashboard of how your employees clock in/out hours and their absence, kiwiHR may be a tool for you. It's another of Replicon alternatives that allow you to switch from an outdated spreadsheet system to a modern mobile time tracking solution.
The tool offers easily accessible mobile employee time logs, always open to fill or review. Opening the view, your employees can clock in/out or take a break, choose task assignments and leave notes for better activity insights. What's more, timesheets are pre-filled with vacation hours, public holidays, or sick leaves, and they fully comply with the time tracking regulations within the company.
Key kiwiHR features:
Mobile timesheets with export for payroll
Transparent overview of attendance management with exportable reports
Employee productivity insights
Project management time tracking
Customizable work schedules
Automatic break time calculation
💰 Pricing: kiwiHR doesn't offer a free plan, but the paid plans are affordable – they start at €3.50 per month per employee. Sign up for a free trial to try the features for 14 days.
Desktime
Automated employee time tracking with attendance features
👉 For: Centralized project management time tracking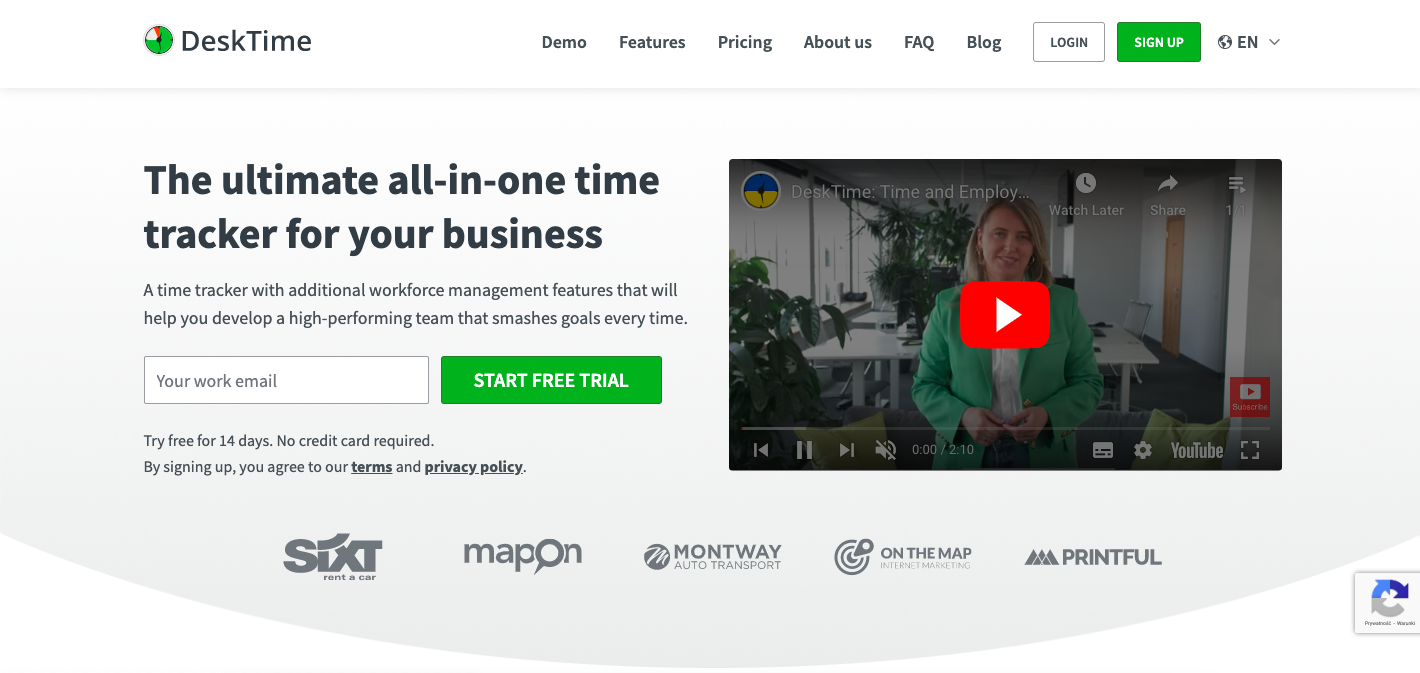 If you're looking for alternatives to Replicon that measure employee time and assign the working hours to specific projects, Desktime sounds like a good option. The tool gives you an insight into time consumption for projects, the stats can be displayed for the entire team or divided by individuals.
To estimate and track projects and their costs more effectively, you can set a specific billing rate for each employee. That'll help you better allocate resources for further projects and plan project expenses more efficiently.
Besides, Desktime allows you to manage teams assigned to the projects, create powerful reports on employee time and productivity, and record time for attendance purposes. It also provides companies with a wide range of employee monitoring methods.
Key features of Desktime:
Automatic time tracking and offline time tracking,
Time reports,
Document, URL, and app tracking,
Integrations with project management and team collaboration tools
Screenshots
Cost tracking and calculation
💰 Pricing: Desktime offers three paid plans that vary depending on number of features. the cheapest one costs $7 per user per month. A free trial and Desktop Lite, a free plan for basic time tracking needs, are also available.
Jibble
Live location and time tracking
👉 For: Users that prefer kiosk-like time tracking
Jibble is a worth-trying alternative to Replicon if you need a tool to easily track time and attendance of your employees – for free. Your team logs in with a phone, tablet, or through the web app. It's best to use it with team administrators or project managers who would be responsible for monitoring employees.
Then they can manage all the important aspects such as view personal or daily, weekly, and monthly timesheets, custom reports, monitor staff statistics, set up alerts, make manual entries or view biometric data (you can even clock in with a selfie!)
Additionally, Jibble helps to optimize work and make your team more productive, especially if you integrate it with other tools.
Key features of Jibble:
Timesheets,
Time kiosk app with reminders,
Attendance tracker,
GPS tracking,
Detailed time tracking reporting,
Employee management,
Project management tool, task management solution, communication and collaboration tools integrations
💰 Pricing: A free plan is available. The cheapest, most basic paid plan for small businesses is for €1.80 per user/month. Entreprises can contact their sales to discuss the customizable account with a dedicated account manager.
ClockShark
Employee time tracking tool and paperless job management
👉 For: Logging hours and attendance for construction businesses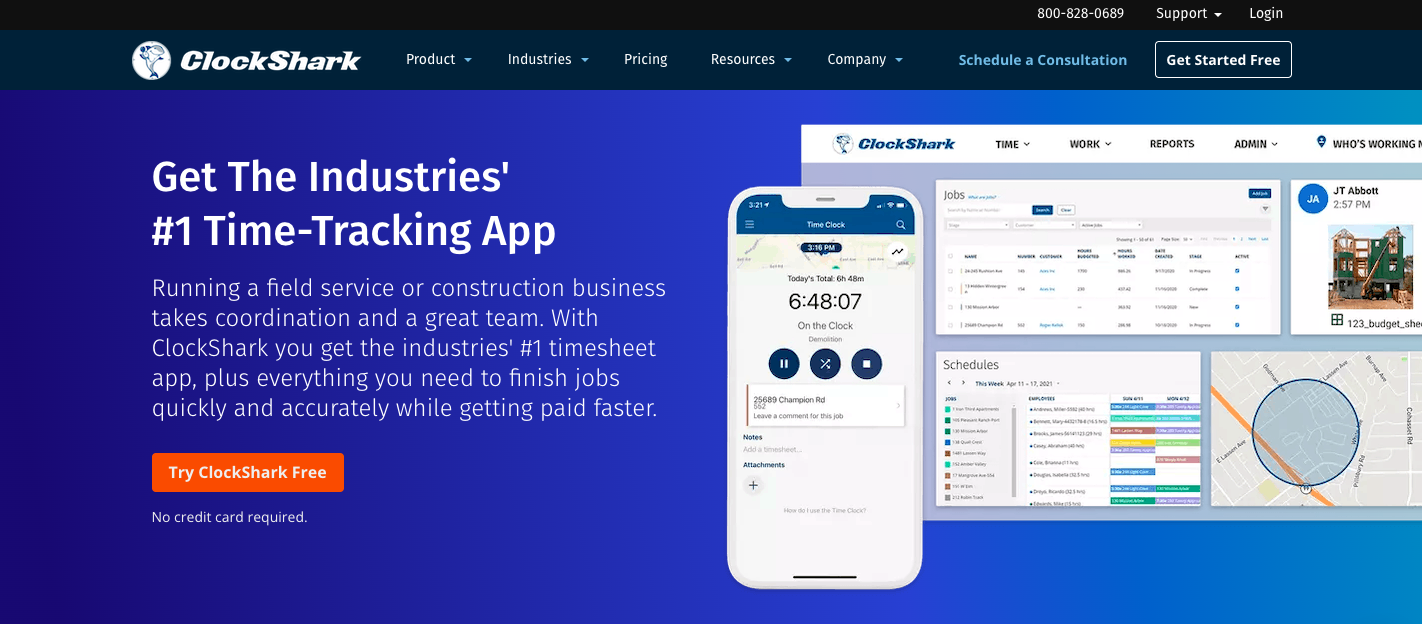 Taking care of proper employee time tracking when managing a crew in the field can be challenging and may require giving Replicon alternatives a try. But with ClockShark and its mobile app, it's no longer a pain when your employees can just clock in and change job or labor cost codes wherever they are.
When you and your crew members track tasks and jobs, the tool collects employee time data and then allows using it for calculating an appropriate job costing. Managers have their employees' data at their fingertips and can easily create schedules and notify the employees instantly about their shifts. Besides, they get notified if the employees' record time doesn't match the schedule.
The tool also seamlessly reminds the team members about clocking in when their shift is about to start.
Key features of ClockShark:
Clock-in/clock-out time tracking
Timesheets
Automatic reminders
Payroll reports
A dashboard for job management
ClockShark integrates with payroll software only, but it offers a Zapier integration, so you can connect it with your project management software or task management solution using a third-party app.
💰 Pricing: A standard paid plan costs $8 per user per month if you decide to buy it immediately. However, if you want to give it a try by signing up for a free trial first, the price increases to $16 per user per month.
Atto
Mobile-based time tracking for field workers
👉 For: Tracking working hours and breaks for employees on the move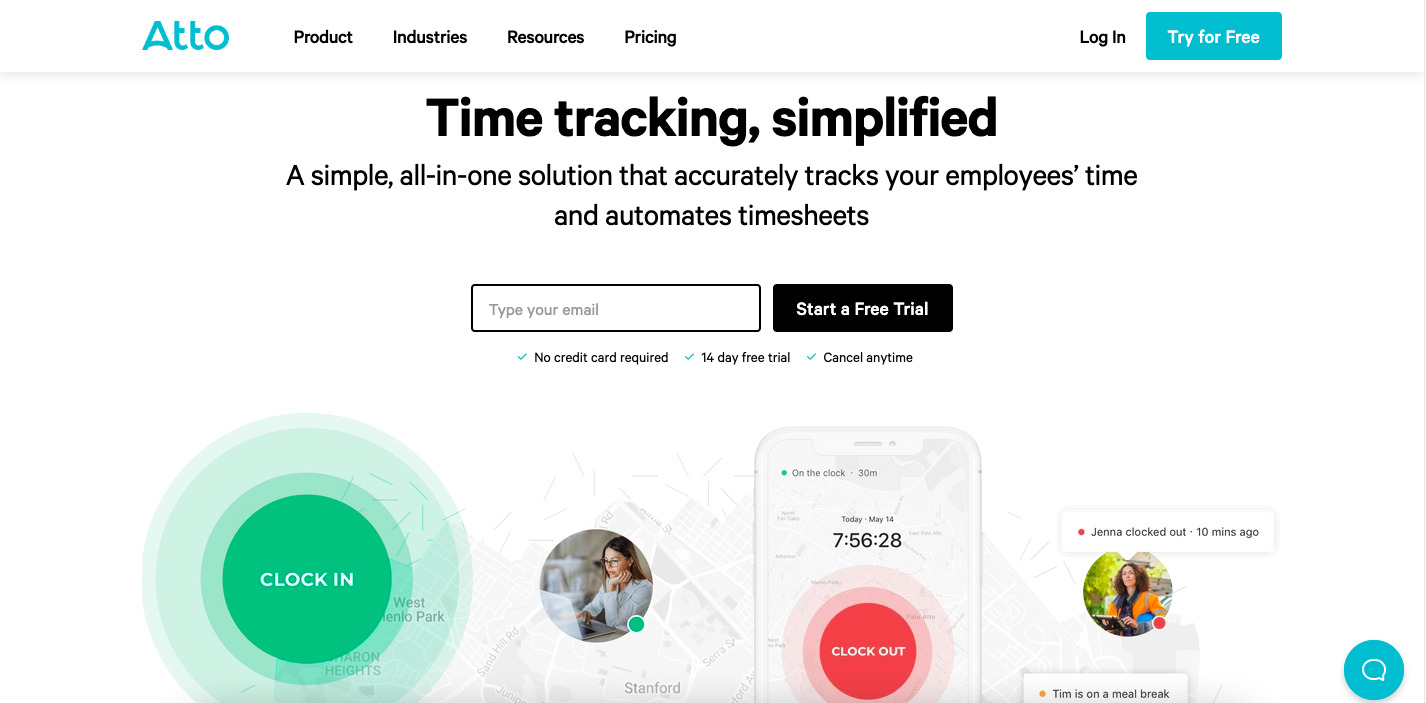 Another one from Replicon alternatives that help field teams effortlessly log their working hours. Atto reduces the risk of misuse, providing companies with a mobile time tracking app with GPS tracking, which they can use wherever they are.
With Atto, you can view in real-time the timeline of your employees' work and get notified of their activity. Thanks to location tracking, your team can avoid wasting time on constant checking and progress updates, so you're able to verify if your employees are where they should be during their work hours.
Key Atto's features:
GPS location tracking app,
Timesheets verified based on location data,
Team activity statuses with a day timeline,
Timesheet reports,
Messages,
Overtime rules,
Break preferences
💰 Pricing: Atto doesn't offer a free plan, yet the 14-day free trial is available. A premium plan is an offer for teams of up to 99 members; it costs $5 per user per month, billed annually. Bigger teams can contact their sales to discuss custom Enterprise plan details.
Kenjo
HR and Attendance management platform with payroll support
👉  For: Simplified HR processes and administrative tasks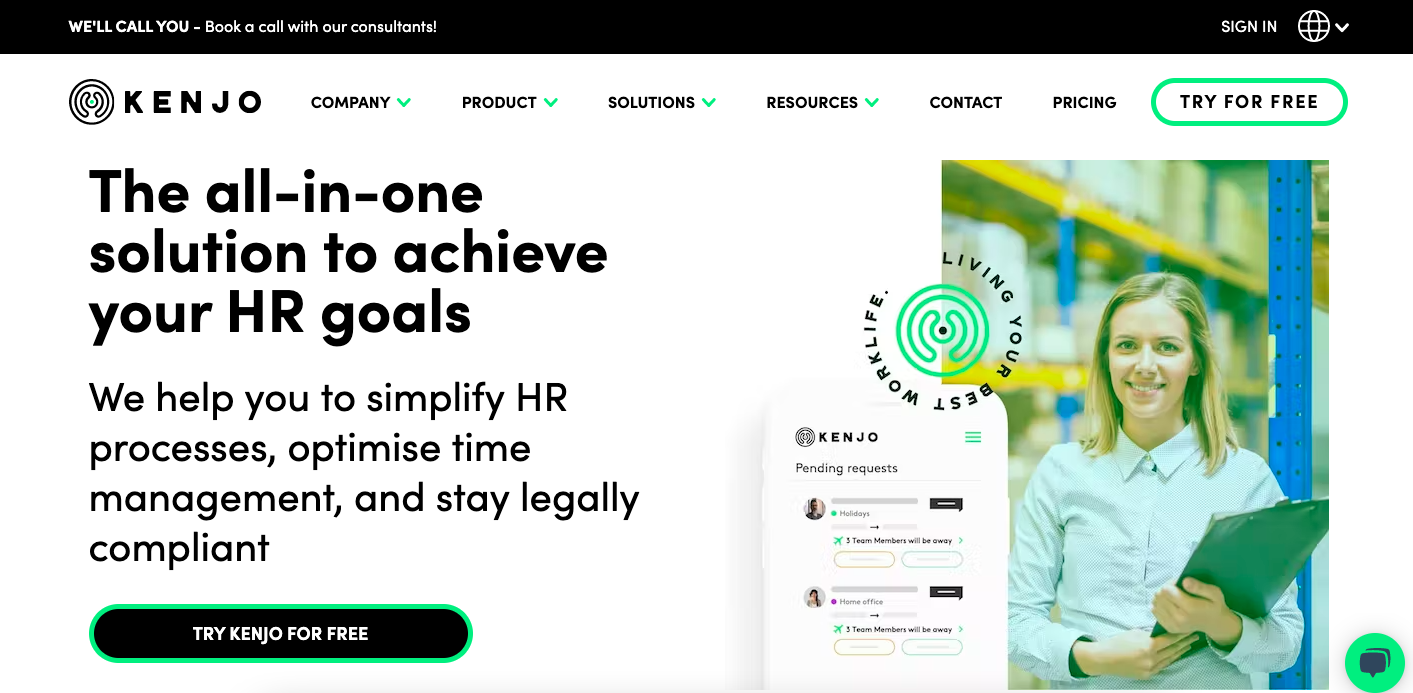 If you're looking for an advanced yet more modern to track your employee time and attendance, check out Kenjo. Although it doesn't offer features like automatic time tracking, it still can be considered as one of the worth-trying Replicon alternatives.
The tool is packed with a live dashboard that shows the essential data on employees attendance, like their absence (divided by the reasons – holidays, sick leaves, etc.). It also provides companies with HR stats with KPI monitoring. Based on the collected data, managers can create the documentation they need, check the employees' performance on the organization charts, and generate accurate payroll reports.
Key features of Kenjo:
Attendance management
Shift planning
Kiosk app-based time tracking
Time analytics for each team member
Wide range of templates, e.g., for calculating cost per hire
💰 Pricing: Kenjo offers three paid plans, including one with custom pricing. Prices start at 4.5€ but to find out the final cost, you need to answer a few additional questions about your company.
To sum up!
Sometimes the tool we've been using. for a long time is just not enough – it becomes too complicated, too expensive, lacks features or integrations we need, and the dev team isn't willing to implement it despite the client's requirements. Or on the other hand, the tool we've just found doesn't offer a free trial to check out its features.
In this case, while browsing the offers of Replicon alternatives, check their pricing, integrations they offer, and if the tools' availability meets your workflow requirements.
I'm sure you'll find a perfect one -and psst, the sign up button is just below 😀
Don't want to try anything else? Sign up for a free TimeCamp trial right now!