The Best Free Online Timesheet Software
February 15, 2023
by Kate Borucka
No comments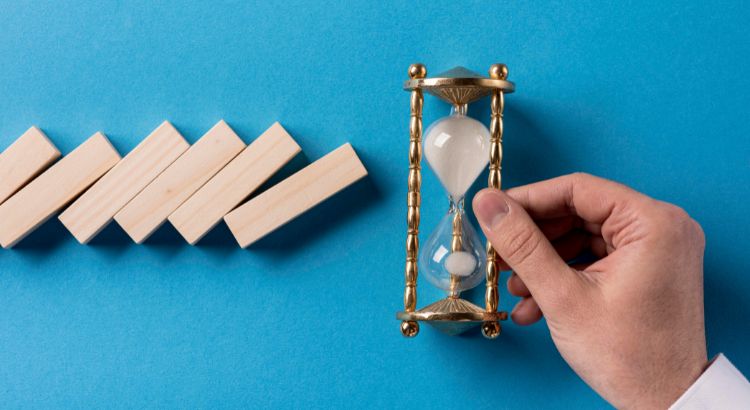 Free online timesheet app is a helpful tool to track employee time, improve budgeting, and easily manage payroll. Employees are bad at filling out timesheets and it costs companies heaps of money. Timesheet data should be reliable, so you can use them for decision-making. Hence, the right timesheet app can save you a lot of time and money.
Why Use Timesheet Software?
Online timesheet free tools allow many smaller organizations or individuals to track work hours in a simple way. Such a solution works fantastically as a time registration app.
Undoubtedly, online timesheets make it easy to log work hours. Employees don't have to spend extra hours filling out spreadsheets but can focus on work that really matters. Additionally, it helps to eliminate paperwork and tedious administrative activities.
Here are all the reasons why it's worth using employee timesheet software:
With online timesheets, you can keep track of all the work – tasks, projects and their progress, people's working hours, leaves, attendance, and budget
Managers can quickly approve employee hours
Accurate client billing
Improved payroll process
Higher productivity—the right app will automate and optimize work and provide you with additional data on work
It's easier to schedule hours when you have real-time data on employees' availability
Tracking different types of hours including paid and unpaid breaks, time off, billable and non-billable hours, clock-ins and clock outs, total hours, and others
Easy attendance tracking and management—leaves, vacations, holidays, etc.
Helps in project management—resource allocation, precise forecasting
Logging time with timesheets prevents time theft and buddy punching
Because it's free, you can save money on expensive software that offers only paid versions
Easy onboarding with no need to learn how to use the software
Without a good timesheet app, keeping a hand on your business can be difficult. Staying organized and goal-oriented is much easier when you have everything under control.
👉 Read also: 15 Best Timesheets Apps for Efficient Time Management in 2023
What Are The Best Employee Timesheet Apps?
Deciding to use timesheet software is a good idea if you don't want to switch between many apps, have a limited budget, or simply want to try various options.
There are several things worth looking for in a free timesheet app:
Automatic time tracker: so employees have their timesheets filled out automatically
Tracking billable time: to accurately bill clients, pay employees for the actual work, and better manage a budget; this feature also helps to streamline payroll

Online timesheet tracking:

easy access to timesheets from the web or mobile app

Timesheet approvals: for quick and easy review and accuracy
Reporting and analytics: to get the most important information about projects and make smarter, data-driven decisions
Attendance module: to manage different types of days and better plan workload
Measuring productivity: although it's not a must-have feature, it can help your employees spot bottlenecks, avoid distractions, and improve work
Integrations with other apps: if you want to extend the system with your favorite tools, integrations, apps, and add-ons will be helpful
If you're looking for a list of the best online timesheet software for free, you're in the right place. We chose tools that offer a free plan and are most suitable for small teams and freelancers.
Automatic time tracking with measuring project profitability in a user-friendly way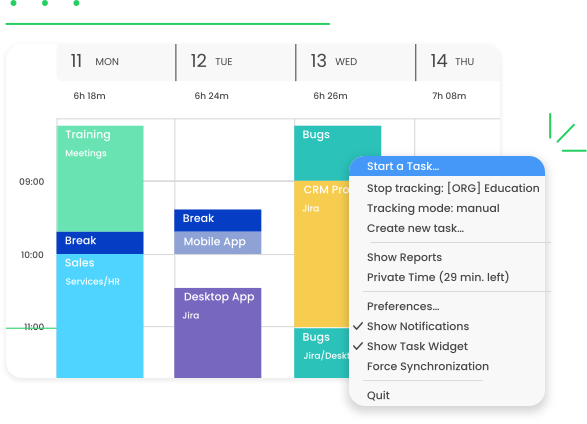 TimeCamp is a free time tracking software. It tracks everything for you—your and your team's work, types of activities, budget, tasks and projects, and more. Thanks to the time reporting system you can easily see the progress of work and the general workflow in one place.
TimeCamp helps to automate work, streamline business processes, bill clients for worked hours, and save time and money.
Some of the main features include the following:
Automatic time tracker available in four forms—as a desktop app, built-in web timer, mobile app, and Google Chrome extension
Tracking billable and non-billable time
Timesheets with approvals – it's one of the few timesheet software free for unlimited users
Extensive reports about all company employees' work with distinction to departments and teams. Reports include data on tracked activities and time by projects, tasks, people, days, time entries, budgeting reports, billable, unbillable time, invoiced, cost calculation, computer time reports, and more. You can also customize reports
Analytics allows you to view the breakdown of your activities with graphs and statistics
Attendance module to track and manage holidays, sick leave, business trips, parental leave, vacation leave, remote work, and more
Graphical timesheet integrated with the calendar. You can fill out your timesheets automatically with data from your calendar
You can create invoices based on billable hours worked
You can monitor productive and nonproductive work (including activities, websites, applications)
Automatic reminders when you forget to turn your timer on or off
TimeCamp integrates with various tools and apps for a smooth work. You can import your project structure from PM tools like Jira, Trello, Monday.com, ClickUp and much more.
Get your free online time log app right now and take your company to the next level!
2. actiTIME
Online timesheet app with tracking costs and profits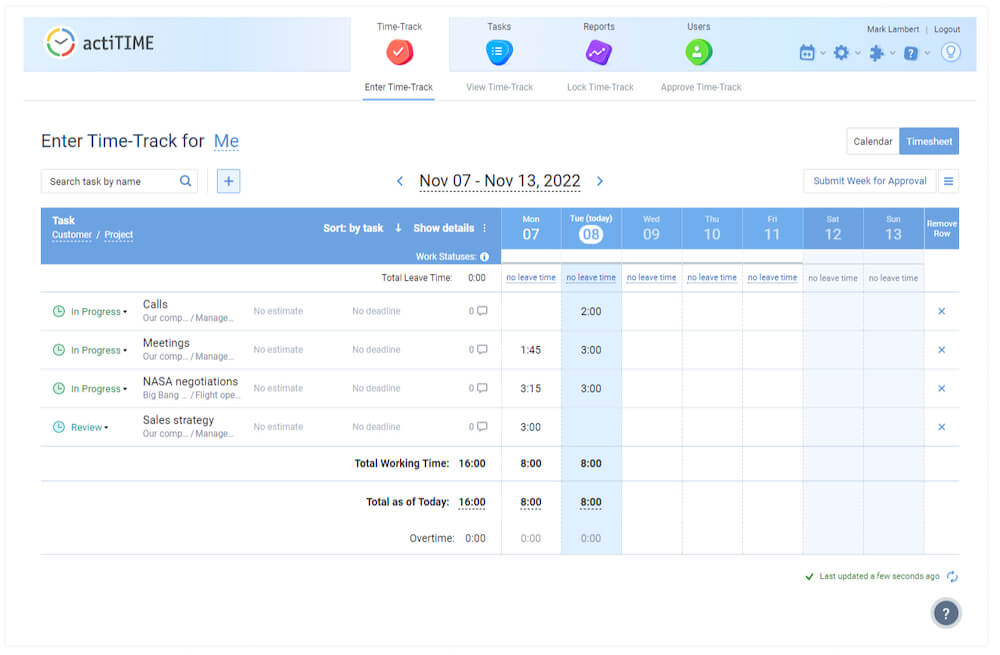 actiTIME is an online timesheet free app for up to 3 users. It's most suitable for freelancers and small teams. This time tracker lets you create project scope, assign work to your team, and record work hours and keep everything on track with the insightful data.
With actiTIME, you can track time for hourly rates, billable tasks, overtime and custom PTO, and more.
In actiTIME, you can also customize features so they correspond to your business needs. These features give you the ability to control processes by monitoring and managing timesheets. It is a good tool for organizing work and making sure it is well tracked so that you can later analyze and review it to improve efficiency.
actiTIME free plan has limited functionalities, so if you need to record overtime or integrate the tool vie Zapier, you'll need a paid plan.
3. Everhour
Online employee timesheets with task management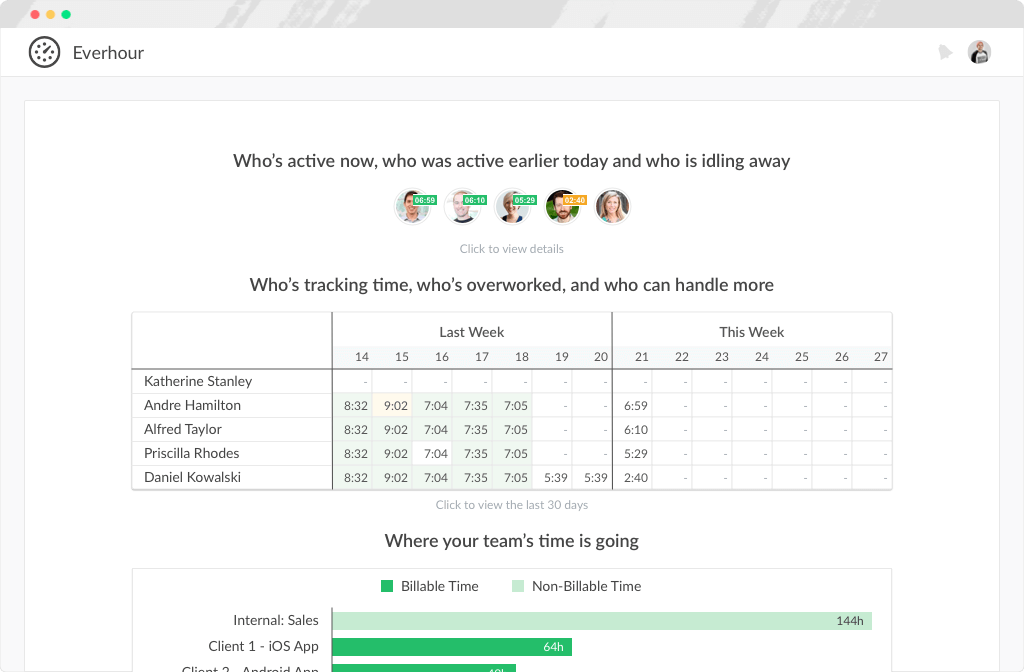 Everhour free plan is available for up to 5 users. It is an automatic time tracking software that includes functionalities of a task manager app. Some of its main time tracking features include one-click online time tracking, timesheets with approvals, summary charts, project budgeting, and productivity analytics. It's a free timesheet online app for freelancers or small teams.
Everhour online free timesheet has all the data necessary to manage tasks in a small team—employees clock-ins and outs, time log, tracking paid time off, vacations, sick days and leave types, and labor costs. You can also approve time spent for each team member.
Everhour can help you monitor the progress of work in real-time and visualize data.
4. My Hours
Best timesheet app for freelancers to track expenses for online timekeeping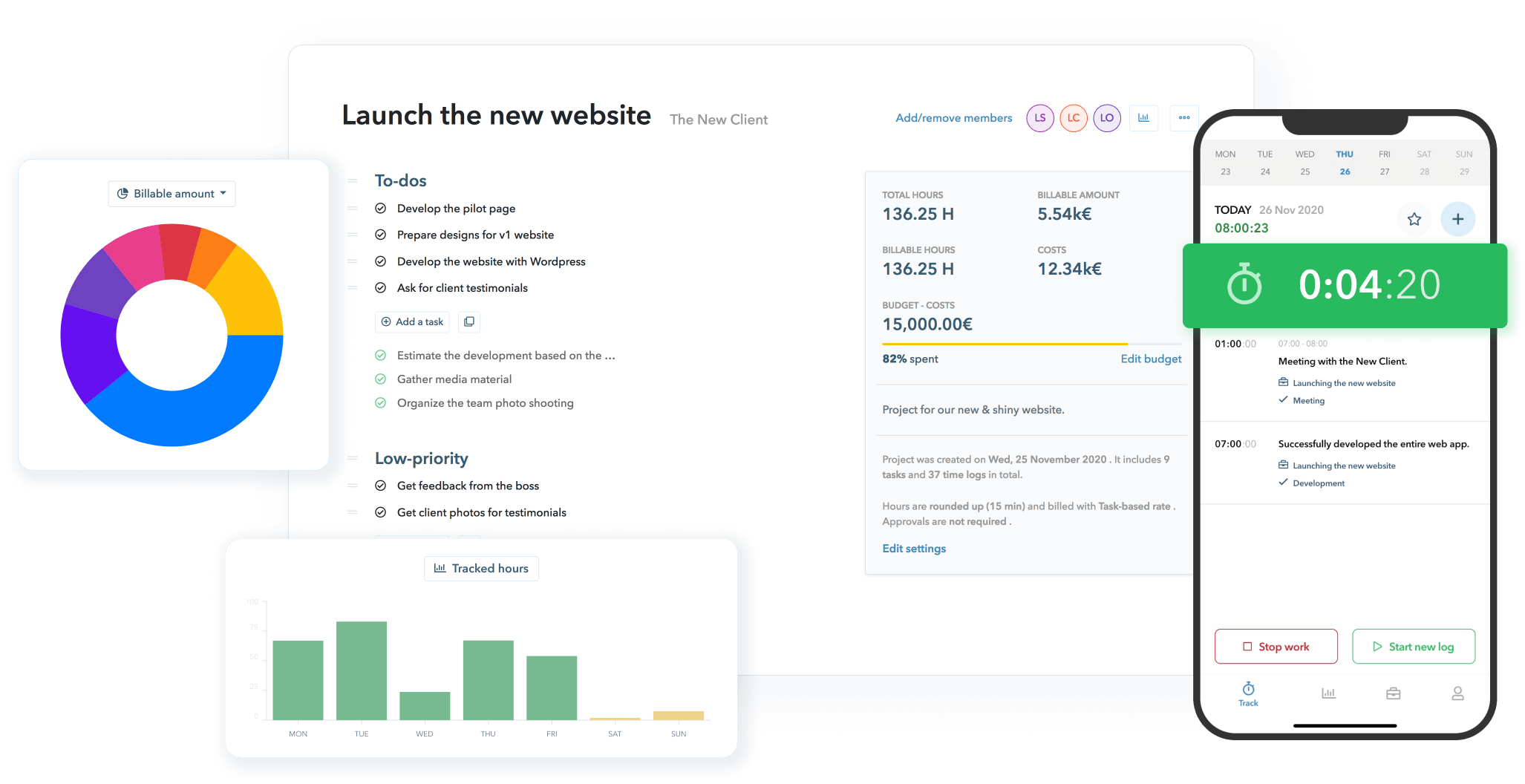 My Hours is a cloud-based timesheet software free tool best for freelancers. In the free version, you have access to unlimited team members and projects, tracking time on projects and tasks, setting billable rates and budgets, and generating detailed reports.
My Hours is an easy time tracking software that lets you add time entries to online timesheets manually or track employee time automatically. You get daily timesheets and weekly timesheets that calculate work hours for you and show you all the data about your and your team's work, budget, project progress, and expenses.
If you're looking for a simple and intuitive solution to manage projects and know how many hours you've spent on work, try out My Hours. The app however doesn't give you an option to connect with your favorite payroll providers so it's not suitable for payroll management. It only integrates with QuickBooks and provides an option for Zapier integrations.
👉  See the comparison between TimeCamp and MyHours: MyHours alternative
5. Sling
Free employee timesheet app with GPS tracking and planning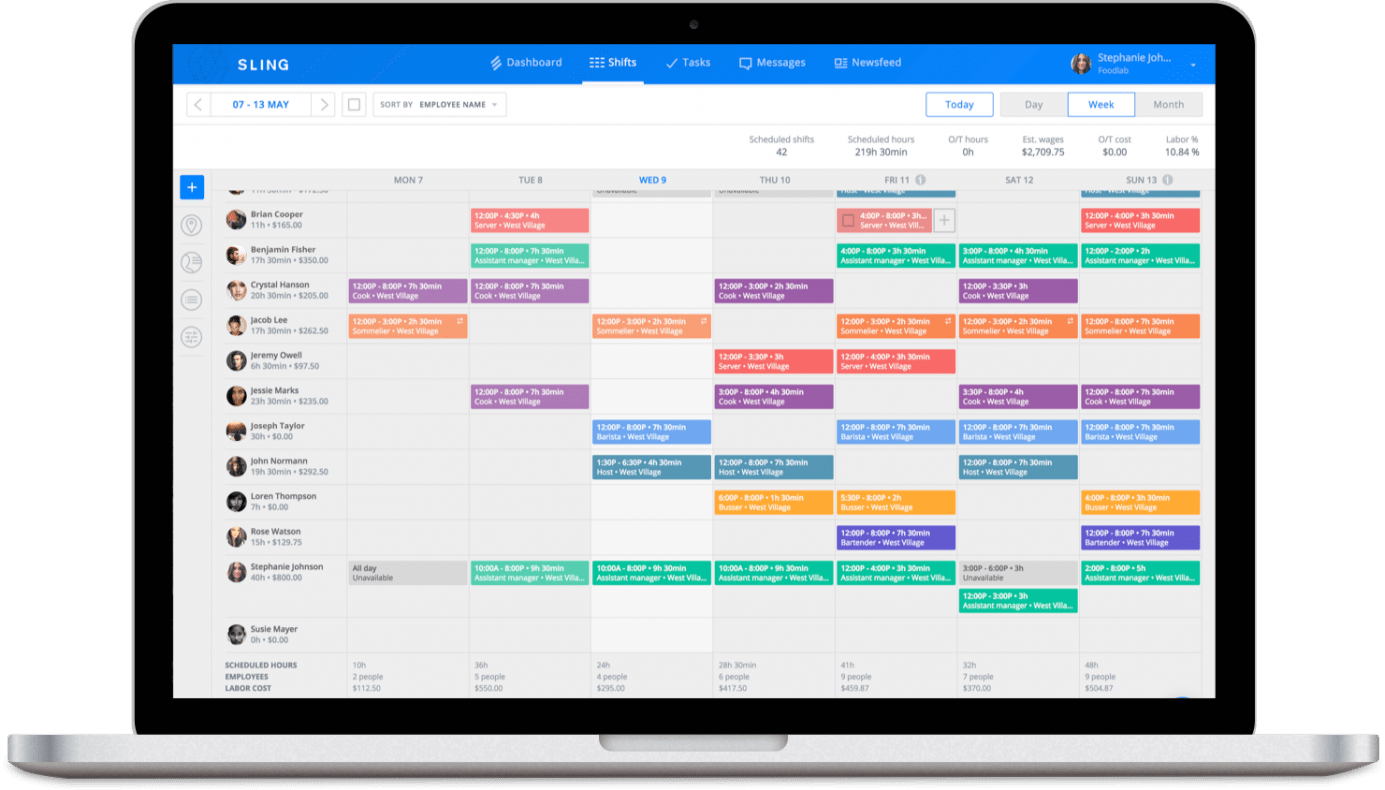 Sling is a free timesheet software best for employee scheduling and planning. It allows you for labor management, tracking employee hours and controlling labor costs. Sling also includes basic communication features. It makes online timekeeping and shift management easier.
Because it's available for mobile devices and offers GPS tracking and geofencing, it's a great time clock and attendance tracker.
Here are the main features of Sling:
Budget monitoring with the ability to set weekly labor budgets for locations, preferred hours and overtime thresholds for employees
Reports for a day, week, or month, or for customizable periods
Tracking different labor costs: overtime and PTO (Paid Time Off), lunch breaks, scheduled hours for different pay period

Online timesheet tracking on Web, iOS and Android, so you and your team are aligned wherever you are

Messages and newsfeed to communicate with the team
Tasks with to-do lists, due dates, and reminders
You can provide the address for each location on Sling and employees will see it when viewing their schedules
Automatic time clock with geofencing prevents not logging missed clock outs or missed breaks
Sling provides employee timesheets and reports based on employee hours tracked and labor costs determined by you in the app.
👉Check also our list of the best PTO tracking software
6. OfficeTimer
Lightweight timekeeping online app for payroll and client billing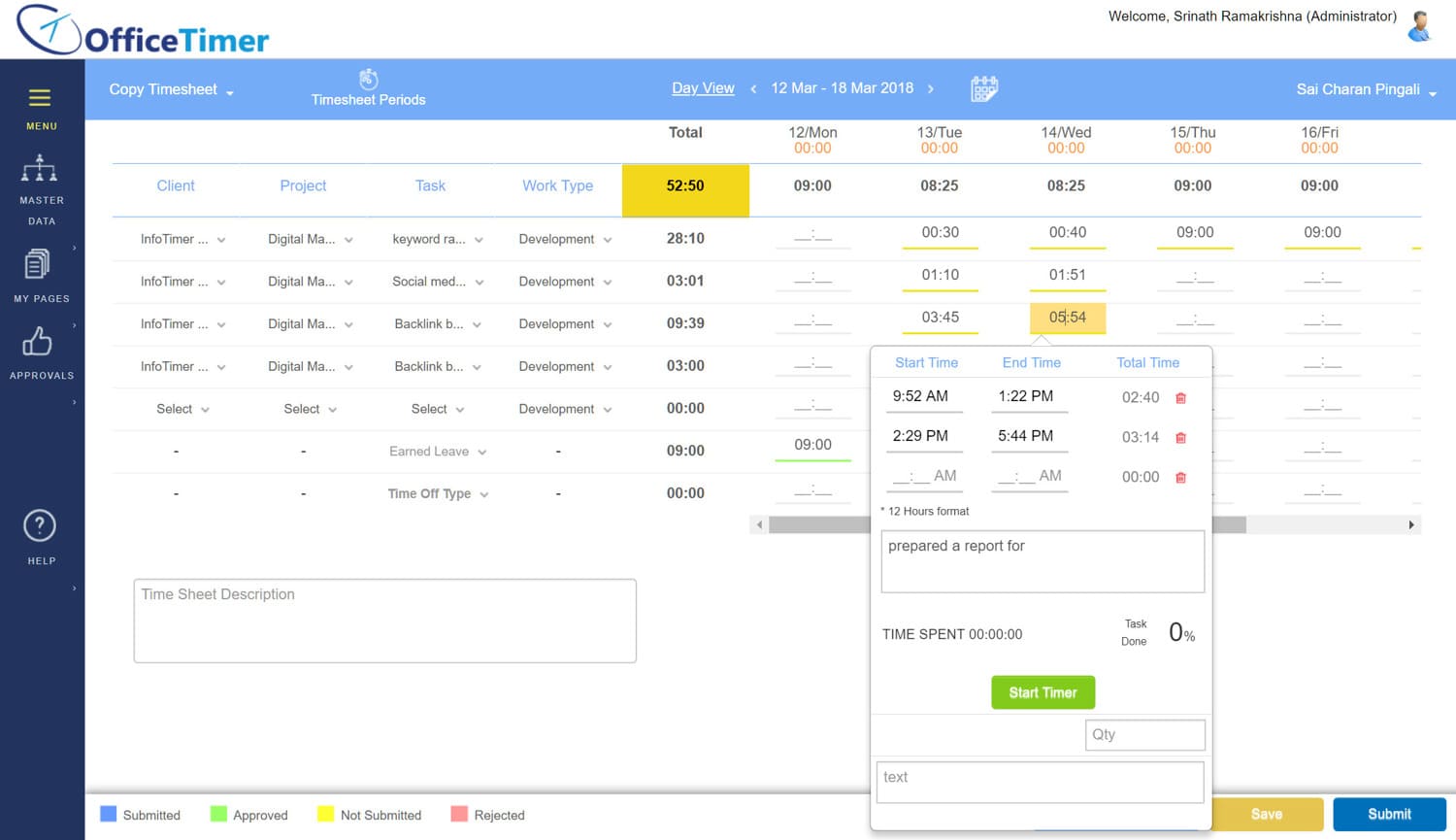 OfficeTimer is a web-based time tracking software and an employee timesheet app. It helps in keeping track of employee time and labor costs.
OfficeTimer is a simple app that lets you track time for different projects, employee productivity, monitor expenses, and manage attendance. It's an online free timesheet app for teams that need a simple solution for time and task management.
Here are the main features:
Live dashboard with team's availability
Projects with tasks, employee time costs, billing, and estimates
Exporting reports to Excel, PDFs
Leave management module to manage attendance, leaves, and time off
Available for web and as a mobile app for iOS and Android
OfficeTimer is a lightweight app for simple timesheet management.
7. Code Time
Best time tracking app with timesheets for developers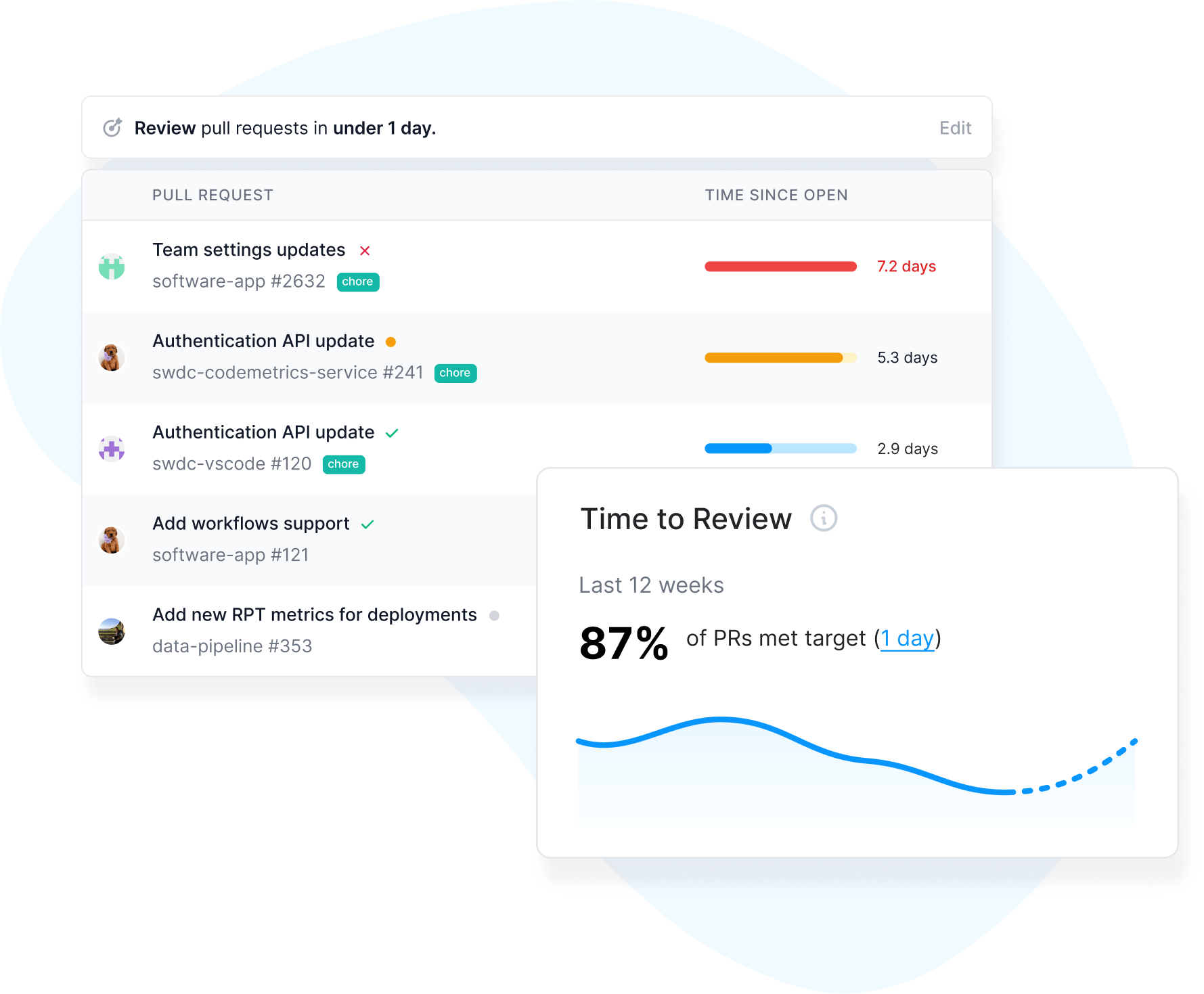 Code Time is a great timesheet app for developers and people who work with code. It's a plugin that integrates directly with all of the most popular code editors and IDEs. It offers features that combine a time tracker and a distraction blocking tool.
The tool automatically detects when you're in the flow of work and mutes notifications for you. You can configure the editor extensions to automatically enter Zen mode, hide your OS dock, or even set your Slack status to away when you're in a flow. Also, you can set top code times for uninterrupted coding.
Based on your activities, Code Time generates detailed reports of your code time by project and sends weekly email reports. It also lets you visualize data with coding metrics, daily progress, and a work calendar.
Code Time helps to track time for monthly and hourly employees, stay productive and always achieve work goals. However, the free plan offers only basic insights for your GitHub organization and is not suitable for teams.
8. Toggl
Simple free timesheets online software with basic reports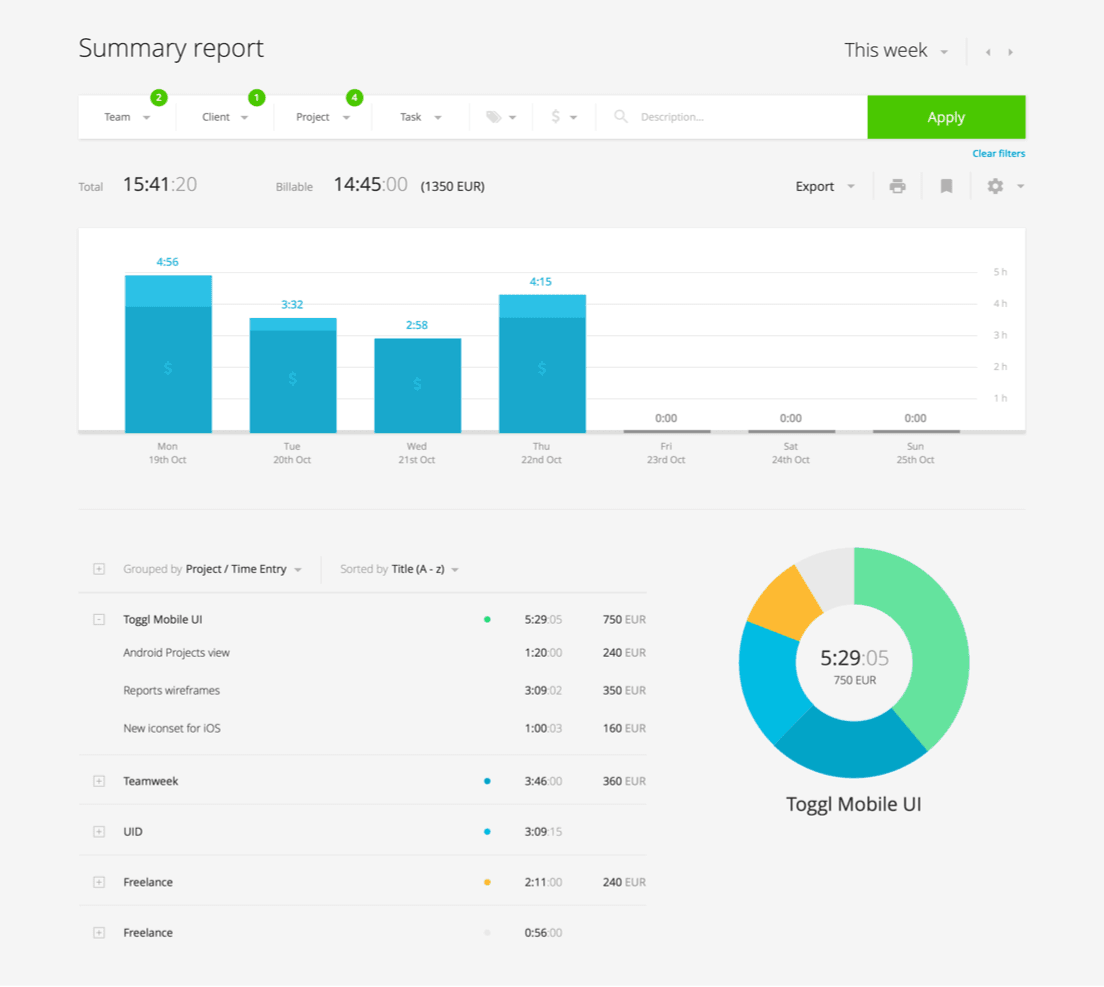 Toggl is a very simple tool, easy-to-use with a friendly interface that offers timekeeping online for multiple tasks. It'll be perfect for people who need to have timesheets as simple as possible in one, easily accessible place. The tool doesn't offer timesheets as such in its free version but records of the tracked time.
So if you want your timesheets to be extremely transparent, Toggl will do the job. Also, you can see how much time you or your team has spent on different projects and you can export reports to create your own personal timesheet.
Toggl may also be a good timesheet software for hourly employees who begin their adventure with time tracking and need a simple tool as a kind of introduction. It's good for freelancers, solopreneurs, or small teams.
Toggl is available for multiple platforms and syncs across devices so it lets you easily access all the data.
Check our Toggl time tracking integration!
9. Homebase
Employee time tracking with time clock and timesheets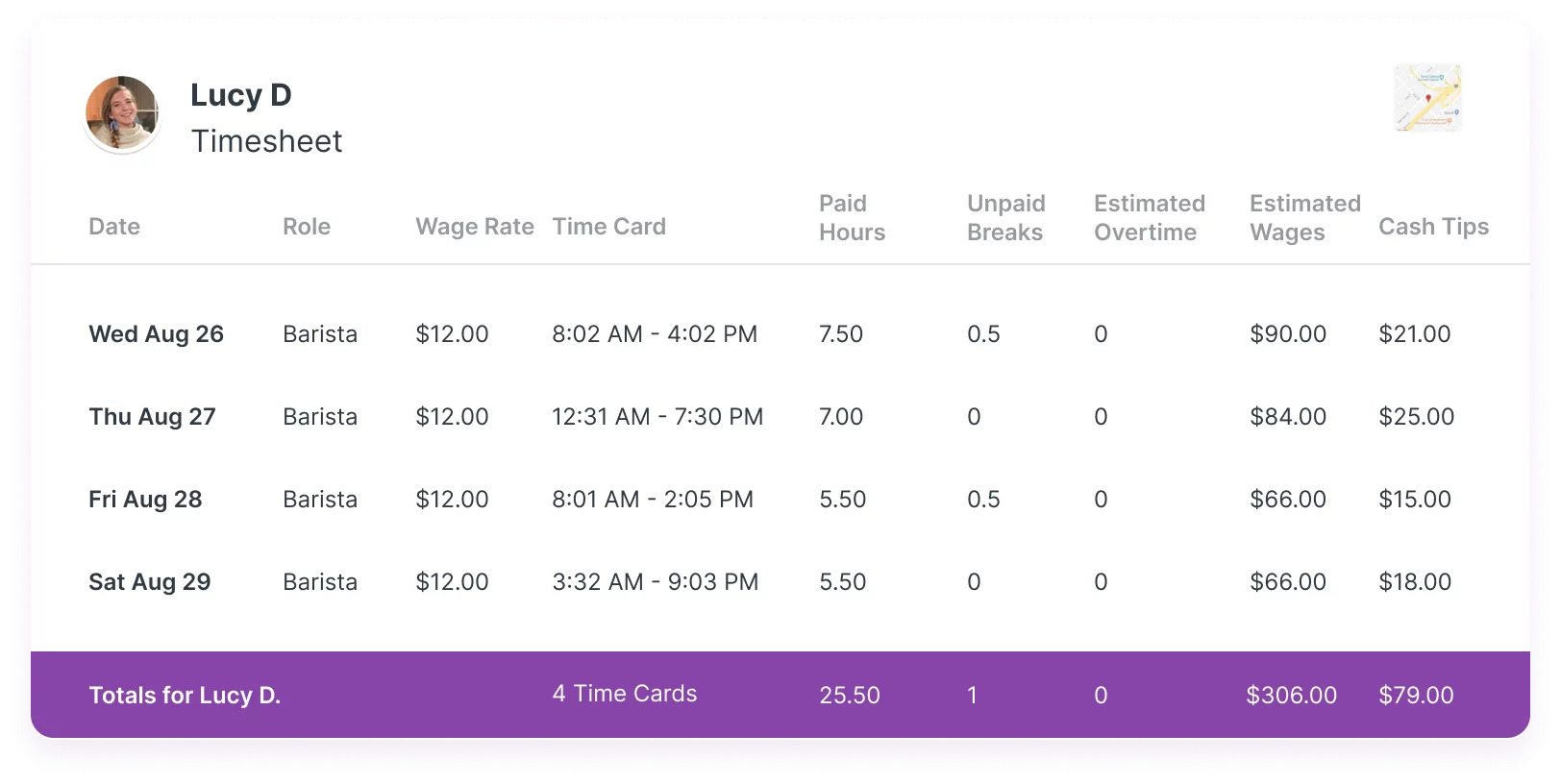 Homebase is an employee scheduling software with extensive features. It's suitable for team supervision as it combines HR and project management functionalities.
Homebase timesheets allow you to track work hours, breaks, and overtime of your staff to calculate payroll easily. It automatically identifies missed breaks, missed shifts, or clock-outs so you can easily correct them. The app keeps records of all your timesheets, including edit history.
With Homebase, you can also track breaks and define pay a period for quick and easy payroll.
Homebase is available for mobile apps so it can be suitable for off-site teams.
Homebase can be integrated with top payroll software to automatically sync your hours to payroll. The free version of the app is available for 1 location and unlimited users.
10. Traqq
Time tracking for remote team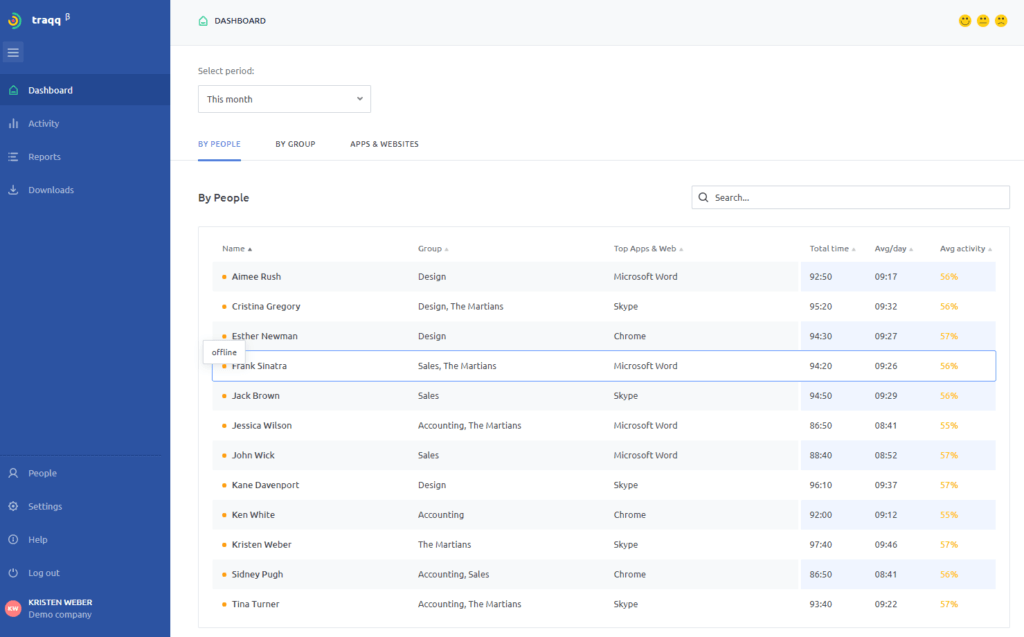 Traqq is an employee productivity monitoring platform most suitable for remote teams that offers free timesheets online.
The app automatically tracks your activities, keystrokes and mouse movement, and monitors website and app usage. There is also an option to take video recordings of screen activity.
Timesheet data includes basic information about time tracked, projects, and dates. You can add or edit time manually in your timesheets.
Reports show you all the information about tracked activities. There are amounts earned reports that display the total amount earned for different people over a selected pay period so you can keep track of basic expenses.
Traqq doesn't offer integrations, so you can't connect it with your favorite payroll provider. Thus, it's best as a simple app to manage time.
No mobile app is available, so you can only access your data from the web.
11. nTask
Team collaboration with timesheets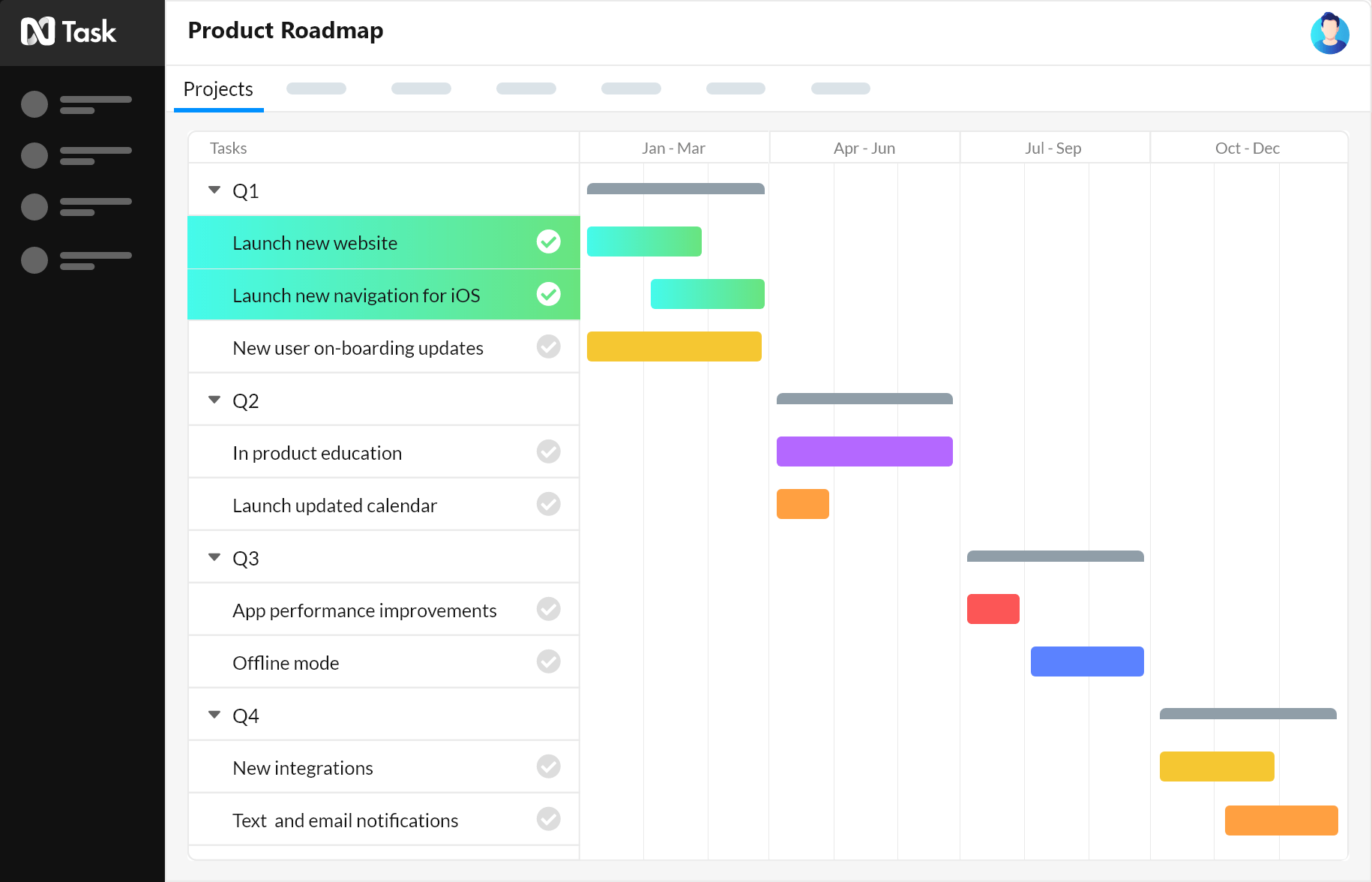 nTask is a complete project management platform used by businesses of all sizes to track the time spent by all team members on each task. The platform creates a timesheet automatically when worked on projects and task with time entries. 
It gives users the ability to give estimated time (day, and hours), and track actual time with a built-in time tracker. The application is available on web, iOS and Android devices. The tool is used even for meeting notes taking, and document sharing. 
Here are the main features of nTask: 
Gantt charts to manage the task and project workflows

Kanban boards to create work stages and collaboration

Automatic time tracker and manual time entries are available

Timesheet management with approvals from project managers

Export timesheet to CSV or Excel

Custom fields and create your own CRM
The nTask application is free for 5 users. The paid plans with project tracking at $4/user. Create custom CRM, and risk matrix at $8/user. 
Conclusion
It's always a good idea to track time with automatic online timesheets. They can provide you with valuable data and help to increase productivity.
Online timesheets for free can also be a great alternative or addition to traditional Excel templates that are not easily accessible on a mobile app.
What is your favorite online app? Let us know, we'll be happy to hear from you!