The Best 9 Free Android Tracking Apps with GPS
July 10, 2023
by Kate Borucka
One comment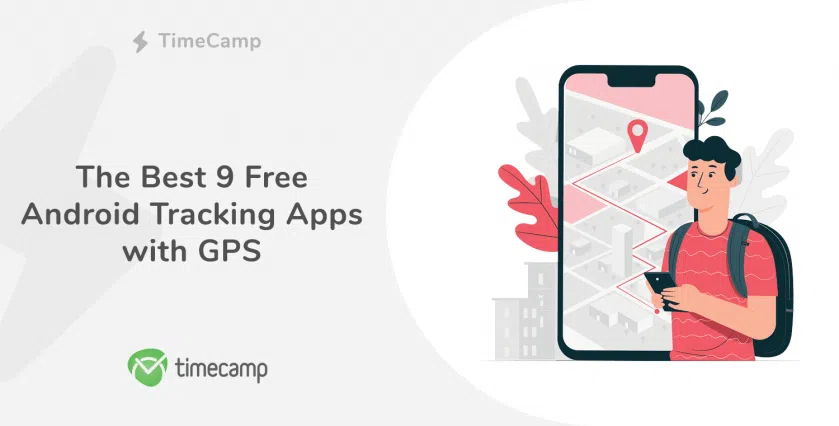 Android tracking app is a helpful solution for two reasons. First, you can use it as a family locator or for tracking your device. Secondly, it's a great GPS location tracking tool for monitoring the workforce.
Of course, both require the use of the right app. When using a family locator, most likely you will need a simple GPS tracking solution. It will allow you to monitor the location of your loved ones (especially children) and make sure they're safe.
But if you're looking for a GPS tracker for work, you will need a tool that is a part of a larger system with reports, project management features, and attendance management. Or you may want to use both options interchangeably. Everything depends on your business model and needs. And the most important thing is that you should feel comfortable with the app.
Below, you will find a list of the best tracking apps for Android aimed at different niches. Use the navigation below to quickly jump to the desired application.
👉 Check here if you are looking for GPS time tracking app.
👉 Check our list of the best note apps for Android.
1. TimeCamp – best for real-time reports & attendance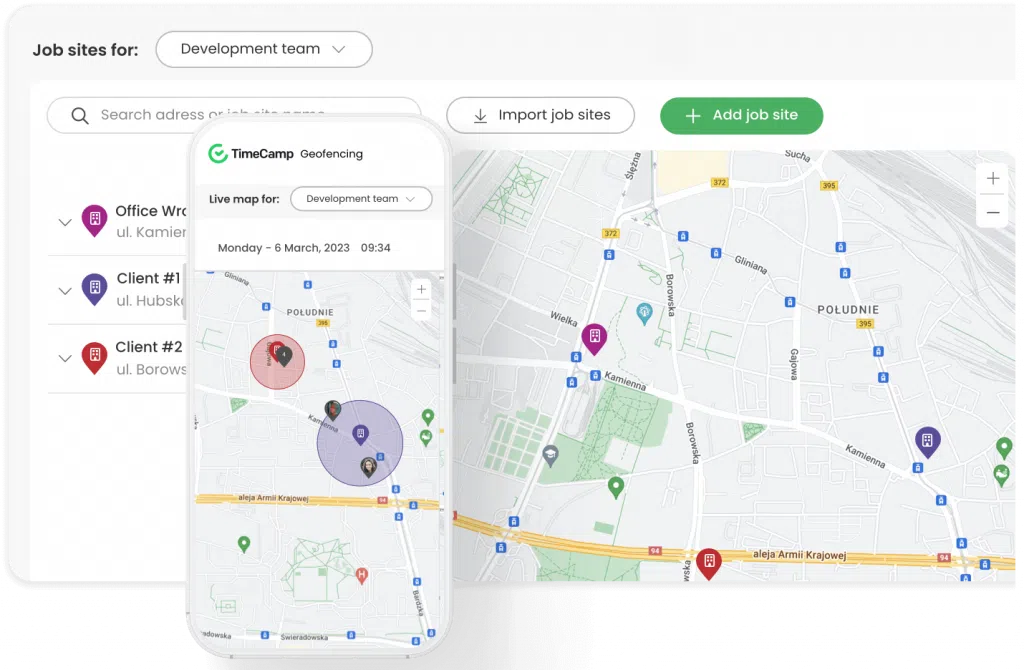 TimeCamp is a totally 100% free time tracker for unlimited users with robust features that enable you to log time, manage attendance and leaves, and organize workflow. With our GPS tracking and geofencing time tracking features, you can now monitor the location of your staff.
You can use TimeCamp GPS tracker solo or in a team. The tool allows for keeping track of the mobile workforce via the desktop app or mobile app on your Android phone. Geofencing time tracking feature can help you with monitoring your employees' work at many jobsites at once. All you have to do is to make sure that they have the TimeCamp app running on their smartphones in the background. By just installing an app on company smartphones, your team members will now be able to:
Notify automatically when they enter and leave jobsites – think of it as a digital punch-in card

Inform about their absences and leaves

Provide insights to their mileage and time spent at a worksite or a client's office

Update on any delays, obstacles, or difficulties like traffic jams, or construction work

You can also sync our app with all of the most popular project management software
Additionally, TimeCamp generates detailed reports and timesheets that can be accessed on your phone with our mobile app.
Check our knowledge base for more information on GPS tracking and geofencing with TimeCamp.
Get Android app for your phone
2. Hubstaff – best for remote teams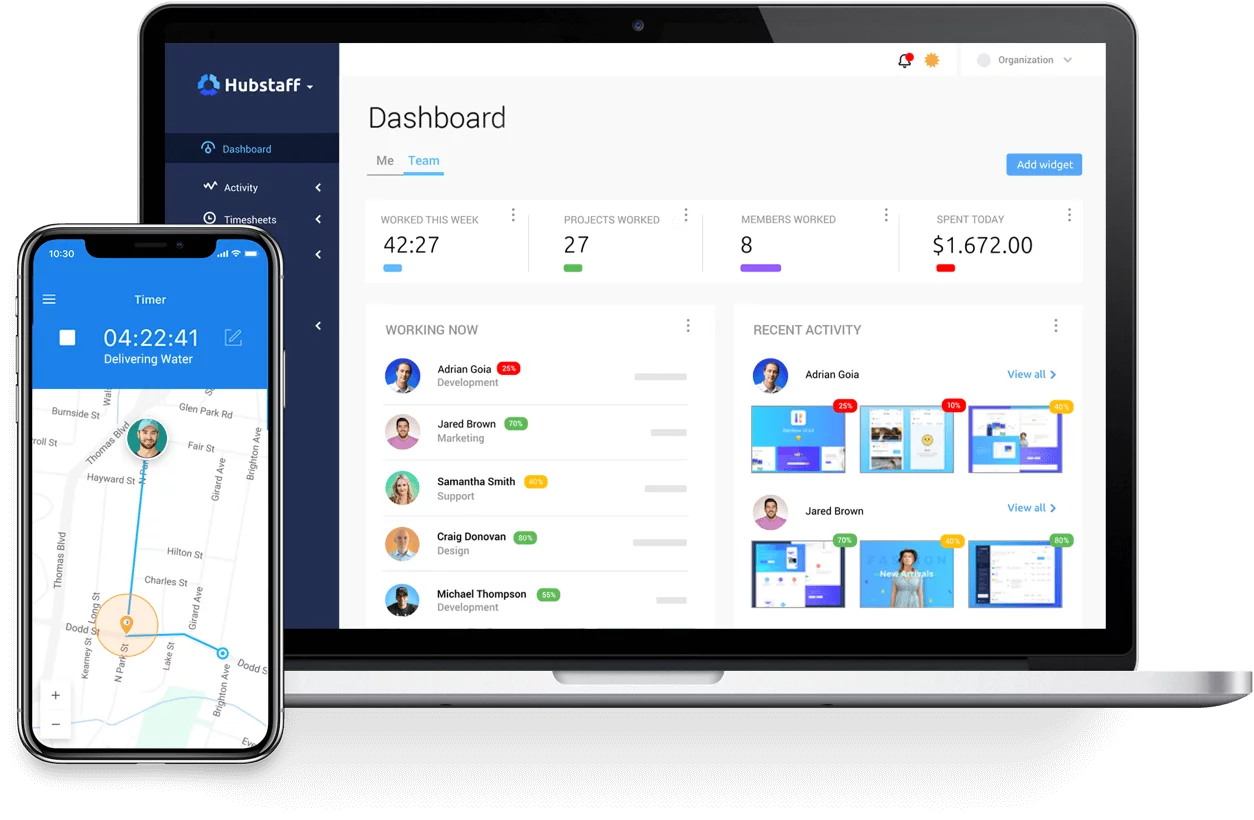 Hubstaff is a time tracking software suitable for remote teams and on-site workers. Besides classical employee monitoring, it has a GPS tracking module with a time clock.
Hubstaff location tracking app for Android synchronizes with the web versions so you can see hours tracked to a specific client and project, spent at a job site (including when they arrived and left), and a detailed map view showing your team and their routes.
Tracking with geofencing generates detailed timesheets, preventing buddy punching or inaccurate work hours. You can even limit tracking to certain locations, such as within a geofence.
Schedule your team using Hubstaff's geofence attendance app, and get automatic alerts when a shift is started late, missed, or abandoned.
Customize your settings by setting the timer to auto-start and stop based on location, bring up reminders to team members when they enter a job site, create and edit job sites, customize settings, add specific team members.
3. Life360 – best for personal use & small teams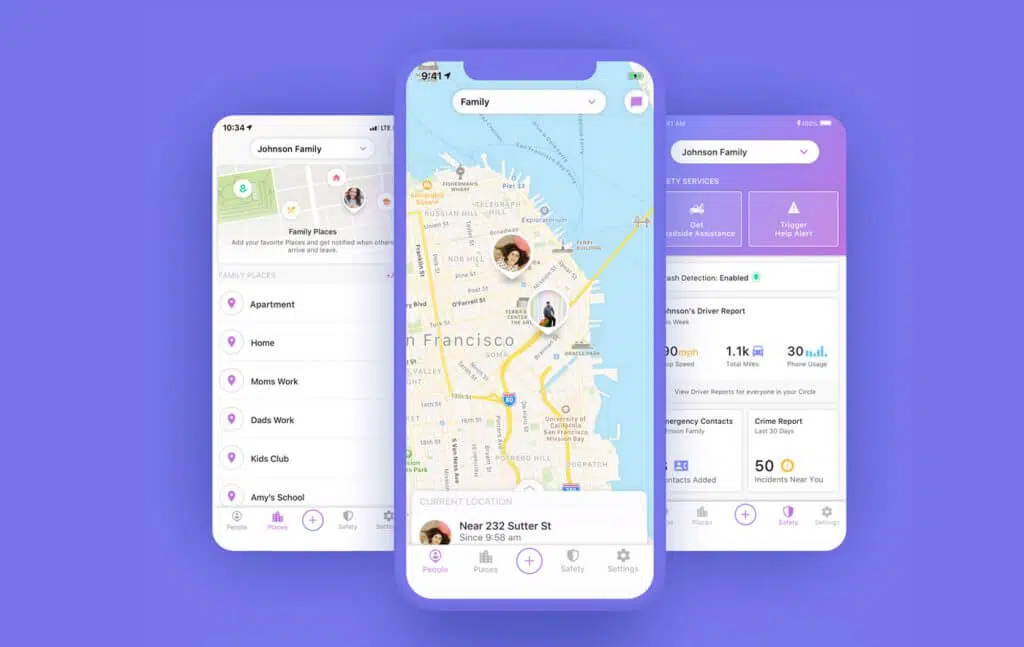 Life360 is an advanced Android tracking app. It allows you to stay connected to your family (or employees) no matter where they are. Although Life360 is dedicated to families, its powerful features let you use it to track the location of your employees, especially if they use a company phone.
Here are the main features of the app:
The app syncs your family or teammates into a private, invite-only Circle
The view of the real time location of Circle Members on a private map that's only visible to your Circle – locationsharing gives family members a view of each other's whereabouts
Smart notifications let you know when your family or team members come and go from most frequented Places
Alerts if anyone's phone is running low on battery or someone is running late
You can see the location of stolen or lost phones
Chat feature
Additionally, Life360 has a feature called Driver Care Support that, with a single push of a button, connects you to a live representative over the phone. The live representative knows who you are and where you are to assist in roadside situations such as tows, jumps, and lockouts. The app also offers an immediate emergency response in the case of a collision.
4. Labor Sync – best for crew management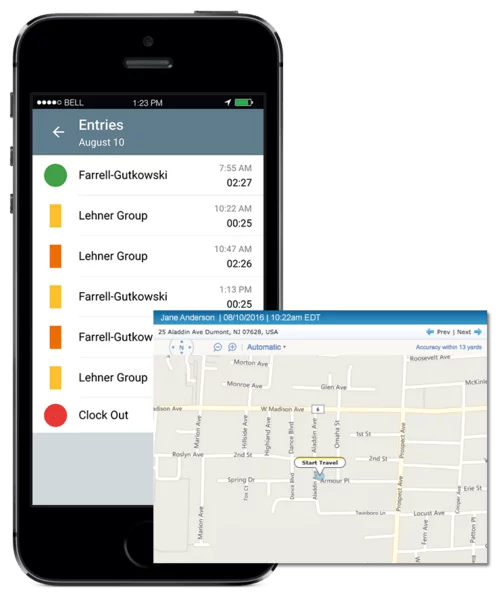 Labor Sync is software for digital timekeeping, best for crew management. Use it to store all labor information in one place, manage workflow, and oversee processes. This tracker app is suitable for labor attendance management. It helps to keep track of employees' hours and their location via mobile devices.
Its GPS location tracking app for Android helps to easily report the working hours of employees who operate in the field, and access all the necessary information and features to keep track of work in real time.
The feature of field notes and messaging enables employees to notify colleagues of meetings, schedule changes, or any other important news. And the simple clock-in/out timer makes it easy to keep track of time.
Moreover, Labor Sync allows you to manage payroll, prepare estimates for projects based on gathered data, customize reports, and monitor attendance. It's a great system for centralized project management of your crew.
5. Scalefusion – Best for logistics & fleet management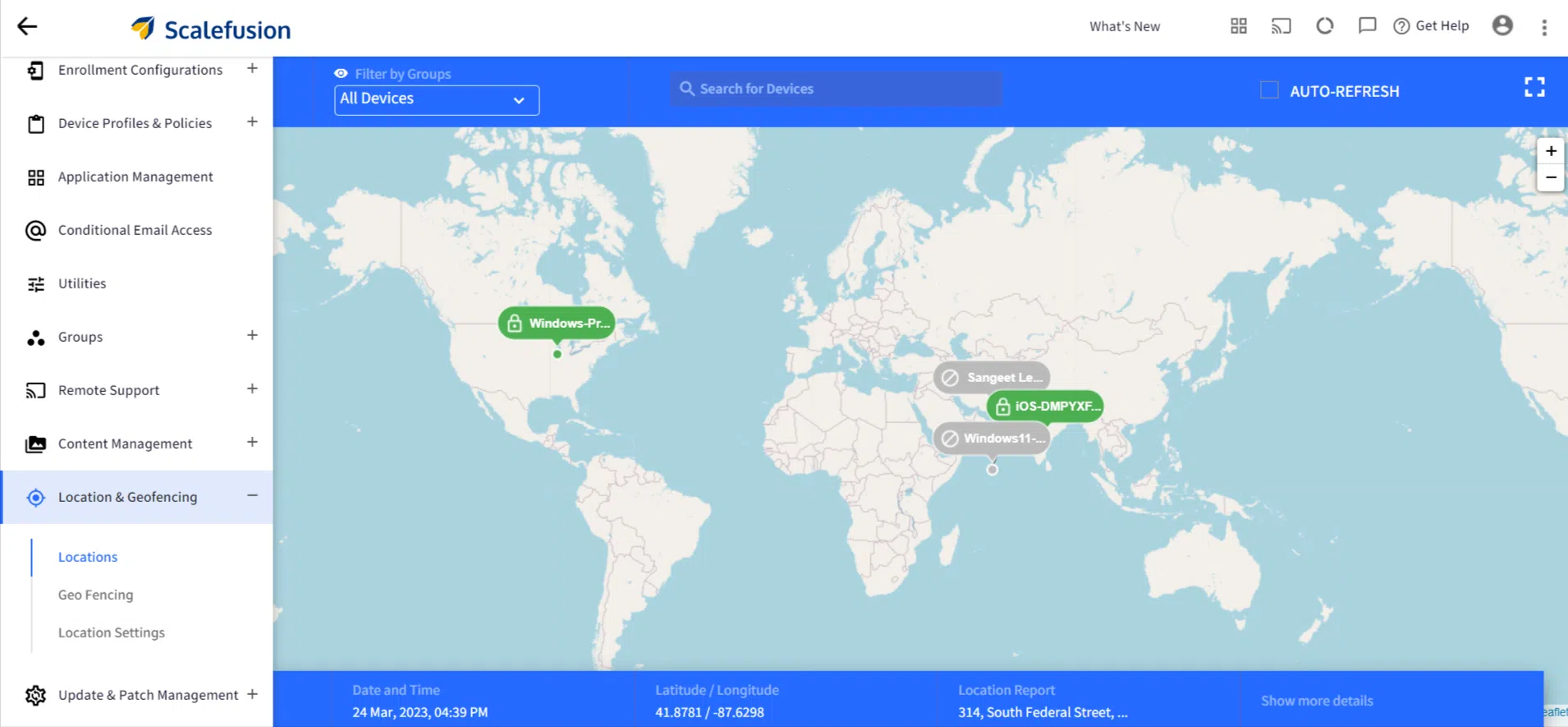 Scalefusion is a mobile device management software. Scalefusion's location tracking feature enables fleet managers to track the real-time physical location of roaming users (drivers and field workers).
The Geofencing feature lets companies create virtual boundaries. By creating a virtual fence, fleet managers can keep an eye on their entire fleet by controlling vehicle movement to a specific region or route. Optimizing routes means less travel time, reduced fuel consumption, and efficient delivery. To explore how the implementation of the best route optimization software can further enhance your fleet management strategies, read this blog.
Additionally, Scalefusion has developed a speed-based app locking feature to encourage commercial vehicle drivers to adhere to the legal speed limits. Fleet managers can set a speed limit for every phone or tablet under management. If the vehicle exceeds the speed limit, essential apps and features, including GPS, on the driver's mobile device are blocked.
Other benefits of using Scalefusion include:
Converting mobile devices into Electronic Logging Devices using kiosk mode
Limiting mobile data and Wi-Fi usage
Remote view and control for troubleshooting devices in real-time
6. GPS Phone Tracker – best simple phone tracker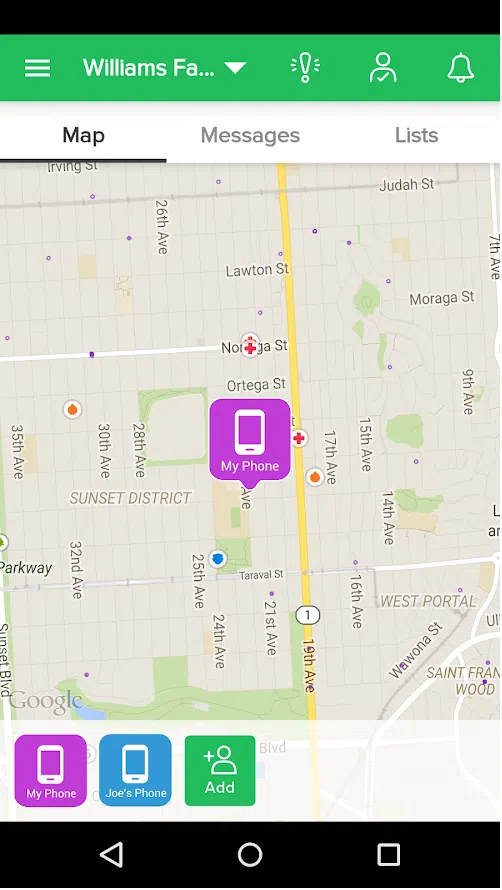 GPS Phone Tracker is a simple app for Android. If you're looking for a minimalistic solution that would help you keep track of your phone. It's easy to use and doesn't have additional features.
You can also use this tracker app for the company phones to make sure your employees are safe or are on the job site, or simply track the devices when they get lost or stolen. It shows the location of a person, even when abroad, when they're on the move, if there are roadblocks on their way. Everything in real time.
7. Waze – best for individual drivers

Waze is a great app for employees who travel by car regularly, both around the city other distant places. It's a navigation app that makes its calculations based on your position to help you reach the destination in the most optimal time by showing the best route.
Moreover, Waze features help you save money, time, and stress:
Alerts about traffic, police, hazards and more on your drive
Speedometer sends an alert when you reach the speed limit to help you avoid tickets but also to drive safer
Instant routing changes to avoid traffic
Toll costs – Waze keeps you in-the-know about toll charges on your route
Your ETA (expected time of arrival) is based on live traffic data so you know exactly when you'll arrive
Waze finds the cheapest gas along your route
You can listen to your favorite apps for music, podcasts, and more right from Waze
You can also manage your account in other ways to fully optimize and automate your work: choose vehicle type (Private, Taxi and Motorcycle), adjust map icons according to your preferences, sync up your calendar events, add stops for breaks during your travel, download maps for offline mode (useful in areas with a poor internet connection), and more.
The only disadvantage is the fact that you can use Waze only personally as there's no possibility to create an account for your entire company.
8. Spyzie – best to keep your data safe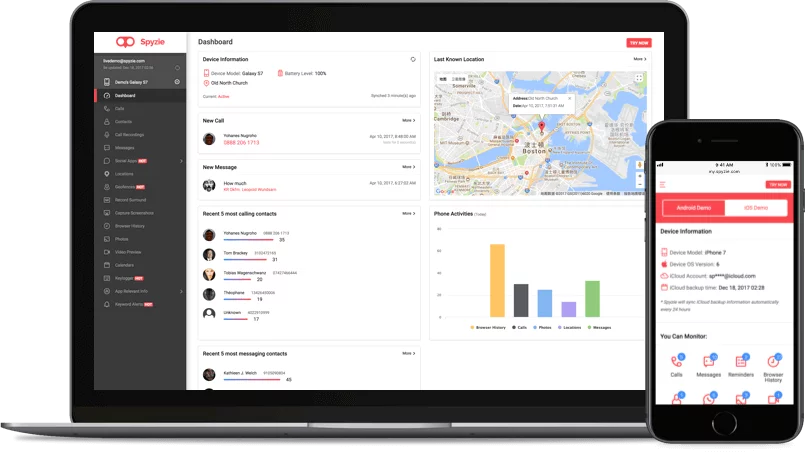 Spyzie is a tracking app for Android and other mobile devices. It's most suitable for employers who deal with sensitive data and need to make sure employees are not breaching security protocols, the organization's rules and regulations. Use it if your employees use company phones outside of work and keep a hand on all important data.
Main features:
Route history to track the past locations of the device and the path taken by the user
Tracking current whereabouts of Android devices to monitor the real-time location of a device to know the exact whereabouts of the targeted user
Geofencing
Tracking messaging and phone calls
Spyzie is also a great family locator with GPS tracker for parents who want to protect their kids from the negative aspects of owning a phone, or easily define the location of their loved ones.
9. GPSWOX – best for professional GPS tracking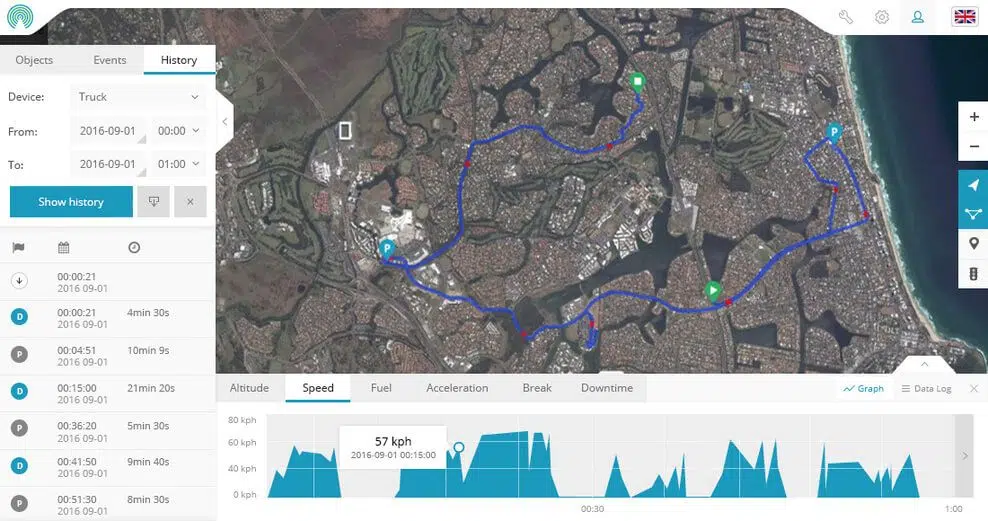 GPSWOX is an advanced solution for those who need a professional GPS tracking system. It comes with a variety of granular features. The platform has everything you need to track the location of employees with GPS. It's a powerful tool that will track every type of car, boats, cargo, family members, pet, bike, and other goods.
Here are some of the main features:
Real-time location tracking
Geo-fencing alerts: get on-time alerts to when users are entering or leaving pre-defined zones, such as a school, place of work, home, or any other area you designate
Driving behavior: discover if the user is speeding or participating in other bad driving behaviors, and help correct it by presenting them with the proper information
Fuel monitoring: you can also use this GPS vehicle tracking software to see how much fuel is being used and how much is left, helping you to prepare for your trips better
Added sensors: extra sensors including adding camera sensors, alarms and more
History and reports
24/7 customer support
This GPS tracker for Android is a wide solution available for everyone, employers, employees, families, and individuals.
10. TrackSolid – best for fleet tracking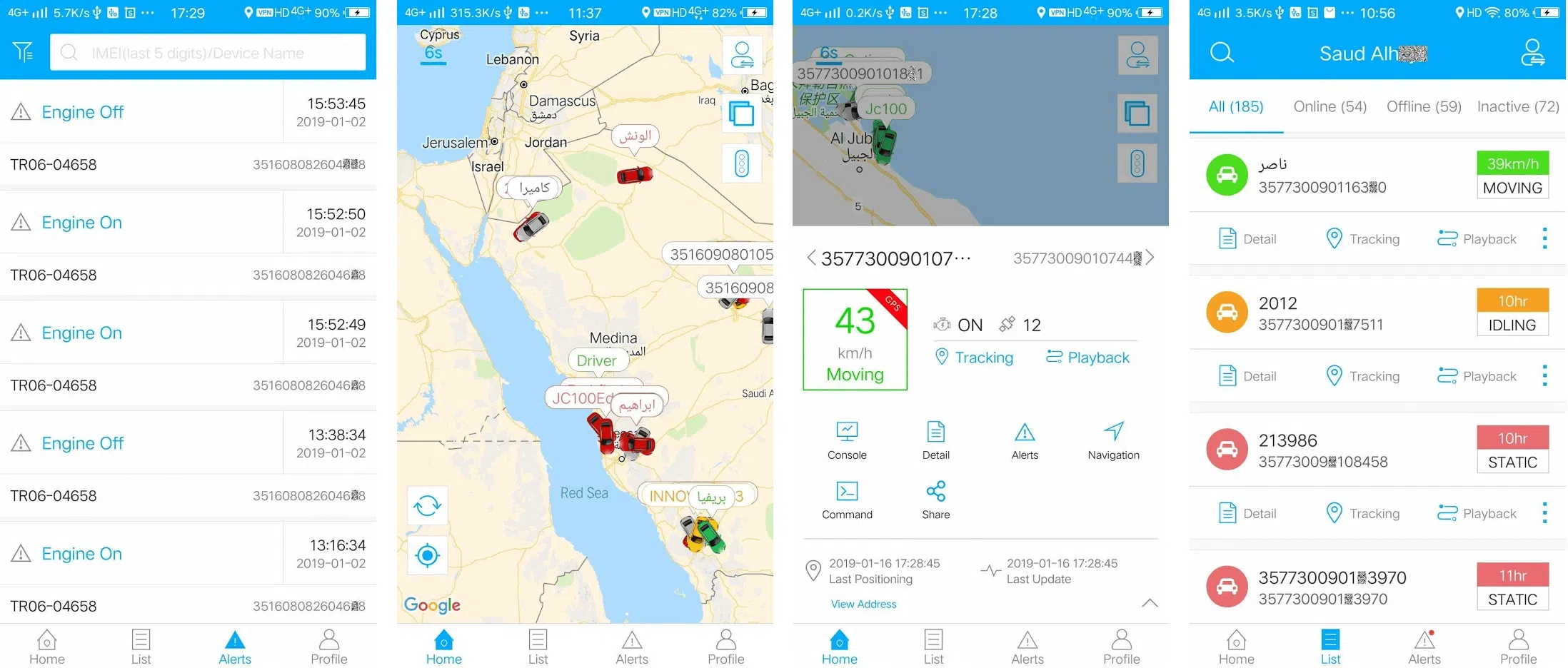 TrackSolid is a GPS tracker most suitable for tracking the location of your fleet with a phone. It's a multilingual, powerful tracking software providing live tracking, trips playback, professional and insightful reports, multiple alerts, and geofence.
With the web version of the app, you can easily monitor the phone location of your fleet worldwide, access all information, and manage the team. And in combination with the Android phone tracker, it's a great source of information about your fleet.
TrackSolid is a secure, reliable, and efficient GPS tracker for fleet management, logistic, cargo tracking, or personal tracking.
👉 Check also our list of Top 15 Employee GPS Tracking Apps for 2022
To Sum It Up
Whether you want to use a time tracking software with GPS tracker to monitor employee location or to stay on top of your family dynamics with an app for Android, you need to choose a dedicated app with special features. Just remember not to use it to spy on your employees or family members to maintain healthy relationships.
What is your favorite tracker app for Android? Let us know in the comment section below!