13 Best Free Time Management Software
February 1, 2018
by Kate Borucka
2 comments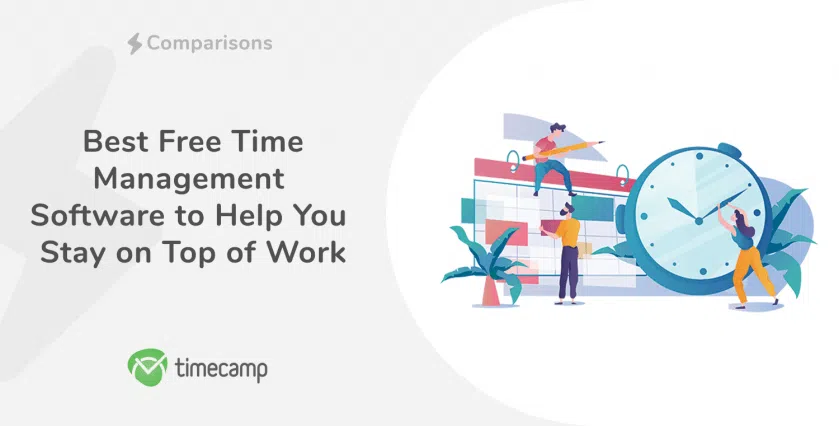 Time management software is currently one of the most popular programs. According to the survey commissioned by AffinityLive, daily time tracking can decrease productivity leaks by 80%. The same paper also states that in the USA 19.3 million people in professional services are leaking 59 million hours at $150 per hour which results in 8.8 billion lost each day.
The numbers are staggering. No wonder time management software is becoming more and more popular. When used properly, it can help save time, money, and improve employee engagement.
What to Look for in Time Management Software?
There is no simple answer to this question. The sector of time management tools is so wide that many apps fall into different categories.
Some tools are dedicated primarily to specific niches. So a medium that works for a team may not be the best solution for an individual. Sometimes it's possible to operate in different ways within one tool. Everything depends on your needs, business size, the field of work, and other aspects you may find important.
However, it's worth considering such elements as flexibility, so how you can use the app and what the features let you do as well as integrations with other apps to streamline processes across different platforms.
It's also a good idea to look for the free trial as it helps to discover the tool and learn whether it is suitable for you, your business, and employees. These are the basics to consider when looking for a proper solution.
What Is The Best Time Management Software?
If you start looking for productivity software, you'll get inundated with thousands of tools. It's not easy to choose from all the available options. The market for time management tools offers various systems. Some of the most popular you must have heard about include the following:
Here are some of the finest time management software you can find out there. Choose the one you like the most, boost your performance, and take control over your time!
👉 Check also our favorite weekly schedule templates!
Best for: freelancers, remote teams, organizations of all sizes
Focused on: automated time and attendance tracking, measuring productivity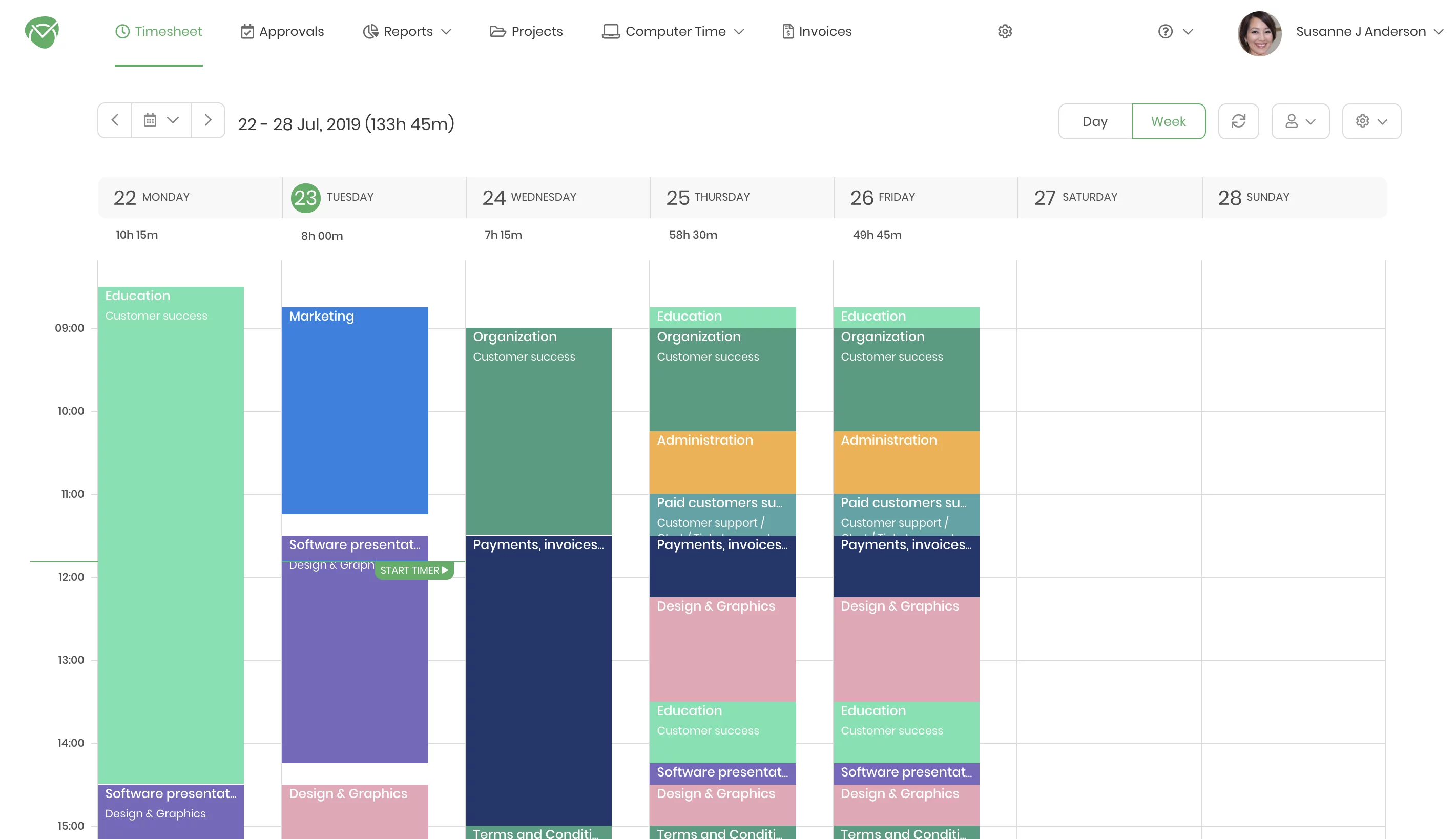 How it works: Nice and easy-in-use software for time tracking and time management, TimeCamp automatically tracks your activities and gathers all the data in comprehensive, detailed reports and timesheets. TimeCamp is a free time tracker for an unlimited number of users.
Flexibility: TimeCamp is a very flexible app. It helps teams and individuals manage time, finances, and allocate resources. It aligns with your organizational structure so you keep the hierarchy for a smooth workflow. You have real-time insight into the workflow
Integrations: TimeCamp offers a variety of integrations with the most popular productivity apps, project management tools, CRM software, and more. The tool is available as a web app, for desktop (Windows, macOS, Linux), mobile app (iOS and Android), and Chrome extension. Free trial is available.
Other features: TimeCamp features allow you to automate processes and optimize work. Its other functionalities include adjustable timesheets with approvals, GPS tracking, rich attendance module, colorful graphs, tracking billable time, productivity tracking, attendance, invoicing, and many more.
Become a time management superhero! ⏳
Best for: individuals, small and medium teams who need simplified project time tracking
Focused on: tracking time for tasks, projects, and clients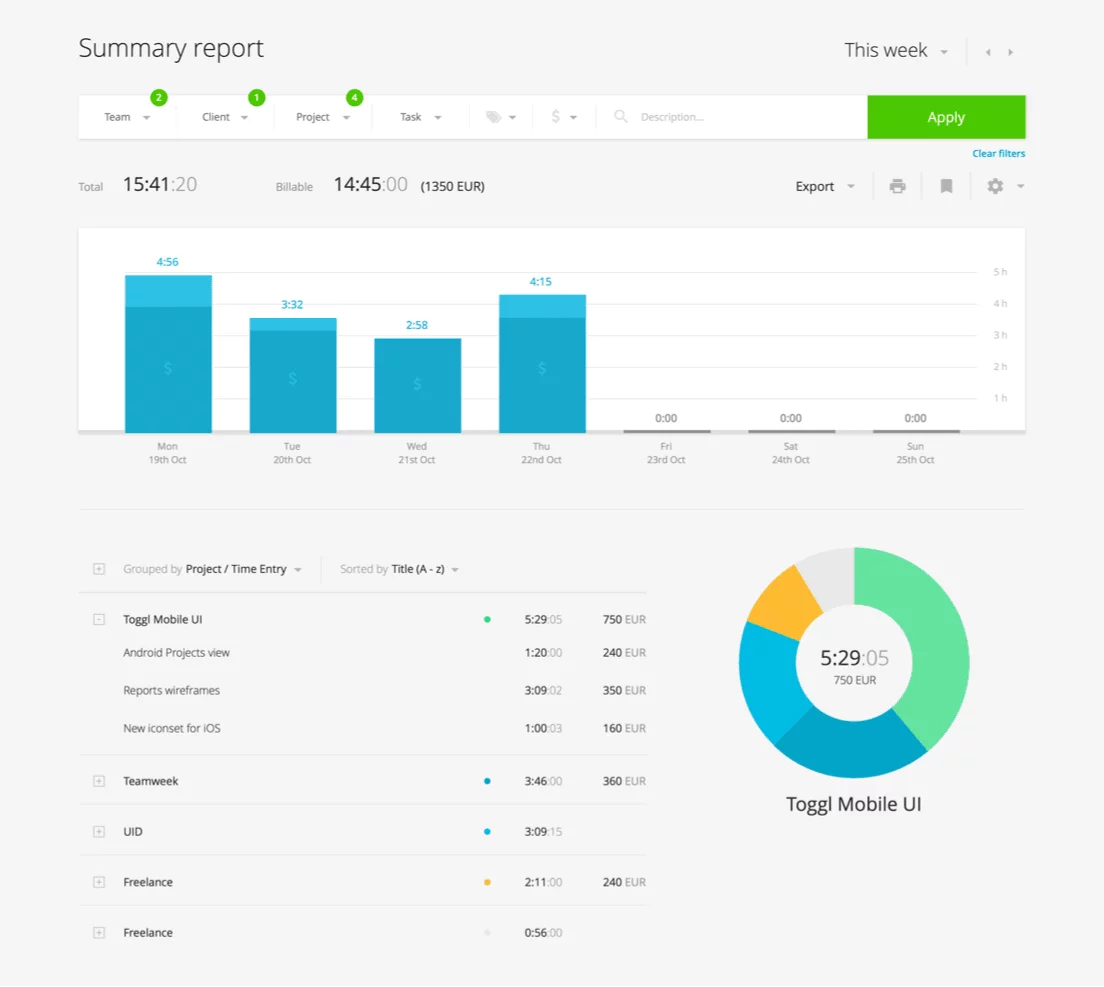 How it works: Toggl is a popular and widely used free time tracking program. The software has a friendly-looking interface without too many details so it's suitable for managing time in a simple way. In Toggl you can manage different projects, tasks, and clients. Tags and colors make it easier to break down your hours to see precise time intervals in reports.
Flexibility: Toggl offers simple time tracking with basic features. It's a transparent system that allows you to plainly manage your time with an intuitive user interface. However, it lacks more advanced features.
Integrations: Toggl integrates with numerous software so it's easily to connects it to your favorite tools. It's available as a web app, for desktop (macOS, Windows), and mobile (iOS, Android)
👉 See the comparison between Toggl and TimeCamp
Best for: teams of all sizes and individuals who need a lightweight app to manage projects with Kanban boards
Focused on: simple project management and organizing personal and work assignments with an extensive list of power-ups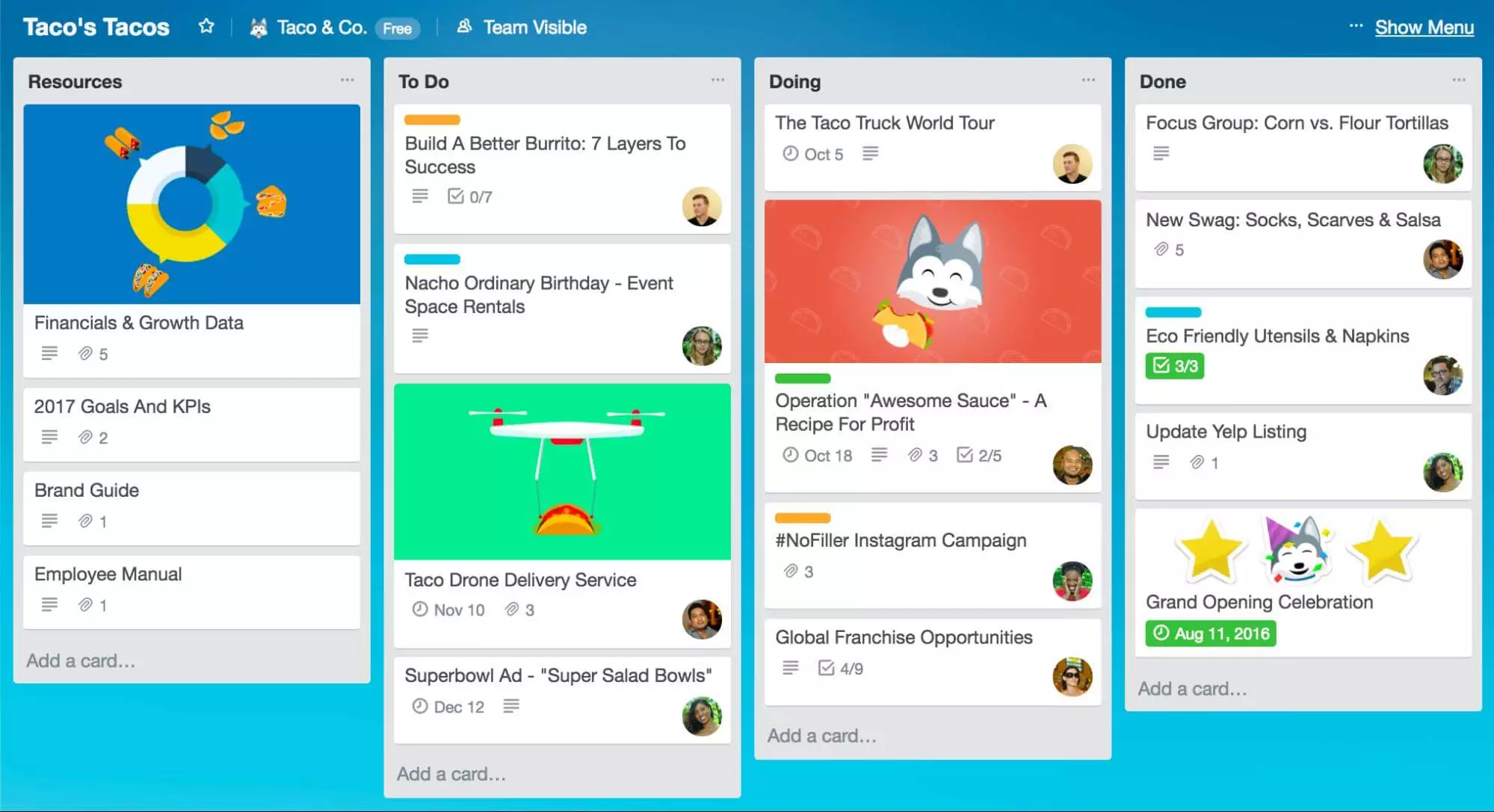 How it works: Trello is a tool designated to help you organize your time and tasks. It can help track your time as it allows you to follow all your tasks and track time on them with time tracking integrations. With Trello, you can create a space for your entire company. There is also an option of allocating people to different groups (e.g. marketing, IT, support). In every group, you can organize tabs for each member and assign tasks to them, depending on what's their role in the team.
Flexibility: Trello is a simple tool but thanks to the well-supplied repository of apps, you can mix it and combine it with other software to adjust it as you need.
Integrations: A web app, desktop app (macOS, Windows), mobile app (iOS, Android). Trello is supported in browsers (Chrome, Firefox, Edge, Safari)
But that's not all! You can effectively measure the time spent on tasks allocated to Trello cards with the  TimeCamp + Trello Power-Up to increase your productivity. Make sure to check it out and always stay on top of your work!
Check our list of the best Trello Power-Ups
Best for: small teams, medium-sized businesses, or startups that need a flexible tool to plan and collaborate on work in one place
Focused on: streamlining communication and collaboration in a team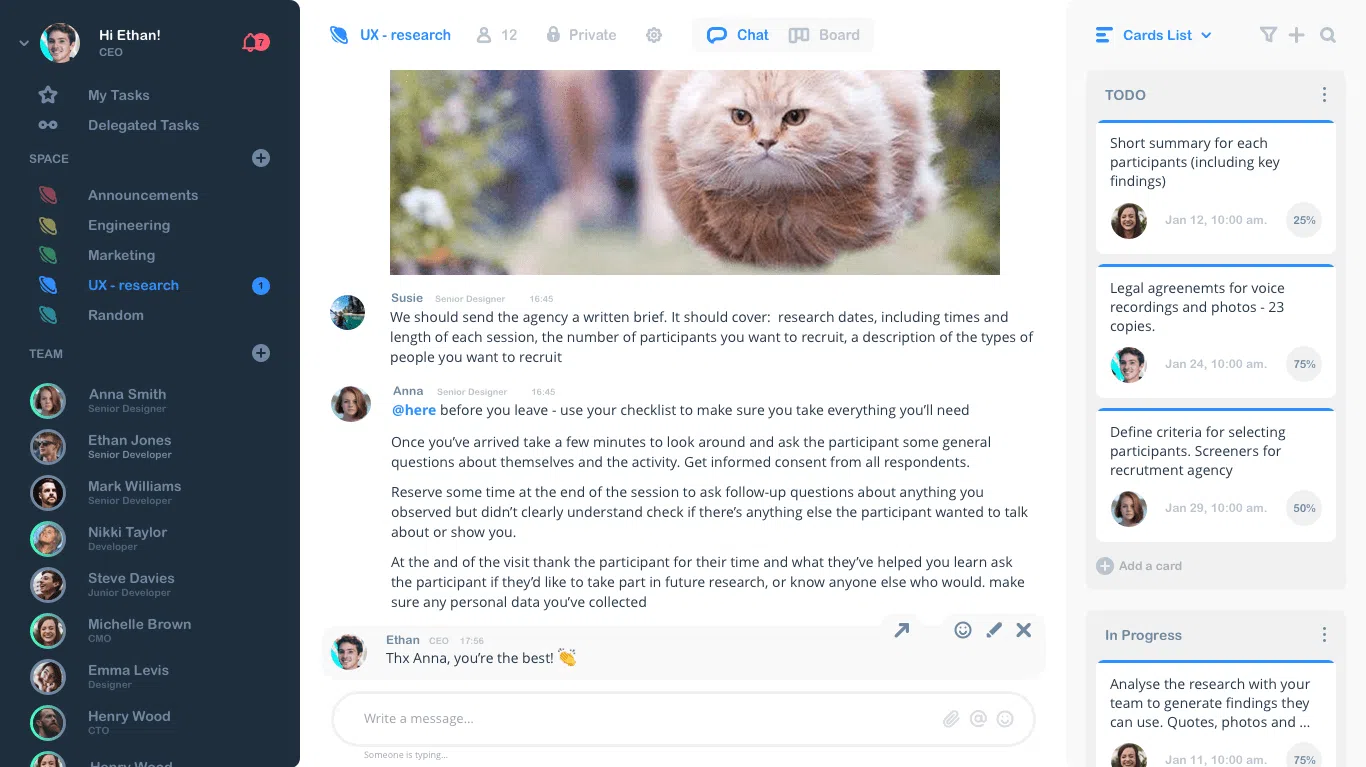 How it works: HeySpace is a task management software with chat. It's a great solution especially for . The software is also great for everyone who works in the agile methodology.
This tool allows you to exchange information with other employees, teams, and even lets you invite people from outside of your organization to work on a common project. You can use HeySpace to freely plan your work schedule, employee shift, and all tasks you need to perform. It replaces long, messy email threads and allows teams to gather all the important information in one place.
Flexibility: HeySpace lets you plan and organize your workflow in several ways—Kanban, Calendar view, different spaces for different teams, or There are more features to come so teams will have much more flexibility to use the tool.
Integrations: HeySpace integrates with TimeCamp, Gmail, Zapier, Google Calendar, Trello, and Google Hangouts. And there's more to come as the tool is still developing. It's available as a web app, desktop app, and for mobile (Android, iOS).
Other features: the flexible design lets you see three boards in at once—your team and spaces (different channels), chat, list of cards with tasks. You can easily convert part of your conversation into a task. Every task can be adjusted – you can set date, assign people to it, add tags, checklists, description, files, comment on it, make tasks recurring.
Best for: small and medium-sized teams who need to track billable hours
Focused on: tracking billable time for tasks and projects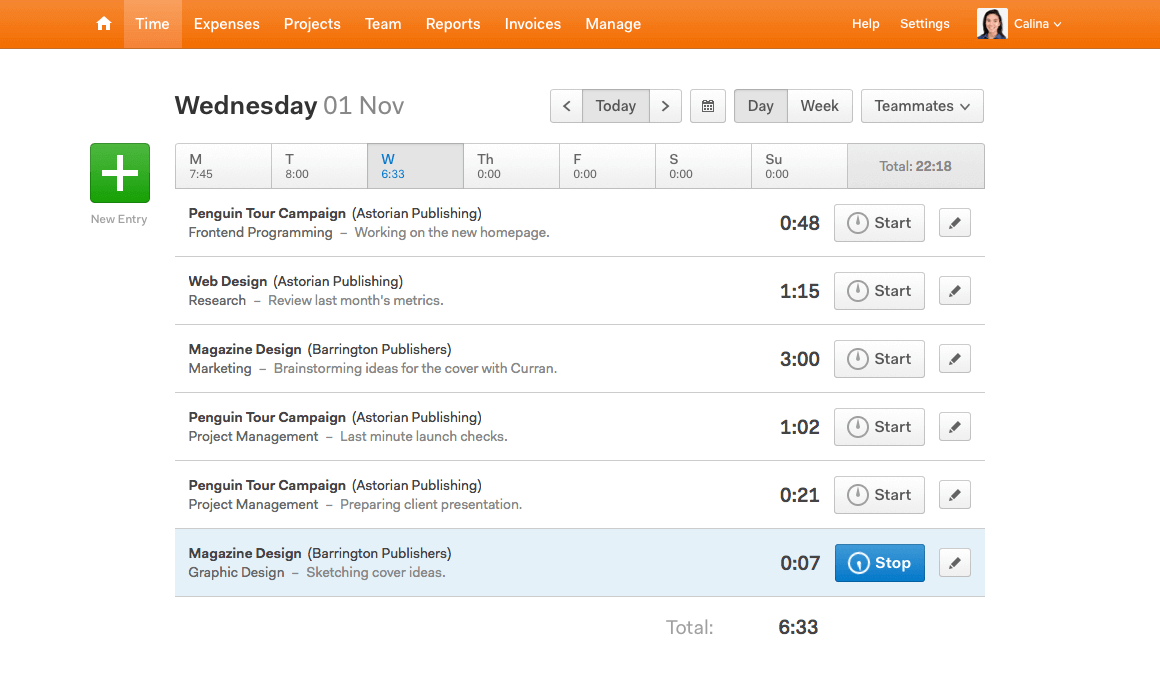 How it works: Harvest tracks estimated and actual costs so you always know if you're exceeding the budget. Next to the automatic time tracking, it is also a timesheet app as it allows you to see everyone's work and idle hours, also, how much time was spent on particular activities. It's easy to use.
Flexibility: Harvest is a classical time tracking solution with rather non-flexible functionalities. You have separate modules but you're limited to tracking expenses and time for certain projects.
Integrations: Harvest offers integrations with many tools. Available as a web app, for desktop (macOS, Windows), and for mobile (Android and iOS).
Other features: simple timesheets with approvals and for your team weekly, invoicing and tracking billable hours, scheduling, reports, budgeting.
👉 See the comparison between Harvest and TimeCamp
Best for: people who want to keep track of time spent on work. If you're looking for a similar solution to track employee attendance, you can also check AllHours by MyHours as an alternative
Focused on: project time tracking and simple project management.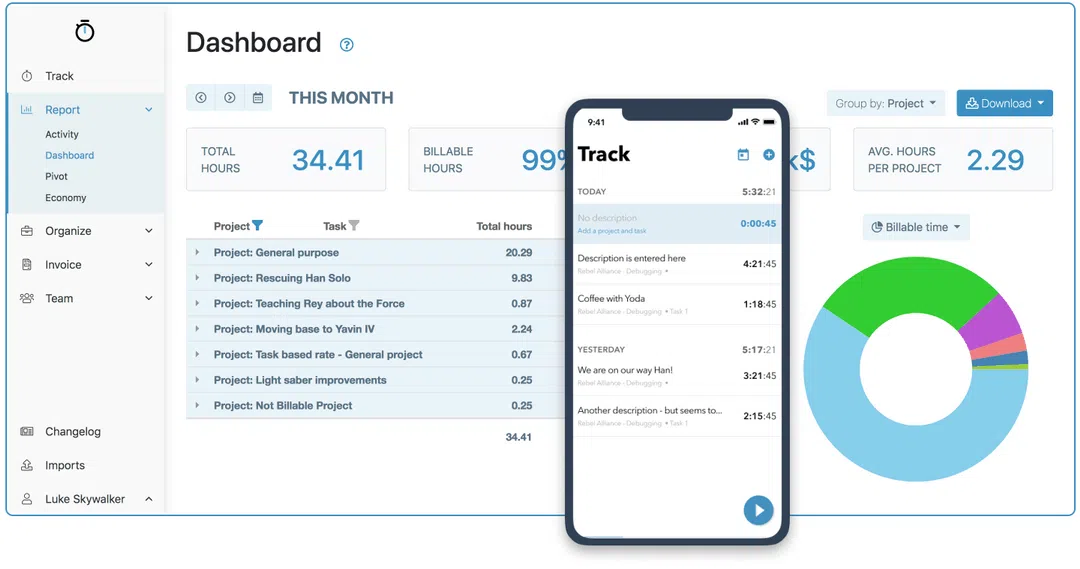 How it works: MyHours offers automatic time tracking in real time. It helps to gather all the necessary data on team time, performance, and company's finances. It also helps to manage attendance and manage the team.
Flexibility: MyHours is quite flexible as it incorporates time tracking and simple project management features. Its free plan lets you have unlimited team members and projects. However, if you want to manage attendance, you'll need to switch to AllHours—timesheet and attendance app created by MyHours. That may be a bit cumbersome if you don't want to switch between different apps.
Integrations: MyHours offers integration with QuickBooks (in the Pro plan), and Zapier. It's available as a web app, and for mobile (iOS, Android).
Other features: You can track time automatically or add entries manually, categorize and label important tasks, and customize them, roundup time, or delegate tasks.
👉 See the comparison with TimeCamp – great MyHours alternative.
Best for: organizing your ideas, tasks, projects, and thoughts in to-do lists
Focused on: managing tasks with to-do lists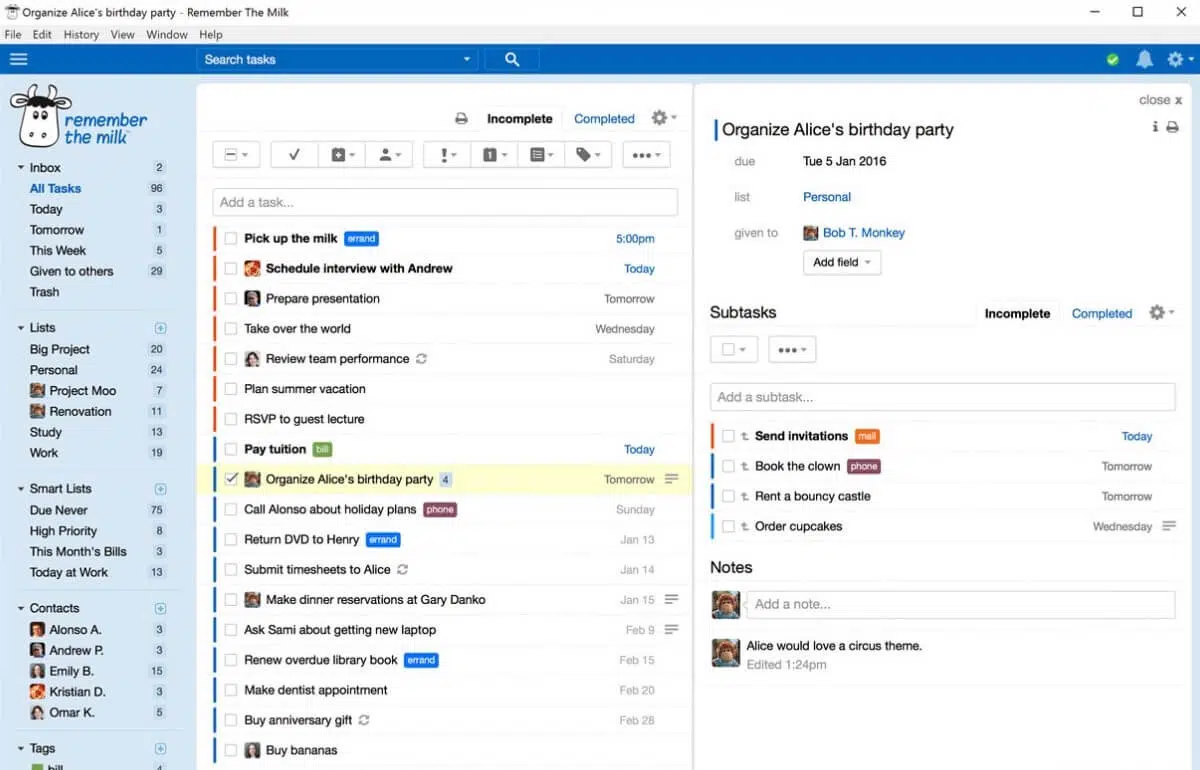 How it works: To-do lists are an inseparable part of successful time management. So if you have a problem remembering your tasks, Remember The Milk can help you stay on track. The tool has nice extra features to help you stay productive:
Task's properties (due date, priority, repeat, tags, and more),
Reminders
Tags
Subtasks for subtasks (yes, you got it right 😉 )
You can attach files
Filters
Notifications
Smart list
Flexibility: Remember The Milk is a simple app but its granular features let you use it as flexibly as you need to, be it managing a grocery list or complex project management.
Integrations: You can add and manage your tasks from Gmail, Google Calendar, Twitter, and several other apps. Apps for the web, Mac, Windows, Linux, Apple Watch, iPhone, iPad, Android phones & tablets, BlackBerry 10, and Fire.
Best for: free online time tracking
Focused on: time tracking with visual reports and timesheets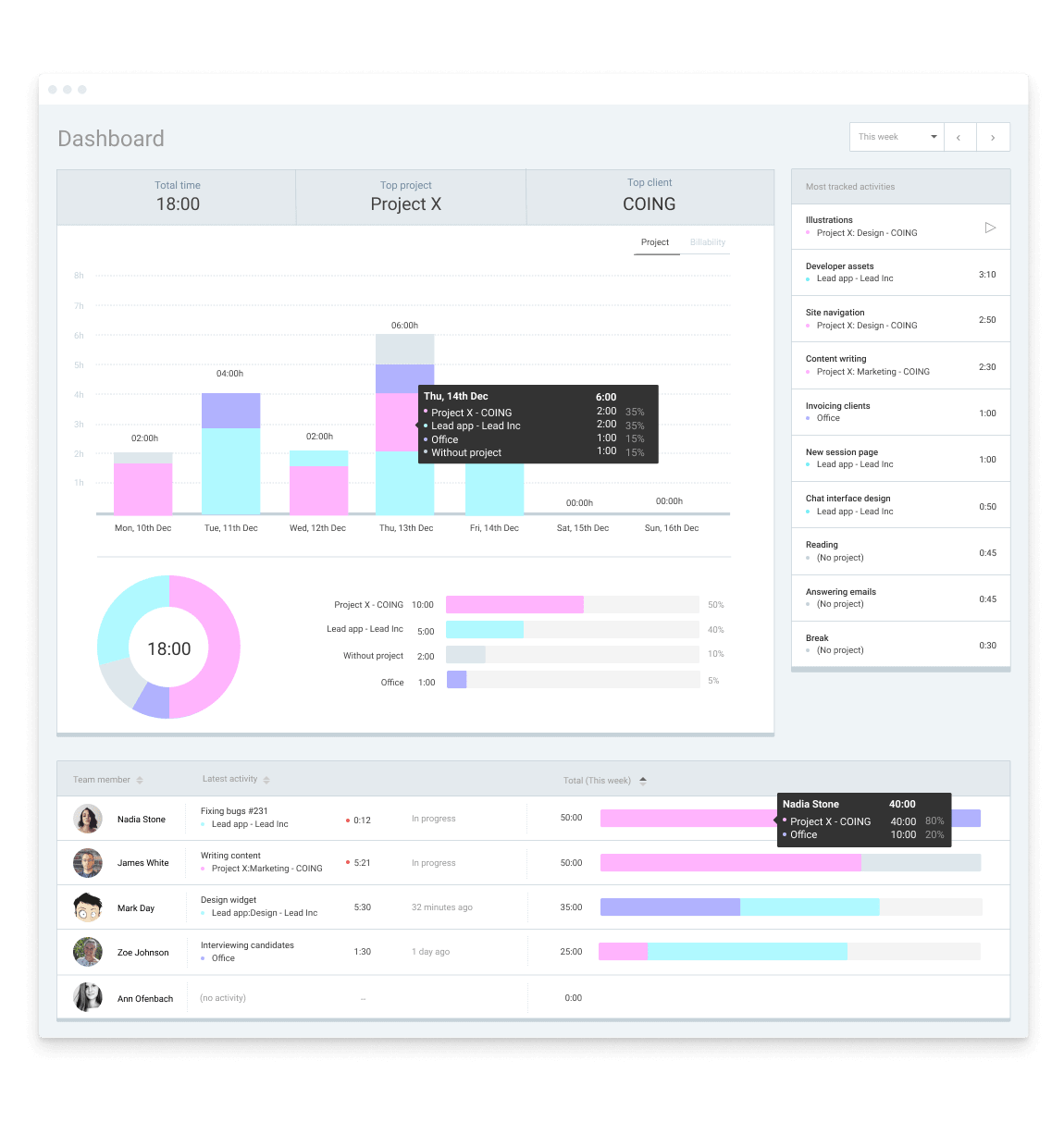 How it works: Clockify is a free time tracking software for everyone. All your team can use it, no matter how many people it counts. It's a time tracker and timesheet app. You can use it to track hours across different projects and synchronize the work of your team.
Flexibility: Clockify is rather flexible, however, users complain that the modules are not streamlined which makes it difficult to automate work. Other than that, it comprises some project management functionalities to help you manage your team.
Integrations: Clockify integrates with several of the most popular apps. Also, you can connect your favorite tools via Integromat or Zapier, add your own tool, or use the APIBrowser extension (Chrome, Firefox), desktop app (Windows, macOS, Linux), mobile app (Android, iOS)
 Other features: Clockify has timesheets and reports that let you see all the information about every project and team in a transparent way. Comprehensive reports give you insight into the status of work, budget, and work time. Clockify has many minor features that allow for precise financial estimates and calculations.
👉  Check our article with the best free Clockify alternatives
Best for: project management & team collaboration in one app
Focused on: streamlining granular tasks and unifying data in one place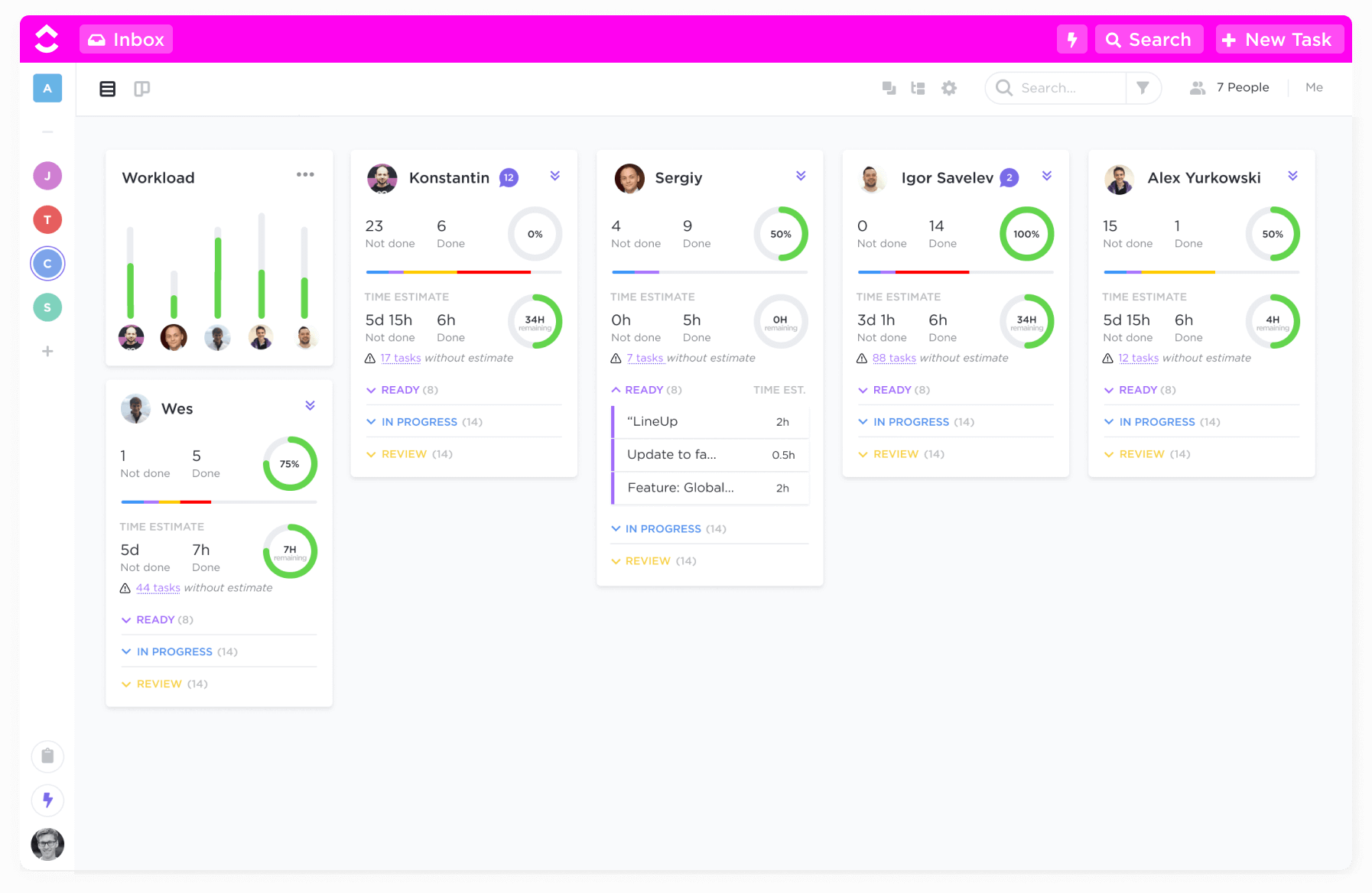 How it works: ClickUp is an all-encompassing platform for simple project management and collaboration. In ClickUp You can share information with team members in various formats.
It also replaces long messy email threads by providing you with a convenient chat space for group and individual conversations.
In ClickUp, you could distinguish several modules, including Process Management, Task Management, Time Management, Reporting, and Customization. But since all the features nicely interface, altogether they create a unified hub for organizing work.
Flexibility: The tool also gives you the flexibility to organize work and projects the way you like.
Available for web, desktop (Windows, Mac, Linux), mobile (Android, iOS), Amazon Alexa enabled, works with the Google Assistant. ClickUp easily integrates with other apps directly or via Zapier.
Other features: You can plan every step, and make quick changes. You can also schedule workflow, manage team capacity, and track all processes. It has many smallish proprietary features so it's possible to personalize every aspect of a project.
✨Check our ClickUp Time Tracking integration!
Best for: busy people who like minimalistic solutions
Focused on: working with the Pomodoro technique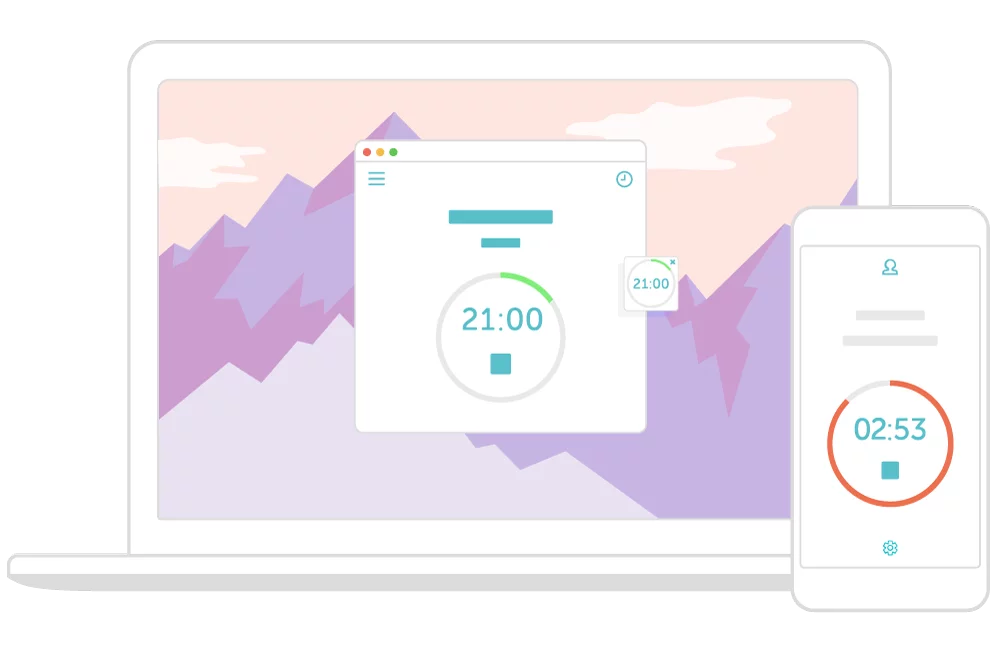 How it works: focus booster is a simple yet powerful tool for time tracking. It lets you track time with the famous Pomodoro technique. The tool is a perfect solution if you're looking for a simple Pomodoro timer to track time in 25-minutes intervals, or if you want to try out the technique.
The free version of the focus booster includes 20 Pomodoro sessions per month, simple time tracking, and productivity reporting.
Flexibility: The app has the basic features necessary to manage and track time—a to-do list, simple time tracking, mini and minimalistic timer, light and dark modes, reports with date, client, or label. You can see your progress in a neat dashboard that visualizes all data, and add entries manually to your timesheet.
Integrations: desktop (Windows, Mac), mobile, web. No integrations with other software are available.
👉  Read also: 15+ Time Tracking Software for Mac OS X
Best for: teams who want to streamline workflow
Focused on: team time tracking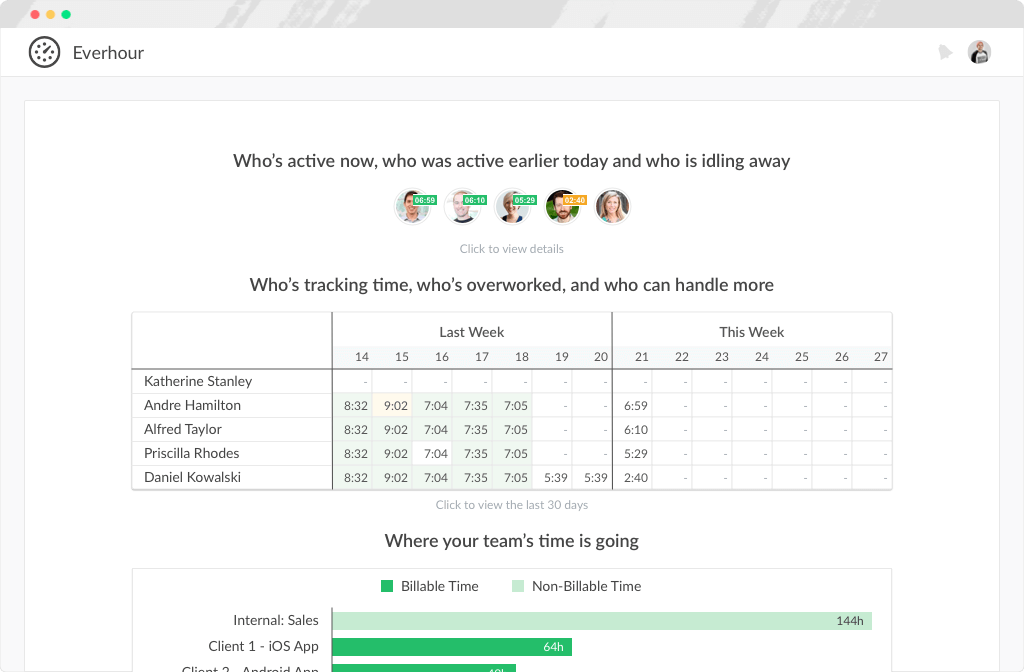 How it works: Everhour is a cloud based time tracking software dedicated to teams. It combines simple team and project management features to help you keep track of time and organize projects and workflow.
The free version of Everhour has all the features except add-ons and is available for up to 5 members. Choose the free trial if you want to test all features in a larger team. And in the main dashboard in the "home" section you can quickly view all the key information to plan a future project and organize workflow.
Flexibility: Everhour has 8 modules that help to manage all aspects of the team—scheduling with a Gantt chart, time tracking module, projects, clients, team information, rich reports, invoices, and expenses. That allows you to gather all the important information about work and your company.
Integrations: Everhour integrates with several of the most popular apps such as Jira, Asana, Zapier, and more. It's available as a web app and an iPhone app (in beta).
12. Bite15
Best for: minimalistic habit tracking
focused on: tracking time and habits for individuals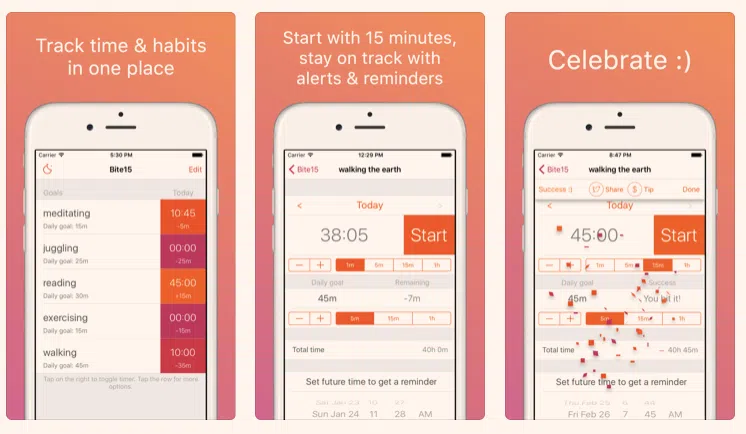 How it works: Bite15 is is a time tracker for iOS that helps you discover effective time management.
It's a fantastic solution for people who struggle with performing tasks. You simply create a task or a goal, start with small bites of time, e.g., 15 minutes, and watch your productivity skyrocket. And in the meantime, you get alerts and notifications to stay on top of your work. At the end of the day, all your time is summed up so you can see how much of it you spent on your tasks and goals.
 Flexibility: It's a minimalistic app for people who want to improve productivity, stop wasting time on distractions, and focus on the most important tasks.
Integrations: If you need an extended version of Bite15, you can try the free Eternity Time Log made by the same creator.
Best for: developers, programmers, people who often switch between different windows
Focused on: helping users tile windows to achieve work comfort and boost productivity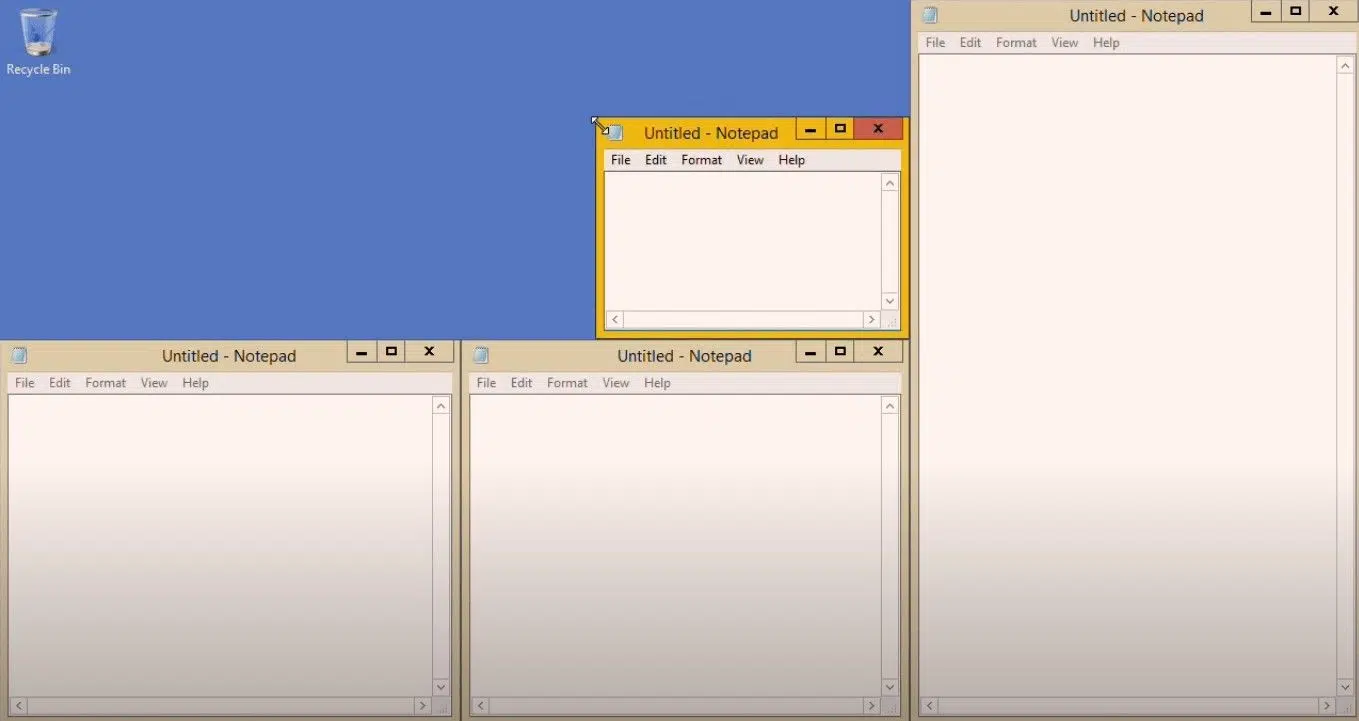 How it works: Good time management is not only about tracking time. It's also about organizing your workspace visually. Especially, if you work with many tabs or tiles.
AquaSnap is a tiling window manager that helps to organize your desktop layout in the most convenient way so you can save time on switching between tabs and different apps. Now you can have everything in one spot.
The free version is available only for personal use.
Flexibility: The app allows for windows docking to split the desktop, snapping to align windows, stretching with one click, making a window transparent or to stay on top. Additionally, there are keyboard shortcuts to make using the app easy.
Integrations: not available
Conclusion
There are thousands of time management apps to help you manage your time and projects. On the above list, you can find the most popular tools highly-ranked by customers.
Maybe we missed some of the best time management programs? Or maybe you have your own way of tracking time and improving productivity? Let us know in the comments!