Time management programs are widely used in offices all over the world. They are used by both large and small businesses, startups, or even by individuals. The main reason for that is the ability to allocate a particular amount of time to tasks and projects or people. Thanks to it, the work is automated and brings better results.
But besides automation of work, there is one more important aspect of time management programs for which managers decide to use them – increasing company's efficiency and chances for achieving success. Thanks to employee time tracking software, a manager can not only allocate time to tasks and projects but (s)he can also manage other aspects important for the company or a project. (S)he is able to see the team's progress and time spent on work. Also, to calculate the budget. Most of all such tools enable to have insight into detailed reports on work.
So time management programs make work productive and easier, both for the employer and employee or for an individual. There is no surprise people are so willing to use them. They help to save time, increase productivity. This very often contributes to success at work.
There are many time management programs but not all of them are available for everyone. Small businesses or freelancers very often look for cheap alternatives. If you're one of those looking for a good time management program, here's the list of the best free time management programs.
Nice and easy-in-use software for time tracking and time management, TimeCamp generates detailed reports based on real-time tracking. It's a web-based app and thanks to it you always have access to your reports. TimeCamp tracks all your activities automatically, all you have to do is to sign up (of course, for free), download the desktop app, turn it on and work. You can add your tasks manually but you can also let the app do it for you so that you can focus entirely on your work. You don't have to waste time on writing down how much time you spent on particular tasks, or who from your team did what. All the information can be simply managed after logging into your account.
With TimeCamp you can not only track your and your team's work hours but also their productivity (and you can eliminate distractions). You can also do many other things helpful in time tracking, such as assigning people to different tasks, creating projects based on budget, people, tasks, etc. However, TimeCamp is not only a time tracking software. It has many practical features which make work more efficient, for example:
a low price of the premium version,
availability for different platforms (Windows, Mac, and Linux),
mobile app,
invoicing,
billing customers based on project's budget tracking,
GPS tracking feature,
variety of integrations.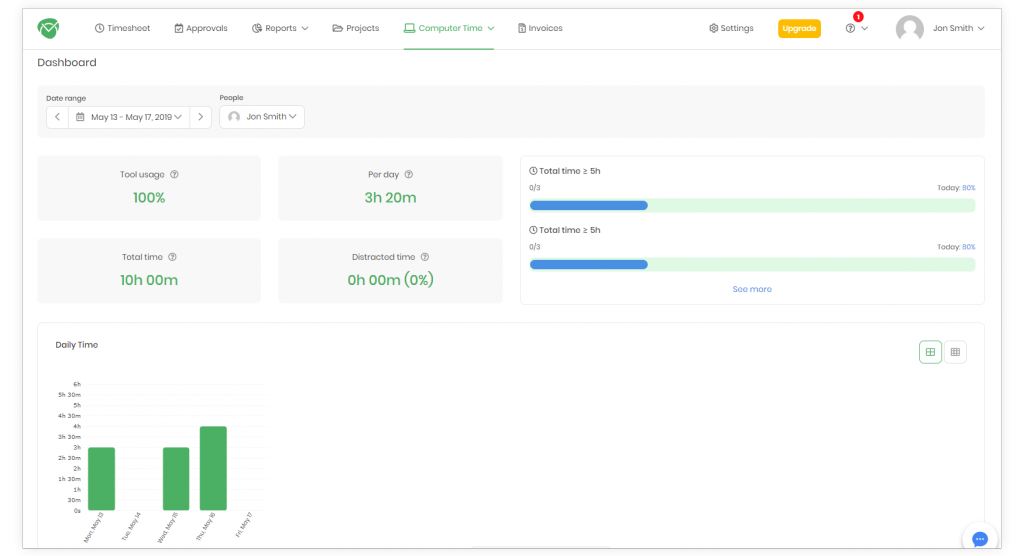 Toggl is a popular and widely used free time tracking program. The software has a friendly-looking interface without too many, very often unnecessary details. Toggl, besides time tracking, is also a tool which serves as a timesheet. In its free version, the tool offers automatic time tracking which doesn't require much of your attention. Toggl has a button for your browser and with one click you can start tracking your time.
The tool provides reports on your work and shows which of your or your team's task took most of the time, how much time is left until the due date of the project, but also what's the budget. Toggl is a simple and comprehensive free time tracking tool, perfect for those who do not need any special and complicated features.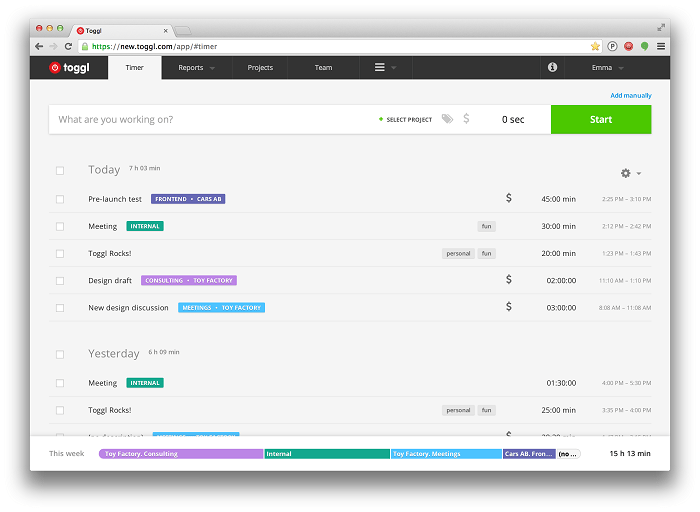 See the comparison between Toggl and TimeCamp
Trello is, in fact, a tool designated more for organizing your time than tracking it. However, don't get discouraged by this fact! Here's why. Trello can be helpful in tracking your time because it allows you to follow all your tasks. With Trello you can create a space for your entire company. There is also an option of allocating people to different groups (e.g. marketing, IT, support, etc.). In every group, you can organize tabs for every member and assign tasks to each of them, depending on what's their role in the team.
This tool can serve as a great time tracking program because you can set a due date (with precision to one minute) of your tasks. Additionally, you can add anything you want to your projects, beginning with a short note, a file, to a link to your bank account.
Trello serves as a good motivator since it can be your to-do list. At the end of the day, you can see what your results are and work on your productivity in case you missed something.
But that's not all! You can effectively measure time spent on tasks allocated to Trello cards with the TimeCamp + Trello Power-Up to increase your productivity. Make sure to check it out and always stay on top of your work!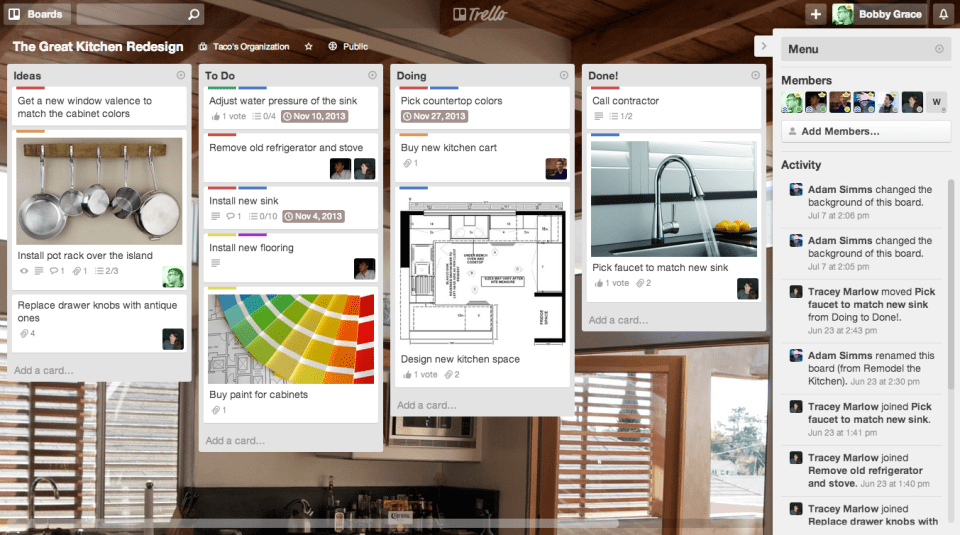 "Simple online tracking tool", we can read at Harvest website. And, indeed, it is. Harvest enables you to follow your as well as your team's work from any place – from your smartphone, website, or a computer. The tool tracks estimated and actual budget costs so you always know if you're exceeding the budget. Next to the automatic time tracking, it is also a timesheet app as it allows you to see everyone's work and idle hours, also, how much time was spent on particular activities. Thus, you know who worked when and for how long. And the tool reminds your team to fill timesheets.
Harvest is widely used and has several integrations with different apps and tools. The free version doesn't have the extra features but for the beginning, the free variant is enough.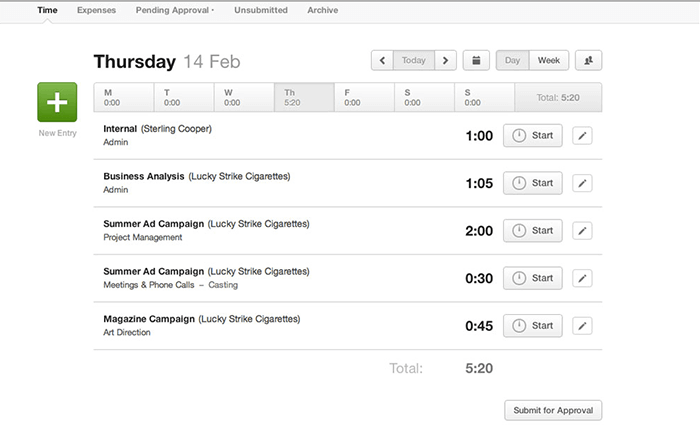 See the comparison between Harvest and TimeCamp
MyHours is a web-based time tracking tool which helps to monitor employees' work and projects' progress. It is a good alternative for those who are especially concerned with Project Management. This software has a well-developed feature of managing people's work hours and assigning tasks to them. You can see how much time your team spends on work and base your project budget on this information. 
MyHours also makes it possible to delegate tasks. This feature can save a lot of time and energy. However, not all features are available for the basic free plan so it may require investing some funds in the tool.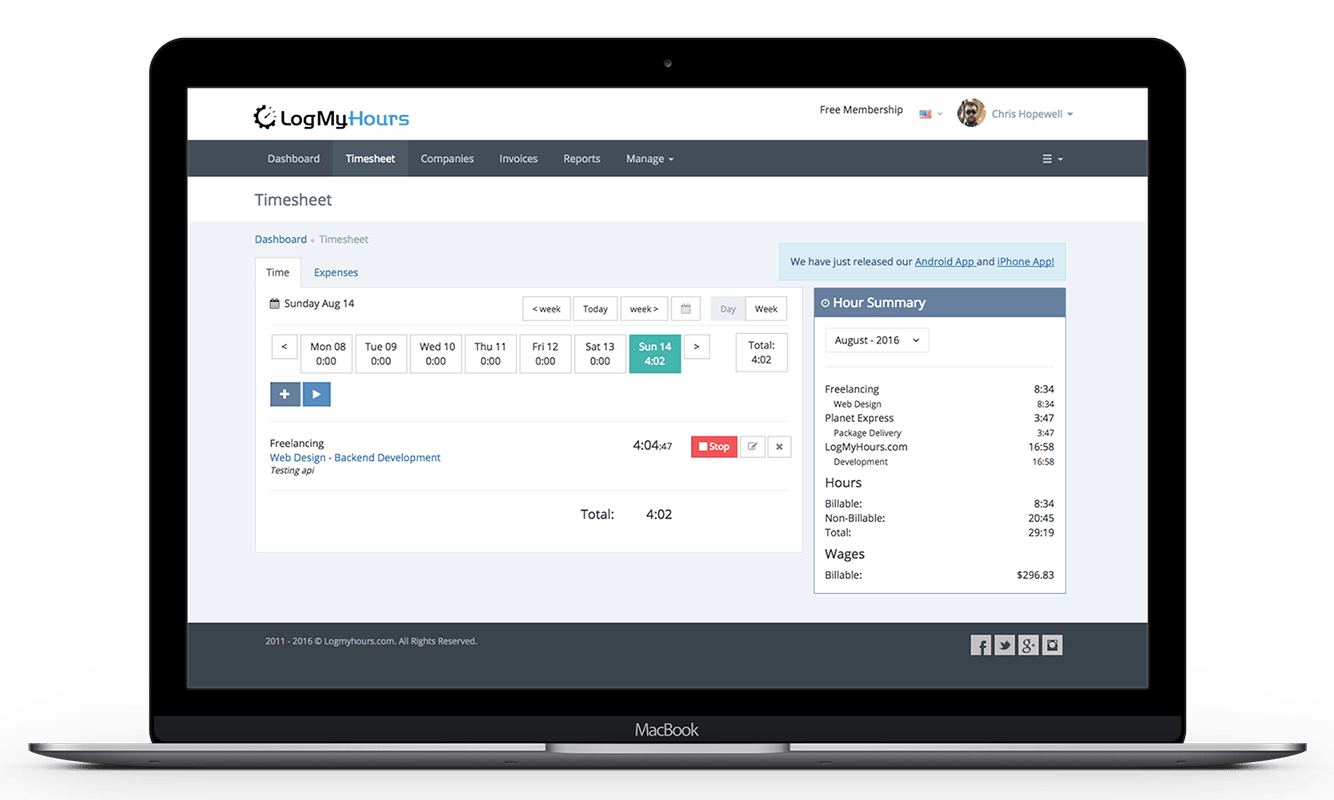 See the comparison between MyHours and TimeCamp
In its simplicity, Task Till Dawn makes a perfect time tracking tool for those who are tired of constant reminders to finish a task. What makes this tool convenient is that you can easily schedule a time for particular tasks you need to work on. Task Till Dawn will automatically remind you to do your duties by popping up the file or folder on your screen. This is a great way to keep things organized, finish your projects at specific time intervals and always stay on top of your work.
It also has a very useful feature of backing up your data, which can be especially helpful if you tend to forget to do it or leave your computer in the idle state. I would recommend this tool to anyone who needs the easiest and free time tracking program.
To Sum Up
If you are looking for the best time tracking program, try one of the above software. Once your business grows and you will need something bigger, it's good to invest in the premium versions of those (if available). For the beginning, these are the best option. Let me know in comments which tools you use! Or maybe there's a position which should be included on the list?
Related posts