An employee tracking system is something many businesses cannot work without. It helps to automate work, save time, and even improve customer service by enabling your team to get faster to clients. So which employee tracking system is the best and how to choose it?
CONTENTS
› What Is The Best Employee Tracking System?
1. TimeCamp
2. Timr
3. Gleeo
4. Trackimo
5. Chronotek
6. TSheets
7. LaborSync
What Is The Best Employee Tracking System?
Before you decide to implement an employee tracking system, you need to answer three important questions:
Why do you need an employee tracking system?
What type of employee tracker do you need?
How will you use it? (Will it be an integral part of complex software or a separate employee tracker/employee tracking app?)
These questions will help you determine which tool will be best both for you and for your employees. You will also understand how it will impact your business and the way people work.
There are numerous tools designed for tracking the location of employees. How to choose the right one? You don't have to look any further! Take a look at our list of 8 best employee tracking systems to get the right tool for your team.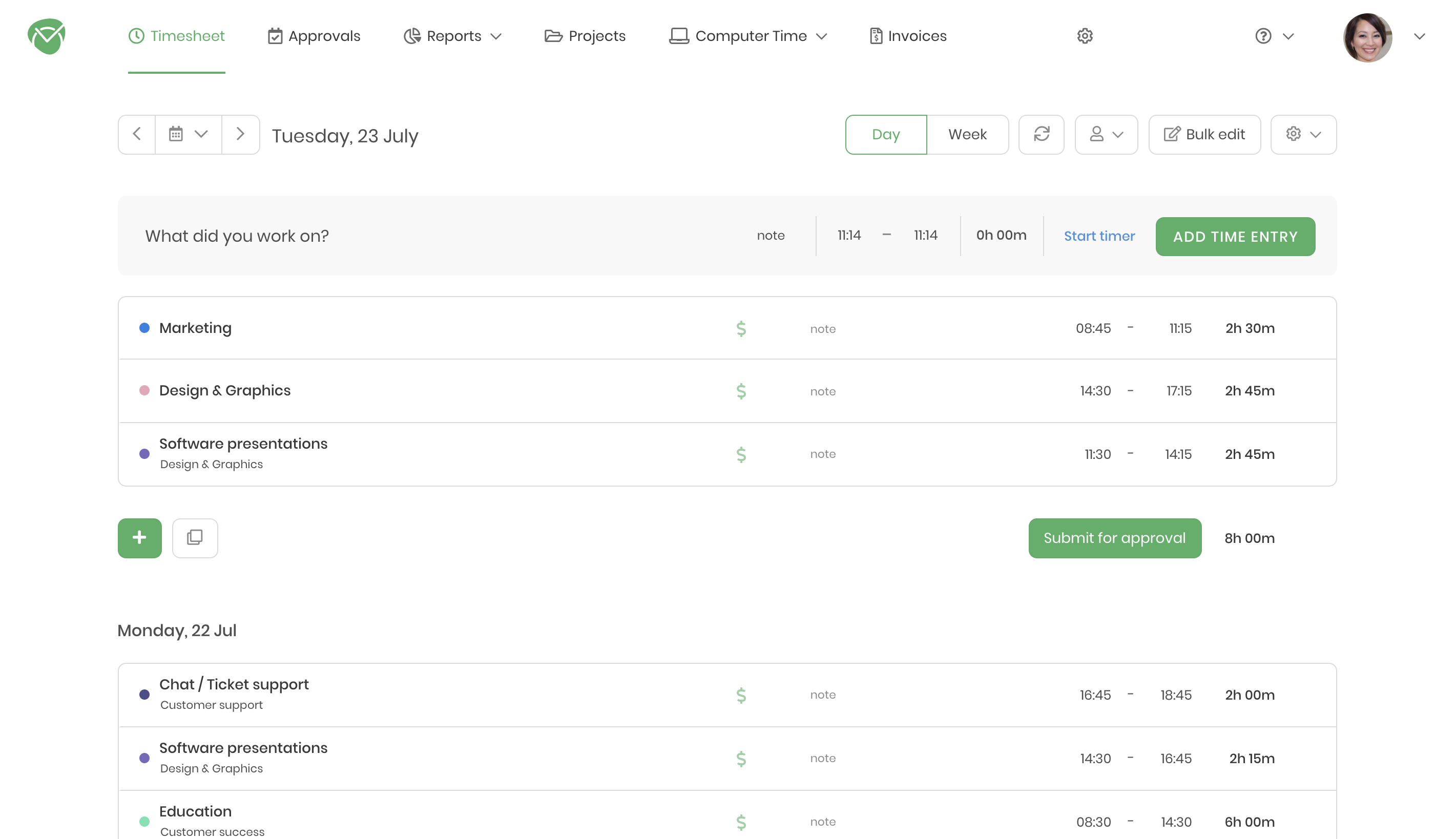 TimeCamp is one of the most advanced time tracking software on the market. If you're looking for a tool that will help you save time and money, it's the right choice!
TimeCamp allows you to track your employees work to improve workflow, communication, and collaboration in your team. Its automatic tracking features make it a great centralized system for project management. It has all the necessary components you need to always stay on top of work and be ahead of your competitors!
 Main features:
Automatic time tracking in the real-time with comprehensive and detailed reports
Accurate timesheets to know when and how your employees work
Monitoring employee activities by categories, including app and website tracking
Monitoring productive and unproductive activities
Tracking time by tasks and projects to know what your employees are working on and what's the projects' state
Attendance management to keep track of vacations, leaves, absences, and more
Budget monitoring
Attendance tracking
Integrations with the most popular software for project management, accounting, CRM, productivity, and more!
Available for:
Pricing:
Solo – free for a single user
Basic – $5.25 per user (billed annually)
Pro – $7.50 per user (billed annually)
Enterprise – custom pricing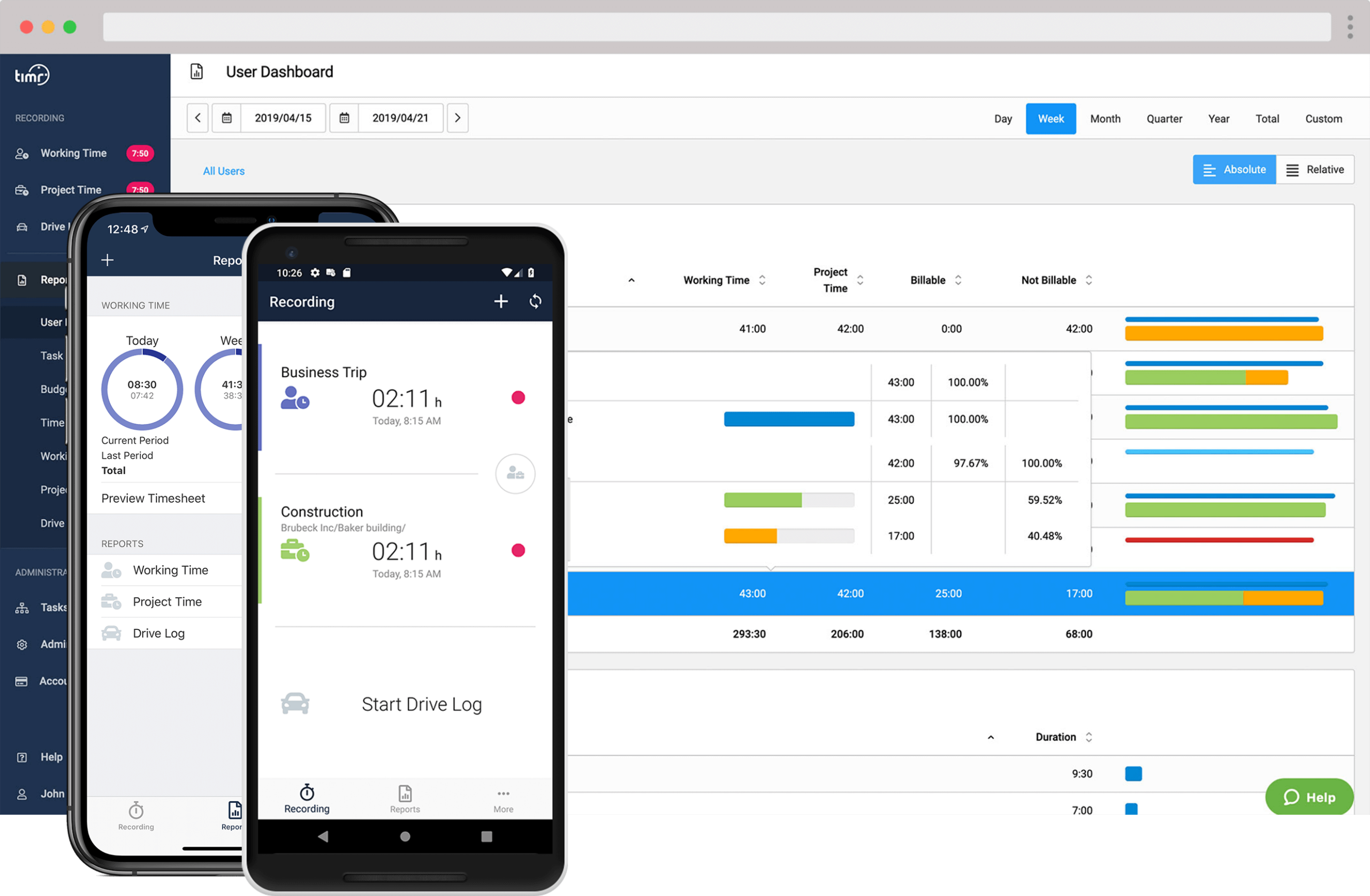 Timr is a tool suitable for people who need time tracking, project tracking, and location tracking in one. The app provides all features necessary to keep track of all activities essential to deliver projects on time and on place. Use it if you need to create a centralized system for managing a team.
Main features:
Tracking work hours and project time
Available via browser and mobile app
Tracking mileage with the GPS
Centralized admin dashboard
Customizable reports
Available for:
Android
iOS
Blackberry
Windows
Pricing:
Regular – no base fee + € 8/user per month (10% discount if paid annually)

Plus – € 29/month base fee + € 8/user per month (10% discount if paid annually)

Enterprise – € 79/month base fee + € 8/user per month (10% discount if payed annually)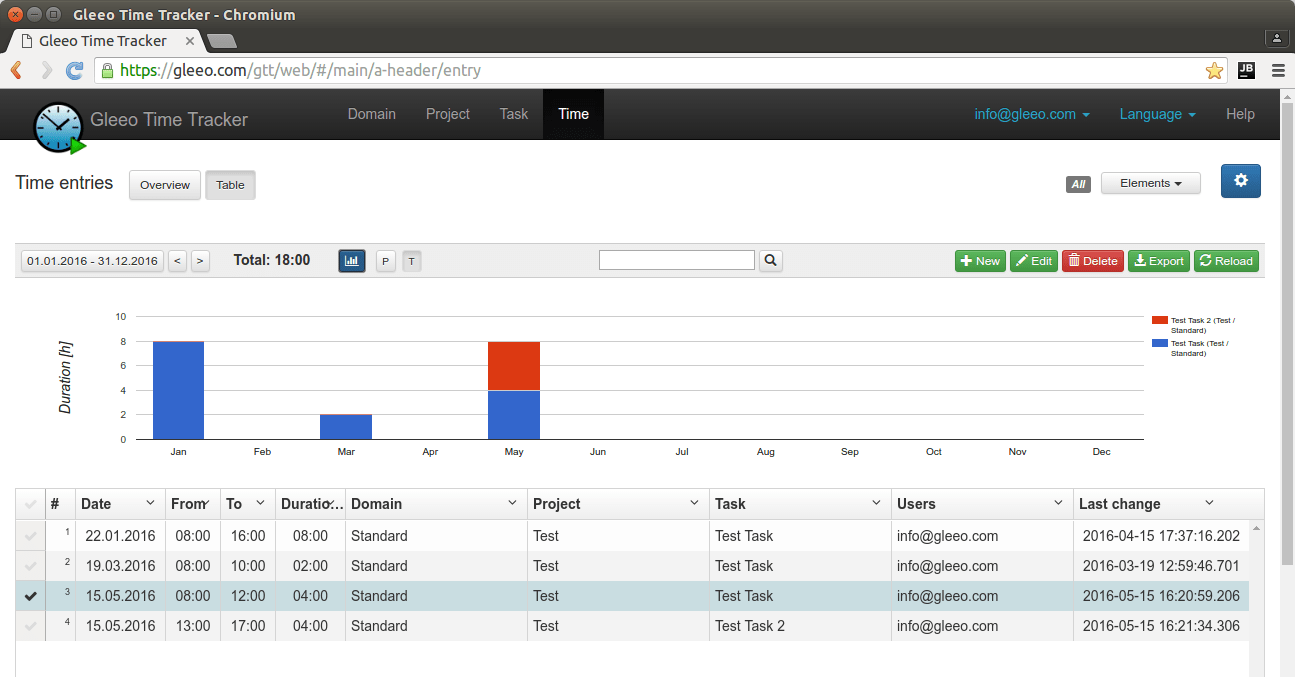 Gleeo Time Tracker is a combination of time tracking app with employee GPS tracking app. It's a simple solution for managers who are looking for a straightforward employee tracking system that can provide them with the most vital information about their team's work.
Main features:
One-touch time tracking – simple start-/stop-buttons
Location based time tracking with Automagic Premium app
Location capturing
The timesheet can be organized over several hierarchical levels
Exporting data to CSV
A daily, weekly and monthly data is displayed in an animated timeline
Available for:
Android
As a web application
Pricing:
Gleeo Time Tracker for Android – Free
Sync&Team service 

$2.50 per 

user/month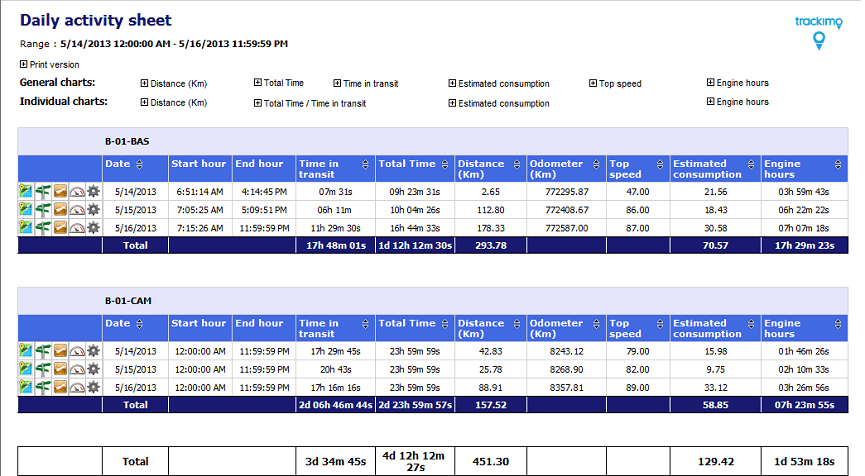 If you need an employee tracking system aimed at tracking location, Trackimo is the one. You can use it for your business or individually, to track your kids or elder family members' location.  This app is especially useful if you need to make sure all your employees, luggage, etc. are on track and don't get lost. Trackimo is perfect for fleet location tracking in the real-time.
Main features:
GPS and GSM connections provide instant, highly accurate current location and history
Real-time location tracking
Trackimo devices can be tracked via web or smartphone app anywhere GSM cellular reception exist
Smart alerts – receiving alerts by text, email, and app notifications for emergency events, safety zone breach, speed thresholds and sudden movement
SOS button for emergency situations
Available for:
Pricing:
Pricing depends on the device you choose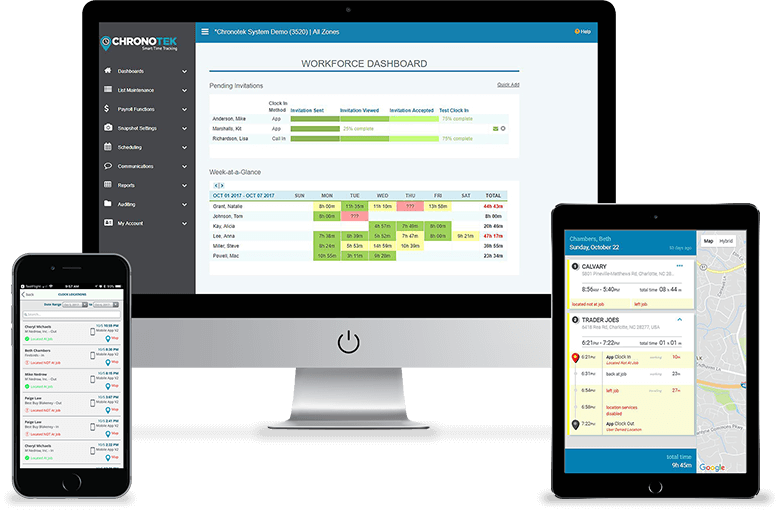 If you're looking for a tool that will track employees' work and location, Chronotek is a perfect fit. It allows your employees to clock in and out no matter where they are. With Chronotek you will know when and where employees clock in/out, if they left the job site, whether they showed up late for work, missed a job schedule and if they received your messages and calls.
Main features:
GPS tracking with geofence
Workforce messaging
Integrated with Google Maps – travel time cards and mileage are automatically calculated between job locations
Job schedules
Time tracking dashboards with real-time reports
Budget management
Job costing with reports
Custom alert setting
Integrated with many payroll apps
Available for:
Pricing:
$5/employee + a $14 monthly base fee. 30-day trial available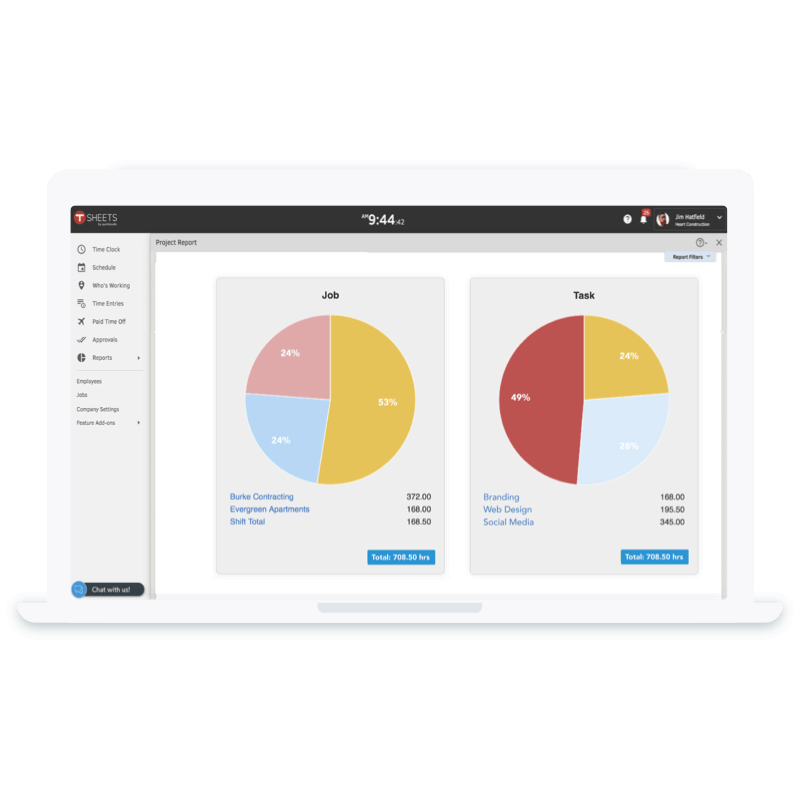 TSheets is mostly known for its accounting and time tracking features. Its easiness and intuitiveness make it the best employee tracking system for organizations that need to take budget under control. TSheets is also a great project management system that helps to gather all important data in one place.
Main features:
One-click time tracking
Scheduling by jobs or shifts
Real-time interactive reports and timesheets
GPS location tracking
Different overtime settings and flexible pay rates
Alerts and notifications
Time-off management
Available for:
Pricing:
$6
.40 
per user, per month
+ $16 base fee per month. 14-day trial available.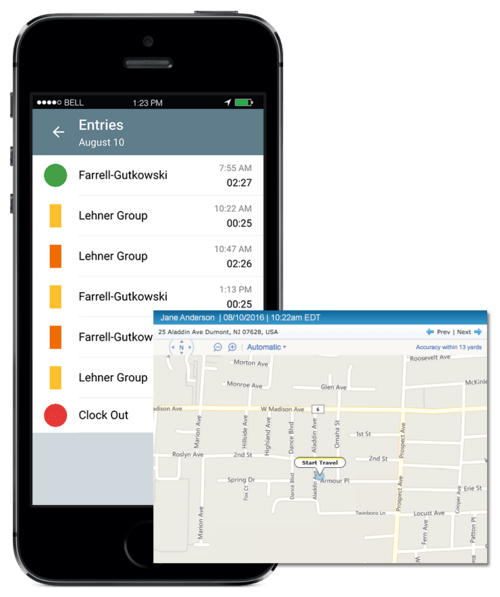 This employee tracking system is suitable for time and attendance management. It helps to keep track of employees' hours and their location via mobile devices. Labor Sync helps to optimize processes and save time as well as money in the organization. It's a robust employee tracking system with numerous features. Additionally, it's available in 15 different languages.
Main features:
GPS-enabled time tracking, you have accurate reports indicating how long each employee is at a job site and the route
Real-time GPS tracking – you can always see what your employees are doing at a specific moment
Reporting in the real-time
Payroll
Estimating
Project management
Overall employment management
Customizable reports
Field notes and messaging – through the messaging feature, employees can be notified of meetings, schedule changes, or any other information
Available for:
Pricing:
$10 per month for active employee. Includes 14-day trial.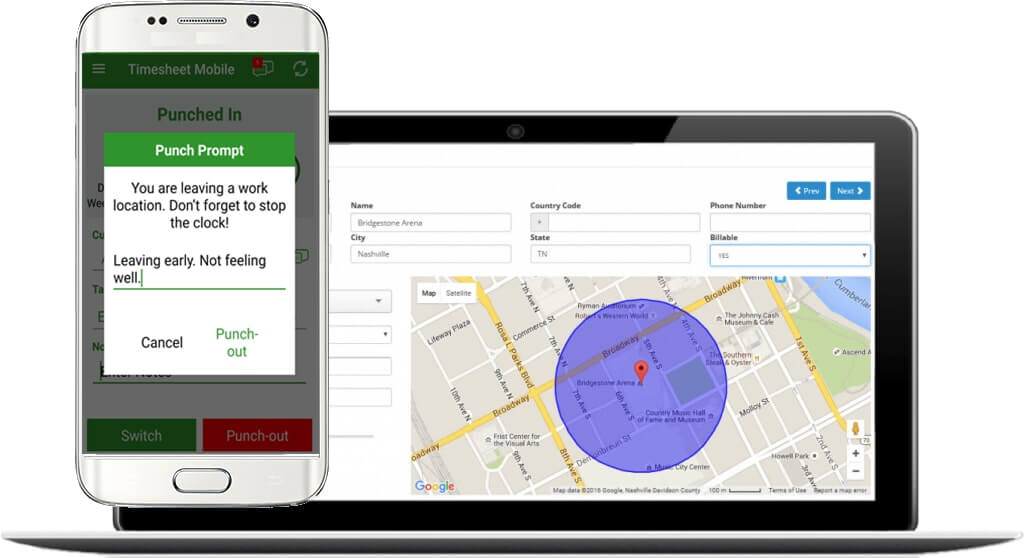 Timesheet Mobile allows you to eliminate paper timesheets, set up employee jobs, assign tasks and manage employee schedules. This employee tracking system will help you and your team keep a hand on the daily agenda and make sure all projects are carried out properly and on time.
Main features:
Geofence time tracking – the easy to use timesheet app sends instant alerts to managers when an employee is away from job site. Punch Prompt geofence technology reminds employees to Punch in/out and prevents timesheet errors.
Scheduling with drag-and-drop feature
Timesheet reports
Team messaging
Integrations with QuickBooks Online, QuickBooks Desktop, Xero, Sage, ADP, FreshBooks
Available for:
Pricing:
Basics Plan – $3.49 per employee for unlimited punches + $14.99 company subscription
Per Punch Plan – 15 cents per punch + $29.99 company subscription
Small Business – $9.95 per employee for unlimited punches + $29.99 company subscription
Medium Business – $2.49 per employee for unlimited punches + $149 company subscription
Large Business – custom pricing
The Key Takeaway
It may not be easy to pick one tool from all that are available. Some are more advanced than others. And what works for one business will not always work for others. You need to analyze how your organization is structured and then eliminate the software which features do not correspond to your needs.
We hope you find our short list useful and it helps you in choosing the right software.
Related posts