20+ Best Time Management Apps to Keep You Productive
July 6, 2020
by Kate Borucka
One comment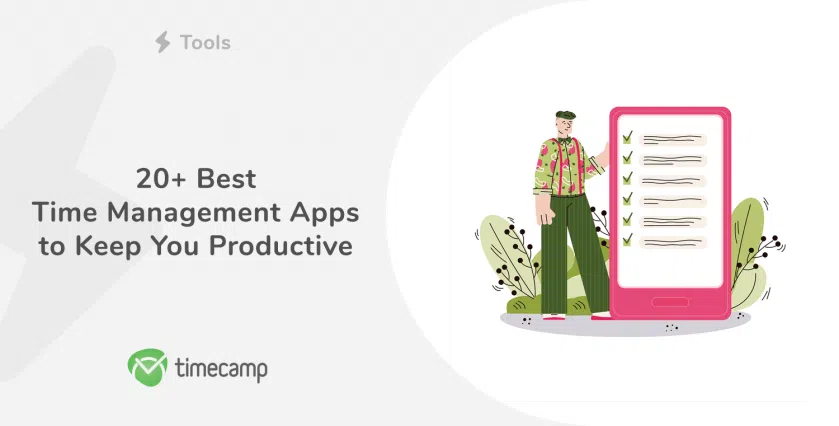 According to statistics, 20% of the average workday is spent on important things, while 80% of the average workday is spent on things that have little value or no value. No wonder we need time management apps. It's not easy to manage all the things we have to do in a single day. Time management apps help to organize work, team workflow, and plan every day depending.
Over the last year, the productivity market has boomed with thousands of products. There are numerous books, articles, and advice on how to manage your time, beat procrastination, and make the most out of your day. But there's nothing as efficient as time management apps. Some are simple solutions, others, advanced software for organizing every aspect of work and personal life.
To help you choose, we've gathered the best apps, highly ranked, loved by users, with the best features to help you in managing your time, tasks, and achieving personal goals.
There's a lot of tools so let's get right to it! Here's the list of the best time management apps that will help you stay on top of your work!
⏰ Category: Time Tracking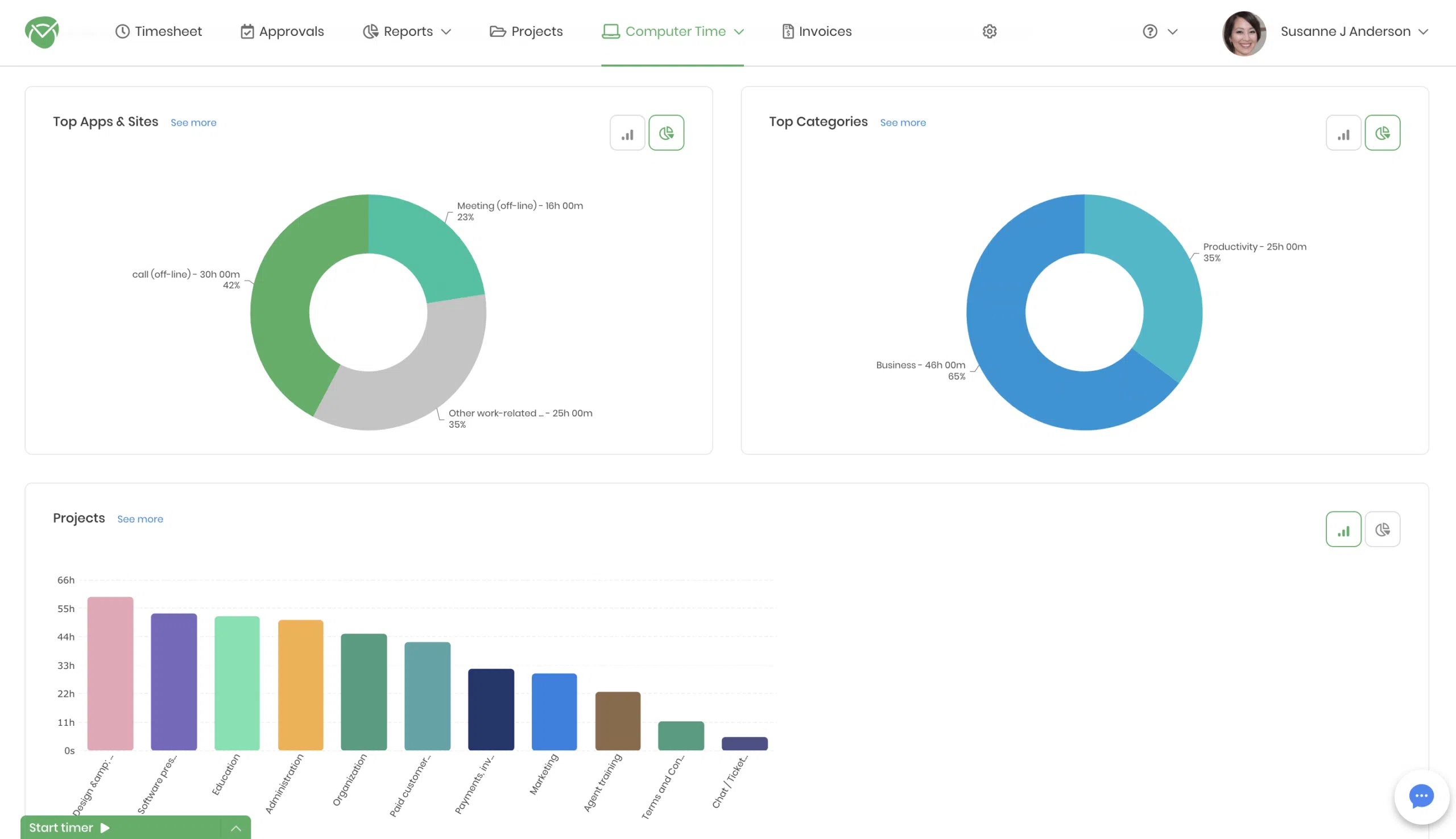 Purpose: time tracking with billing, reports, timesheets, and productivity improvement
Timecamp is a robust time tracking and work management software. The app tracks your time automatically so you can stay focused on your work.
It tracks all your activities, apps, tasks (including the names of documents and websites' URLs), and categorizes them into productive and unproductive. You can see which activities take most of your time, which are making you effective at work, and work on your efficiency.
In Timecamp, you can organize all your projects with subtasks, people, and budget to understand how you or your employees work and better allocate resources and manage time.
Timecamp is a powerful time management app with helpful productivity features:
Automatic and manual time tracking
Powerful reports with graphs, numbers, and efficiency results
Tracking goals
Attendance module with different types of days (remote work, holidays, leaves, and more)
Timesheets with approvals
Budgeting; tracking billable and non-billable time;
Calendar view with colors for work visualization
Integrations with other productivity and time management apps
Available on: Desktop (Windows, Mac, and Linux), and has native mobile apps available for iOS and Android
Pricing:
Free – $0 for unlimited users
Basic – $6.30/user per month (paid annually)
Pro – $9/user per month (paid annually)
Enterprise – custom pricing
👉 Boost your productivity with Timecamp and sign up for free!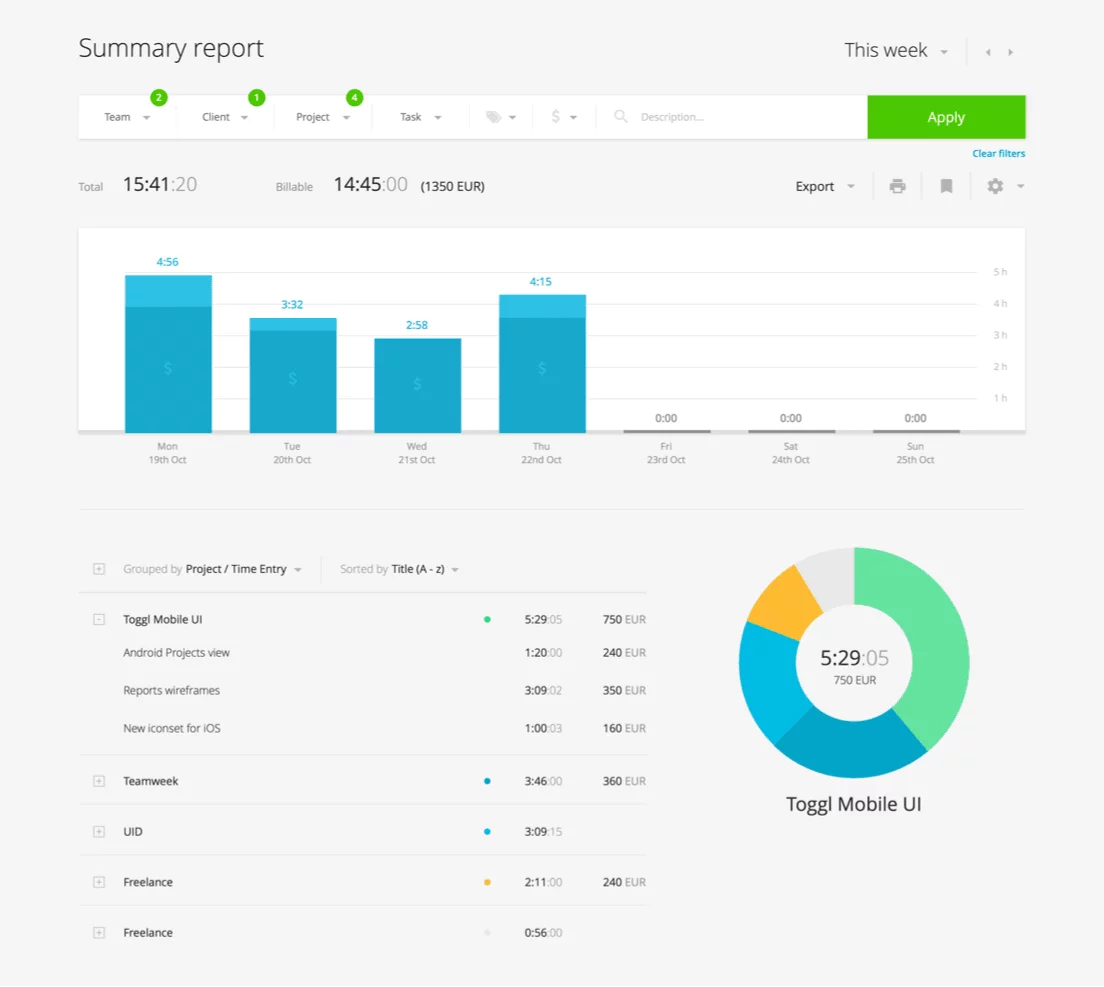 Purpose: simple time management and activity tracking
Toggl is a time tracking app. And if you're looking for a solution that would help you measure your productivity in a simple way without too many extra features, Toggl is the right choice.
You can subscribe to paid versions of Toggl for extra options, however, the free plan already has all the features needed for a simplistic time tracking.
Toggl offers simple time tracking with basic features. It's a transparent system that allows you to plainly manage your time with an intuitive user interface. In Toggl you can manage different projects, tasks, clients, and teams. Tags and colors make it easier to break down your hours to see precise time intervals in reports.
The tracked time with activities is available in the dashboard with a summary view. Also, the Pomodoro timer is available on the desktop app.
Toggl is a fancy time tracking app perfect for small teams and individuals who want to track hours spend on work and boost productivity.
⇒ Check the comparison between Toggl & Timecamp
Available as: a web app, desktop app (macOS, Windows), mobile app (iOS, Android)
Pricing:
Starter – $9
Premium – $18
Enterprise – custom pricing
Purpose: productivity tracker
RescueTime is a productivity app that improves personal time management. It's a simple combination of a time tracker and a website blocker. You can use it to get full control of your attention in an easy way.
With RescueTime, you can automatically track how much time you spend on apps, websites, and documents, and later see the information about your work in reports.
Additionally, you can block distracting websites, work in sessions, set daily limits on apps and sites, customize what gets blocked, or schedule focused time directly in your calendar.
Available on: web, desktop (Windows, MAC, Linux, Chrome), mobile (iOS, Android), and as a browser plugin for Firefox, Chrome, and Brave.
Pricing starts at $6.50/month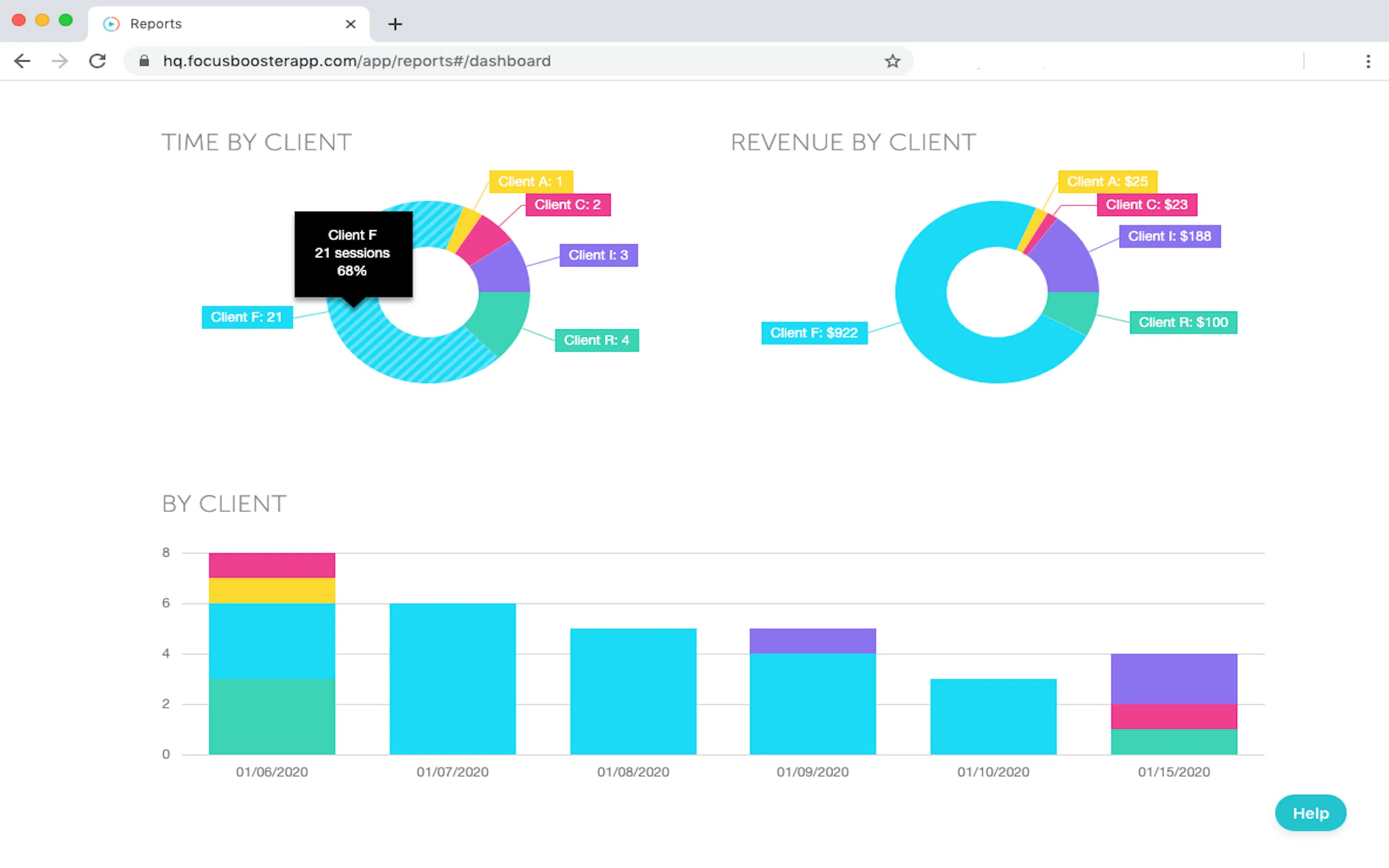 Purpose: tracking time with the Pomodoro technique
focus booster is a simple yet powerful time management app. It lets you track time with the one of the most famous time management techniques – Pomodoro technique.
The tool is a perfect solution if you're looking for a simple Pomodoro timer to work in 25-minutes intervals, or if you want to try out the technique.
focus booster has all the necessary features of a time management app—a to-do list, simple time tracking, mini and minimalistic timer, light and dark modes, reports with date, client, or label. You can see your progress in a neat dashboard that visualizes all data, and add entries manually to your timesheet.
The free version of the focus booster includes 20 Pomodoro sessions per month, simple time tracking, and productivity reporting.
Available on: desktop (Windows, Mac), web
Pricing:
Starter – free
Individual – $2.99 per month
Professional – $4.99 per month
Category: Task & Project Management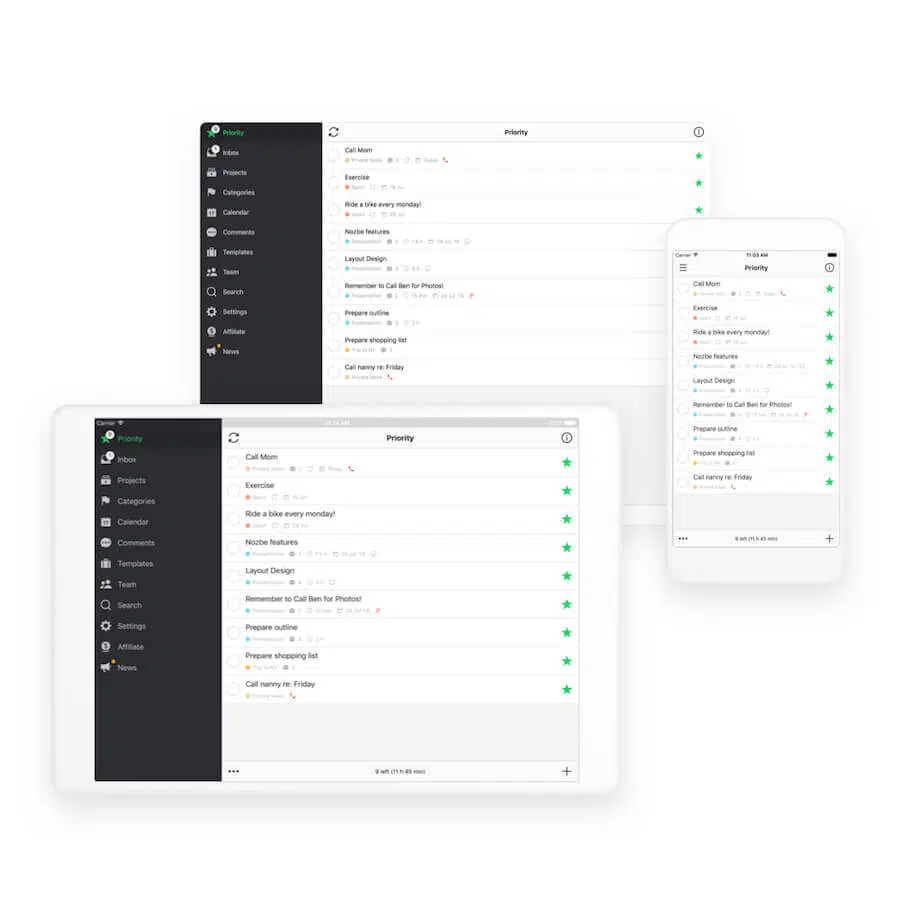 Purpose: simple task management with a to-do list
Nozbe is a time management app that allows users to organize tasks in a to-do list format. It offers two solutions—Nozbe Personal, for individuals, and Nozbe Teams.
The tool was inspired by Getting Things Done (GTD) methodology. It helps to quickly organize all projects and tasks. With Nozbe, you can manage personal or team tasks in a shared projects list, collaborate with guest users, and organize all the items with the drag-and-drop functionality.
You can use categories and labels to batch and filter stuff, share projects, and communicate through tasks with comments and attachments, get notified about delegated tasks, @mentions and due dates via push notifications.
There's also the possibility to access tasks on a timeline with Nozbe Calendar, or save processes and procedures in Nozbe as project templates. Additionally, Nozbe Ratio and Productivity Reports help track, measure and "gamify" both personal and team productivity.
Available on: Web, Mac, Windows, Linux, Android, iPad or the iPhone
Pricing:
Solo/Duo – $10/month or $8/month (billed annually)
Small Business – $23/month or $18/month (billed annually)
Business – $99/month or $78/month (billed annually)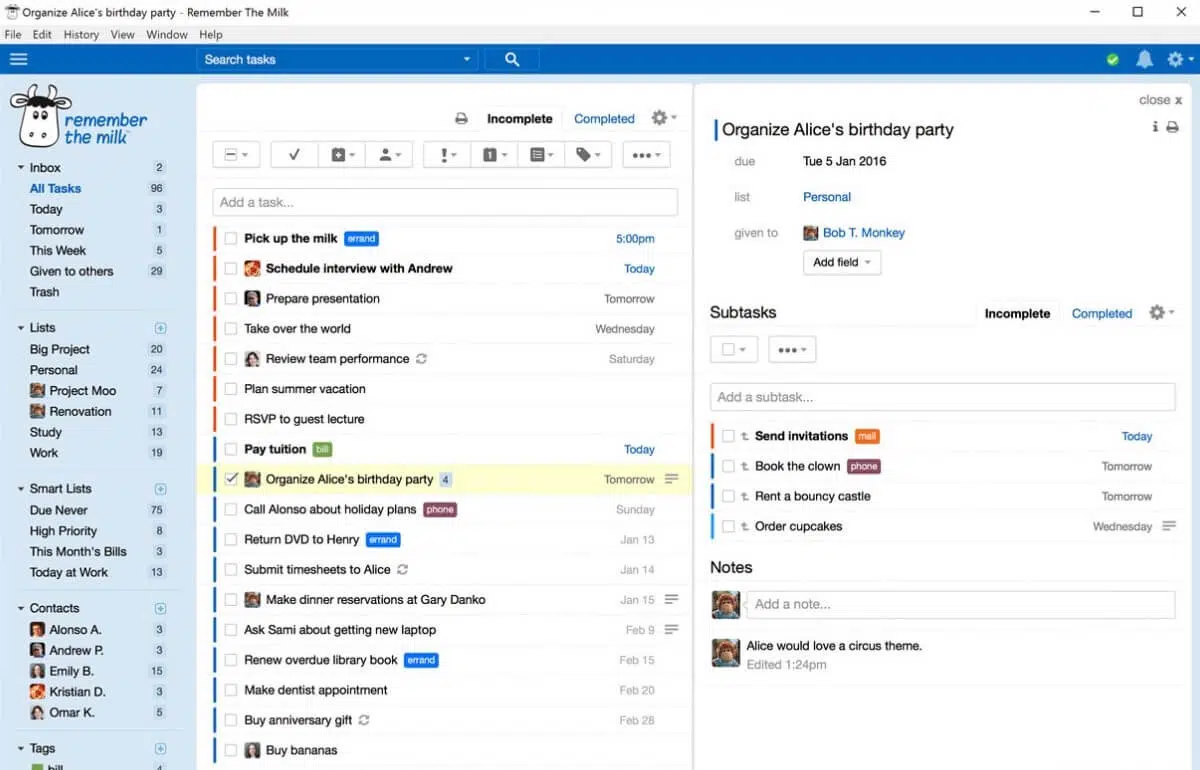 Purpose: online to-do list and task management
To-do lists are an inseparable part of successful time management. So if you have a problem remembering your tasks, Remember The Milk can keep them all for you. The tool has some extra features to help you stay productive:
Task's properties (due date, priority, repeat, tags, and more),
Reminders
Tags
Subtasks for subtasks (yes, you got it right  😉 )
You can attach files
Filters
Notifications
Smart list
Available for: Apps for the web, Mac, Windows, Linux, Apple Watch, iPhone, iPad, Android phones & tablets, BlackBerry 10, and Fire
Pricing:
Basic – free
Pro – $39.99 per year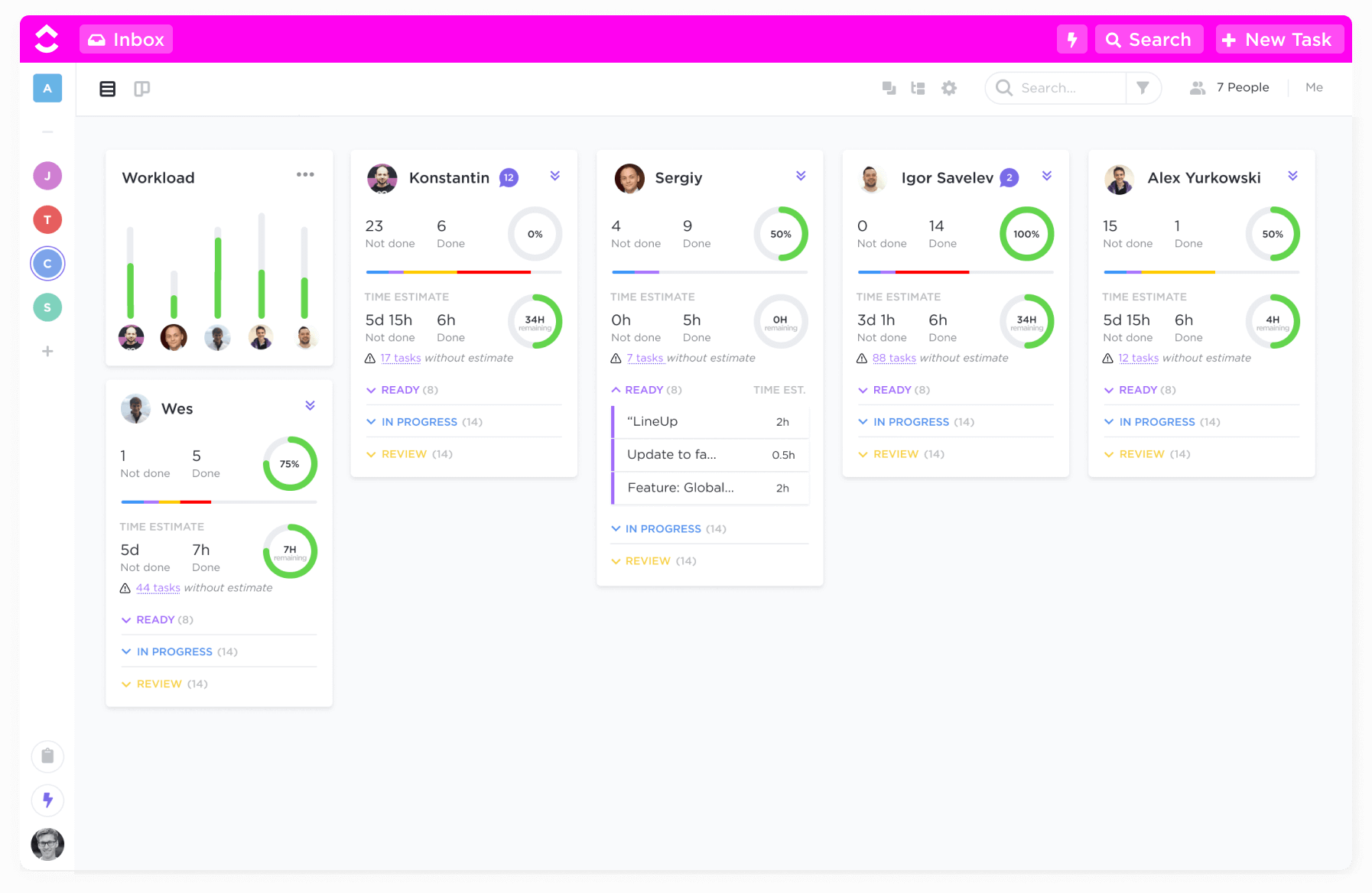 Purpose: flexible project and task management
ClickUp is an all-encompassing platform for project management and team collaboration. In ClickUp, you can share information with team members in various formats. But the tool also gives you the flexibility to organize work and projects the way you like.
It also replaces long messy email threads by providing you with a convenient chat space for group and individual conversations. Everything you need to plan projects and exchange information with your team.
In ClickUp, you could distinguish several modules, including Process Management, Task Management, Time Management, Reporting, and Customization. But since all the features nicely interface, altogether they create a unified hub for organizing work.
Streamline projects, plan every step, and make quick changes. You can also schedule workflow, manage team capacity, and track all processes. For more effective work, your team can integrate ClickUp with other apps and customize the tool according to personal preferences. It has many smallish proprietary features so it's possible to personalize every aspect of a project.
ClickUp is one of the best time management apps as it helps to save time because you don't have to switch between different apps. It works as a unified hub for project management.
Available on: web, desktop (Windows, Mac, Linux), mobile (Android, iOS), Amazon Alexa enabled, works with the Google Assistant
⇒  Check our ClickUp Time Tracking integration!
Pricing:
Free with limited functionalities
Unlimited – $5 per month billed annually ($9 per month)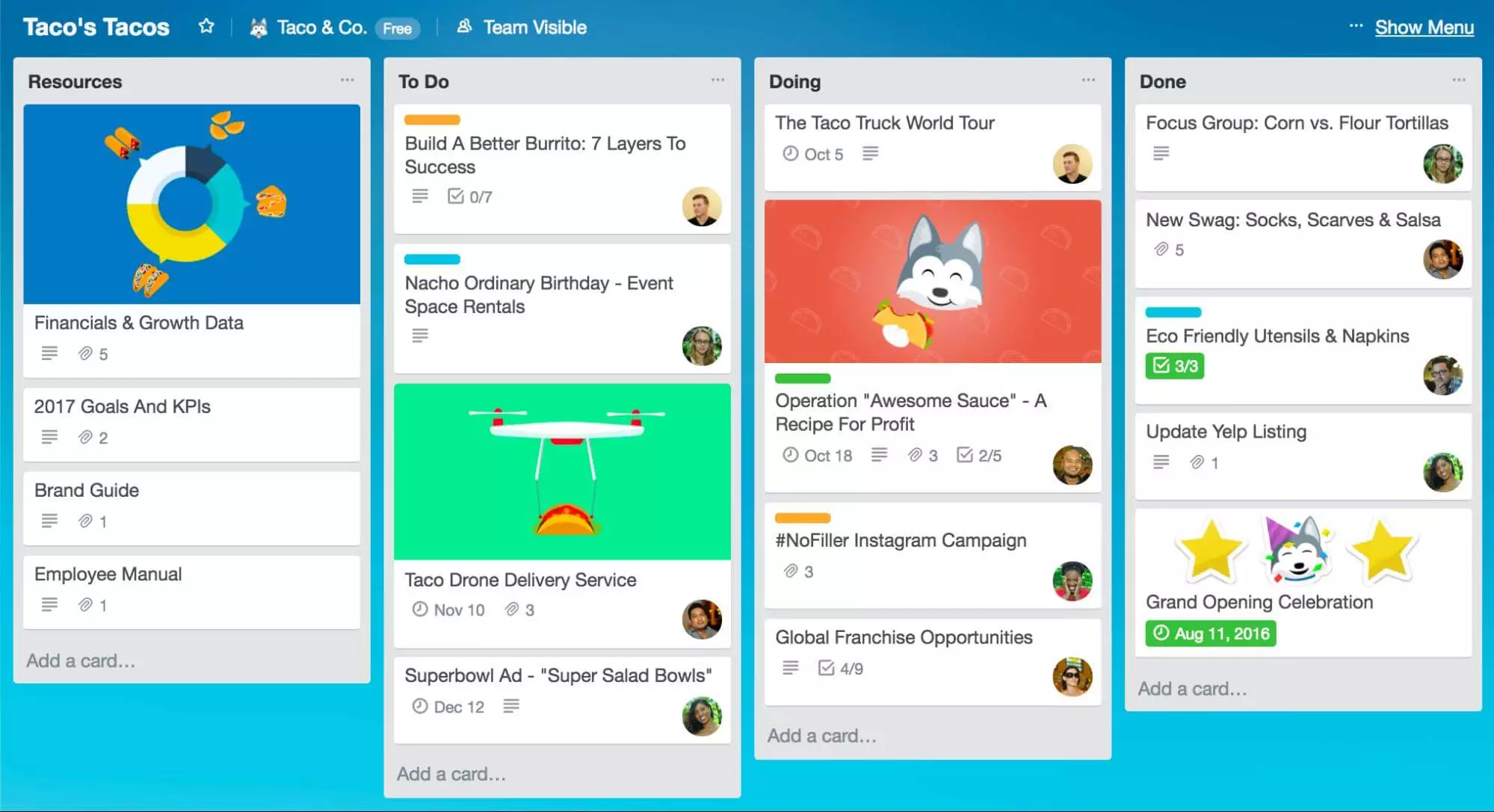 Purpose: tracking work progress with Kanban boards
Trello is a digital whiteboard for managing tasks and projects. It lets you organize, manage, and plan tasks. With this app for management, you can design work and personal responsibilities, build workflows for entire teams, and coordinate complex projects.
The software is easy-in-use and has a friendly interface. Despite its simple design, Trello offers many useful functionalities.
You can create various boards for different teams with as many task lists as you need. Right on the board, you are able to add as many cards as you want, and adjust their settings, repeat them for recurring tasks, comment, share files, and use many other fancy options such as adding covers, stickers, labels, make templates of your tasks and more.
Trello is a lightweight time management app that lets you visualize projects with simple Kanban boards, and quickly see the progress of work and keep track of the team's workflow.
Additionally, Trello has an extensive list of power-ups that enhance work and collaboration. So as a stand-alone tool, Trello is already great but with the add-ons, you can integrate your favorite apps and be more productive. And the big TimeCamp and Trello power-up automatically tracks your time so you can focus on projects.
 Get the integration – TimeCamp + Trello! 
Pricing:
Free version with limited features
Business Class -$9.99
Enterprise – $20.83 for larger businesses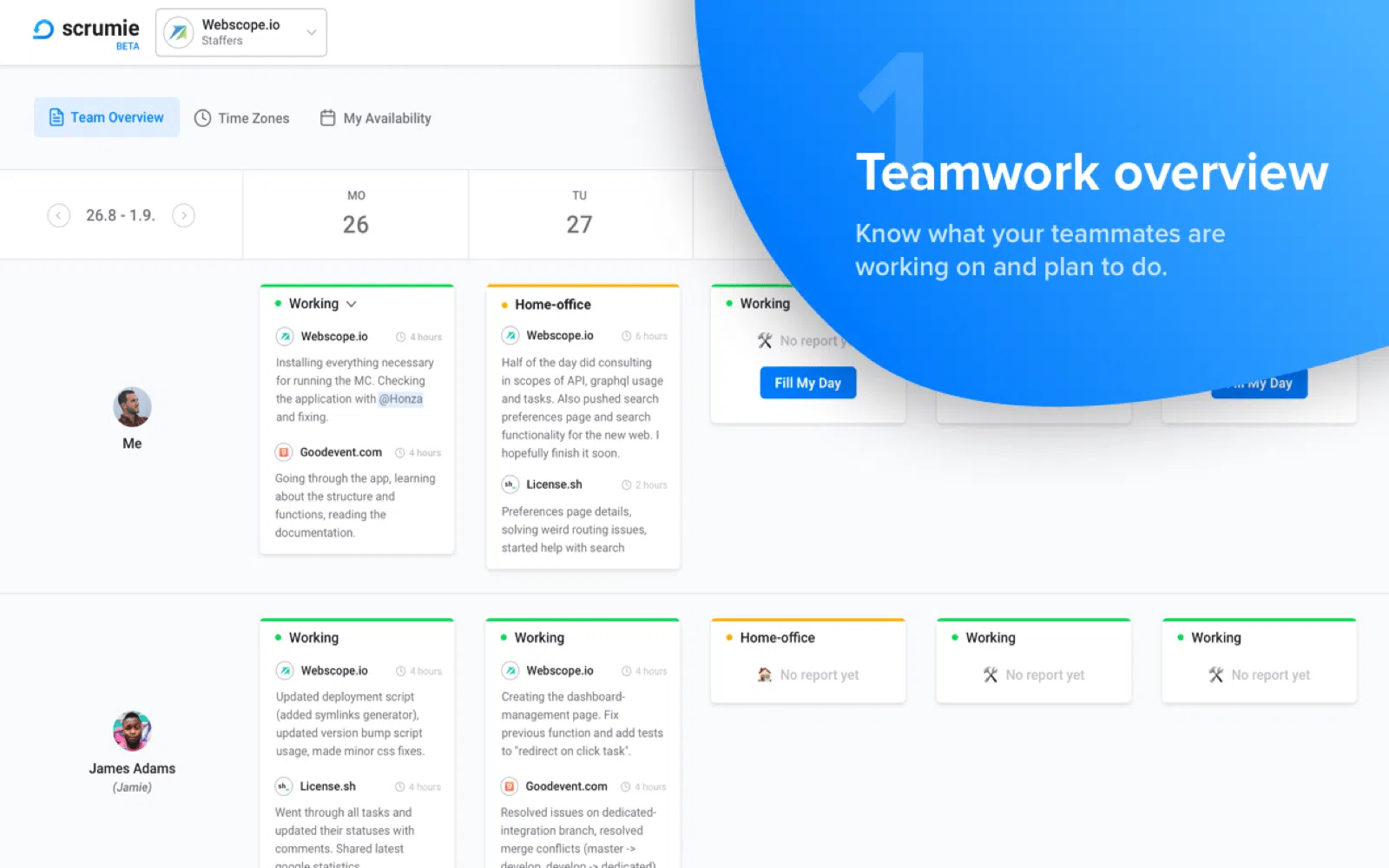 Purpose: Work overview
Scrumie makes your team stay in the loop no matter where your teammates are working. A transparent overview of the work done in your team based on virtual daily stand-ups is the core feature in Scrumie. Thanks to the availability and time zones, teammates can see when their colleagues are working – via their status availability (vacation, home office, sick day…), as well as their working hours.
Integrations (e.g. Slack) and custom apps (e.g. Reporting, or Accounting) helps further enhance Scrumie's functionalities.
Pricing: 
It's free to use in its beta version, but as they stated on their website, they'll soon introduce the paid plan ($15/month for the first 5 users in the team).
Category: Building & Tracking Habits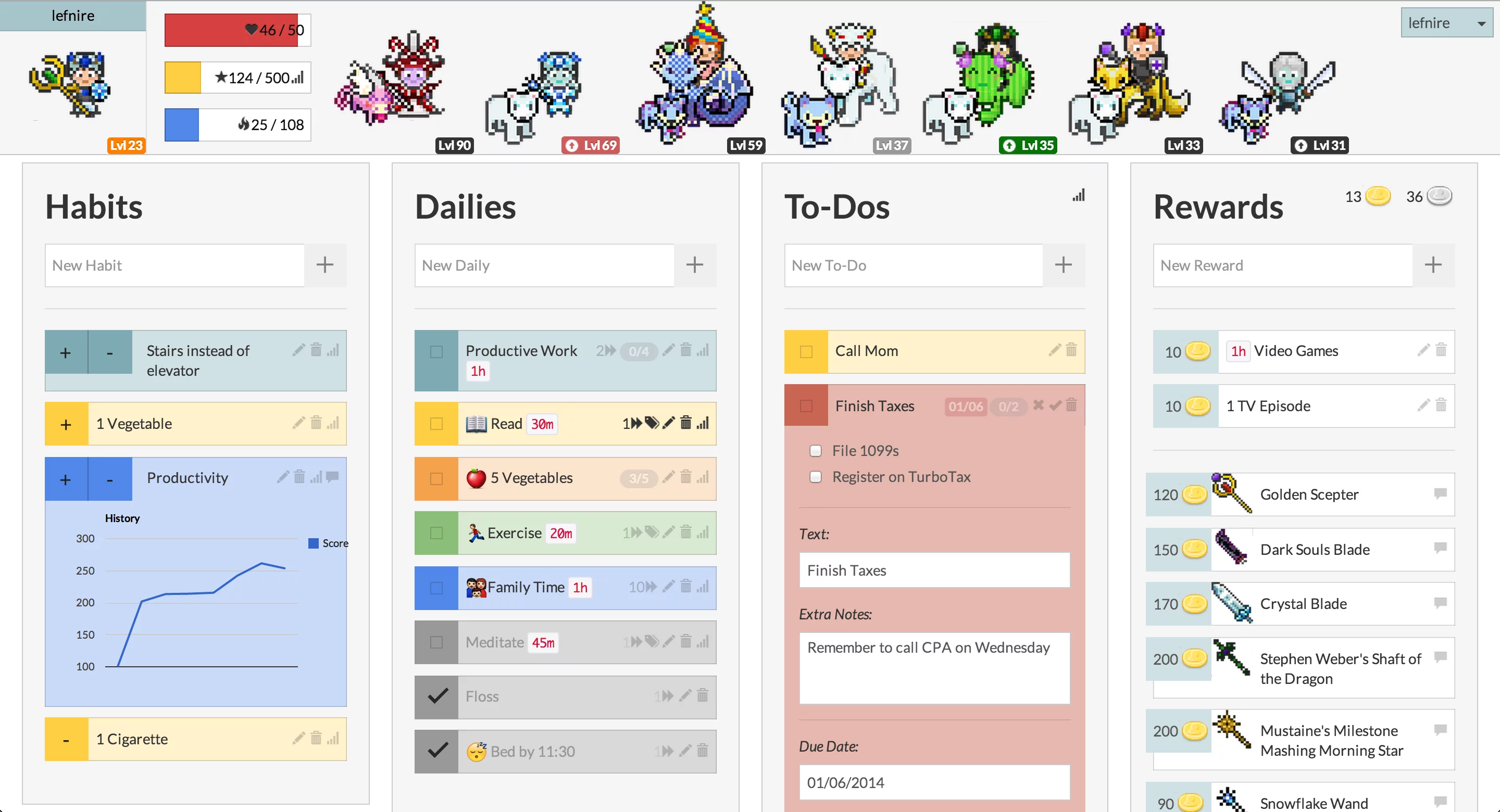 Purpose: gamified task manager for tracking goals and habits
Habitica is one of the best time management apps for people who want to create good habits in a fancy way. The app takes you to the old pixel-like world in which you're a hero fighting through daily, weekly, and long-term goals, habits, and to-do lists.
For every goal achieved you receive points, discover new animals, and can buy a weapon to gain strength. The more you fail at your tasks, the more strength you lose. And the challenge is to keep your character alive.
It's a fantastic way to develop a new habit or work on a project and skills in a game-like way. In particular, if you're a fan of games. Moreover, you can use it with other team members to gamify your projects.
Available on: web, mobile (Android, iOS)
Pricing: There are four types of optional Habitica subscriptions: $4.99 every month; $14.99 every three months; $29.99 every six months; and $47.99 every year, which is a 28% discount (Prices may vary by location.)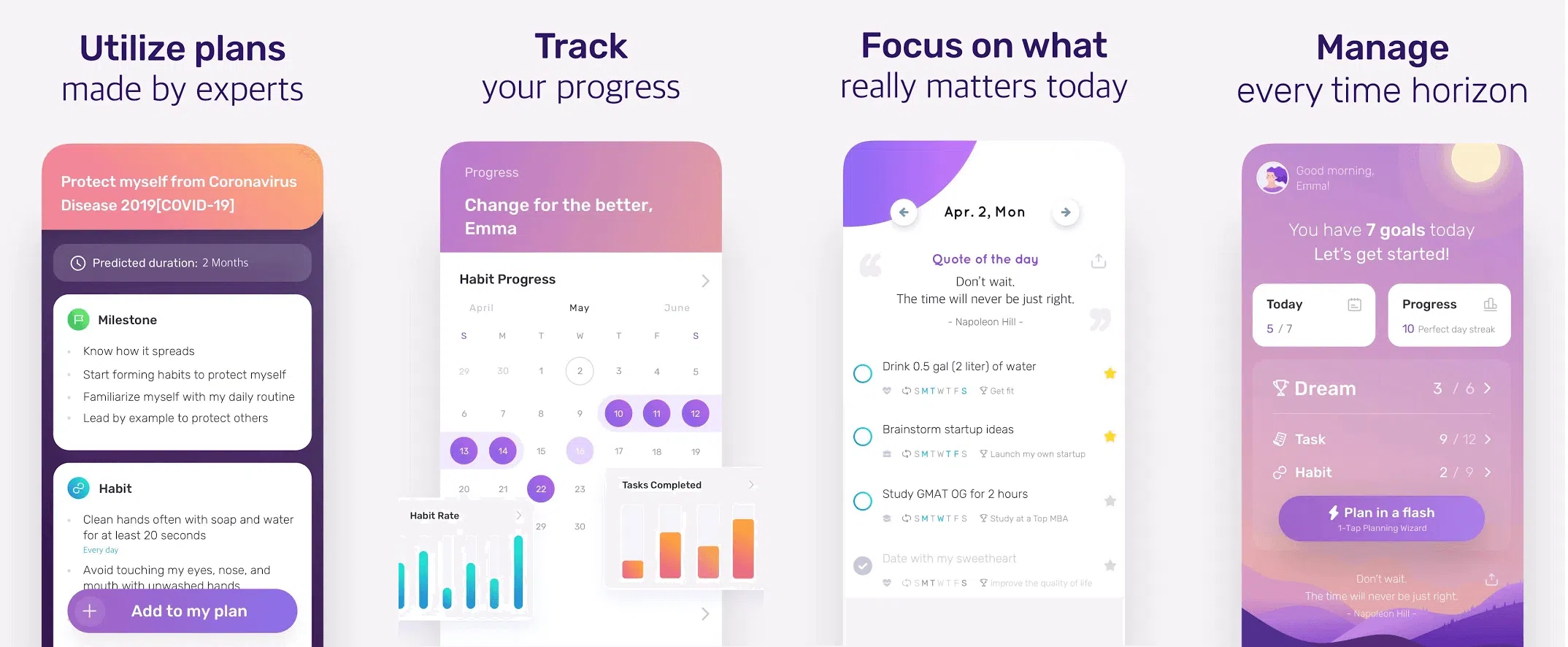 Purpose: lightweight goals and habits tracker
Dreamfora is a simple and easy to use app that helps you plan and manage goals.
With Dreamfora, you can add your personal goals, aka dreams, and fine-tune them. The app lets you discover and personalize new ideas and shows precise statistics so you can identify areas for improvement. And if you don't want to forget about tracking your goals and be systematic, set daily reminders.
There are 3 types of goals—dreams (long-term), tasks (short-term and one-time only), and habits (short-term and repetitive). How you set them depends on you, you're free to experiment!
It's a great app for pursuing long-term and short term goals and dreams, either professional or personal.
Available on: Android
Pricing: the app is free

Purpose: behavioral-based goal tracking
StickK was created by a Behavioral Economist and a Law Professor from Yale University, Dean Karlan. It's a platform for setting goals, and tracking habits. It leverages the power of incentives, financial and social accountability to your advantage—it keeps you motivated to achieve all your goals, whatever it may be.
The concept of StickK assumes that you create a Commitment Contract between the 'present' and 'future' you. The entire process has three steps. First, you set your goal, then invite an accountability partner to verify your progress, and lastly, simply track your progress. Optionally, you can set a price on your inaction—quite a risky step but, perhaps, the biggest motivator. 😉
You can document your journey with photos, invite supporters, record your thoughts and comments, submit reports, and more. Additionally, StickK can be used solo, in small teams, and even corporations.
Available on: web, mobile (Android, iOS)
Pricing: free
👉 Check also our list of top goal trackers.
Team Collaboration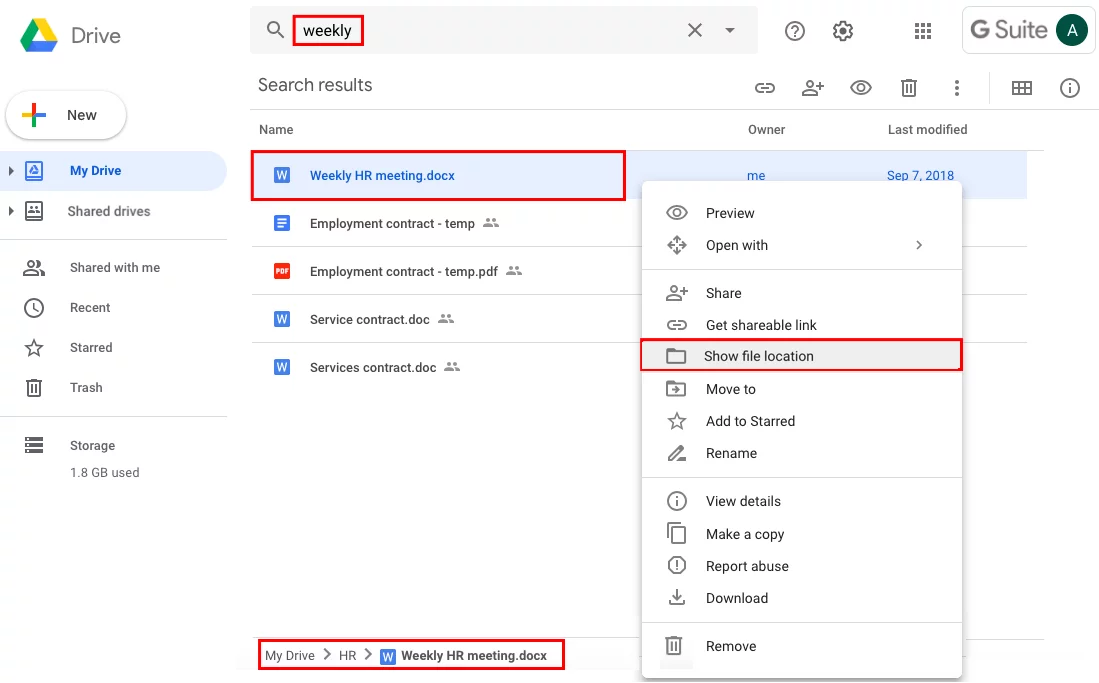 Purpose: storing & sharing files
Google Drive is one of the most popular platforms for storing and sharing files. It's cloud-based and fully integrated with other Google services.
In Google Drive, you can organize all your files of different formats – sheets, docs, images, pdfs, videos, sound files, and more. Also, you can share files and folders with others so people can view, edit, and add comments to the documents. And it's possible to use your device camera to scan in paper documents.
When you don't have the access to the internet, there's the option of viewing files offline.
As a time management app, Google Drive enhances team communication and collaboration but also helps in personal file storage. Especially, that you can quickly search through all your files to find the content you need.
Available on: everywhere where you have access to your Google account
Pricing: free; you only have to pay for additional storage.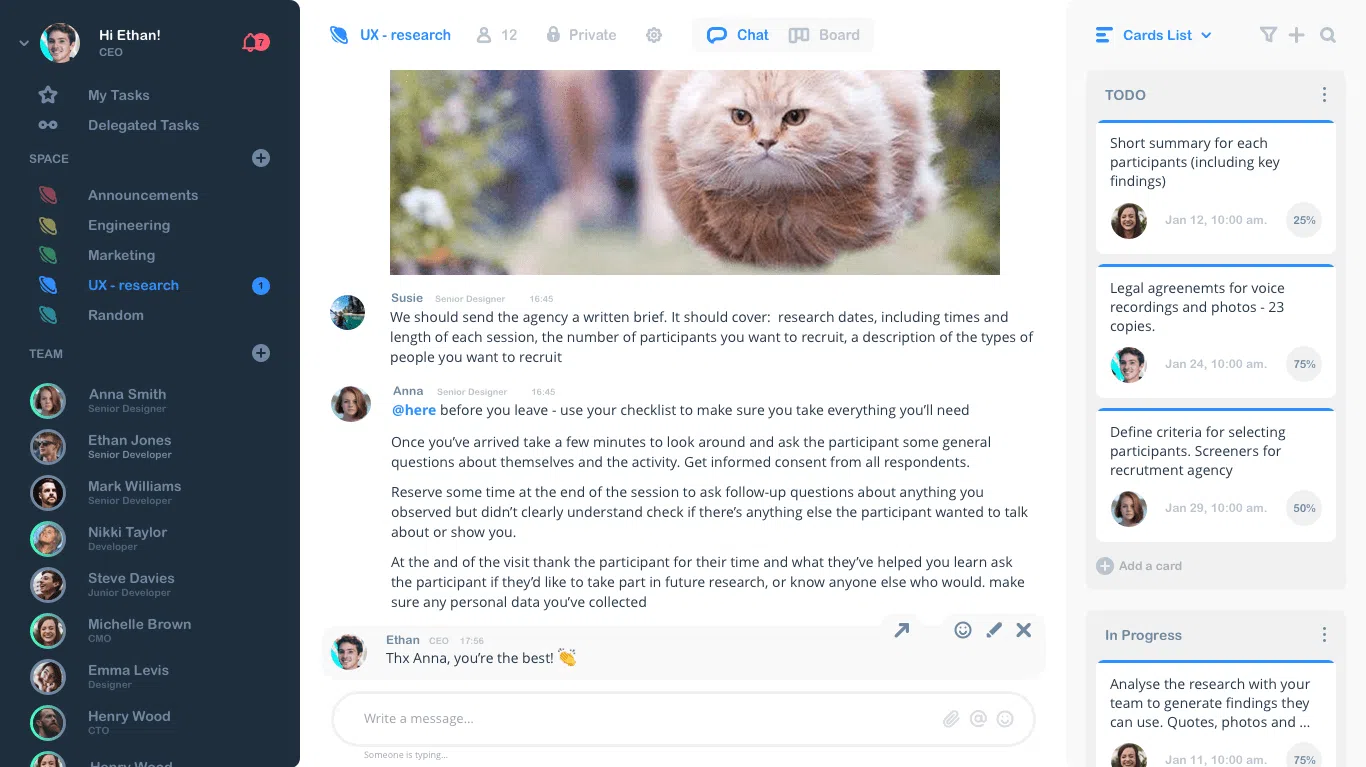 Purpose: team task management with chat
HeySpace is a task management software with chat. It's a great solution especially for small teams, medium-sized businesses, or startups that need a flexible tool to plan and collaborate on work in one place. The software is also great for everyone who works in the agile methodology.
This free tool allows you to exchange information with other employees, teams, and even lets you invite people from outside of your organization to work on a common project. You can use HeySpace to freely plan your work schedule, employee shift, and all tasks you need to perform.
Here are the main features of HeySpace:
The flexible design lets you see three boards in at once—your team and spaces (different channels), chat, list of cards with tasks
You can easily convert part of your conversation into a task
The Kanban board with projects and tasks allows you to see employee workflow in one place
Every task can be adjusted – you can set date, assign people to it, add tags, checklists, description, files, comment on it, make tasks recurring
The feature of workspaces allows you to create many spaces, if, for example, you work with various organizations or have different clients
The calendar view lets you visualize the work schedule
Available on: web, desktop (Windows, Mac, Linux), mobile (Android, iOS)
Pricing:
Free for up to 10 members
Premium – $5/month ($60/year), or $ 3.75/month when paid yearly ($45/year)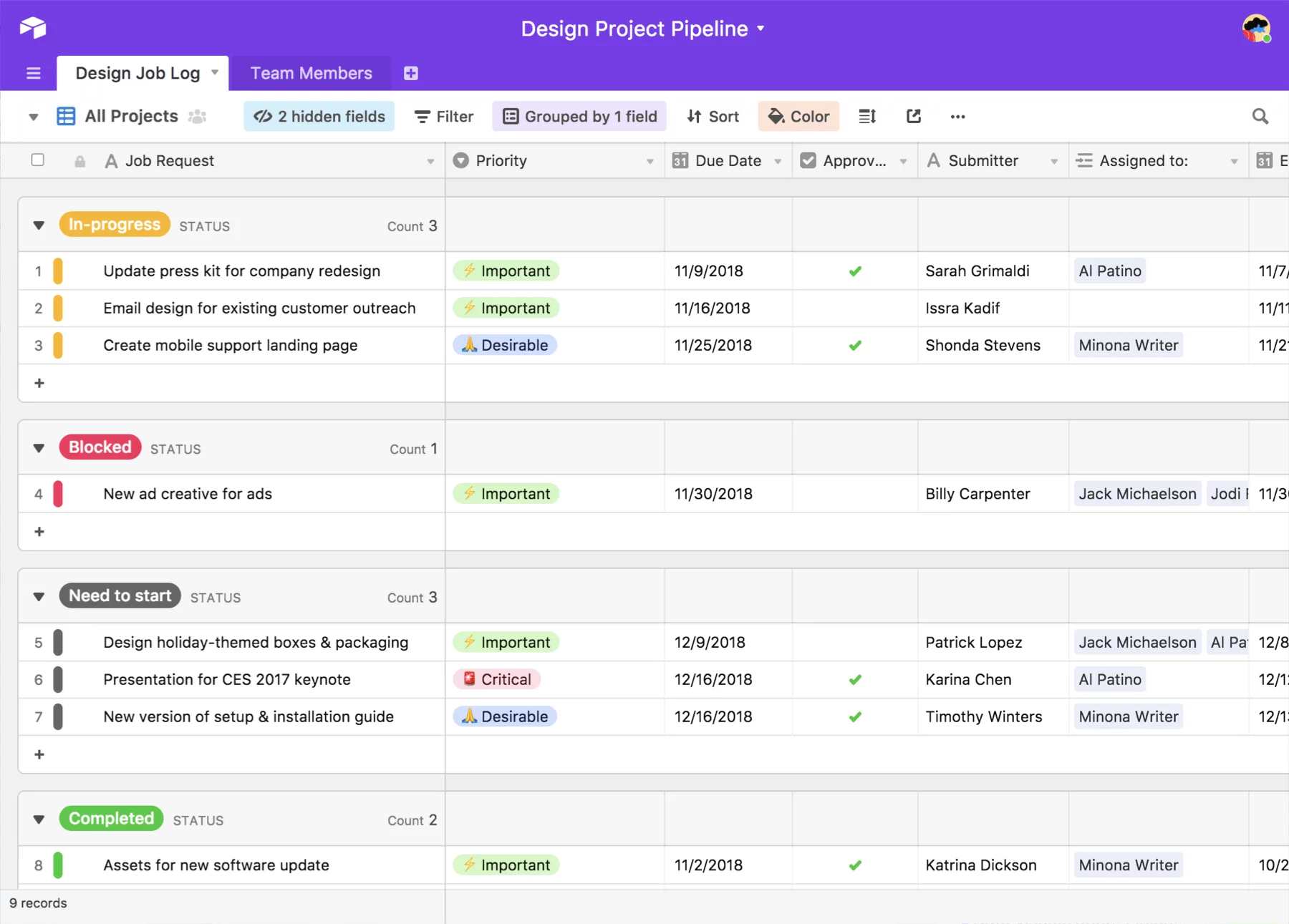 Purpose: a repository for all your files and data
Airtable is a managing app for documents, files, and important tasks. It lets you organize anything—projects, ideas, clients,or databases. It's a spreadsheet where you can store all the information on your work.
You can add unique field types to customize your spreadsheet-links to other tables, attach files by the drag-and-drop, and more, even create and share a form. You can use it on your own or together with a team to get things done. There are different views—grid, Kanban view, calendar, or gallery for different workstyles.
With Airtable, you can spend less time searching through your computer to find the right files or information. It's all in one place.
Available on: web, desktop (Windows, macOS), mobile (Android, iOS)
Pricing:
Free with limited features
Plus – $12 per user/month
Pro – $24 per user/month
Enterprise- custom pricing
Note-taking Apps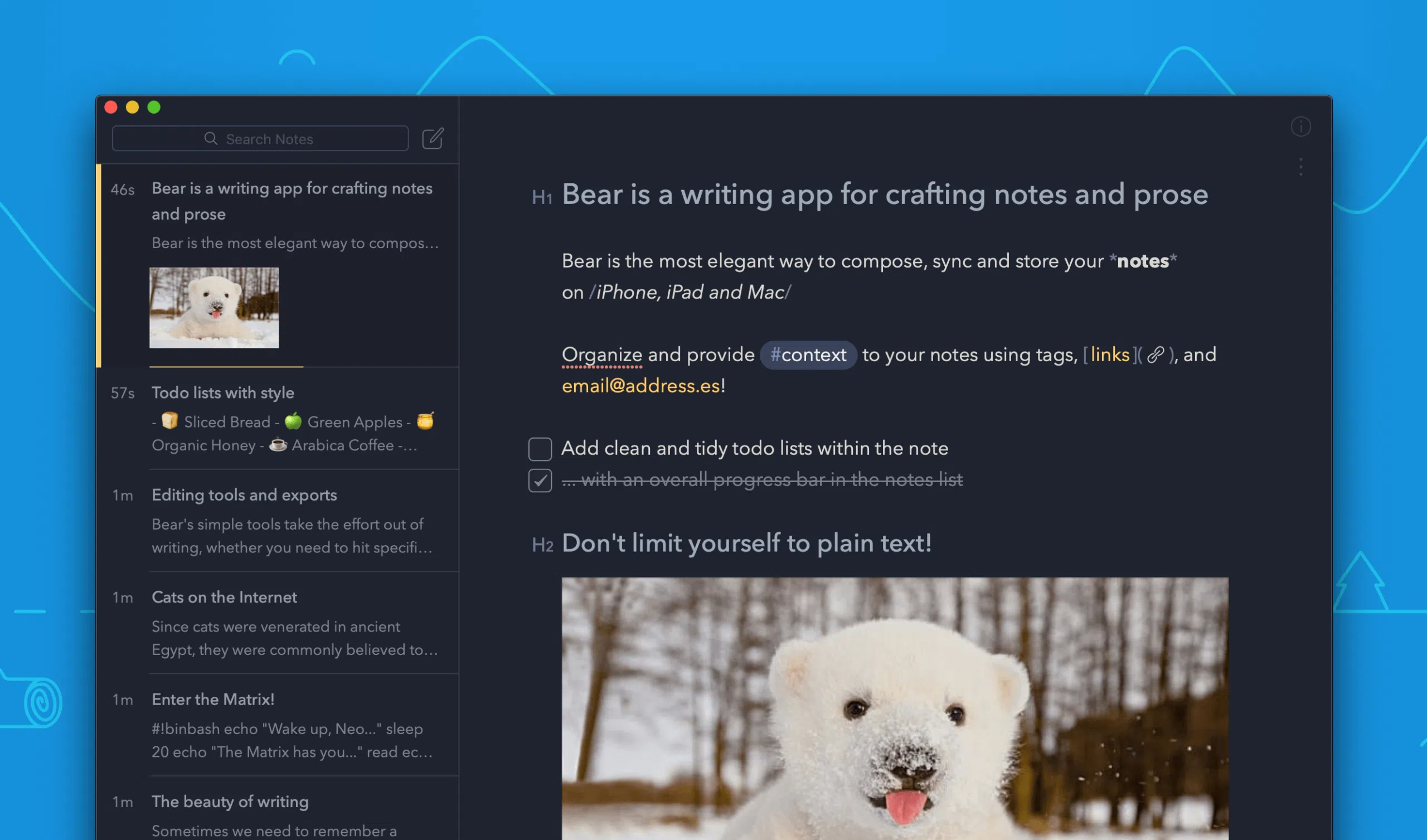 Purpose: a note-taking app for long and short notes
Bear is a writing app for notes and prose for Apple devices. You can use it to write anything from one-sentence notes to to-do lists, and long essays.
The focus mode helps to concentrate, and the app offers themes, typography, and dark mode to customize the interface. There are hashtags, recognition of such elements as links, emails, addresses, colors, multiple export options, and more.
And Bear Pro lets you encrypt notes or you can lock the app with the password or Face/Touch ID. Bear is a lightweight but powerful solution.
Available for: Mac, iPad, and iPhone
Pricing:
Free with limited features
Pro: $1.49 monthly, which offers a one-week free trial; or 14.99 annually, which has a one-month free trial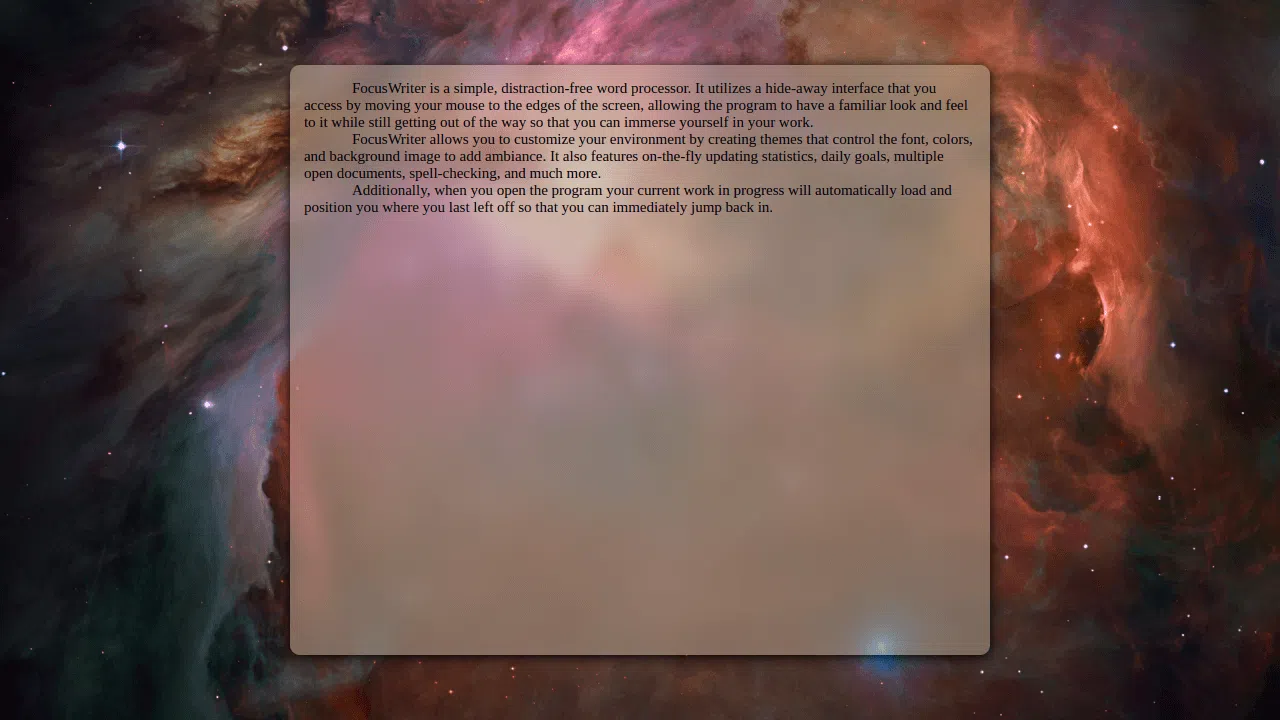 Purpose: distraction-free writing
FocusWriter is a minimalistic app that lets you immerse yourself in the process of writing without any distractions and attention-drawing elements.
The tool has a hide-away interface that you access by moving your mouse to the edges of the screen. Some of the main features include customizable themes, daily goals, optional typewriter sound effects, stats, spell-checking, sessions, and portable mode. Make sure to check whether it supports your language as it was translated into over 20 languages.
It's a wonderful time saver and productivity booster for all writers.
Available on: desktop (Windows, Linux, Mac)
Pricing: free; you can donate to support the authors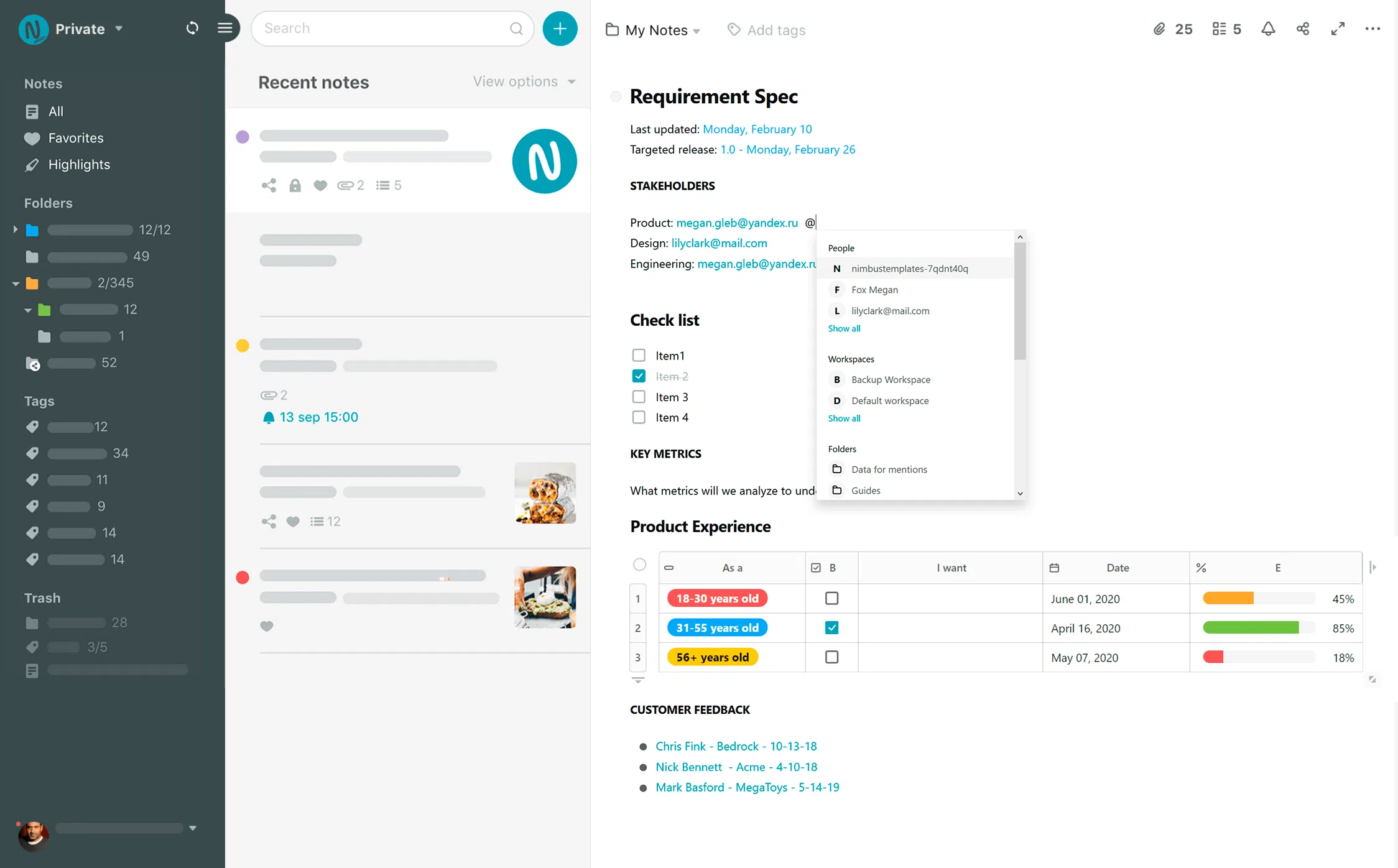 Purpose: note management platform
NimbusNote is a sort of Slack for notes. It's a place where you can store, organize, and work on all your notes of any type. You can use the app solely for note-taking and management, or together with your team to organize projects. It's a robust solution for people who need a vast space for organizing notes, to-dos, and other written documents.
Nimbus Note can be personalized and used flexibly with its rich functionalities. Create new notes from scratch, adjust them with formatting tools, drag-and-drop files and documents, @mention teammates, create tasks, lists, manage all your content in folders and subfolders, convert tables into a database, tag notes, share your content, and take many, many more actions.
You can also organize all of your business into groups, workspaces, and folders to save time for your teams. Additionally, you can use Nimbus Capture for capturing screenshots and videos, and Web Clipper for clipping anything.
Available on: web, desktop (Windows, macOS), mobile (Android, iOS)
Pricing: free version is available for up to 3 members, for bigger teams, pricing starts at $4.99 per month/user
👉 Check also the best note taking apps for Android.
Other Time Management Apps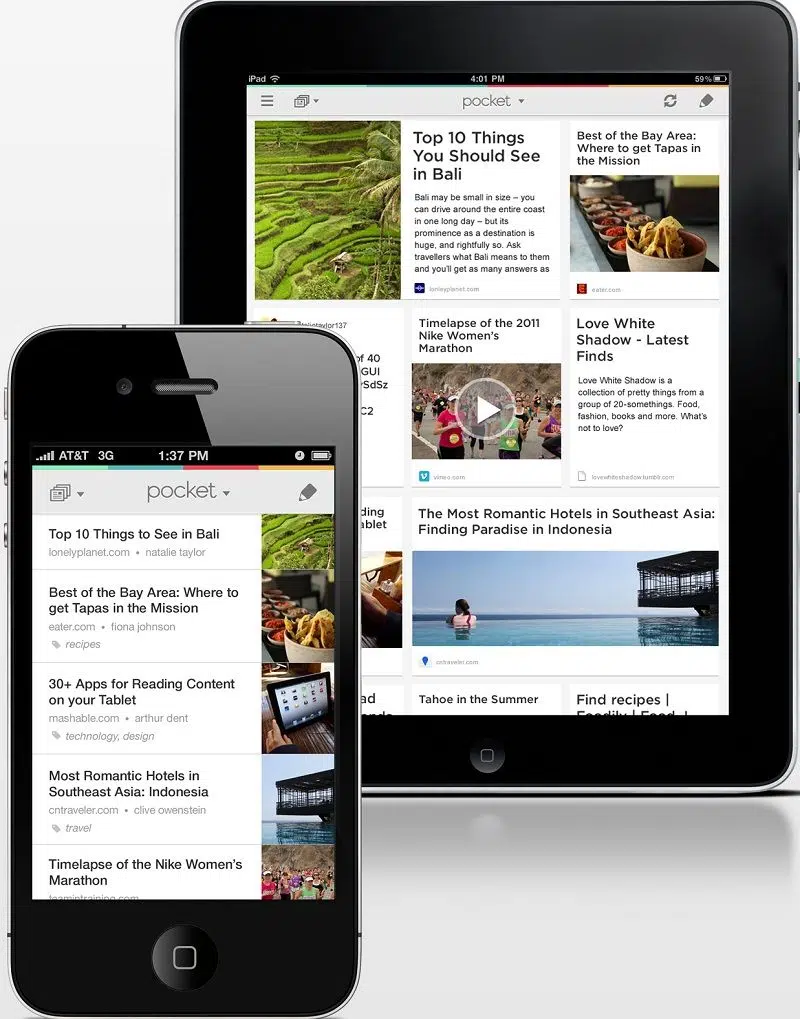 Purpose: storing web content
Have you ever came across a great article but you forgot to bookmark it and are now unable to get back to it? A friend has sent you a news story but you don't have time to read it now? With Pocket, you no longer have to worry about it! It's a great time management app for busy people.
It works like a digital pocket or portfolio where you can keep all the content you find on the internet. Pocket Premium unlocks a permanent library for the articles and webpages you save; gives you full-text, topic, tag, and author search to help you find exactly what you're looking for; and delivers suggested tags that take the work out of organizing your list.
Available for: web (Chrome, mobile (Android, iOS)
Pricing:
Free (the free version lets you only save, read, and view the articles)
Premium – $5/month or $45/year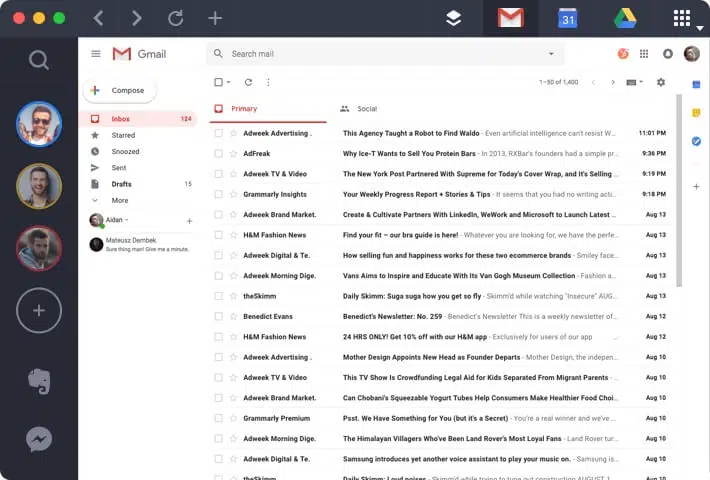 Purpose: a desktop app to streamline e-mail processes
Shift is an interesting app that can help you better manage your time. It's an e-mail and app accounts manager. With Shift, you won't have to switch between different accounts.
The tool lets you access all your app and accounts directly within its dashboard. You simply add all of your email accounts, connect your favorite apps, and have one workstation for all of them. It's also possible to create a Workspace with the exact apps, tabs, and bookmarks you need.
You can freely toggle between your most-used accounts, quickly search through all your accounts, check notifications, and custom the app with extensions.
Available on: desktop (macOS, Windows, Linux)
Pricing: 
Basic – free with limited features
Advanced – $99.99 per year
Shift for teams- custom pricing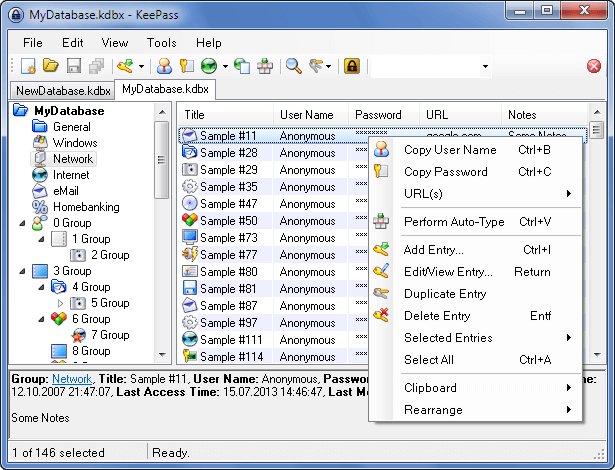 Purpose: password manager
Remembering all your passwords can be a headache. That's where KeePass comes in handy.
It's a free app that keeps all your passwords secure in one place. There's a master key that protects invaders from accessing your data. There are different folders so you can categorize passwords, add icons, generate new ones, and add other important information.
KeePass supports the Advanced Encryption Standard (AES, Rijndael) and the Twofish algorithm to encrypt its password databases which makes it a super safe password manager.
And the best part is that all the passwords are stored locally on your computer so you can be sure not even one letter leaks to the depths of the internet. It's one of the safest password managers.
The interface is transparent, easy to operate, and even though the design may seem outdated, you really won't mind after discovering its power of safely storing your data. With KeePass, you have all your passes at hand so you can save time on recovering forgotten passwords. Another way to manage essential files within the team is to use an enterprise password manager. It helps to solve the privileged access problem. Employees can create, store and share secrets, such as passwords for bank accounts, keys for IT systems, and documents.
Available: for every operating system
Pricing: free. You can donate to support the author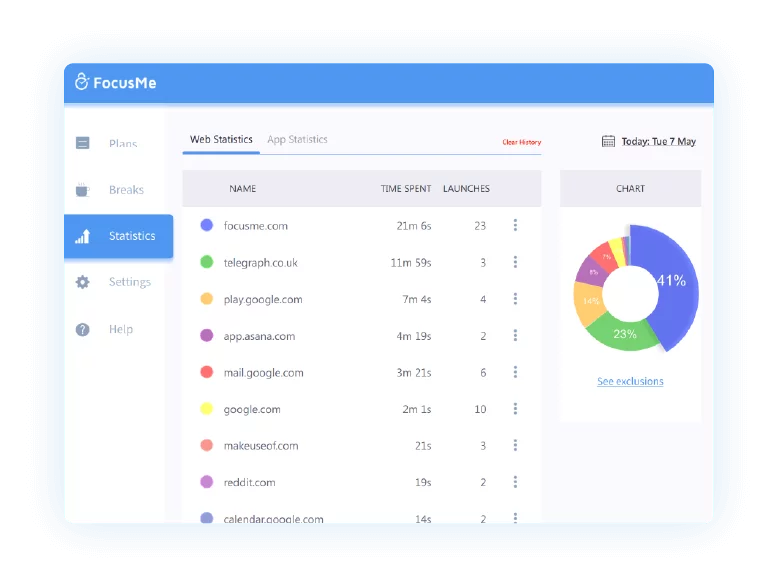 Purpose: distraction blocker
FocusMe is a powerful time management app that helps to stay focused. It blocks any type of distractions that you find harmful to your productivity, and tracks the time you spend on your activities.
FocusMe lets you plan focus sessions with an automatic scheduler, set time limits for distracting platforms, apps, or websites, and set daily limits on opening an email, website, etc. You can also use the Pomodoro timer. And at the end of the day, see time spent on all activities and the number of launches in reports.
You can even have the app prevent itself from being uninstalled.
Available for: desktop (macOS, Windows), and can be used on almost any browser
Pricing:
Monthly subscription – $5.99
Yearly subscription – $39.99
Lifetime access – $149.99 one-time purchase
Custom pricing for businesses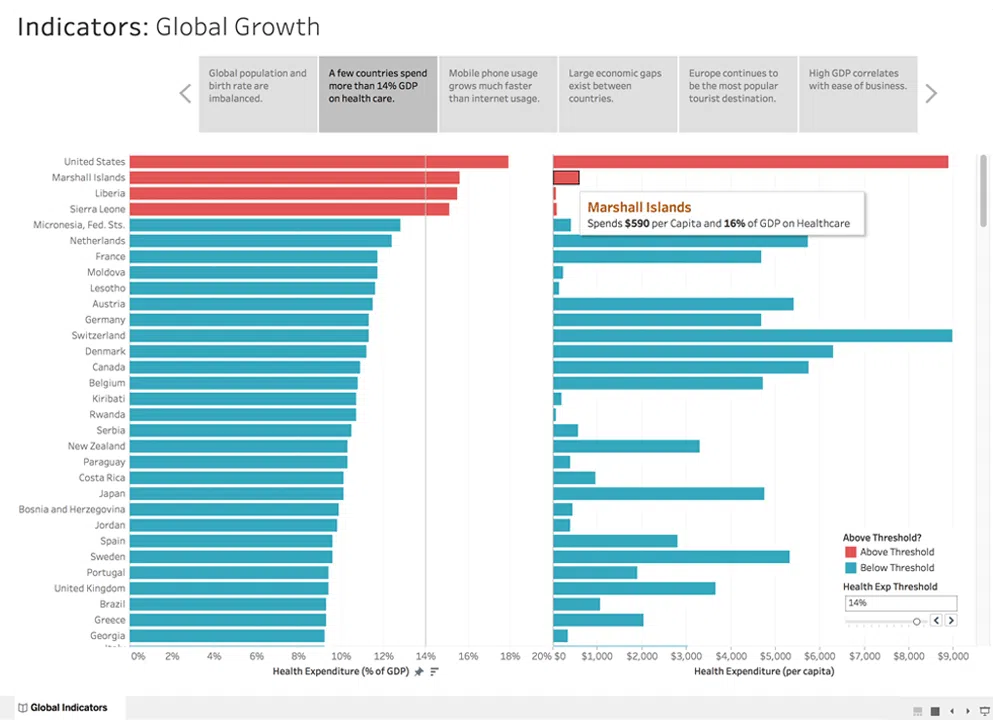 Purpose: analytics platform to manage your business data
Tableau is a business analytics platform for everyone who works with data. Its rich functionalities of showing data in different formats can help you save time on analyzing trends, performance, and other important components.
It's a great software if you like statistics, numbers, trends, and all types of data presented in graphs, not in rows and columns. You can visualize all your information and quickly make smart business decisions.
Available on: desktop (Windows, macOS)
Pricing: starts at $70 per user/month billed annually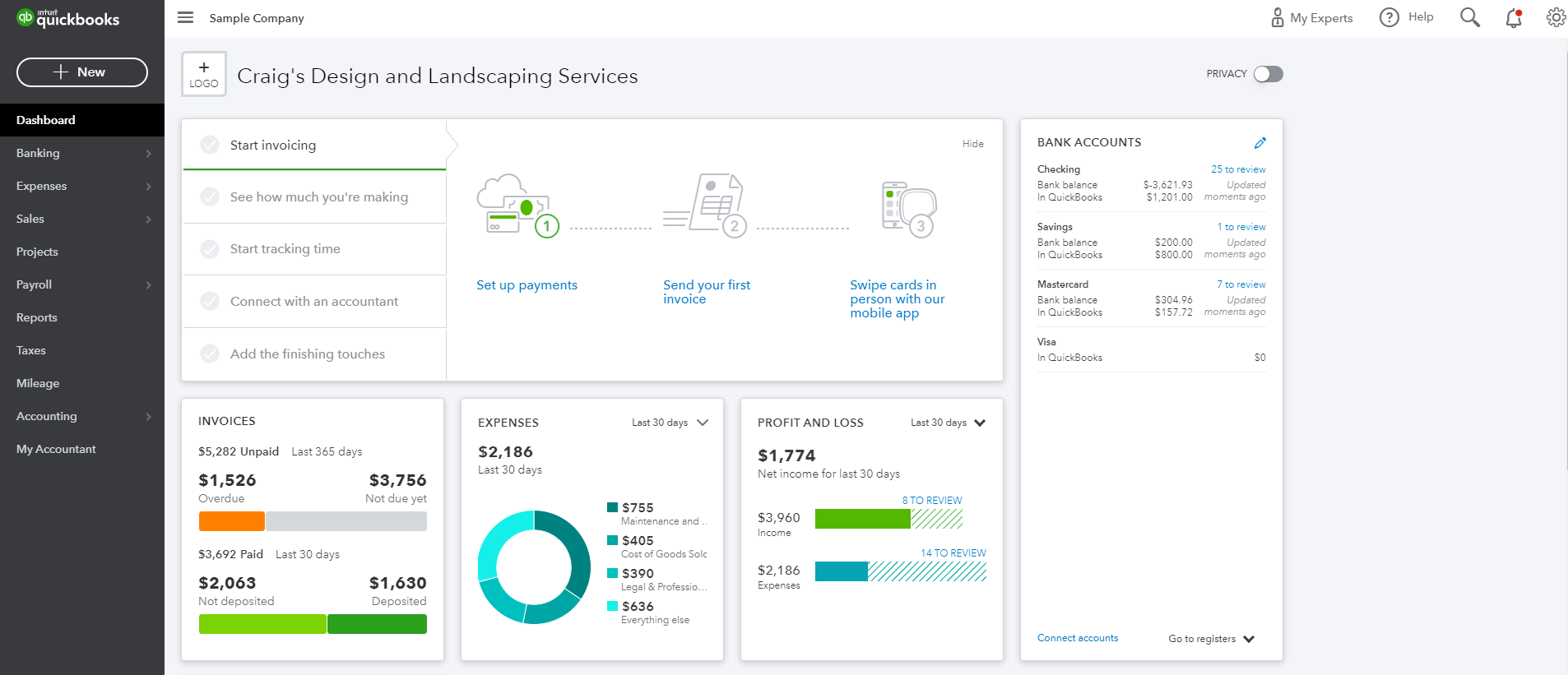 Purpose: accounting and bookkeeping
Finances can be real trouble. Especially, if you work for several companies, are an individual contractor or freelancer with several clients. QuickBooks makes it easier to manage all your numbers, payroll, payments, and expenses.
The software has rich accounting and bookkeeping features that help to manage all finances, either solo or for the entire company. You can also use it to track time with timesheets for payroll processing. And if you have an accountant, you can work with him or her together in QuickBooks.
👉 Read more about Time Tracking Software for QuickBooks.
QuickBooks is a good time management app as it helps to save time on invoicing, payroll management, accounting, and all other financial aspects of your business. And all your data is stored in one place so you can easily access instead of going through several apps or paper documents.
✨Make sure to check our integration with QuickBooks ✨
Available on: online, desktop
Pricing: prices start at $15 per month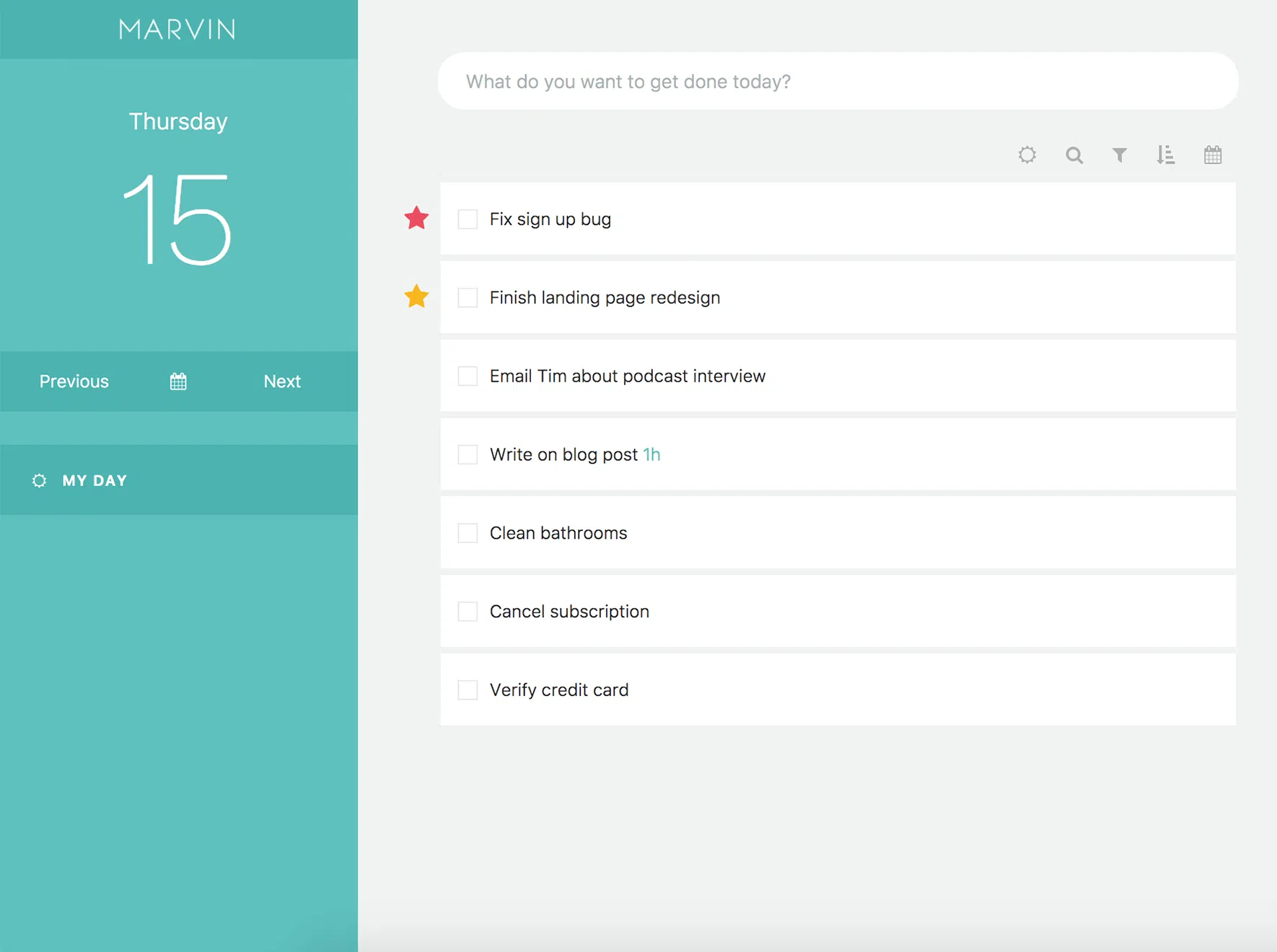 Purpose: lightweight customizable task manager and daily planner for beating procrastination
Amazing Marvin is an interesting app that will help you manage all your tasks and effectively plan every day. First of all, it's very lightweight-it doesn't overwhelm you with too many interface elements. Secondly, it's based on the behavioral strategy of beating procrastination so it's functionalities are there to help you set and achieve smart goals.
In Amazing Marvin, you can find such features as nested categories and projects for your tasks, daily planner with individual todo list, calendar, due dates, do and end dates, recurring tasks and projects, time tracking, estimates, statistics on your productivity, super focus mode, and many more. The app is in a constant development process with many fancy features to come.
Available on: web, desktop (Windows, Linux, macOS), mobile (Android, iOS)
Pricing: Amazing Marvin offers free plans—monthly subscription – $12/per month, yearly with $8 per month (billed annually), and a Lifetime purchase billed once with $300
To Wrap It Up
It may be overwhelming to choose from all the available time management apps. Don't forget to define your needs, expectations, and methods of managing your time and attention. It'll help you make the right choice. Test, mix, and try out different solutions.
Have fun with your favorite app and enjoy your time management!