12 Best Team Management Software
March 8, 2021
by Kate Borucka
No comments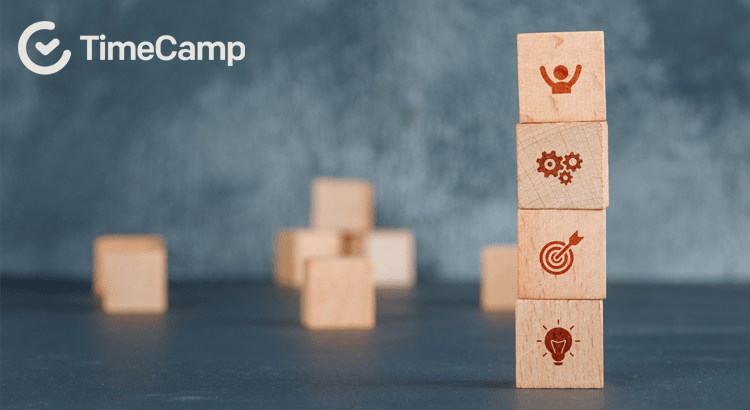 Statistics show that 77% of high-performing projects are the result of using team management software. Using a dedicated tool can help you boost team performance, cut costs, and optimize processes.
What's the magic behind team management software, why use it, and what to look for in a good tool? Let's take a look!
Why Use Team Management Software?
Team management software helps to make project management effective. It's a central place for teams to collaborate, communicate, and exchange information about work status, clients, and other important data.
Here's what you can gain from using management tools for teams:
Improved communication and collaboration – your team has a centralized place to work together and see the big picture
Smooth workflow – team's tasks are organized and it's easier to navigate through the project
Automation of work –repetitive tasks can be automated; it's also possible to eliminate tiresome bureaucratic activities
Documented processes – it's easy to search for information within one app rather than switch between different tools
Better planning – it's easier to schedule and organize work, and quickly assign tasks with improved time management
Real-time insight into the performance –you can track progress on the fly, monitor tasks, and react accordingly to unexpected changes
Transparency – your team has a chance to actively participate in all phases of a project, suggest solutions to problems, and spot flaws
Higher employee engagement – when people know what's happening and have insight into company processes, they're motivated to work
When you manage your team with the right team task management software, you can streamline all processes and make it easier to cooperate.
What Is The Best Team Management Software?
Having a fancy app is not enough. While it's nice to have software with a lavishly-looking interface, all the great features, it may not necessarily be the best choice for your company.
You need to find a solution that corresponds to your company's needs, business model, and style of work.
Here are the basic, must-have features to look for in good team management software:
Free trial – so you can test all functionalities before you decide to invest in it
Integrations – make it easier to work across different tools used in your organization
Tracking progress– helps to keep track of costs, minimize expenses, set realistic project goals and make sure the project is profitable and on time; it can have different forms—simple to-do lists, Kanban boards, Gantt chart, and others
Support for different platforms –because people like to access information on different platforms and devices
To help you choose the right app for your team, we've gathered top tools with management features for different styles of work.
Here's the list of the best team management software.
Lightweight team chat and task management software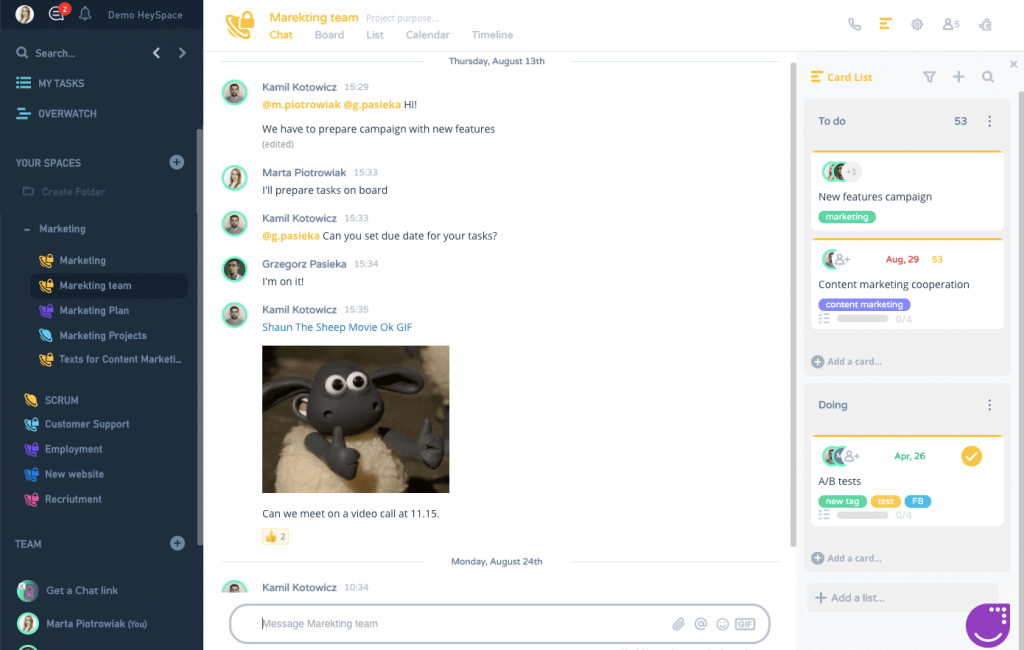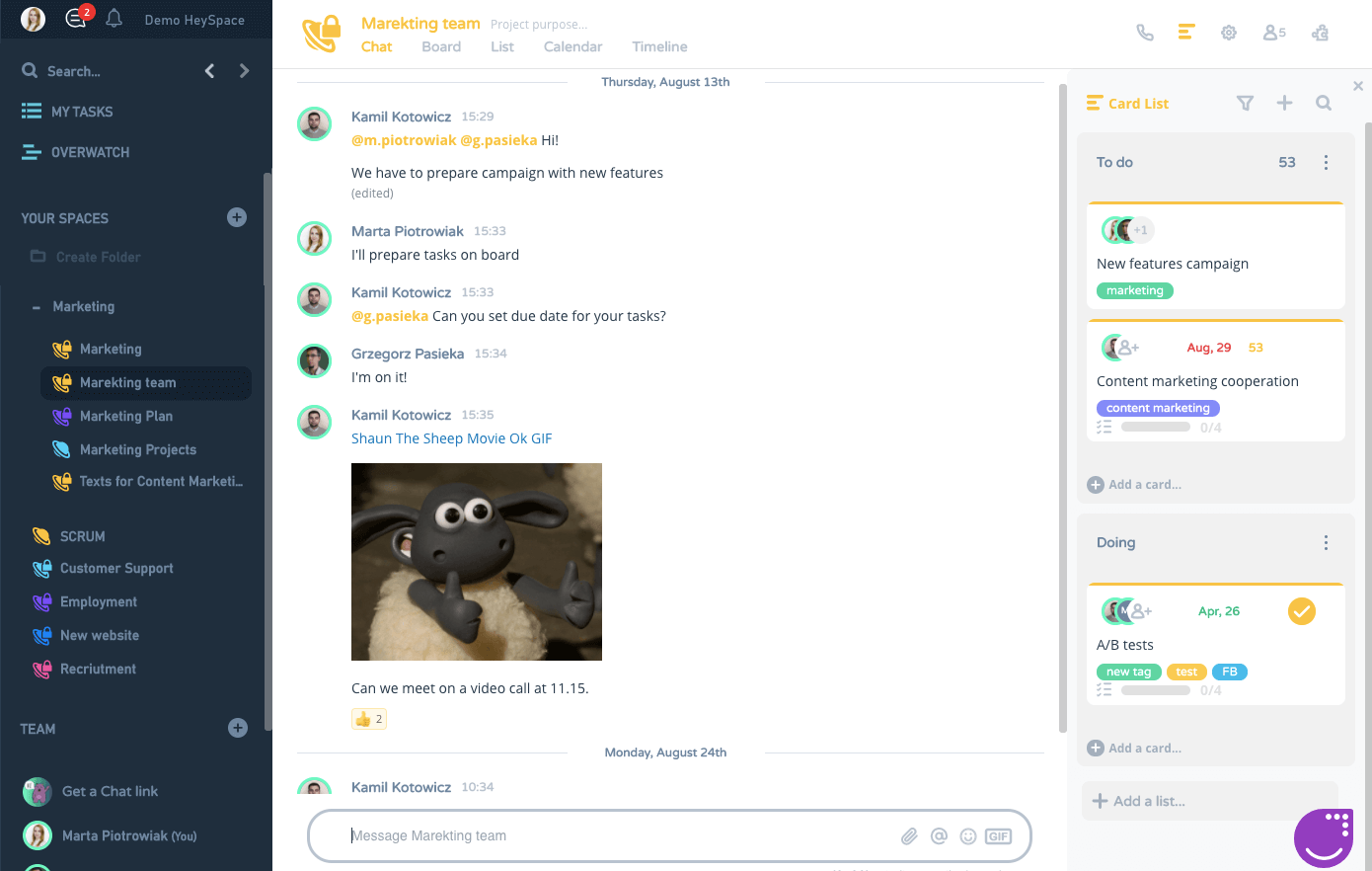 HeySpace is an innovative platform for team communication and collaboration. It has an integrated view of chat, and tasks and projects so you and your team can easily access all the information about projects and tasks. It allows you to quickly exchange information and get real-time updates on work status.
Here are the main features of HeySpace:
Thanks to its design you can see three boards in one place – your team and spaces (different channels), chat, list of cards with tasks
You can easily convert part of your conversation into a task
The board with tasks allows you to see all projects at once and arrange them with drag and drop feature
Every task can be adjusted – you can set a due date, estimates, assignees, add tags, description, files, comments, checklists, make tasks recurring
You can share files, @mention people, link to Google Docs or Dropbox
The feature of workspaces allows you to create many spaces, if, for example, you work for various organizations or have different clients
Calendar and timeline view for every Space with Personal calendar with all your tasks
Check timelines for multiple projects in OverWatch
Easy to use and intuitive interface
Integrations: HeySpace integrates with Gmail, Trello, Zapier, Integromat, Google Drive, Dropbox, and Calendar. More integrations are to come so check the tool up for the latest releases.
Pricing: You can use free 14 days trial to see how premium HeySpace is. The account will be downgraded to Free Plan after 14 days. Then, you can stick to the free version for up to 5 seats, or subscribe to the Premium plan ($5 per user/month).
Available: Windows, macOS, Ubuntu, and as a mobile app for Android and iOS.
---
Get started for free – sign up for HeySpace!
---
User-friendly time tracking and budget monitoring for teams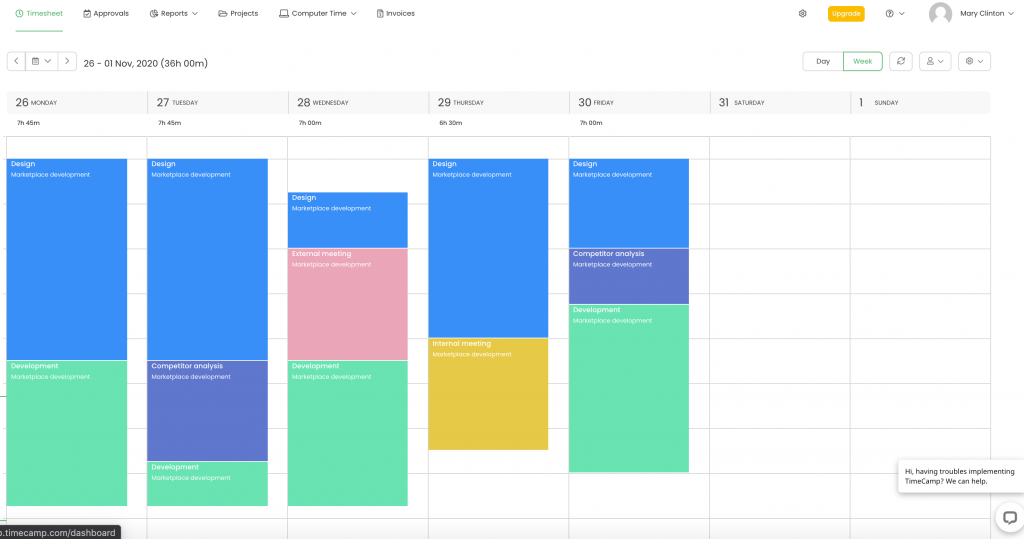 TimeCamp is a robust time tracking software with project management functionalities. The tool can help you track the project's condition—how many hours your team tracked against estimates, the progress of tasks, profitability, efficiency, and all other important data.
It's a great team management software for those who need automatic time tracking and a centralized hub for information about projects.
Here are some of the main features:
Automatic and manual time tracking
Offline time tracking
Powerful reports with graphs, numbers, and efficiency results
Accurate timesheets generated automatically
Attendance module with different types of days (remote work, holidays, leaves, and more)
Timesheets with approvals
Break tasks into subtasks
Budgeting
Calendar view with colors for visualization
Tracking goals
Tags to create a transparent structure for complex projects
---
Make your team more productive with TimeCamp
Sign up for free!
---
Integrations: You can integrate TimeCamp with some of the most popular apps for project management, productivity tools, accounting software, CRM, and many more. In the freemium plan, you can integrate with 1 app.
Pricing: Free trial with all features available. Later, you can stay with the Free plan with limited functionalities, or subscribe to Basic—$6.30 user/month, Pro—$9 user/month, or Enterprise (custom pricing)
Available: Desktop (Windows, Mac, and Linux), and has native mobile apps available for iOS and Android
Agile project management software
Jira is a cloud-based agile project management tool that supports any agile methodology—scrum, kanban, or your own unique style of work. It helps to plan, track, and manage agile software development projects from a single tool. It's best for managing IT and tech teams that work on software development.
The Jira family of products is built on the Jira platform. Jira Core is the default product and is always part of your Jira site. You can add Jira Software and Jira Service Management to add extra functionality and project templates. You can use one of these products or combine them as you like.
The tool lets you create user stories and issues, plan and prioritize the most urgent sprints, and distribute tasks to different teams and people across the organization. You can customize project views in scrum and Kanban boards, see the big picture of projects with roadmaps. It's a robust team management tool that will automate work of your team.
👉 Track your time directly in Jira with TimeCamp time tracking integration or via Zapier
⇒ You can also try Azure DevOps time tracking as an alternative to Jira.
Integrations: You can fully customize Jira with over 3,000 add-ons.
Pricing: Free plan for Jira is available for up to 10 users, 2GB of storage, and Community Support. If you'd like to add more than 10 users or get access to more support and storage, you can sign up for a 7-day free trial of the Standard or Premium plan.
Available: as a web app, and for mobile devices (Android, iOS)
Advanced team management with rich team management features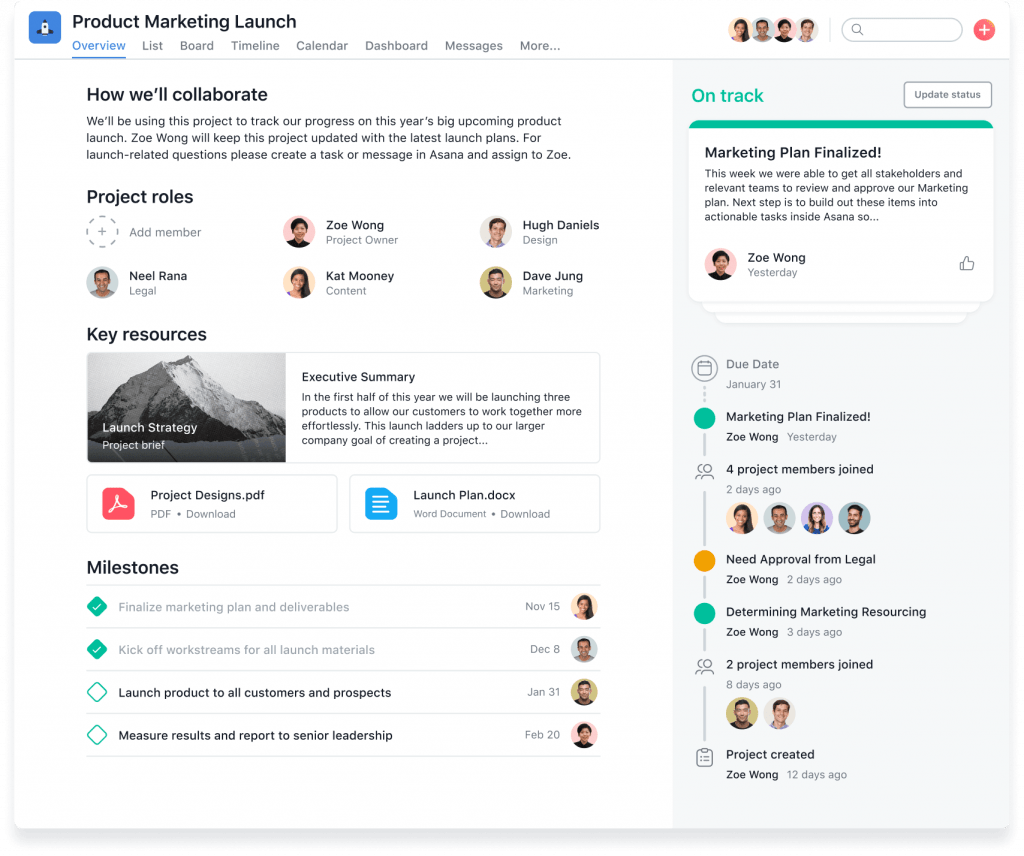 Asana is one of the most popular project management software. The tool helps to orchestrate work by bringing your team together into one shared space. It's an advanced work management system and project collaboration platform that helps teams stay on top of work and managers organize and assign tasks.
Here's what you can do with Asana:
Set company goals so all team members know where you're heading to as an organization
Visualize work with Kanban boards, Gantt charts, lists, or calendar
Customize tasks in projects with due dates, rules, project brief, project overview, attachments, assignees, milestones, or dependencies
See reports with charts in real-time
Import your CSV file directly into Asana to create actionable Timelines
Portfolios allow you to organize and track all of your team's multiple projects in a single view
View team's workload to improve team collaboration
Submit and manage work requests and create custom workflows
You can use templates for different types of projects
Automate routine tasks with automation rules
Create a space for all team conversations and announcements, both private and for teams
Integrations: Asana offers over 1,000 integrations with some of the most popular tools.
Pricing: Asana has a free version for small teams of up to 15 people. Pricing starts at $10.99 per month/user. Asana offers a free 30-day trial.
Available: As a web platform, for Windows, and for mobile devices (Android, iOS)
💪 Take your team collaboration to the next level and integrate Asana with TimeCamp!
Customizable task management and team collaboration software for agile teams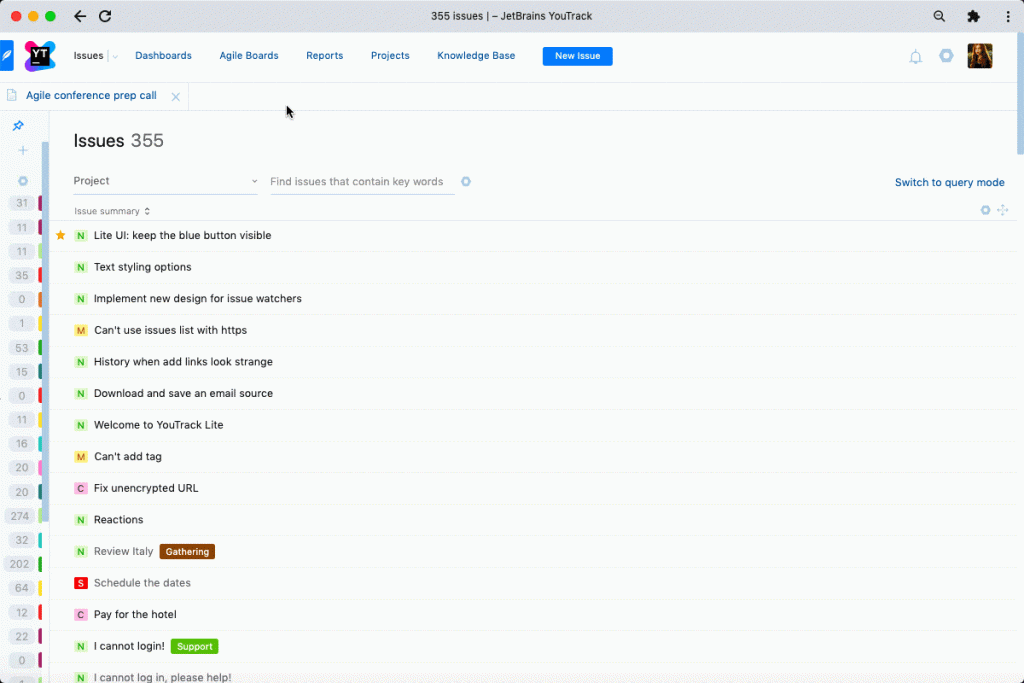 YouTrack is a web-based issue tracking and project management tool that you can adapt to your processes. You can choose between YouTrack Lite for a customized view of the tasks at hand or YouTrack Classic for the full issue management features for software development teams. With a single click, you can switch between these two interface options at any time.
Here are the main features of YouTrack:
List of issues that represents tasks you and your team need to resolve; you can search your tasks with different filters, prioritize, update, add comments, use commands to quickly update your issues
Agile boards—Scrum, Kanban, Scrumban
Collective knowledge base to organize everything in one place—texts, tables, checklists, videos, images, documents, etc. You can add articles globally, link them with issues, and collaborate with other team members
A variety of reports to help you analyze and manage projects and teams activities, and performance
Time tracking with time reports
Gantt chart for planning
Integrations: You can connect YouTrack with external apps from JetBrains (the creator of YouTrack) but also GitHub, GitLab, Bitbucket, Bitbucket Server, Gogs, and Gitea, Jira, Jabber, and several other tools.
Pricing: Free for up to 10 users, for more users, pricing starts at €3.67 per user per month. The free 14-day trial is available
Available: as a web platform, on mobile for iOS and Android. You can use YouTrack as an InCloud service or install it on your servers
Organizing workflow and managing projects in a flexible way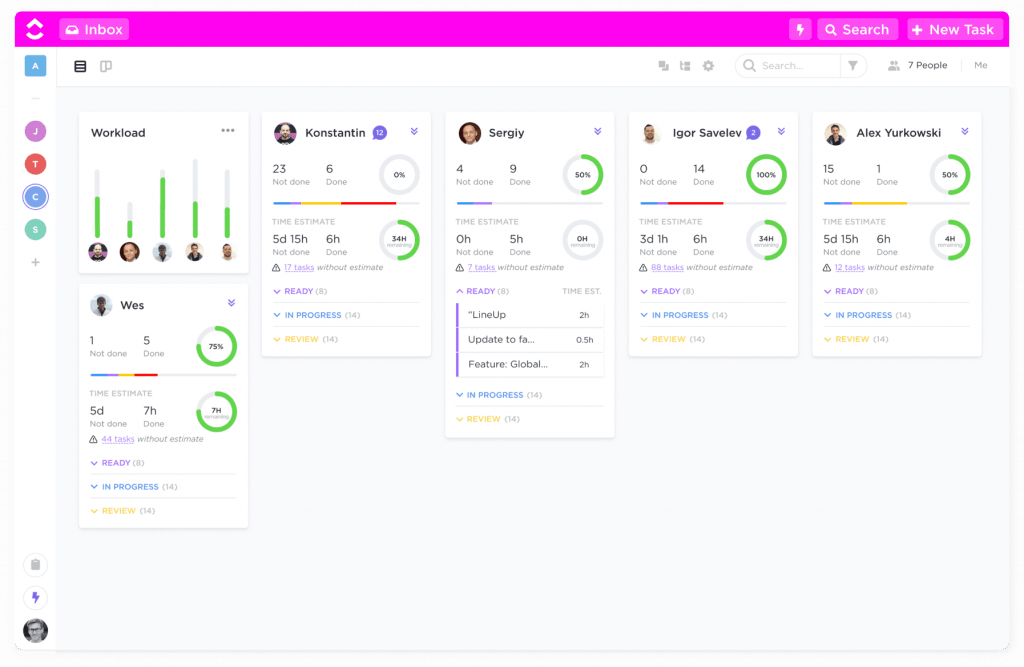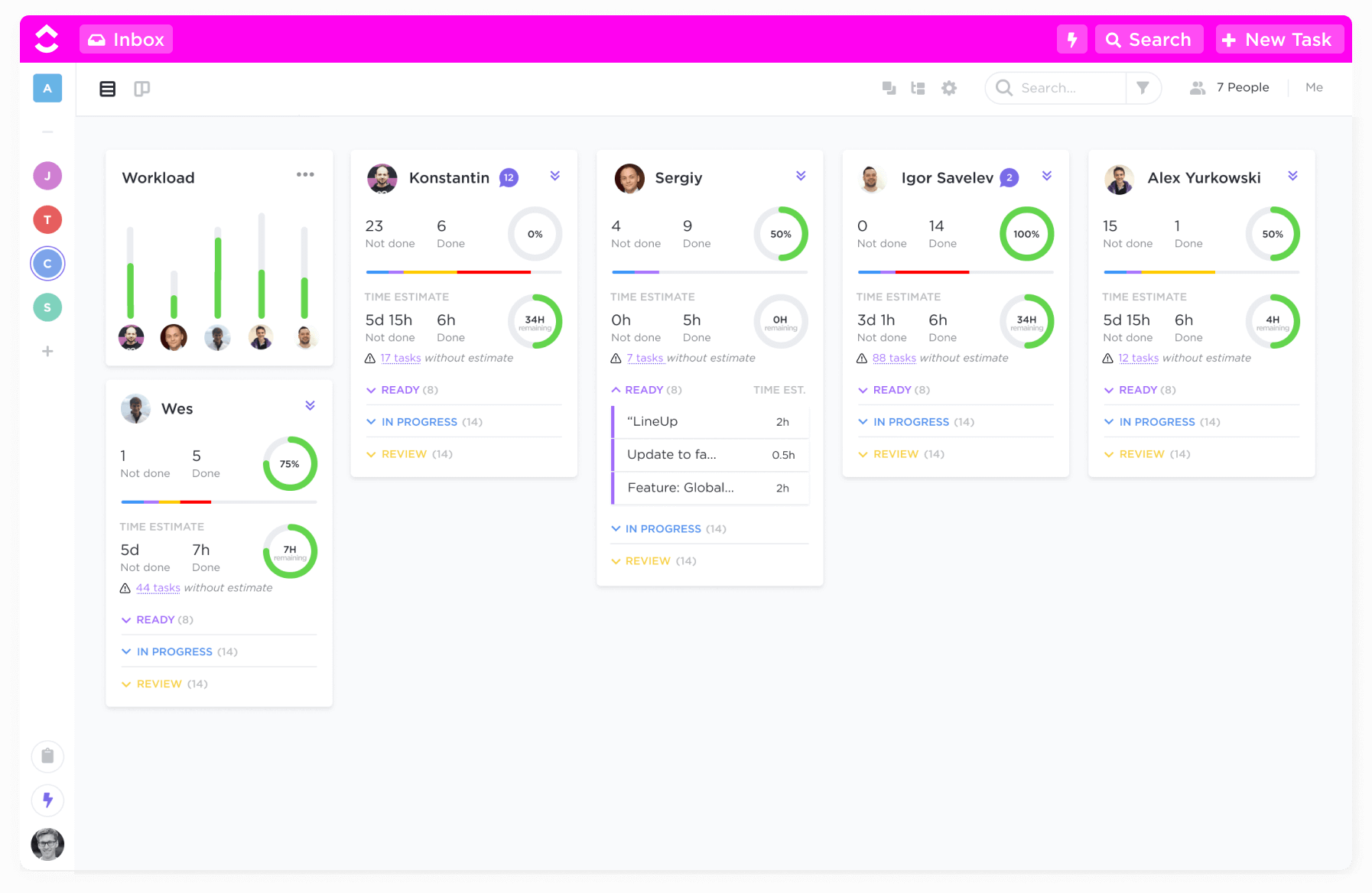 ClickUp is an all-encompassing platform for project management and team collaboration. It lets you share information with team members in various formats. But the tool also gives you the flexibility to organize work and projects the way you like.
It also replaces long messy email threads by providing you with a convenient chat space for group and individual conversations. Everything you need to plan projects and exchange information with your team.
With this team task management software, you can streamline projects, plan every step, and make quick changes. You can also schedule workflow, manage team capacity, and track all processes. There's file sharing, tracking time, and more. ClickUp has many smallish proprietary features so it's possible to personalize every aspect of a project.
🧩  Integrate ClickUp with TimeCamp to boost your productivity!
Integrations: Your team can integrate ClickUp with other apps and customize the tool according to personal preferences.
Pricing: ClickUp pricing starts at $5.00 per month/user. There is a free version available with limited features.
Available: on the web, desktop (Windows, Mac, Linux), mobile (Android, iOS), Amazon Alexa enabled, and works with the Google Assistant
Fully flexible productivity and collaboration suite for all types of businesses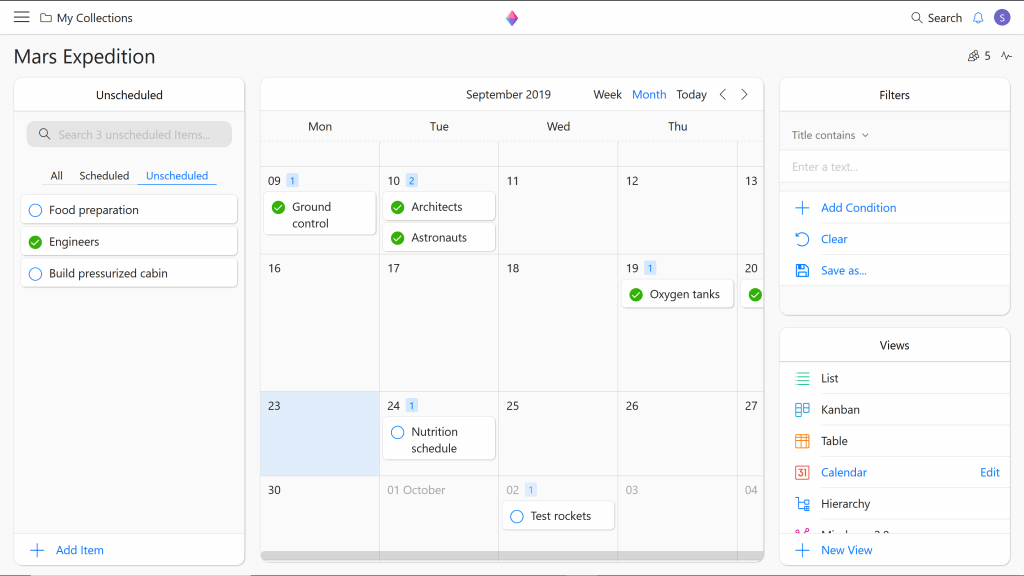 Zenkit is an app flexible enough to handle anything you throw at it. It lets you create your own tools, workflows, and systems. In Zenkit, you can create collections—small databases you can modify to fit your needs. It's a great team management software for teams that are looking for a creative app to customize it to team needs.
Zenkit is built of suites that you can use solo or combine to get a more powerful team management software:
Zenkit Base—has integrated project management features like Kanban, Gantt charts, dependencies, multi-level tasks, assignments, and many others
Zenkit To Do— task management suite allows you to arrange all kinds of tasks, lists, notes, and more with the drag and drop feature
Zenchat—a team messenger with built-in task management to improve team collaboration
Hypernotes feature coming soon
Templates are available for different types of projects
Zenkit has plenty of smallish features that make it easier to manage your team, tasks and projects in one place.
Integrations: You can integrate Zenkit with your favorite apps via Zapier.
🧩 You can also integrate Zenkit with TimeCamp to help your team skyrocket productivity!
Pricing: starts at €4 but you can use the free version with limited features
Available for web, desktop (Windows, Linux, macOS), and mobile (iOS, Android), you can also get it via Snapcraft
Performance management system for remote teams
Team management is not only about work management, but also encouraging professional and personal growth. Through strategic weekly check-ins, 15Five delivers everything you need to maintain visibility and impact employee performance, including continuous feedback, objectives (OKRs) tracking, recognition, 1-on-1s, and 360° reviews.
15Five holistically addresses employee performance, engagement, and company culture. It's a great team management software that can help you create an employee-friendly company culture where people feel satisfied and appreciated.
Integrations: You can integrate 15five with your favorite tools
Pricing: starts at $7 per person, per month
Available as a web tool and mobile app (iOS, Android)
Team management software with scheduling attendance tracking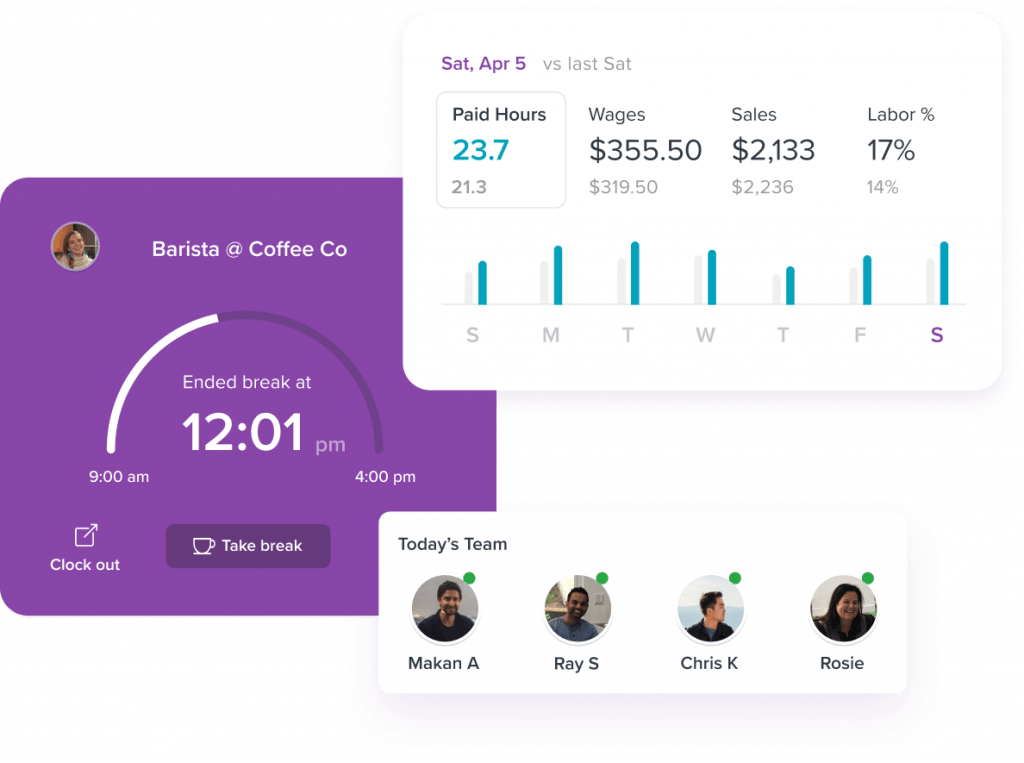 Homebase is an employee scheduling software with extensive features. It combines HR and project management functionalities and is most suitable for off-site and remote employees.
Homebase allows you to track time for work hours, breaks, and overtime of your staff to easily calculate payroll. It automatically identifies missed breaks or clock-outs so you can easily correct them. The app keeps records of all your timesheets, including edit history.
Homebase collaboration tools include instant messaging app, onboarding functionalities, real-time alerts, employee health and safety screening, and overall resource management.
Integrations: Homebase integrates with payroll apps, POS, business tools, and job boards. However, it doesn't offer integrations with many of the popular productivity and project management tools.
Pricing: the free plan is available with basic features for 1 location and an unlimited number of employees. In paid plans, pricing starts at $19.95/month per location
Available for web and as a mobile app (Android, iOS)
Classical project and team management software for advanced projects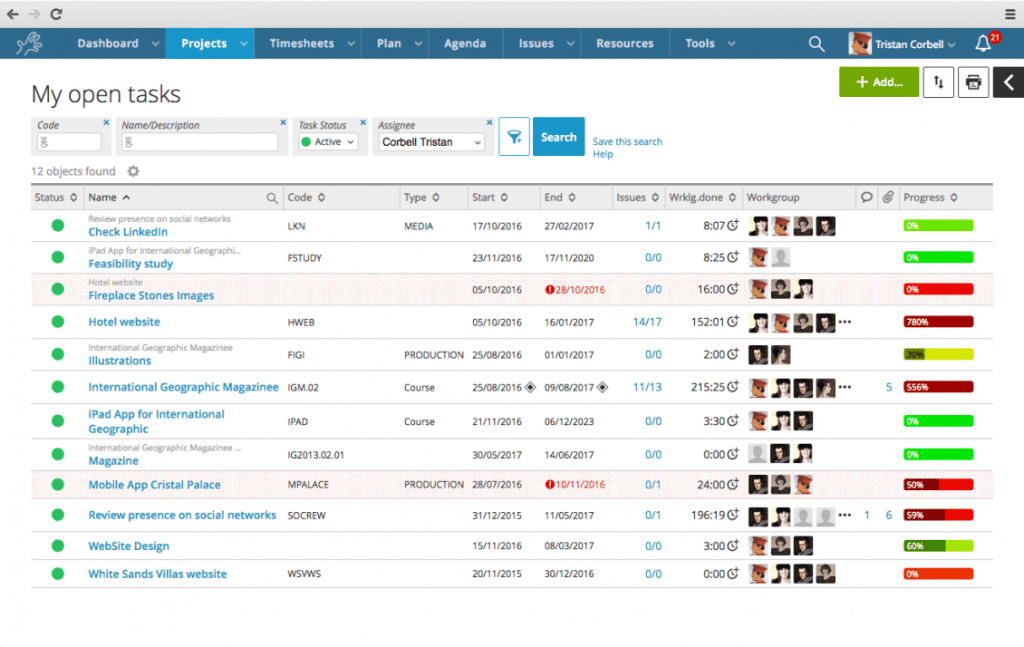 Twproject is a cloud-based team management software that minimizes the effort of administrative tasks and lets you focus on what's really important for your company to grow.
It's an advanced collaboration tool that has everything a team needs to track project progress and communicate in one central place: a built-in interactive Gantt chart that visualizes your projects, assignments, milestones, dependencies, tracking time, bug tracking, resource management, and more.
Twproject makes it easy to assign tasks even in the most complex projects.
Integrations: there are no third-party integrations, however, you can use the API to custom the app
Pricing: free 15-day trial is available; free for up to 5 users; pricing starts at €4.89 per user/month
Available as a web tool, for desktop (Windows, macOS, Linux), mobile app (Android, iOS); you can also download it to use on your servers
Kanban-style project collaboration & communication app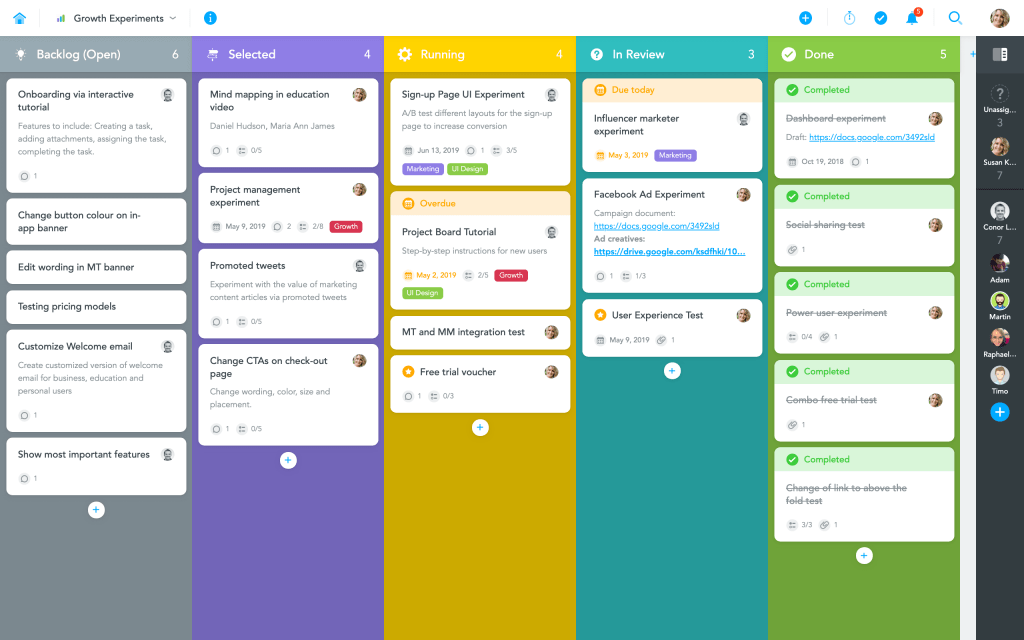 MeisterTask is an online task and project management platform. With the tool, you can monitor the progress of your projects or help the team members to collaborate with each other seamlessly.
You can assign tasks, team members can collaborate in real-time via task commenting features, assigning, reassigning, and watching project progression, to stay in the loop with team activity and see projects through.
MeisterTask can be used as a stand-alone application or in conjunction with MindMeister, the collaborative online mind mapping solution. Together, these management tools enable teams to go directly from social brainstorming to collaborative task management, supporting project progress tracking.
Integrations: MeisterTask integrates with some of the popular work management software directly or via Zapier
👉 See MeisterTask time tracking and integration with MeisterTask via Zapier
Pricing: the free version is available with limited management features. Pricing starts at €8.25 per month
Available for web, desktop (Windows, macOS), and as a mobile app (iOS, Android)
All-in-one virtual collaboration and team management suite with CRM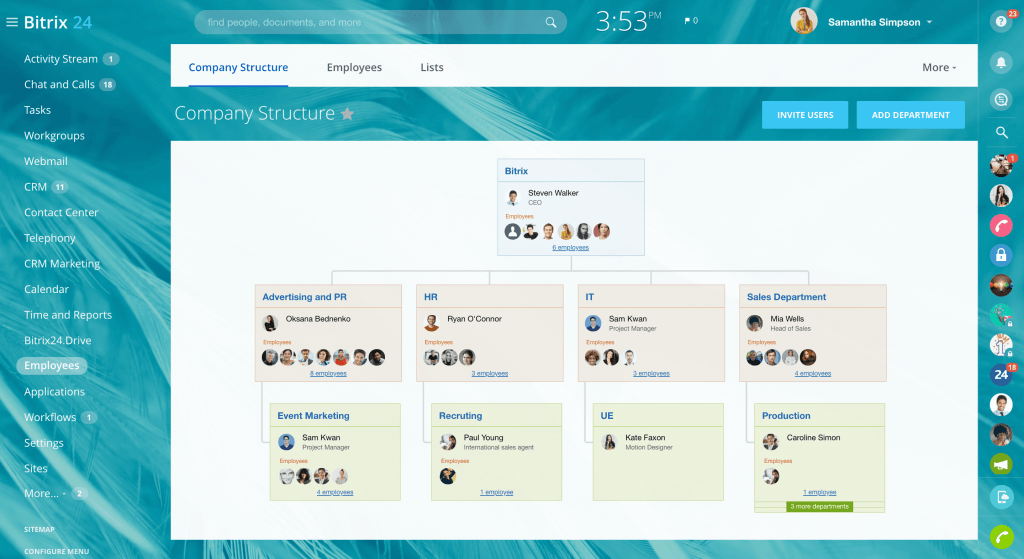 Bitrix24 is an online workspace featuring task and project management tools, CRM, chats, video calls, website builder, telephony, CRM marketing and analytics.
All the components are conveniently packaged in a single online service, seamlessly integrated with each other.
Here are the main features:
You can create workgroups, assign project roles, set tasks with deadlines, follow task updates via notifications, monitor work progress in real-time, and get reports from your teammates.
Variety of project management methodologies (Kanban, Gantt chart, etc.)
A time clock and shift schedule
Discussing projects via chats, comments, video calls and conferences
CRM with customer support and marketing automation features
Website builder with templates
Contact center with all clients' data
Integrations: Bitrix24 offers integrations with third-party apps for CRM, sales, HR, chat, payment systems, or lead generation
Pricing: starts at $24 for 2 users. The free version is available with basic features.
Available for desktop, mobile (Android, iOS), and on-premise to run on your servers
Robust project management and collaboration software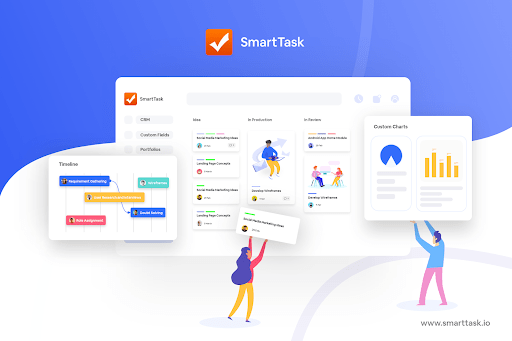 SmartTask is an award-winning tool that helps managers and teams to manage all their communications, tasks, and projects from one place. 
The multiple views, portfolios, milestones, and custom fields, help to streamline your work processes better. It offers real-time collaboration and communication features to help your team work together and more efficiently. It also offers time tracking, cost estimations, CRM, analytics, and reporting features. 
This versatile and highly customizable tool is great for teams of all sizes and industries. 
Here's what you can achieve with SmartTask:
Grouping – Create different groups like marketing, sales, operations, etc to manage your workload effectively. 
Multiple project views – You can manage your projects in list view, board view, calendar view, timeline view.
Milestones – Mark critical steps as milestones and track your progress as you reach those milestones.
Portfolio – Manage multiple projects from a single screen.
Task management – Create tasks and subtasks, assign specific team members, set due dates, cost estimates, and add followers such as managers or clients to track progress. 
Real-time collaboration – Comment and attach files on tasks to share information and feedback, send voice notes, and start group video meets. 
News Feed & Automated check-ins – Save time by posting on the newsfeed and automating daily & weekly checks, where team members can update their status without your interference. 
Cutting-edge Communication – Use communication tools such as chat, VoIP calls, and video conferencing options for one-to-one communication as well as task and project levels. 
Time Tracking – You can track the time spent on tasks by each team member.
Workload management – Understand who is working on what, if they are overworked or underworked, and divide their workload evenly.
Productivity Score – Analyze team's performance over time with karma points.
Custom Charts – Create custom charts for – tasks, projects, searches, or anything you want, and download them as a report.
Automation – Automate repetitive tasks and work processes.
Templates – Jump start your projects with pre-made templates. You can also create and save your own templates for later use.
Integrations: SmartTask offers seamless integrations with over 1000 tools so that you never have to juggle between different apps any more.
Pricing: SmartTask offers a great free plan with unlimited users, projects, and all important features. The premium plan starts at $5 per user per month, and the business plan starts at $8 per user per month- that give you extra benefits such as unlimited usage of all features, unlimited storage, white label and more.
Available: You get SmartTask on Windows, macOS, iPhone, iPad, Android, Chrome, Safari, and Firefox.
Conclusion
We hope we made it easier to choose from all the different team management apps. It's worth remembering that every tool will work differently for every business. So don't be guided by the fanciness of tools, but rather talk to your team and go for the tool that favors collaboration in your organization.
Do you have your favorite tool? Share your thoughts in the comments, we'd love to hear from you!