Remote Worker Monitoring: How To Track Productivity
June 22, 2023
by Lorea Lastiri
2 comments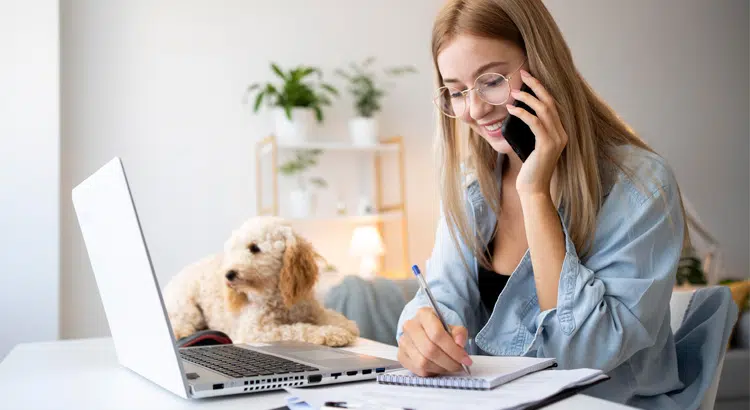 Productivity is central to the growth of a business. Regardless of your industry and the kind of products or services you provide, if your workers are not productive in their roles, your business can experience negative consequences. Therefore, employers need to track the productivity of their teams.
You can use a time tracking tool to monitor each employee's productivity and time spent on remote work. Time tracking applications come with various features such as deadline setting, attendance tracking, invoicing, app integration, and reporting. In this way, you won't have to deal with myriads of paperwork when monitoring remote workers.
Instead, you can track employee productivity electronically with transparency.
Want to learn more about employee monitoring and productivity tracking?
This post will introduce you to various features and employee monitoring software that can help you track your remote team's performance and improve your project management efficiency.
1. Set clear deadlines and expectations for remote workers
Your team should know how and when the work is expected. By setting clear expectations, your remote workers will be able to manage their time properly.
Many managers fail to set clear deadlines for various tasks. This creates a lot of confusion and hassle for both employers and remote workers. The management expects the work to be submitted, but the remote workers cannot do so because they did not plan out their time properly from the start. As a result, implementing a reliable and efficient speech to text converter could alleviate the burden by enabling remote workers to conveniently dictate and submit their work, improving time planning.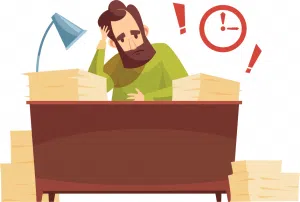 Therefore, your workers must know when they should be submitting the work, especially if the project is time-bound. You can schedule tasks easily with the help of various employee monitoring software.
For instance, TimeCamp allows employers to post a project, set details, and assign work to employees remotely. Using this application, you can stay in touch with your team throughout the workflow and get timely updates about their progress.
In this way, you won't have to wait for the work to pour in. Instead, you can communicate easily with your team, remind them about the deadline, and track your employees' productivity.
2. Provide regular feedback to your employees
Instead of waiting until the end of the month, provide regular feedback to your employees so that they can understand their strengths and weaknesses. Your employees will be able to improve their work and increase their productivity.
Having a monthly or quarterly feedback culture is important to allow employees to work efficiently. Your employees can also understand where they are lacking and what they need to do to improve their performance.
Therefore, the management should be regular in providing constructive feedback to your employees and taking their feedback on the workplace culture and workflow. A 360 degree feedback will help identify any bottlenecks in the work and resolve any conflicts.  Also, make sure you notice the overachievers. For example, you can use no investment merch creation tools online to create branded merchandise and give it as a gift to the employees that are exceeding their goals.
Many time tracking tools offer integrations with other applications, such as Slack or TimeCamp Planner, to communicate with your team. Such integrations can make the workflow more effective and efficient.
3. Track attendance and absences with employee monitoring tools
Instead of having your employees punch cards and write tons of emails to your HR for leaves, you can use employee monitoring software to track attendance and absences.
It can get challenging for HR in companies to manage everyone's attendance at work every day. It can be complicated to manage data collection, especially if you have a big team with some employees working in the office and others working remotely.
You need monitoring software if your employees often complain of discrepancies in their attendance. If your HR also finds it difficult to manage all the data, the time tracking tool can make it easier to deal with it.
Even if you have a small remote workforce, electronic time tracking software is essential to increase efficiency and productivity in the team.
When searching for monitoring software for attendance, there are certain features that companies need to look for. Firstly, clicking in and out of the office should be easy for employees working physically and remotely.
The time tracking tools should also allow your remote workforce to apply for absences and vacations in a few clicks. In this way, you can cut down the paperwork and remove the need to track emails. Once your employees apply for leave and HR professionals accept it, the application will update the records.
Good monitoring tools also track how much extra time your employees have worked. You can then include these hours at the time of payment and appraisals.
You can then identify who is taking continuous offs or working overtime when tracking team productivity. Most importantly, you can monitor how much time an employee requires to complete a certain task, which can then help you formulate feedback about that individual.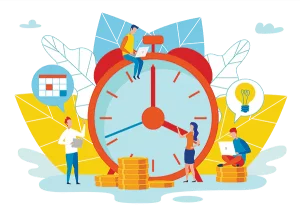 4. Web and app usage monitoring using employee monitoring software
Sometimes a company needs to know how much time their employees are spending on other applications. However, instead of asking your employees directly about it, you can incorporate applications to track employee activity in a precise manner.
Many employee monitoring software, such as TimeCamp, now provide consistent reporting regarding your employees' time on apps, documents, and websites. You can even identify the idle time for maximum transparency.
Your employees can also turn off the application or turn on a private mode if they take a break or invest their time in personal stuff. In this way, you won't intrude on the employees' privacy.
By monitoring how much time remote workers spend on different activities, you can identify why they cannot meet the deadlines. Perhaps, the employees can complete their work despite spending their time on other things. In such instances, it's a good indication that you won't have to worry about their productivity.
👉 Check also our article: Smart and Efficient Ways to Track Computer Usage!
How can I monitor my remote workers?
Monitoring employees for free is easy as knowing the right tracking software. You can create a free account on TimeCamp that comes with most of the functionalities you need to monitor remote workers.
We'll look at each of this employee monitoring software below.
| | | | |
| --- | --- | --- | --- |
|   | Automatic time tracking with desktop app | Attendance reports | Screenshots |
| TimeCamp  | ✅ | ✅ | ✅ |
| WorkTrackZilla | ❌ | ✅ | ✅ |
| Handdy | ❌ | ✅ | ✅ |
| YoCoBoard | ❌ | ✅ | ❌ |
| InterGuard | ❌ | ✅ | ✅ |
| Teramind | ❌ | ❌ | ✅ |
| VeriatoVision | ❌ | ✅ | ✅ |
| RemoteDesk | ❌ | ❌ | ✅ |
| DeskTrack | ✅ | ✅ | ✅ |
| CurrentWare | ❌ | ✅ | ✅ |
Automatic time tracking tool with extended attendance and productivity monitoring features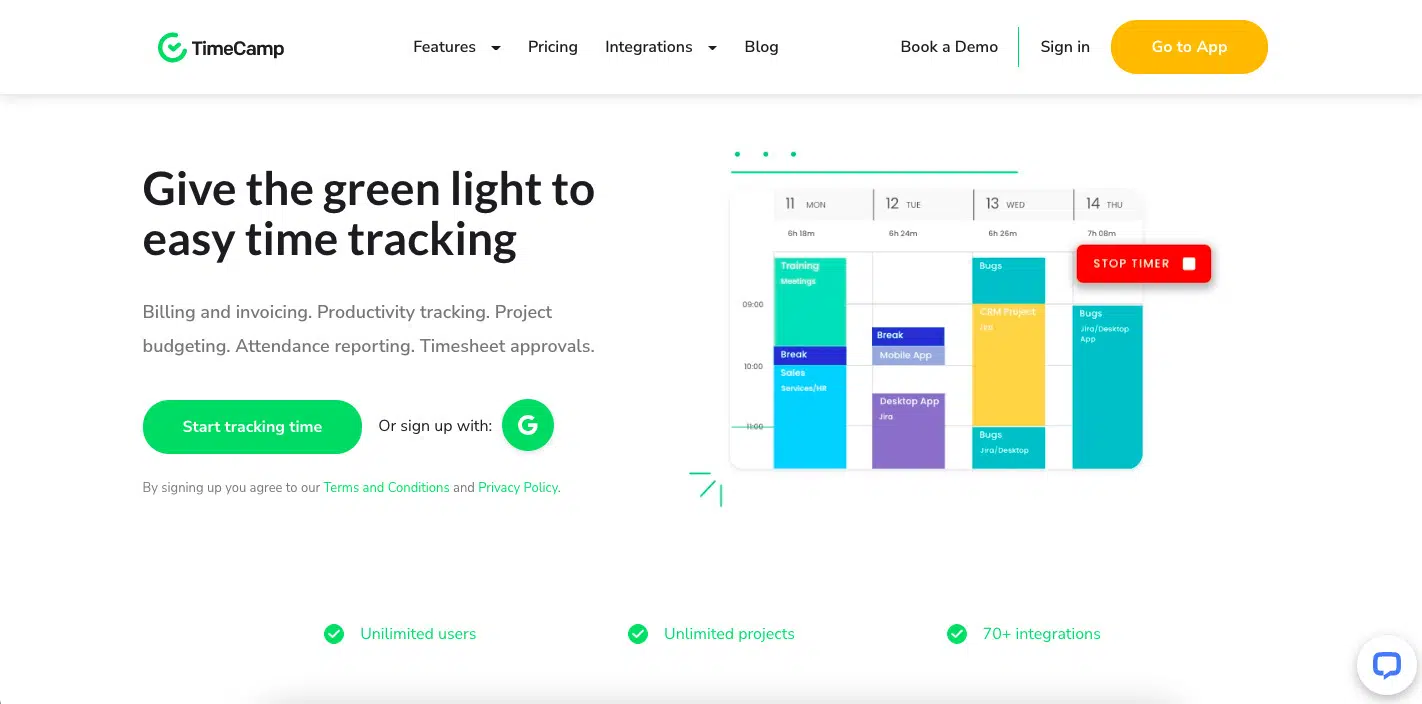 If you want to track more than just the working hours of your remote employees, TimeCamp is at your command. It's a comprehensive remote employee monitoring software that, besides the various types of accurate time tracking, offers also features that support daily performance management and attendance tracking.
👉 How does TimeCamp track time spent at work?
TimeCamp tracks time in many different ways. First is a desktop app – once the employee turns their computer on, the tool launches and starts logging time and, if the module is on, the computer activity and app usage. Moreover, it assigns the time entry to the appropriate project and task. But if you're not a fan of desktop apps, a web timer or an easily accessible web timer or powerful browser extension for Chrome and Edge also works in the background. 
What's more, if your company hires field workers that also work remotely, they can install a simple to use a mobile app and log time wherever they are.
👉 Does TimeCamp work as an employee monitoring tool?
Sure! TimeCamp offers a wide range of features that support daily productivity tracking, which is fair for both employers and employees.
👉 Does TimeCamp support employee engagement monitoring?
You can use gathered time and activity for various purposes. But among all the remote employee monitoring features, one of the most important is reporting features. TimeCamp allows you to create reports based on time spent on work-related activities that provide managers useful data for how their remote employees perform during working hours and react each time they find any risky or unproductive behavior.
👉 What other features for remote workers monitoring does TimeCamp offer?
TimeCamp supports auto time tracking and works in the background, so your employees can work without unnecessary distractions and save hours they wasted on manual timesheet filling,
Provides basic project management and task management, so you can log time spent on specific tasks instead of just clocking in and out;
Transparent user structure with various levels of permissions and different roles in projects,
Attendance module that tracks employee absence,
Timesheet approvals for transparent working hours policy,
Productivity metrics and goals,
Screenshots,
30+ direct integrations with various tools for project management, CRM, accounting, and sales,
Billing rates for specific projects and users
👉 How much does the TimeCamp subscription cost?
Pricing
Free

– a free plan of TimeCamp for unlimited users includes all the essentials – accurate time tracking, unlimited projects, a time clock kiosk, desktop, and mobile apps, idle time detection, and many more,

Starter – $2.99 per user per month

, including unlimited tasks, excel reports export, attendance, time-off, overtime tracking (billed annually)

Premium

–

$4.99 per user per month

, including one integrations, billable time, budget & estimates, apps & websites tracking, project archiving, and more (billed annually),

Ultimate

–

$7.99 per user per month,

including unlimited integrations, billable rates, labor costs, invoicing, timesheet approvals, custom user roles, and more (billed annually)
Enterprise – custom pricing; contact sales team for more details
Automate time tracking with TimeCamp and stop guessing how much your remote employees work!
2. Email Analytics 
Email analytics tool that allows you to track and visualize your team's email activity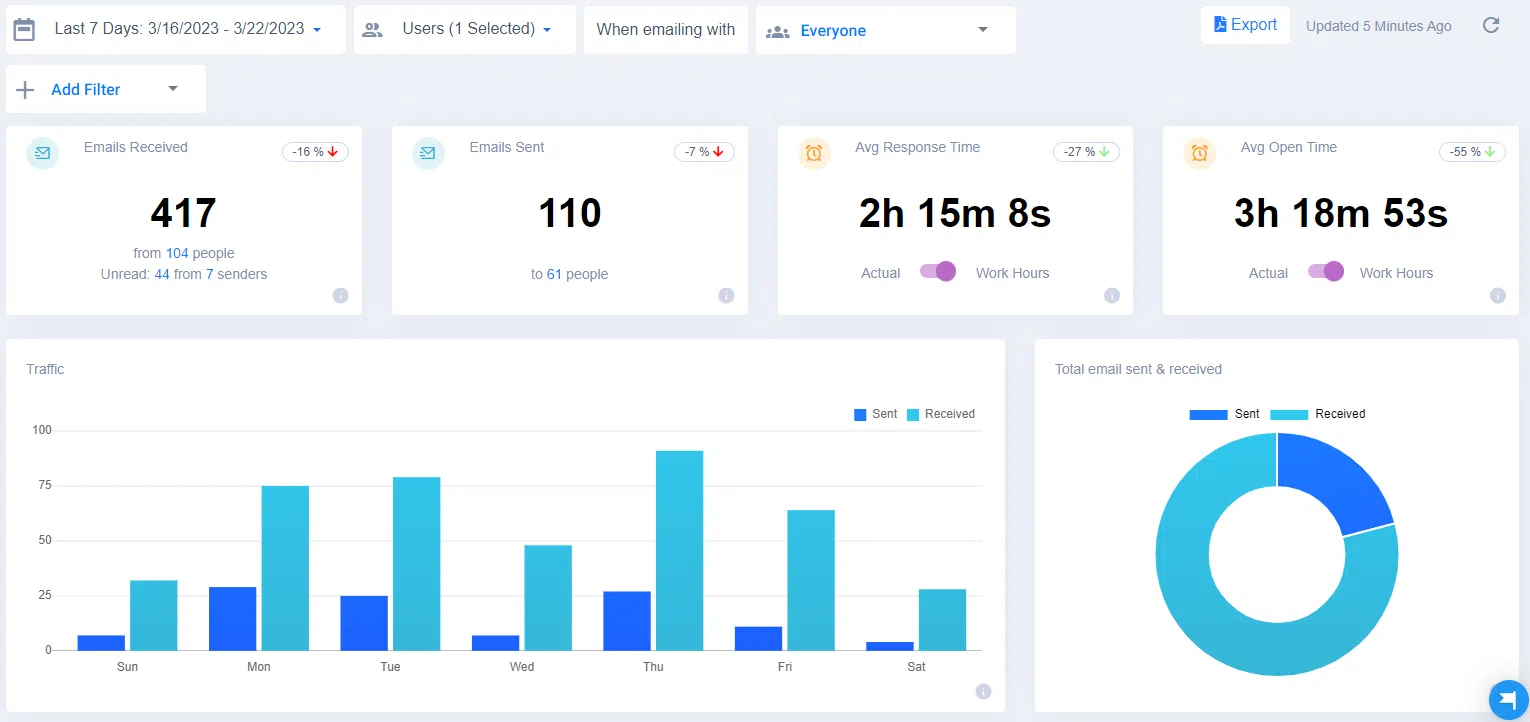 EmailAnalytics is a cloud-based web app that visualizes the email activity of your remote team, and it's compatible with Gmail (Google Workspace) and Outlook (MS365). It's popular with sales teams and customer service teams, because managers can track individual team member performance and KPIs like email response time. And you'll get convenient daily email reports showing the activity of your team, making it easy to monitor team email activity right from your own inbox.
👉 What are the EmailAnalytics main features?
Average email response time
How many emails your reps send/receive every day
Your reps' busiest days of the week and times of day
Your reps' top senders & recipients
Daily/weekly/monthly email reports
Real-time SLA alertsYour reps' busiest days of the week and times of day
SLA and response time goal setting
Pricing: $15/mo per connected inbox, with a 14-day free trial period.
3. Handdy
👉 Employee monitoring software with attendance features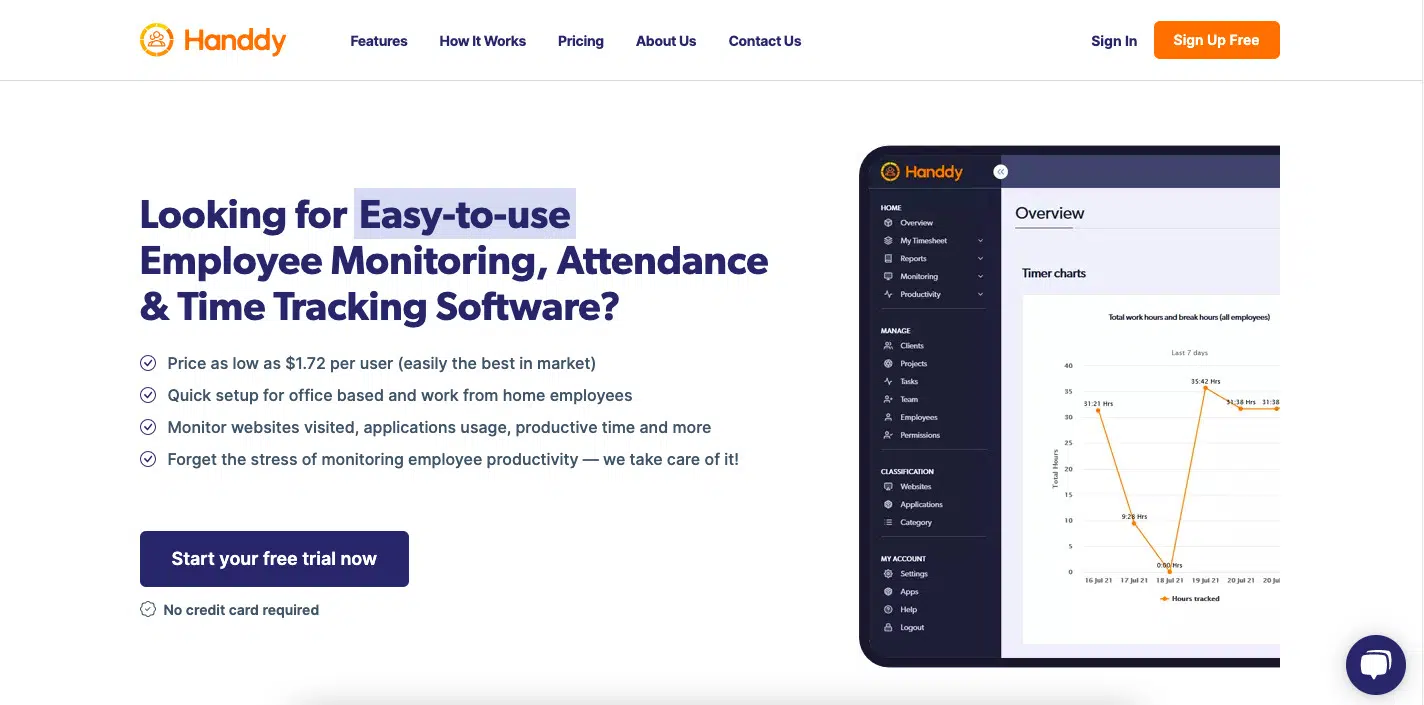 If you need to fully cover control over your employees' time and activity, Handdy seems to be a good option. It's an employee monitoring tool that supports activity recording to keep an eye on employees' productivity and their daily performance.
Among the features that deliver the company data on how the remote employees are working and spending time, you'll find, for example, keystroke activity tracking (known more as keyboard tracking) that'll tell you if your employees are working actively during their working hours. If your desire for control over what your remote workers do during work hours requires something more, screenshots are also available, so you can check if they're doing what they should or just browse social media sites.
👉 What other premium features that support monitoring remote employee time the tool offers?
Activity recording like website and app usage,
Periodical screenshots,
A desktop timer that serves as time tracking tool, tracks websites and apps, and captures screenshots,
Month-end attendance reports,
Who's working on what overview,
Keystroke monitoring,
Productivity analytics.
👉 Pricing: Free plan for time and attendance monitoring is available. The premium plan costs $1.72 per user per month. For private cloud and custom integrations, contact their sales.
4. YoCoBoard
Cloud-based time tracking software for simple work hours registering
YoCoBoard is an employee productivity tracking tool that allows tracking time spent at work and on projects and tasks which you can create within the app. With this employee tracking app, your team members can easily clock in and out with just a click of a button and receive a summary of their daily activity, especially the hours they worked.
The tool allows making adjustments when employees forgot to register their working hours, so the admins can be sure the work records are done accurately. You can get it as a web app, but it also registers employee time on the go, using mobile apps for iOS and Android.
👉 Main features YoCoBoard offers:
Time tracking based on clocking in each time an employee starts a new task
Basic project management – create a project and track time spent on it
Time entry adjustments
Detailed reports and exporting
Time audits
Billable hours and invoicing
👉 Pricing: Free plan for teams of up to 10 active users. Standard one costs $5 per user per month and is available for teams of up to 25 users. Enterprise is a fully-featured plan for unlimited users and costs $8 per user per month.
5. InterGuard
Employee time and activity monitoring for teams with specific control needs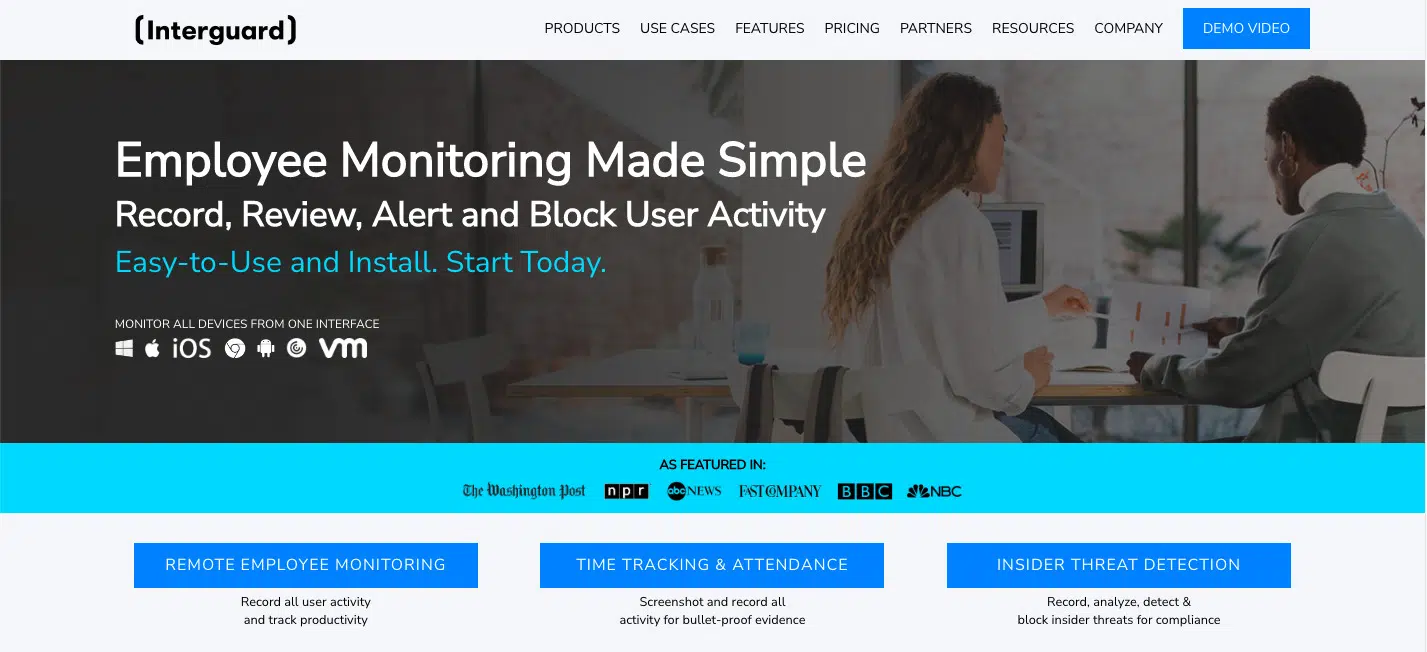 Various companies require different levels of control over employee activity, especially if they're big enterprises hiring many employees scattered along various departments. They probably need employee monitoring software that offers various methods for disciplining employees, and here's where InterGuard comes with a helping hand.
Interguard ensures you high-level employee productivity tracking that comes with solutions for protection against insider threats. It also supports remote worker monitoring, offering various levels of tracking employees' activity, such as emails, browsed apps and websites, chats, or sensitive data. Using it, you can also block sites and restricts unlimited access to the apps that can be a potential risk to the company's safety.
👉 What other features for monitoring remote employees does Interguard offer?
Idle vs. active time tracking
Desktop screenshots and video playback
Data loss prevention, like blocking websites and risky apps on company-owned devices,
Keylogger with risky keywords detection,
Cellphone monitoring
👉 Pricing: Interguard offers just one paid plan that costs $179 per user when billed annually, but the subscription requires at least 5 active employees.
6. Teramind
Desktop activity monitoring software for user behavior analysis
Except for classic time tracking software, you can also use desktop activity analysis tools as employee monitoring software. One of them is Teramind, a tool that captures the desktop activity to measure, analyze and control employees' performance, promising to maintain employee privacy.
Teramind provides teams, no matter of size, with various productivity metrics helpful to optimize daily employee engagement and make better business decisions. It identifies the struggles and unproductive behavior, providing managers who lead teams that are working remotely with essential information on their employees' working habits. It shows who's working on what in real-time, preventing non-compliant activity and avoiding penalties.
👉 What features does Teramind provide to track employee activity?
Remote employee's desktop control,
Live and recorded screen capture,
Email monitoring,
Files tracking,
Employee communication monitoring (e.g. instant messages),
Online meeting monitoring,
Keystroke logger,
Printed document tracking
👉 Pricing: No free plan is available, but you can give it a try on an unlimited free trial. Paid plans start at $10 per user per month for teams of up to 5 members.
7. Veriato Vision
Employee productivity tracking software with activity monitoring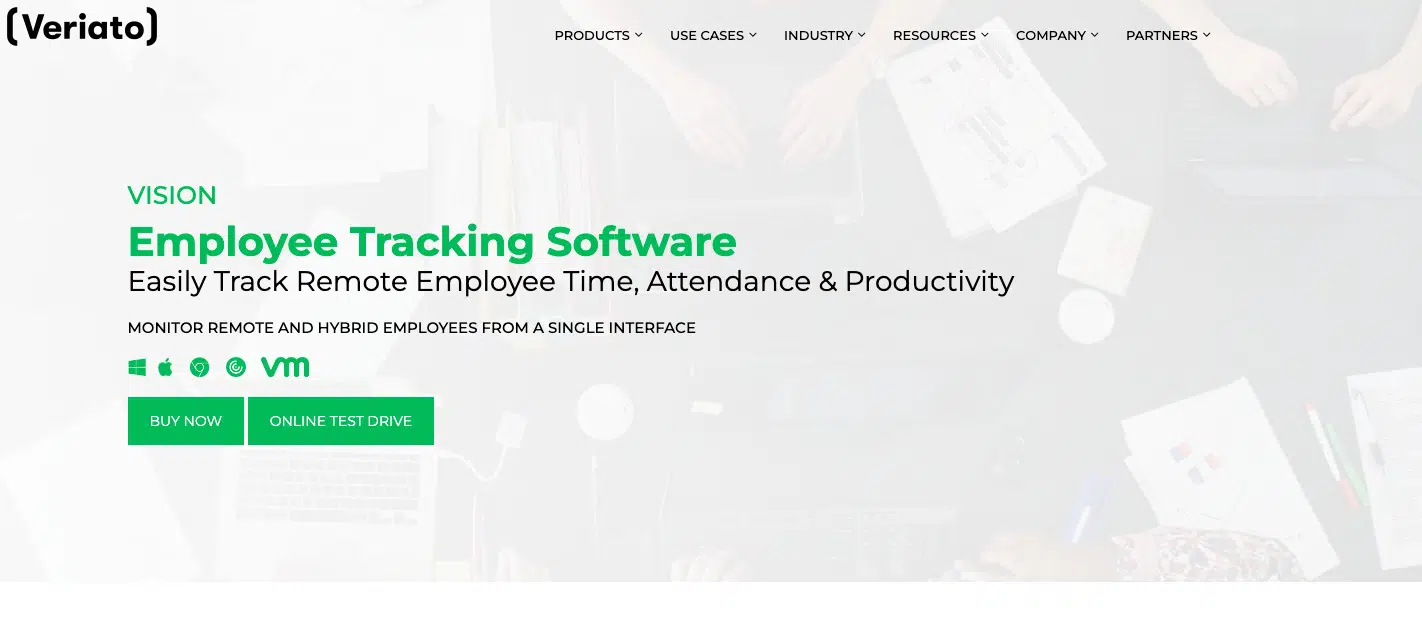 Vision from Veriato suite is another employee monitoring software that helps managers control their employees' working hours. The tool is highly flexible, so teams can adjust it to their own needs and receive the data essential to maximize team productivity. It's up to you if you want to track productive or unproductive activities or idle vs. active time.
Vision, like other tools mentioned here, is a cloud-based tool, so you don't need to buy any additional hardware to implement remote employee monitoring in your organization. The data display in real-time on the dashboard, but if you need to dig deeper into analysis, charts and reports are available.
👉 What employee monitoring features does the tool offer?
3 types of screenshots – alert words, camera, and continuous,
Email tracking,
Web and application use monitoring,
Chats and instant messages tracking,
Real-time alerts,
Unusual behavior analysis,
File movement and download tracking
👉 Pricing: Not provided, but you can register for a free trial via a contact form.
8. RemoteDesk
AI-based remote employee monitoring software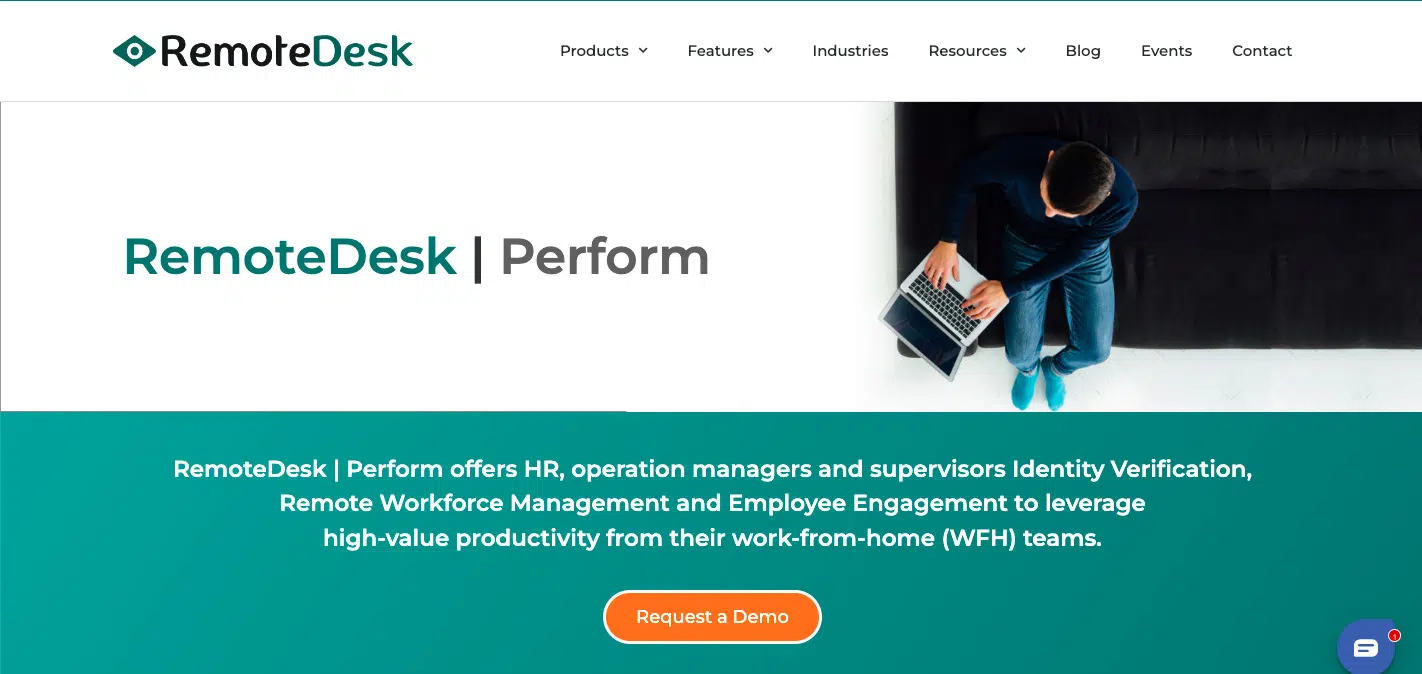 RemoteDesk is a tool that offers a variety of features for both managers that supervise remote teams and for remote employees. The tool provides organizations with detailed reports on the activity of remote employees, measuring and identifying employee workloads.
With RemoteDesk, employees can create a work-from-home workspace their employers require. The tool indicates prohibited devices and risky apps and constantly secures the identities of the remote workforce. Also, it monitors the number of breaks during the time tracking session and keeps a record of employees' activity within the day.
👉 With what features does the tool support remote work productivity tracking?
Desktop screen capture,
App, websites, and prohibited devices detection,
Idle vs. active time reports,
Employee identity verification with webcam monitoring,
Keystroke and mouse clicks analysis,
Real-time notifications
👉 Pricing: Not provided, yet you can register for a free trial to get a quote.
9. DeskTrack
Employee tracking tool with desktop monitoring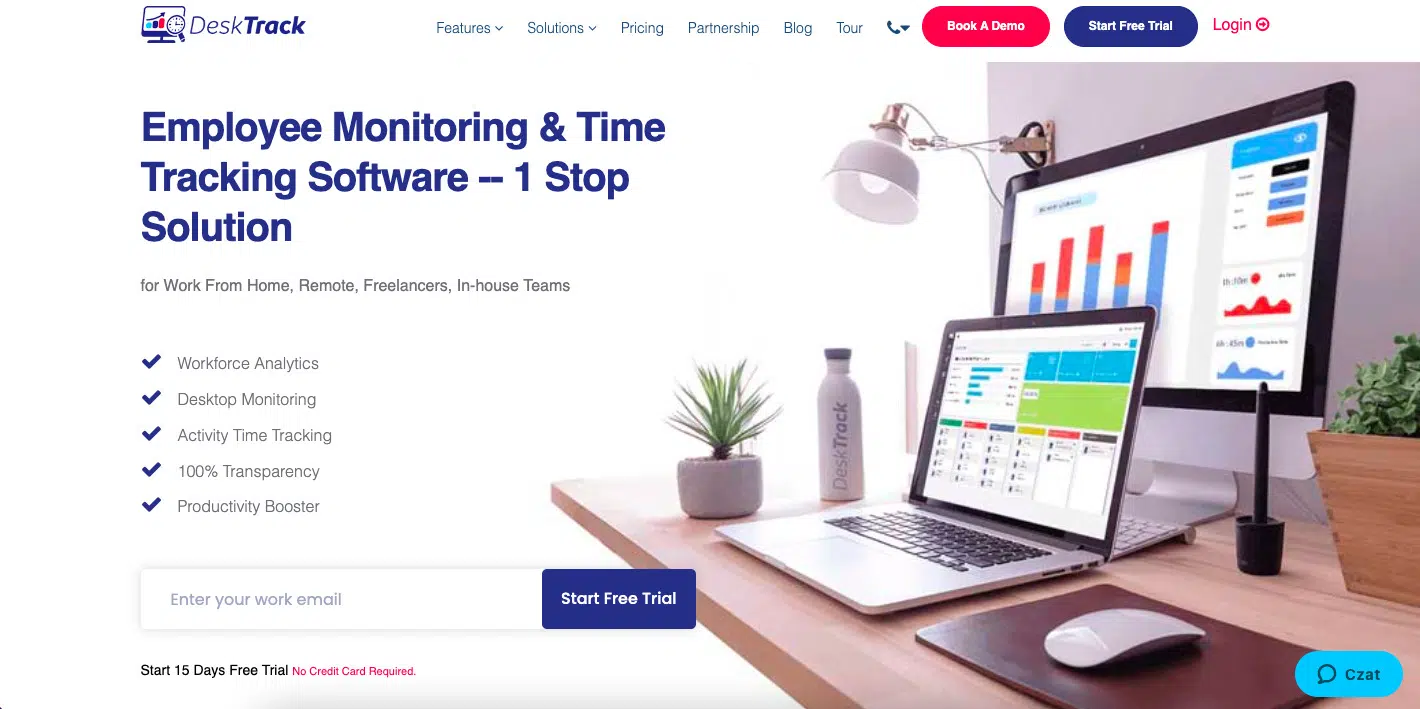 If you wish to find a remote employee monitoring software that captures desktop screenshots, but you don't need advanced tools like those described above, take a closer look at DeskTrack. The tool provides employee monitoring and basic features for work-from-home employee tracking that can help remote or hybrid teams boost their daily productivity.
With DeskTrack desktop activity logs data, you can track and analyze your employees' behavior and uncover suspicious activity. The tool also registers when the employee started and stopped working, how many breaks they took, and how long they've been, as well as shows the overview of working hours stats.
👉 What features does the tool offer that support remote work tracking?
Online and offline time tracking,
Desktop activity log with screenshots, URL, and application tracking,
File tracking,
Working vs. idle time,
Productivity calculator,
Unified logins
Pricing: No free plan is available. DeskLite plan, the most basic one, costs $2.99 per user per month, while the more advanced ones, Stealth and Tagger, cost. respectively $6.99 and $7.99 per user per month. Prices vary when you choose the annual billing.
10. CurrentWare
Remote employee monitoring software with engagement tracking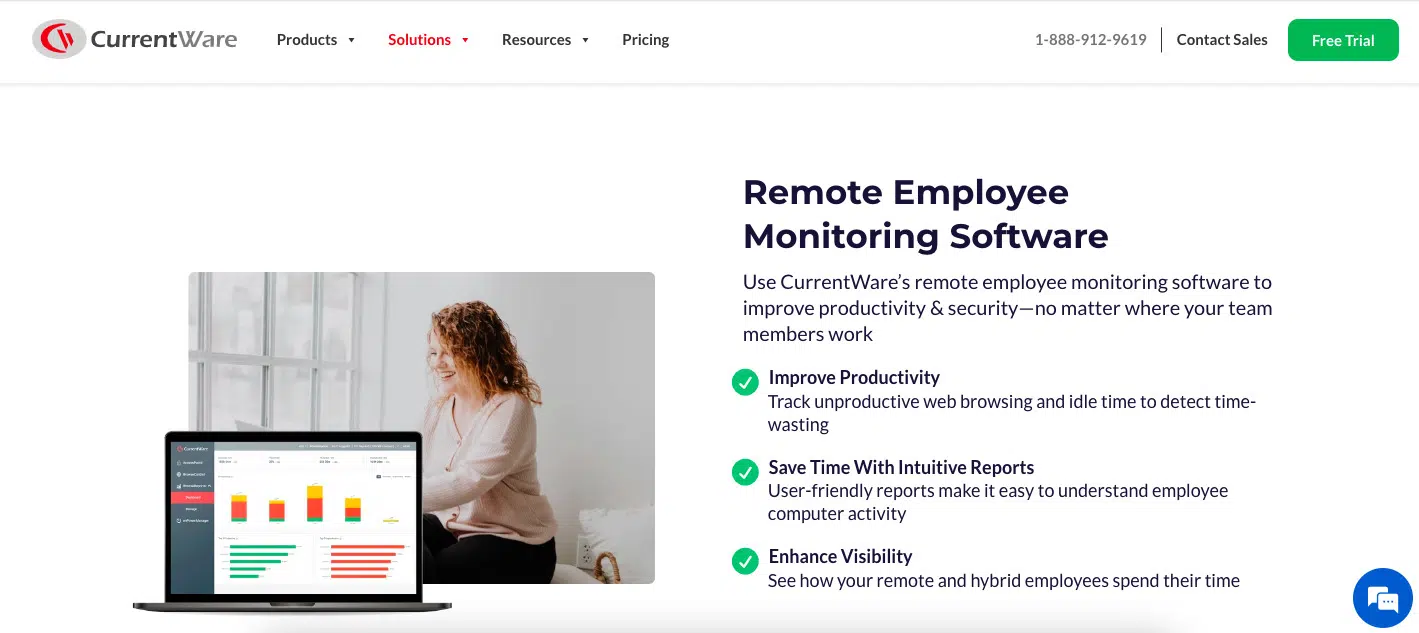 CurrentWare offers remote work monitoring solutions that are helpful in seeing how working-at-home employees spend their time during working hours. It's another tool that tracks productive and unproductive behavior and creates reports with comprehensive engagement analysis.
What's more, with CurrentWare watches over company data safety, preventing data breaches to USB devices. It generates a detailed report on each employee's activity, including the records of who transmitted what to portable storage devices.
👉 What other features for remote employee monitoring does the tool offer?
User activity dashboards,
Productive vs. unproductive time based on keyboard and mouse tracking,
Browsed websites stats,
Bandwidth consumption monitoring,
App usage tracking,
Screenshots
Pricing: The computer monitoring plan costs $3,99 per user per month, billed annually.
11. WorkTrackZilla
Screen monitoring software for tracking remote employees' productivity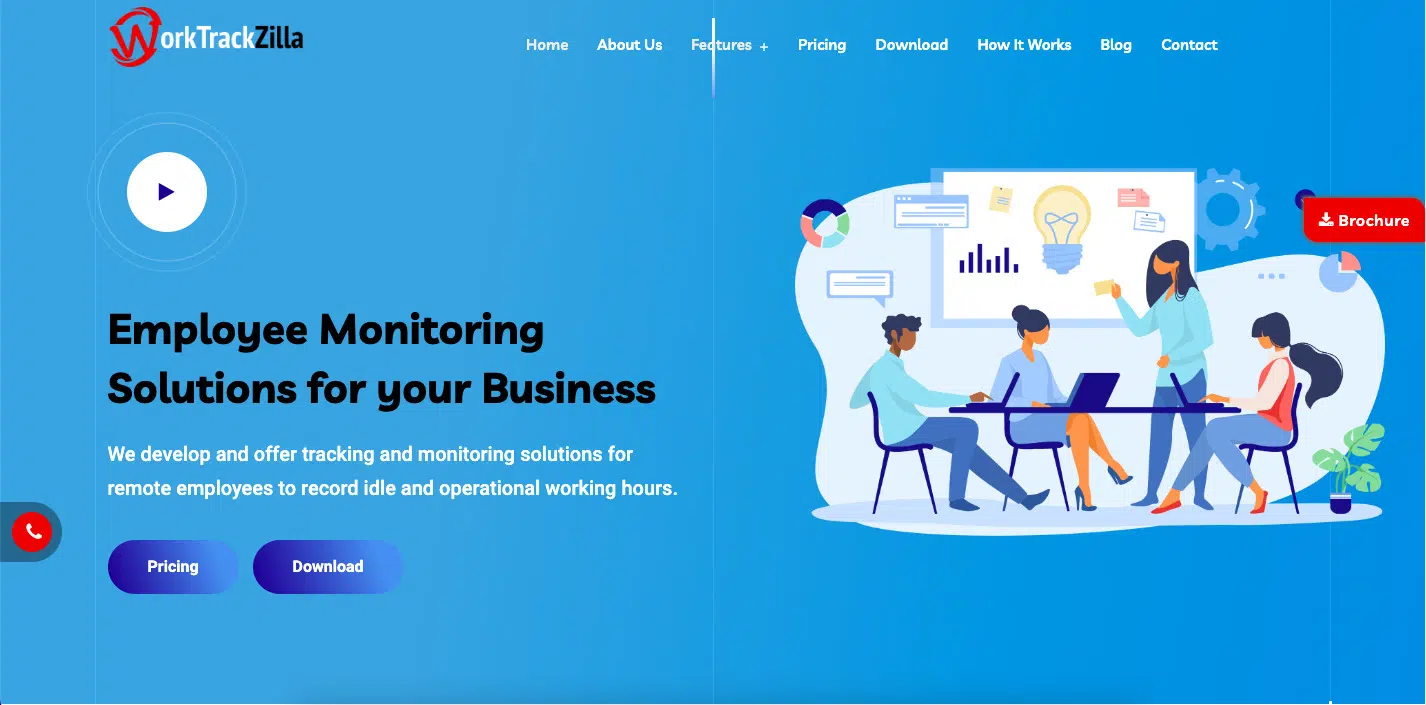 WorkTrackZilla is an employee monitoring software that provides many tracking employee activity features. Companies that hire remote workforce have at their disposal the tool that shows how the employees are working – it detects idle time, takes auto screenshots, and generates activity reports.
As their team states, WorkTrackZilla is a monitoring software dedicated to companies that appreciate worker productivity transparency and want to automate all the processes associated with it.
👉 What are the WorkTrackZilla main features?
Semi-automatic timesheet-based time tracking,
Automatic screenshots that capture the employee's screen at random intervals,
Customized screenshot timing that can be adjusted to the company's policy,
Idle time tracking insights based on computer activity monitoring,
Employee privacy and data safety
👉 Pricing: Plans are based on the billing period: Silver, monthly one costs ₹199 per user per month, and a half-yearly subscription is for ₹169 per user/month. The highest one, Platinum, is a yearly subscription that costs ₹149 per user per month. All plans cover all the features the tool offers.
Remote project management tools
11.Trello
Tracking work progress with Kanban boards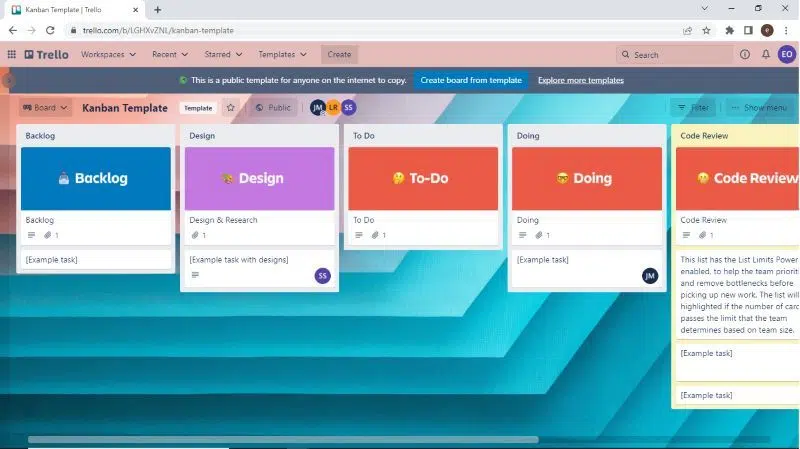 With Trello you can have all team tasks' under control. You can divide them into a group or individual projects, comment, add files, etc. It is a great tool if you need to follow the deadlines and always stay on top of things.
Trello is a digital whiteboard for managing tasks and projects. It lets you organize, manage, and plan tasks. It enables individuals to design their work and personal responsibilities, build workflows for entire teams, and coordinate complex projects.
Trello is a lightweight app that lets you visualize projects with simple Kanban boards, and quickly see the progress of work and the team's workflow.
👉 With what features does the tool support remote work productivity tracking?
Calendar view,
Track goals with timeline,
Kanban board,
Visualize projects and processes with dashboard,
Task management.
👉 Pricing: There is one free plan for individuals and three paid plans: Standard- $5 per user/month (billed anually), Premium- $10 per user/month (billed anually), Enterprise- $17.50 per user/month (billed anually).
TimeCamp is a part of Trello Power-Ups, a new directory for Trello's add-ons! Now you can turn your TimeCamp and Trello integration into a real productivity powerhouse. 
👉 Check out TimeCamp integration with Trello!
12. Slack
A workplace and team messaging app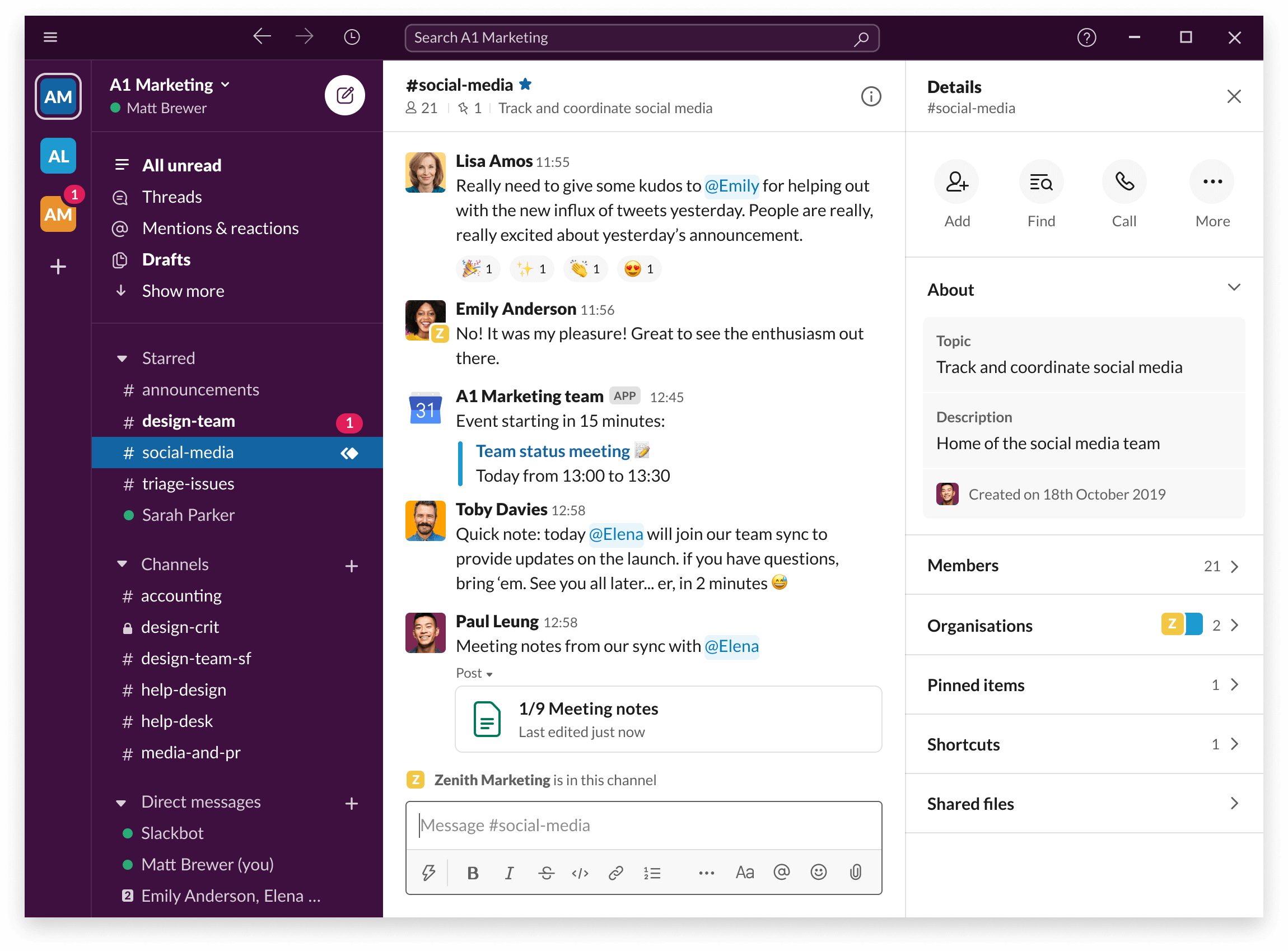 Slack is one of the most popular apps for communication used by many companies. One of its biggest advantages is its accessibility – you can always check the messages whenever and wherever you are. Slack has a friendly interface and is really easy in use.
Thanks to this you always stay in touch with your remote team and can communicate immediately. Additionally, you can create groups, divide conversations into individual or group chats, and share files.
👉 What other features for remote employee monitoring does the tool offer?
Private or public channels,
Direct messaging,
Persistent chat rooms,
File sharing.
👉 Pricing: There is one free plan for individuals and three paid plans: Pro- $7.25 /month, Business+ – $12.50/month, Enterprise Grid- custom price.
👉 Check out TimeCamp integration for Slack!
13.TimeCamp Planner
Task management software and collaboration tool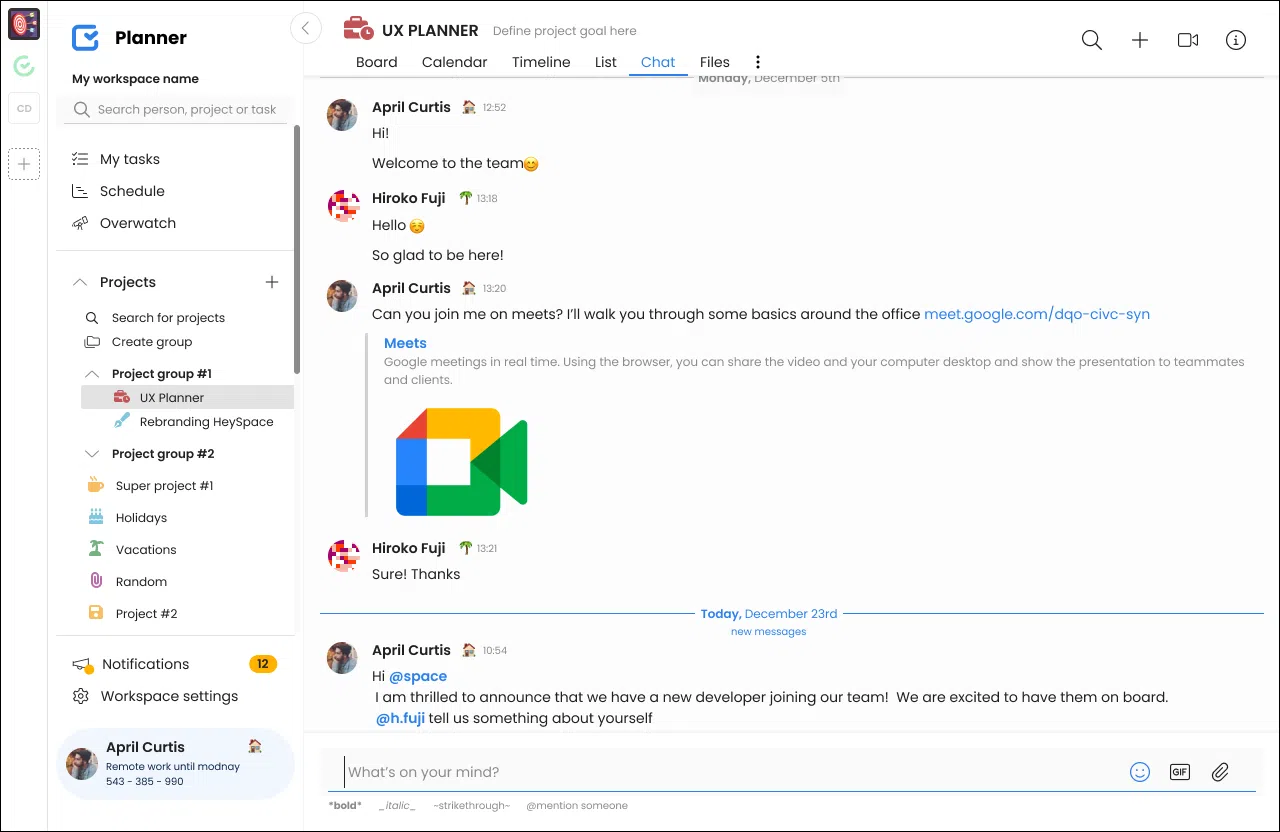 Very often, in many companies arises the need for a unified and organized communication channel which would also enable smooth and clear collaboration. TimeCamp Planner is the answer to those needs. It is a great alternative to Slack and Trello as it combines all the features of the two tools. It provides even more features!
Thanks to TimeCamp Planner, you can not only chat- exchange information and files but also convert conversation into a task. You can also manage tasks while keeping the talk going in the main window. Everything in one place! It's a fantastic tool to increase your remote team's productivity but also make sure they keep up with deadlines.
👉 What features does TimeCamp Planner provide to track employee activity?
Chat,
Board,
Calendar and timeline,
List view to better organizing tasks,
OverWatch – get an overview of your top projects,
Useful list of all your teams' tasks,
Add-ons and integrations.
👉 Pricing: Available free plan for up to 5 users. A Pro plan is $2.99 per user/month (billed annually, $3.99 if billed monthly).
👉 Read more about remote project management
14. WP Project Manager
​​An advanced WordPress tool to help your remote team stay organized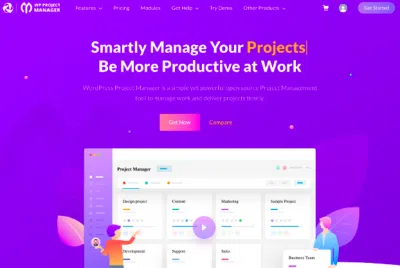 WP Project Manager is an interactive WordPress plugin to manage and improve project results. This fantastic tool gives you an instant insight into project status so you can take quick actions where requires. (stellardental.my) It also ensures easy collaboration between you and your team members to achieve a common goal.
For a remote team, work distribution and tracking the progress are 2 major challenges. WP Project Manager helps employees add and share their individual or group tasks regularly with their team lead or other teammates. Team leads can also allocate responsibilities and track the progress right from the project management dashboard. Collaboratively, it establishes a seamless channel to assign tasks, communicate, monitor progress, and take necessary actions to complete any project on time.
👉 What other exclusive features does WP Project Manager offer to a remote team?
Distributes different tasks under a project among the employees,

Offers a smart recurring task management,

Supports file manager to share resources,

Allows users to add comments on individual to-do lists,

Provides with interactive task calendar and time tracker,

Integrates with popular tools & payment gateways.
👉 Pricing: Annual plans start from $79/year and end at $249/year based on the facilities and various collaborative tools and modules. The Lifetime plan starts at $316.
15. Google Docs
A cloud-based word processing tool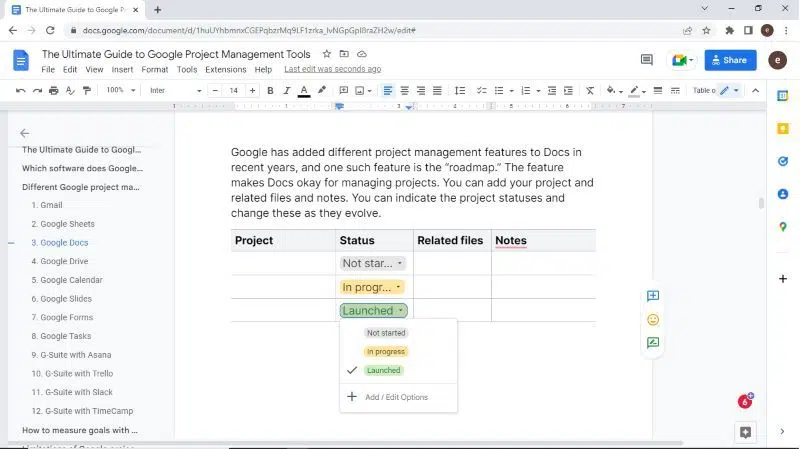 Google Docs allows you to store your data in one place where you can edit it in real-time for effective team collaboration. 
The cloud-based real-time edits that Google Docs allows means that you can invite multiple people to work on a document simultaneously, you'll see the changes as your team makes them, and every change is saved automatically.
It also eliminates the need to send updated versions of documents to team members every time a user makes a change.
 👉 What features does the tool offer that support remote work tracking?
Basic dashboards,
Available project management features (such as status of a project, detail project plan, project roadmap or milestone),
Create and edit text documents,
Multiple people can work at the same time,
Team collaboration- invite members for comments and suggestions, get valuable feedback.
👉 Pricing: There are three paid plans: Business Starter- $6 per user/month, Business Standard- $12 per user/month, Business Plus- $18 per user/month.
16. Dropbox
Cloud storage platform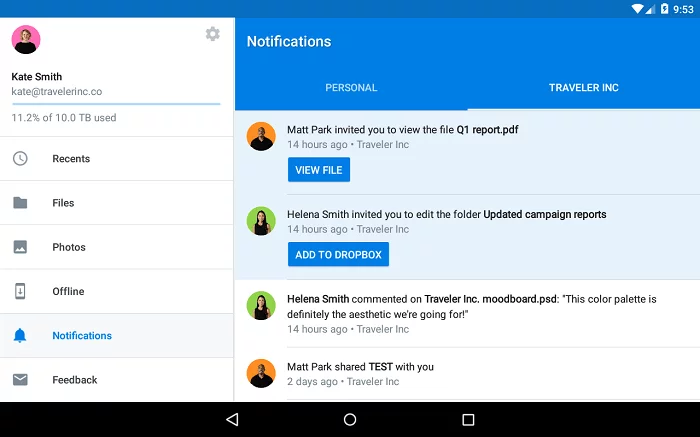 Dropbox is a cloud storage tool that enables you to upload and share photos, documents, and other files. It allows for sharing almost any type of file, no matter what format and size. It is a fast tool for exchanging files between the team and can save a lot of their time. They can share many files with just one click instead of creating a ton of e-mails.
👉 Pricing: The free basic package gives you 2GB free storage space, but you can upgrade to 1TB for a monthly subscription fee of $9.99/month (billed annually). The professional plan gives you 2TB free storage space and it costs $19.99/month (billed annually).
17. Google Calendar
Calendar that shows time blocks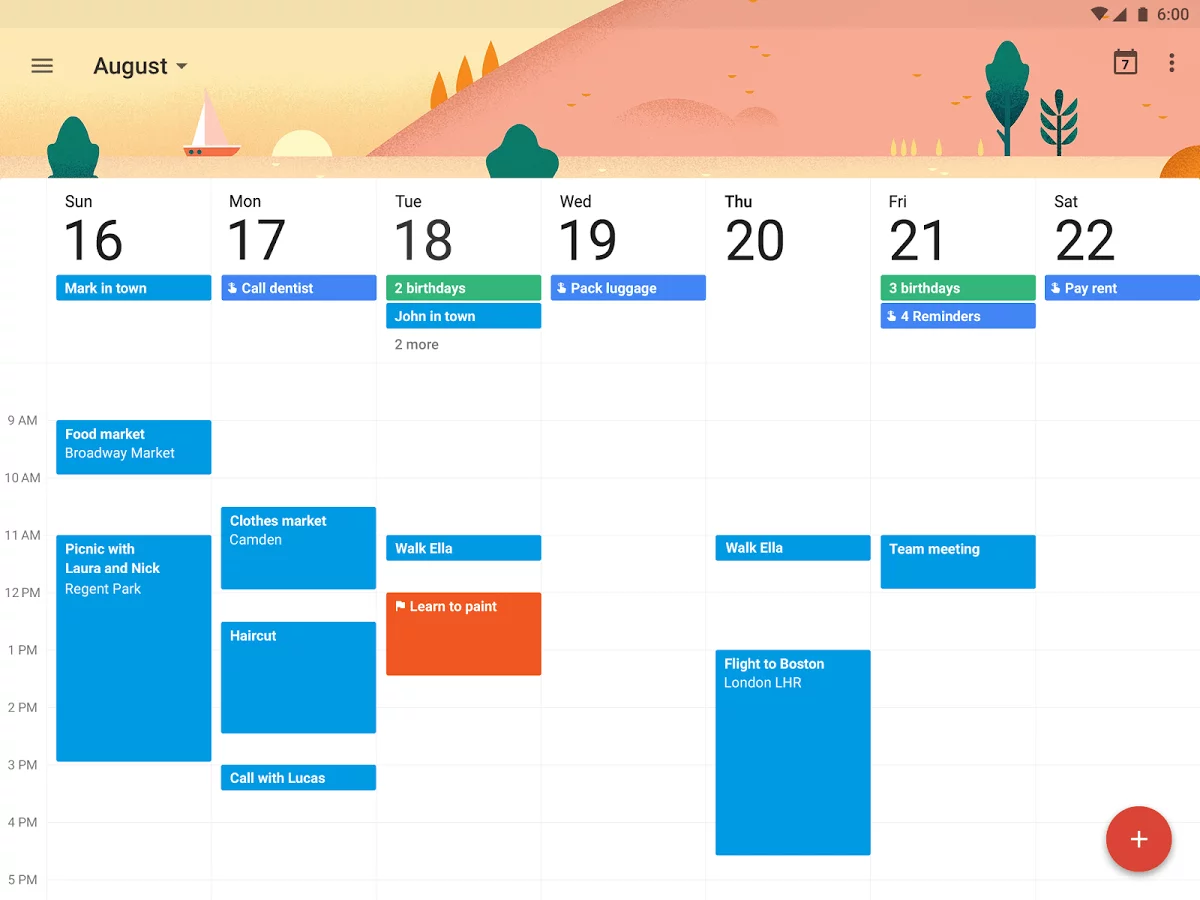 With Google Calendar you can perfectly organize your team's schedule. And if things go wrong you can always reorganize the event and change the date. Google Calendar makes the plan clear with features of adding notes and adjusting the color of the event.
Google Calendar is one of the most popular calendar apps. It's a universal tool that gives you a lot of flexibility to time block your schedule. You can see the time blocked in a year, month, week, and day view.
👉 Which features does the Google Calendar offer?
Scheduling events with one click with details such as guests, rooms, location, video conferencing, adding event description and attachments, choosing a color, and more,
Creating reminders,
Sharing and viewing calendars—creating a shared calendar with specific people; subscribing to other people's calendars,
Customizing your calendar,
Accessing your notes from Google Keep and Tasks.
👉 Pricing: Free with a Google account.
👉 Check out TimeCamp integration for Google Calendar!
18.iDoneThis
Great alternative for paper to-do lists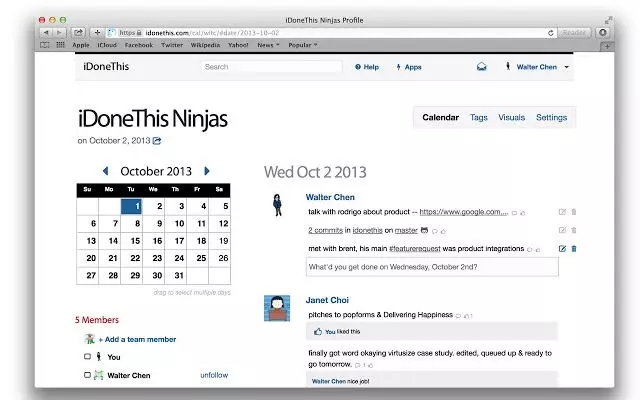 As simple as it seems, iDoneThis is an app for creating to-do lists. It has all features a professional to-do list should have: it's easy in use, has a friendly dashboard, is accessible, and allows to manage the task to its limits, with the use of all possible functions: from comments to highlights.
👉 Pricing: The plan costs $12.50 per user/month (billed monthly). There is also available a 14- day free trial.
19. Teamwork
Project and team management software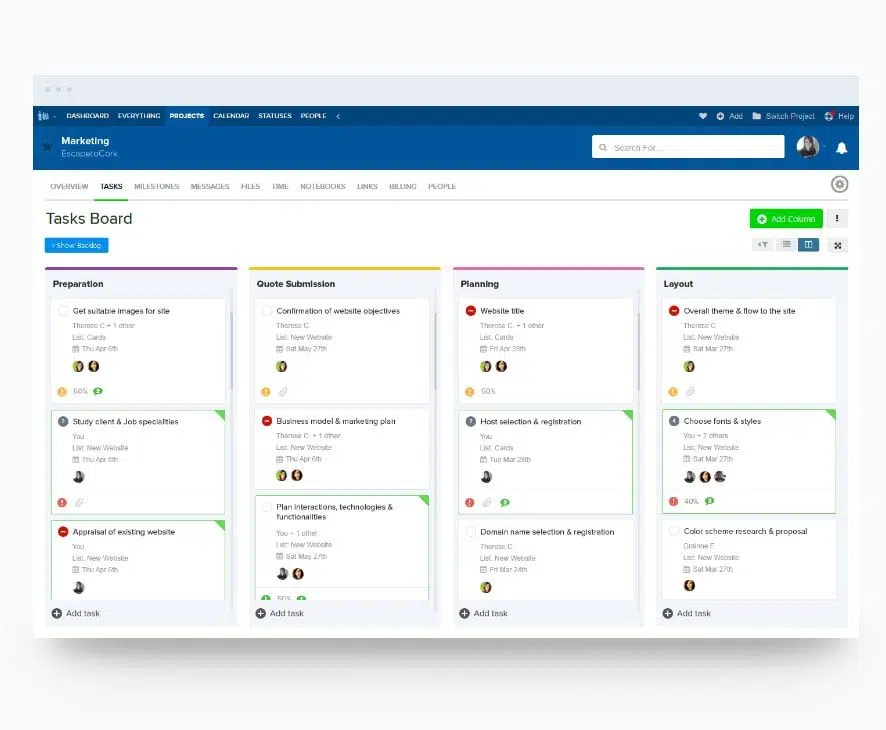 Teamwork is ideal for remote teams, as it combines a number of key features that help remote teams improve collaboration and project management. Features that remote teams will love include open and transparent task management, boards (like Trello), live chat (like Slack), to do lists (like iDoneThis), and team calendars (Like Google Calendar), all combined in one robust and easy to use platform.
👉 What are the main features of Teamwork?
Project and task management features,
Real-time collaboration,
Board view,
Burndown reporting,
Utilization reports,
Workload resource management,
Portfolio,
Project time budget,
Billing and invoicing,
Resource scheduling,
Budgeting.
👉 Pricing: Forever free for up to 5 users. Deliver plan costs €9.99 per user/month (billed yearly) and Grow plan which costs €17.99 per user/month (billed yearly).
👉 Check TimeCamp integration for Teamwork!
20.Hypercontext
Team collaboration and communication tool
Keeping Your teams on track can be tough without the ability to communicate effectively. Leverage the Hypercontext Shared Agendas tool to make sure that all your team's decisions are documented and shared. This tool allows your team to be fully connected even when they are working remotely, and accountability, as well as organization, is imparted through the use of this tool.
👉 Here is a list of main features of Hypercontext app:
Set goals,

Run effective team meetings,

Give real-time employee feedback,

Integrated meeting notes.
👉 Pricing: Available forever free Basic plan per user/month. Pro plan costs $5.60 and Business plan which costs $8.80 per user/month.
---
Companies that want to track their remote workers' productivity have plenty of tools to choose from. What they'll choose, depends of the specific needs of their company, and, what's extremely important, of the level of trust. 
With TimeCamp, you can improve your remote employees' efficiency and productivity levels without harming their privacy. It comes with various exciting features, and you can even get a free version for unlimited users. To know more about how the monitoring software works, you can also schedule a demo.
Create your free TimeCamp account and start monitoring your remote team's productivity!
Co-author: Ola Rybacka, Content Specialist at TimeCamp
4.8 out of 5 stars (based on 10 reviews)