Learn How to Keep Track of Time and Your Work Hours
July 6, 2018
by Kate Kurzawska
No comments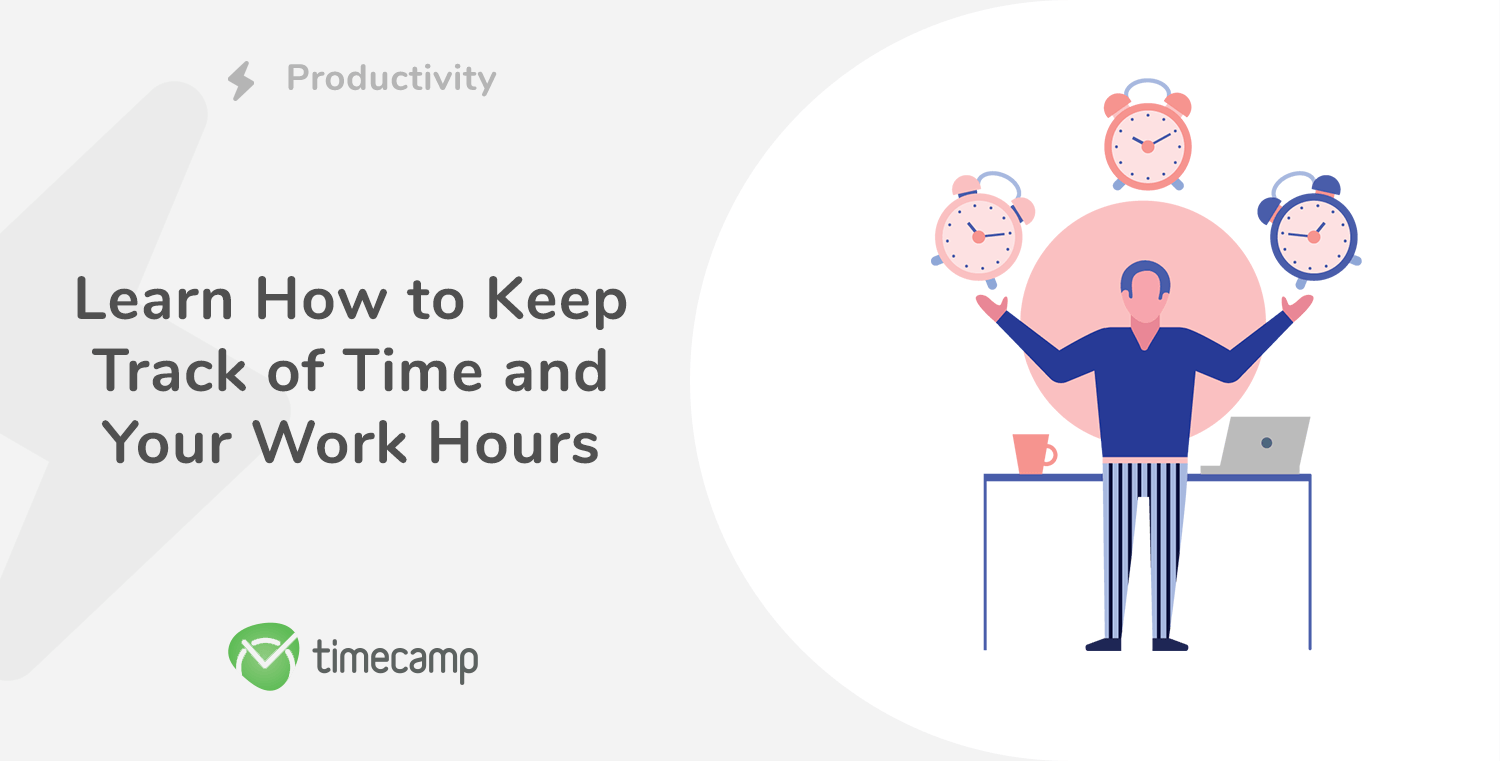 Time Management as The Key to Keeping Track of Work Hours
People like to keep track of the things they do, especially when it comes to working. It helps to stay organized and boosts productivity. But for some, the issue of keeping a hand on time is tough. It's not only about registering how many hours you have worked but also what activities you have performed, what client you have worked for, and what tasks and projects you've undertaken.
You need to make sure all numbers add up and your data is accurate. Otherwise, you will get lost in the jungle of figures, tasks, and undocumented connections between your tasks and projects.
So to keep track of time, you have to learn how to manage it properly. You need to do more than just observe the clock or keep the work hour log from time to time. You need to consider 3 extremely important organizational aspects of time management.
Create a to-do list
Writing down the list of things you have to do in a given day or a week will significantly help you organize your activities.
It will help you see the exact amount of tasks you need to finish, better allocate time and resources to projects, and you will learn how to better plan your workflow. And after some time, you will have a personal task management system tailored to your needs, lifestyle and work style.
And crossing out items from your to-do list will boost your morale as it works as a great motivator. It's a simple time management
Set goals
Bill Copeland said, "The trouble with not having a goal is that you can spend your life running up and down the field and never score."
If you don't set goals, you can't achieve anything. Setting goals is important because they define the scope of work, your priorities, and your business values. Additionally, pursuing goals is a great way to learn persistence and how to face difficulties.
With a right work schedule tracker you can check if you are coming closer to your goals.
Prioritize
You need to know your priorities. Make sure your daily agenda is arranged properly so you don't waste time on insignificant duties. As Mark Twain said "If it's your job to eat a frog, it's best to do it first thing in the morning. And if it's your job to eat two frogs, it's best to eat the biggest one first."

via GIPHY
Beginning with these three simple but effective steps is the first way to successfully manage your time. It will help you determine your daily, weekly, monthly, and even annual tasks. This, as a result, will enable you not only to keep track of hours but also to estimate how much time you will need to finish future projects, what resources you need, and how you can connect the dots to create a great outcome.
To Track Time Make Use of Tools
Once you master time management skills, you should use them in practice by implementing the right tools. And there are many options to choose from like work hour log sheets, automated time tracking apps or simple online timers.
Here, you can find 5 apps that will help you track hours worked and organize work effectively. Every app is a dedicated tool with useful features.
1. TimeCamp – time tracking and attendance management
The most commonly used tool is time tracking software. It's the easiest and most effective way to keep track of time and increase productivity. Let's investigate it on the example of TimeCamp, an app that automatically tracks your work:
You can use TimeCamp as a time tracker and a to-do-list because the tool enables you to create projects and divide them into smaller tasks. This feature makes it possible to have all projects under control in one place and directly work on them and customize them
Comprehensive reports allow you to see every minute of your work. This includes productive and unproductive activities
Integrations make work smooth. You can use Trello power-up, Evernote, and many other tools that help to keep track of work
TimeCamp has a built-in calendar that shows your tracked hours in the form of a colorful timesheet
Customizable timesheets with detailed time entries
Detailed reports on all activities, tasks, apps, and websites you spend time on
You can easily manage attendance, time-off, and vacations
You can use an online time tracker, the desktop app (Windows, Linux, Mac OS), or a mobile app (Android, iOS devices)
GPS to track work hours no matter where you are
TimeCamp is a perfect time tracker for freelancers who bill clients by the hour, for teams of any size that need to track time against estimates and keep track of the budget.
Get your free trial of TimeCamp today and become the master of tracking hours!
2. Toggl – simple time tracker
Toggl lets you track time in a simple way. It doesn't have such detailed features as most of the time tracking software but it's praised for its ease of use, transparency, and intuitiveness.
You can subscribe to paid versions of Toggl for extra options, however, the free plan already has all the features needed for a simple time tracking. Here are the functionalities available in Toggl free plan:
Simple time tracker available in the web version, mobile app, and desktop app
Dashboard with a summary view of tracked time and activities
Tags and colors help to visualize work and give a quick insight into the specific pay period
Tracking billable and non-billable hours
Simple reports with the summary of work hours
Categorization of reports by projects, clients, team or settings
Pomodoro timer available in the desktop app
Toggl is a fancy time tracking app perfect for small teams and individuals who want to track hours spend on work and boost productivity.
3. Work Log – mobile time tracking app
Work Log is a time tracking app for mobile (Android). It's a time log tool that keeps track of the number of hours worked and wages paid over your pay period. It's a great solution for employees who are often on the move and need a mobile app that they can always carry with them.
The features of the Work Log are straightforward but make tracking time easy:
The feature of punching in and out, or entering time manually
Automatic break deduction and pay period settings
You can customize the app according to your preferences
View your hours in a variety of ways such as by week, month, pay period or all of your shifts at once
Set your pay period to automatically calculate how much time you worked and your wages for each paycheck
The app tracks expenses, tips, sales, mileage, holiday pay and more
Keep track of overtime hours and wages for up to two separate overtimes
Work Log is a popular mobile time tracker that lets you effectively keep track of work hours from any place in the world.
4. Clockify – free time tracking app with timesheets
Clockify is a free app for tracking time for an unlimited number of users. However, for additional features, you can sign up for a paid plan. But the free plan has plenty of useful features:
Workspaces
One-click online timer
Automatically created timesheets with the possibility to manually add or change time entries
Dashboard with a summary of total work hours for every project and activity
Detailed, weekly, saved, and summary reports
Colors and tags for projects and tasks give transparency
Projects and tasks
Simple team management
Available as a web version, mobile app, and desktop app
Clockify is suitable for individuals and teams of any size that need a transparent time tracking and timesheet system.
Other Ways to Track Time
Time tracking has been gaining popularity. And you can keep track of how much time you spend working in various ways, not only with the use of time tracking software.
One of the latest trends of time tracking market is the Polygon – a device that helps to manage time. This is another tool for people who want to keep track of hours in a simple and efficient way. Polygon goes with dedicated time tracking software where you can monitor your worked hours. Such devices are more of a gadget but they are perfect for people who like to try out new things and experiment.
Another form for tracking time includes productivity apps – to-do lists, work and task management tools or specialistic project management software. These tools often offer the feature of tracking of work hours but it's not as expanded as in dedicated time tracking apps.
Luckily, you can easily integrate your favorite app with time tracking software.
However, if you are more of a traditionalist, you may want to use simple timesheets, for example, Excel. In spite of its simplicity, it may not be a good idea to use spreadsheet unless you use ready Excel timesheets templates. It's easy to make mistakes and enter inaccurate data. You can also use other forms of keeping track of hours of a manual type. Nevertheless, it is tedious work and it's easy to make errors.
What Is Your Favorite Way to Track Time?
There are many tools and time tracking apps, both mobile and desktop, which are helpful in monitoring and keeping track of work hours. Before you decide to use any of them, make sure it corresponds to your business needs.
You can easily experiment and play with tools, methods, and gadgets. Also, there are plenty of people who are experts on time management and whose advice can help you in your work. You can read books, blogs, and learn how to effectively track time.
Try to follow the latest trends because time doesn't change but things change with time.
Also, try to establish your own routines and strategies because you are the only person who truly knows your work style. If you're willing to implement changes and maintain consistency, your productivity will skyrocket.
Keeping track of hours is a way of organizing work, not trying to act like a robot. So remember that it's there to help you become more efficient, not to make you feel like you're under control.
✍ Last updated May 2020