Learn How to Keep Track of Time and Work Hours
May 14, 2021
by Kate Borucka
No comments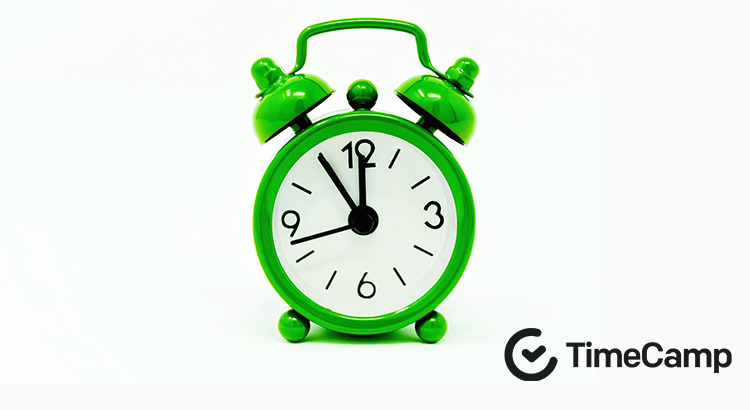 You don't need paper timesheets to keep track of time at work. There are better, more efficient ways for time tracking.
Keeping track of time in the right way and with the right tools helps to stay organized and boosts productivity. It's important to ensure that all numbers add up and your data is accurate. Otherwise, you will get lost in the jungle of figures, activities, and chaotic connections between your tasks and projects.
You can easily collect all the information, group, and categorize it to enhance your work. No more paper timesheets and complex procedures. Let's see what's the best way to track time!
Time Management as The Key to Keeping Track of Work Hours
Time tracking is effortless, provided that you know how to do it. There's not much philosophy in turning the timer on and off, or if you prefer, filling a spreadsheet with numbers. But how you approach it and what you do with all the information can have a big impact on your work.
To get the most out of the time tracking experience and optimize the processes, consider 4 important and practical organizational aspects of time management.
As important as time management is, it is important to also track your success and find ways to improve your time management constantly. One way through which you can go over past projects in an organized way is if you create a blog. Your blog can be either private or it can be a public archive allowing potential clients to collaborate with you by giving them a better look at your past works. In order to optimize your future projects, it is vital to look from time to time at your past endeavors in order to for you to grow and see where you have and could improve.
👉 Read also about the 4 day work week.
Create a to-do list
Writing down the list of things you have to do on a given day or a week will significantly help you organize your activities. This is even more important if you're just starting out, and recently turned your hobby into a business.
It will help you see the exact amount of tasks you need to finish and better allocate time and resources to projects. Also, you will learn how to better plan your workflow. And after some time, you will have a personal task management system tailored to your needs, lifestyle and work style.
And crossing out items from your to-do list will boost your morale as it works as a great motivator.
Additionally, your to-do list doesn't have to be limited to a piece of paper and tasks. You can use as many tools and techniques to write down all the tasks as you want to fully personalize it. People use different ways to organize work:
Bullet journals — if you're a creative person, you can find many fancy journals on the market; use stickers, sticky notes, colorful pens, highlighters, and more to super-personalize the notebook
Dedicated to-do apps — either with simple functionalities or extensive features
Task management tools— these offer rich management functionalities; you can customize tasks with due dates, colors, assignees, add files, comments, invite team members, and more
Project management software— if you work on complex projects, that will be the best solution
Time tracking apps— not only let you organize your tasks but also allow you to track time against every project directly in the app
Note-taking apps— these are best for people who like to freely write down ideas on-the-go
Writing down all the items you need to do will help you stay focused. A to-do list will be your second brain for storing all the important information.
👉 Read also: How to save time at work?
Set goals
Bill Copeland said, "The trouble with not having a goal is that you can spend your life running up and down the field and never score."
If you don't set goals, you can't achieve anything. They're like your personal KPIs that help you measure, and improve performance.
As per Rene Langer, co-founder of PICKHVAC, "Setting goals is important because they define the scope of work, your priorities, and your business values. Additionally, pursuing goals is a great way to learn persistence and how to face difficulties."
With the right work schedule tracker, you can check if you are coming closer to your goals. It's also a great way to monitor performance.
👉 Check our list of the best goal tracking apps.
Prioritize
You need to know your priorities. Make sure your daily agenda is arranged properly so you don't waste time on insignificant duties. As Mark Twain said "If it's your job to eat a frog, it's best to do it first thing in the morning. And if it's your job to eat two frogs, it's best to eat the biggest one first."

via GIPHY
How to prioritize? Focus on those projects and activities that require immediate attention or are difficult — the big frog. Every following task should be easier.
Just think about it, doing the worst thing at the end of the day will make you feel tired and discouraged. It's better to end the day with small activities that you can easily cross off of your to-do list.
Read more about the eat the frog technique!
Use dedicated time tracking apps
There's nothing better than using a time tracking app to count hours worked. Once you have a plan for your work and have organized all tasks, you can track time with dedicated apps (we'll talk about it in the next section).
You can choose from multiple time tracking software. There are simple online timers, work hour log sheets, time trackers that are part of project management tools, or stand-alone solutions with an automated tracker app.
Check How to Count Hours Worked with Useful Apps
Once you master time management skills, you can use them in practice by implementing the right time tracking system. So how to log hours to make sure you're squeezing as much as possible from your app?
Choose the system that will help you reflect your organizational structure. Whether you are a freelancer or own a business, you can find apps tailored to your needs and preferences.
We've gathered the best time tracking apps with useful features that will help you track time and organize work effectively.
👉 Read our article on how many hours you should work a day.
1. TimeCamp – FREE time tracking and attendance management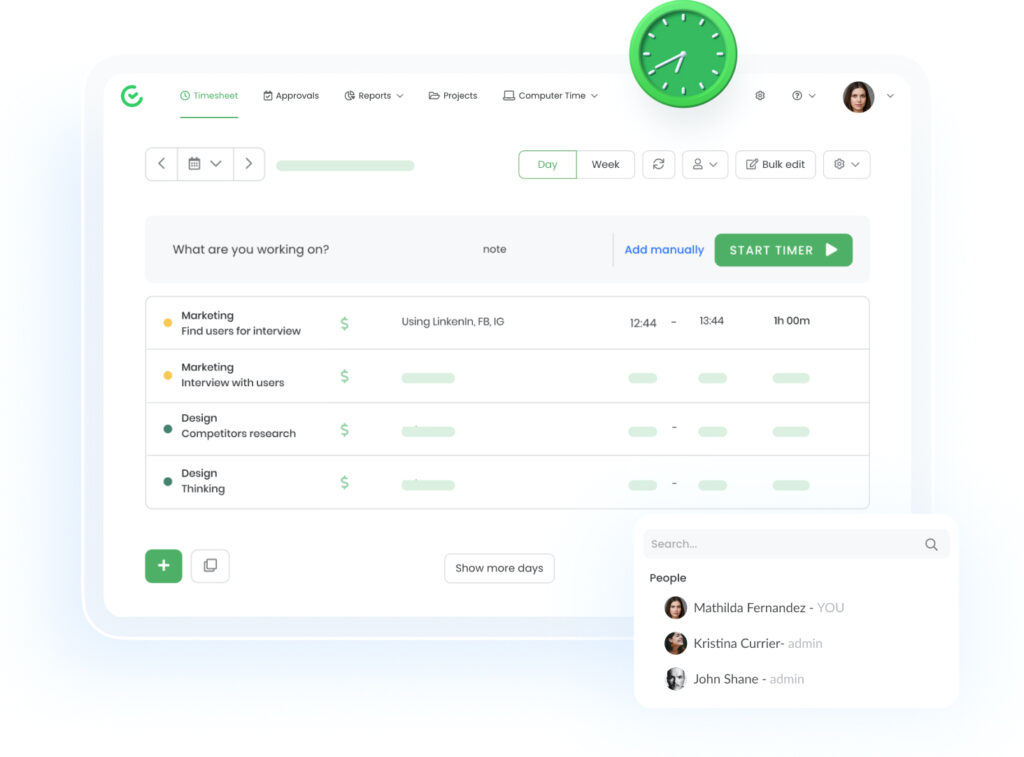 TimeCamp is a free time tracking app for unlimited users. It automatically tracks time and generates accurate timesheets with time logs for every task and project.
TimeCamp helps to automate and optimize workflow, and eliminate paper timesheets. It's a combination of project management software and a productivity time tracker.
Here are the main features:
The desktop app automatically records the time usage of each application running on your computer, websites, and tasks
Create projects and tasks with subtasks. You can also add tags to have a more specific project hierarchy and better adjust time entries
Team timesheets with approvals
A built-in calendar that shows your tracked hours in the form of a colorful timesheet
Tracking productive and unproductive activities
Tracking billable and non-billable hours
Different kinds of reports that you can customize
Attendance management with time-off, different types of vacations, holidays, and more
Idle time detection
You can create invoices based on hours tracked to accurately bill clients
GPS tracking for off-site employees
Integrations with third-party apps or via API
Chrome plugin that enables work tracking with 70+ additional tools
Available for: TimeCamp syncs seamlessly across all your favorite devices. It's is available as a web app directly in your browser, and unintrusive desktop app (for macOS, Windows, and Linux), and a native mobile app (for iOS and Android devices).
Pricing: free for unlimited users with unlimited projects and tasks. Paid plans include a Basic – $ 7 user/month, Pro – $ 10 user/month, Enterprise – custom pricing.
👉  Read also: 15+ Time Tracking Software for Mac OS X
2. Pulse – simple time tracker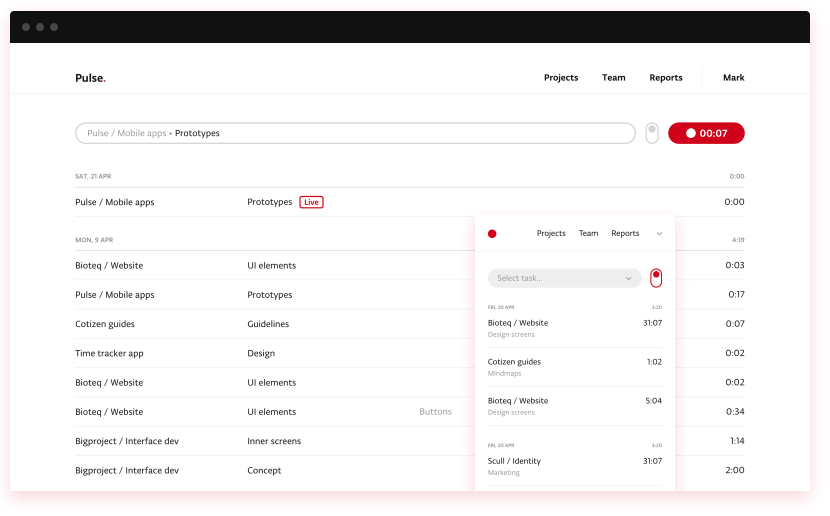 Pulse is a lightweight job hours tracker. It doesn't have such detailed features as most of the time tracking software but it's easy to use, transparent and has a clear, intuitive interface.
With Pulse, you can track your time in the minimalistic app for desktop, or in the web app in your favorite browser. It's focused on being functional so you can easily create projects and log time to them.
You get a team dashboard and simplified management features, project time estimates, a live view of who's working, and team reports. You also get time reporting system with reports with projects, users, and time spent on work.
Pulse provides a simple project overview to help monitor a company's financial health and time people spend on work.
It's the best time tracking app for freelancers, small teams, and small businesses that need a straightforward time clock with time reporting to bill clients accurately for projects. It's also helpful in tracking time spent on remote work.
👉 Read more about small business time tracking.
Available for: web and as a desktop app (Windows, macOS)
Pricing: free for the individual user. 4 euro/month per one user. 30-day free trial is available.
3. Work Log – mobile time tracking app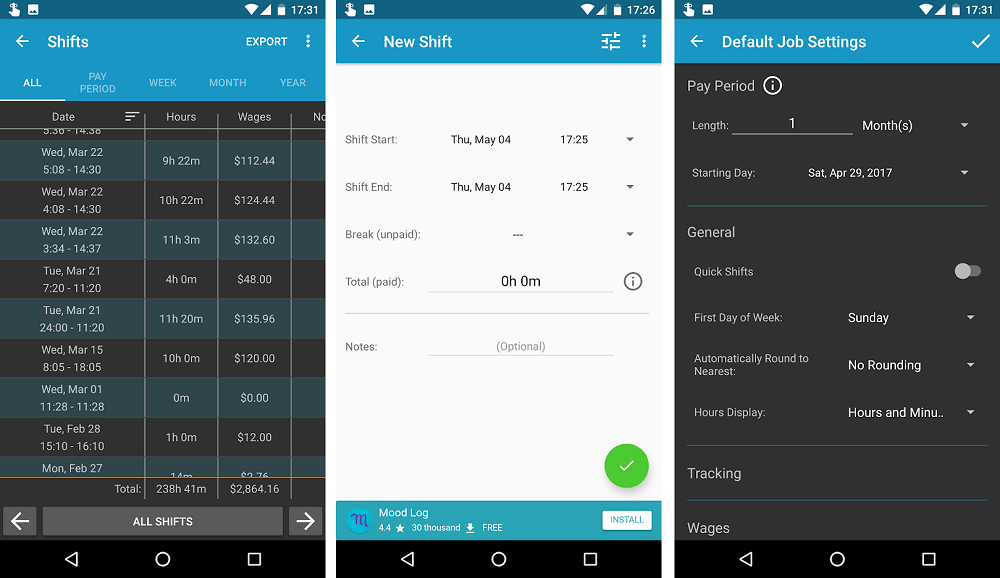 Work Log is a time tracking app for mobile (Android). It's a time log tool that keeps track of the number of hours worked and wages paid over your pay period. It's a great solution for employees who are often on the move and need a mobile app to quickly log work time.
The features of the Work Log are straightforward but make tracking time easy:
Time clock with punching in and out, or entering time manually
Automatic break deduction and pay period settings
You can customize the app according to your preferences
View your hours in a variety of ways such as by week, month, pay period, or all of your shifts at once
Set your pay period to automatically calculate how much time you worked and your wages for each paycheck
The app tracks expenses, tips, sales, mileage, holiday pay, and more
Keep track of overtime hours and wages for up to two separate overtimes
Work Log is a popular mobile time tracker that lets you effectively keep track of work hours from any place in the world.
Available only as a mobile app for Android.
Pricing: free. In-purchase is available in the app.
4. focus booster – time tracking app for Pomodoro technique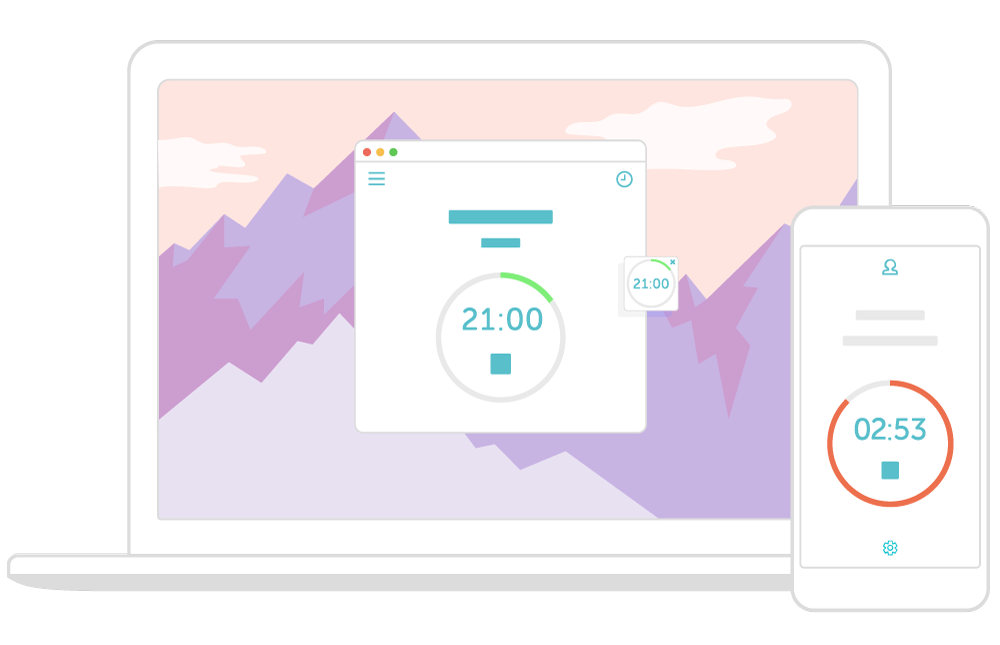 focus booster is a simple yet powerful time tracking app. It lets you track time with the famous Pomodoro technique.
The tool is a perfect solution if you're looking for a simple Pomodoro timer to track your time in 25-minutes intervals, or if you want to try out the technique to better manage your time.
focus booster has all the necessary management features for the best time tracking software—a to-do list, simple time tracking, mini and minimalistic timer, light and dark modes, reports with date, client, or label. You can see your progress in a neat dashboard that visualizes all data. Also, you can add time entries manually to your timesheet.
The free plan of the focus booster includes 20 Pomodoro sessions per month, simple time tracking, and productivity reporting. Tracking billable hours is available only in paid plans.
Available on: desktop (Windows, Mac), web
Pricing: free with limited features. Professional plan – $4.99 per month.
5. Amazing Marvin – a personal productivity app with time tracking
Amazing Marvin is a productivity app that offers a time tracking option. It's a lightweight customizable task manager and daily planner for beating procrastination.
Amazing Marvin is an interesting app that will help you manage all your tasks, effectively plan every day, and track your time spend on different projects.
Here are time tracking features:
There are two built-in timers in Marvin: a sand timer and a tomato timer
Tracking time with time blocking; you can also schedule specific tasks or time to work on specific projects into your time blocks
Duration time estimates
Tracking time for particular tasks
Build-in start/stop timer
Total time for all your time tracking sessions for tasks
Editing time entries manually
Daily and weekly time targets
Time tracking statistics with a breakdown of your time tracked
A table view with time tracked organized by categories
Marvin allows you to build your own workflow and decide how many hours you want to spend working for different clients.
The app is in a constant development process with many fancy features to come.
👉 Read also about Best Time Blocking Apps.
Available as: Marvin is available for the web, as desktop apps (Windows, Mac, and Linux), and mobile apps (android, iOS)
Pricing: Amazing Marvin doesn't offer a free. Monthly subscription – $12/per month; yearly with $8 per month (billed annually), and a Lifetime purchase billed once with $300
6. Checkiant – time tracking with employee monitoring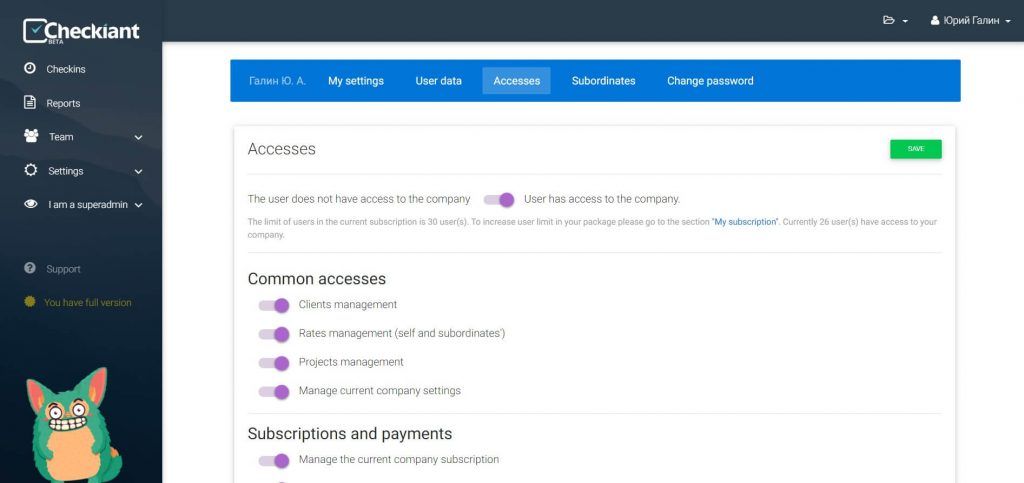 Checkiant is a time tracking software with employee monitoring and productivity tracking. The tool is simple but has all the necessary features you need to track your time.
Checkiant offers automatic time tracking with a simple start/stop online time tracker. You can freely add, remove, and change time entries, or track your time manually.
You receive simple reports with projects, clients, and tracked time for all team members. Besides tracking time, you can monitor the time your employees spend on work to better allocate resources and plan workflow.
Because Checkiant doesn't have integrations, it's best to use it as a standalone solution. However, you can use their API to build custom features for a more personalized time tracking experience.
Available only as an online time tracking app.
Pricing: 30-day free trial is available. During this period you can try all features. After the trial, you can either stick to the freemium plan (for 1 person) or subscribe to Premium ($5 per user/month), or Enterprise ($10 per user/month).
7. DOL-Timesheet – time tracking for overtime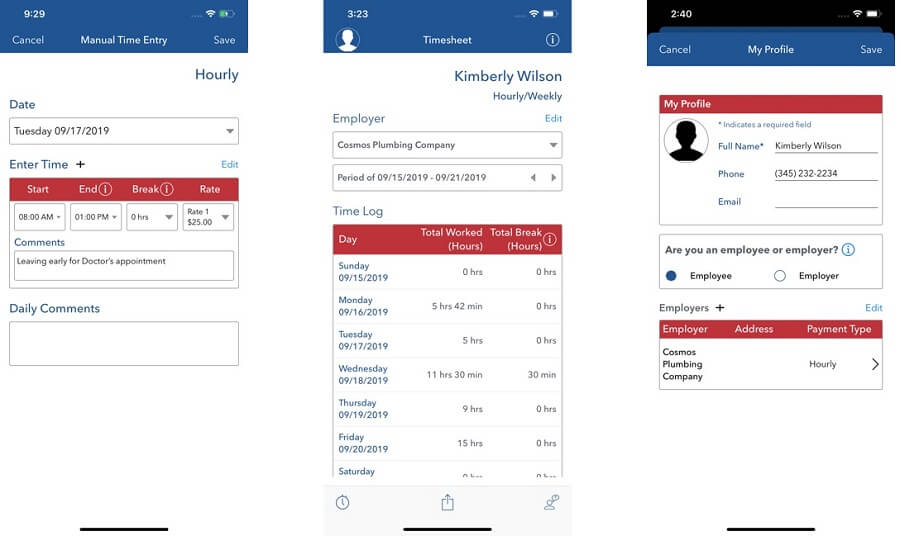 U.S. Department of Labor's Mobile Timesheet app is an official governmental time tracking app. It's an app to track hours worked and calculate pay.
There's a simple automatic time tracker that works as a time clock. You can add or edit time entries manually. DOL helps track billable time for regular work time, break time, and overtime.
Additionally, the app calculates overtime pay at a rate of one and one-half times (1.5) the regular rate of pay for all hours you work over 40 in a workweek.
Reports are available as simple timesheets with basic information—start and end time of work, breaks, total time spent on work, and date.
This DOL-Timesheet does not currently handle items such as tips, commissions, bonuses, deductions, holiday pay, pay for weekends, shift differentials, or pay for regular days of rest. However, new functions are in development and are being continually added.
The app is available only on iPad and iPhone and doesn't integrate with other tools.
Pricing: The DOL time tracking app is free of charge and you don't pay for using it.
👉 Read more about Best Timesheets Apps!
8. OnTheClock – attendance and time tracking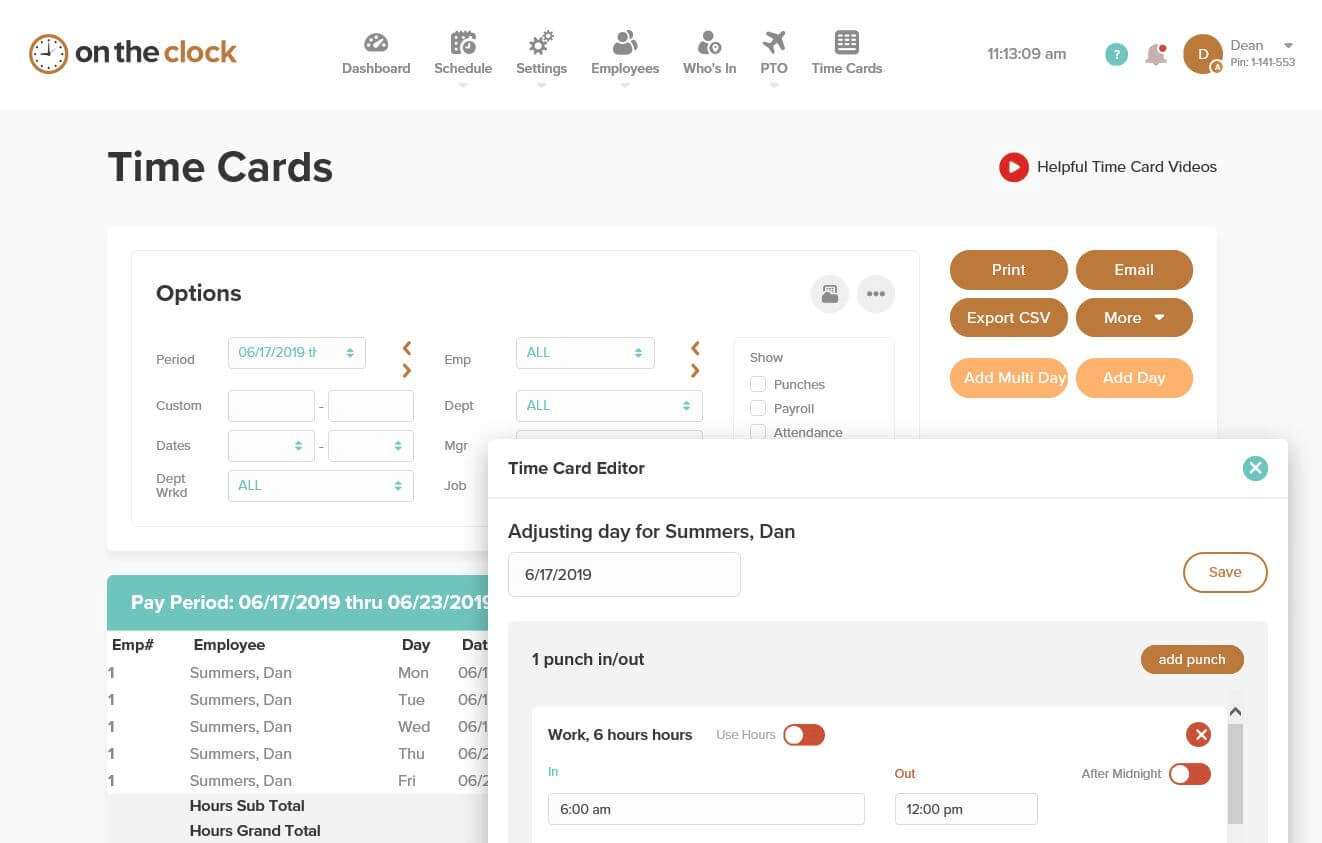 OnTheClock is an employee time clock system for small businesses and teams to track employees'​ hours worked and improve payroll processing.
It's a time tracking app that works as a working hours log and allows you to quickly access time cards, manage employees and shifts.
The web-based time clock automatically calculates time cards, including regular and overtime, paid time off hours, and more. The number of hours and time you spend on different projects is available in timesheet reports.
Additionally, you can authorize almost any device to be used as a time clock; employees can clock in from their phone, a computer, or using fingerprint. The GPS feature allows you to use OnTheClock as an employee monitoring app.
OnTheClock also offers messaging feature to communicate with your team members within one app.
Available as: online time tracking app, mobile app (iOS, Android).
Pricing: free plan is available for up to 2 users. Pricing starts at $3. Free 30-day trial with all features is available.
Other Ways to Track Your Job Hours
Statistics show that the global time tracking market size will grow at a CAGR of almost 20.69% until 2025. Automatic time tracking apps are the most popular form of tracking time since it helps to accurately fill timesheets and boosts productivity.
And you can keep track of how much time you spend working in various ways, not only with the use of time tracking software.
One of the latest trends in the time tracking market is the Polygon – a device that helps to manage time. This is another tool for people who want to keep track of time in a simple and efficient way. Polygon goes with dedicated time tracking software that lets you monitor your worked hours. Such devices are more of a gadget but they are perfect for people who like to try out new things and experiment.
Another form for tracking time includes productivity apps – to-do lists, work and task management tools, or specialistic project management software. These tools often offer the feature of tracking time but it's not as expanded as in dedicated time tracking apps.
Luckily, you can easily integrate your favorite app with time tracking software.
However, if you are more of a traditionalist, you may want to use simple timesheets, for example, Excel or paper timesheets. In spite of its simplicity, it may not be a good idea to use a spreadsheet unless you use ready
👉 Read also: The Best Weekly Schedule Templates That Will Help You Organize Time
What Is Your Favorite Way to Track Time?
There are many productivity and time tracking apps, both mobile and desktop, which are helpful in monitoring and keeping track of work time. Before you decide to use any of them, make sure it corresponds to your business needs.
You can easily experiment and play with tools, methods, and gadgets. Also, there are plenty of people who are experts on time management and whose advice can help you in your work. You can read books, blogs, and learn how to effectively track time.
Also, try to establish your own routines and strategies because you are the only person who truly knows your work style. If you're willing to implement changes and maintain consistency, your productivity will skyrocket.
Keeping track of hours is a way of organizing work, not trying to act like a robot. So remember that it's there to help you become more efficient, not to make you feel like you're under control. Good luck!
👉Check this article about best time keeping apps