7 Best Time Keeping Apps – The Ultimate 2022 List
April 12, 2022
by Lorea Lastiri
No comments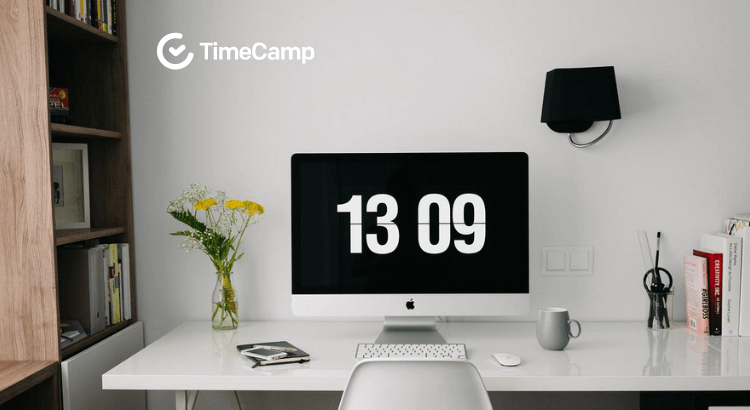 The seven best time keeping apps on the market are TimeCamp, Toggl Track, Clockify, Harvest, ATracker, Hours, and Paydirt. These top apps automatically capture everything you do at work and create a record of your activities. They make dealing with unlimited projects and clients a lot easier.
Whether you're a project manager, a freelancer, or just anyone who wants to get things done more efficiently, you'll benefit from using time tracking apps. However, there are many options out there, so you must be careful when choosing.
This post will discuss the seven best time tracking apps to help you make an informed choice.
Read on to discover all the benefits you stand to gain from a time tracking app.
---
No time to read? Start tracking time with TimeCamp now!
---
Benefits of time keeping apps
Time tracking apps have many benefits such as increasing focus, team morale, and profitability. It also helps you to ensure accountability as are more likely to avoid procrastination and complete your jobs with increased efficiency, when can see the time tracked. Other benefits include lower project costs, more efficient team management, and much more.
Let's go into more detail about how you can benefit from timekeeping apps.
Boosts profitability
There are many ways in which a time tracking tool can help you improve profitability. You'll know how long each project takes and use the information to inform your efforts toward achieving more profitability.
It will benefit you to assign more tasks to workers delivering more than expected. Those who underperform should receive more training.
This way, you'll make the most of your human resources, which means increased performance and productivity. As a result, you'll experience a spike in your bottom line.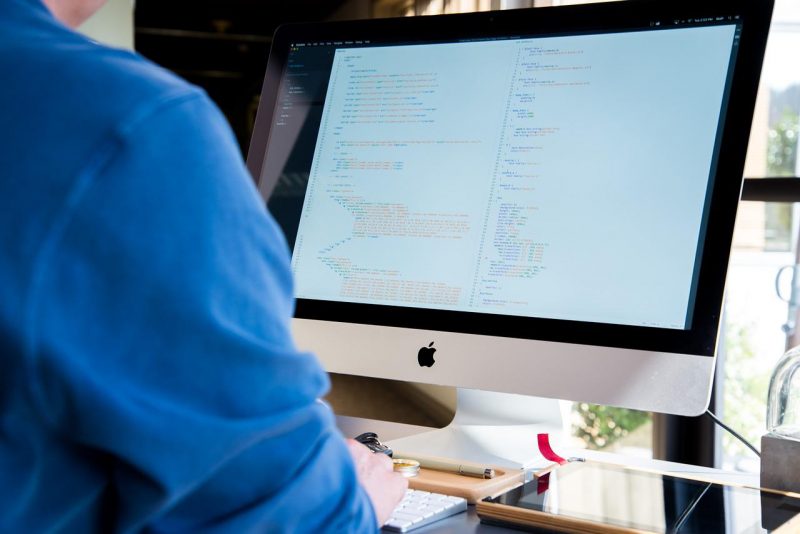 Prevents Burnout
With a time tracking app, you can easily limit the hours you work and prevent workplace burnout. It's important to protect yourself from burnout, which could occur due to many reasons such as:
Regular overtime: when employees work for longer than the time allotted to them.

No downtime: putting in hard work for a prolonged period without taking breaks.

Workload fluctuations: uneven distribution of tasks throughout the day.

Excess capacity: taking up more projects than you can handle.
Workplace burnout is not good for your productivity. However, a time tracking app allows employees to log time and stay vigilant at work. This way, they will learn to take breaks when necessary to shield themselves from burnout.
Efficient team management
With a time tracking system you'll understand how long each employee spends on a task. This way, you can become a more efficient team manager.
Some team members spend more time completing their projects than others. It could be a result of excessive workload or maybe they spend too much time trying to make everything perfect.
A time tracking app provides data with which you can measure a team's progress and tell the most efficient team for a particular project. You'll also be able to identify potential bottlenecks slowing down the process.
This way, you can easily take the right step toward improving overall workplace productivity. Let the most efficient team members handle crucial tasks.
Ensures accountability
A time tracking system can help you monitor the amount of time put into each job. You'll also know when jobs were completed and which employee completed a specific task. When employees can see the time tracked, they'll be more likely to avoid procrastination and complete their jobs with increased efficiency.
Time tracking apps make for more accountability throughout your project.
Tracks hidden tasks
Sometimes we spend plenty of time performing tasks that are not directly related to your project. Such tasks are known as hidden tasks and may include work calls, team video calls, water cooler conversations, administrative tasks such as scanning, printing, sending documents for client approval, and more.
With a time tracking app, you can include these hidden tasks in your project timeline. This way, you'll have a proper record of how long you've spent on a project.
You'll also know the amount of time your team requires to complete a project.
Increases focus
Time tracking allows you to focus on one task at a time. Such increased focus reduces your likelihood to multitask. People multitask because they want to do more work within a short period.
But the results are usually not favorable, as multitasking is a big productivity killer. Time tracking apps can help you concentrate better on your projects. You'll get more work done faster and more efficiently.
Helps prioritize better
Employee time tracking apps are an excellent way to prioritize tasks that require more time and effort. When employees can track their projects and the time required for completion, it is easy to reschedule their day and start with more demanding projects.
By tackling tough tasks early in the day, when energy is at its peak, employees will complete them more efficiently. Time tracking apps will help you use your time wisely. You'll know what tasks require work hours and plan your work accordingly.
Make data-driven decisions
Time tracking apps provide employee data with which you can make more informed decisions on different aspects of your business. For instance, assigning the right task to the right employee is possible if you know everyone's time management styles.
Also, you'll be more equipped to identify and eliminate low return on investment tasks.
Reduces project costs
When you track time at work, it allows you to know how long every project life cycle stage requires to complete. This information comes in handy when creating an estimated timeline for your projects. By knowing this timeline in advance, you'll be able to source the most cost-effective resources for the job.
You'll also know the right amount of resources you need at every stage of the project. This information helps you to avoid overspending when purchasing required resources.
However, that's not the only way you can save money on your project. You can integrate payroll management with time tracking. It's an excellent way to pay employees only for their active work hours.
Improves team morale
Time tracking allows employees to see how much time they have put into a particular project. It's an excellent way to stay motivated and accomplish tasks without any distractions. When employees focus on their work, there will be no need for managers to check on them regularly.
Micromanaging hurts employee engagement and morale as workers will be scared of making mistakes. Employees are less likely to achieve peak performance when dealing with the anxiety that comes with constant.
No micromanagement means more control for employees over their work. That feeling of being in charge is good for employee morale.
7 Best timekeeping apps of 2022
The top time tracking apps on the market are TimeCamp, Toggl Track, Clockify, Harvest, ATracker, Hours, Paydirt, and more. These project management apps are excellent for handling unlimited projects.
Let's dig a little deeper into these web and mobile apps to explore their pricing and features.
1. TimeCamp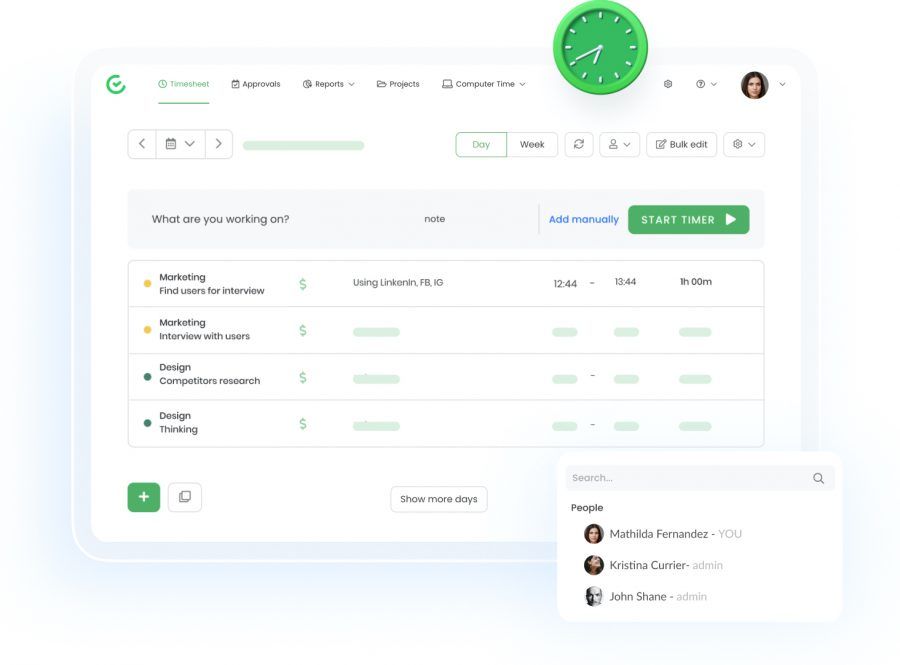 TimeCamp has a simple interface but comes with many handy features for project management and time tracking. It is an ideal tool for professionals looking to optimize their team's workflow and keep projects within budgets. This free time tracking app eliminates the need for manual reporting, saving you a lot of time, which makes for more productivity. You know how many hours your team is spending on different projects.
Features and benefits
TimeCamp features over 100 integrations with different apps and project management tools. This integration enables you to track time directly from tools like Trello, Asana, and more. You'll have access to every important information about your projects in one place.
Time reporting system is automatic with TimeCamp, which saves you plenty of time to focus on other important tasks. Your team members can self-manage their work hours, eliminating the possibility of micromanagement.
Pricing options
TimeCamp is a free time tracking app. But if you want more features like team productivity tracking, XLS reports export, custom report, and more, an upgrade is necessary.
TimeCamp basic will cost you $3.6 per month. For the Pro plan, you'll pay $9 monthly.
2. Toggl Track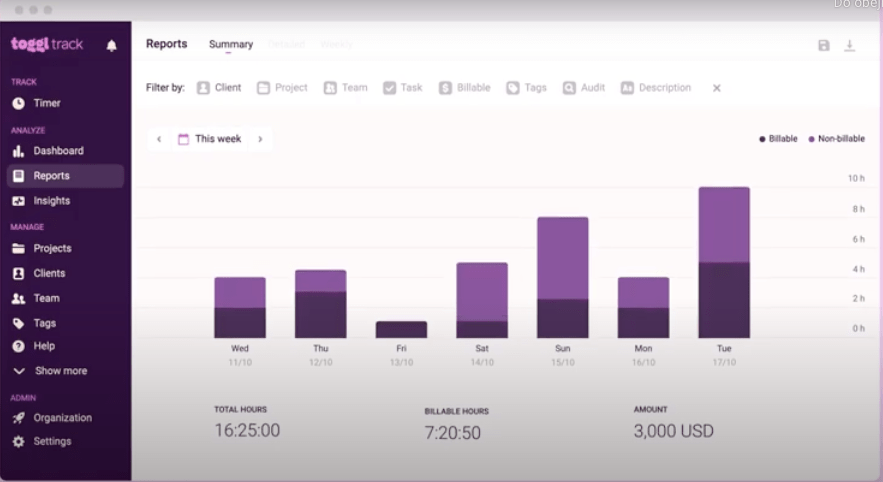 Toggl Track is more than just a time tracking software thanks to the many different features and integrations it offers. It allows individuals and organizations to track projects with detailed time reporting. You'll be able to catch team burnout early enough to remedy the situation.
Features and benefits
Toggl Track features seamless reporting that allows you to see how long you spend on each project. This way, you'll know the tasks that take up most of your time.
You can easily add Toggl Track to your current productivity apps thanks to integrations like Asana, Gmail, and more. The app works well with different devices such as Android, iOS, Windows, macOS, and more.
The time tracking software also has a calendar functionality with which you can plan your day. It makes for no overbooking and allows you to run monthly reports for easy invoicing.
Toggl Track makes for an excellent employee time tracking app as large teams can see what everyone is doing and the estimated time for each task. It eliminates the need to micromanage your team and leads to more workplace productivity.
Pricing options
Toggl Track has a free version limited to only five users. Larger teams with unlimited users  have to pay $18 per user.
3. Harvest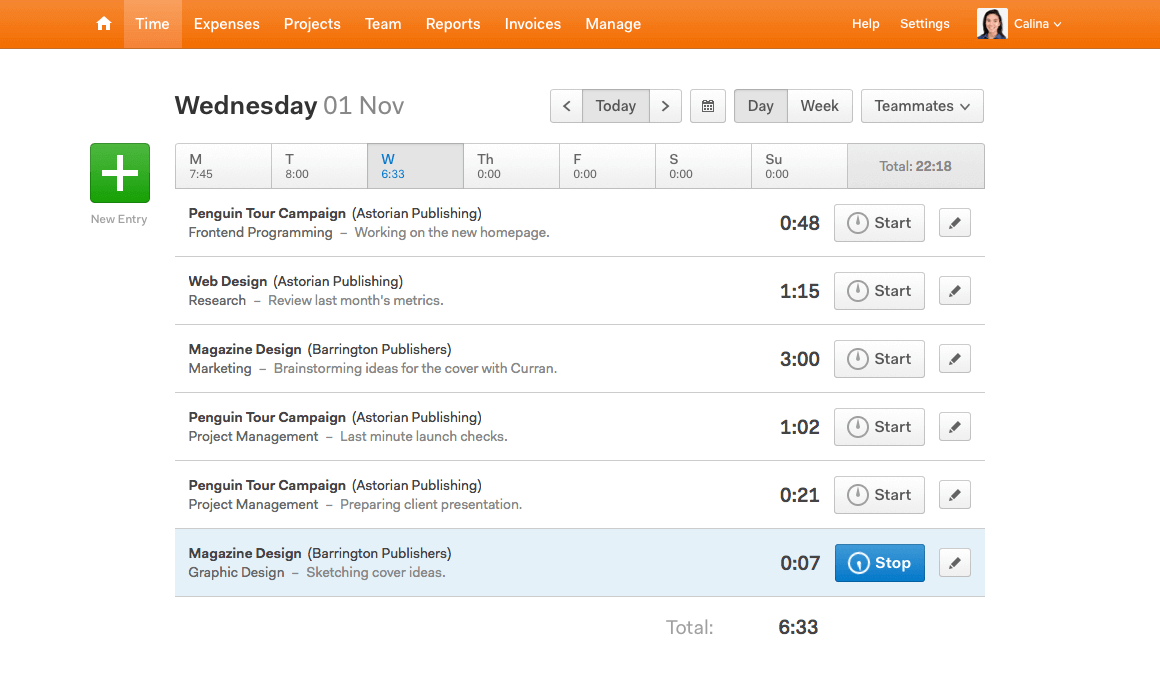 If you're looking for an expense and time tracking software, Harvest might be the perfect solution. The app offers users a full setup and is ideal for freelancers and teams. Harvest makes time tracking and invoicing super easy.
👉 Check Time Tracking Software for Freelancers!
Features and benefits
Harvest offers over 70 integrations with business management services such as Slack, Trello, QuickBooks, Stripe, and Asana. The app allows you to deliver an itemized invoice to your clients when you close a project.
Harvest offers a cross-functional interface, is very intuitive, and works well across different mobile operating systems and desktops. You can even track your time on the go with an Apple Watch app.
Pricing options
You can get by with the free plan as a freelancer working on one or two projects. But when dealing with more clients, you'll need to upgrade to a Pro plan. This upgrade requires a $12 monthly fee per user.
4. Atracker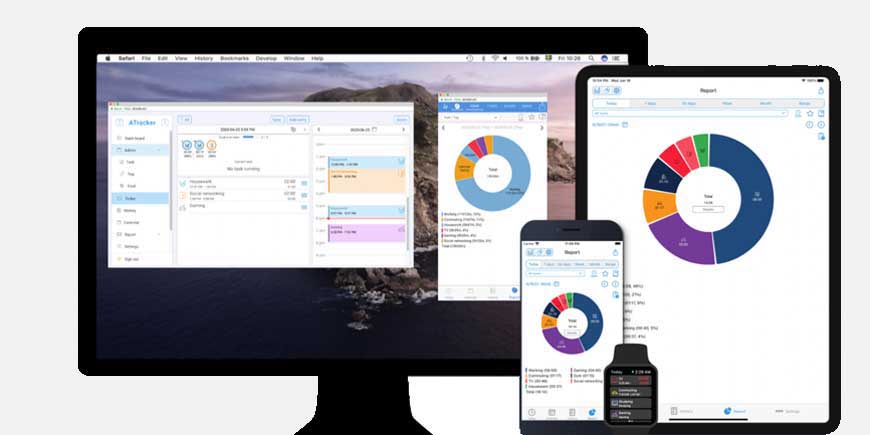 Atracker is an easy-to-use time tracking software similar to Toggl Track. It only requires minimal setup to get started. Organizing your tasks is super easy with Atracker's advanced customizable settings.
This simple time tracking app is compatible with Android and iOS devices. It allows you to track time, create invoices, and manage unlimited tasks.
👉 See how to keep track of time and work hours
Features and benefits
Atracker offers many features and is one of the best project management tools out there. Its visual dashboard provides a full user-defined task list. You'll know your goal progress and how you spend your time throughout the workday.
You can tap a task on the dashboard to either start or stop it. Atracker also has task-switching capabilities, allowing you to correctly track tasks individually when switching from one project to another. The time tracking app automatically pauses your time on the projects you're currently working on when you switch to another.
Atracker also offers color-coded reporting. You can view a report of time spent on different tasks in the form of bar charts, pie charts, and goal progress diagrams. These reports are sharable to your clients via email.
Alternatively, you can export reports in a CSV format. With iCal sync, you can easily compare the tasks you planned with actual-time usage, view tasks in calendar view, and set alarms for certain events.
Pricing options
ATracker provides Android and iOS users with various pricing tiers. With the free plan, you'll get all the basic features. An upgrade allows unlimited users to access multiple tasks, data exports, and more advanced settings.
There's an upgraded plan for $4.99 (for iOS) and $2.99 (for Android). This plan has fewer features than the Pro plan, which comes with all the bells and whistles for a $2.99 monthly fee.
5. Hours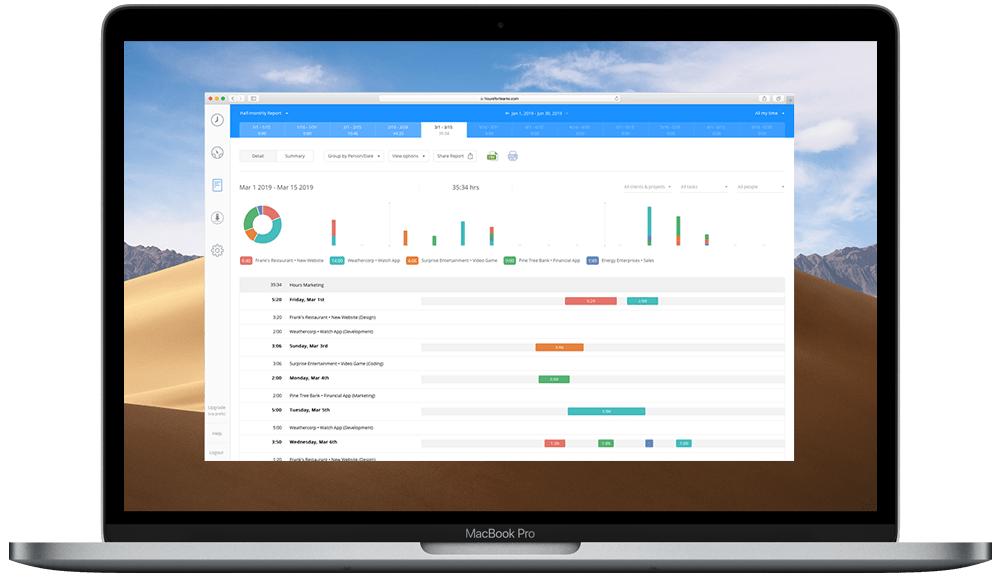 Hours is an excellent time tracking app for Apple users. It is compatible with many different iOS devices such as iPhone, Apple Watch, and more. Getting paid is seamless with the Hours' invoicing feature and you can customize your invoices as you like.
This time tracker comes with features that allow project managers to keep track of employee productivity. Hours has many other advanced features to help you track work hours and increase personal productivity.
Features and benefits
The Hours app has an extremely intuitive user interface that makes for seamless time tracking. You can easily edit timestamps and manage different projects by color-coding them.
Hours also offer simple reporting. You have access to reports on the app and you can download them in PDF or CVS formats.
Pricing options
You can track your work hours for free with the Hours software. However, if you require multiple reporting options, data backup, advanced timer options, timesheets, and more, an upgrade is necessary. The Pro plan will cost you $8 per month.
👉 Read more about Best Timesheets Apps!
6. Paydirt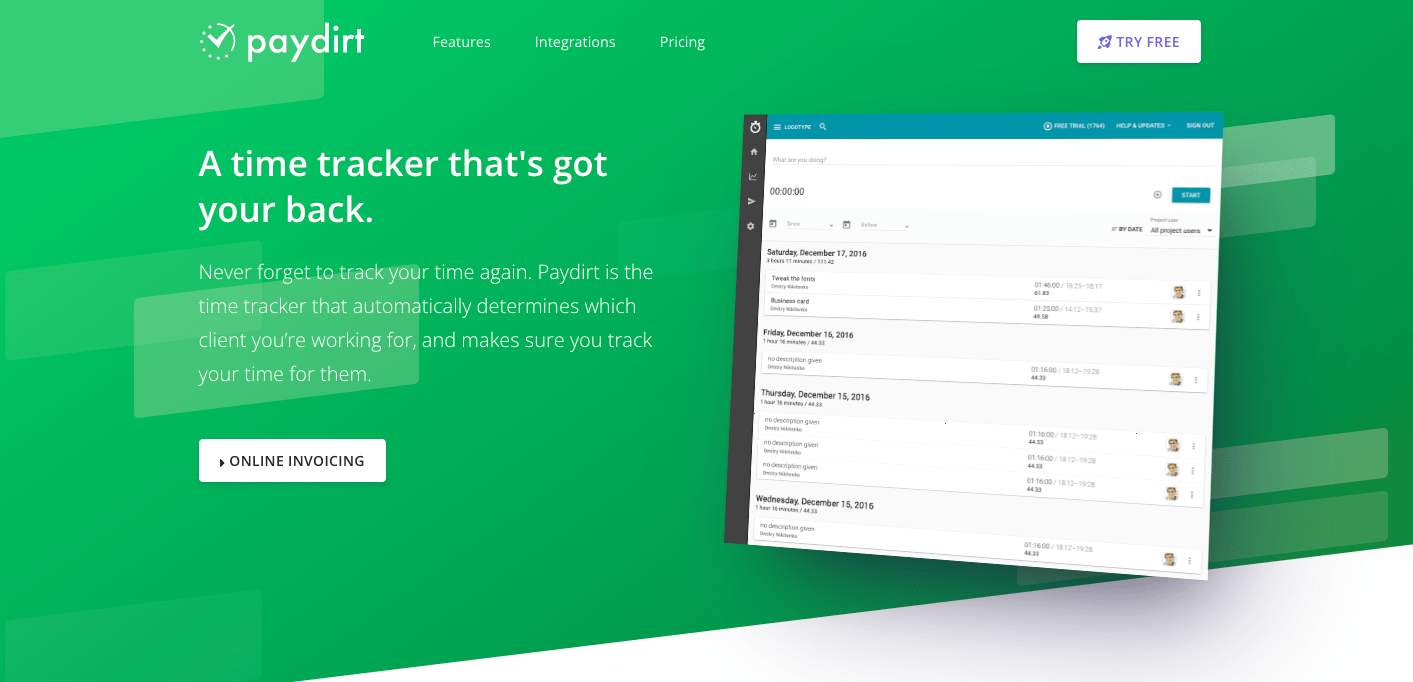 Paydirt is one of the best time tracking solutions for handling multiple projects. It allows you to manage your budget and track how long you spend on each project.
Expense tracking is super easy with Paydirt. you can bill clients and have the app record payments automatically.
Features and benefits
Paydirt has more than 750 integrations with project management tools like Trello, Basecamp, and Redbooth. This feature allows you to track your time from these apps.
With the Chrome extension, you get notified to start a timer when working for each client. Paydirt also has solid invoice features, allowing clients to pay through PayPal, or credit cards. The software records payments automatically.
Paydirt offers project proposal quoting, team management, and analytics features that will help you increase your productivity.
Pricing options
Paydirt has an $8 per month plan for single users with three clients. A team of say, 20 members will require the $149 per month plan. This plan is perfect for managing unlimited clients, as it gives you access to all features.
7. Clockify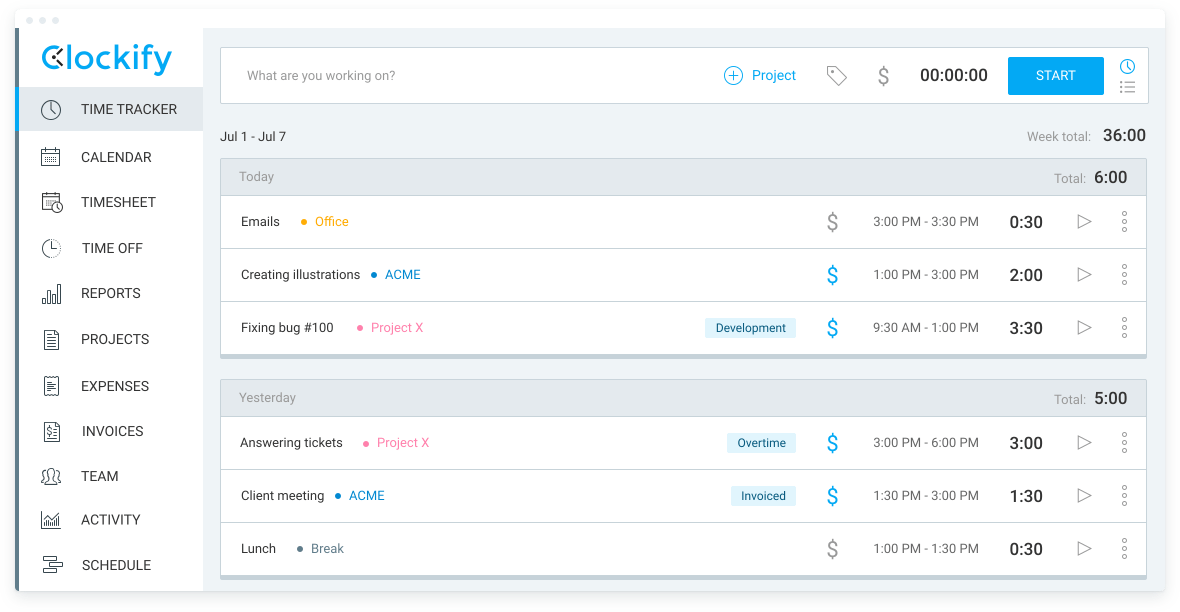 Clockify is one of the most popular time tracking apps on the market. It allows you to track billable hours with a timesheet and timer. This time tracking software is user-friendly and an excellent way to track attendance and productivity for remote teams.
Features and benefits
Clockify features an easy-to-use timer that allows you to input your work hours manually. You can also start the timer as you clock in for work. The timer also helps you to mark the billable hours and issue invoices based on tracked time, logged expenses, and hourly rates.
With a centralized dashboard, you can easily see what every team member is working on and how you spend your time. Clockify also has team-friendly features with which you can create timesheet templates for your team.
Team members can fill these templates each week and submit sheets for review. Clockify features easy approval workflow systems and team members can set reminders for when to turn in timesheets. You can visualize your team's capacity with Clockify's scheduling tool and plan projects accordingly.
Pricing options
Clockify is free. Simply download the app and you're good to go.
8. WebWork
Employee monitoring and time tracking are no problems anymore with WebWork Time Tracker. This is an awesome time tracking and employee monitoring software suitable for big and small companies. It has been tested and positively rated by 7400+ users. Companies use the tool to increase their profitability, offering the most accurate reports and time tracking. 
Features and benefits
For WebWork Time Tracker, secure and simple yet effective solutions are a priority. Its features allow users to easily count time spent on every single project, website, or other platform. The tool is of significant importance for freelancers and companies that hire remote employees. It is the most straightforward but truthful way to calculate working time and consider work productivity. Time tracking is not the only advantage of the tool. A variety of screenshot monitoring modes allow the software access to an employee's screen, collecting and presenting valuable data.
The tool offers: time tracking with screenshots, attendance monitoring, apps and website usage monitoring, mobile tracking, GPS tracking, task management, team chat, online reports and statistics.
Pricing options
WebWork Tracker offers a 14-day free trial with unlimited access to all the product's features. One should only pay 2.99$ per user for a monthly subscription.  
Conclusion
Tracking time is a must if you want to achieve peak performance at work. It also allows organizations to track how their budgets get burned.
The best apps for time tracking are TimeCamp, Clockify, Toggl Track, Hours, and more. These tools allow you to track how long you spend on each task at work. It provides information with which you can manage your work time and become more productive. 
Manual time tracking is a productivity killer. With automatic time tracking, TimeCamp offers seamless reporting of your work activities. The app is perfect for businesses across all industries and sizes.
Sign up for TimeCamp today!