Free Clockify Alternatives for Every Type of Business
June 16, 2021
by Kate Borucka
No comments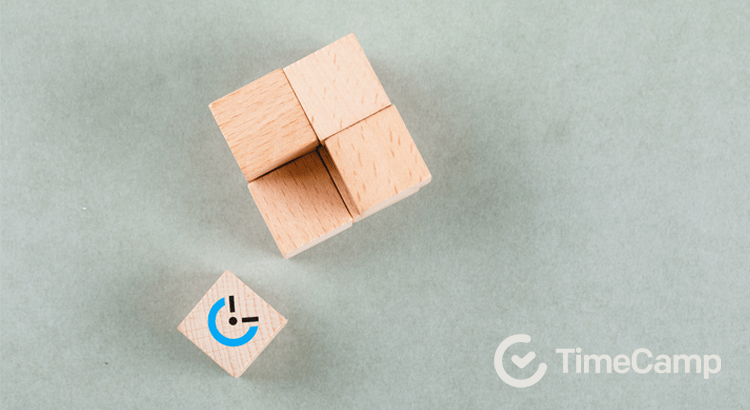 Are you looking for free Clockify alternatives? You are in the right place! We've prepared for you a list of free Clockify alternatives that can help you grow your business.
It doesn't matter what industry you work in and if you operate a small or large company. You'll find tools that are suitable for every type of business, including those looking for free remote employee time tracking.
Why Use Clockify Alternative?
Clockify is one of the most popular time tracking software. It has all the basic features in the free version. You can use it to track time and improve the performance of your team. But there are other apps that can be great Clockify alternatives that can better fit your business needs.
The right time tracking solution can benefit your company in many ways:
Improved productivity: with the right time tracking tool you can optimize and automate work
Transparency: time tracking software provides timesheets and reports with different types of data so it's easier for management and employees to keep track of changes. People can easily communicate progress, report on weekly advancements, or completed projects
Unity: time tracking app works as a project management system for the team. It's a central hub of information for the company
Efficient workflow: you can better understand company workflow, tiny details that are happening, and find problems to cut costs. It can also help in resource allocation and their management
Real-time interactive reports: another great benefit of tracking time is the real-time interactive reports that let you instantly see the status of work.
Measuring profitability: tracking time helps in making better estimates, client billing and invoicing, expense tracking, and gives you features necessary to track project profitability
Smooth payroll: with integrated timesheets and billing system you can easier process and manage payroll for all team members
Clockify is a robust system but its features may not be suitable for every business. So it may be worth choosing an alternative.
What Are the Best Alternatives to Clockify?
Although there are many time tracking tools, not all of them offer a free plan. That's why we included only those that are available as freemium software and are the best Clockify alternatives.
Each app has different features and is suitable for various needs, industries, and management styles.
Here's a list of the best alternatives to Clockify.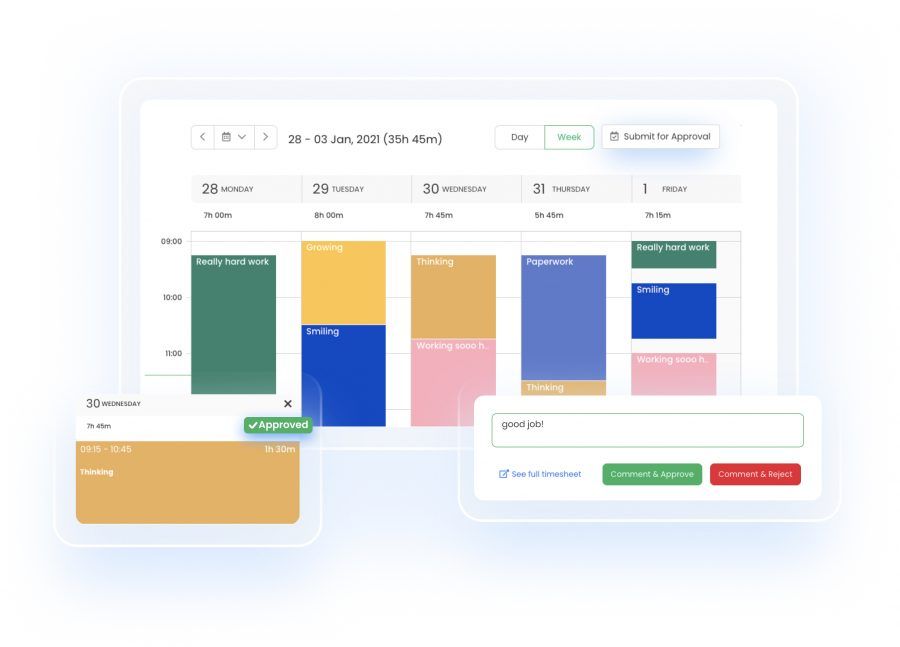 TimeCamp, an entirely free time tracker for unlimited users, is one of the best Clockify alternatives. With the help of TimeCamp's features, you can flexibly operate your business and analyze its performance.
You can save time, money, resources, assess risks and make better, data-driven business decisions.
Here are the main features:
Automatic time tracking – you don't have to switch between tasks, TimeCamp tracks time for you
The desktop app works in the background and gathers all the information on your work in the real-time
Extensive reports provide an in-depth analysis of your activities. They also show your productive and unproductive activities
TimeCamp is available on all platforms (Windows, Mac, Linux), as a native mobile app (Android, iOS), and as a web-based time tracker
You can create projects and divide them into smaller tasks, subtasks, and add tags to get more data
Billable and non-billable hours tracking, budgeting, and invoicing
Expense tracking
Timesheets with approvals and manual time entries editing
Integration with Google calendar allows you to easily track time on all your events
GPS tracking
TimeCamp helps teams and individuals be accountable, profitable, and productive. With this Clockify alternative, you can be sure you will always stay on top of your work!
Pricing: The free plan is available for unlimited users with unlimited projects. The Starter plan is $3,99 per user/month billed monthly ($2,99 per user/month billed annually), Basic plan is $7.99 per user/month billed monthly ($5.99 per user/month billed annually), Pro – $10.99 per user/month billed monthly ($7.99 per user/month billed annually), and Enterprise, on-premise, offer custom pricing.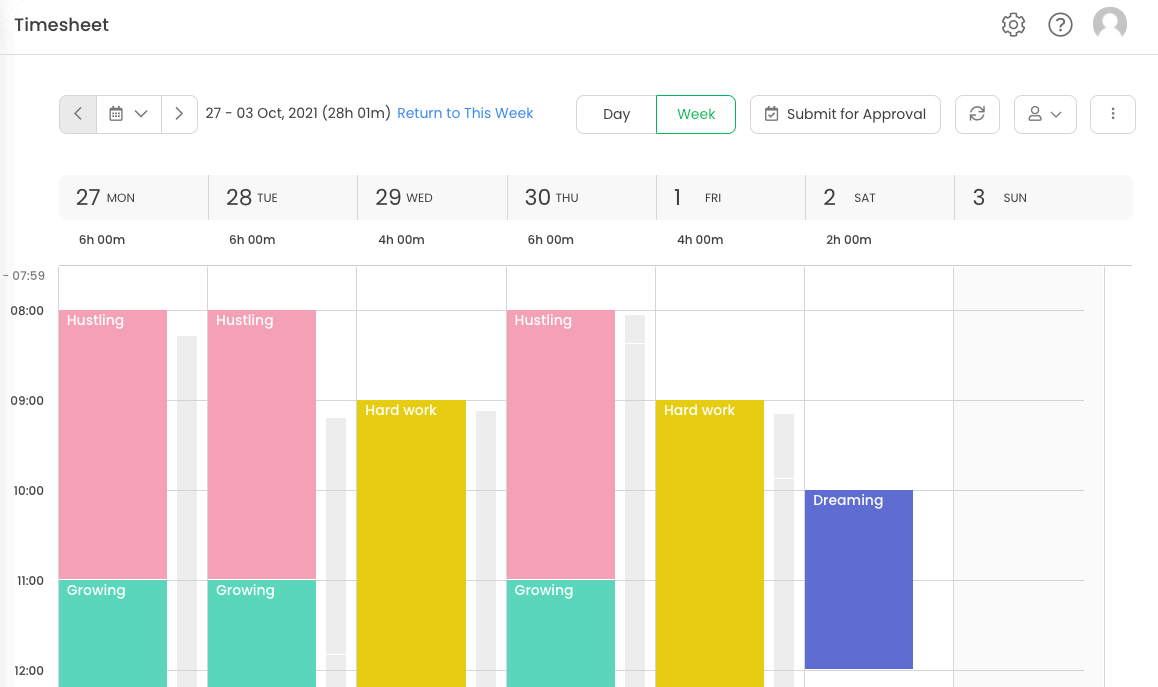 2. Toggl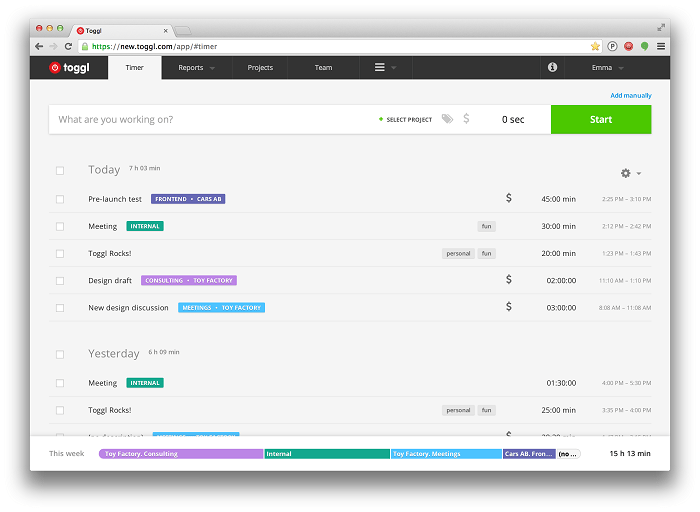 Toggl is a time tracking program that is especially useful for freelancers or small business owners. The app can be used to record how much time is spent on each project and helps you with task management. It's a simple and intuitive solution. Toggl is a good Clockify alternative for users who need simple time tracking.
👉 Read more about small business time tracking.
The software lets you track time spent on work, creates reports based on time entries, and helps to see how long certain processes, tasks, or projects last. You can either use the automatic time tracker or add time entries manually in the Toggl web app.
Toggl is available as a web application, desktop apps (Windows, Mac, Linux), browser extensions (Chrome, Firefox), and mobile apps (Android, iOS).
Pricing: Toggl is free with limited time tracking and reporting features. Other plans start at: Starter – $9 per user/ month, Premium – $18 per user/month, and Enterprise – custom pricing.
See the comparison between Toggl & TimeCamp
3. Traqq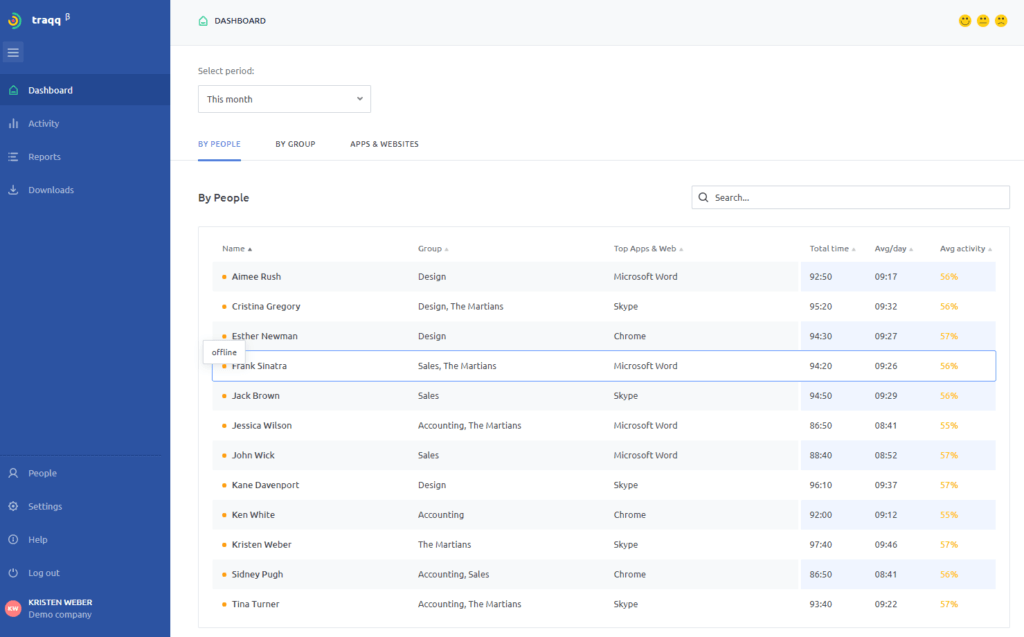 Traqq is a good alternative to Clockify for freelancers. It's a free time tracking software for people who want to find out how much time they spend on different activities up to the second. It monitors all your work and generates detailed reports.
Here are the main features:
The app automatically tracks your activities, keystrokes and mouse movement, and monitors website and app usage. There is also an option to take video recordings of screen activity but you can disable this feature
Rich activity reports and timesheets
People management with the ability to create groups
Simple timesheet management
It's a suitable Clockify alternative for teams and single users that helps in simple work management.
Pricing: Traqq is free for everyone and doesn't offer additional paid plans.
4. Cattr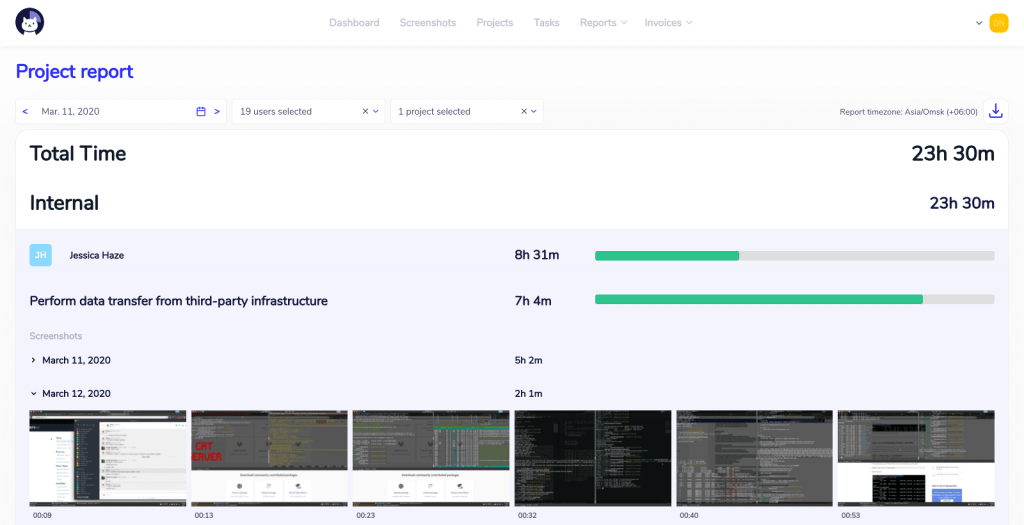 Cattr is an open-source time tracking software with a desktop app for Windows, Mac, and Linux. It's a lightweight app with simple project management features and automatic time tracking.
The app has four modules:
Dashboard with Timeline and Team view that displays users, hours worked, timezones, and projects
Projects with projects name, members assigned, and amount of tasks
Screenshots – built-in screenshots capture and activity detection (including keyboard and mouse)
Tasks help in scheduling work and improve reporting
Reports with summary time for hours tracked, projects, team members, and users.
You can also set different time zones, add time manually, and assign different access roles for an employee and manager.
Cattr will let you understand better how your employees work and plan workflow also for remote work. It's a good system for scheduling and resource allocation.
Pricing: because Cattr is an open-source platform, it's a free app.
5. TMetric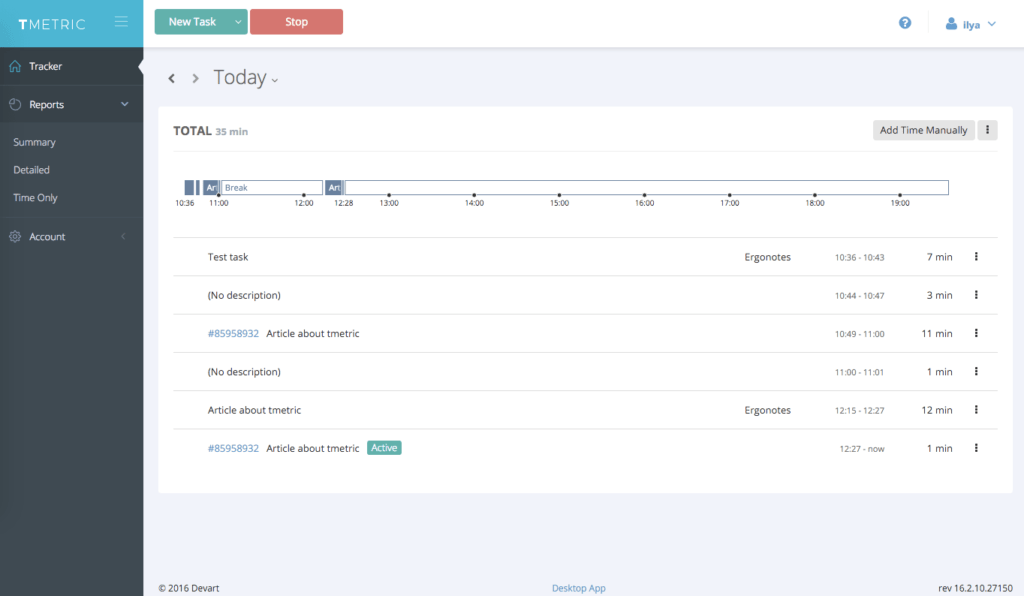 TMetric is one of the best Clockify alternatives for people who need basic time tracking software. It allows you to organize timesheets, improve productivity, and see how you and your employees are spending time.
With TMetric you can easily monitor the progress of work, add small changes to tracking tasks during work, measure profitability, and control onsite and remote employees.
Main features:
Time tracking with automatic time tracker
Adding entries manually to a timesheet, tags, timeline, offline mode, idle detection
Timeline with a view of a project, task, and time spent on work
Reporting with summary reports for projects, detailed reports, exporting (PDF, CSV)
Unlimited projects and client in the free plan
Available as a browser extension (Chrome, Firefox, Edge), desktop app (Windows, Mac, Linux), and mobile app (iOS, Android)
TMetric doesn't offer tracking billable hours in the free version so it's best for people who need a basic system for time and task management.
Pricing: Free plan has limited features. TMetric offers a free 30-day trial. Paid plans include Professional – $5/month per employee, and Business – $7/month per employee
See the comparison between TMetric & TimeCamp
6. Ronin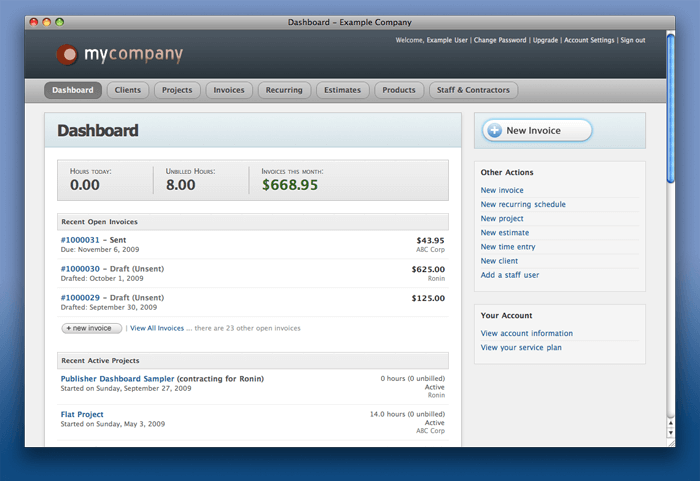 Ronin is a simple online invoicing and time tracking software. It's a web-based application that allows you to customize invoices with your own HTML/CSS, send invoices in multiple currencies, and also create recurring invoices.
Ronin enables you to access your budget information and tasks from anywhere as it's stored in the cloud. Even though Ronin has many features, it is a really easy-in-use software. It is one of the best Clockify alternatives for people looking for free time tracking software that will help to manage invoicing and billing.
Main features:
Payment integration with PayPal, Stripe.Net, and Authorize.Net
Invoicing and recurring invoicing
Built-in online time tracking
Simple timesheet management
Ronin supports a large list of currencies
Estimates which can be easily sent to your clients
List with clients' data for client management
Inviting external contractors to projects
With Roles, you can specify which employees have access to view sensitive financial information, and which employees are only allowed to track time
Pricing: Ronin offers a free plan for a single user. However, if you want to track time with other team members or add more projects, tasks, and clients, you need to sign up for one of the paid plans: Solo – $15/month, Team – $29/month, Agency – $49/month
7. Hubstaff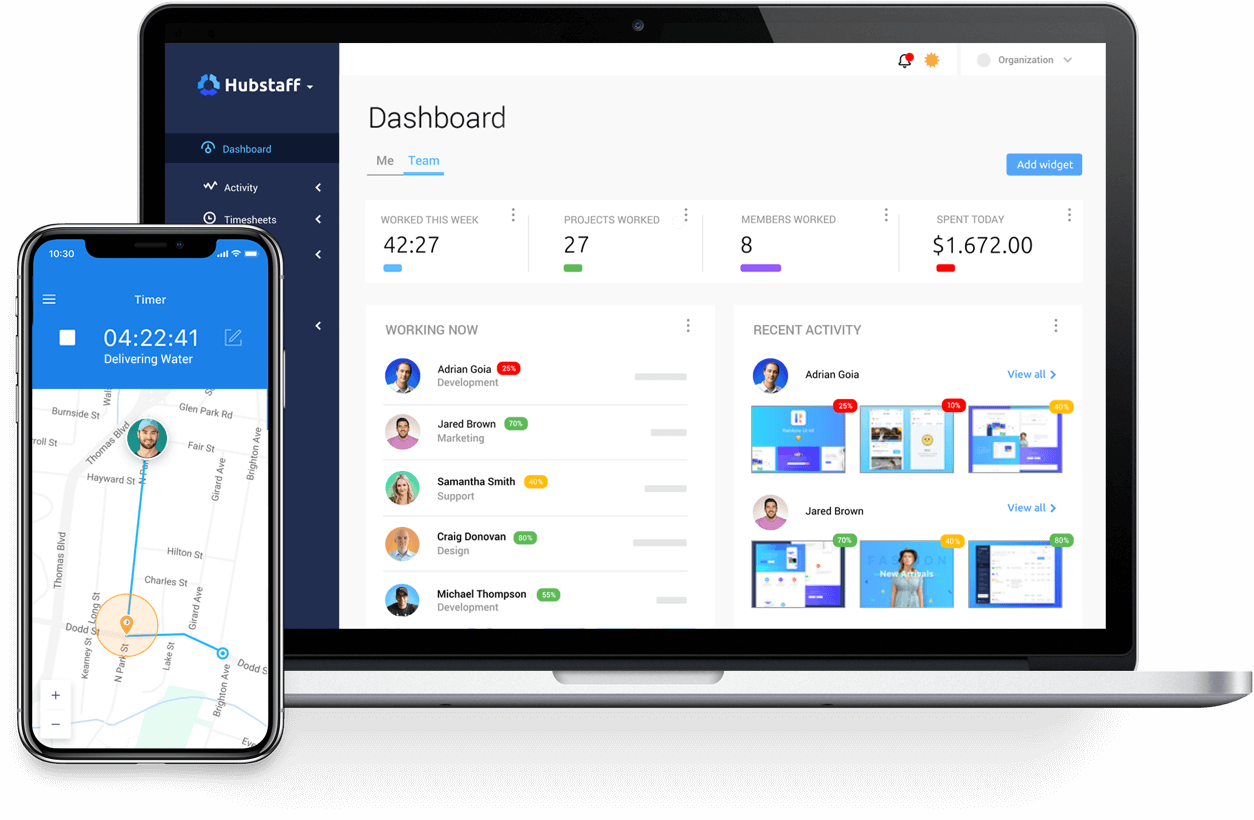 Hubstaff is one of the most popular time tracking software. It's also a good automatic time tracking alternative to Clockify. It has all the necessary features a good time tracking app should have. Small, large teams, corporations, individuals, everyone will find it helpful.
However, Hubstaff is best for remote employees, remote teams, and the off-site workforce. The app can work as a time clock for teams working in the field.
Main features:
Location monitoring – time tracking with GPS, geofencing
Online timesheet management and web-based reports
Team dashboard
Real-time reporting with work hours, simple graphs, and timesheets
Scheduling with employee attendance tracker and staff scheduler
Screenshots
Invoicing
Setting up pay rates once for each member of the team or project, so payments are automatically sent based on hours worked during that pay period
Available as online software, desktop app (Windows, Mac, Linux, Chromebook), and mobile devices (Android, iOS)
Pricing: Hubstaff is free for a single user. If you want to track time and productivity with your team, you need to subscribe: Basic – $7/ month per user, Premium – $10/ month per user, Enterprise – custom pricing for companies with a large number of users.
See the comparison between Hubstaff & TimeCamp
8. TopTracker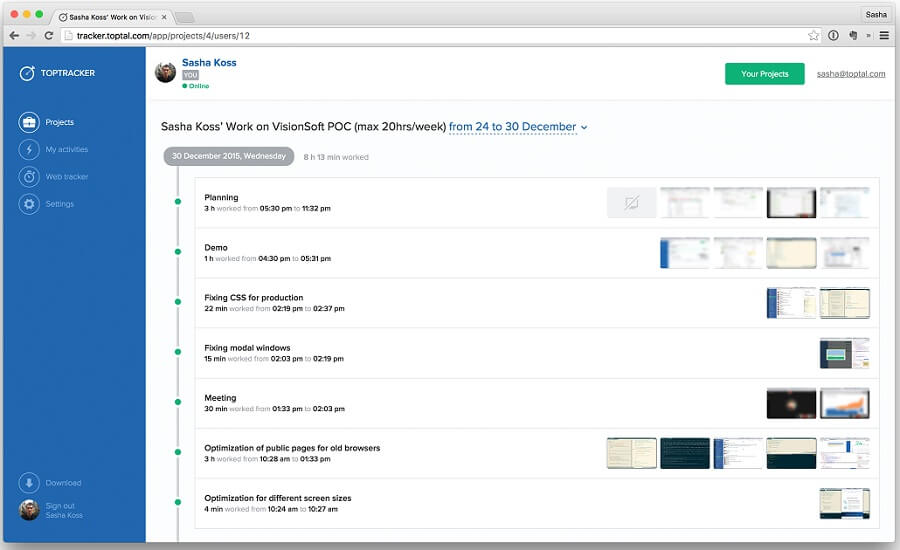 TopTracker is one of the few Clockify alternatives that offer a variety of features in its free version. It's an application that can be used anywhere. Moreover, it has the hotkeys which allow for quick time tracking start and stop – a feature particularly useful when you travel.
TopTracker's clear and user-friendly dashboard gives you insight into all your projects and information on them. It's a simple time tracking tool that helps in personal project management, work scheduling, and productivity improvement.
Main features:
Invoicing and payment processing, billable hours and expense tracking
Hotkeys to quickly start tracking time, stop and manage your time tracking easily
Centralized view of all projects
Detailed productivity reports
Full control over what you keep track of and how often, with options including simple time tracking, screenshots, or webcam shots
Clients can define tracking controls for managed projects, freelancers can set their own controls for individual projects.
TopTracker is available as a desktop app for Windows, Mac, Debian, and Linux.
Pricing: The app is free.
9. Open-Source Time Tracking Apps
Open-source time tracking solution is most suitable for companies, employees, or individuals that don't want to pay for additional features. Additionally, if you know how to reuse and modify it, it allows you to freely move around the software and better customize it to your needs.
Here are the best open-source time tracking software:
Kimai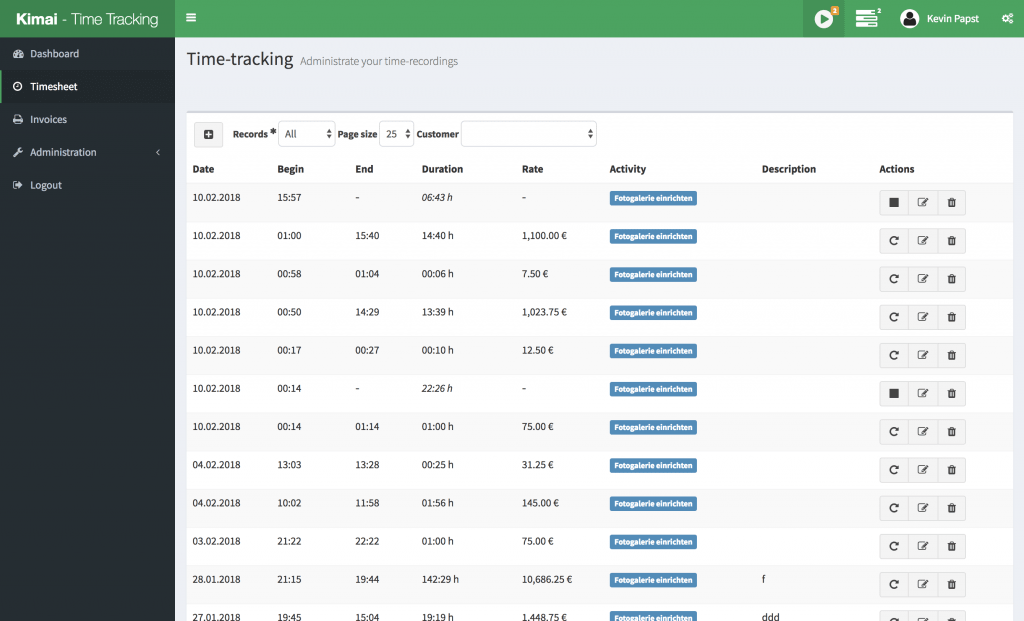 Kimai is a popular online time tracking tool. It's a customizable app that allows you to control your budget, work hours, and manage projects and tasks. You can use it solo or with your team.
Main features:
A simple timer that works as a start/stop button. It'll run as long as you don't turn it off, and you can do it in any browser. It doesn't stop automatically. There are also time clock and duration modes if you prefer to track time in another way
Editing time entries and manual time tracking
Set billing rates for weekends, fixed or hourly rates, and track expenses based on customer, project, and activity
You can add plugins manually (you'll need to have some coding knowledge to do that) to extend the features
The layout is responsive so you can also use Kimai on mobile devices
Kapow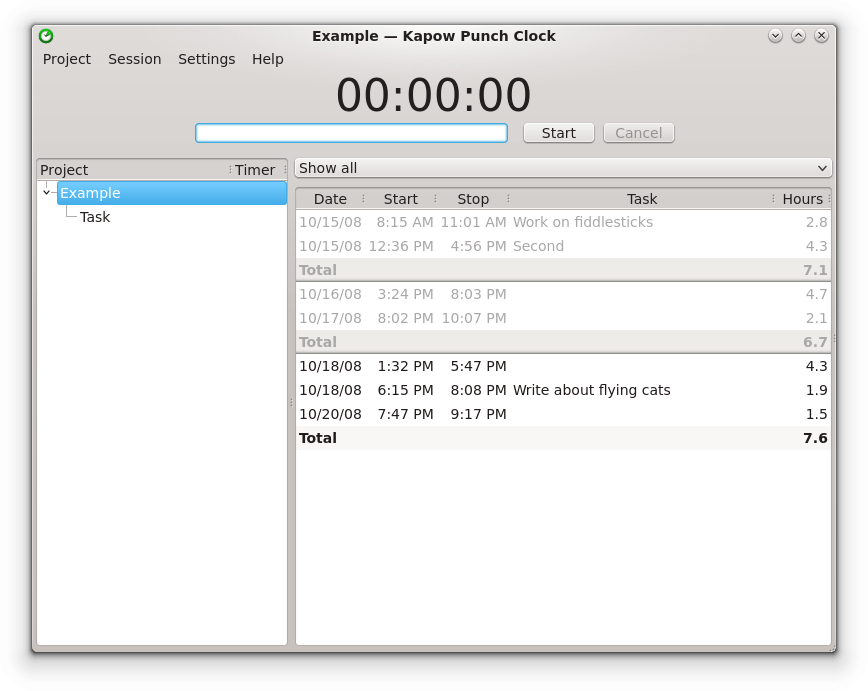 Kapow is a simple time tracking software with a function of a punch clock. It lets you easily keep track of employee time and billable hours. You can also manually edit your timesheet entries.
Additionally, you can add client information, hourly rate for billing, a simple timesheet with start and stop time of a task, and total hours for payroll management.
Baraga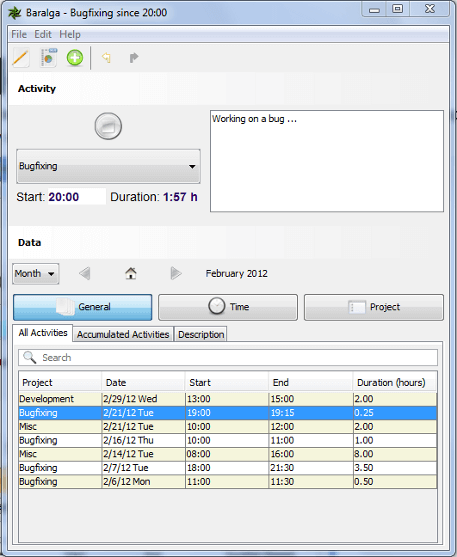 Baralga is open-source software that can be used solo or in teams available to download as the desktop app for Windows and Mac.
Here's what you can do with the software:
Track duration of a project you work on
Report the data as Excel, CSV, and iCalendar
Manually add and edit activities
Switch projects with tray icon
Report for hours by quarter and filter by quarter
Only admins may edit projects and import data
You can use Baralga as a simple time clock to track employee attendance.
eHour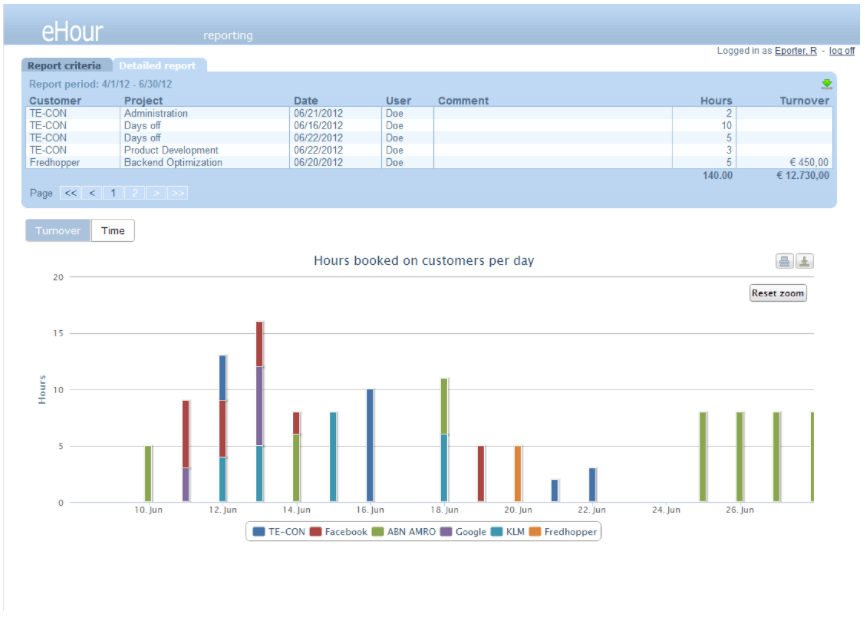 eHour is the open-source, online time tracking tool with timesheet management. It has many useful time tracking features that can help you manage workflow in real-time:
Create multiple projects per customer, assign multiple users to the same project
Create default project to which all users should be assigned (days off, sick leave, etc.)
extensive reporting
Configurable localization and currency
aDifferent roles: user, project manager, reporting role, manager, and administrator
bility to lock timesheets
Exportin reports to Excel
Automatic reminders by email
Online app or on-premise install
eHour is a suitable alternative to Clockify for users who prefer a web-based tool. It helps to improve productivity, and manage payroll.
Redmine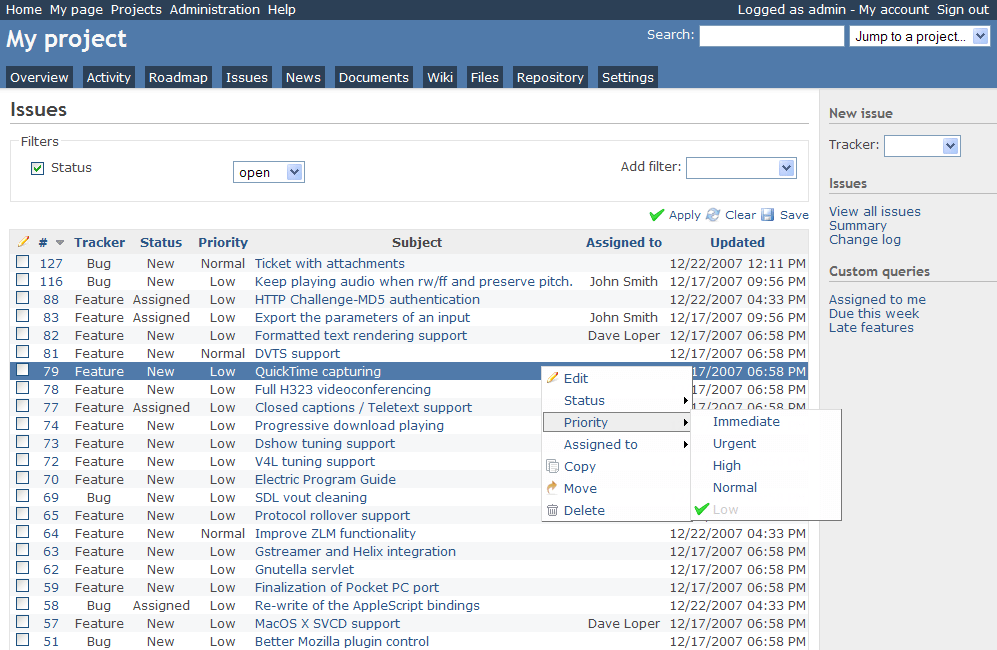 Redmine is a project management software most suitable for software developers or IT teams. It has all the necessary features that help in resource management, scheduling, and employee productivity tracking.
Except for task and project management features, this solution has the following time tracking features:
You can track how many hours of work are logged to a specific issue or project
Filling time estimates allows you to better plan workload and see individual employee progress
Billable time tracking for payroll and client billing
Timelog Report allows users to display their time grouped by categories
Redmine is a good Clockify alternative for companies in every industry that are looking for an online application.
To Wrap It Up
A good Clockify alternative can make your work easier and help you boost productivity. With the right time tracking solution, you'll smoothen payroll processing, employee and project management, and improve performance.
What's your favorite time tracking software? Let us know in the comments!
5 out of 5 stars (based on 1 review)