Top 5 Free & User-Friendly Time Apps for Windows to Track Your Computer Time
May 14, 2020
by Kate Borucka
No comments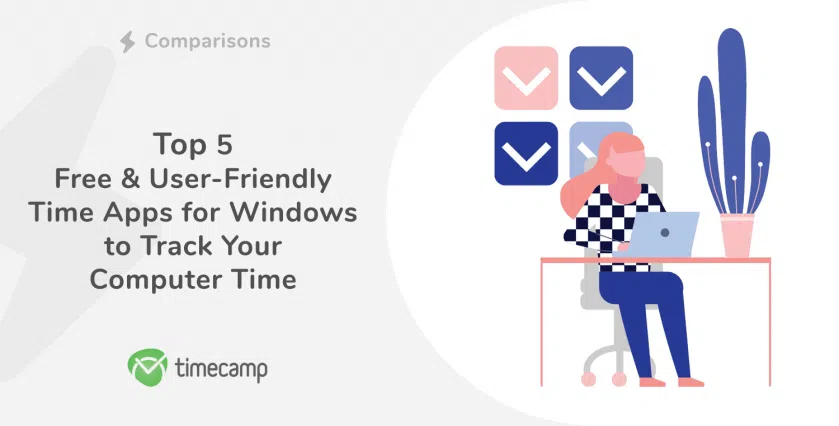 Time app is a great productivity booster. It helps to understand how much time you dedicate to particular tasks, what are the time-wasters, and what are your work patterns so you can optimize your workflow and eliminate distractions.
And if you're working on Windows and want to track your time, whether as a freelancer to bill your clients accurately, an employee or for personal reasons, you can do it in an easy and enjoyable way.
How to Track Computer Time on Windows?
Tracking time on Windows is simple and you can do it in two ways. The first and the somewhat old-school method involves writing down your time in a spreadsheet, be it an Excel file, Word, or any other format. You may also use a pen and paper and note your hours in a notebook by looking at your clock every hour or so. This method, however, may not be the best. That's because it's easy to input wrong or inaccurate numbers, and it takes a lot of time.
And the main reason behind tracking your time is to facilitate your work and get rid of unnecessary processes.
The second, recommended method, also a super-efficient one, is to use a time tracking software. Some are simple time trackers, others are apps that are part of a larger time management system with extensive functionalities. But they all help to save time, money, and boost productivity.
Check our list of the best free time apps for Windows.
Use the navigation below to jump to your favorite tool 👇
QUICK NAVIGATION
1. TimeCamp — for tracking computer activities & productivity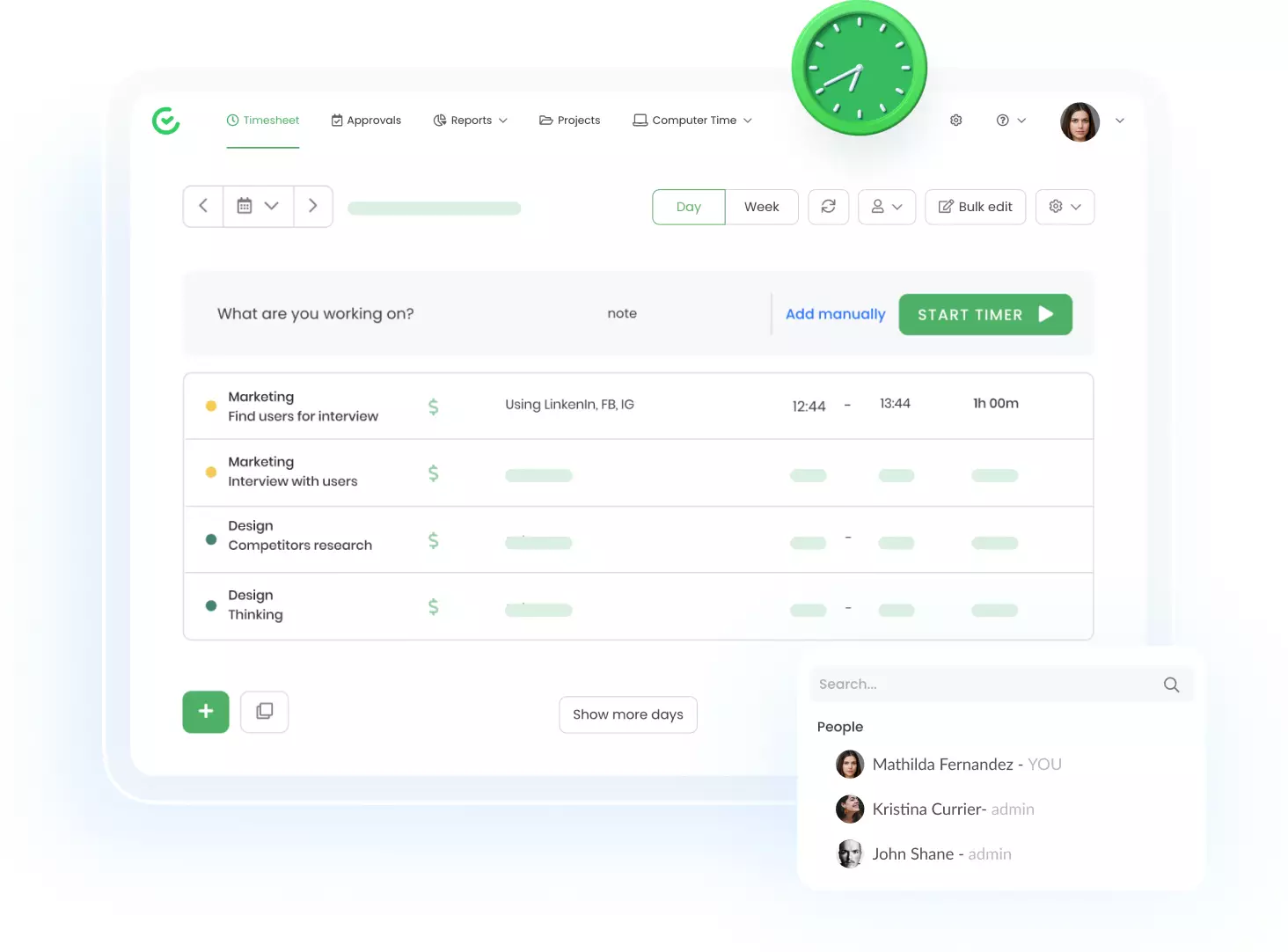 TimeCamp is an entirely free time tracking software for unlimited users with many useful features. The desktop app lets you precisely track the time you spent on the computer up to the second. It automatically records all applications, websites, and activities you spend time on, and gathers all the information in detailed, comprehensive reports with all your tracked hours. Tracking computer usage has never been easier.
The small widget works in the background so you can focus on what matters most to you without being disturbed.
You can view all your data in real-time, categorized it into productive and unproductive activities so you can find out what are your time wasters. TimeCamp detects the idle time when you're away from the computer and notes it in the reports.
TimeCamp lets you track time at the office, at home, and sync it wherever you are as the app is available also on the web, and for mobile devices (Android, iOS).
👉 Read more about small business time tracking.
👉 Check our list of the best note apps for Android.
Additional features include the following:
Automatic timer
The possibility to adjust and change time entries
Budgeting
Invoicing
Attendance management module to keep track of vacations, leaves, and absences
Tracking work hours by tasks and projects
Timesheets with approvals
Calendar view of timesheet helps to visualize your workflow
You can export reports to Excel, PDF
Integrations with some of the most popular tools for project and task management, CRM, dev apps, and many more
A free plan for unlimited users
A Chrome extension that works for 70+ additional tools
👉  Track your computer activities with TimeCamp automatic time app.
2. Toggl — simple timer for everyone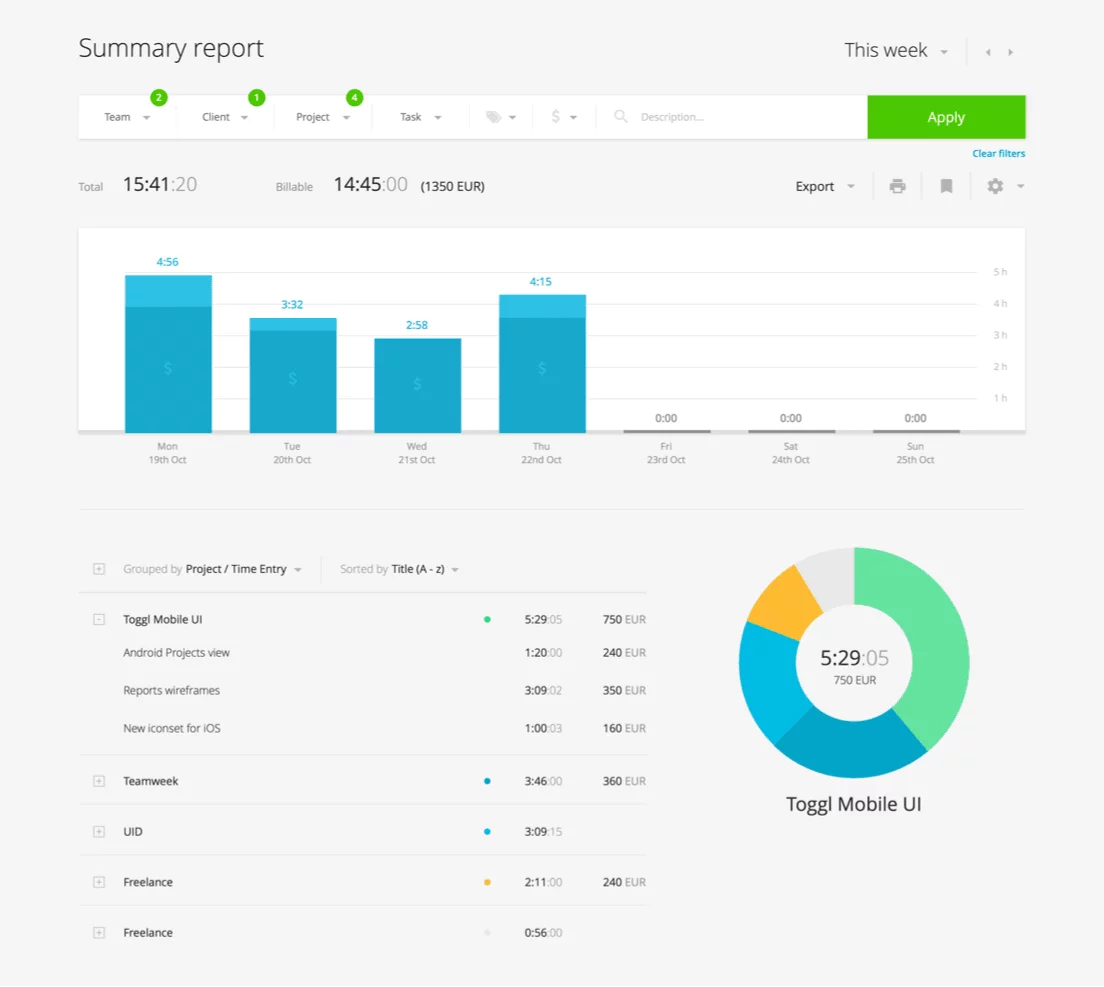 Toggl is suitable for everyone, especially for time tracking newbies, who are looking for a simple and free time tracker. The tool will help you find out how much time you spend on particular tasks.
Its desktop app works well with Windows. It's easy to use and lets you monitor your activities. It doesn't, however, come with the feature of tracking all the applications, websites, and tools you use. Hence, it's best for a simple time tracking. It can help you monitor the time you spend on your computer while working or performing various tasks.
Additional features available in the free version include tags, colorful reports, projects and task tracking, simple team and clients management, and web time clock app.
Toggl also has a mobile app (Android, iOS) to carry your data anywhere you go.
👉 See the comparison between Toggl & TimeCamp
3. DeskTime — for business time tracking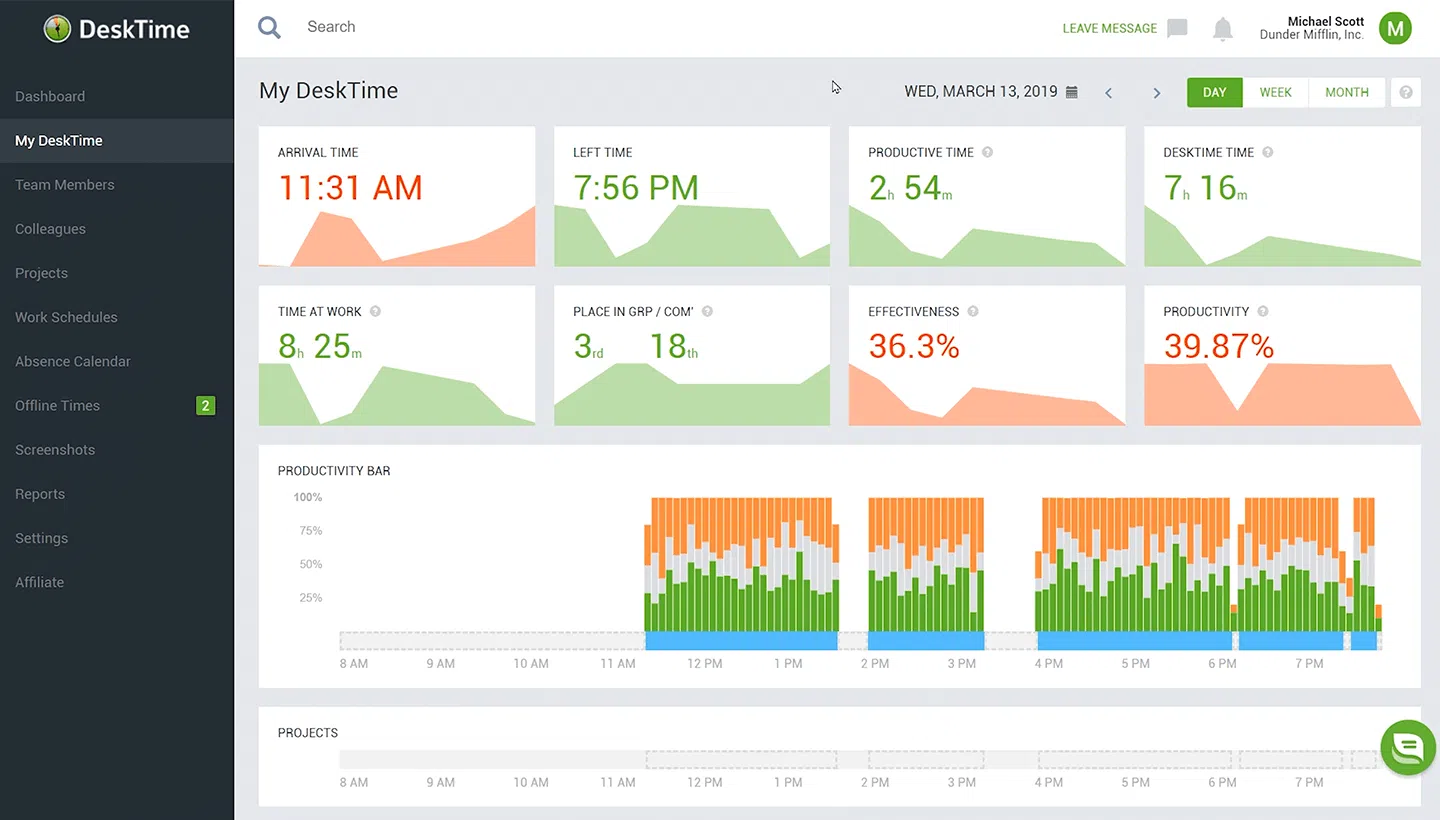 DeskTime is a real-time team time tracker suitable for Windows. The app notes and analyzes your productivity. It shows rich statistics, graphs with a detailed analysis of how you spent your time at the computer. The offline time tracking feature lets you add activities you spent time on when away from the computer but as part of your job.
The time tracking app tracks URLs, apps, and document titles. There's also an employee screenshots feature that gives you overall insights into your team's behavior.
If you need to follow productivity on the go, there is the mobile app (Android, iOS).
Other functionalities include an absence calendar, invoicing, work scheduling, and integrations with 3rd party apps like Trello, Gmail, Outlook, and more. You can also use DeskTime as a time clocking app to monitor employee attendance.
👉 See the comparison between DeskTime & TimeCamp
4. WorkingHours — for on-premise time tracing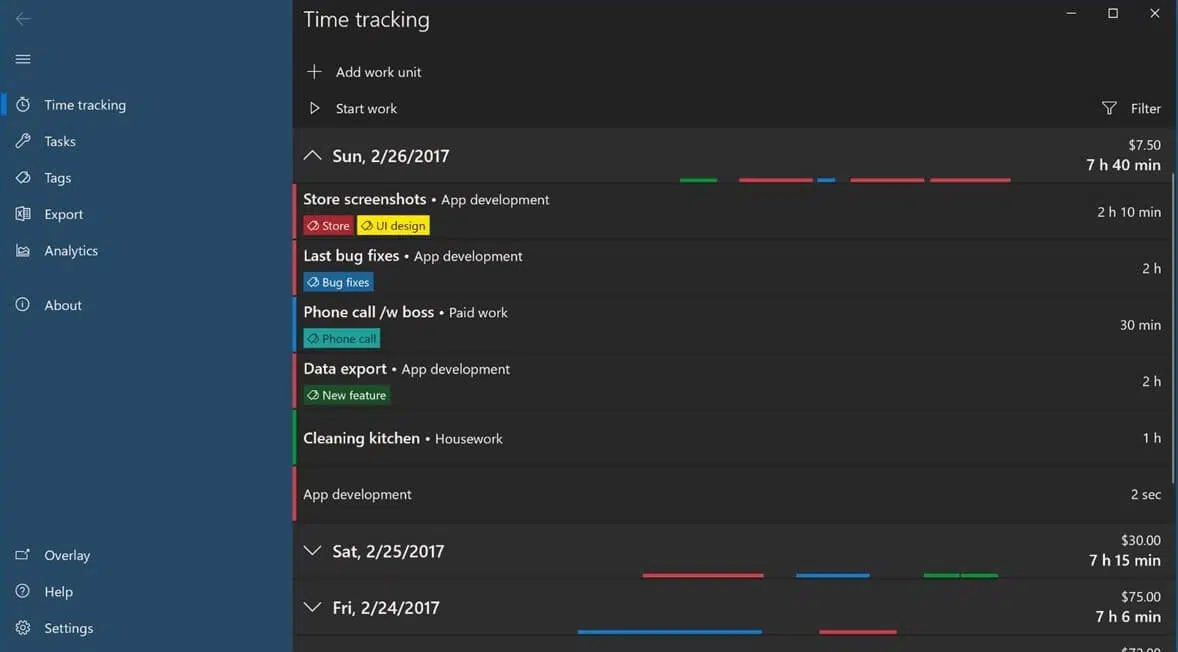 If you want a clock app in the Windows-style, WorkingHours is the best choice. Also, if you need a timer to track hours and activities locally, it's the right solution as the database is located directly on your computer.
You can easily start/pause/stop your working time without opening the app—via tiles, notifications, voice commands, geofence & NFC tags. And with the overlay window that is always hovering above other programs you're currently using, you can quickly access the timer.
Special tags allow you to adjust the worked time and earnings. You can filter work units by tag and task, and analyze working time and earnings via graphs to find out how you work and spend your hours.
Moreover, it's a cross-platform app, available for both PC and smartphone (iOS, Android), and Cloud Sync (OneDrive/Google Drive/Dropbox/WebDAV).
WorkingHours fits perfectly in the Windows structure so you can have a unified system for tracking your activities by using a native solution.
👉 Read more about time recording software.
5. Clockify — for free timesheet management
Clockify is a popular time tracking software suitable for everyone who needs a virtual clock with timesheets.
You can either use an automatic timer or add time manually. With one click, you can edit time details – add project and task, tags, change the description, change start/end time and duration, or mark entries as billable. You can track your time offline too.
However, similarly to Toggl, the Clockify app has limited functionality and it doesn't track the app and website usage as TimeCamp does (a little self-promotion here 😊). Still, it's a convenient time clock tool with the possibility of using it via web or mobile (Android, iOS) if you can't access your Windows.
Bonus: Check our list of the best Clockify alternatives
To Wrap It Up
All the above apps are the best solutions for Windows users. They are all easy to use, let you track time in a simple way, and provide you with detailed insights into your work. They all have slightly different features. So whether you're looking for a new solution or need to find the most compatible app with Windows, we hope you found something of interest.
What is your favorite time tracking app for Windows? Let us know in the comments, we'd love to hear from you!