Case Study: What Are The Benefits Of Podio Time Tracking?
July 22, 2016
by Ola Rybacka
No comments
For any undertaking size enormous or little, using a project management software can help you work all the more productively. Whether you are taking a shot at a little or substantial scale venture, establishing this kind of tool will help you get to be fruitful. Having every one of your activities laid out and allocated to the right person will permit you to stay sorted out and guarantee assignments are finished on time.
Podio quickly became one of the most recognizable project management software.  It's a part of Citrix, a huge software company from Florida. This tool sheds new light on the way how to organize team work and get it done together.
They show off millions of customized apps created by all the teams which are using Podio services in their companies.
What Are The Benefits Of Podio Time Tracking?
But how Podio exactly works?
It's based on the different system than other task management tools.  Podio uses apps to help teams staying perfectly organized with the work progress. They are fully customizable and consist of app items, different parts of each managed tasks inside. Each user can choose the way how they would be displayed from the wide range of layouts.
The most important Podio features are:
easy team collaboration based on sharing files,
statuses and comments,
clear teamwork overview,
the wide range of integrations (TimeCamp included),
easy team communication and online meetings,
task management
file sharing.
According to Podio research, their users hit the number of 250 million app items created in 2015, 4 years since it has been launched officially.
How can Podio be utilized to increase team's productivity?
Podio is the perfect tool for all the success-oriented companies. It helps them to know what needs to be done to make teamwork more efficient. The way it improves communication between team members is clear thanks to the simple and intuitive appearance.
This solution can be utilized by all-sized companies. But there is a way to make it even more efficient – integrating it with a right time tracking software! Podio and TimeCamp integrate directly, so measuring team effectiveness is now like a piece of cake.
Podio time tracking allows companies to find out where their time spent on each task or communication process.
Thanks to the fact that both of the tools are packed richly with many useful features, every single team has the opportunity to work on the highest productivity level.
What are the most important features for Podio and TimeCamp users?
tracking time for all the projects and tasks added to Podio,
every project and task can be repeatable, so adding them each time is not necessary,
reminders for all the tasks, it isn't possible to forget about important issues,
adding new contacts,
sharing files with all the team members,
social sharing – projects can be liked or shared on Facebook,
How to integrate Podio with TimeCamp?
The integration process is easier than you think. All users have to do is following the steps included in video below:
What are the benefits of using Podio time tracking?
Saving time and money thanks to computer usage tracking and time tracking features,
Knowing where and how much exactly time is wasted every day,
More intuitive project management process supported by two richly packed tools,
Better team communication,
Increased productivity,
Easy team management process regardless of time and location thanks to the wide range of platforms to choose.
Besises of launching Podio time tracking,  we published an interview with Bill Carovano, Senior Product Line Director for Podio two months ago. Check what he said about their work culture and what caused the idea of designing Podio!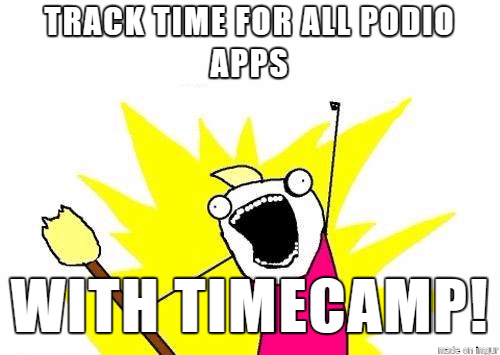 Managing time for your team and even your daily activities are way easier when it's supported by two reliable tools! Check how powerful are Podio and TimeCamp time tracking software!