Active Collab – Features and TimeCamp Integration
August 28, 2016
by Jakub Szyszka
No comments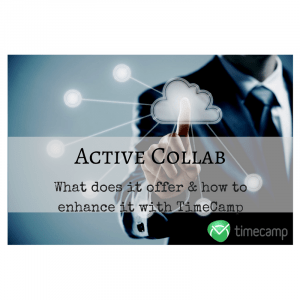 What is Active Collab?
Active Collab is a project management tool designed to help everyone who is running a company, regardless of its size. Managing our everyday tasks with Active Collab is faster and simpler, thus much more enjoyable. No more email cluttering or forgotten projects, this tool proves that organizing business and working time can be fun!
It is a web application that runs in the cloud, but it can also be installed on a server. This software has been for eight years on the market and throughout that time it drew an impressive number of users – over 200.000 ranging from freelancers through small businesses, universities, and government institutions, to Fortune 500 members.
So, what were the reasons that lead all these people to sing up with Active Collab? Most likely its wide variety of features, including:
Task Management – providing the ability to divide a project into smaller tasks (a list of them) where members of our team can discuss the progress, work on a problem, share files and also track their expenses. All to have the full control over the development of the project.

All the work in one place, neat and tidy – Each user has his or her dashboard where they can see all the details concerning their work, track updates and manage their working time more efficiently.

Task filtering – provides a possibility to organize tasks according to people, due dates, the size of the project, etc. Once the task is labeled, finding it takes a second! We may also run a report, and all the important detail will be listed on a single page for us.

Seamless workflow – thanks to the intuitive creating of tasks to which we can attach files, leave comments, add reminders, set due dates and receive update information regularly.

Customization – Users can change their view to adapt it to their needs, plan tasks in a timeline move them across columns or have them all displayed on a list.

Team Collaboration – Active Collab guarantees agile communication between team members which is a huge asset when it comes to project management.

All-in-one calendar – with the possibility to add custom dates and events to it and have an overall view at our work.

@mentions – possibility to call for our coworkers to get an immediate

response

. What is more, all the chat messages are stored in the archives, so our important conversations won't get lost.

Collaborative writing – other people working with us may edit our notes and add comments, every action is saved, so we can later review it.

Invoicing – We can keep our finances under control, as within a 

matter

of minutes Active Collab can create invoices.

Track payments – All our invoices are kept in one place, and we have the ability to set a

reminder

that will send notifications to our clients if a payment is overdue.

Online payments – We can set up PayPal or credit card payments for our client to speed up the process of receiving our fees.
Other work facilitating features are:
Reports – after running a report we will receive a display of all open tasks, team's workload and estimated time needed to complete a project  

Email integration – we can create tasks and add comments to them directly from our mailbox.

Project cost estimates – Begin a project from estimating its cost, send it to the

client

and once it gets approved, the cost estimation can be converted into a fully-fledged project.
How to start with Active Collab?
First, we'll need to create a free trial or get an invitation from an Active Collab user which will allow us to create an account.
Once we log in, we may click on our user's name in lower left corner to set:
Our profile picture, name, email address, language and regional settings.

Preferences: setting email notifications and change some minor details like background photo or the default screen after we log in.

Our password.
The use of Active Collab is pretty much self-explanatory. The elegant panel on the left displays or the most important options like Projects, My Work, Activity, Calendar and a few more. Every available feature is thoroughly explained in this tutorial.  
Five different plans are offered, starting from 25$/month for five members (with 5GB of space). Then, if our team grows, we can switch to different plans, up to the last one, offering 500GB of space and an unlimited amount of members for 299$/month. When we choose an option for us, we are given a free month of unlimited use. All the plans are listed here.
[SEOINS][SEOINS_CONTENT]                                          Sign up with TimeCamp and see how easy your work can get![/SEOINS_CONTENT][SEOINS_ICON][/SEOINS_ICON][/SEOINS]
Integrate with TimeCamp!
TimeCamp is a time tracking tool that immensely boosts up the efficiency of any project management software that it gets integrated with. It is well suited for small or medium companies and freelancers. By helping to track and manage time, it raises the productivity of the team and allows us to bill clients accurately.  Among the variety of features it offers, are:
Ability to track applications and sites that we are using

Detailed reports about our computer usage (efficiency level and program/website used) allow us to track our time more effectively.

Automatic or manual time tracking – collecting our time entries to timesheets and providing us with the

ability

to generate reports and invoices for the work done.

Attendance tracking – showing exact hours during which computer was actively used – from startup to turn off. The report on attendance is customizable; users can add to it notes about the tasks performed.

Reports – generated in two main categories. The first one is Project & Tasks, and the second is Computer Time; both provide the user with an in-depth insight into the time

spent

on every activity concerning work.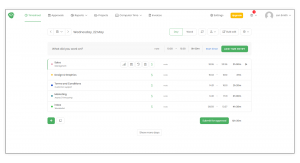 These are just some examples of the features that will be available once we integrate our Active Collab with TimeCamp.
Integration of these two tools can be done with a few simple steps. Below you fill find a short video tutorial that we have prepared to swiftly get you through them:
Your daily work can get a lot easier with the effective time management that  Active Collab and TimeCamp guarantee. Do not hesitate to try them and see for yourself!
Haven't ever heard about other TimeCamp integrations? Watch the video below!