Time Tracking with Insightly!
February 28, 2017
by Jakub Szyszka
One comment

What is Insightly?
Insightly is a cloud-based CRM solution (Customer relationship management) with over 500,000 users worldwide, which makes is one of the leading CRM software on the market. You can find in on the podium of the Top 10 CRM software list at FinancesOnline. It is designed mostly for small business, but it also provides some enterprise-level modules for large companies and multi-level organizations.
Among the features that Insightly offers are contact management, pipeline management, and task management. You can use it to gain better sales visibility, communicate with your customers more efficiently, enhance the collaboration inside the company, and, generally, have a clear overview of your business. It is available on practically any mobile device – iOS, Android, and even Kindle. And, what's most important for us, it can be integrated with a considerable amount of popular applications, including Google Apps & Gmail, Evernote, Office, Outlook, and our time tracking software – TimeCamp.
Pricing
Insightly offers five different plans developed to meet the needs of all companies. Starting with a free plan for start-ups and small companies, and ending with a sophisticated Enterprise solution for $99 per user per month.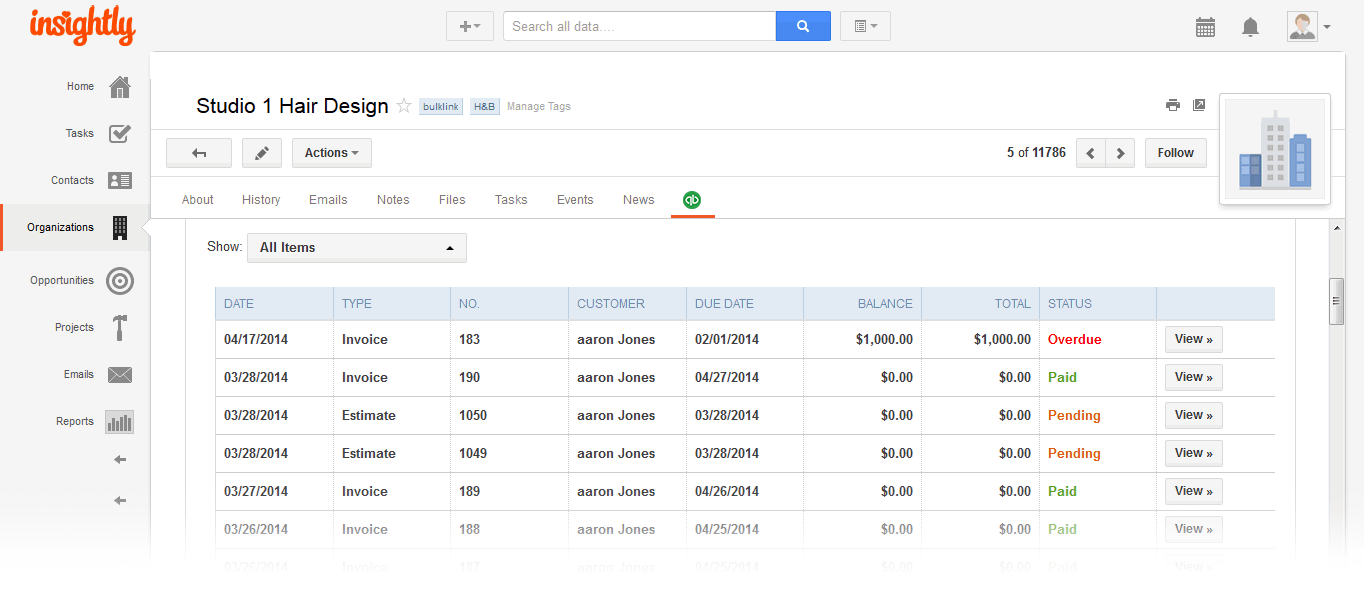 This is a very useful tool that has a lot of helpful features. Below, you will find a thorough description of what Insightly can do, but first, let us remind you that for a few years now you can integrate Insightly with TimeCamp for time tracking and much more. Find more about it in from our previous posts: A Small Guide To TimeCamp And Insightly Integration & Time Tracking with Insightly or from these videos
Our tutorial video presenting the TimeCamp and Insightly Integration
A video made by Randy O'Neil, concerning TimeCamp and features that it adds to Insightly
What Does the Integration Offer?
Insightly allows you to easily manage all your business relations and work. It keeps all your contacts, projects and tasks in one place. Thanks to this you can monitor every single conversation with your partners, suppliers, vendors, organizations, as well as track the progress of each assignment. The only thing that was missing until now was time tracking.
Time tracking with Insightly enables you to improve your efficiency on sales-related activities by tracking time dedicated to completing them. TimeCamp lets you measure hours spent on projects, tasks, and opportunities defined in your CRM system. This, in a result, will help you accurately invoice your clients, estimate the profitability of the project or simply plan the work of your team. Moreover, it will save your time as you wouldn't have to analyze each employee timesheet or talk to every single person.
The complete guide to TimeCamp and Insightly integration that will lead you through the whole process step by step can be found in our Knowledge Base (link above) We also prepared a quick instruction below:
Open your Insightly at "My Info" page and go to User Settings tab. Copy API token from there.
Enter your Token below and click "Enable integration."
Select data you wish to be synchronized and click "Save."
Optionally invite your team members to TimeCamp.
Install the desktop application to start tracking time on a particular task.
Once you have connected your Insightly to TimeCamp, the software will synchronize all the chosen data. You'll find it in your "Projects" tab. After that, you will be able to select a particular task and start to track time you spend on it. This will let you focus on your work and easily manage all your finances automatically. No complicated actions, just create an invoice out of the registered minutes and export it to Xero or Quickbooks. This saves your time and keeps order in all your documents.
Benefits of working with Insightly
In the beginning, we briefly described the advantages of working with Insightly, but we believe that it deserves some more recognition. Thus, here are some of the most distinctive benefits that come from working with Insightly:
Easy access to all your contacts.
Everything you need to know about your customers, partners, vendors, and suppliers, you can check with Insightly. You can check their background, email history, important dates, and other data relevant to their associated projects or opportunities. You can also share files and manage contacts, projects, and opportunities (with the right integrations.) When combined with TimeCamp, you will be able to share your timesheets, invoices, and graphs with the tracked time. It will be much easier to have your work organized!
Take care of your customer and manage your tasks
The project management solutions that Insightly offers boost the engagement with the customer. You can oversee recent activities and track project performance and progress against your preset timeline – with TimeCamp; you also have a detailed display of all the actions performed and the time they took. You can create project milestones, pipelines, and tasks, as well as set automated email alerts, and monitor email correspondence.
Have full control over your business
The provided dashboard and ability to create tasks, milestones, pipeline activity, and opportunity reports enables you to closely monitor and control your business activities.
It's easy to use
Insightly has an elegant and intuitive interface equipped with user-friendly and intuitive tools. Invite new users or customize features is a piece of cake. Also, it is very secured.
Mobile opportunities
The Insightly mobile app is compatible with iPad/iPhone, Google Nexus, Amazon Kindle, and Android devices.
Enhance your social media
Enter an email address and let Insightly detect its associated social networks including Twitter, Facebook, Google+ and LinkedIn, and wherever the user email account has participated.
Easy Integrations
On the example of TimeCamp, you can see, that integrating Insightly with other programs is very simple. The API allows you to access and update data stored in Insightly.
Summing Up
These are some of the most interesting functions that Insightly offers. Do not hesitate to try a free version and get more familiar with all of them! And do not forget that with TimeCamp you can significantly improve the productivity and efficiency of your team. Give it a try =]
Check our integration page – Insightly