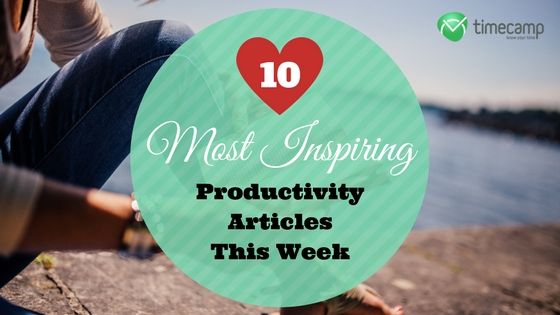 Another week comes with the most favorite from our roundups. Make yourself comfortable and read these 10 Most Inspiring Productivity Articles from past seven days, chosen by our team!
Our blog is a place where we provide all the productivity and time management knowledge. We try to do that by writing and posting worth reading articles full of useful tips and lifehacks. Self and work time improvement is our priority, so we want to inspire all our readers and motivate them to start to increase their time management skills and make them more productive.
Because our lives cannot be filled just with dull moments without any will of life. Let's stop with saying "no" to improvement – say "no" to being weak!
Sharing wisdom and knowledge doesn't only mean that we post articles where we provide our tips and hacks. We also want to hear people and their needs to meet their expectations entirely.
As a result, we created a cycle of productivity and time management, as well as about self-improvement.
Don't hesitate – just read best productivity articles from the passing week!
Warehouse Productivity: 15 Experts Reveal Their Top Tips for More Efficient and Productive Warehouse Operations – by Angela Stringfellow
6 Business Intelligence Analyst Productivity Hacks to Improve Workflow – by Geoff Hoppe
Reducing Barriers to Employee Engagement and Productivity – by Mike Raia
How I Became More Productive With Post-It® Brand Products #MakeItStick – by Vicki Davis
Improving Your Moleskine Notebook Productivity –  by Cormac Reynolds
Key Steps on Improving Productivity Within Your HR Business – by Tresha Moreland
How Questioning Can Drive Arguments, Productive Debate & Information Literacy Among Students – by Sarah Westbrook

6 Simple Time Management Tips for Remote Workers – by Troy Qualife
17 Tips for Effective Time Management Prioritize, complete, delegate or delete your tasks to maximize production and achieve your goals! – by Karen Bradley
How to Increase Efficiency in Your Recent Startup Company – by Carol Evenson
If you want to send us your favorite productivity articles, time management, and self-improvement articles, please feel free to do it. Tell us about them in comments!
Tell us about them in comments!
Let's share inspiration together!