What Is Dropbox Paper?
Dropbox Paper is a tool created by Dropbox, one of the most popular platforms for sharing files. We already have an integration with Dropbox (via Zapier) so make sure to check it out and become more efficient at work.
Dropbox Paper or Paper, is a platform for virtual document (or documents) on which you can work with your team online, in the real-time. It enables you and your team to easily collaborate on tasks and projects, and make sure that all the data is stored safely. With its useful features, Dropbox Paper makes a great task management and collaboration tool:
create private and shared files and docs; add as many team members to them as you want,
you can do whatever you want with the docs, edit, add or remove content, add media, images, tables, insert dropbox files,  create timeline and to-do list, add code or comment, and more,
you can access it anywhere, your laptop, smartphone or computer, and keep track of the project's progress,
user-friendly and intuitive interface,
it's free.
Dropbox is a powerful tool but with Dropbox Paper integration, you can turn your team into productivity monsters.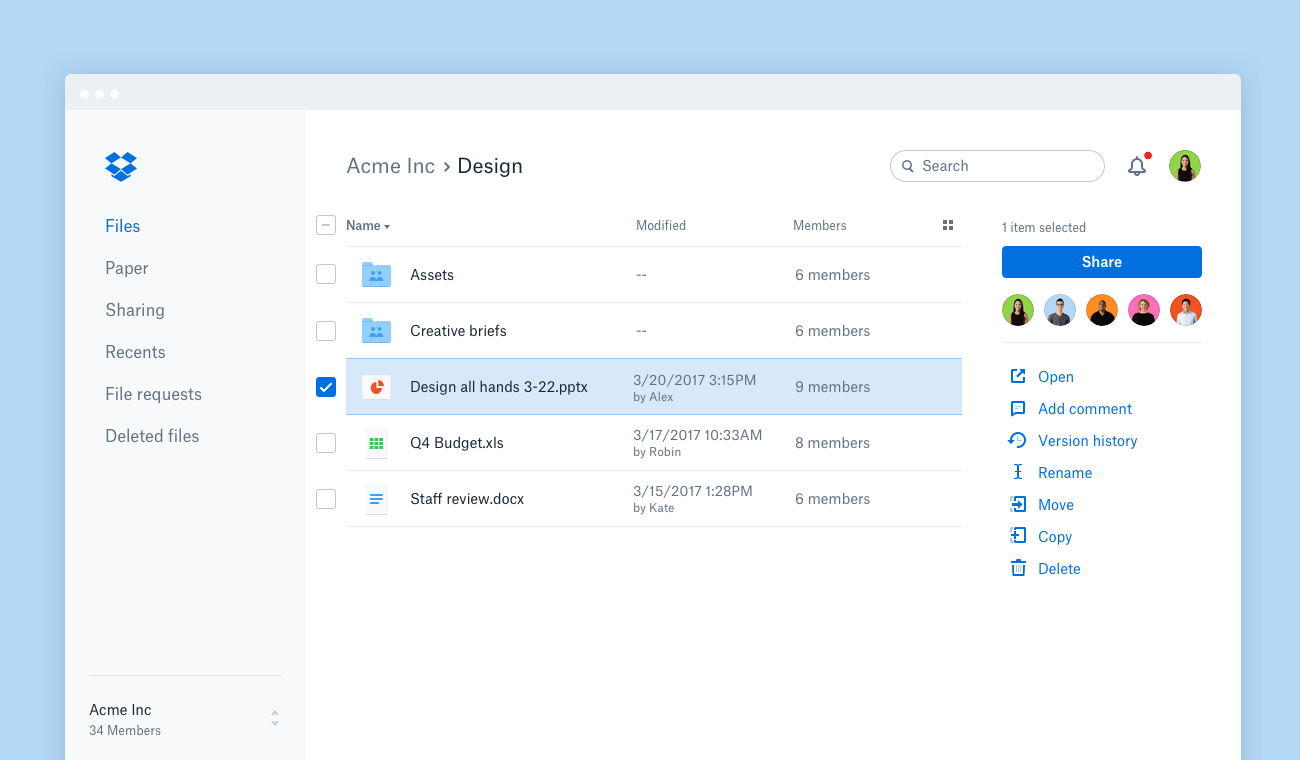 Dropbox Paper Time Tracker
By enabling the TimeCamp and Dropbox Paper integration you'll be able to track time on your folders and documents, along with todos – both personal and shared. To integrate Dropbox Paper with TimeCamp time tracking, follow these 3 steps:
1. Enable Dropbox paper integration in "Settings."
2. You'll be redirected to Dropbox page and asked to grant TimeCamp authorization to access data from your account. To continue, click on the blue "Allow" button.
3. You'll be redirected back to TimeCamp. We'll import your folders, docs and to-dos created within them. All imported items will be accessible for you to track time on using TimeCamp's timesheets, mobile or desktop application.
That's all it takes to integrate Dropbox Paper with TimeCamp.
Visit our knowledge base for a detailed tutorial on Dropbox Paper integration
Dropbox Paper gives you and your team a unique opportunity to collaborate. It allows you to create and edit the documents, manage projects and organize the meetings. It also gives you the perfect place for daily brainstorming! Thanks to the Dropbox Paper integration with TimeCamp you'll be able to track time for everything you and your team are working on! No more adding time entries manually – this connection automatically imports the names of your tasks and files and creates separate projects for them in TimeCamp to help you enjoy measuring time for them with few simple clicks.
Related posts