11 Time Tracking Software for Mac OS X + BONUS
March 31, 2019
by Kate Borucka
No comments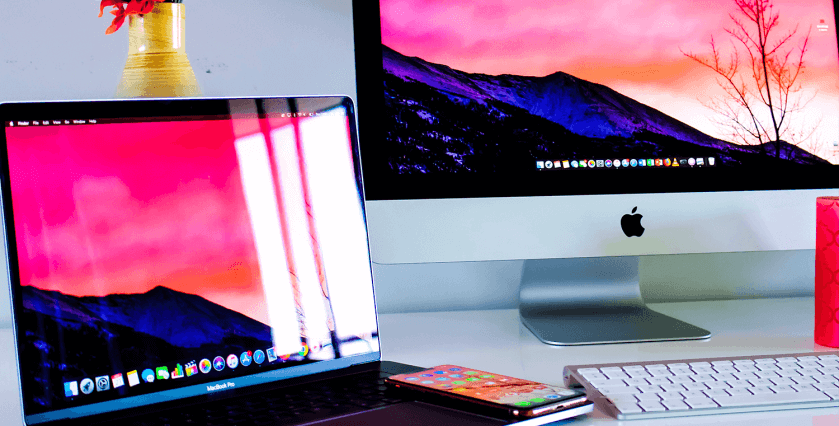 Last updated February 2020
Mac time tracking app can be extremely helpful in monitoring work progress and improving productivity. All you need is the right timer. Tracking time on Mac is a piece of cake. Find out how to do it with just one click, especially having a good website time tracker!
How to Track Mac Usage?
There is no surprise that Apple is one of the Big Four, the giants of the technological world. Its products and software are used by customers all over the globe. And it seems that the popularity of the brand keeps growing. They offer high-quality, unique products which people love. One of these wonders is the Macintosh, commonly known as Mac.
And the good news for time management lovers is – you can easily manage projects and track time on Macintosh with an automatic timer.
In fact, it doesn't matter if you're tracking your time on Mac, Linux or Windows. Today, most, if not all apps are available for all operating systems. Nevertheless, Mac has its dedicated fans who create apps only for this particular system.
And if you yourself are the owner of Mac and haven't started tracking your time, it's high time you did! It will help you become more productive, turn your bad habits into good ones, and make you an organized person. Time tracking software provides detailed data on your activity, budget, time spent on activities, and processes that happen during your work.
And so, today we prepared a list of 11 Mac time tracking software to help you choose from the variety of tools. Make sure to select the app which meets your business model and needs!
QUICK NAVIGATION
1. TimeCamp
2. Timing
3. Clockify
4. RescueTime
5. Caato Time Tracker
6. Harvest
7. Toggl
8. Be Focused
9. TSheets
10. Hubstaff
11. Time Doctor
+ BONUS
1. TimeCamp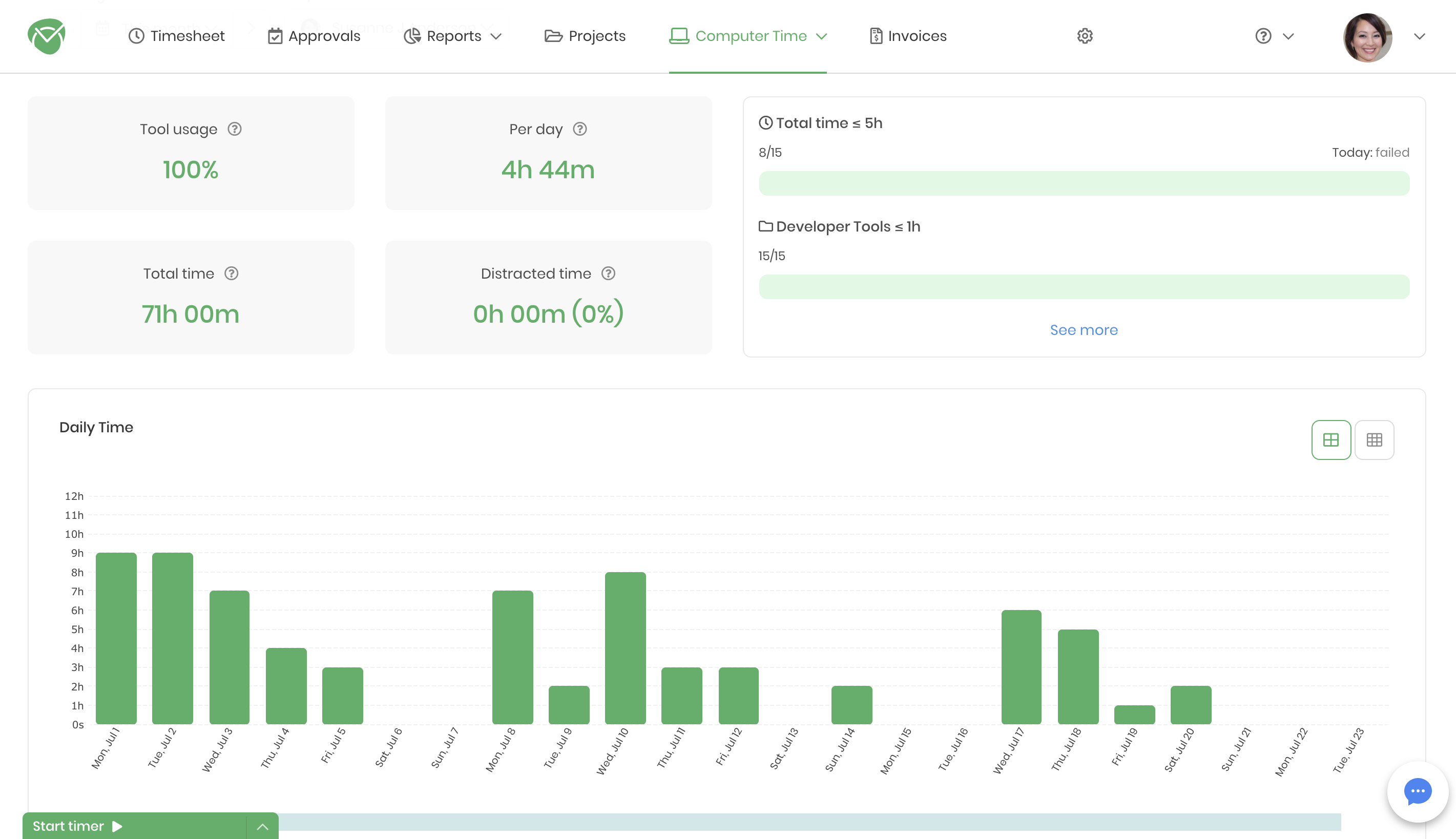 TimeCamp is a 100% free time tracker for unlimited users. It's a tool for monitoring your and your employee's work. Including people who work remotely. Thanks to its functionality and ease of use, this time tracking software for Macs allows for working time optimization and boosting employees' efficiency. It also enhances resource management and their allocation. With TimeCamp you not only track time but also productivity, progress of projects and overall processes in your organization.
Main features:
The desktop app for Macintosh, extensions and native mobile app for iOS
Automatic time tracking which allows you to easily switch between tasks
The possibility to set a limit for each task so that you can effectively monitor your team's work
Accurate customer billing thanks to the ability to monitor projects budget
Idle time detection
Entering time to invoices based on estimated hourly rates
Graphical timesheets integrate with calendar
Budgeting reports show actual vs. estimated time
Export reports to Google Spreadsheets, CSV, XLSX, PDF
Integrations with various tools
GPS tracking coming soon!
Pricing
Free – $0 for unlimited users
Basic – $5.25 per user (billed annually)
Pro – $7.50 per user (billed annually)
Enterprise – custom pricing
Skyrocket your productivity.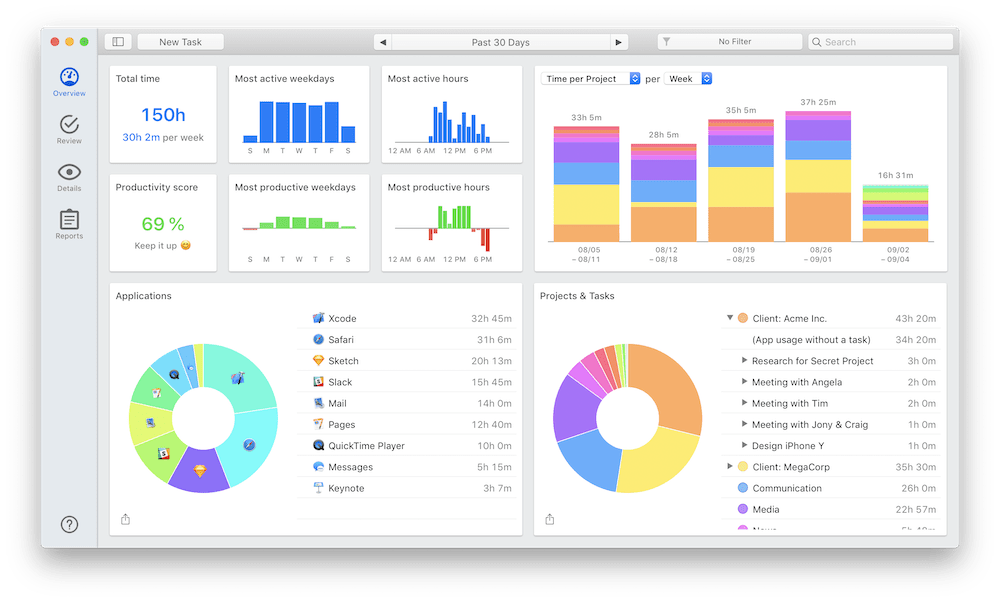 Timing is an automatic time tracking software for Mac. This app is perfect for people who love everything that's automated. Timing tracks your activities while you work – all files, applications, websites, and categorizes them into productive and unproductive. This software helps become more systematic and efficient by always working in the background.
Main features:
Timing combines automatic and manual time tracking
Automatic time tracking osx with extremely high accuracy – Timing tracks apps, document paths, website URLs, titles of read emails, conversation partners in Messages, and more
An interactive timeline shows you exactly when you did what
Automatic suggestions for blocks of time that belong together. This lets you assign hours of time at once, combining the accuracy of manual time tracking with the convenience of automatic tracking
The option to create sophisticated rules to further automate the categorization of activities
Timing can automatically ask you what you did whenever you return to your Mac after idle time
Pricing:
Features vary across different plans:
Productivity – $39
Professional – $69
Expert – $99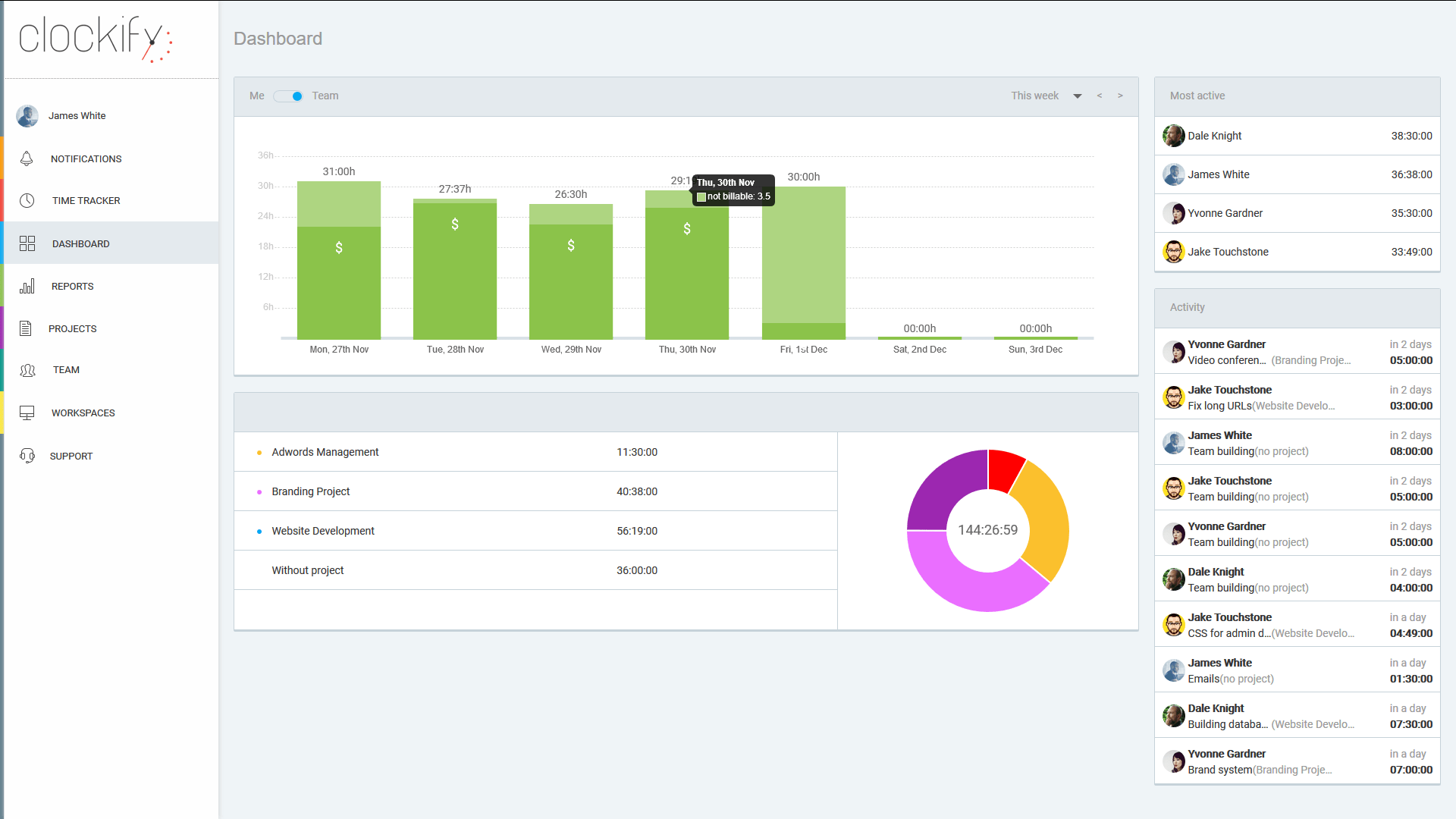 Clockify is a free attendance tracker and time management app. It's best for managing payroll and workforce. The tool is suitable for teams, regardless of their size. Clockify offers extensive features that help to organize work, projects, and teams. It's one of the best time tracking software for Macs.
Main features:
Time tracking with timer and manual mode to add missing time
Project tracking
Tags and colors for categorization
Adjustable timesheets
Reports – summary report, weekly report, and detailed report
Setting hourly rates for easier payroll calculation
Exporting reports to PDF, CSV, and Excel
Team management and workspaces
Integrations
Pricing:
Free to use for an unlimited number of user with limited features
Plus – $9.99 per month
Premium – $29.99 per month
Enterprise – $9.99 per user, per month – for large organizations
The company also offers self-hosted (starts at $450 per month) and development services to big teams and enterprises
👉 Check our article with a list of free Clockify alternatives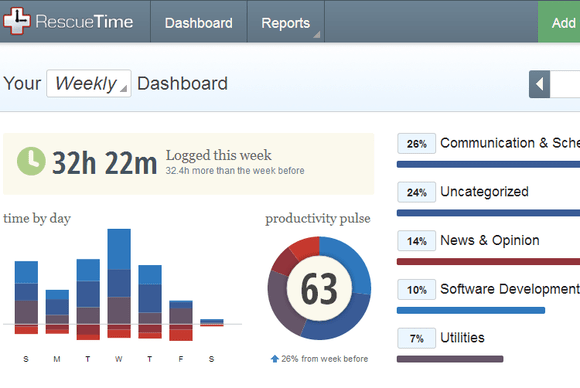 This time tracker for Mac is suitable for organizations and individuals. If you're the type of person who likes to set goals and keep a steady hand on work, try RescueTime. It's a great app for busy people who like challenges but also enjoy writing down their achievements to maintain control over all tasks.
Main features:
Detailed reports
Weekly e-mail summary
Setting goals for the day
Activities are automatically grouped into pre-defined categories with built-in productivity scores covering thousands of websites and applications. You can customize categories and productivity scores according to your preferences
Blocking distracting sites
Tracking offline activity
Notifications and alerts
Pricing:
RescueTime Lite – free
RescueTime Premium – Monthly: $9 per month, Annual: $72 per year
👉 See the comparison between RescueTime & TimeCamp
Caato Time Tracker is designed specifically for Macintosh. You can use it to manage personal and work projects. This time tracker allows you to track the time of one or several projects or tasks. It's a simple mac time tracking app most suitable for individuals and freelancers who need a tool that will help them organize their individual work.
You can also try Caato Time Tracker+ which synchronizes across all Apple devices.
Main features:
Start and pause button
Tracks projects, tasks and detailed time entries including seconds
Setting for automatically converting hours to days
Monitors multiple projects at once (Pro Version)
Allows editing of entries in the past and adding entries in the future
Context-sensitive totals in the status bar
Date range filter with presets and individual date range picker
Shows today's working hours or the number of currently tracked projects in the dock icon
Clean user interface with complete date labels
Easy Excel (Pro Version) and CSV export with formatting options and email feature (OS X 10.9 and higher)
Pricing:
Free
Pro – in-app purchase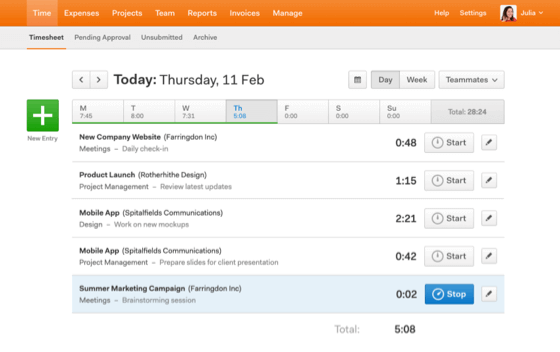 Harvest is one of the most popular time tracking software for Mac. It's very helpful in planning projects, keeping track of expenses and making sure deadlines are always met, even if they're tight. It's a simple but powerful timer.
Main features
Time and expense tracking
Detailed reporting
Unlimited invoices and estimates
Project budget alerts
Timesheet approval
Integrations with 100+ apps
Pricing:
Free for 1 person with 2 projects
Pro – $12 per person per month (unlimited people and projects)
?See the comparison between Harvest & TimeCamp
Toggl is a timer that is especially useful for freelancers or small business owners. The app can be used to record how much time is spent on each project. It helps to plan tasks ahead of time and stay on track with work. It's a simple and intuitive solution. Toggl is praised by many users for its ease of use, functionality, and design.
Main features:
Simple, automatic time tracking osx with start/stop buttons
Reporting
Tags and colors for transparency
Automatic time tracking
Pomodoro timer
Project dashboard with the summary of your activity
Pricing:
Starter – $9
Premium – $18
Enterprise – custom pricing
? See the comparison between Toggl & TimeCamp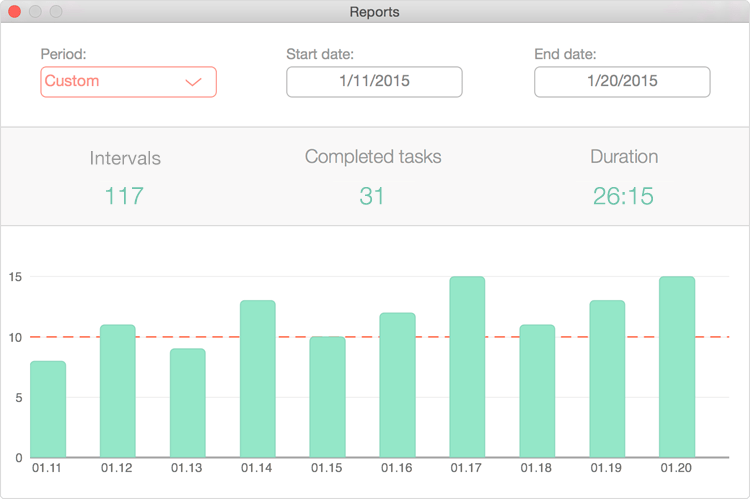 Be Focused is another timer software designated solely for Mac. Based on the Pomodoro technique it enables its users to work in intervals that are separated by short breaks. It's an easy-to-use app that will help you stay focused and productive.
Main features:
Task management
Fast and easy goal tracking
Tracking progress (day, week or custom period)
Customization to maximize productivity – work interval duration, long break duration, short break duration, target number of work intervals per day, number of intervals between long breaks
You can paste a task list from other applications
Ability to start, pause, or skip work intervals
You can edit the number of work intervals
Exporting to a CSV file
Global hotkeys
Sounds for alarms and ticking (optional)
Syncs between iPad, iPhone and Mac
Pricing – $4.99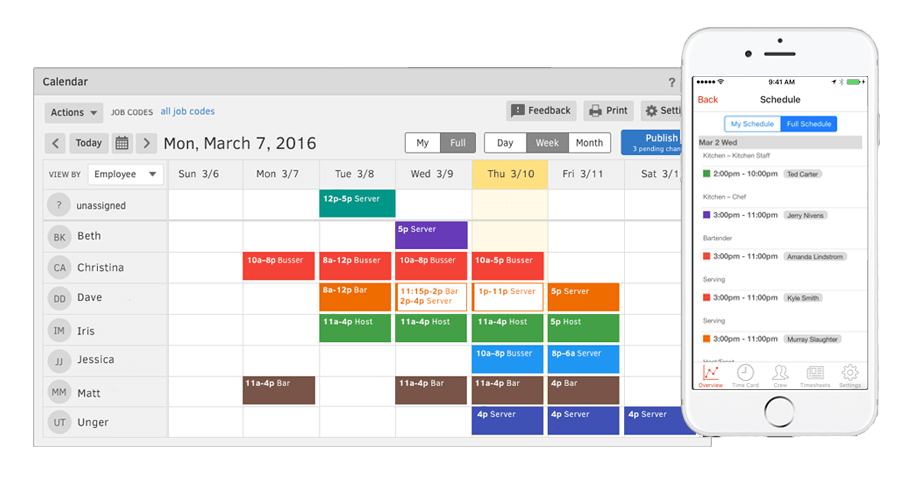 TSheets is suitable for organizations that value flexibility. It's best for small and large teams, for those who often travel as well as for remote workers. With TSheets every manager can monitor employees' activity and location.
Main features:
GPS location tracking – real-time insight into who's working on what and where
Convenient time tracking with the mobile app
Real-time interactive reports
You can automate overtime rules, customize pay rates, and preset complex overtime calculations for easy, accurate payroll. Overtime alerts keep you and your employees aware of weekly overtime limits
Scheduling
Employees can clock in and out in real-time and enter their time manually,
Advanced features enable your employee to customize time entry for fields, projects, and tasks
Pricing:
Free for one user
Premium – $8 per month + $20 base fee per month
Elite – $5 per month + $40 base fee per month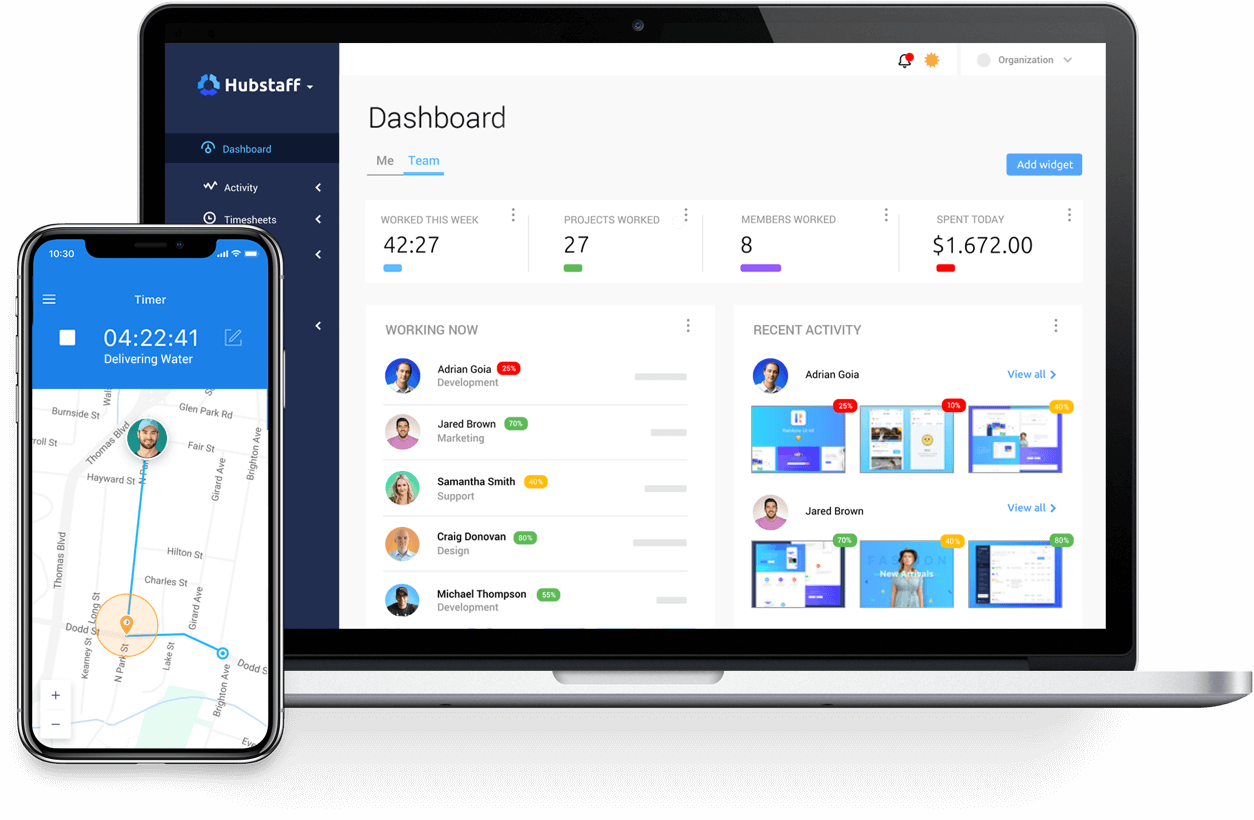 Hubstaff is one of the most popular timers for Mac. It has all the necessary features a good time tracking app should have. Small, large teams, corporations, individuals, everyone will find it helpful. It's extremely helpful for remote teams that need to track time in different locations.
Main features:
Location monitoring – tracking through GPS, web-based reports
Online timesheets
Team dashboard
Reporting
Scheduling with employee attendance tracker and staff scheduler
Screenshots
Invoicing
Setting up pay rates once for each member of the team or project, so payments are automatically sent based on hours worked during that pay period
Numerous integrations with other tools
Pricing:
Free for 1 user with limited features
Basic – $7 per user per month (Starts at $14. Includes 2 users)
Premium – $10 per user per month (Starts at $20. Includes 2 users)
Enterprise – $20 per user per month (Starts at $40. Includes 2 users)
? See the comparison between Hubstaff & TimeCamp
Time Doctor is a multi-functional time tracking software for Mac. Fully customizable, it's great for demanding users who need detailed insight into employees' activity. It monitors the usage of apps and websites so managers can see how their teams are spending their time during work.
At the same time, employees can use the app to boost their productivity. TimeDoctor is a first-class software for proper resource allocation and overall project management.
Main features:
Time tracking with distinction to tasks, projects, people
Time Doctor will monitor employee internet usage during their work time. When it is detected that excessive amounts of time are being spent on YouTube, Facebook, or browsing other personal websites, Time Doctor will give those users a nudge to check if they are still working
Website and application monitoring
Screenshots
Ability to give clients access to Time Doctor
Payroll management
GPS tracking
Range of configurable options available
Integrations with the most popular apps
Pricing:
$9.99/user per month with 14-day trial
BONUS
HeySpace and TimeCamp integration!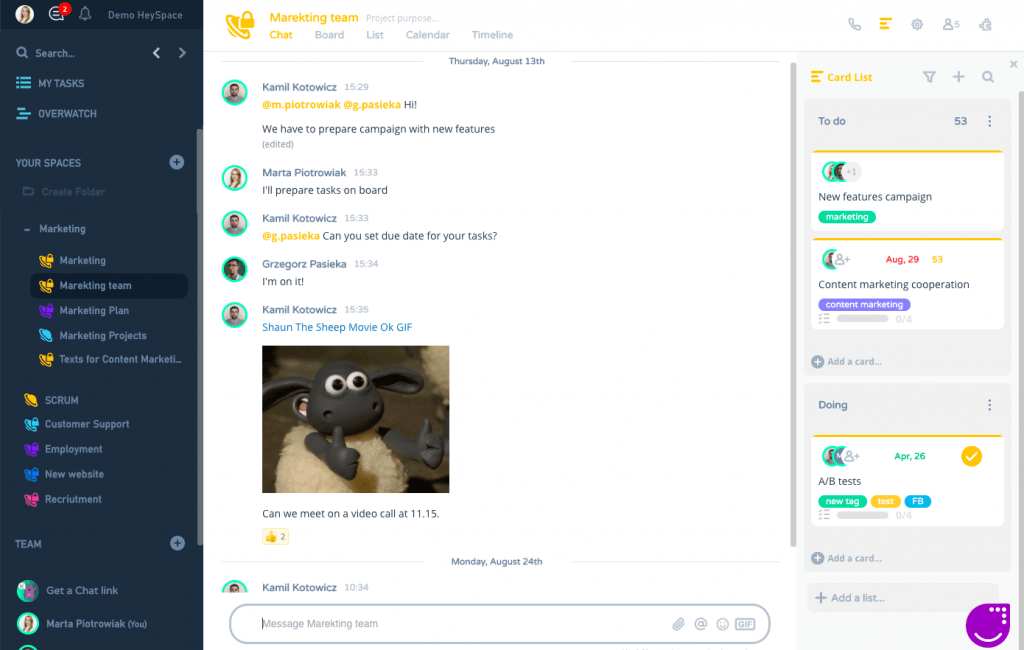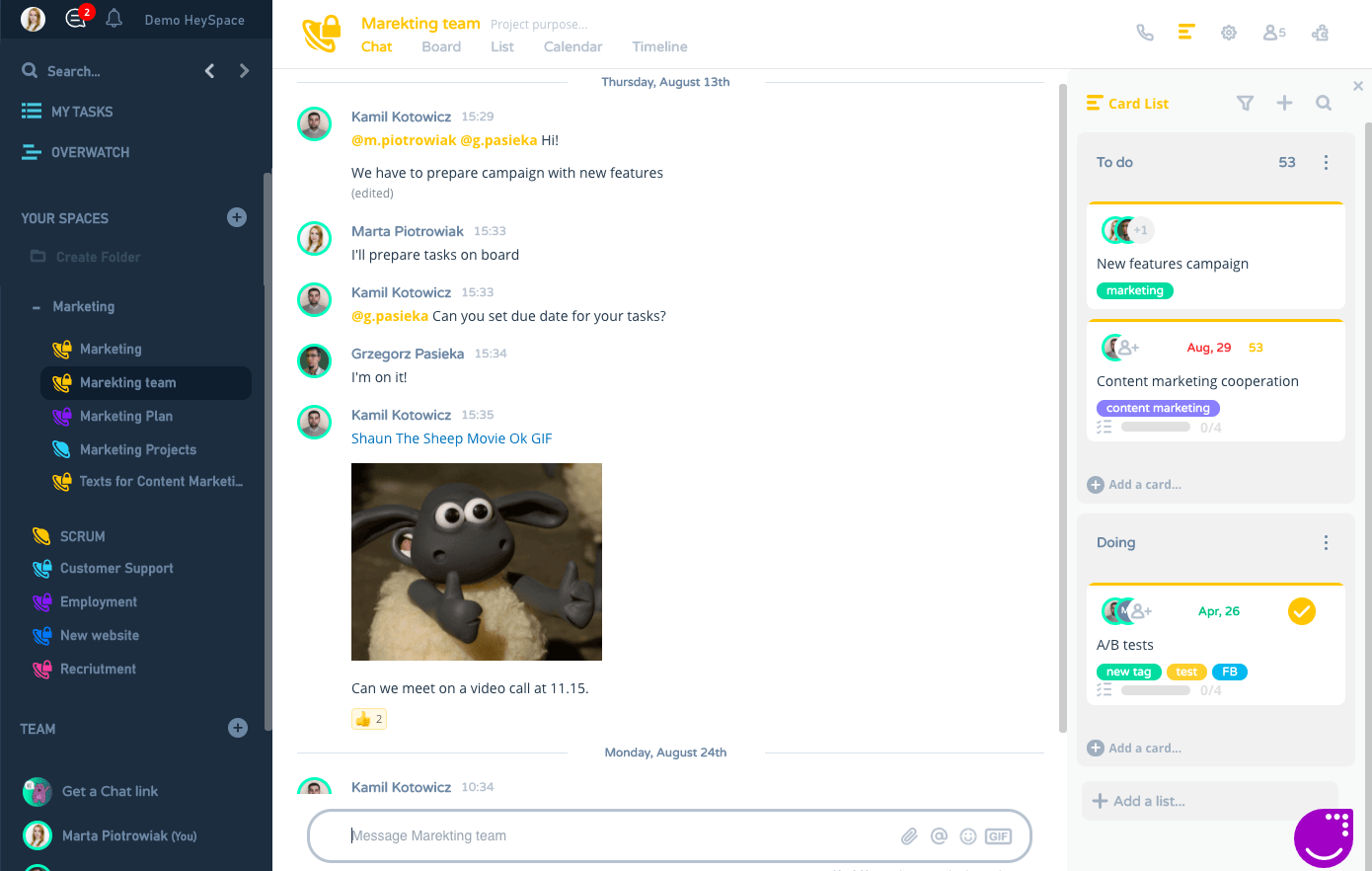 If you need more than just time tracking software for Mac, TimeCamp offers integration with HeySpace, task management software with extensive chat features. The tool can be used by everyone, no matter the industry and business model.
You can manage your projects in HeySpace and start the timer directly in the app without the necessity to switch between cards.
And now when you can integrate TimeCamp with HeySpace, you can take your work to the next level!