November 21, 2016
by Jakub Szyszka
No comments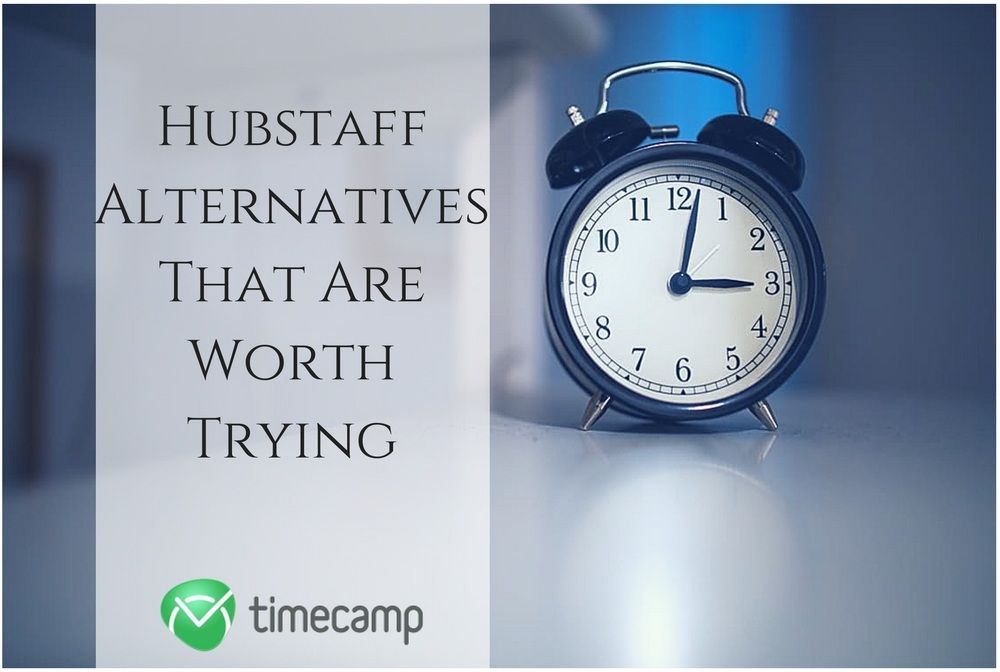 Get ready for one more post on the topic of alternatives to the most popular time tracking apps on the market. This time we present a list of 15 alternatives (plus TimeCamp, of course, this one is always here =) to Hubstaff.
Hubstaff is a time tracking application that both big companies hiring remote teams and freelancers can work with. They can manage their workflows and productivity effectively with the help of features like automatic time tracking, application and internet monitoring, automatic payroll, and reports.
Hubstaff can be integrated with over 30 applications for a better performance. It allows users to track their or their team performance in real time and equips them with work notes and in-depth reports. It is available on Mac, iOS, Windows, Android, and Linux.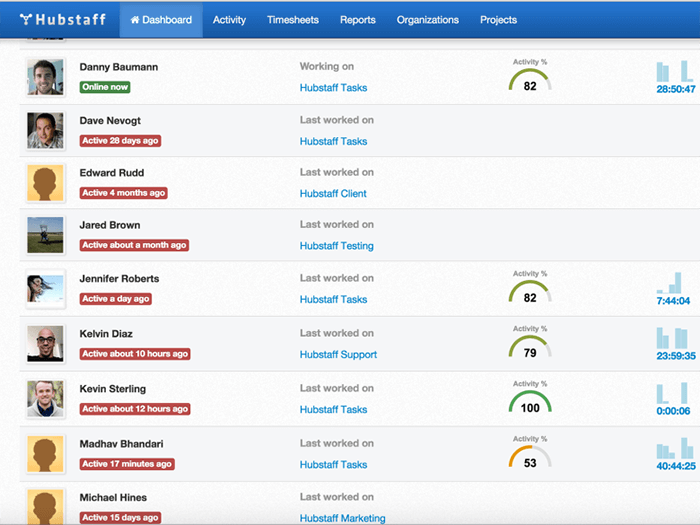 Below is the list of software that can be a good alternative to Hubstaff. Give them a try and see how they work for you! Also, check our previous posts where we describe alternatives to other very popular time trackers – MyHours, Toggl, and Harvest.
TimeCamp is a great alternative to every time tracking software available. We know for sure that it is the top tier of time tracking solutions. What is more, TimeCamp offers a set of features and functionalities that other tools described in this article do not.
TimeCamp stands out from the competition thanks to the:
Wide range of platforms the tool is available for Desktop (Windows, Mac, and Linux), broader extension and mobile app available for iOS and Android to help users track their time regardless of location,
The highest quality at best price,
Automatic time tracking based on keywords which allows you to switch between tasks without any effort,
The ability to set a time budget for each task to monitor team's workflow,
Billing customers accurately thanks to the project's budget tracking,
Turning time entries into invoices based on estimated hourly rates,
Both direct and Zapier integrations which include project management and accounting tools like Asana, Podio, Trello, Jira, Xero, and many others.
You can compare TimeCamp with any time tracking software on the market, and you will notice that it wins on many levels. It is an advanced time-tracking app with plenty of other features like invoicing, reporting, or billing. It doesn't matter if you are working as a freelancer or in a small, medium, or large company – TimeCamp is designed for every environment with its simple and easy to use interface. It can be implemented even in teams that have no previous experience with tracking time.
See the comparison between Hubstaff & Timecamp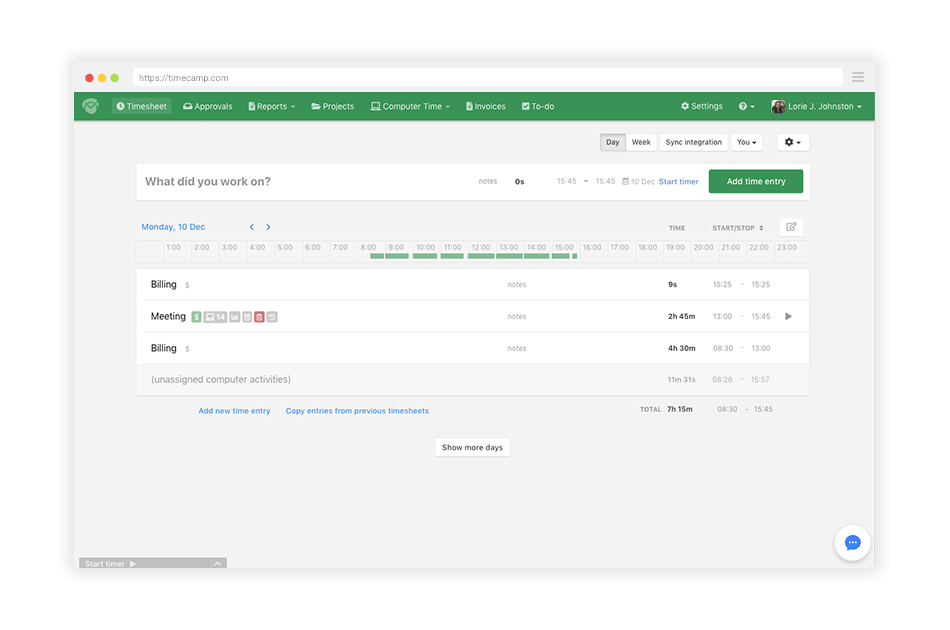 In the next descriptions you can find links to pages, where we compared TimeCamp with other time tracking software. If they convince you that it is worth to give us a try, sign up, it is free!
BigTime is a comprehensive management suite that you can use to track both billable and non-billable hours; manage projects & tasks; track expenses and project costs; create time and material or fixed-fee invoices and much more. It is designed for growing professional services firms – from marketing and advertising agencies to construction companies and accounting firms (to name just a few.)
BigTime provides its users with a cloud-based platform that has a very intuitive and navigable interface. It can be tailored to easily integrate with any workflow – from invoicing to complex management of documents. The features it offers simplify the workflow management in any company which makes it a great choice for many professional services providers and companies that have troubles with their billing and invoicing requirements.
See the comparison between BigTime and TimeCamp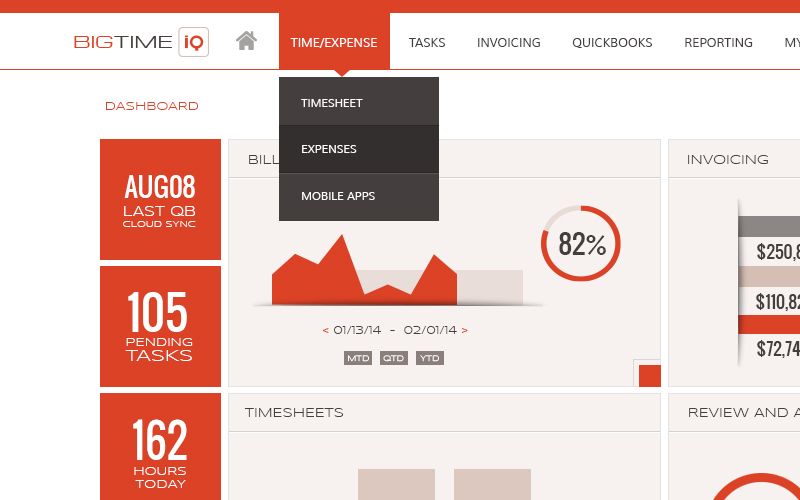 BillQuick is a cloud-based solution that offers time and expense tracking, project management, as well as billing and accounting. It is designed mostly for small to medium-sized businesses but can be used with similar effectiveness by the big ones. It is used by service professionals, IT firms, accounting companies, construction and architecture firms, and legal offices among others.
This software comes with an intuitive, user-friendly tools that help its users with accounting and billing. Some of the features are:
a collection center
 over 100 standard and customizable invoice templates
ability to write checks
ability to attach documents and images to records
quick access to calendars and timesheets
ability to send customizable invoices in PDF, Excel or Word
BillQuick shines when it comes to accounting – the centralized collection center it provides displays all the critical information (such as payment history, customer details, account notes, etc.) to a user. It will help you improve your project management and bolster the cash flow by expediting the billing process.
See the comparison between BillQuick and TimeCamp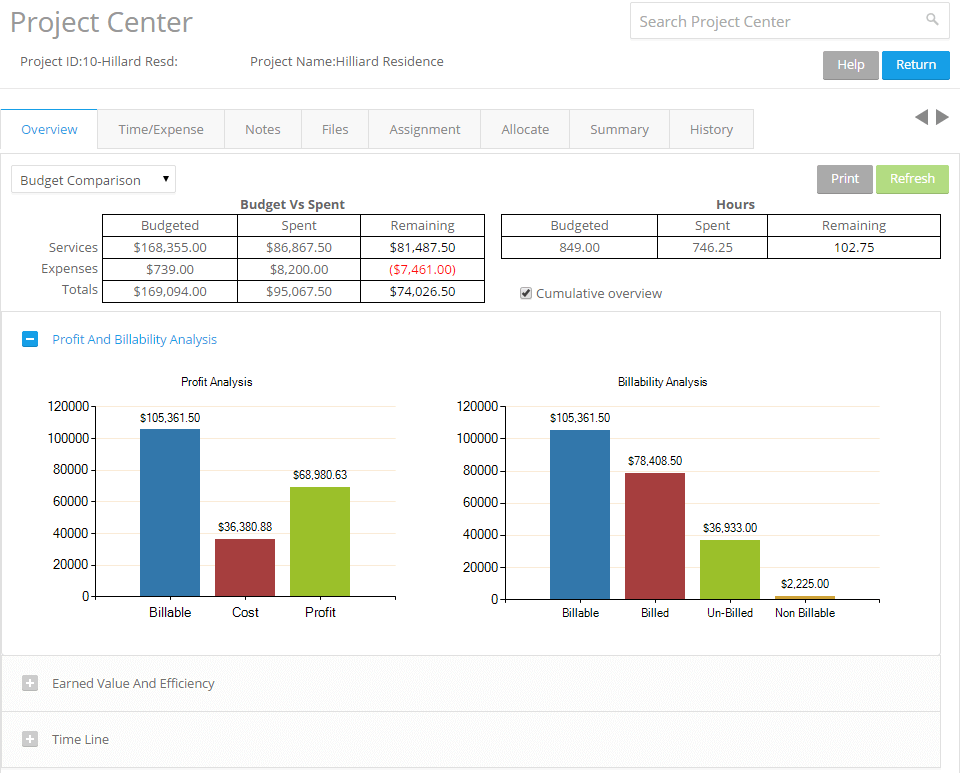 Clevork is a visual time tracking tool that helps employers gain a clear and detailed overview of the activities of their employees. This software has an option to automatically record geolocation data with each timesheet entry.
The proper use of Clevork will not only support your team in increasing their revenue without working additional hours. It will also accelerate the workflow in the company by optimizing internal processes, generating timesheets, and increasing effectivity.
See the comparison between Clevork and TimeCamp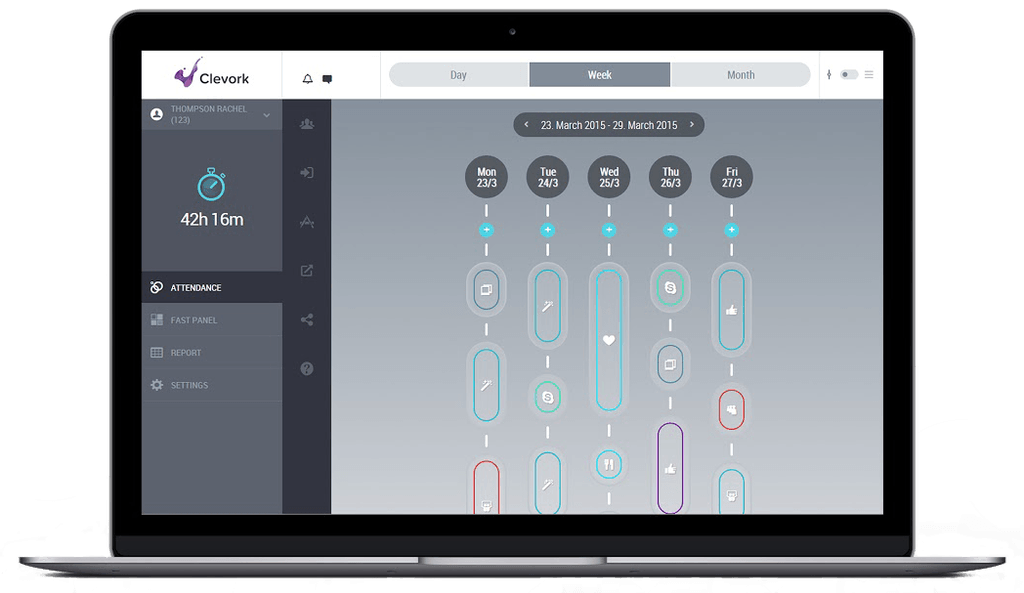 Emplotime is a web-based attendance tracking system that tracks employee arrivals and departures. It can be used on any device – PC's, tablets, mobile phones. Here are some of the features it provides:
Buddy punch lockout to avoid time theft
Geolocation to know the position of your employees
Notes that allow employee to make a short job description
Export reports to all main formats such as PDF, Word, Excel
Daily and weekly overtime that provides detailed reports
Break deduction that automatically deducts a break after a given amount of working hours
If you own a small business, this may be a software just for your needs.
See the comparison between Emplotime and TimeCamp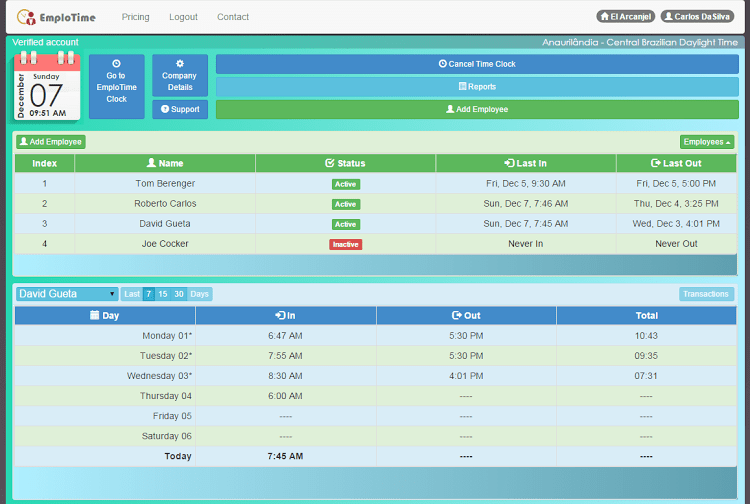 ExakTime is a cloud-based software that works as a mobile time and attendance tracking system. Its producers have more than 15 years of experience in mobile time tracking. The tool offers wireless clocks, Android and iOS friendly apps, job activities, and employee GPS tracker. You can use it to receive reports, approve timecards and transfer data easily to your accounting program.
You can use ExakTime to eliminate issues as they arise, reduce the labor costs, and improve productivity in your company. You are also able to access the data you need anytime and from anywhere. As a manager, you can make edits on the go or download over 20 reports to stay informed and compliant.
See the comparison between ExakTime and TimeCamp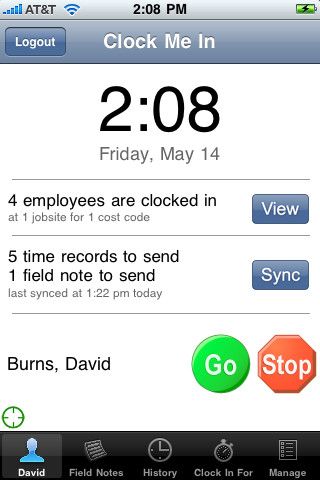 Freelancy is a time tracking and project management application that you can use to track your working time, money that you earn, create invoices for your clients, and generate detailed reports.
Among its features are:
Simple but powerful task-based time tracker that allows you to log your time in any moment and continue existing tasks where you finished them with just one click.
Collaboration tools that let you send invites to people you want to work with and share tasks and reports with them.
Tools to search and organize your tasks and projects.
Ability to export your history as CSV to build custom graphs using third-party spreadsheet software
Simple invoicing that give you the possibility to generate custom invoices based on your history or manually create new invoices from scratch.
See the comparison between Freelancy and TimeCamp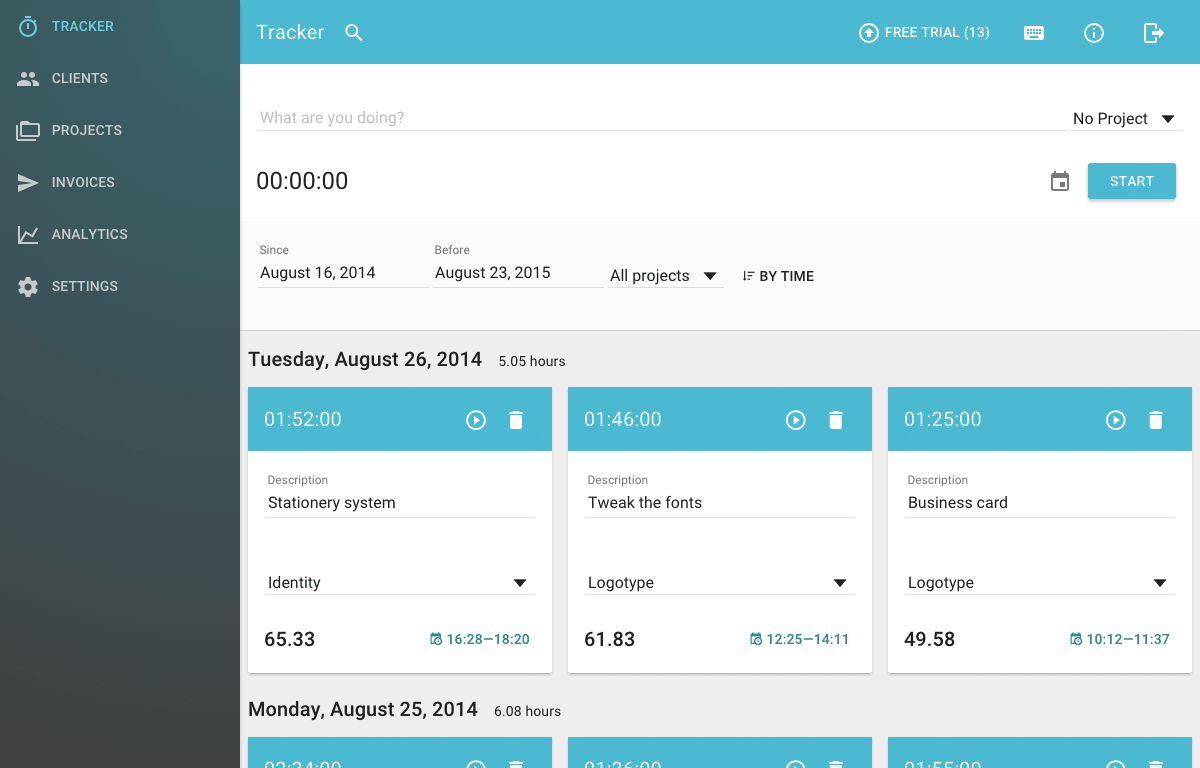 Journyx as a company has provided innovative web-based time and expense tracking solutions since 1996. Their software which has the same name is a time and expense tracking software that offers a number of solutions facilitating everyday workflow. It can be integrated with nearly any other accounting, payroll, project and human resource system. For example – QuickBooks, Microsoft Excel, Microsoft Project, NAV, SAP, and more!
You can use this software to automate cost accounting, measure work profitability, bill customers, and easily pay your employees. It streamlines  the collection and processing of timesheets – reducing payroll time, growing client billings, and increasing project profitability.
See the comparison between Journyx and TimeCamp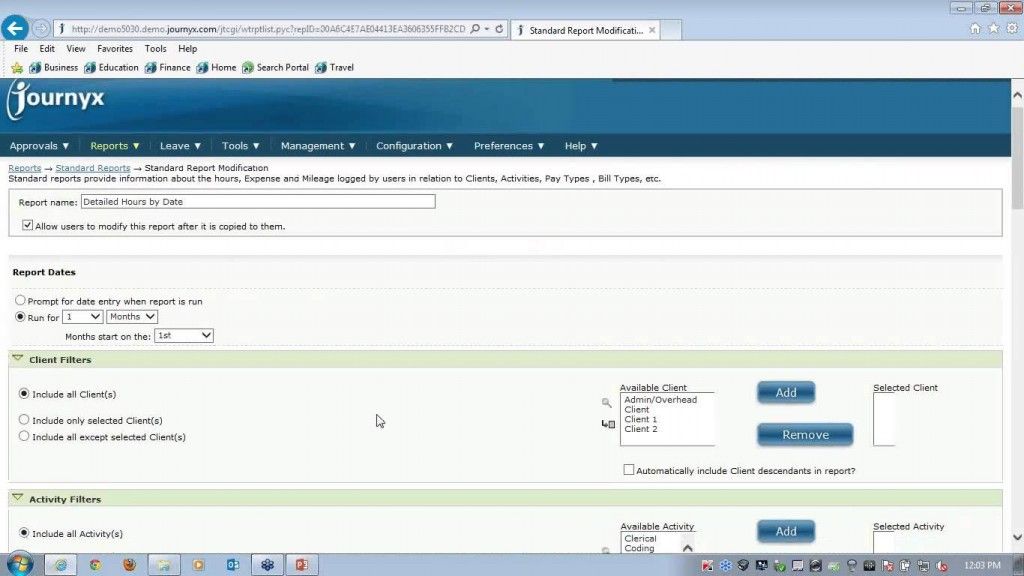 Web-based, open source time tracker. Popular among Linux users thanks to its accessibility via a website. This tool is free-of-charge which is a huge asset. It tracks work time and gives you the detailed summary of your activities on demand – yearly, monthly, daily, by customer, project or action, as you wish.
You can install it as a web service or a single-user program on your workstation. It will track your time even if you close the browser – you have to stop the tracking manually. It has been translated into almost 20 different languages, including English, German, Spanish, French, or Portuguese.
See the comparison between Kimai and TimeCamp
LogMyHours is a simple time tracking, invoicing and employee management tool. You can use this software to manage your team better – assign team members to projects and set their billable hours and budgets.
LogMyHours allows you to create timesheets in seconds, track time manually or use timers, track expenses and make an employee's database among others. It comes with a clear and intuitive interface to help you find the most important tasks in a blink of an eye.
See the comparison between LogMyHours and TimeCamp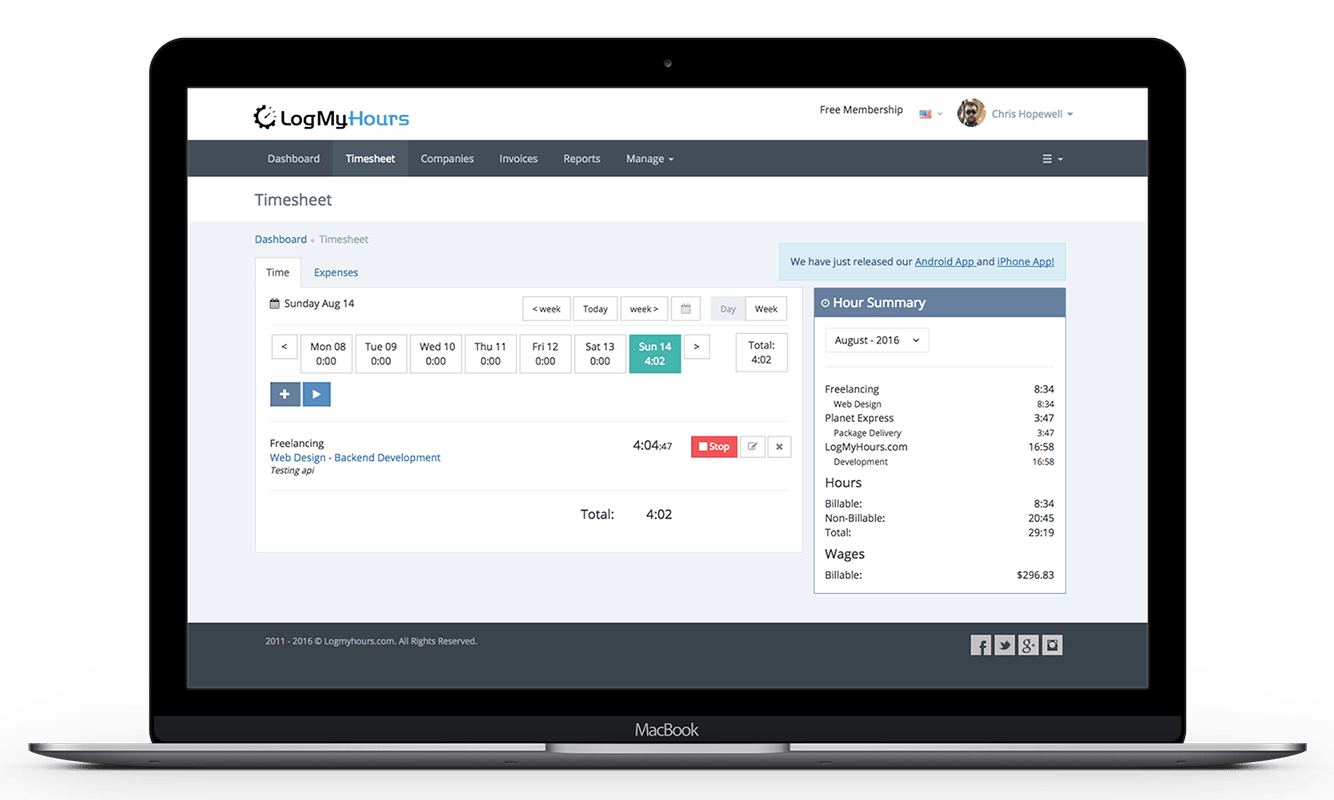 MinuteDock is a web-based time tracking application with an innovative entry interface that allows you to make efficient timesheet entries for your team.  It is especially popular among small businesses but can be used by the bigger ones with similar effectiveness.
This software saves you hours of tracking and logging tasks and provides in-depth reporting features – showing both you and your clients exactly what you have worked on. You can set work objectives that will update automatically as you log. MinuteDock also offers integration with QuickBooks and Xero for easy invoicing.
See the comparison between MinuteDock and TimeCamp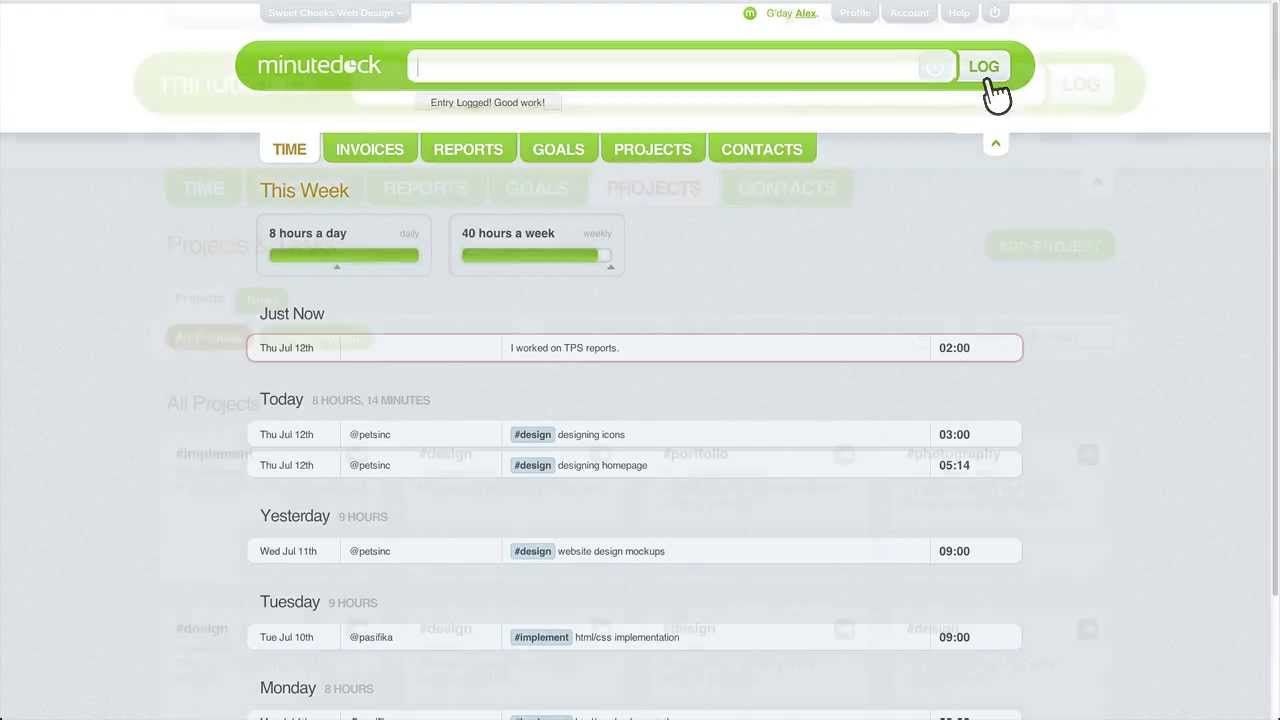 OfficeTime is a software that will help you to automate time tracking process which makes employee time tracking, employee task management, and project progress a whole lot easier. You can use it to plan out projects with a clear timeframe and ensure that your employees stay focused.
OfficeTime lets you assign tasks with a fixed timeline to individual employees . It will provide you with a visual representation of their productivity – the timesheets must be updated in real time and submitted for approval at the end of the time assigned for a project. This software will be helpful in assessing the productivity of employees and profitability of the project.
See the comparison between OfficeTime and TimeCamp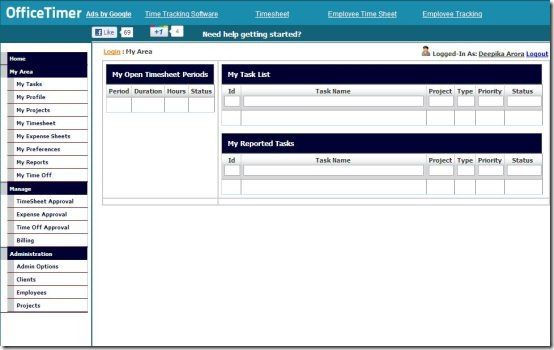 Punchtime is a software for teams looking to solve problems with timekeeping and achieve better workflow. It comes with a number of features that facilitate one's work. Some of them are:
Secure time & location data that gives everyone the confidence that tracked hours are accurate and fair.
Shared location awareness that reduces redundant communication and is indispensable when health and safety are involved
The project view that lets you see a breakdown of the total time by employee and by task
Task manager that allows you to create and track the tasks relevant to your operations
See the comparison between Punchtime and TimeCamp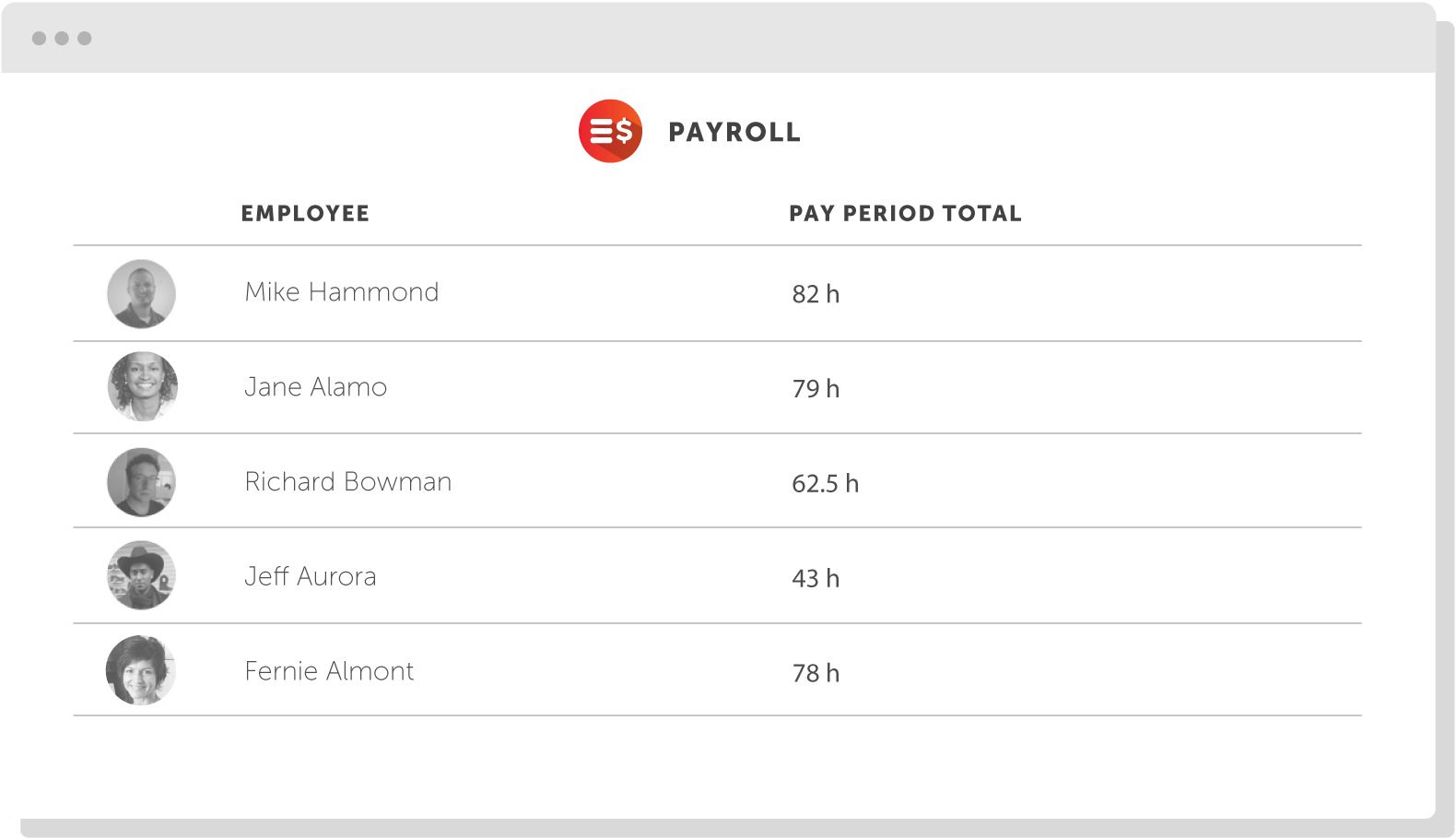 Timble is a simple time tracking application created to support project managers and developers. It was designed and developed specifically for IT users; can be used on both desktop and mobile devices and integrated with the leading project management solutions, eg. JIRA or Trello.
This cloud-based software minimizes distractions and optimizes the time tracking and reporting process. You can use it to centralize all tasks and projects and place them in a unified location. Timble provides users with editing and commenting capabilities, facilitating team collaboration. It also delivers information on tasks and projects in real time and via a very visually comprehensible format. All to boost the productivity of the team.
See the comparison between Timble and TimeCamp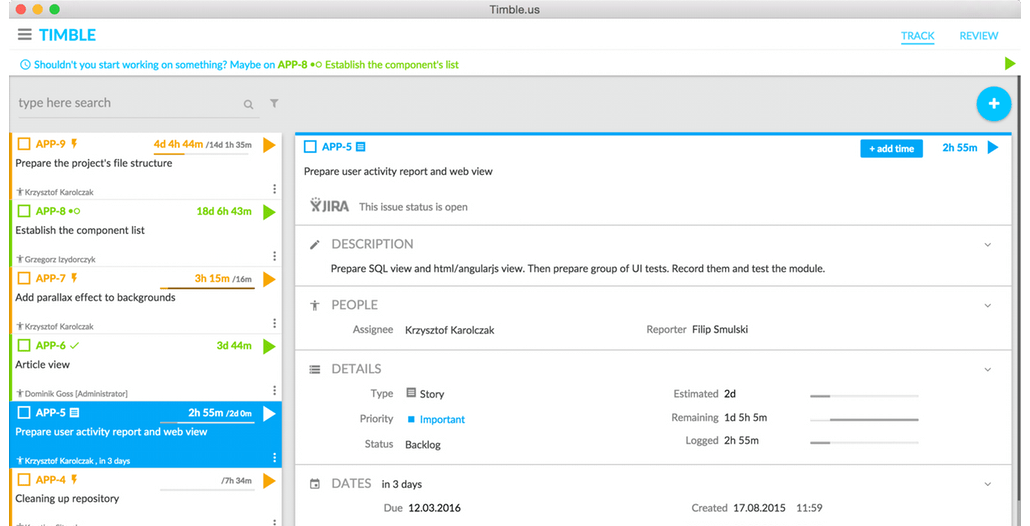 TimeApp is an online platform aimed at everyone who's in need of tracking time and expenses in relation to clients and projects. It's the perfect tool for lawyers, consultants, craftsmen and much more.  It provides tools that help you manage unlimited clients and projects, easily specify and track all possible types of work you do for your clients, and even  import hundreds of thousands of articles to your TimeApp article database.
You can use TimeApp to track your expenses both from stationary computers and mobile devices – it is constantly available via the web. Instead of dealing with time-consuming procedures of monitoring our working time, we can use TimeApp to do it for us and spend more time on our core business.
See the comparison between TimeApp and TimeCamp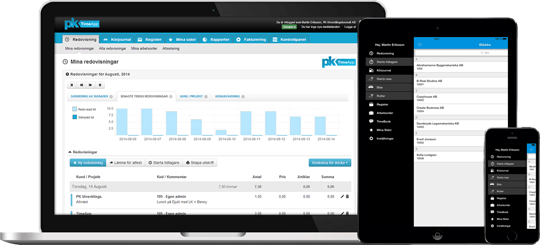 Timr is a simple and comprehensive time tracking tool that was designed to adapt to one's needs. You can use it via the website or as an application. It will track your tasks and projects with ease from any place and at any moment in real time. The web application is a centralized tool for management and administration.
You can use Timr to define what is being tracked, so you do not have to worry about the attendance and absences to be recorded – like computer time off, vacation or sick leave. Timr allows you to define the task structure appropriate for your company and optimally track your project times thanks to that. You can bill the project right away once it ends.
See the comparison between Timr and TimeCamp