Best Expense Tracking Software!
April 7, 2017
by Jakub Szyszka
4 comments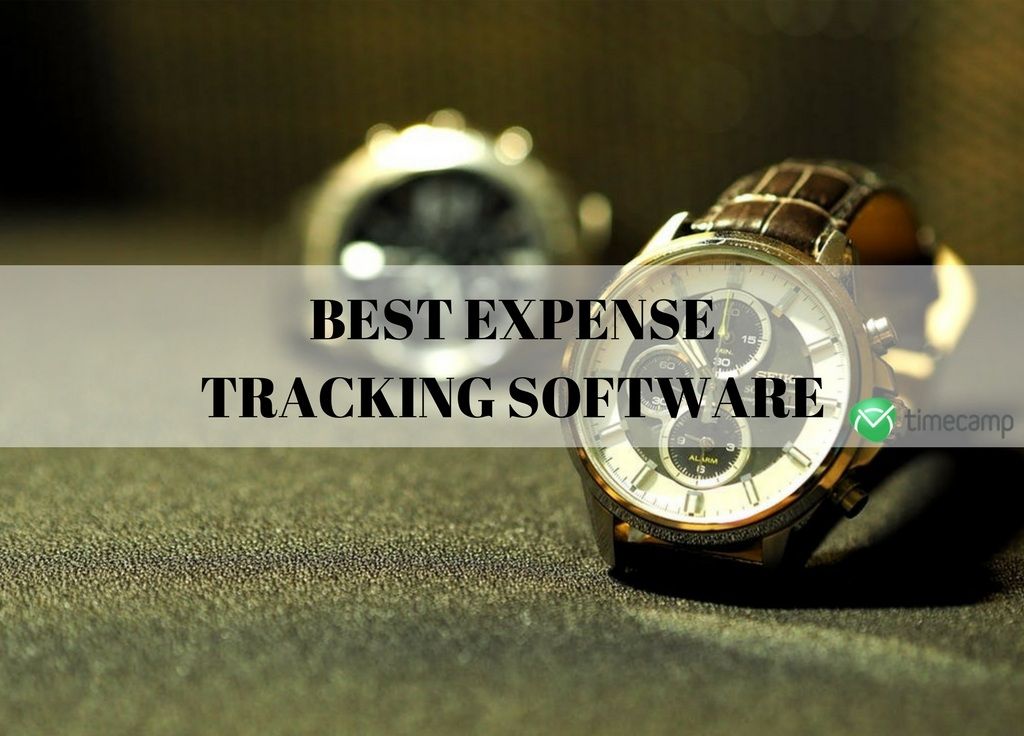 The success of every business depends on a well-prepared project. However, it is not only the idea in its core which needs to be taken a good care of. There are also various financial conditions, revenue, and expenditure, which often decide whether one's business is going to be a thriving one, or not. The best method to control finances is billing software. You may hire an accountant, of course, but this measure is costly, while software can do the same work at the lower price. Below, we are presenting five examples of the expense tracking software, which you may find useful:
This tool, dedicated particularly to teams, is one of the best time tracking software available on the market. However, it is only a solid expense tracking software.  This business management solution has a lot to offer and consists of what is considered to be the heart of every company, namely, manual as well as automatic timesheets. In addition, TimeCamp includes automatic task detection capabilities and time diaries. All the mentioned features of the program shall improve the effectiveness of your business!
Some of TimeCamp's top facets:
Comes with a wide range of platforms. The tool is available for Desktop (Windows, Mac, and Linux), and has native mobile apps available for iOS and Android to help users track their time regardless of location.
Automatically records time usage of each application running on your computer.
Monitors the time devoted to individual documents.
Easy budgeting – budgeting function lets you estimate how much time the implementation of individual projects will take, and thus effectively plan the use of human resources and make a valuation of future similar projects.
Integration with popular project management software such as Trello, Basecamp, Podio, Pivotal Tracker, Wunderlist, Jira.
Measures the working time by particular categories.
Records the time spent away from a computer – detects when user ceased to be active and for how long it lasted.
Automatic time tracking based on keywords which allows you to switch between tasks without any effort.
Accurately bill your customers.
Turn time entries into invoices basing on estimated hourly rates.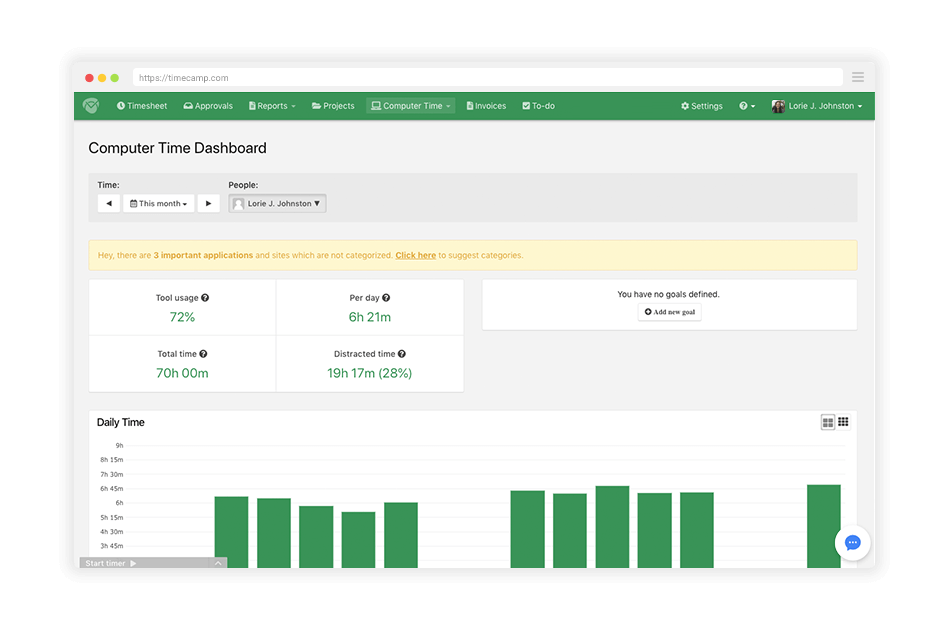 If you prefer to track your time through mobile phones, we have an app that is tailored to your needs! The newest version of TimeCamp's app for iPhones and Android phones offer an intuitive interface with a lot of great features, like:
Tap to start or stop tracking time from every place on earth
Alternatively create time entries manually
Generate reports of your time
Browse your projects and tasks
Log your time offline
Easily make notes on every time entry you are working on
 Edit time entries with just a few clicks
 Mark time entry as billable or non-billable
 Browse and edit your historical data or plan your future
You can find and download it from

Google Play and  iTunes
Looking for the best price time tracking? Check out TimeCamp!
This business management tool's main aim is the cloud-based spending tracking. It is used for taking control of expenditure which is reimbursable and related to one's project. It helps to effortlessly collect, review, and approve expenses. Use it to attendance tracking and time-off data to process payroll and accurately ensure labor compliance for all types of employees. With the outlay collated in one place, the control of cash outflow does not cause any problems. This, in turn, lets organizations optimize expenses, repay employees for the work done, bill clients, and control project costs.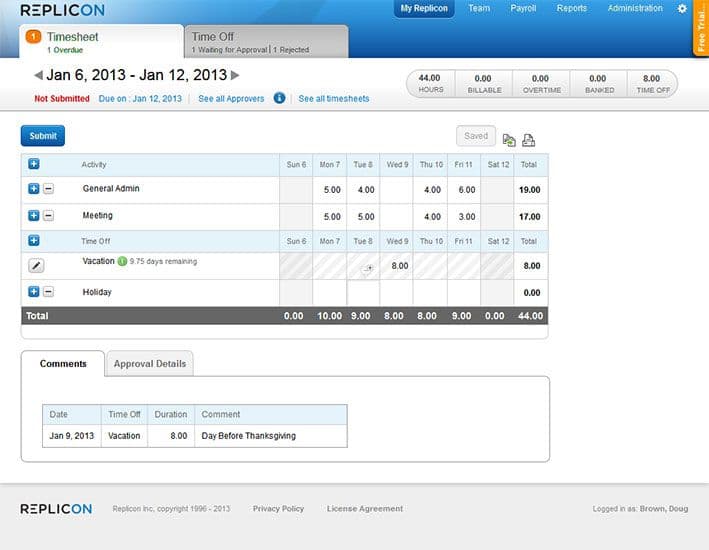 If one is to run their IT business successfully and does not want to pay more than it is necessary, this tool provides them with all that they need. The functions are plentiful in this business management solution, highly ranked on the market, which makes the tool desirable by customers. CRM, Billing, Time & Expense Tracking, Finance, Inventory Management, Project Management, Service Desk and more − Kaseya BMS backs all those IT business back-end requirements.
The aim of this time tracking software is to take full control of time spent on projects and expenses. The business management solution has integrated apps for browser extensions, computer desktops, and phones. Tick helps one to export their time entries to Freshbooks or Quickbooks for simple invoicing. Moreover, it integrates project management software such as Trello and Asana to bring time tracking and the financial plan feedback into one's project management workflow.
Some of the features it provides are real-time budget tracking, manual time entries, timers, or report monitoring and exporting. After a user selects a project or a task, he or she just needs to press the button to start the time tracker. Also, time can be entered from any device (including all mobile devices), so the projects' deadline and budget are under control.
See the comparison between Tick & Timecamp
Time tracking software that lets you track time from any device – laptop, iPhone, iPad, Android, Windows Phone, or Outlook. Whenever an internet connection is, you can use eBillity. Its time tracker can be integrated with QuickBooks, Xero, MYOB, Reckon, Gusto and Concur, which means that you do not have to fill manually the information needed for billing, expenses, and payroll.
Employees submit their time to an administrator for approval. Then, admins (managers or bookkeepers) can approve or edit the entries. If they approve, it is sync to QuickBooks or Xero. The reports display user and customer time activity, showing you what your employees are doing with their working time and which customers are earning you the most money.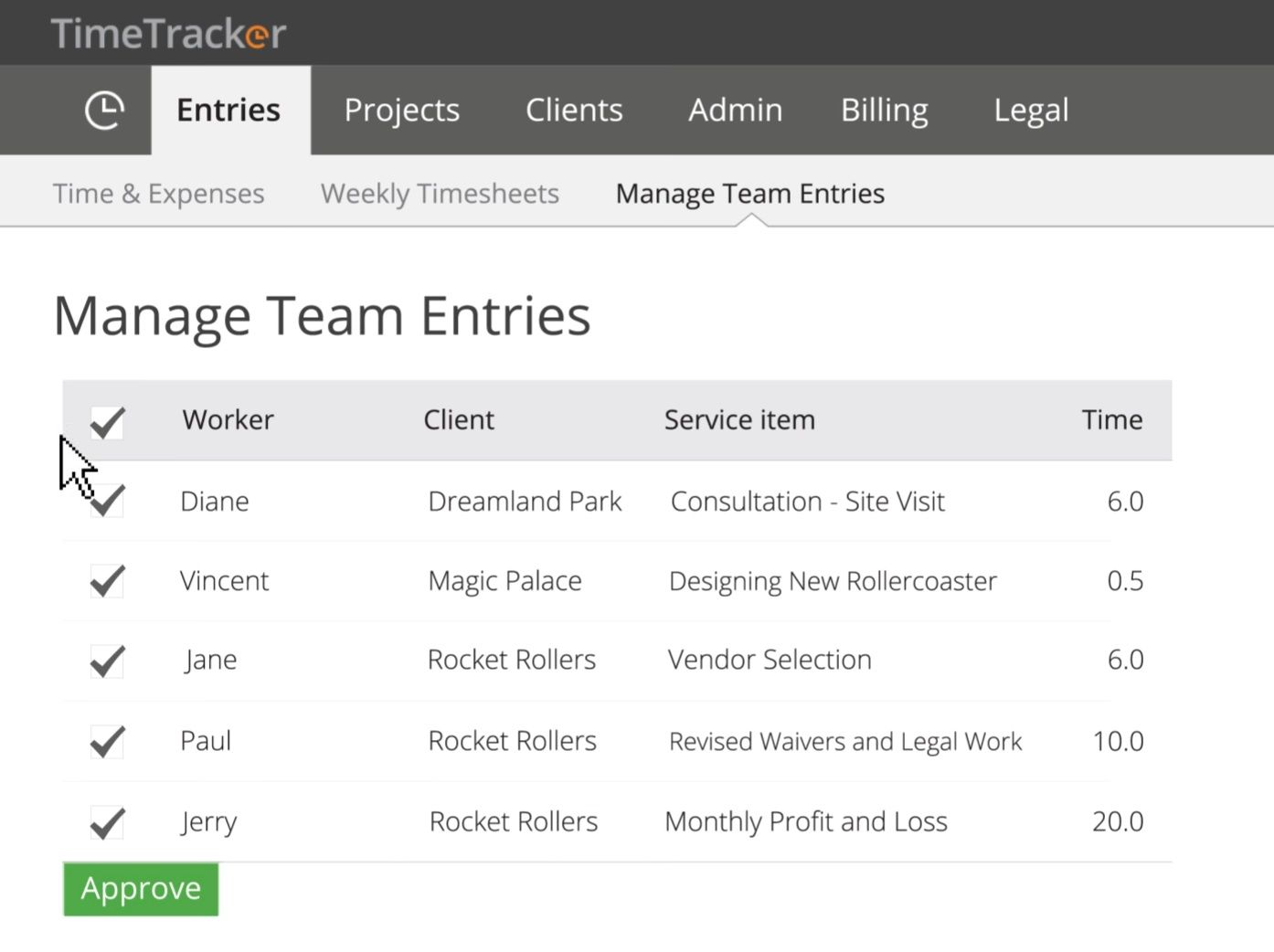 SUMMING UP
The success is not something that comes out of itself. Certain measures need to be taken to make one's business a profitable one. Among others, finances have to be taken care of. Luckily, technology comes to one's aid with expense tracking software, the best five examples of which have been presented above.