Top 10 Time Tracking Software for Engineers
March 30, 2018
by Kate Borucka
5 comments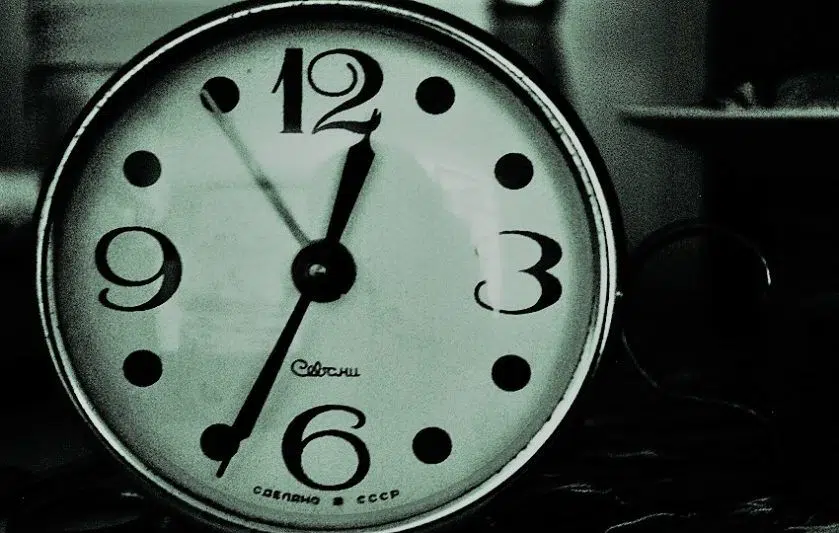 Time Tracking for Engineers
Engineers constitute a large part of every company. Very often, they are responsible for the most important processes, both inside and outside the business. Thus, their work is particularly important.
They are sort of a driving force, especially that many companies use advanced technological tools. Some even create them. One of such tools is a time logging system which is widely used in small, big companies and even in startups.
Yet engineers are often reluctant to use time tracking software saying that "the project will be done when it's done." Some people simply don't like to overcomplicate things. However, the use of proper time tracking software for engineers can significantly reduce the amount of time they spend on work.
What is more, engineers are people who generally work with technical things. And making them enter the exact number of hours spent on work can be difficult. But we all know that it is much more efficient when priorities are established and work is planned.
Engineers' work doesn't have to do too much with scheduling but only delivering the project. But if you don't engage them in the scheduling process, there may appear problems in the project. That's why many managers decided to implement time tracking software for engineers.
👉Read more information about time tracking software for consultants
But choosing the right tool may not be easy. Not all apps have features that favor engineers' work or it may not even be easy to adjust them to their needs. That's why today we present the list of top 10 time tracking software for engineers:
One of the challenges of working with engineers is convincing them to use time tracking software so that you can have all information about their work in one place.
With TimeCamp, time tracking of your team is simpler than you think. There are many great features which significantly enhance work of engineers and make it much more dynamic:
The desktop app runs in the background and gathers all information on work; you don't have to do anything besides turning it on when start working.
Reports give you insight into how much time you spend on particular tasks or projects – this helps in estimating the future time of work. You can also see which of your activities are productive and non-productive and eliminate those which are distractions.
Dividing projects into smaller tasks.
Integrations – if you or your team use different apps and want to integrate it with time tracking software, TimeCamp offers a long list of integrations.
Switching between tasks without an effort, based on the keywords, along with automatic time tracking.
Wide range of platforms the tool is available for Desktop (Windows, Mac, and Linux).
Control time in your company with TimeCamp for free!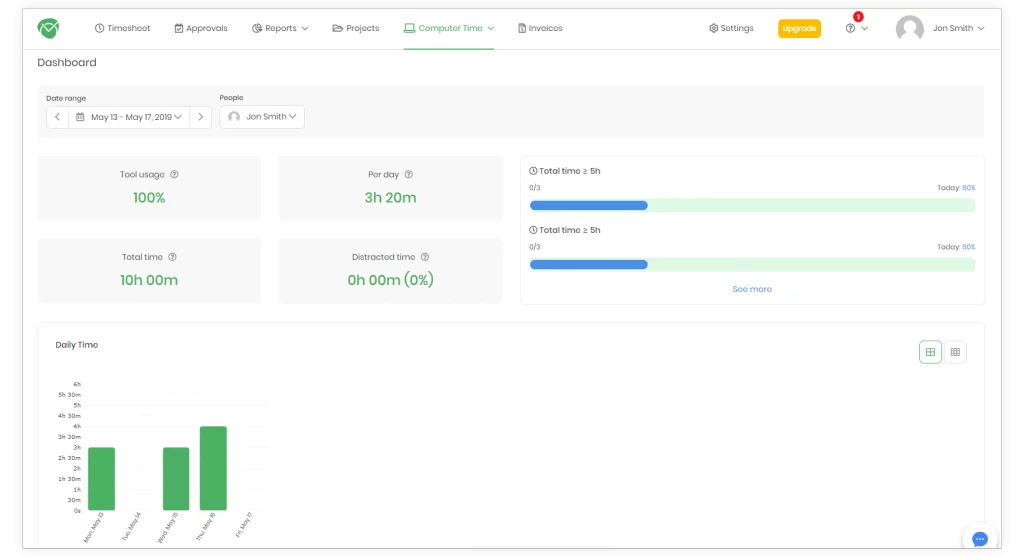 ClickTime is a time tracking software made precisely for engineers. "ClickTime enables engineering organizations to maximize profitability and better manage employee resources." First of all, this tool helps in tracking time and expenses on a computer or mobile device. Your engineers don't have to spend hours on filling timesheets with information on budget, work hours, costs, etc. because ClickTime takes care of it. With access to all this data your engineers can focus on their work and you can analyze reports and statistics to make better decisions in termsof hiring new workforce or budget allocation.
ClickTime also works great solely for IT departments. It helps in optimizing expenses, boosting profits but also improve communication between you, engineers, and stakeholders. This time tracking software for engineers allows you and your team to understand each other's work and cooperate more efficiently.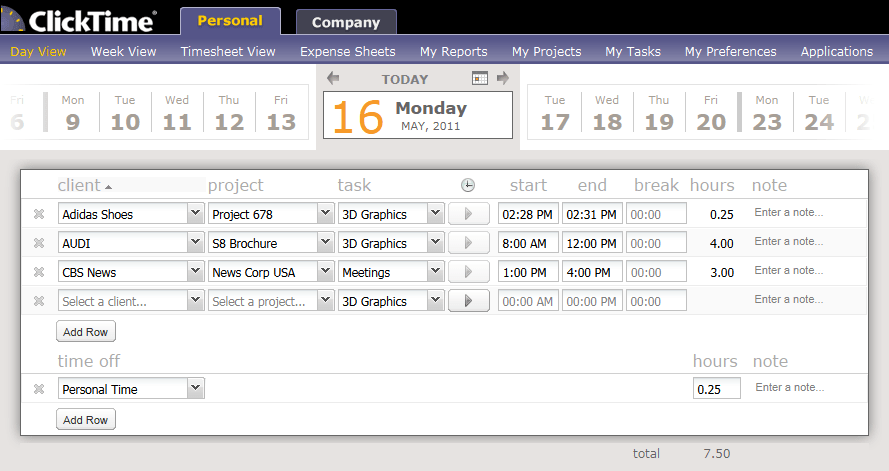 See the comparison between ClickTime & TimeCamp
This cloud-based software is a good tool for improving communication between your team and stakeholders and to understand their needs. It gives a detailed analysis on ongoing projects and provides information on all aspects of the project such as sued and forecasted budget, expenses, project's stage, deadlines. Accelo can improve work of any engineer who struggles with delivering detailed data to a manager.
The tool was tailored to businesses offering professional services. It is completely automatic so it doesn't really take any time to use it. It also integrates with most of the popular tools.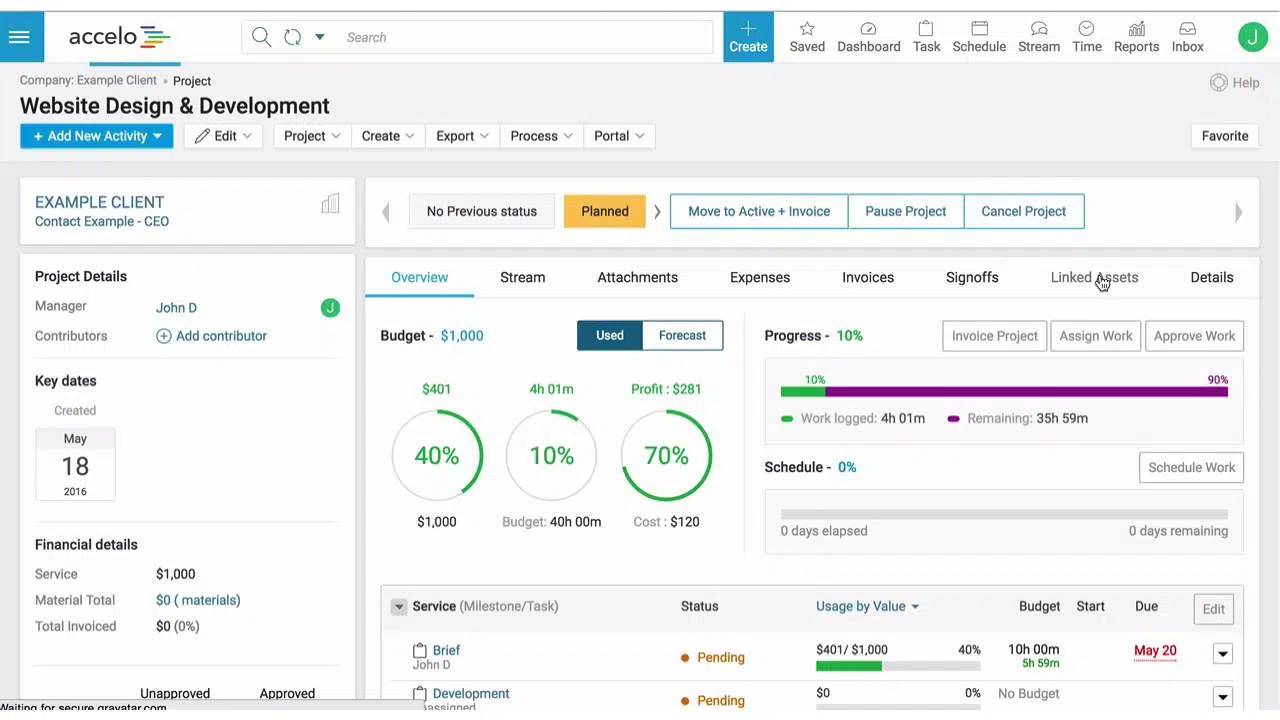 BigTime is another time tracking software for engineers which was designed particularly for this group of employees. This software, BigTime IQ, may be useful for those engineers working in the IT sector. It offers over 30 timesheet formats and a wide number of system-transformations to adjust them to person's needs. BigTime can easily integrate all the data on time, expense or a task. The software enables to monitor progress from any place, either if it's an office or home.
A really useful feature is the access to the documents which show ongoing projects along with the changing data. All in the real-time. It can serve as a good source of knowledge on such projects but may also be shown to a client who is interested in the project's progress.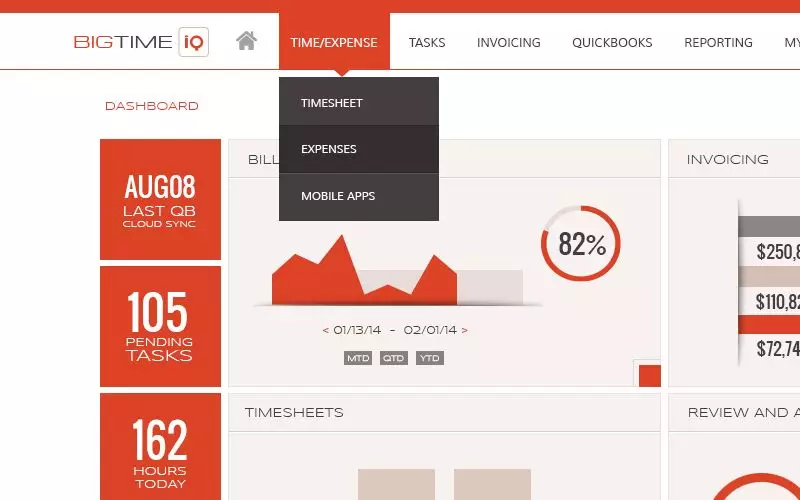 See the comparison between BigTime & TimeCamp
Timewatch is a perfect solution for people who like things to be easy and simple. This time tracking software for engineers doesn't have extended features yet it provides all the necessary options. It tracks time on every app and is very convenient. However, don't be misguided by its simplicity. It has a friendly dashboard and extensive reports on the activity. It's important to mention that it works great with Outlook, Excel, Word, or PDF.
Of course, if you want more features, you can upgrade to a Pro or Enterprise version.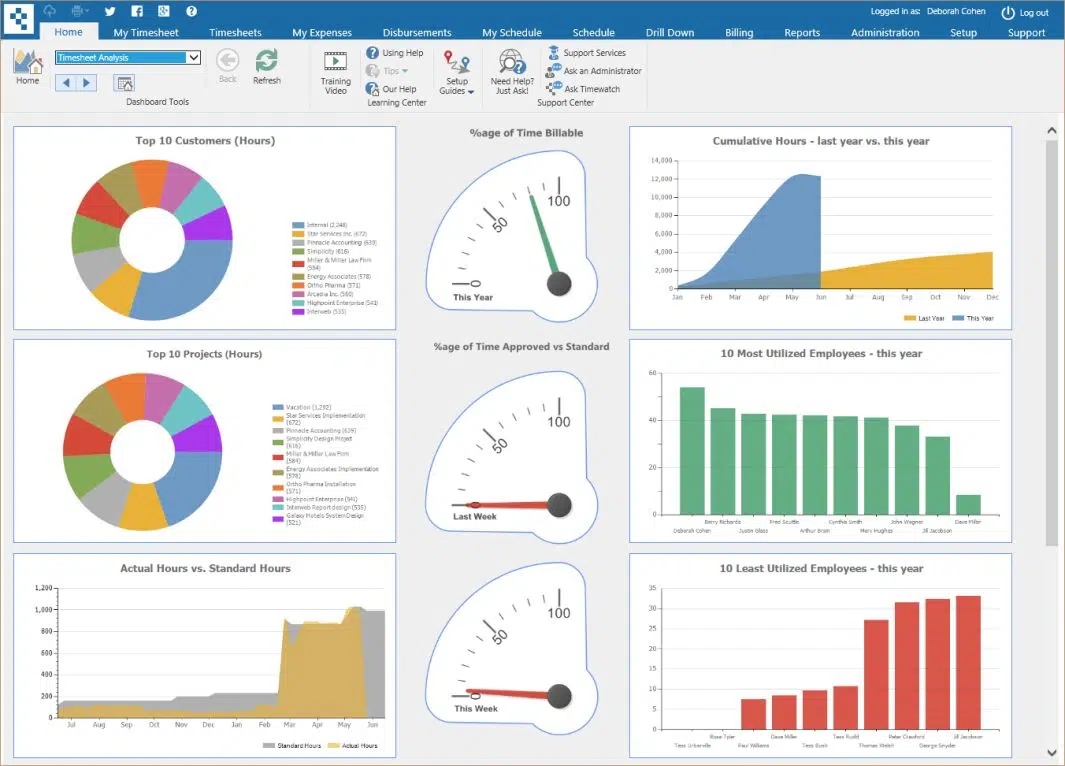 Timely works great if you and your team of engineers have problems with scheduling. The tool is simple yet beautifully designed. It keeps track of all activities which are displayed with time and budget accuracy. Above all, it helps in planning projects ahead and keeping a hand on the budget. You can also import all your dates from e-mail or a calendar to never lose track of what's happening.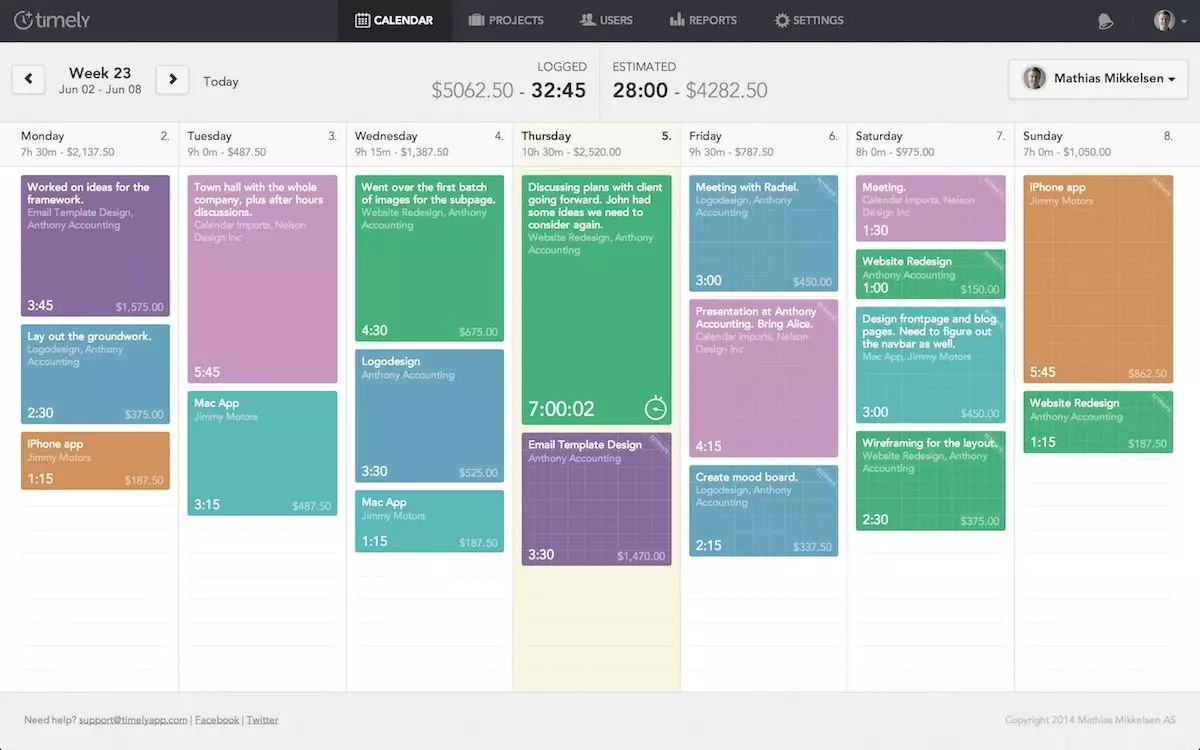 See the comparison between Timely & TimeCamp
Harvest is one of the most popular time tracking software. And it works great also for engineers. "Harvest makes it easy to track time and expenses, so you get access to critical data without driving yourself (or your team) crazy." And it couldn't be explained easier. With Harvest, you keep track of your team's work and you get informative reports on its work. You can also create invoices, pay your employees, and forecast future expenses.
But above all, Harvest integrates with many tools which improve work and make it smooth so you don't have to switch between different apps but work on just one.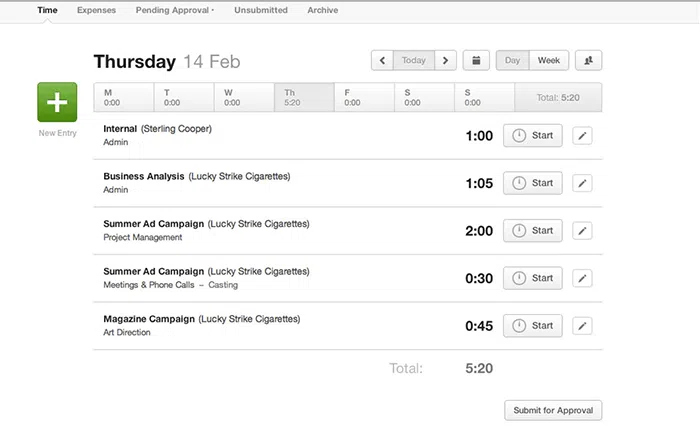 See the comparison between Harvest & TimeCamp
This tool is used by many industries including engineering. BQE core offers over 200 customizable report templates so you can create invoice types, for example, percent complete, hourly, joint, retainer, recurring or fixed. Based on the dashboard, you make any change with an unlimited access to it. You can monitor employee's projects and expenses. The software integrates with Quickbooks and other accounting tools which makes budget management even easier.
👉 Read how to track business expenses.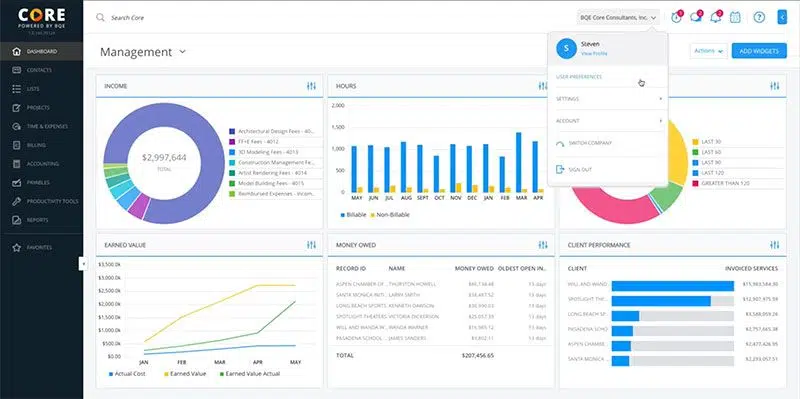 This tool is good for beginners of time tracking or those who like simple solutions. However, tracking time in the free version is available for teams with up to 3 people. And it has super basic features (time tracking, integrations, limited tasks and projects' number) which actually makes the tool good for nondemanding engineers.
It's a good solution for freelancers or remote workers who want to use time tracking software for engineers for their own purposes or to test it.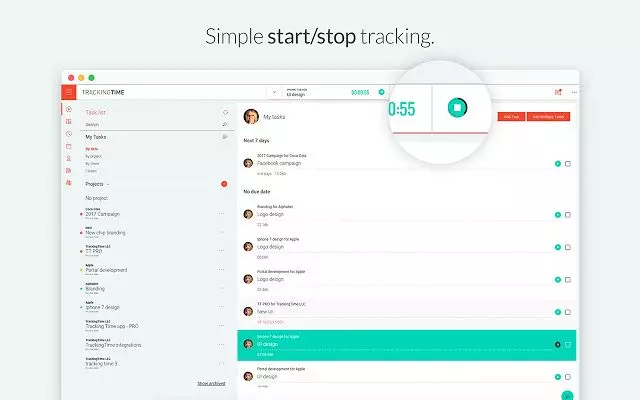 Toggl is another great time tracking software for engineers. It gives detailed information on work which later helps to analyze it in terms of efficiency and profit. With the desktop app you can add tasks and entries and switch between them. You can export reports to Excel, CSV, or PDF formats to share with your clients.
Toggl is perfect for teams because it allows to add people to one project and assign different tasks to them. This software is pretty simple, has a user-friendly interface and is not too complicated so you don't need instruction on how to move around it.