More and more brands are taking advantage of the wide range of services offered by the Internet marketing. The popularity of inbound marketing means that creative and advertising agencies acquire new customers. To improve task implementation, marketers are increasingly using marketing automation tools.
Marketing Automation – What It Is?
The term itself is closely connected with the existence of applications that automate all processes related to business operations in the IT industry. Many of them, such as development or testing repeated regularly, are tedious, and their automation makes them less onerous. In addition, it is a matter of saving time and reducing expenditure, as well as a better allocation of human resources. Everything is done virtually, in the cloud ─ IT automation means the end of wasting time on unproductive meetings and sending the endless series of emails.
Why Should I Start Using Marketing Automation Software?
its use saves time and costs because we don't waste them on the activities that your computer can do for you; ,

the risk of human error is reduced; 

workflow automation – these tools improve human resources management and collaboration;

they are versatile – one tool or a combination of two tools includes functions that are useful for many activities;

using them, we can perform many similar processes at once – e. g. share posts on Facebook, Twitter, and Instagram at once;

they are easy to use – in order to use automation software, it is sufficient to have a simple knowledge of the use of online software (even for people who are not tech-savvy).
How Can Marketing Automation Software And Automation Solutions Help My Agency?
With the use of automation solutions, your agency will save a lot of time, which has so far been wasted on laborious, repetitive tasks. In addition, studies show that the use of marketing automation software increases the company's revenue by more than 10% within 6-9 months. Isn't the prospect of additional money and time savings tempting?
You can integrate your TimeCamp with many other business process automation programs both directly and via Zapier. Below you will find the most important processes and tool combinations for each marketing agency, which will help your company to streamline workflow and, thus generate more and better leads.
Marketing Automation
Do you want to know how much time your employees spend on a variety of tasks? Are you tired of a constant looking at the watch and other such manual solutions? TimeCamp just is for you!
Monitor the time and use of your computer and draw conclusions from detailed performance and productivity reports. TimeCamp can be integrated with all of the following tools to provide your company with the highest quality workflow automation!

Sign up for your free TimeCamp trial and automate time tracking in your creative agency!
Do you feel that the tools and their combinations that you use in your agency are not enough to help you finish your projects on time? Use Zapier! This business process automation software allows you to build Zaps that enable one to automate the most important processes for their business or to use applications already available in the Zapier's library. Integrate Zapier with TimeCamp and find out how long it takes for you to workflow automation!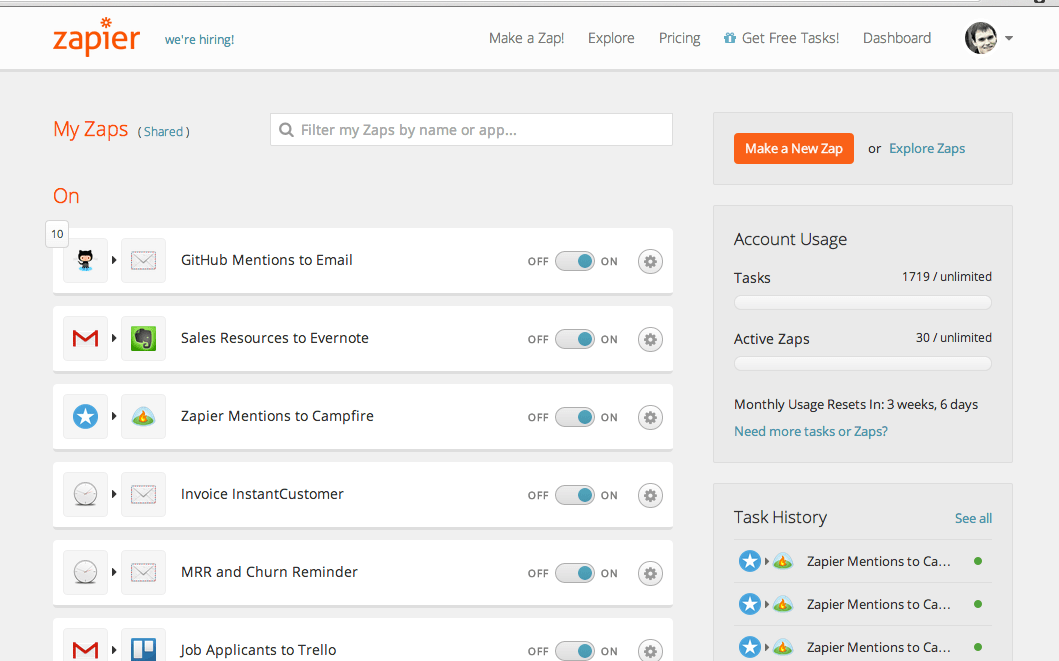 Direct TimeCamp and Zapier Integration
If you often run mail or text message campaigns, E-goi's integration with TimeCamp is a good choice! Find out how much time it takes your employees to create campaigns from scratch, send and track leads.
TimeCamp + E-goi Integration with Zapier 
Have your start-up problems with overwhelming the content? Give them intuitive content management software! Create, manage and publish high-quality content in a simple web application, work on multiple projects simultaneously and store all your files and conversations in one place. And if you want to know how much time it takes to work on your content, integrate Contentful with TimeCamp and be sure that your customers are billed correctly and on time!
TimeCamp and Contentful Integration with Zapier
Efficient customer relationship management is much simpler if you use the most robust tools. Pipedrive is a sales automation software that streamlines pipeline management. It combines all the sales details of your products: e-mails, sales forecasts, and reports. Integrate the Pipedrive with TimeCamp and find out how much time your team spends on efficient sales!
TimeCamp and Pipedrive Integration with Zapier
Social Media Tools
Managing social media content is much easier with Buffer. This application allows you to control all social networking accounts in one place, plan posts on these platforms and track their performance. With TimeCamp' integration, you will learn how much time your team spends on preparing campaigns in social media.
Buffer and TimeCamp Integration via Zapier
Twitter, Tumblr, Pinterest and Instagram
Would you like to know how much time your social media specialists spend on social media? Integrate a given social network with TimeCamp! You will receive detailed reports on their activities and, thus, assess the effectiveness of their tasks.
Twitter + TimeCamp Integration with Zapier
Facebook + TimeCamp Integration with  Zapier
Pinterest + TimeCamp Integration with Zapier
Instagram + TimeCamp Integration with Zapier
Project Management
Asana
If you are looking for both useful and good looking project management software for your team, Asana is a tool for you. With this application, you can control the chaos in projects, assign tasks to a specific person and track progress. No matter how big your team is, Asana will fully meet your expectations ─ especially when you integrate it with TimeCamp and start monitoring your employees' productivity.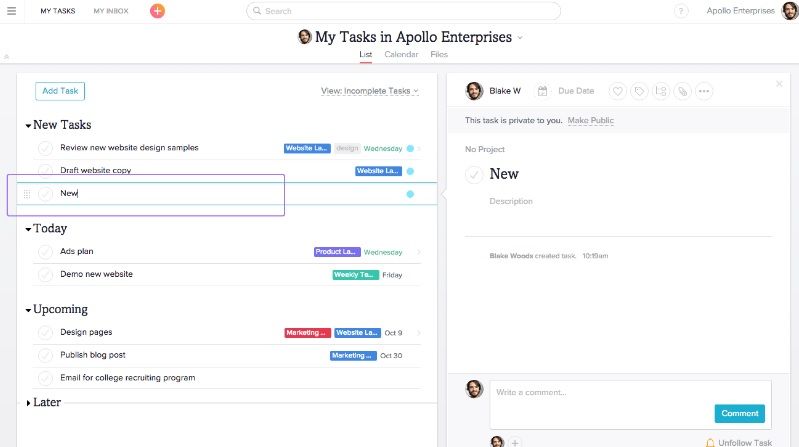 TimeCamp and Asana Direct integration
TimeCamp and Asana Integration with Zapier
 Trello
Are you tired of colorful cards, each of which means a different project to be implemented? Replace the offline solution with an online board.  Trello offers project management via an online board with personalized lists and charts corresponding to individual tasks. No matter how big your team is, Trello deadline will no longer be a problem – especially when you integrate it with TimeCamp and use the power-up solution!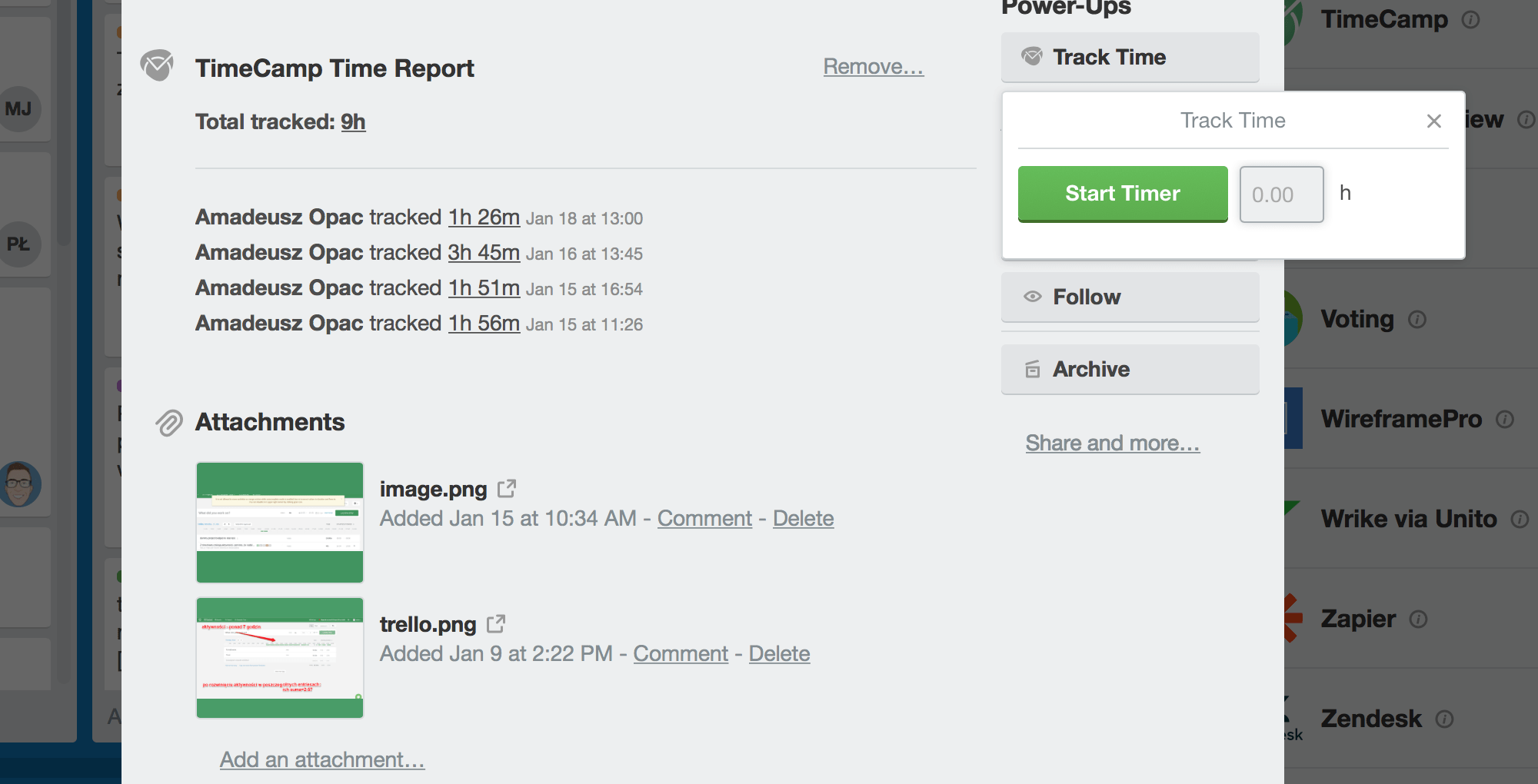 TimeCamp and Trello Direct integration
TimeCamp and Trello Integration with Zapier
Basecamp
Basecamp makes project management much simpler. You have all the agency's customers, projects, and tasks assigned to them in one place ─ you work on them without the need to exchange an endless chain of emails. By integrating the app with TimeCamp, you can accurately calculate the time spent on all your tasks, as well as correctly bill your customers.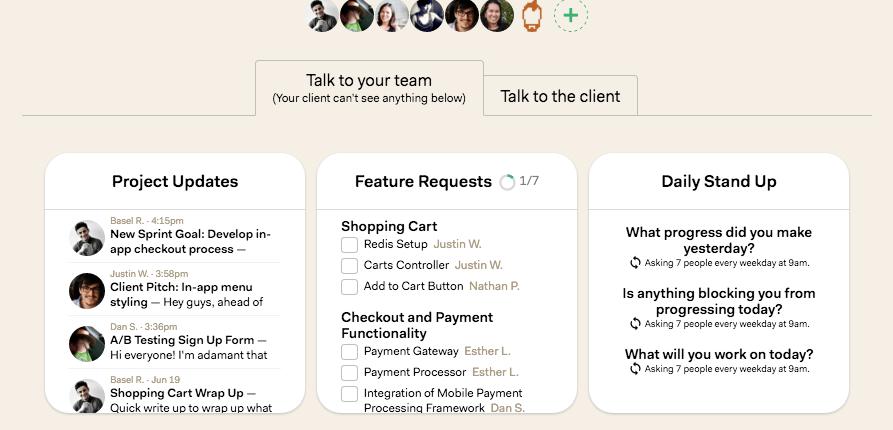 TimeCamp and Basecamp Direct integration
TimeCamp and Basecamp Integration with Zapier
Wrike
It is business automation software, which will help you improve project management in your agency. No matter how big your team is, Wrike will meet every requirement: it is a simple, intuitive and safe program. Thanks to it, everyone will stay up to date with the ongoing tasks, and the project manager will be able to control the employees' approach to their duties. Integrate Wrike with TimeCamp and find out how much time your team spends on completing each project!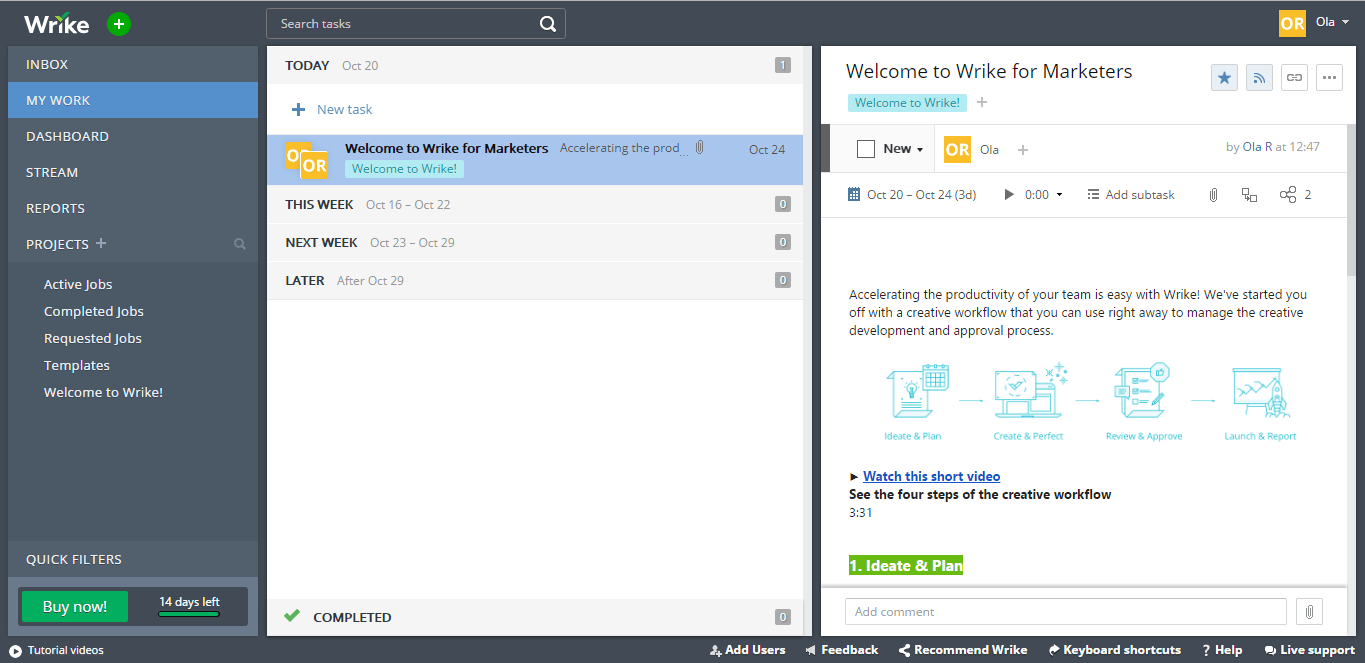 TimeCamp and Wrike Direct integration
TimeCamp and Wrike Integration with Zapier
Team Collaboration & Workflow Automation
Slack
Has your team communication problems? Slack is the perfect solution for you! It is an easy-to-use team collaboration platform enabling free communication between your employees. This tool is especially useful when managing a team of both stationary and remote employees. Ending the misunderstandings – Slack will make corporate conversations a pleasure. And if you want to know how much time you spend on internal communication, integrate Slack with TimeCamp!
TimeCamp and Slack Direct integration
TimeCamp and Slack Integration with Zapier
Podio
Make your team not only work on tasks but also work together! All your projects are in one place, ready to be completed successfully. Take advantage of various communication and personalization possibilities of your Podio, so that everyone knows what exactly to do and when to deliver the results of their doings. Integrate Podio with  TimeCamp and let your employees closely monitor the time they spend on completing their tasks.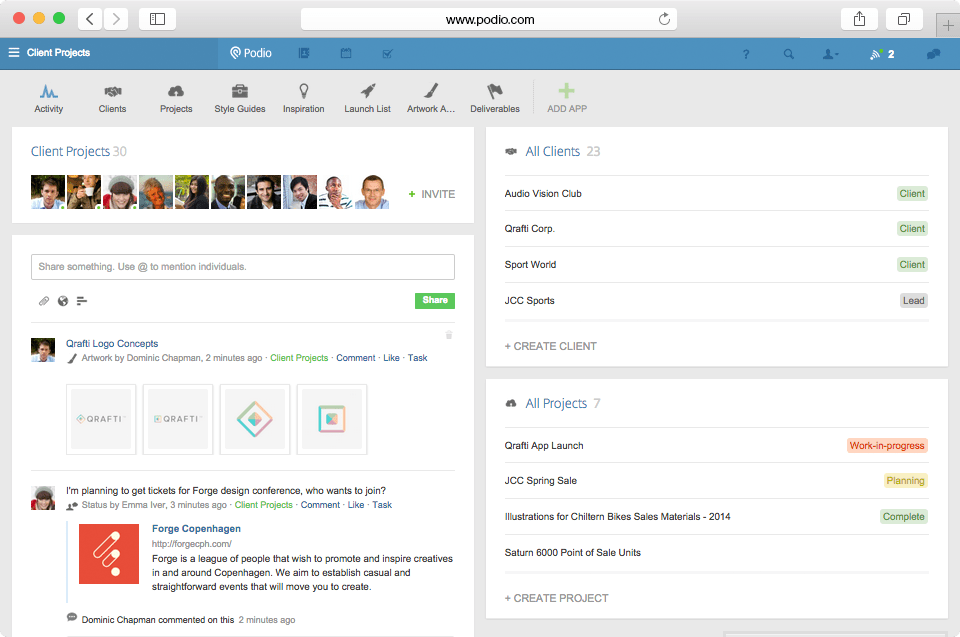 TimeCamp and Podio Direct integration
TimeCamp and Podio Integration with Zapier
Todoist
Do you and your team keep writing down the tasks to be done on colored cards? Change this your habits and give a try online automation solutions! Todoist is a virtual list of tasks that you can easily and comfortably control. Set priorities and deadline dates by keeping track of the status of all your projects. Integrate the app with TimeCamp and find out how much time it takes to complete all your tasks!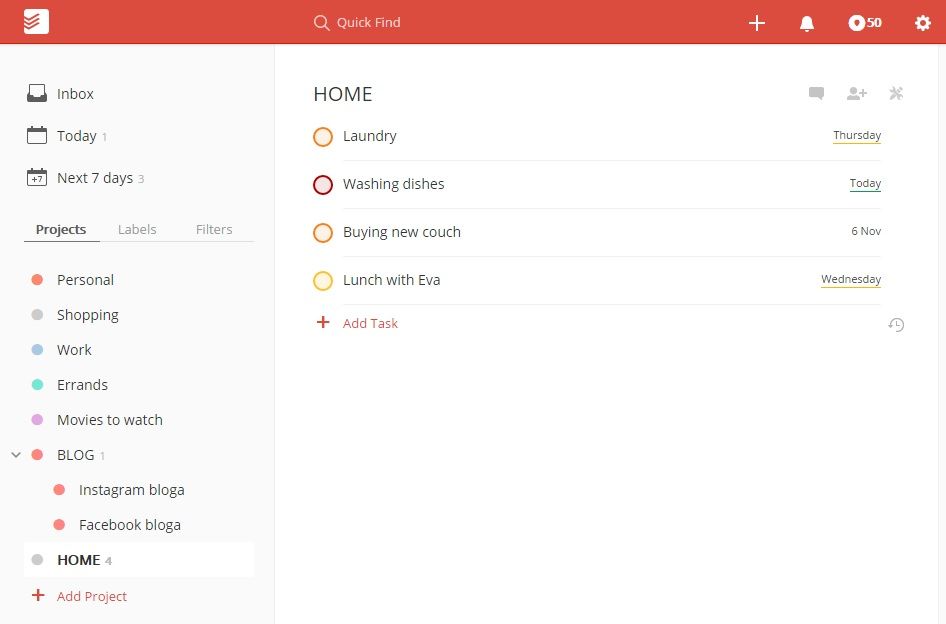 TimeCamp and Todoist Direct Integration
TimeCamp and Todoist Integration with Zapier
Wunderlist
With Wunderlist you will never forget about any project or details necessary to implement it. This simple and clear application will make getting things done easily. Share to-do lists and enjoy streamlined collaboration – the application will take care of all deadlines. By integrating Wunderlist with TimeCamp, you will learn how much time you spend on working on projects and billing each customer correctly.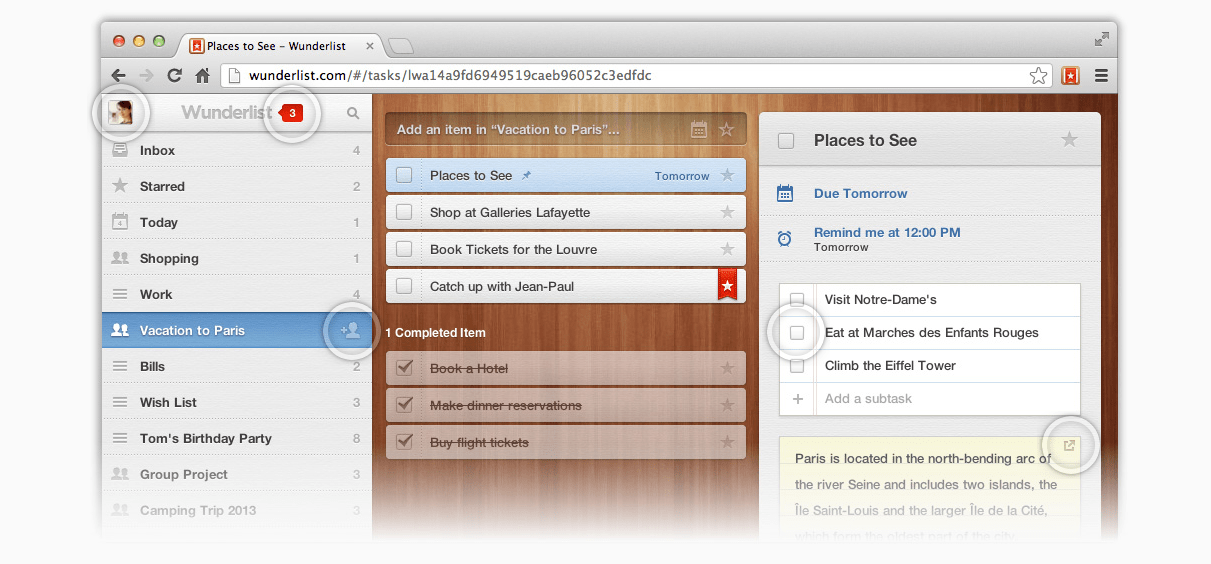 TimeCamp and Wunderlist Direct integration
TimeCamp and Wunderlist Integration with Zapier
File Storage
DropBox
Need additional storage space for your files? Use Dropbox and don't worry about the hard drive capacity of your computer. The application stores your data in the cloud, so you can access it at any time and anywhere. Integrate Dropbox with TimeCamp and learn how much time you spend on managing your files!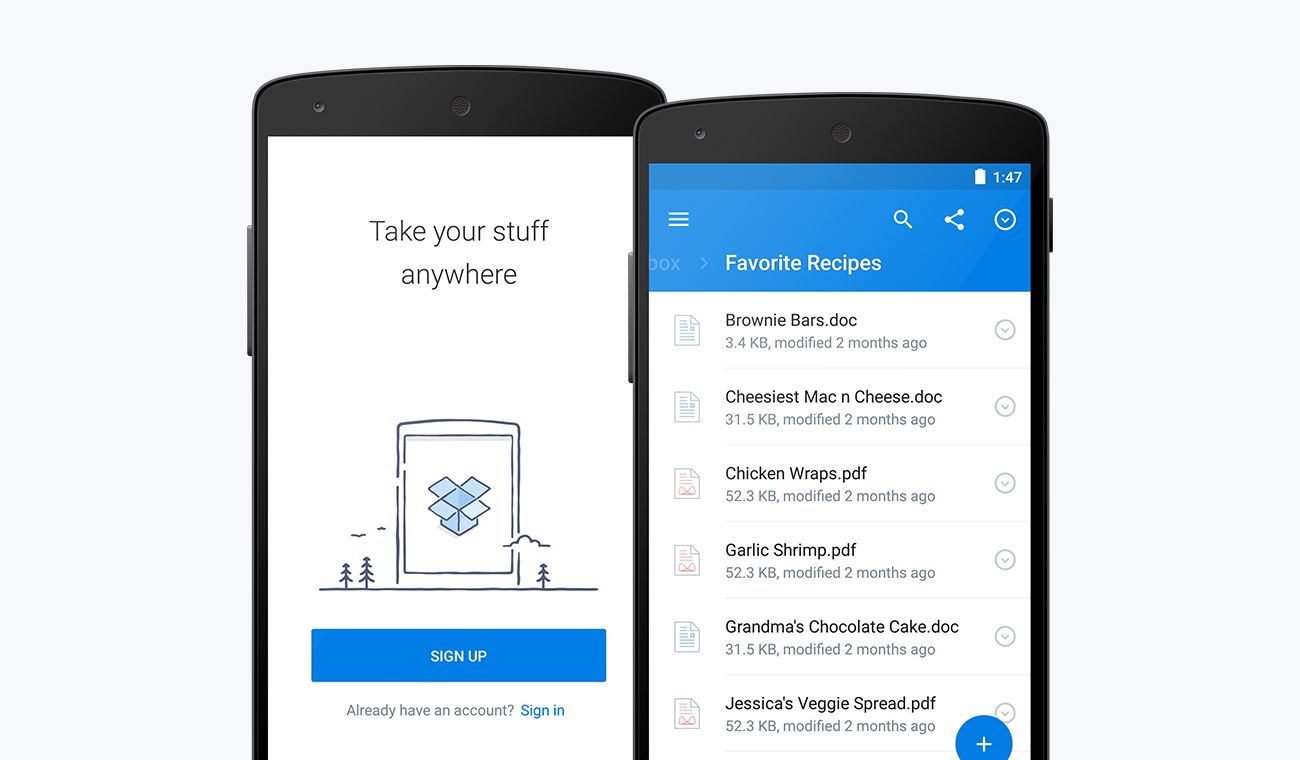 TimeCamp and Dropbox Integration with Zapier
Box
Make the management of your files more efficient with Box, a simple cloud-based file storage app. With this application, every team member has easy and secure access to all files, whether working in the office or remotely, e.g., in a cafe or at home. By integrating Box with TimeCamp, you will be able to determine how much time it takes to manage your company documents!
TimeCamp and Box Integration with Zapier
OneDrive
Keep all files in the cloud and make sure that every team member has access to them, no matter where and in which time zone they work! OneDrive is a fully secure system for uploading and sharing data from anywhere on Earth. Integrate the app with TimeCamp and your employees will be able to control the time spent on files sharing activities.
TimeCamp and OneDrive Integration with Zapier
Calendars
Google Calendar
Do you want all members of your team to be up to date? Use Google Calendar! Thanks to this free solution, all deadlines are in one place, so that no employee will ever forget about the approaching end of the project. This tool is available as a web app, has its desktop & mobile version. Use Google Calendar and its integration with TimeCamp to track your time even when you're in a meeting.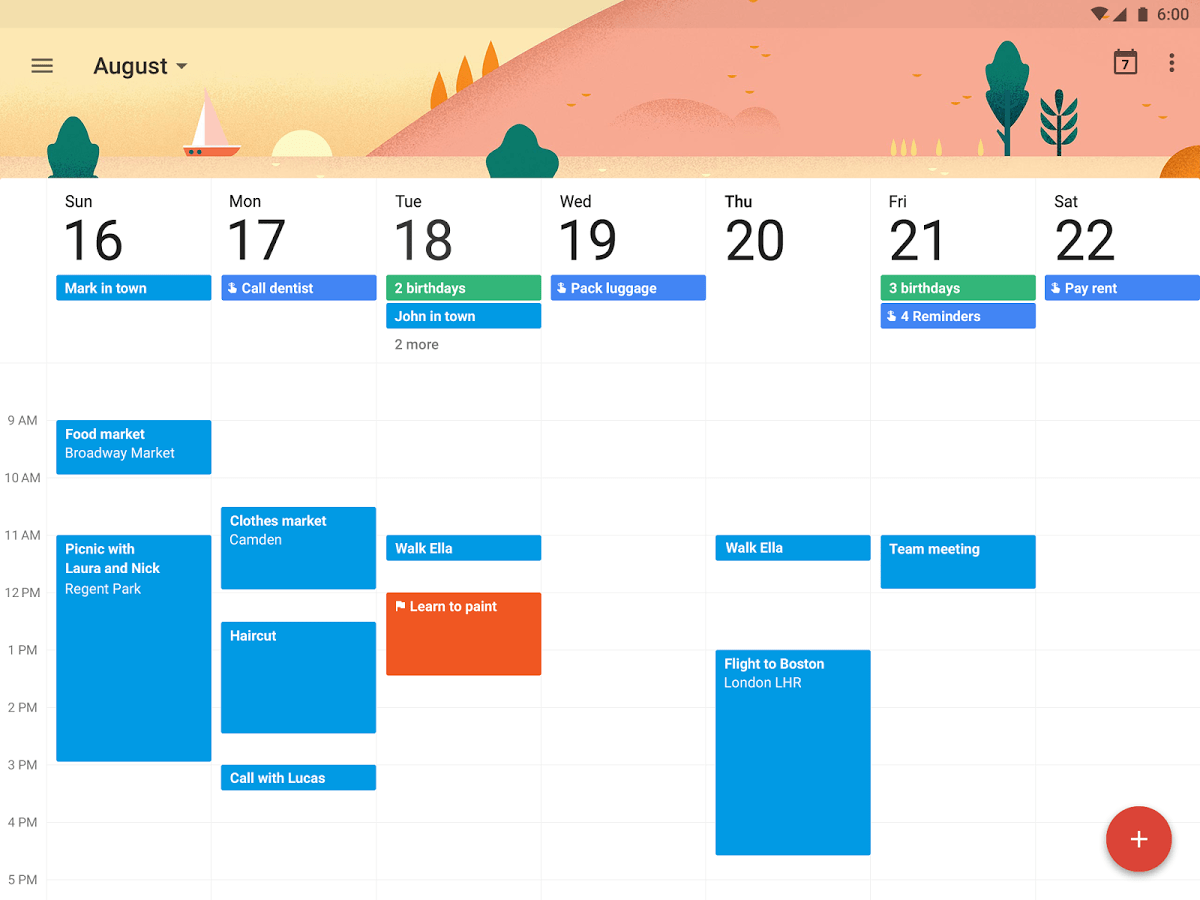 TimeCamp and Google Calendar Integration with Zapier
Summary:
Today's success of advertising agencies depends primarily on the creativity of their employees, but also on the tools they used by them to improve all marketing activities. New technologies make it much easier tp to address messages to the right recipients without moving from the office – various types of applications provide us with accurate information about prospective customers and allow us to turn them into customers. It may take some time for you to implement marketing automation software in your company, but the result will certainly exceed your expectations!
Related posts