What Is Time Tracking for Freelancers?
Being a freelancer is such an appealing vision of a job. We live in times where technological progress and vast urbanization allow working from any place in the world at any time. There is no surprise that so many people decide to leave the office life behind and jump into that convenient lifestyle. However, working as a freelancer can be demanding. It requires self-discipline, proper time management and constant communication with stakeholders among others.
Make sure to check out these links:
Numerous companies, stakeholders or investors decide to work with freelancers. However, establishing such a cooperation is not a simple act. It is an ongoing process in which you exchange information of different types – how many hours you spent working on a project, what is the expected budget needed for future projects' completion, your and your team's personal information, etc. Without proper management of your freelancing business, you may easily get lost and lose your clients. A good time tracking software can help you out.
Time tracking software for freelancers is somewhat of a personal assistant. It not only tracks your time, which is especially helpful when you are paid based on an hourly rate, but also helps in managing projects, accounting aspects of freelancing, or keeping all the data in one place.
Today we present the best free time tracking software for freelancers. Take a look at our list and choose the best tool for you. They all differ slightly in usage and functionality so pick the one which corresponds best to your business needs.
In comparison to other time tracking software for free, TimeCamp, in fact, is completely free. Even after the trial. Once the trial is over and you feel like TimeCamp is the one and only time tracking software, you can indulge yourself in the SOLO version! TimeCamp has many benefits as a free time tracking software for freelancers. Here's a short list:
Automatic time tracking – you don't have to switch between tasks. TimeCamp tracks time for you.
The desktop app works in the background and gathers all the information on your work. All in the real-time!
Extensive reports provide an in-depth analysis of your activities. They also show your productive and unproductive activities.
TimeCamp is available on all platforms and as a mobile app.
You can create projects and divide them into smaller tasks.
The tool allows you to manage all your projects in one place and collect all information about your work including client's data.

As a free time tracking software for freelancers, Hubstaff offers some nice features. First of all, you get an access to a user-friendly dashboard with screenshot activity, daily, weekly, and calendar timesheets. You can also add and schedule tasks. Moreover, Hubstaff allows you to adjust settings to your needs. However, most options in settings are not available for the Basic (free) version. 
At Hubstaff, you can start with a 14-day trial, then either upgrade to Basic ($5 per month) or Premium ($9 per month), or stick with the free version – Solo Lite. Don't forget to use Hubstaff's desktop app to track your work!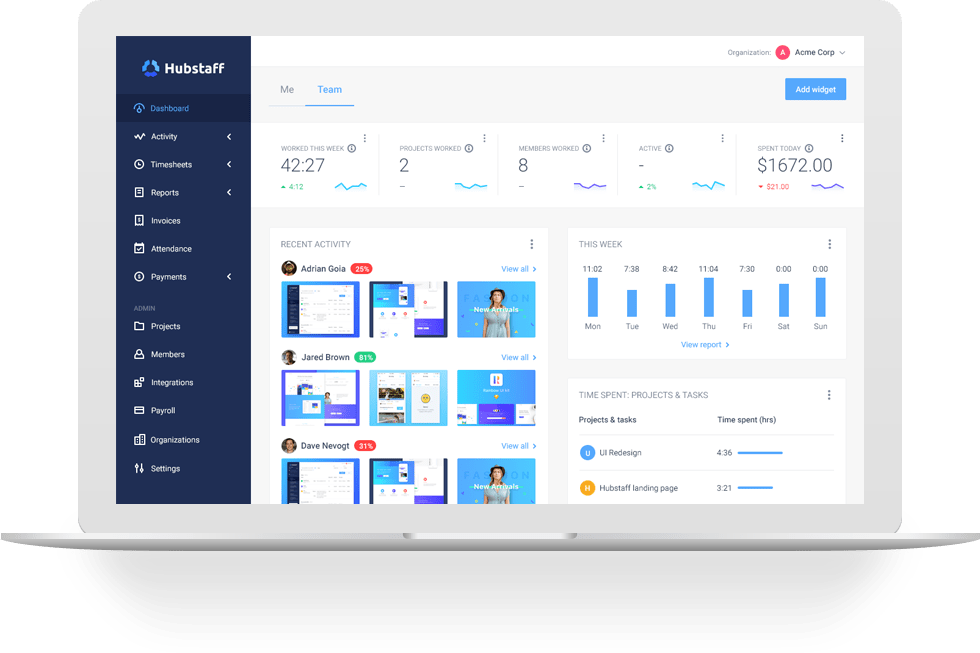 See the comparison between Hubstaff & TimeCamp
Ronin is a simple online invoicing and time tracking web application. It has payment integration with PayPal, Stripe.Net, and Authorize.Net. The app allows you to customize invoices with your own HTML/CSS, send invoices in multiple currencies, and also create recurring invoices.
Ronin enables you to access your budget information from anywhere as it's stored in the cloud. You can always make adjustments, and check the project's billed time. Additionally, even though Ronin has many features, it is a really easy-in-use software. It is a great solution for freelancers looking for a free time tracking software which will help in solving invoicing and financial problems.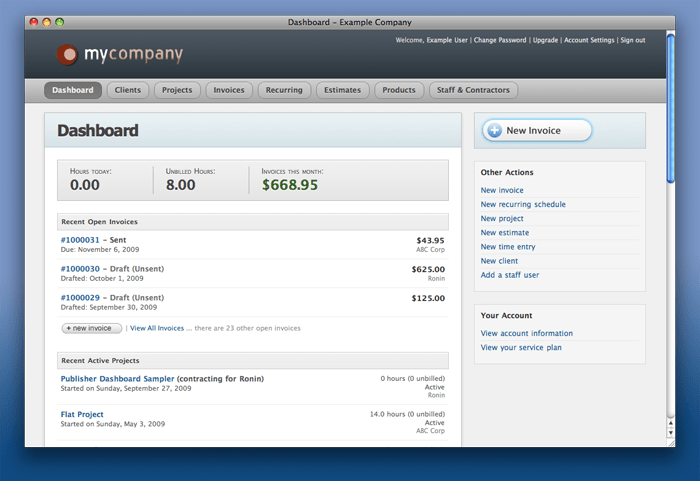 We wrote about DropTask in our post about free time tracking software for UK, Canada, and Australia Citizens. DropTask is a visual task management app which aims at improving productivity and creativity at work. This free time tracking software enhances communication between people. It is available on dekstop, online, and as a mobile app.
In DropTask you can create unlimited tasks, get notifications when an important change takes place in the project, add details to any task you create. You may edit a task's Status, Importance, and Effort (how much effort it takes to complete the task). That's a great stimulus for creativity boost in your work!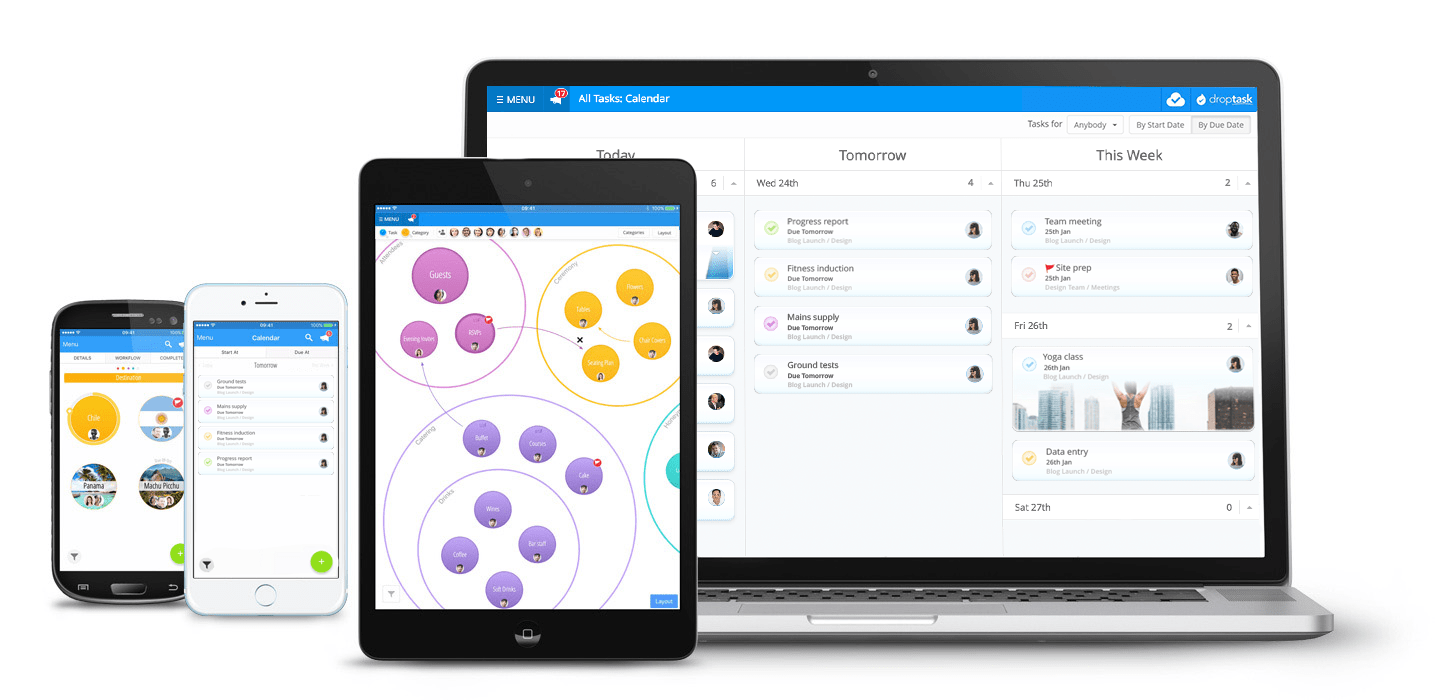 TopTracker is one of the few time tracking software for freelancers which offers a variety of features in its free version. TopTracker is an application which can be used anywhere. Moreover, it has the hotkeys which allow for quick time tracking start and stop – a feature particularly useful when you travel. TopTracker's clear and user-friendly dashboard gives you insight into all your projects and information on them.
If you are a fan of storing all the data on your work and your clients in safety at the same time having it all in one place, this time tracking tool works as your safe. There are no limits on the number of users or projects. There can be as many of them as you want. Besides, TopTracker tracks your work in the real-time and puts all that data into reports.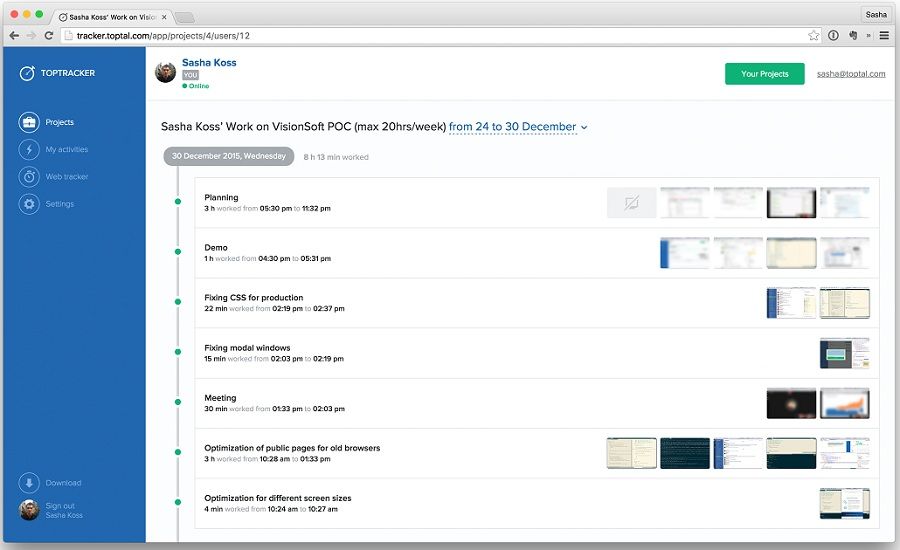 If you are a freelancer struggling with productivity, TMetric is the perfect tool for you. The free version, however, is limited only up to 5 users. Nevertheless, by observing your tracked activities in this software, you can play with reports, adjust settings as you will, gather and analyze different data. Moreover, this time tracking app integrates with many other tools.
TMetric is a perfect free time tracking for freelancers who value being focused and find it useful to monitor their productivity.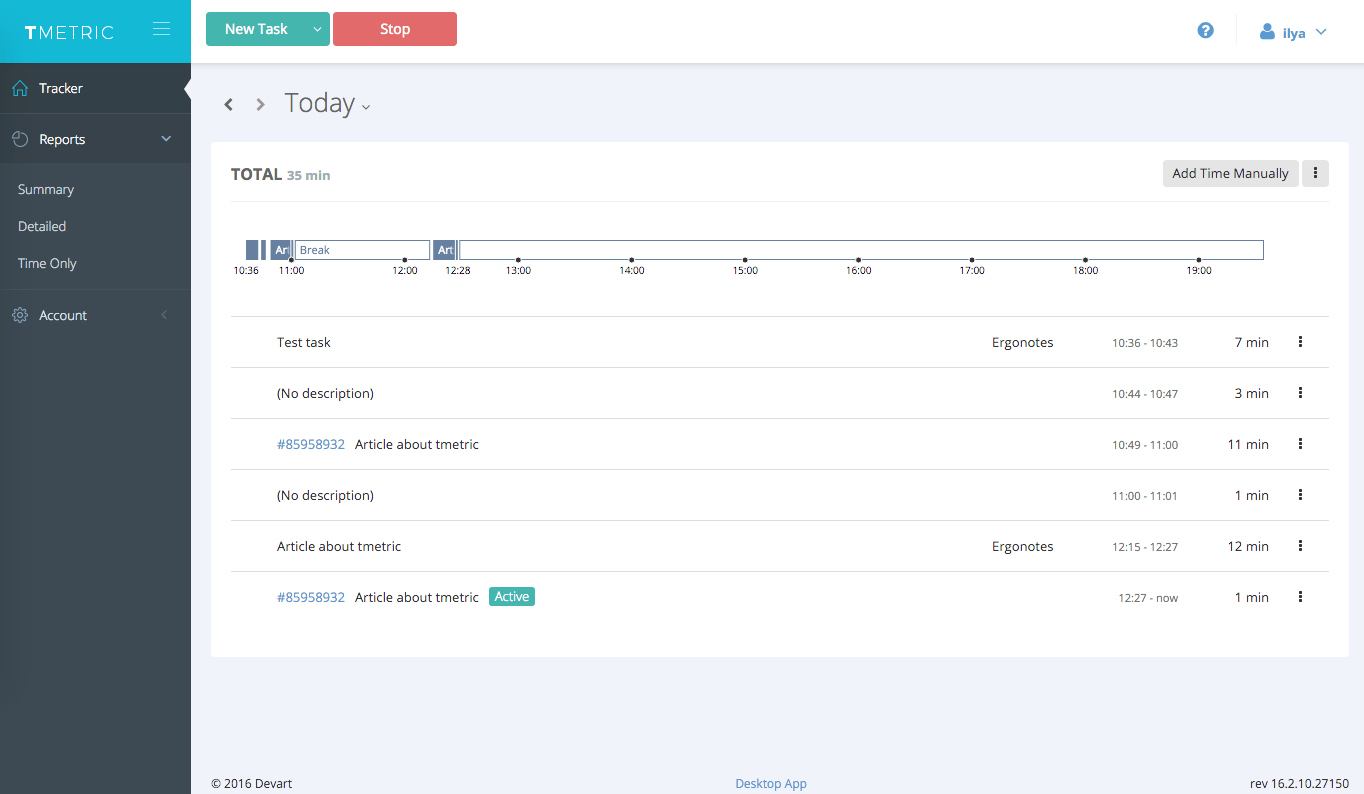 See the comparison between TMetric & TimeCamp
If you are looking for a really simple time tracking software for freelancers, try Toggl. It doesn't have too many features which makes it a fantastic tool for those freelancers who only want to limit their time management to tracking time spent on work.
Toggl has a desktop app which tracks your work time. You can add different entries and mark them with tags. In Toggl, you can easily manage your projects, clients, teams, workspace, and tags. Reports created by the app give you insight into your activities.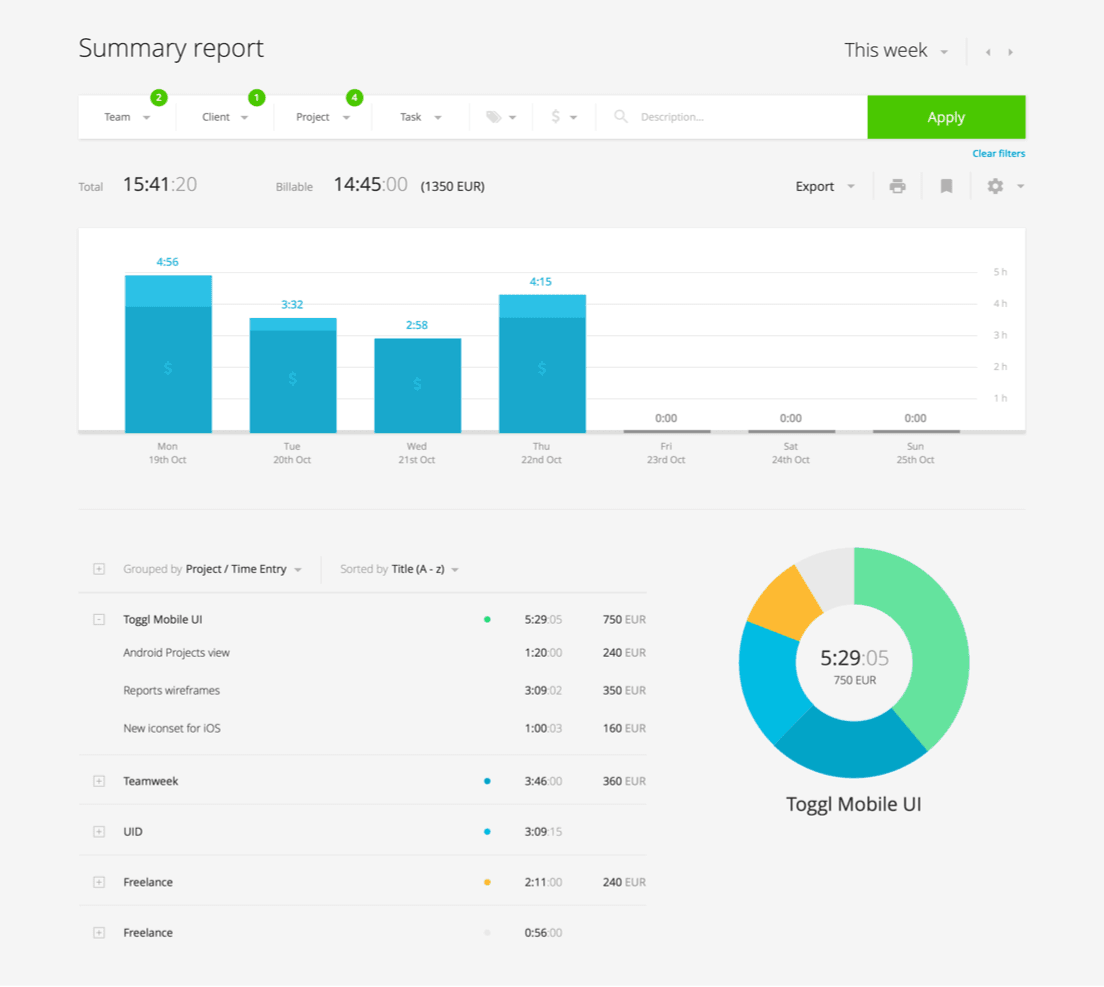 See the comparison between Toggl & TimeCamp
Are you looking for a free time tracking software for freelancers which will serve as your financial assistant and task planner and scheduler? TSheets has the right features. And here's the list:
Easy time tracking with desktop and mobile apps.
You can schedule your work, tasks, projects. However and whenever you want.
TSheets has a GPS location tracking – useful feature during business trips.
You can synchronize the app with accounting tools to create better invoices.
TSheets works as a digital form of timesheets. With only one significant difference – you don't need any more of the paper timesheets.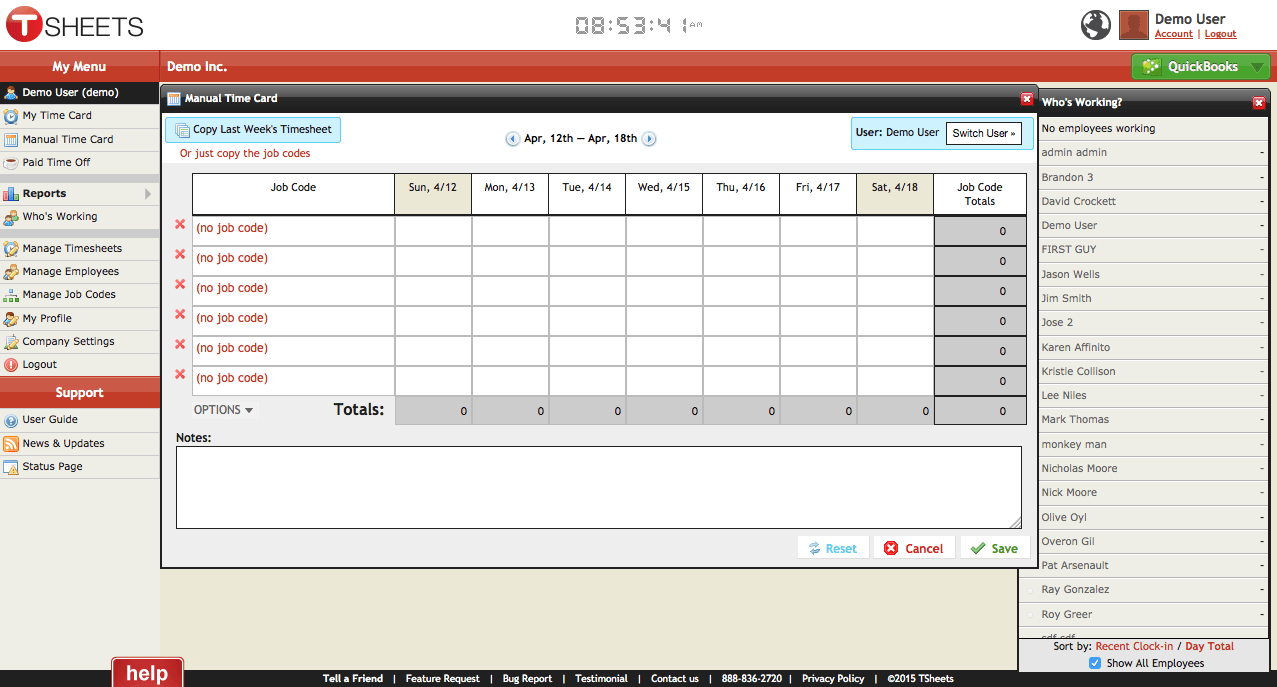 Conclusion
There is not much free time tracking software for freelancers. For some, such tools may be the only way to properly handle all aspect of a freelancer's work. For others, they can be helpful in boosting productivity. Whatever is the case with you, use time tracking to always stay on top of your work!
Related posts