12 Best Tools for Project Time Tracking
May 4, 2018
by Kate Borucka
No comments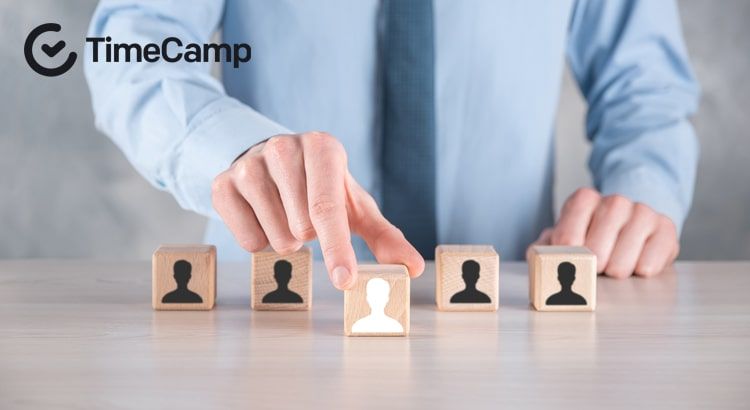 A good project time tracking app can help you become a better project manager, improve your productivity, but also increase project profitability. All you have to do is choose the right software.
Let's check the best project time management tools!
What Is Project Time Tracking?
We are all very much surrounded by projects. Either when working as a freelancer, remote worker, or in a larger organization. That concerns project managers in particular. They have to keep a hand on all processes relating to project delivery. Since managing projects requires lots of energy and the ability to pay attention to details, great time management skills and tracking different aspects of a project may be challenging.
One of the ways to tackle this challenge is to use the project time tracker app. It will save much of your time and enhance the process of project management.
But what exactly is project time tracking? It is the practice of tracking the time of a project to make sure it meets the deadline. But it is more than just that. Project hours tracking allows for allocating resources appropriately, monitoring all processes in real-time, and implementing the project on time avoiding the dangerous scope creep.
Why Track Time for Projects?
Project management apps with time tracking can significantly improve business processes and contribute to company growth.
Here are the main benefits of tracking hours for projects with process tracking software:
You can monitor employee productivity to help them overcome work obstacles and be more efficient
Better project planning is possible with real-time insights into the team's schedule
Improved workflow—tracking team's time helps to better allocate work; you can view in real-time who
Better estimates for future new projects—time reports give you precise information about hours spent on particular activities so you can make better estimates
You can control project profitability and make better business decisions for your employees and company—whether you charge enough money, have the right profit margin for products or services against the business costs, etc.
Reporting features make it easier to manage projects with accurate and necessary statistics and project data
Project management software with time tracking gives you a quick overview of all the essential metrics and your business health.
What Is the Best Time Tracking App?
There are many tools that can be of great help in project management. Even though they share similarities, not all of them function in the same way. The software existing on the market varies in features, purposes, and aims at different niches. That's why it's important to choose the most suitable tool for project time tracking for your business.
For this reason, today we present 12 best project time tracking tools. Whether you are a freelancer, project manager, or need a simple time tracker, we hope you'll find the best time tracking app for you and your team.
QUICK NAVIGATION
Best for: intuitive and automatic time tracking for tracking billable time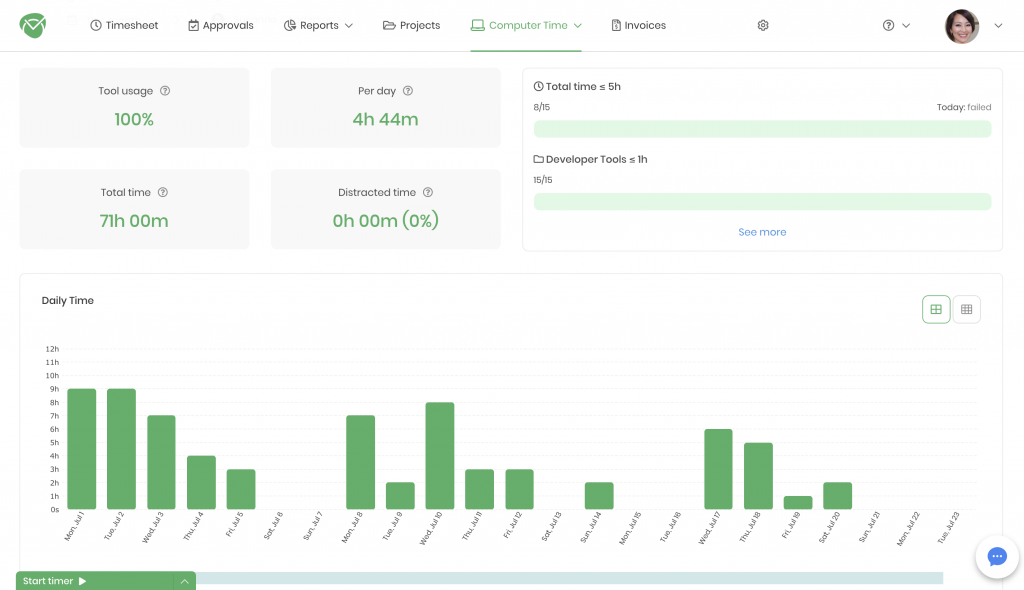 TimeCamp is a free time tracking software for unlimited users. It's suitable for agencies, small and large companies, and freelancers.
This project deadline tracker helps to automate and optimize tasks, and administrative activities. It also helps you accurately track actual time spend working on different tasks and projects.
Main features:
You can easily track the progress of work and detect possible delays with automatic time tracking features
The tool collects valuable time data on tasks and projects, employee time, budget, revenue, costs, and more
With extensive reports, you can assess if a project is profitable for your business and predict future estimates for new projects
Easy timesheet management with approvals
Export data to share with clients and stakeholders or use with other tools
Absence tracking allows you to plan the work of your team members so they can participate in different assignments without harm for other duties
You can bill your clients accurately with the feature of billable hours tracking, automatically create invoices based on hours tracked, and send them with just one click
Integrations with the most popular apps for project management, CRM, productivity, and more
TimeCamp is available as time tracking apps for desktop, web, and mobile
Tags let you organize the hierarchical structure of work so you can easily administer similar projects
Pricing: The free plan is available for unlimited users with unlimited projects. Basic plan is $5.25 per user (billed annually); Pro – $7.50 per user (billed annually), and Enterprise offers custom pricing.
Sign up for free time tracking software to improve your time management.
Register now and start tracking project time!
Best for: employee monitoring for remote teams and field workers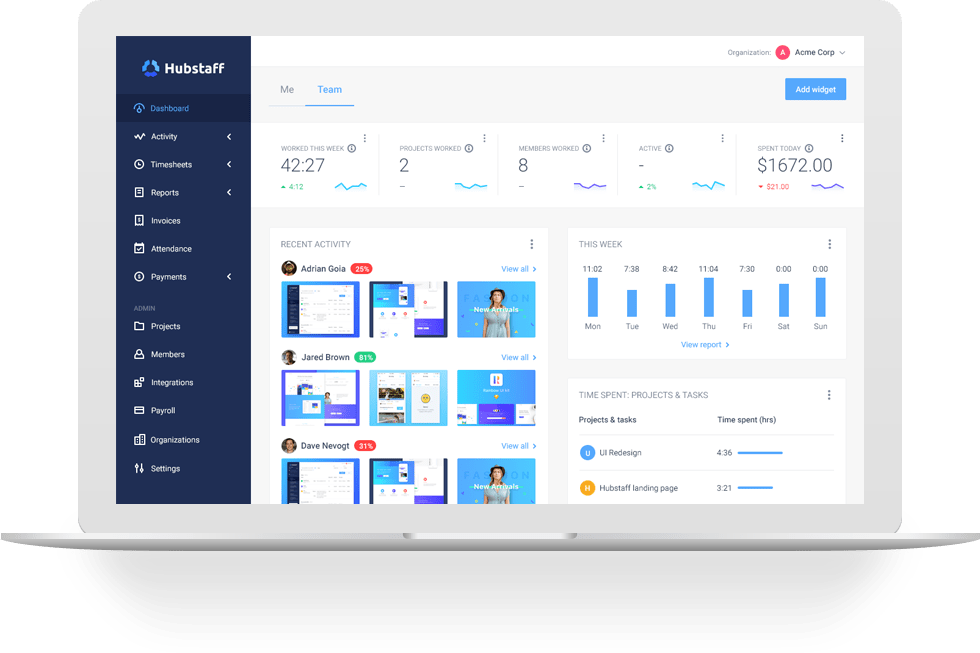 Hubstaff is another popular time tracking app offering the feature of project time tracking. It's a time clock system that your employees can install on a desktop or mobile device. You can use it as an employee monitoring system. Hubstaff captures screenshots, websites visited with URL and app tracking—suitable for remote and distributed teams to stay up to date and make more informed decisions. And is also a great tool for fleet or GPS tracking to track time and location of work.
This time tracker works as a basic project management tool that helps project managers see the work of team members while employees can access their time data to check the progress of work.
payments sent directly to you
Main features:
Time tracking with most essential time management features: auto-reminders, idle time detection, manual time entries, time-off management
Staff scheduling to assign your team members to a particular project
Creating invoices based on time tracked with Hubstaff or for fixed payments
You can set weekly limits on how many hours you want your employees to work to have the budget under control
Setting a budget for a project helps you monitor money spent on it and gets alerts whenever the budget exceeds estimates
GPS tracking with geofencing and employee monitoring
Pricing: Free plan is available only for one user and offers limited features. Pricing starts at $7 per month per user.
Best for: straightforward web-based project tracking app for tracking billable hours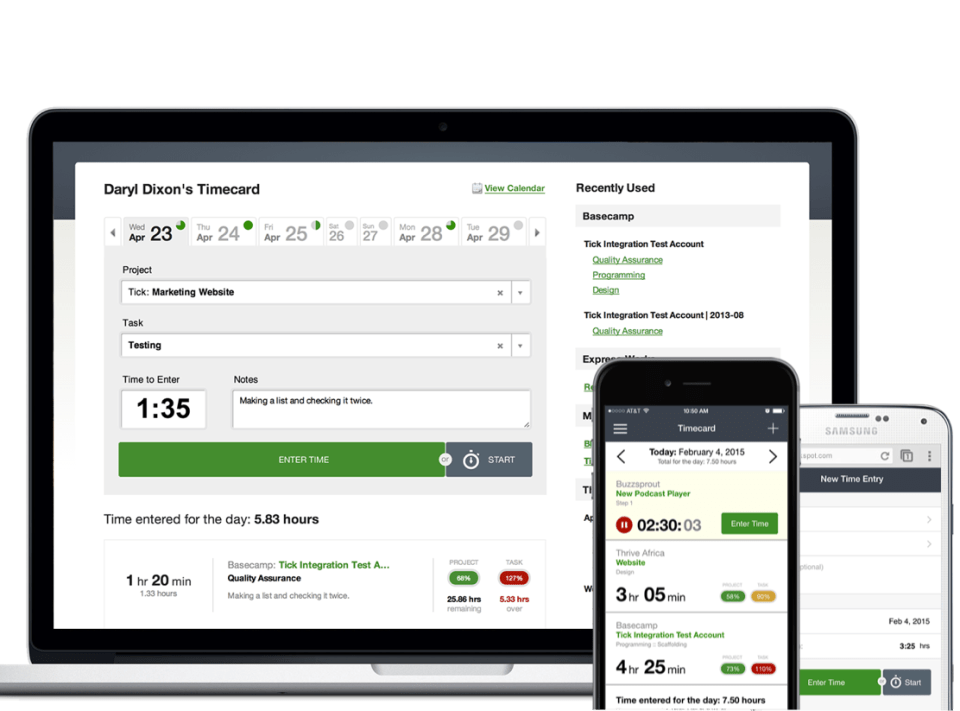 Tick is a simple project management software. If you are looking for an easy project time tracker app, this software may be perfect for you. It's suitable for you if you're a small business owner or freelancer. It works great for those who want to track their projects based on budget.
Tick works in three steps. The first one is simply entering your project into the timecard with all the details you need —a task, client's name, notes, anything that will enhance your project. You can add multiple entries from any place at any time.
The second step is monitoring the budget. You can quickly check the project's status, get immediate feedback to stay on track, assign team members to particular tasks and even set recurring projects.
The last, third step is digging into your reports. That's a great feature because it gives you a detailed insight into specific work hours spent on work. Moreover, you can export reports to Quickbooks, Freshbooks, or as a CSV file.
Pricing: Tick's free plan is available for one user for only one project but for unlimited number people. Pricing varies depending on how many projects you need—10 projects – $19 / month; 30 projects – $49 / month; 60 projects – $79 / month; unlimited projects – $149 / month.
Best for: time tracking with expense monitoring and invoicing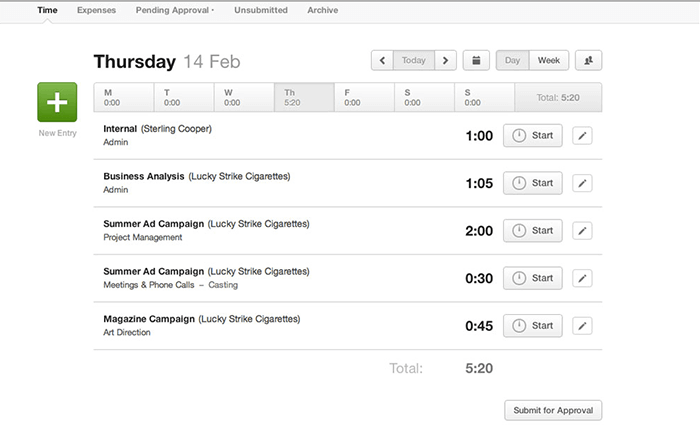 Harvest is best for those who need to know where all the time and money spent on the project goes. It will answer all your questions concerning resources and budget in project management. Harvest is a simple time tracking app but offers many helpful features:
Tracking time in this tool tracks not only time but expenses, clients, projects, and tasks
The timesheets in the visual form help you understand your team's work and see how much time they spend on different tasks. You see how much, when, and on what tasks people are working
With extensive reports, you get information on every single aspect of your project: time spent, hours worked, budget, progress, time left to a deadline, etc.
Harvest allows you to integrate with Xero or QuickBooks to create invoices and quickly send them to your clients
👉 Learn how to keep track of business expenses.
This simple project management software is available as a mobile app, web app, and for desktop.
Pricing: Harvest offers a free plan for 1 person with 2 projects. Pro version is available for unlimited people and projects at $12 per month.
Best for: task management with time tracking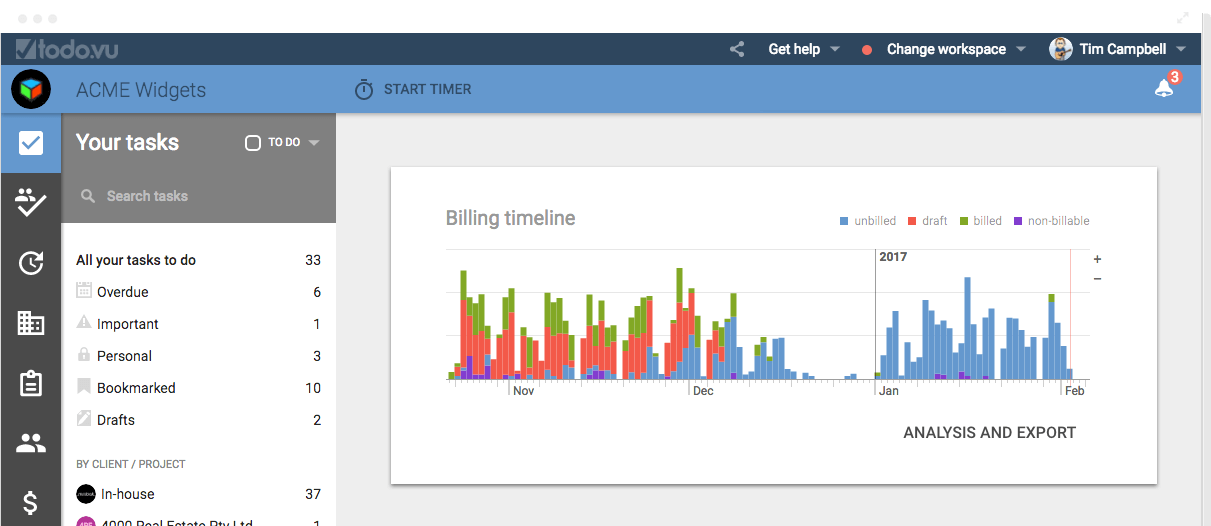 This tool combines time tracking and project management features. Similar to TimeCamp, todo.vu tracks the time spent on all your activities. It focuses mainly on projects' details such as setting billing rates on projects and staff, breaking larger tasks into a small checklist, files storage, or categorizing work by custom labels.
todo.vu also offers other features that help to bring your customer management and project management into one place. It allows you to keep track of your customers and information about them, e-mailing tasks directly to your clients, or invite them to see information related to them.
If you are looking for a project time tracking tool that will allow you to control aspects of the CRM relating to work, todo.vu is the right tool.
Pricing: Free for a single user with limited features. Business Time plan is $9/user/month
Best for: basic time management with simple time tracking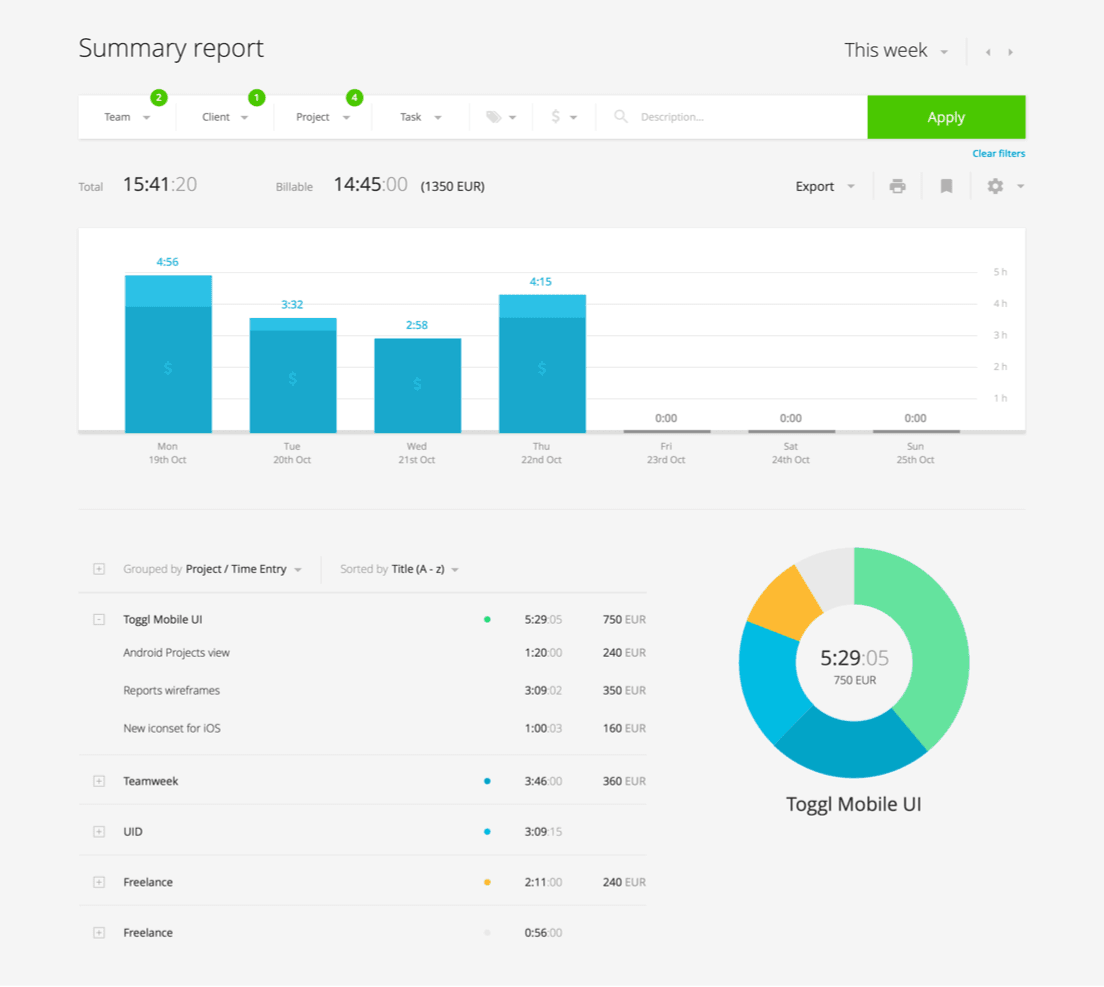 If you love simple solutions, Toggl Track is the right tool for you. This time tracker gets many praises for being the best minimalistic of all time tracking apps on the market. Nevertheless, its features are quite limited.
Toggl Track works as most of the time tracking apps. The desktop app tracks your activities and then creates time reports. It lets you track individual tasks or team's time.
You have all the information about your work after you log into your account You see the data concerning time spent on work, the progress in a particular task or a project, and see the general overview of how your business is doing. It can be perfect for you if you need a simple and free project time tracker.
However, if you are looking for more extensive features, Toggl Track may not meet your expectations. Especially if you are interested in detailed project time tracking.
Pricing: Toggl Track is free for up to five users and has basic functionalities that allow for keeping track of hours spent on work. For additional features, you need to subscribe to one of the paid plans—at $9 per user per month; Premium at $18 per user per month; or Enterprise with custom pricing and features tailored to your organization.
Best for: time tracking with extensive project management features

Wrike is a project management software with the feature of online time tracking. Together, these two options create a functional project time tracking tool.
Wrike is a great project management software for project managers who work with many clients and have to monitor the team's progress on a daily basis. Additionally, you can customize the tool to better fit your needs.
Main features:
You can create projects and divide them into smaller tasks to develop blocks of work with due dates, assigned people, and any other adjustments that are most suitable for you. You can use this feature for deep work to improve productivity
Wrike has a feature of managing resources so that you can balance resources and track the performance of employees
You can track time and budget assigned to a project
The tool has a friendly and intuitive interface
Wrike project management software allows you to visualize work with Gantt Chart, Kanban boards, or pre-built templates
The tool offers collaboration features to better manage team's time
Pricing: Wrike is free for teams that are starting. Pricing starts at $9.80 per user per month.
 Best for: teams to manage clients, projects, timesheets, and invoices in one platform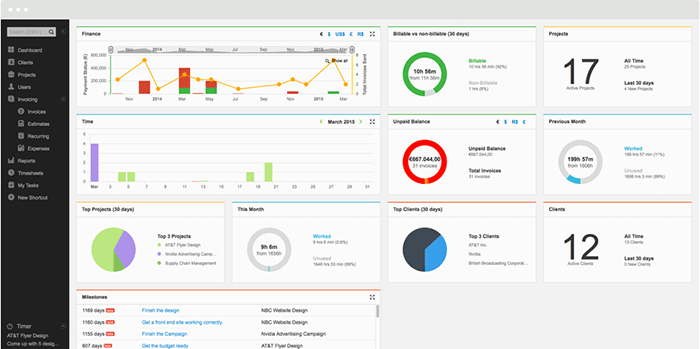 Paymo is an online time tracker, project management, and invoicing application for agencies and businesses of small and medium sizes. With its help, you can keep track of the entire lifetime of a project without using any other apps. It is reasonably cheap software with a lot of assets.
It facilitates team collaboration and communication, provides time tracking and timesheet reporting. The tools Paymo offers should be handy in identifying bottlenecks, monitoring and analyzing the time spent on projects and tasks, and generally, boosting the team's productivity. It is available as a desktop and mobile app.
Pricing: Paymo is free for up to ten users and offers limited features. Paid plans include Small Office at $11.95 / user per month and Business at $18.95 / user per month.
Best for: time tracking with agile project management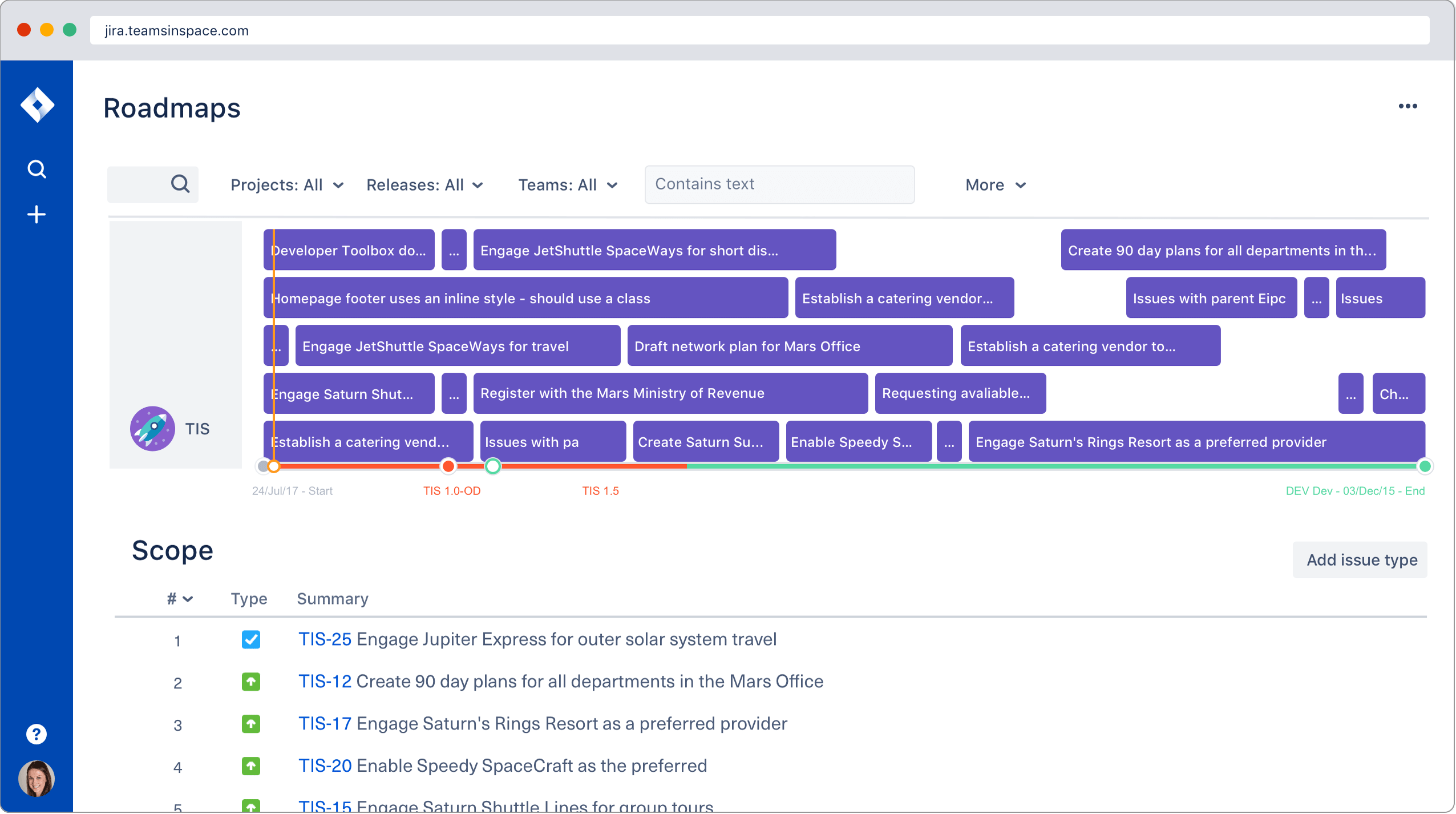 One of the niches of project time tracking is software developers. Jira is a tool aimed at that group of specialists. It may not exactly be a time tracking software, but it works exceptionally well as a tool for monitoring processes of project implementation or development including time, resources management, project stages, or reports.
One of the best features of Jira is the ability to create a roadmap that's connected to your work. You can track progress across teams and projects and easily share your plan with stakeholders. With such a roadmap you see if the project is on time, share reports with the entire team, and connect with everyone to present the progress.
👉 Check Jira and TimeCamp integration and get even more insights about your team's work!
Pricing: Jira is a free project management software for ten users. Paid plans start at $7 and depend on the number of users in your team.
Best for: sharing work progress with clients and stakeholders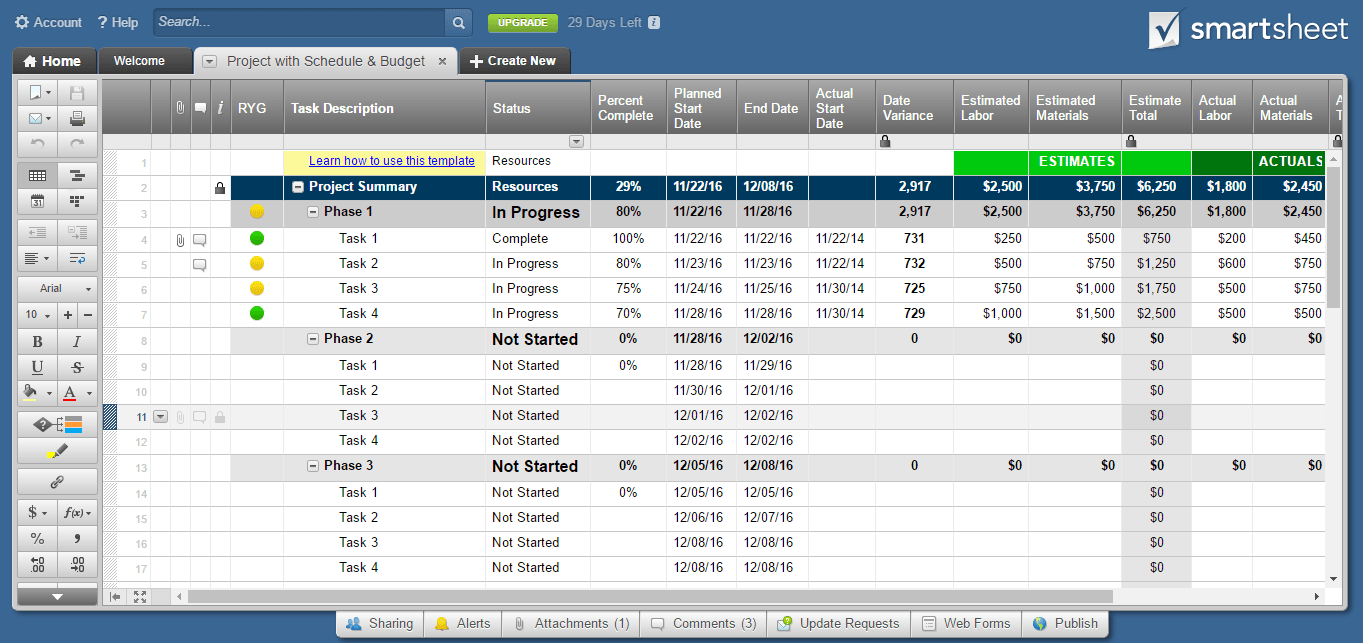 Smartsheet is a tracking app that enhances work in or between teams. It's a flexible tool for managing projects, perfect for organizations working with lean methodology. Smartsheets is a cloud-based tool that helps to plan, manage, and oversee work in one hub.
You can share your work with clients and stakeholders, review and collaborate, and eliminate manual repetitive tasks. Reports give you insight into organizational data with time entries, and thanks to the dashboard with a real-time view teams have centralized access to all information.
Smartsheet is advanced software with Kanban that helps to automate work processes and visualize the workflow with boards, kanban cards, or swim lanes. Also, you can customize the software and integrate it with a variety of enterprise apps to enhance work. It's an extremely powerful tool for demanding users.
It's a good project management software that automizes and enhances processes in the company, and easily tracks time.
👉 Improve time management in your team and get a robust work time tracker. Two time tracking apps in one thanks to TimeCamp and Smartsheet integration!
Pricing: Smartsheet offers free time tracking in the trial and lets you test all the features. Pricing starts at $7 user/month with a minimum of three users.
Best for: workflow management and work scheduling with time tracking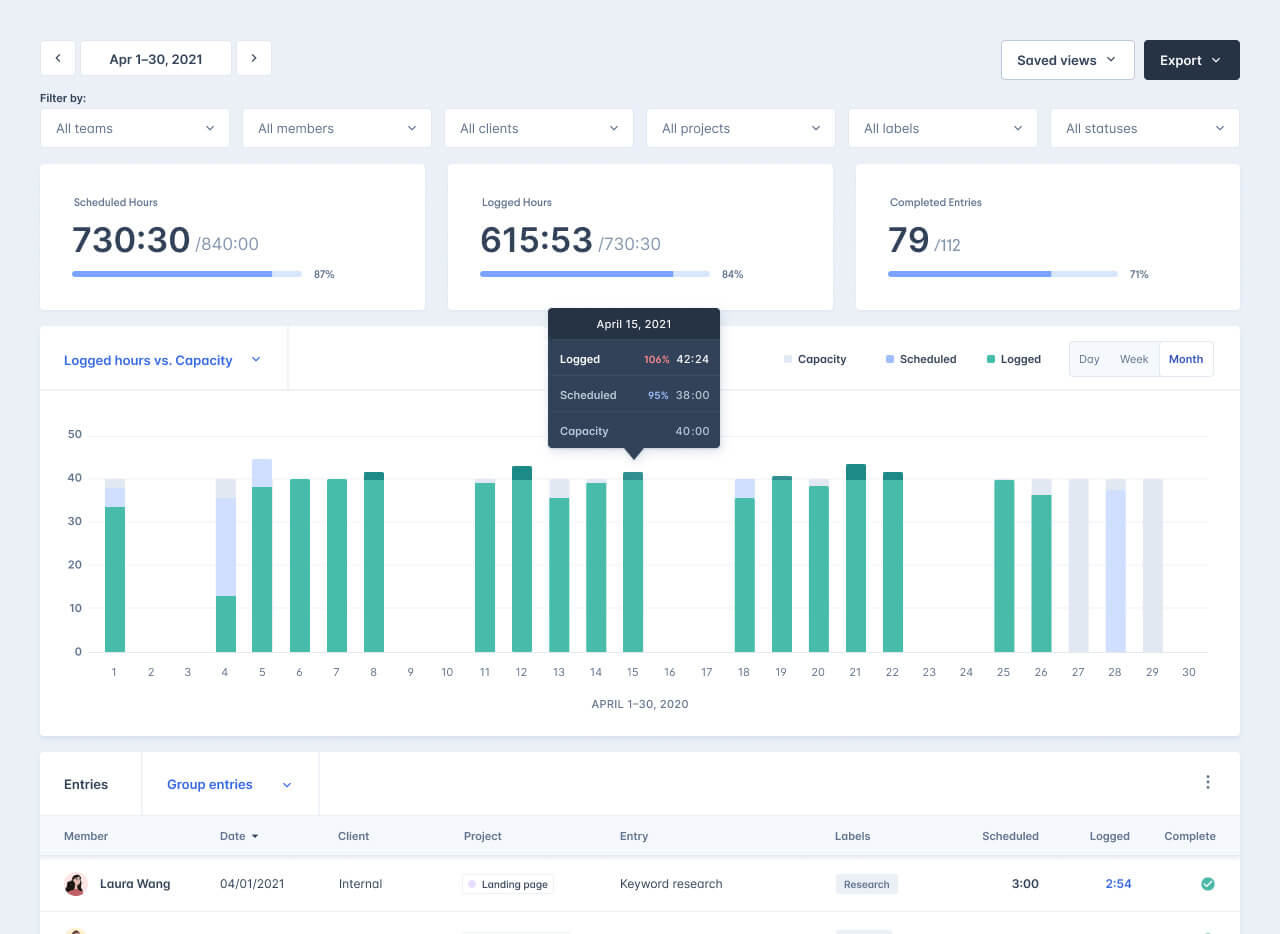 HourStack is a combination of project management software and time tracking software. It helps to see, track, and better plan the team's time.
The app allows managers to create schedules, improve workflow, and organize tools with a single workspace where it's easy to track project time. HourStack works like a calendar with details on employee time.
Main features:
An all-in-one visual calendar helps to see and plan your time in one complete view; you can arrange workflow with a drag-and-drop feature
You can track time on all time entries (cards with details on work)
Simple reports
Different workspaces for different clients
Team view visualizes workflow and progress of works
Integrations with the most popular apps like Google Calendar, Asana, Trello, and more
HourStack offers time tracking apps for web, desktop, and mobile devices to sync your work
Pricing: HourStack offers two pricing plans—Personal at $12 per month for one workspace member; and Team at $15 per member, per month.
Best for: timesheet management and employee time tracking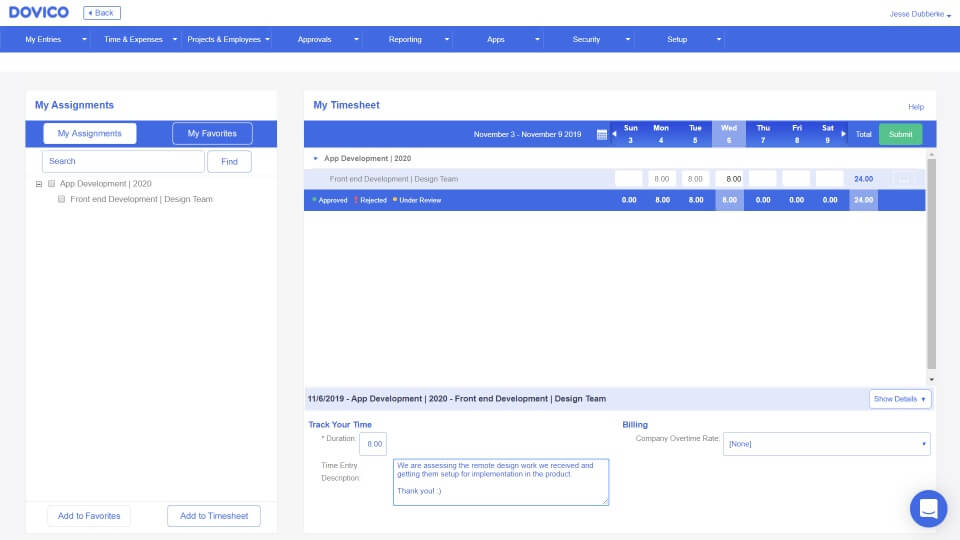 Dovico is one of those time tracking apps that focus on timesheet and payroll. It's a project time and expense tracking solution that monitors every one hour of your business' life.
This time tracking software helps to automate business processes and administrative work. It's an online timesheet tool that eliminates paper spreadsheets and documents.
Here are Dovico main features:
The tool offers rich timesheet management functionalities: review total hours, billable hours, overtime hours; entering time on-the-go with the mobile app; timesheet customization
Expense tracking with expense sheet and ability to attach receipts
Managing work with setting estimates and setting a budget of hours, assigning employees to tasks, and moving tasks with the drag-and-drop feature for a better arrangement
Keeping track of projects with the summary of the most important data
Vacation and time off management
Project costing, billing, custom overtime rules
Built-in advanced reports
Workload dashboard for resource planning and scheduling
Pricing: Dovico is free for up to five users. Pricing starts at $8 per user per month.
To Conclude
Project time tracking may not be an easy process. The tools mentioned above are there to help you, but you have to remember that they are all different. Once you know the needs and requirements of your organization and employees, choosing the right tool should be easy.
Every software works differently and was created with a different purpose in the mind of the designers. Make a list of your specifications and start acting with the proper time tracking app!
If you are not sure you found the right time tracker, try TimeCamp for free to turn the intricacies hidden behind project management into simplicity!
If you are not sure you found the right time tracker, try TimeCamp for free!