Best Free Hubstaff Alternative
April 8, 2019
by Kamil Rudnicki
No comments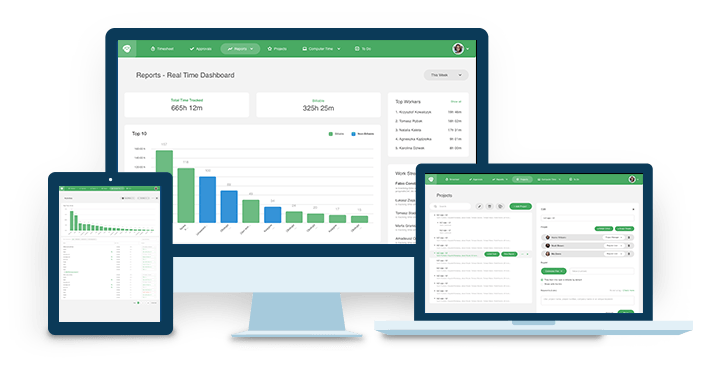 Check Hubstaff Alternative
Pricing
Hubstaff

TimeCamp

Free for 1 user
Basic – $7/user/month
Premium – $10/user/month
Enterprise – $20/user/month

Solo – $0 for a single user
Basic – $7/user/month
Pro – $10/user/month
Enterprise – custom pricing
Get a 100% free Hubstaff alternative that tracks time automatically, bills customers and employees accurately, and helps monitor team's workflow
Hubstaff vs TimeCamp features comparison
| | | |
| --- | --- | --- |
|   | Hubstaff | TimeCamp |
| Archiving Projects | ✅ | ✅ |
| Budgeting | ✅ | ✅ |
| Invoicing | ✅ | ✅ |
| Offline Time Tracking | ✅ | ✅ |
| Project Time Estimates | ✅ | ✅ |
| Absence Analysis |   | ✅ |
| Calculating Income |   | ✅ |
| Project Dashboard |   | ✅ |
| Timeline |   | ✅ |
| To-do lists |   | ✅ |
Want to switch from Hubstaff to TimeCamp? Find out why!
Because TimeCamp has an entirely new desktop app, you can now manage your time entries directly from your computer! There is no need to visit a website version to access all the features of your favorite time tracking software.
TimeCamp is perfect for teams and individuals! This Hubstaff alternative creates automatic timesheets based on the employee's activity. It's that simple! So now, you and your team don't have to worry about spending all that time on filling timesheets.
But TimeCamp is also a helping hand for freelancers – it provides an in-depth analysis of all your activities. With detailed reports, you can see how much time you dedicated to all your actions and then invoice your clients!
What are the differences between Hubstaff and TimeCamp?
TimeCamp has an attendance module that helps your team not only to track their efficiency but also manage vacation hours, holidays or sick leaves.
Except for time tracking, TimeCamp tracks the computer usage – monitors all apps, tools, software, websites you use on a daily basis.
While you need a third-party app to connect Hubstaff to Google Calendar, TimeCamp has a direct, easy to set up integration – just a few simple clicks and you can track time for your Google Calendar entries with our time tracker!
TimeCamp has a great, entirely new desktop app that includes the full feature set available within the web application.
Want to know more? Read about Desktop App | Attendance | Work Time Tracking
Why is TimeCamp the best Hubstaff Alternative?
Has a fully-featured desktop app
The application's interface allows you to do everything you would be able to do using the web application.
Tracks computer usage
TimeCamp automatically records the time usage of each application running on your computer, as well as its names and attaches the entries to the appropriate tasks.
Tracks attendance
TimeCamp tracks all your employees' activities. All the information synchronizes with the cloud on the server. Every single activity, time off, vacation is available in the reports.
Integrates with 100+ apps
TimeCamp integrates directly with many different apps! Whether you need a connection to your accounting, project management or calendar app, TimeCamp does it for you!