Why you should consider TimeCamp as a MyHours Alternative?
May 6, 2021
by Ola Rybacka
No comments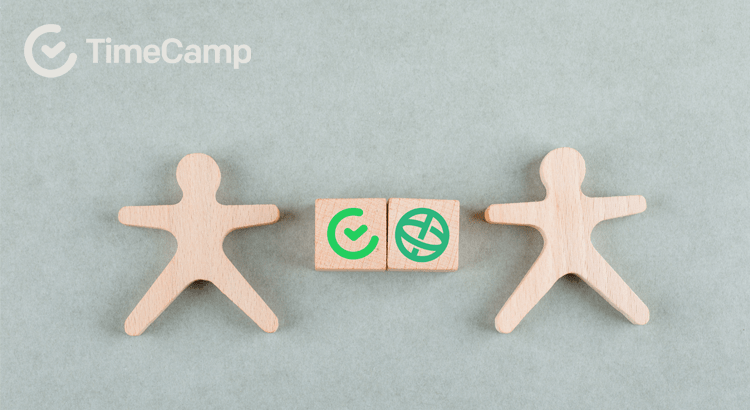 Already a MyHours user, but just want to try other time tracking software? You're in the right place! TimeCamp offers an easy-to-use, effortless way to track time for your projects and tasks to bill both employees and customers accurately.
Introduction
If you're looking for a MyHours alternative that's something more than a basic time tracking and task management solution, TimeCamp is the right choice. It provides not only employee time monitoring but also enhances your workflow with reports, delivering you and your team reliable data on how you perform.
Thanks to its clear task structure, you can easily import and export the data to your favorite project management software. No more manual time tracking does it automatically, assigning time logs to the projects based on keywords. What's more, you can import the data from your previous time trackers!
The tool is available for all the most popular platforms and devices, so you can track your time whenever you are!
👉 TimeCamp as MyHours alternative: a comparison
✅ Time tracking
Both TimeCamp and MyHours offer online time tracking and manual hours logging, as well as a mobile app. But choosing TimeCamp, you'll be able to track time and activities straight from your computer thanks to the easy-to-use and non-distractive desktop app, that works in the background.
What is more, as a MyHours alternative, TimeCamp offers you a graphical weekly timesheet, which is more convenient if you're logging time for work purposes less often than every day. And if you're pretty sure you're doing the same things every day, with TimeCamp, you can copy entries from previous timesheets with just a few clicks. On the contrary, TimeCamp does not include the additional costs, the projects are billed based on the hours tracked and rate set for it.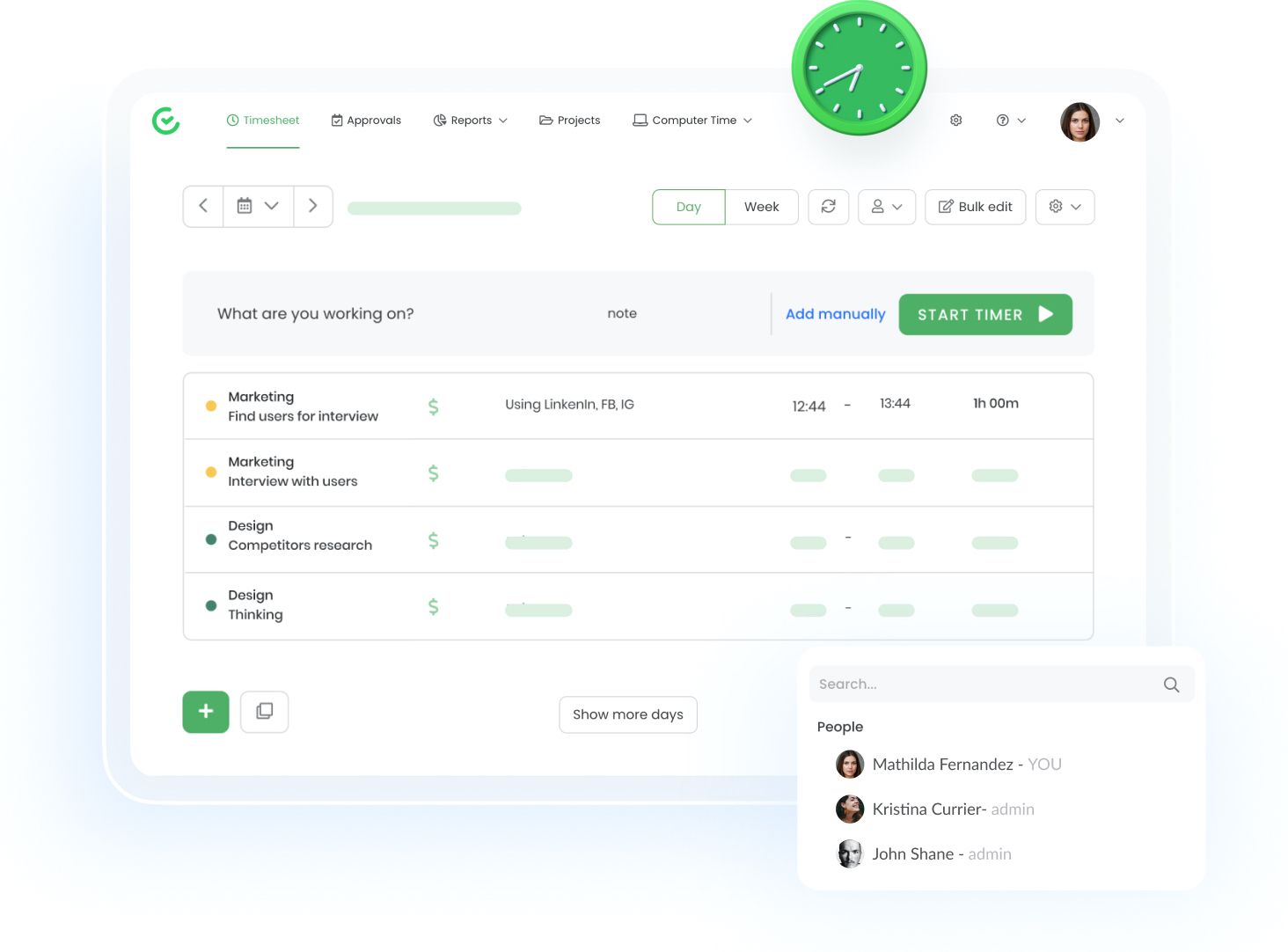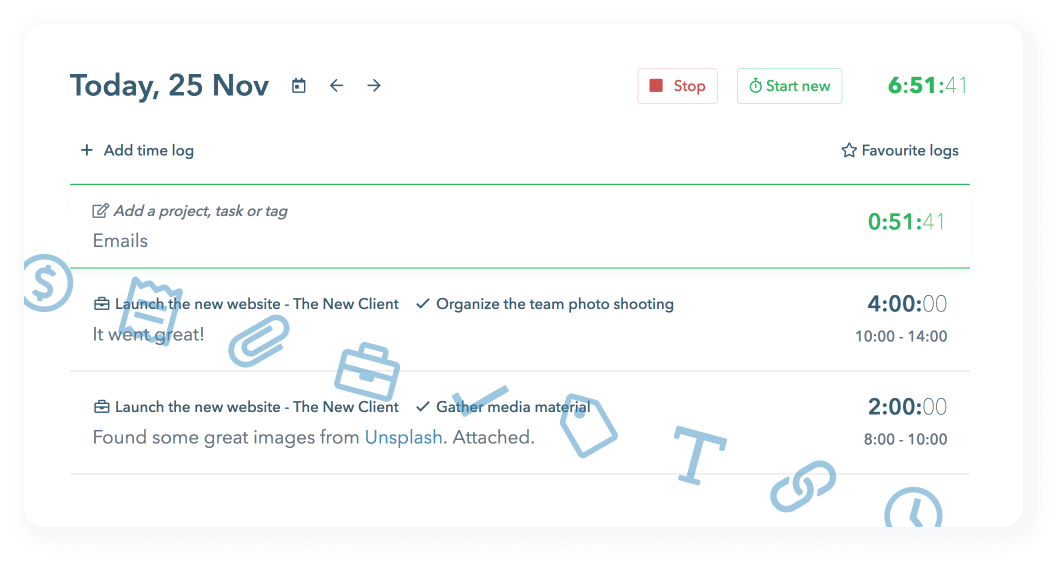 ✅ Reports
The reporting feature helps you not only monitor your team's workflow but also provides you with data on employees' productivity. Both tools include it, but instead of 4 basic views in MyHours (team report, cost, revenue, margin report), it offers 13 different ones to provide you with accurate data on how your team is performing. No matter what tool you choose, you'll be able to export the reports to Excel, PDF, and other most popular formats.
✅ Attendance
While both tools offer time tracking features, only TimeCamp serves you as an attendance platform. It provides an entire attendance module where you can manage holidays, vacation hours, and sick leaves, as well as approve your employees' timesheets. What is more, the attendance module and billing rates combined to provide you with a payroll system inside of the TimeCamp!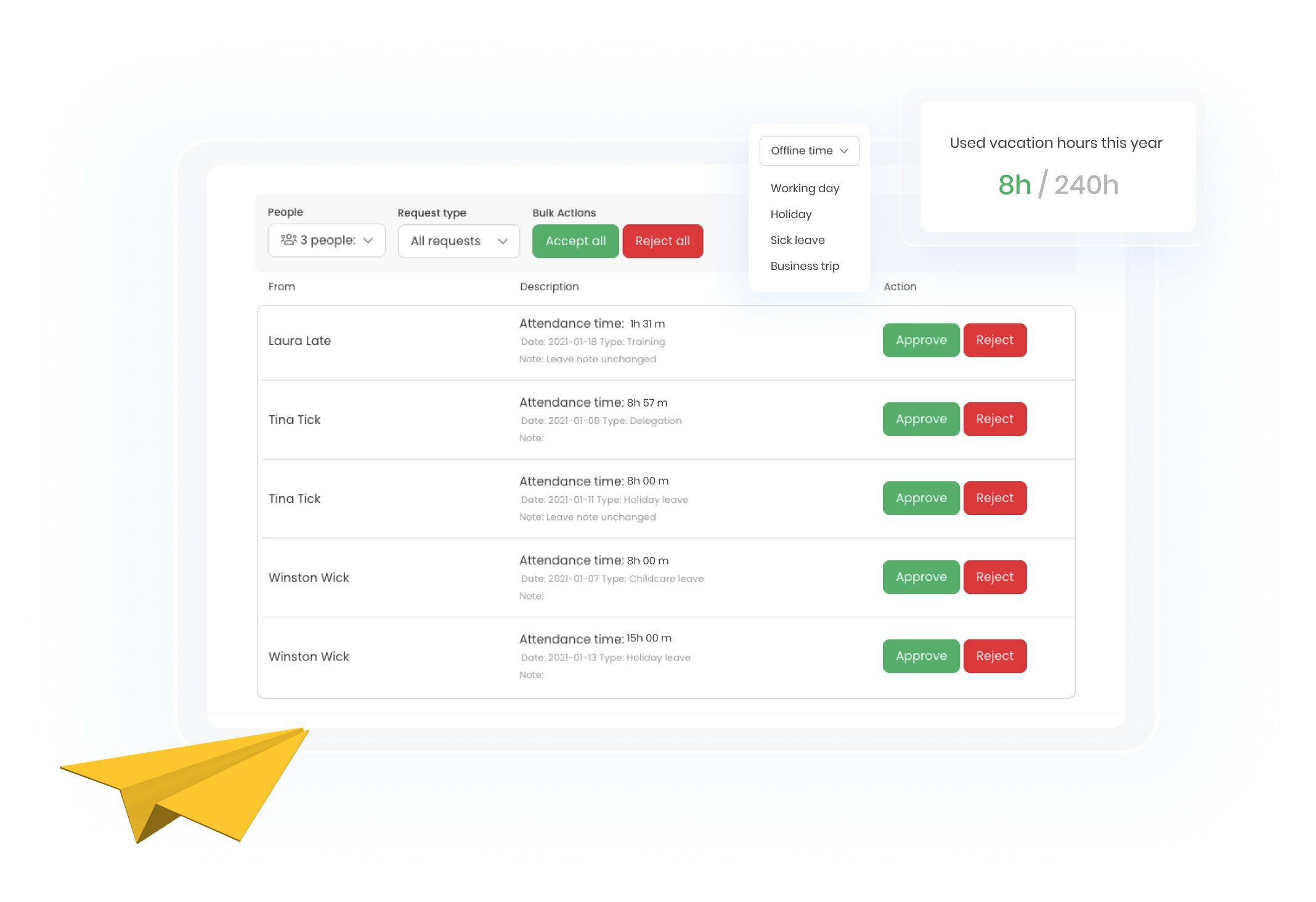 ✅ Accounting
You can use both MyHours and TimeCamp for invoicing, but our tool offers it in a more flexible way. You can adjust your invoice to your needs by changing the layout according to what data you find the most important for your customers. TimeCamp also offers Paypal integration that allows you to track your payments for issued invoices on an ongoing basis.
✅ Integrations
While MyHours offers only Quickbooks and Zapier integrations, TimeCamp has a wide range of tools you can track time for directly – from project management and collaboration software to sales and accounting apps. 
👉 Read more about Time Tracking Software for QuickBooks.
✅ Pricing
While MyHours has a free and a paid plan ($6 per user per month), TimeCamp's pricing is more flexible, offering the following tiers:
Free – for unlimited users, with unlimited projects and tasks, 
Basic ($6.30 per user per month)
Pro ($9 per user per month) 
What is more, if your business has other special requirements there is also an Enterprise plan that can be customized to your needs.
👉 Summing up
Compared to MyHours, TimeCamp is just more comprehensive time tracking software. It ensures your team with effortless, automatic time tracking that works in the background so that you can stay entirely focused on what you're currently doing. It also serves as an attendance management system, so that managing both office and remote teams with it is a piece of cake.
TimeCamp, as a MyHours alternative, offers considerably more integrations with many other tools, like project and task management, collaboration, accounting, customer service, and automation tools.
🤔 Why choose TimeCamp?
If your team needs something more than however reliable, but basic time tracking and time management features.
🤔 Why choose MyHours?
If you need a simple software for tracking time just to let you and your team know how you perform.
---
If you need to find out more about TimeCamp and how it works, our support is available and happy to help. 
Visit also the Knowledge Base for more info.
High-performing teams and freelancers love TimeCamp ❤️
Sign up for a free trial today and improve your business performance with robust time tracking software!