Easy Billable Hours Tracking
If projects are fixed price or billable by hours, in both cases good project managers should track time to know if they make a profit
So What Makes Us Different?
Do you want to be a successful project manager and:
Not lose time spent on billable hours that are eventually not billed?
Know how much development time (and therefore the cost)?
Want to be able to accurately bill your clients?
Know how many hours you spend on non-billable projects or other work?
Measure project profitability?
Track actual project hours to detect project overrun and under run and analyze your estimation accuracy and your efficiency?
Forecast time and costs for future development projects?
Justify time to your client, and adjust your rates for specific projects?
One-Click Visual Time Tracking
Do you want to implement timesheets successfully? Get it right with one click and/or automatic time tracking! Advance and start using automatic time tracking and calendar integration. You will never miss any billable hours.
What is the Definition of a Successful Project?
To make a project on time, on budget and with good quality. Get help from TimeCamp to make sure your projects are going well. See project profitability, and see problems before they arrive. Improve predicting and estimating projects. You will have a complete history of your project portfolio and actual vs. estimated time.
GPS location tracking
Do you need to keep track of your teams' location throughout the day? Easy as pie! Just use our GPS tracker and you'll have the information on who is where and when.
"TimeCamp time tracking features are awesome, reporting is awesome. The changes implemented recently like the ability to sort the timesheet and the ability to select billable, non-billable, or both in all reports is awesome. Currently, I manage my time in TimeCamp, my to-do list in Todist, and my project management in Trello"
Features for billable time
| | | | |
| --- | --- | --- | --- |
| Graphical timesheet | One click time tracking | Mobile/desktop apps | Automatic time tracking |
| Subtasks | Notes | Calendar integration | Trello integration |
| Budgeting in $ or time | Calculating income | Estimates vs. actuals | Powerful reports |
Quick Online Invoicing
Track different clients and different jobs by client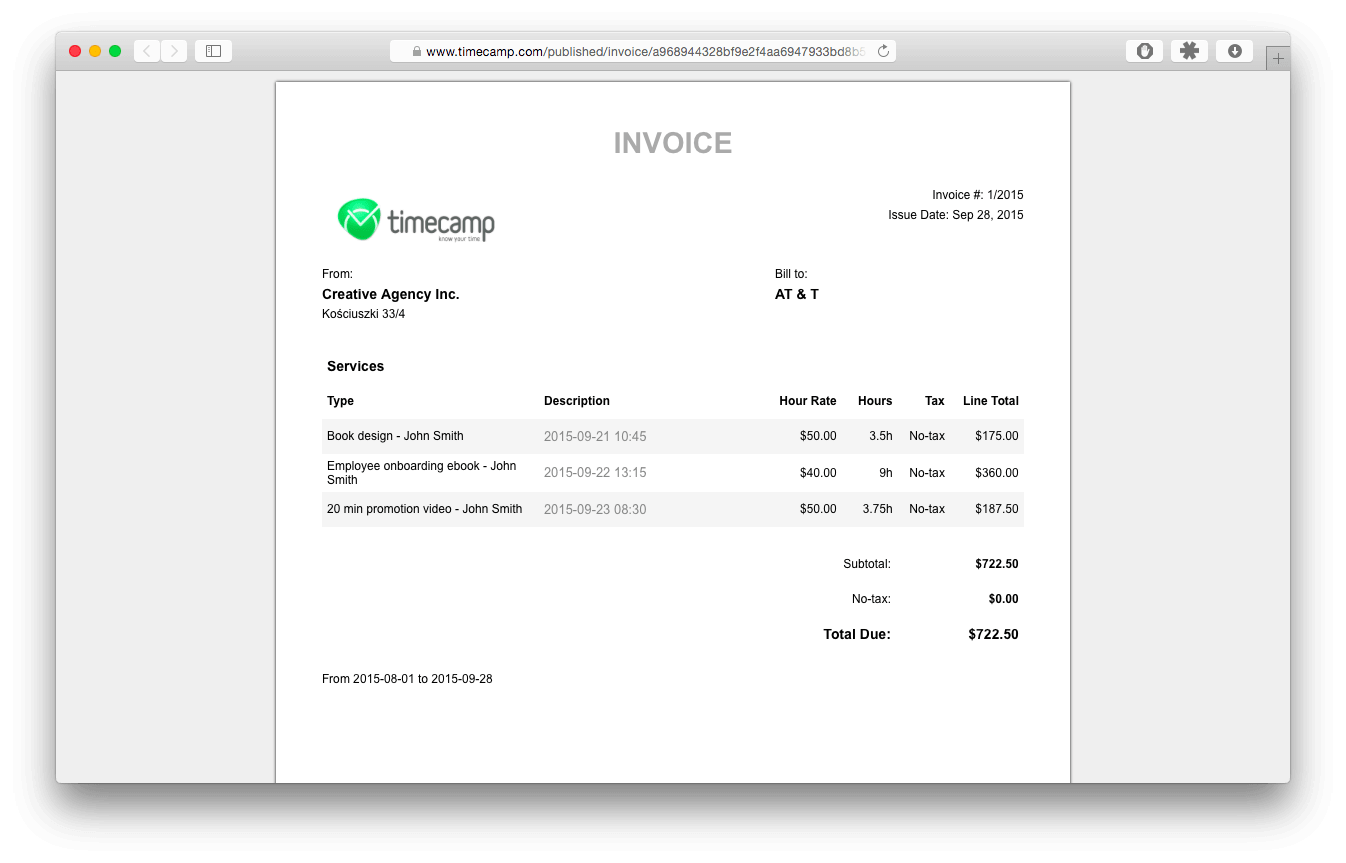 Use time entries to bill your clients or to measure project profitability. Track how many billable hours people work on paid project, and how many hours are spent on non-billable projects or other work. It's simple. Employees can to log their hours worked, so that you can pay them for the hours worked at the end of the month.
Features for invoicing
| | |
| --- | --- |
| Professional appearance invoices | Integrated payment gateway |
| Notifications when client views an invoice | Filters an reports |
| Tracking billable and non-billable time | Automatic invoicing based on hours |
Productivity Perfected
"TimeCamp will open your eyes to how the day is spent."
"TimeCamp really does find and make you time."
Pin down what you are actually doing, how much time is wasted (or not).
Finally, Time Camp allows employees to self-monitor their own productivity, especially how much time they're losing to various distractions
Visibility of what colleagues are doing.
Treat time more respectfully.
Manage themselves more.
Trust each other.
Hard-working people and bright people want to work with others that are also pushing themselves
TimeCamp has given visibility and trust for each other's time management choices and, in any team, trust is the paramount to making the total effort greater than the sum of the parts.
Gain up to 30 minutes of productive time per day per employee
"Since I have discovered TimeCamp it has made being a freelance worker 100 times easier! I wouldn't know where to start if I couldn't use it."
"TimeCamp reveals and removes the common distractions from our teams flow - having it running is like having an extra hour to give back to everyone in your team every day."
Features for time management
| | | |
| --- | --- | --- |
| What are employees doing | Most time-consuming websites and applications | Goals |
| Productivity analysis | Detailed history on how people spends a day | Weekly email summary |
| Automatic computer usage tracking | Time spent on documents | Track offline activity |
| Timesheet approvals | | |
Attendance and Time Off
At a glance, see how many paid hours your team has logged
Features for attendance and time off
| | |
| --- | --- |
| Attendance analysis | Absence analysis |
| Track who is in and who is out at any given time | Start and finish work time analysis |
| Tracking holidays, days off, etc. | |
Add-ons and Apps
Seamless Integration with Project Management Software
"TimeCamp has become an essential part of my work flow. I am very happy to be able to track time in this way as I have tried many, many tools and integrations and this is the simplest and easiest to use."
TimeCamp is best for
Professional service companies, agencies, consultants.
Any professional working person or team, looking for good, comprehensive software (online web app) to track anything that's related to its time management.
Busy people.
A productivity fanatic, a student.
Office managers, small teams, agencies.
People who want to be more efficient.
Lawyer, consultant, customer support agent.
Start-ups and anyone using multi-level project management processes.
Managers with in-house teams.
People switching task very often.
Service-oriented businesses who want a simple way to track time against issues and generate invoices for clients. That's what we need, at least.