Your favorite Time Doctor Alternative
get TimeCamp now
Already an employee monitoring software user, but want to try different solutions? Find out how TimeCamp can meet your needs as one of the most often recommended Time Doctor alternatives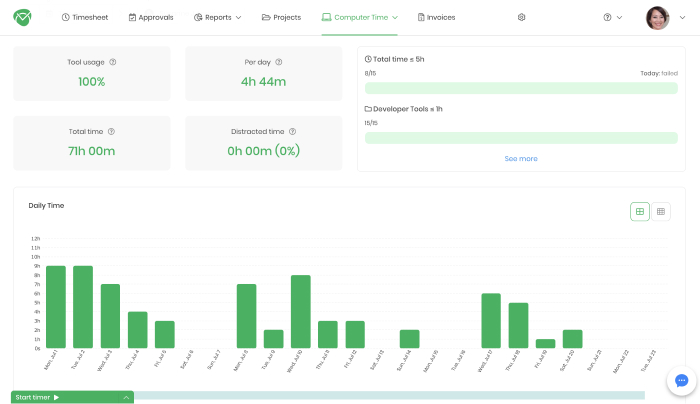 TimeCamp is not only the regular time tracking software, but it also gives you a detailed overview of how your team is performing, makes the project management clear and smooth. It just gives you transparency, providing your team with detailed reports on time spent on projects, so that the way to the ultimate productivity becomes more straight. Compared to others, TimeCamp is not only an ordinary time tracker, it enhances your payroll process and serves as an attendance tool so that it's definitely one of the most comprehensive alternatives to Time Doctor.
How does TimeCamp compare to Time Doctor?
TimeCamp
Feature
TimeDoctor
Starts at 5.25$/ month
Price
Starts at $6/ month

Free Plan


Screenshots


Attendance


Website & App Categories


Detailed Reports


Absence Analysis


Computer Activities Tracking


GPS Feature


Invoicing

As you can see, both apps are perfect for companies demanding software that offers comprehensive employee time tracking. They're both simple to use, track hours and provide comprehensive and helpful reports on how the team spends the time at work. Although, TimeCamp has a number of assets that even such well-developed time tracking software as TimeDoctor does not offer. Choosing TimeCamp means you get the best value for the money - TimeCamp is one of the cheapest alternatives to Time Doctor. And what is more, it offers a single plan for those who need reliable time tracking solutions for free. Additional features may prove to be groundbreaking in the management of any business. No matter how big your team is, both software track time effortlessly, but TimeCamp will undoubtedly be better for remote teams as it provides an attendance feature.
Why choose TimeCamp?
If you're looking for a fully-featured time tracking and time management software. It does not only log working hours or track computers' activity but also serves as a team management alternative.
Why choose Time Doctor?
If you or your employees need to be reminded that you're still working and tracking time. It helps also to avoid wasting time filling timesheets manually.
If you need to find out more about TimeCamp and how it works, our support is available and happy to help.
Visit also the Knowledge Base and blog for more info!
High-performing teams and freelancers love TimeCamp. Get it for free today!
5-minute setup, no credit card required
BEST TIME TRACKING SOFTWARE IS HERE