Case Study: How Warbench Helps Remote Workers To Be Part Of Team?
November 23, 2015
by Ola Rybacka
No comments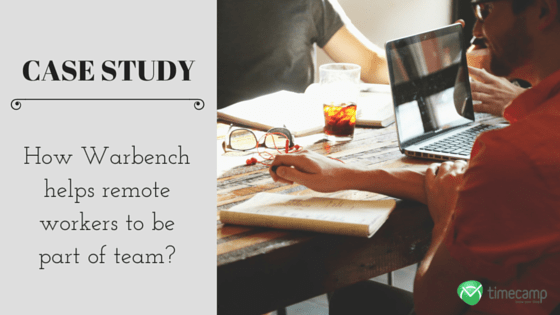 We're living in time when technology is commonly used. Everything which is connected to the Internet helps us adapt the reality and adjust it to our needs. There is now a possibility to work from almost every place in the world, that's why more companies decide to hire people working remotely. Benefits of doing everything from home are just obvious, but how it really looks in practice?
What about research?
According to a Gallup study, the number of people who worked at least one time remotely in their career has growth, 37% Americans said that in 2015 (in comparison with 2006 when it was only 30%).
People who are working from home mainly appreciate the opportunity of making their own schedule, less stress and the comfort of being together with their families all the time.
But there is also an ease connected with travelling effortless from place to place, without feeling guilty of leave the worksite.
Right employee management          
However, is it possible for those people to cooperate in real time with employees working in the office? How to avoid all the delays? The answer is really simple: right management tools and productivity trackers. One of them is Warbench, the platform of video calls which helps remote workers connect easily with the co-workers everywhere.
The idea is really simple – all the people who participate in a conversation see exactly the same – it's like sitting together at one bench.
All the screens are synchronized during the call, so participants can explain their point of view by just dropping the stuff on the online conference table.
Effective communication     
In case of remote workers one of the most important thing is right communication. People who work in the office constantly can discuss every single problem with each other in the real time.
Warbench lets them communicate with remote workers in the same way, but using  video call, which is almost the same as face-to-face meeting.
It's helpful to avoid all the misunderstandings caused by, for example, communication by emails full of understatements. There is also a benefit for remote worker, because every single call allows him (or her) assimilate with the team, which improves the relations between co-workers.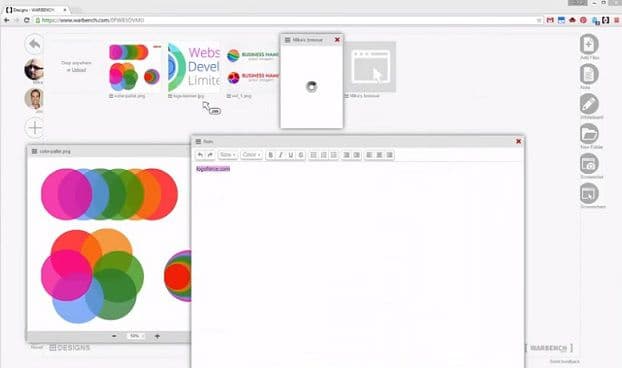 Discuss and share     
The market is full of similar tools, but Warbench is really unique because of its simplicity and intuitiveness.
Management of projects shared with remote workers is as easy as a few clicks to start a call.
To join the conversation users just have to enter the same link as the others. As an online conference table, Warbench allows all the participants to give the feedback not just by the voice, but also by drawing on the documents and highlighting or writing small notes to don't forget anything important.
Warbench is integrated with other popular management tools like Dropbox or Google Drive, so sharing the all the documents  is cloud-based. It allows remote workers to explain their point of view or what needs to be done without any procedural issues. Everything is fast and legal, the boss decide what to share with remote workers just by one click, not by email or traditional post.
Integrate it with time tracking        
Warbench allows on online company meetings, but how to manage remote workers time in a right way? People working at home are always out of reach and controlling them is almost impossible without using an adequate tool.
The best solution is time tracking software, which helps leaders to know how much time their employees spend on various activities.
The connection of data from Warbench and TimeCamp let them get the complete and reliable picture of situation and help them draw conclusions how to improve remote workers productivity.
Let them be the part of the team    
The key to right communication between employees working in an office and remote workers is let the latter know that they are the important part of the team. That's why tools like Warbench were invented. People working at home are not just unnamed, co-workers can see their faces and hear their voices. They have their own opinions to share them with the others and ideas which they want to discuss. The opportunity of real time communication helps them truly participate in company's projects.