Top Time Tracking Software for Contractors
May 10, 2018
by Kate Kurzawska
6 comments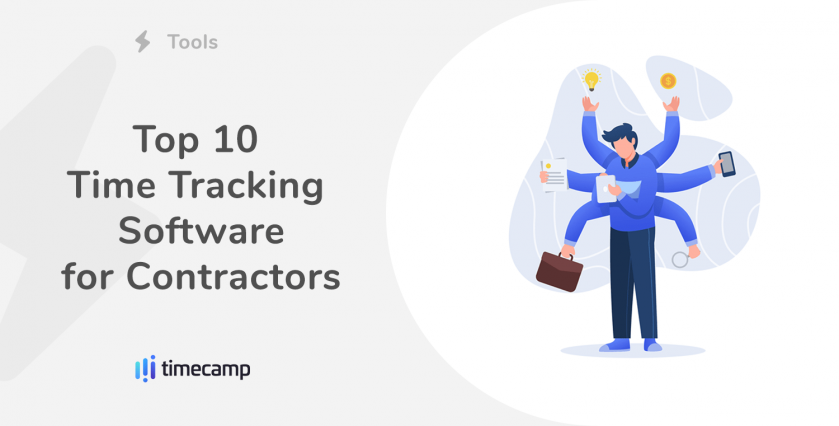 When thinking about a project and team management, some people don't realize that in certain professions there is a much bigger picture. In project management, as we know it, it's quite simple. You receive the project and your job is to deliver it on time.
However, there are businesses in which project management gets more complicated. That's the case with contractors.
Time Tracking Software for Contractors
Contractors very often work in areas such as architecture, design, construction, banking, civil engineering, or IT. Fields which make the daily life of other people better. But they tend to be forgotten and their work is of great value since they work hard to make our lives better.
Contractors have to deal with many difficult aspects of work which include a variety of tasks. They have to involve in business consulting, accounting, complying with local or federal permits. They also need to make sure they're getting paid for their job and work on profitable projects. All these tasks involve a lot of work.
Freelancers are in the same boat. They work with multiple clients, often on an hourly basis, and need to keep a hand on all the administrative processes.
What Is The Best Time Tracking Software for Contractors?
To keep track of hours spent on working on projects, contractors need a reliable tool that can help them manage their business. There are many timesheet apps on the market.
If you are a contractor looking for the ideal time tracking software, you are in the right place. Today, we present the list of top time tracking software for contractors:
QUICK NAVIGATION:
#1 TimeCamp
Best for: tracking time and billable hours automatically in a simple way
Either working solo or with a team, TimeCamp is a fantastic time tracking software for contractors – and now it's free for unlimited users! The tool combines features of time tracking and project management software which will work wonders for your company.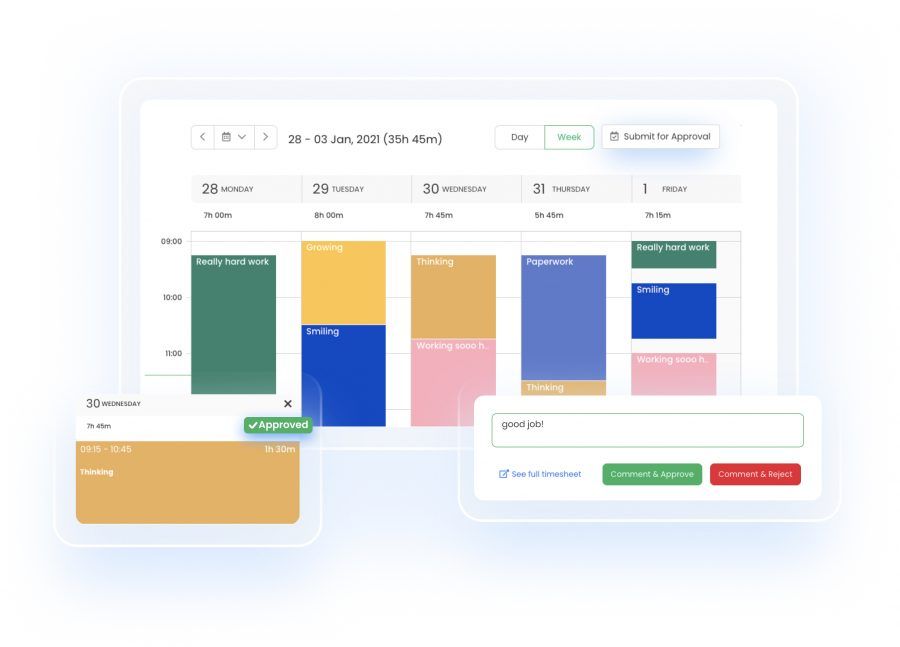 Take a look at this short list to see how TimeCamp helps in contractor's work:
TimeCamp is now free for unlimited users,
Because accounting is of great importance in contractor's work, you can easily bill your clients based on billable hours, tasks, or projects.
Accounting is also about invoicing. TimeCamp has the feature of creating invoices based on the reports and sending them right away to your clients.
Automatic time tracking with desktop app saves your time. You don't have to switch between different tasks. The app follows your activities.
Extensive and detailed reports inform you about your activities and show those productive and unproductive.
GPS tracking feature
TimeCamp allows you to easily track and analyze your or your team's absences, sick leaves, or holidays. This feature is crucial when it comes to payoff and taxes.
Powerful integrations enhance your work with other tools and apps.
The tool is available for all platforms and as a mobile app.
TimeCamp's features take away the pain of dealing with financial issues and help you allocate resources. And if you're working alone, the software gives you a detailed insight into your individual work.
Turn your contracting into professional services with TimeCamp!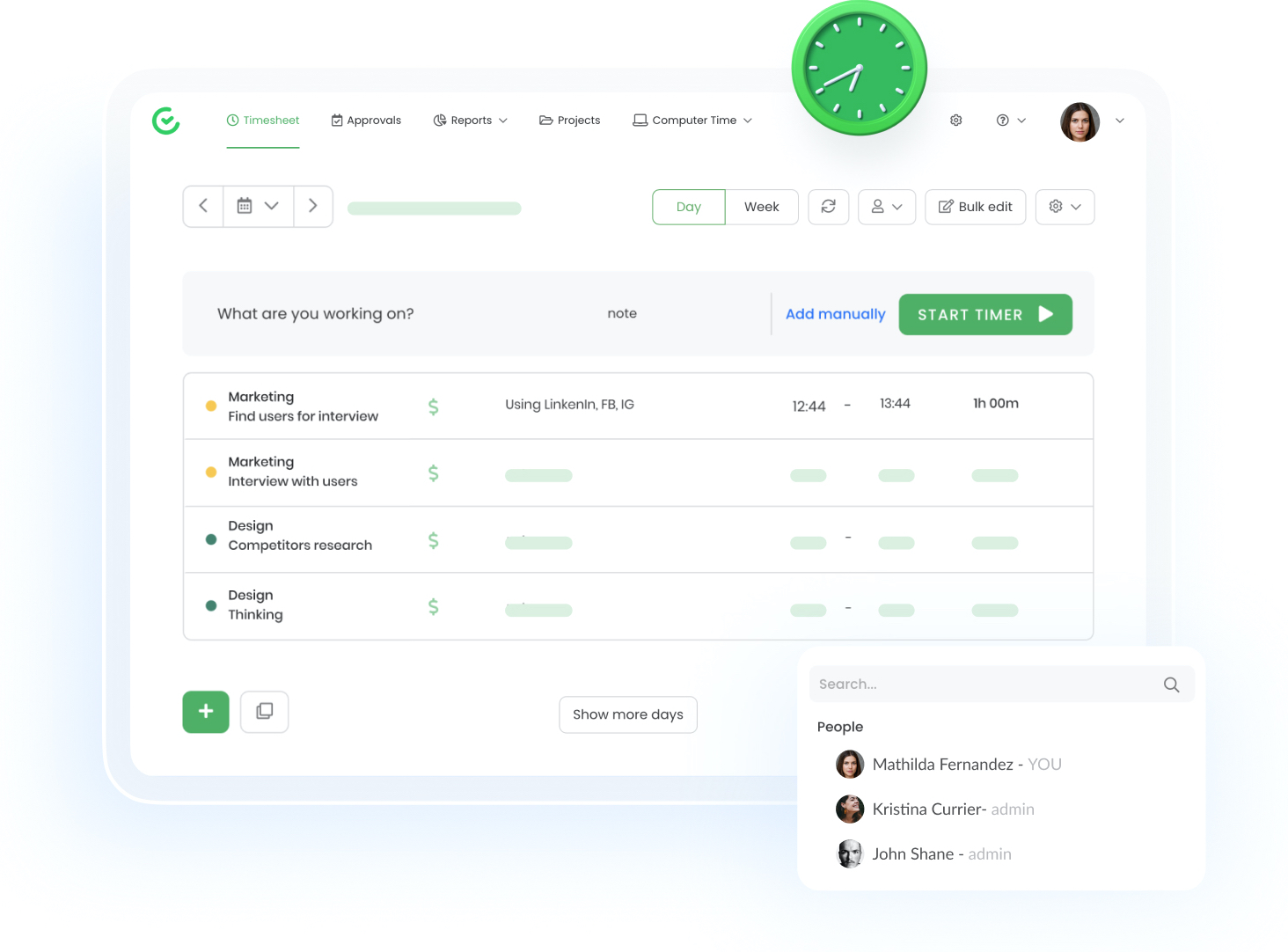 Best for: tracking time with timesheets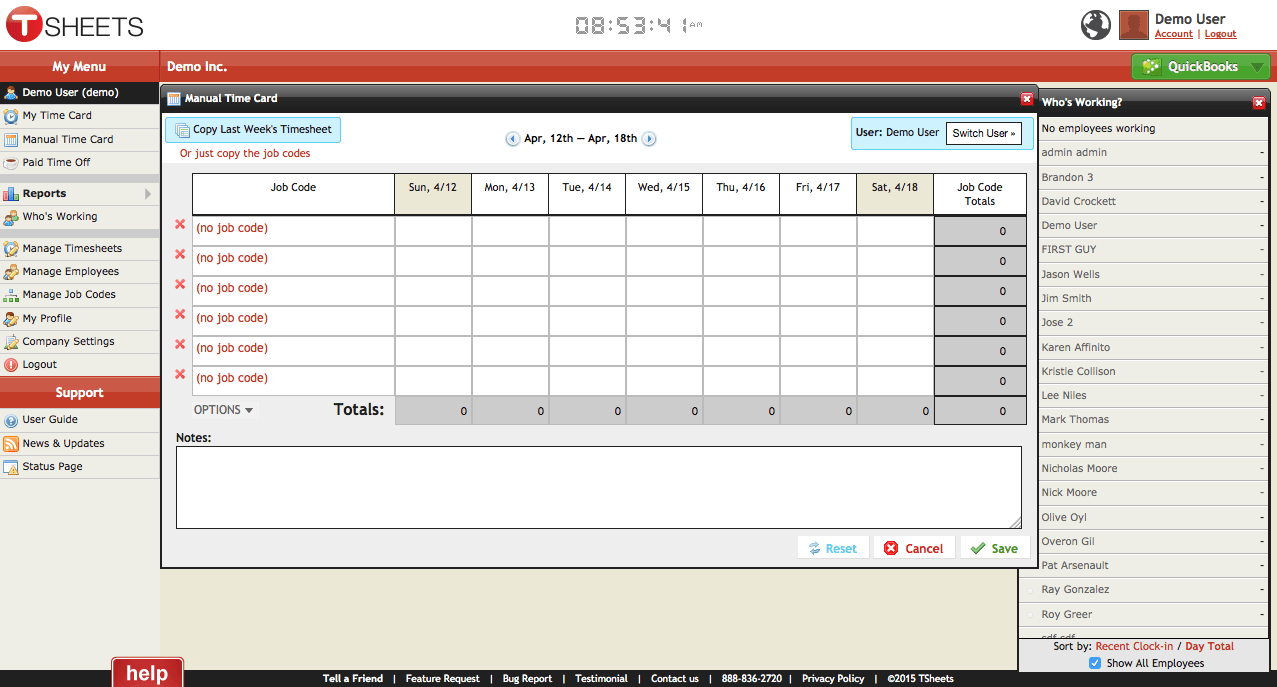 TSheets was created with contractors in mind. It focuses on logistic issues of contracting. So if you employ people seasonally or occasionally, and work mostly in the field, this tool will meet your expectations.
First of all, it automatically tracks time for your employees so they don't have to carry all the timesheets with them wherever they go. TSheet's time tracking saves all the data in the form of electronic timesheets and you can easily access them from anywhere.
The software has a mobile app for iPhone and Android and the build in GPS automatically tracks employees' location. Whenever they clock in and out, you see that information in timesheets. Moreover, with this time tracking tool you can be sure that you comply with the Defense Contract Audit Agency (DCAA) and the Fair Labor Standards Act (FLSA), especially important when working on government contracts.
Best for: keeping track of budget and billable time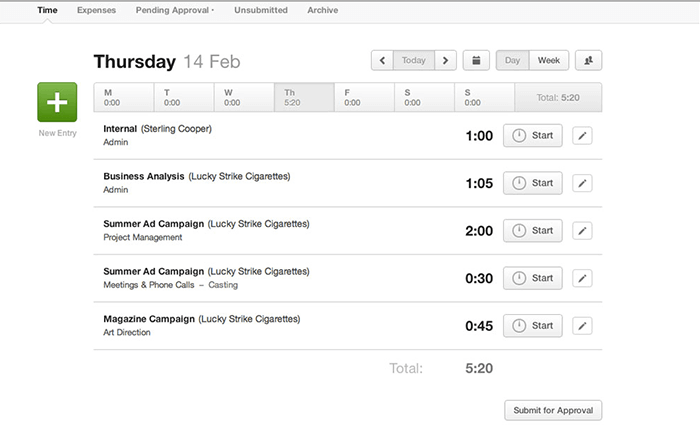 If you're working as a contractor on strictly internal projects, for example, creating a website or content for your client, Harvest may be the right tool for you.
It is simple and if you need to predict future forecasts, you will find it helpful. Here's how it can help in the work of contractors:
Tracking time in this tool tracks not only time but expenses, clients, projects, and tasks.
The timesheets in the visual form help you understand your team's work and see how much time they spend on different tasks. You see how much, when, and on what projects people are working. You always have their work under control.
With extensive reports, you get information on every single aspect of your project: time spent, budget, progress, time left to a deadline, etc.
Harvest allows you to integrate with Xero or QuickBooks to create invoices and quickly send them to your clients. This feature makes accounting easier.
See the comparison between Harvest & TimeCamp
Best for: project management for sub- and contractors from construction industry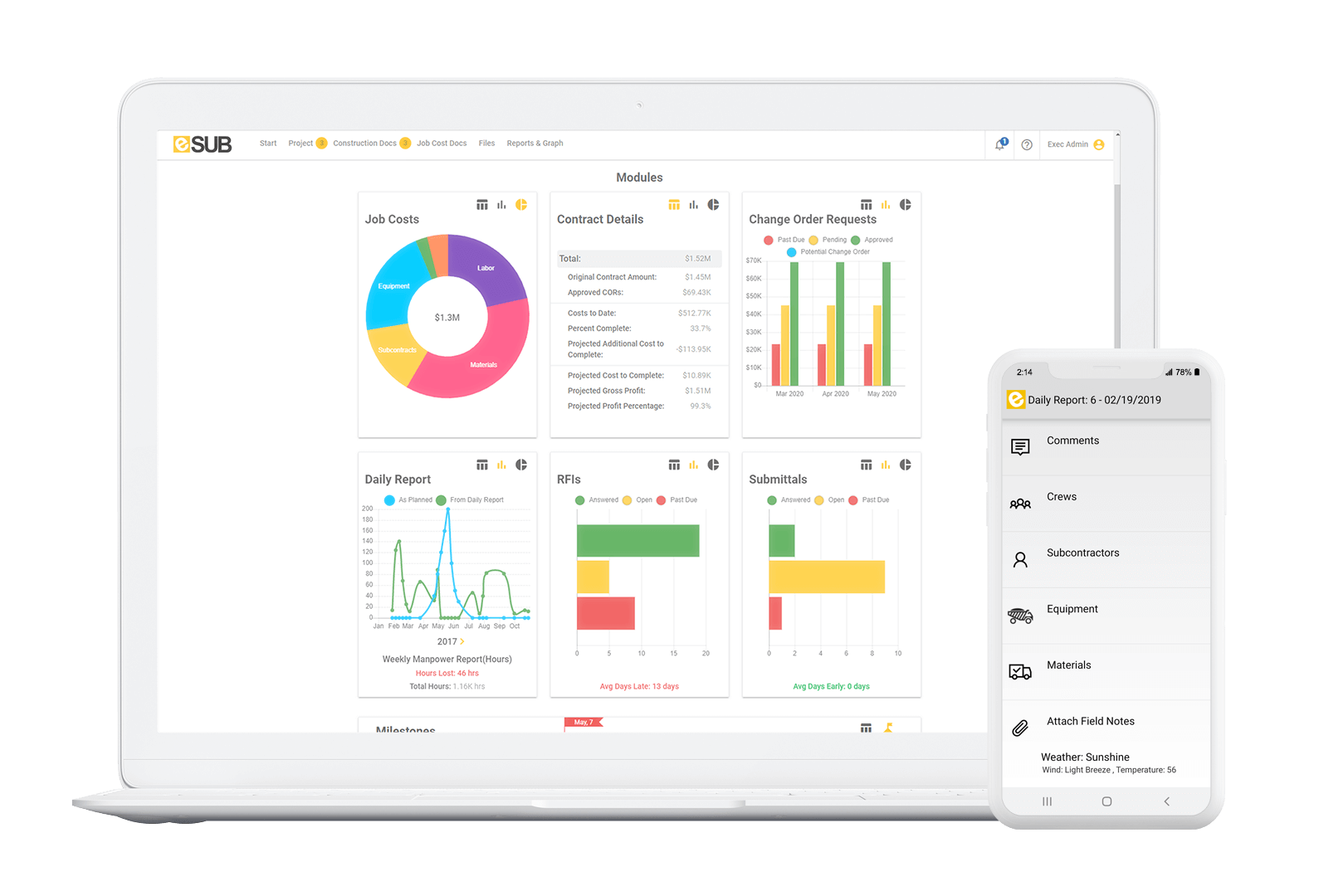 ESub construction software will be your perfect match if you work as a subcontractor and need a good project management tool that will also track your time. Especially if you're working with teams. The software may not be suitable for individuals as much as for larger organizations.
As in any other project management software, you can track the time and progress of your projects. Additionally, ESub enables you to easily enter data, site events, labor activities, material costs, workforce information and more into a fully searchable database updated in real-time.
Thus, it is a perfect time tracking software for contractors who work on the construction site, in the electrical, mechanical, or similar industries. eSub helps you oversee the processes in delivering your services and is your right hand in handling all the paperwork.
Best for: accounting and invoicing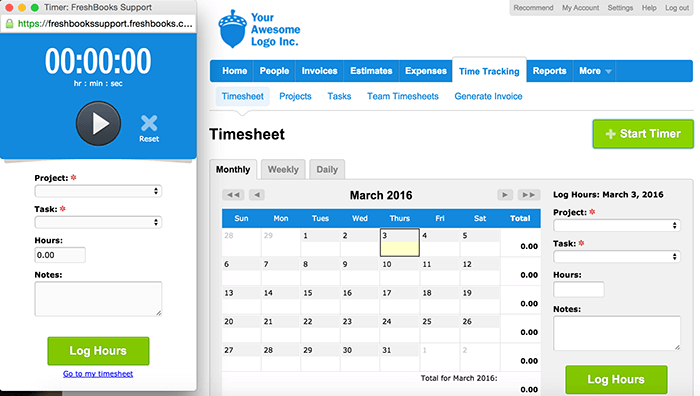 As a contractor, you may be looking for a time tracking software which will help you manage budget. Its aim is to serve as an accounting tool so you can monitor time spent on work and certain projects, organize expenses, create professionally looking invoices, collaborate on projects, but also get paid faster and understand all financial aspects of your work.
Again, in terms of financial issues and taxes, such time tracking software for contractors is remarkably helpful.
Best for: tracking time for a team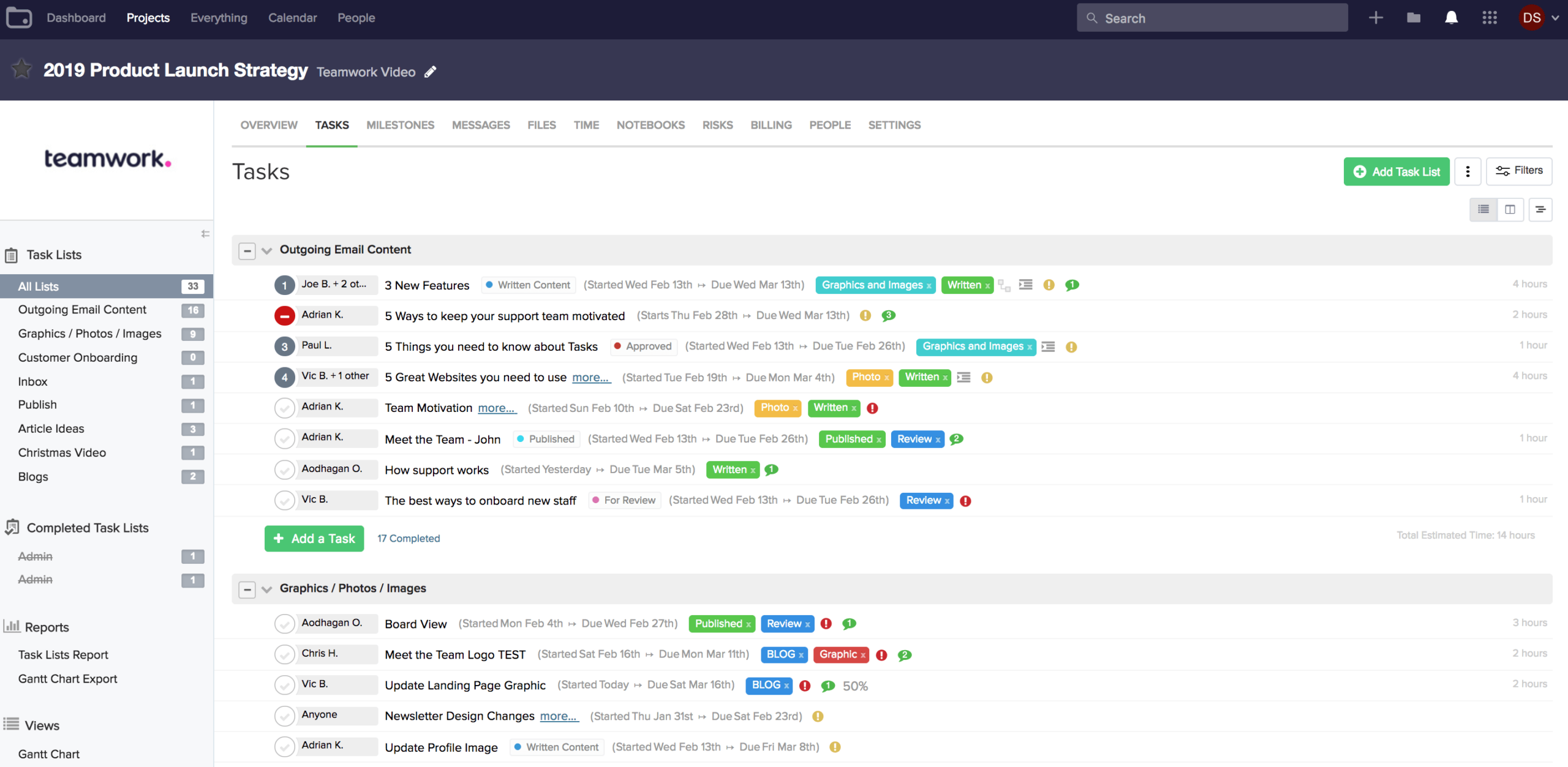 This tool will be suitable for those who need to take care of the more theoretical side of the business. Here's how Teamwork helps contractors in organizing work and the company's culture:
The feature of project management helps in monitoring every aspect of the project: project categories, dates, activity overview, project roles, features, observers, reports, integrations, etc.
The same goes for tasks: task list, subtasks, charts, progress, due dates, and many more
You can observe milestones
You can attach files and work on them
The tool has a feature of time tracking with the possibility to adjust it to your needs
You can create notebooks and invoices
Thus, if you are looking for a tool that would help you in controlling the smallest details in projects and control people's work, you should try teamwork. However, it is most effective when you work with teams.
Best for: planning and scheduling work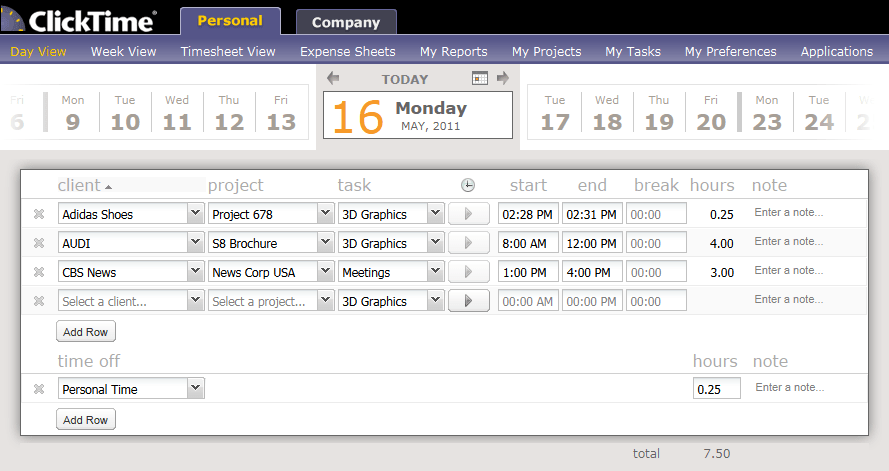 ClickTime will work perfectly if you're struggling with controlling schedule and keeping updates on work regularly. The software helps you in creating automatic timesheets and manage people, their performance, work, and how it's done.
The tool was tailored to businesses offering professional services, which makes it a great time tracking software for contractors working within and with larger organizations or specializing in engineering, architecture, government issues, or any other related fields.
See the comparison between ClickTime & TimeCamp
Best for: real-time analysis of project progress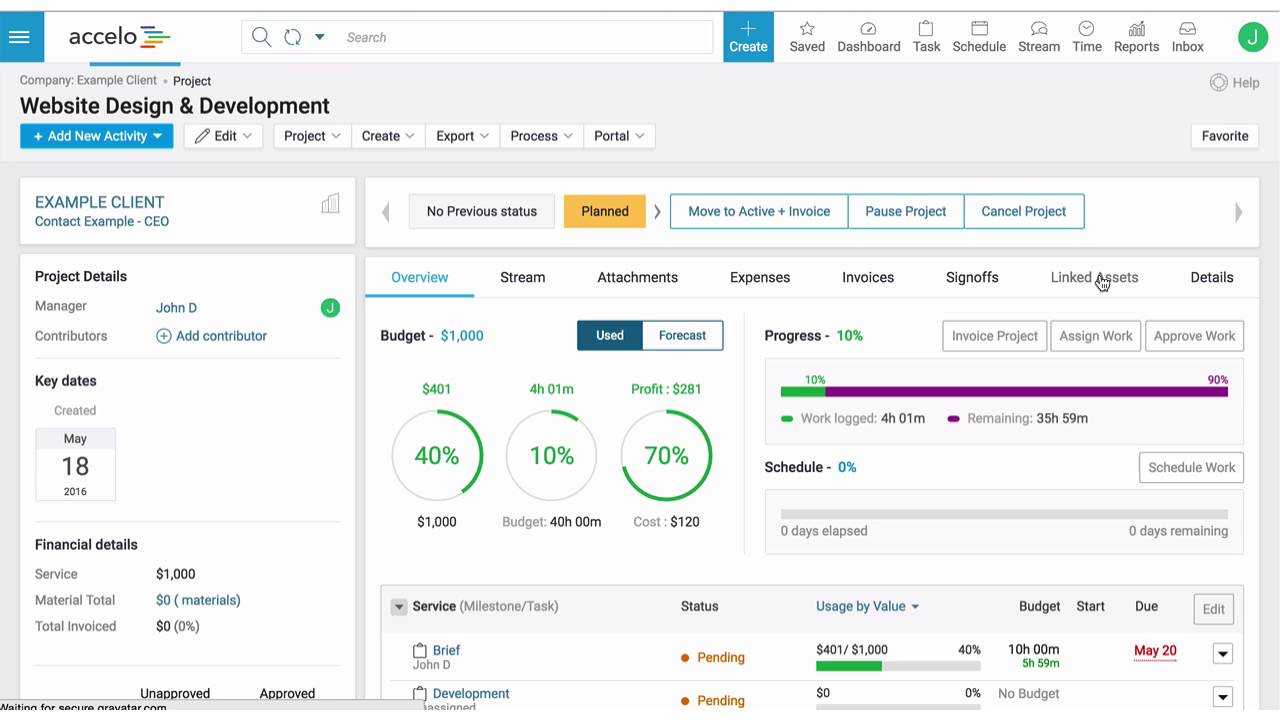 This cloud-based software is a good tool for improving communication between your team and stakeholders and to better understand their needs.
It provides a detailed analysis of ongoing projects and provides information on all aspects of the project such as sued and forecasted budget, expenses, project's stage, deadlines.
Similar to ClickTime, Accelo works best for larger organizations that work with many clients. With the feature of time tracking, the tool helps you to focus on the most important aspects of your work while automatizing the processes of your business.
Best for: tracking time for field workers, maintenance, construction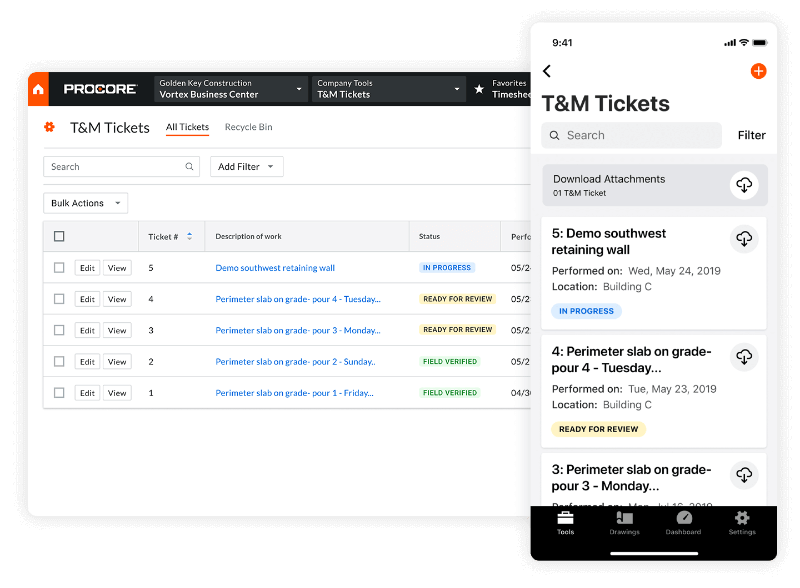 The Procore app is available on mobile phone or tablet. This mobile project management solution enables you to have the freedom to move around the job site while it tells you what's happening and when it's happening.
You have the full insight into project stages. You can also send information, answer questions, and even make sure your teams are working with just one click.
With the Daily Log, you can quickly type in your notes, detail observations, or update job site conditions in the real-time while being in the field. That gives you full control over time spent on particular tasks on the site.
Best for: creating a private, on-premise project management system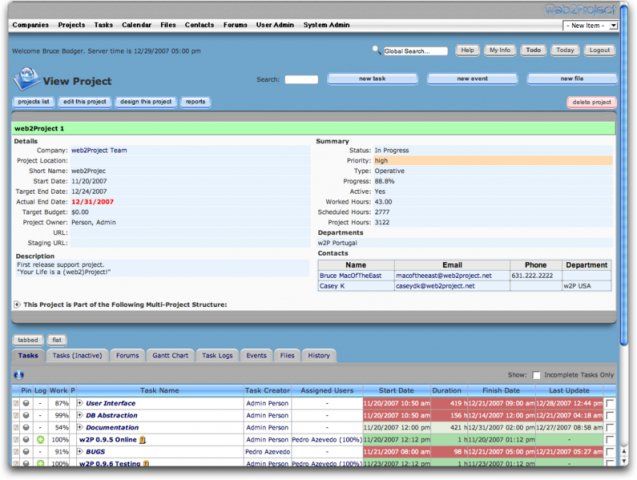 This time tracking software for contractors is a flexible, feature-filled, and stable platform to build upon for your specific business needs.
So if you need software that will assist you in creating your own brand, web2project may solve your problems. Here are its main features:
It has a secure web-based infrastructure capable of managing any number of projects, companies, departments, and users.
Web2project is of great help when it comes to assessing and solving risks related to projects.
It has a role-based permission system which gives the Project Manager fine-grained control over sensitive data.
Project and group-wide Gantt Charts.
A unified calendar – with iCalendar support – showing all relevant tasks and events.
A modular infrastructure which allows the addition or removal of modules to customize the features according to your requirements.
Web2roject is free and can be used by anyone as it can be easily adjusted to personal needs.
Best for: creating a personalized app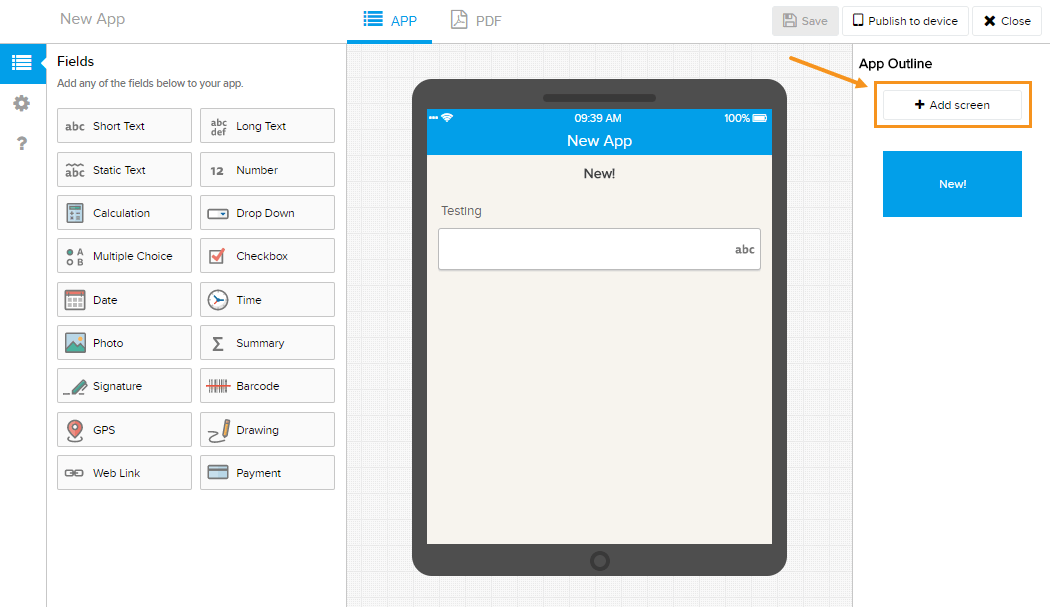 This isn't exactly one specific tool. GoCanvas offers a variety of mobile apps that enhance work on the construction site. You can choose those most convenient which correspond to your needs. Or you can combine them to improve your work even more.
Here are those most important features of some of the apps:
Managing subcontractor agreements.
Filling out building inspection checklists, and complete contractor time tracking activities electronically.
Construction, repair and improvement reports and apps for building and construction project maintenance management.
Managing projects according to set deadline and budget.
Monitoring workers' progress.
Attaching photos, files, and creating PDF documents.
GoCanvas is great when not working in the office because it digitizes work in the field. Moreover, it is an easy-to-use mobile app so you can access it from anywhere.
Best for: managing accounting processes for construction contractors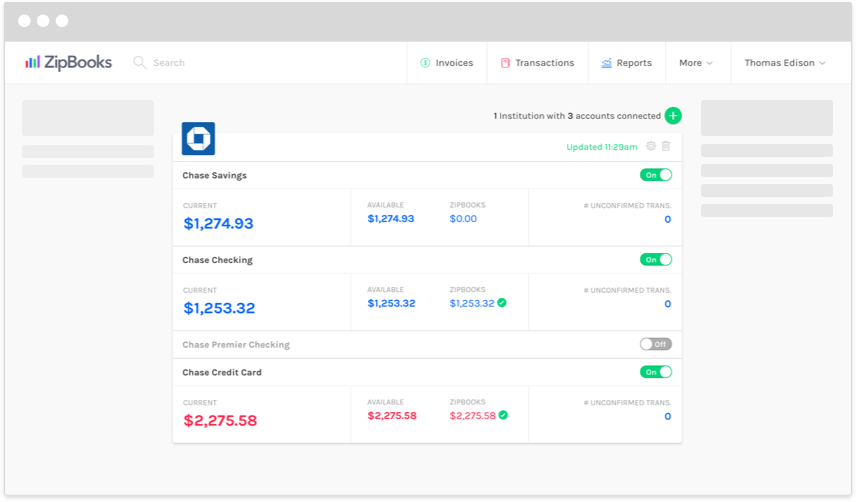 This time management app for construction industry will work wonders in terms of accounting. So if you need an app which will help you (and your accountant) in smoothening financial processes of projects, Zipbooks is there for you.
Beside time tracking Zipbooks has the following features: flexible billing tracking, invoicing, credit card processing, recurring payments, late payment reminders, transactions, bank integration, bank account reconciliation, estimates, expenses, staff and client management, accounting, customer feedback, financial reports, 1099 contractor management, multiple currency support.
Best for: tracking projects and different stages of work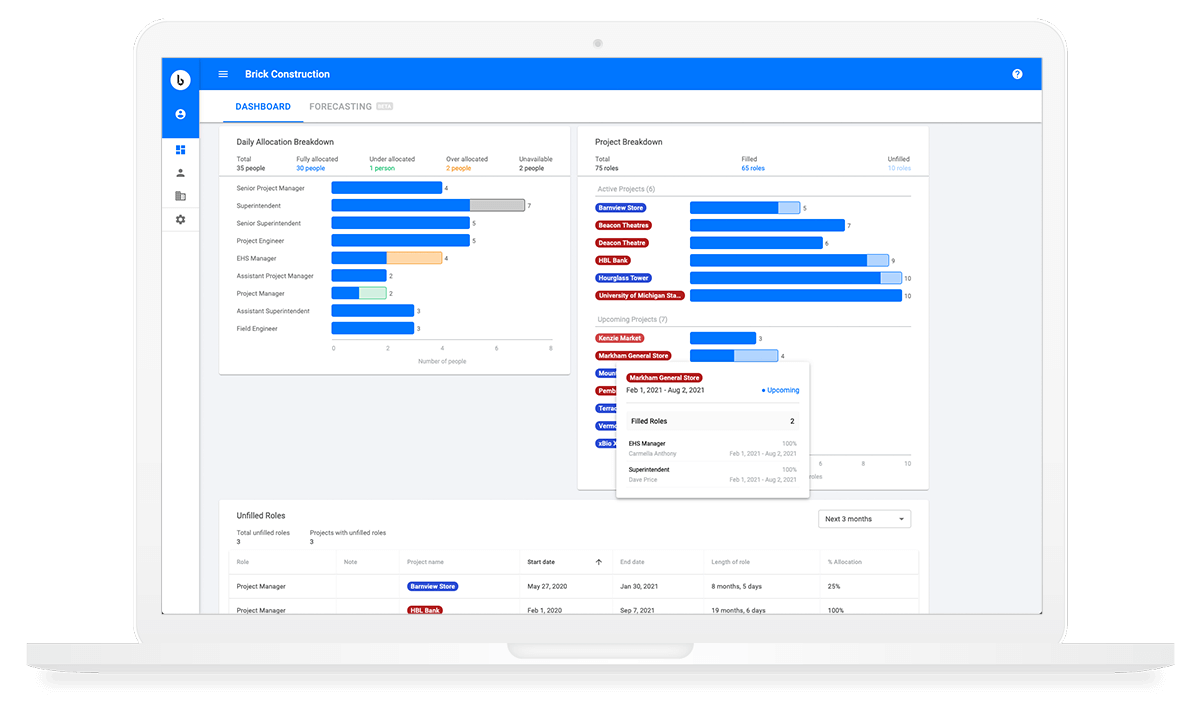 "With Bridgit, you can streamline the entire construction process—from pre-con to completion." Bridgit works in a quite simple way. It tracks your projects, which you can log while on the site, and monitors all stages of work. Here's what you can do with the app:
Manage and track inspections, checklists, and project milestones. All aspects of creating a new construction in one place.
You can streamline communication and workflow to save time and keep your projects on track.
You can create reports.
Bridgit enhances communication between you and your subcontractors by allowing them to see project's stages.
Again, this time management app for the construction industry is a great solution for people spending little time in the office.
Conclusion
There are plenty of apps for contractors so it may be difficult to choose the one and only. However, if you know your needs and preferences, and requirements of your business, you'll be able to quickly find the perfect solution.
The right time tracking software for contractors can help you stay productive, profitable, and deliver professional projects to even most demanding clients.