Time Tracking Software for Healthcare
March 31, 2019
by Kate Borucka
No comments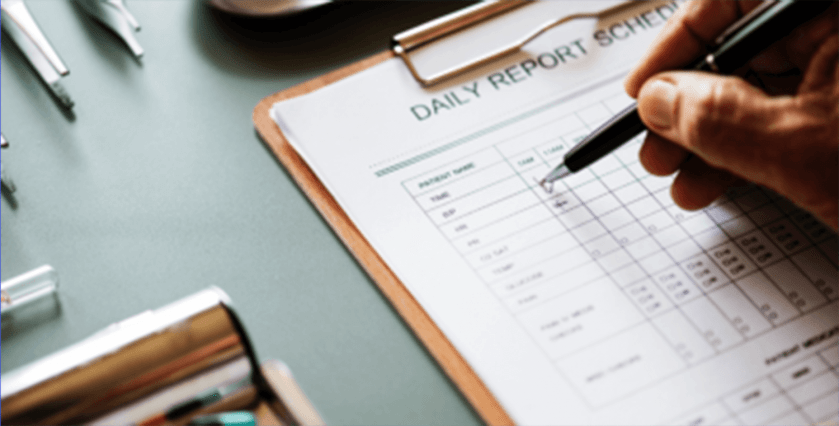 Time tracking software for healthcare becomes more and more popular. Especially, that it is one of the biggest underserved industries in terms of labor management. Services such as home health, hospice and home care are very often ommited by companies providing software. And as every other sector, healthcare needs automation of work. Statistics show that, "The United States could save $175 billion in healthcare costs by halving administrative costs."
Implementing the right software can hugely lower administrative work by automating processes related with labor management, attendance, and payroll.
Today, we prepared a list of 10 time tracking software for healthcare to help you and your team of doctors, nurses, and other professionals enhance work! You can also check out HealthTECH Resources EHR consulting company for more healthcare IT stuff from payroll, staffing and support implementation.
Content:
1. TimeCamp 2. ClickTime 3. actiTIME 4. TimeTac 5. Boomr 6. ClockShark 7. TSheets 8. Hubstaff 9. PurelyTracking 10. TrackSmart
TimeCamp, a 100% free time tracker for unlimited number of users, is a perfect time tracking software for healthcare because it can be used by every service. Everyone on your team will find TimeCamp helpful, beginning from on-site employees to doctors and nurses. The software integrates across devices which enables smooth workflow management. Morover, with TimeCamp you can accurately pay your employees, monitor budget and hours worked. It's a great software for managing payroll.
Main features:
Automatic time tracking with the desktop app
One-click  time tracking
Mobile app available for iOS and Android devices
Powerful reports
The ability to set a time budget for each task
Billing customers accurately thanks to the project's budget tracking
Turning time entries into invoices based on estimated hourly rates
Timesheet approvals
Tracking attendance, overpay, and time off
Invoicing
Billable and non-billable hours
Both direct and Zapier integrations which include project management and accounting tools like Asana, Podio, Trello, Xero, Quickbooks, Monday.com, ZOHO CRM and many others
Pricing:
Free – $0 for unlimited users
Basic – $6.30 per user per month billed annually ($7/mo billed monthly)
Pro – $9 per user per month billed annually ($10/mo billed monthly)
Enterprise – custom pricing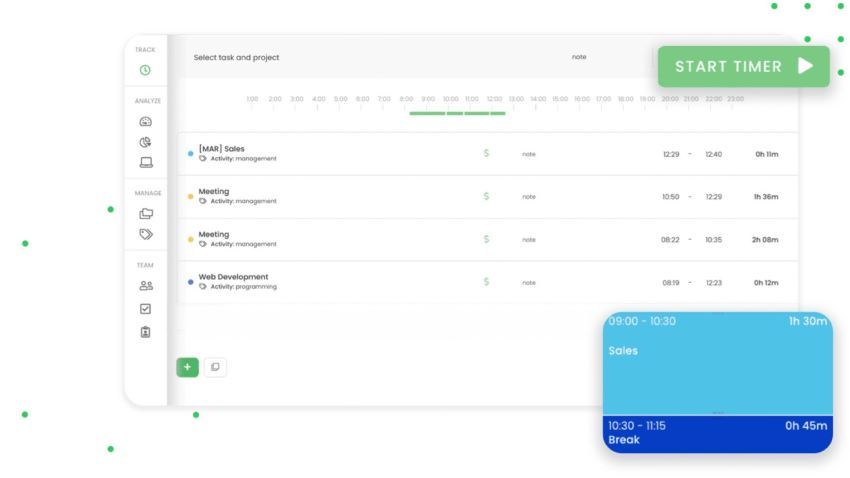 With ClickTime, you can facilitate more effective dialog with your business partners, better plan, manage, and report on employee time. It's a straightforward time tracking software for healthcare, perfect for organizations which have an organized hierarchy and need to properly assign responsibilities to employees. ClickTime will help you communicate and report to upper management.
Main features:
Time tracking with Weekly, Daily, and Biweekly Timesheets, custom fields, stopwatch, custom notes
Reporting
Billing & cost reporting (Client, Project, Person, Task)
Billable vs. non-billable hours
Basic billing rates (Person, Project, Task)
Budgeting and forecasting with real-time employee availability, actuals vs. estimates, employee costs
Resource planning with real-time resource planning dashboard, monthly retainer management tools, under/overstaffed projects, monthly capacity planning
iPhone and Android mobile app
Integrations
Timesheet approvals
Time off and attendance tracking
Expense tracking
Pricing:
Starter – $9 per user per month
Team – $12 per user per month
Premier – $24 per user per month
Enterprise – custom price
See the comparison between ClickTime & TimeCamp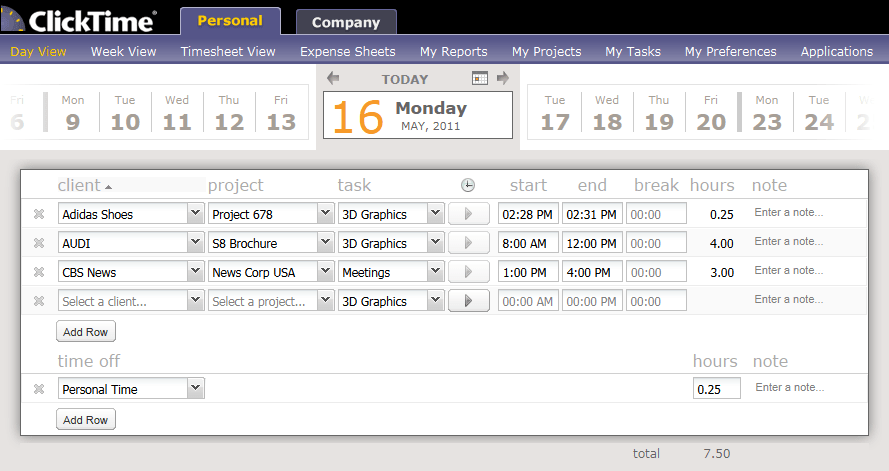 This software can help you reduce administrative, HR, and payroll costs. actiTIME is helpful in understanding time required to service customers and complete projects. Your team can easily submit their shift hours and you always have an insight into their work, and approve their schedule. Not only is it great time tracking software for healthcare but it also replaces paper timesheets.
Main features:
Automatic time tracking with automatic reminders,
Timesheet approvals
Tracking overtime hours
Projects with tasks (and adding details to tasks)
Kanban board for monitoring work progress
Team management
Flexible product configuration as you need
Reports and data analysis
Billing and invoicing
Ability to calculate costs
Leave management
Pricing:
Free up to 3 users
Pricing starts from $6.57 for five users
actiTIME Self-Hosted Version – starts from $799 for five users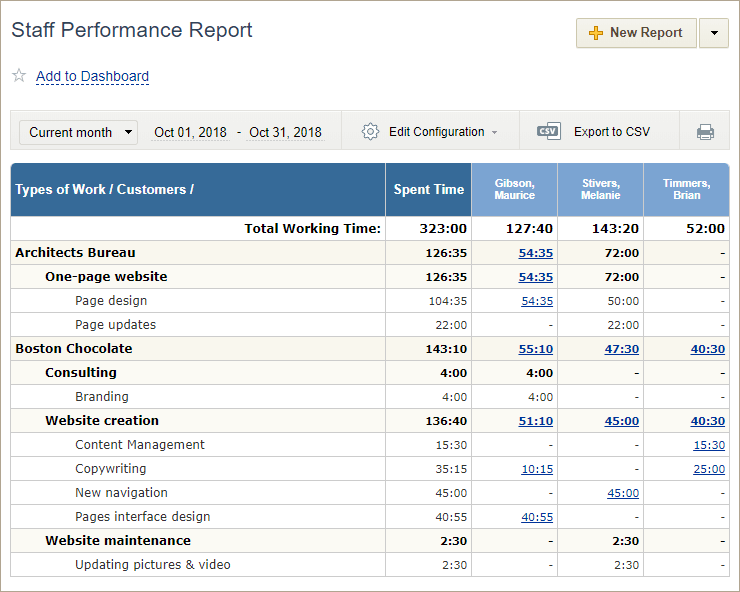 TimeTac is a perfect time tracking software for healthcare as it allows you to manage your workforce. With this tool, you can quickly and conveniently schedule your employee's shifts and plan their work with attention to details. timetac records arrival and departure time of each visit and gives you real-time insight into who's where and how long they've been working. It's a suitable tool for those who need timesheet and leave management software in one.
Main features:
Data on specific employees, clients, patients, and activities
Leave management to plan workflow
Time clock
GPS tracking
Detailed statistics and customizable reports
Customizable level of access and permissions for employees
Mobile app
Pricing:
Free trial
Prices start from $2 and include the very basic features
Prices vary depending on which features you decided to have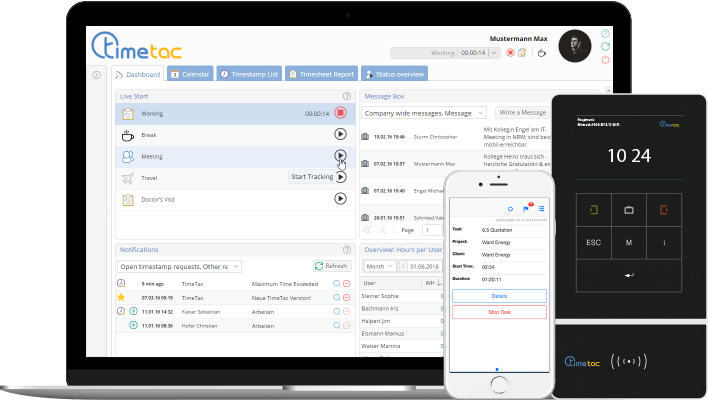 With Book, you have all labor data centralized in one place regardless of where employees are working. The software compliments employees work, not distracts them. It's best for hourly employees since it tracks time for pay per visit or per diem staff. It doesn't matter what employees' responsibilities are, with Boomr they will get paid accurately.
Main features:
Geo-stamped timekeeping
Built-in team messaging and communication
Timesheet payroll
Overtime tracking
Real-time GPS location tracking
Integrations with payroll and accounting tools: Freshbooks, Quickbooks, Xero, Paycheck, Sage, BabmbooHr, Namely, and others
Compliance with federal & state labor laws, including HIPAA
Pricing:
1-month free trial
Standard – $5/Month Per User + $20 BASE FEE
Business – $9/Month Per User + $45 BASE FEE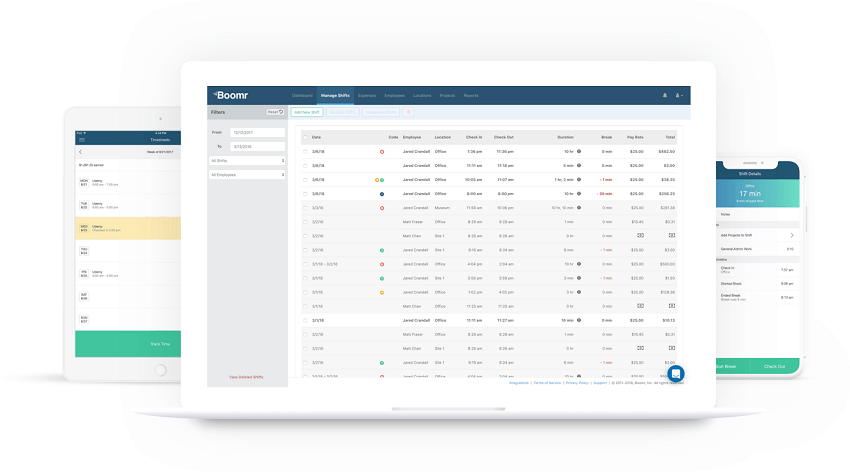 This software time tracking software for healthcare allows your employees take care of their patients without worrying about wokr hours and daily paycheck. ClockShark is easy, powerful time tracking and scheduling which keeps track of work hours of your staff while letting them focus on their tasks, not on filling out timesheets. It's a user-friendly software perfect for people who want to save time on filling timesheets.
Main features:
Mobile time tracking
Clock punch with GPS tracking and geofence technology
Desktop app
Employee scheduling
Timesheet approvals
Integrations with payroll apps
File attachment
Larger organizations can run multiple offices and departments with a single ClockShark account
Pricing:
Billed Monthly – $5 per person + $25 base fee
Billed Annually – $4.17 per person + $20.85 base fee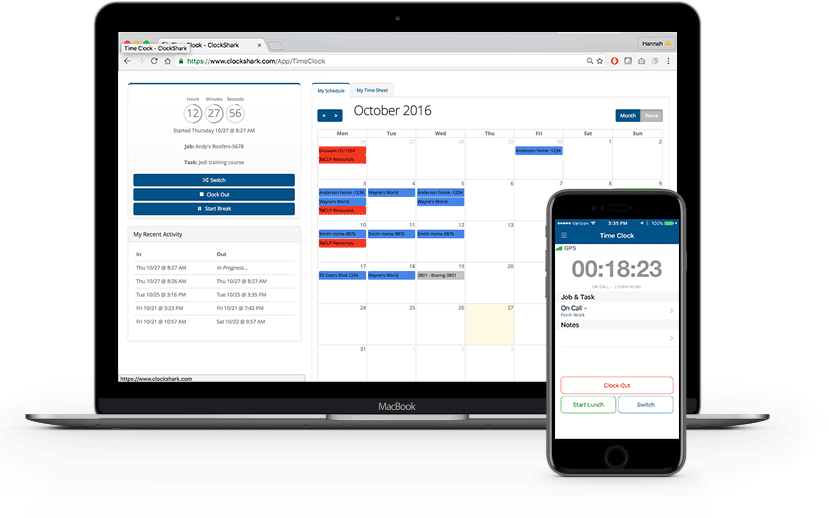 If you want to cut costs related to payroll management, TSheets is the right choice. Used with mobile app, TSheets automates and optimizes work and lets you and your team track their work and manage shifts, no matter the size of your company. You can easily schedule work and be felxible. Everything in the real-time!
Main features:
GPS location tracking – real-time insight into who's working on what and where
Convenient time tracking with the mobile app
Real-time interactive reports
You can automate overtime rules, customize pay rates, and preset complex overtime calculations for easy, accurate payroll
Overtime alerts keep you and your employees aware of weekly overtime limits
Scheduling
Employees can clock in and out in real time and enter their time manually,
Advanced time tracking features enable your employee to customize time entry for fields, projects, and tasks
Pricing:
Free for one user
$5 per month for 2-99 Users per user + $

20

base fee per month
$5 per month for 100+ Users + $

100

base fee per month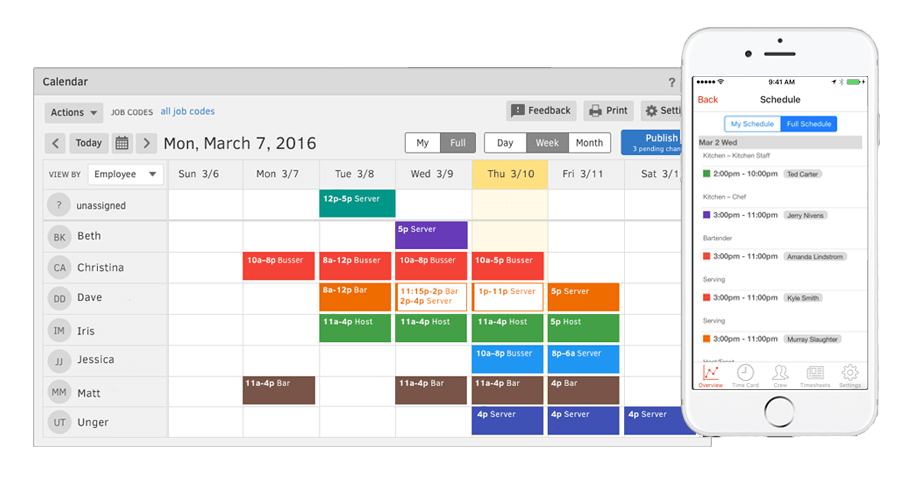 Hubstaff is one of the most popular time tracking software. It has all the necessary features a good time tracking app should have. Small, large teams, corporations, individuals, everyone will find it helpful. It's best to use if you need easy and intuitive healthcare time tracking.
Main features:
Location monitoring – tracking through GPS, web-based reports

Team dashboard
Reporting
Scheduling with employee attendance tracker and staff scheduler
Screenshots
Invoicing
Setting up pay rates once for each member of a team or project, so payments are automatically sent based on hours worked during that pay period
Numerous integrations
Pricing:
Free – 1 User

Basic –

1 User –

$5/ month

Premium –

1 User – $

10/ month
See the comparison between Hubstaff & TimeCamp
PurelyTracking is another solution worth trying if you're looking for time tracking software for healthcare. It has all the most important features necessary to enhance your staff's work. You can use it to monitor their work hours, manage workforce, payroll, and help better organize work.
Main features:
Employee Self Service station with real-time visibility of workforce and their responsibilities
Centralize Corporate Employee data with key details such as work email id and contact number
Employees can view and update their personal information and work-related details
Employees can access key information about their projects anytime, anywhere through Mobile App and Website
Easy QuickBooks and Paychex payroll integration with the ability to export Payroll data in CSV format for easier operations
Absent management system with configurable approvals of workflows
Real-time track-record of available and used leaves as well as automated leave requests and status for leave approvals
Resource allocation and management for the projects of the clients
Pricing: FREE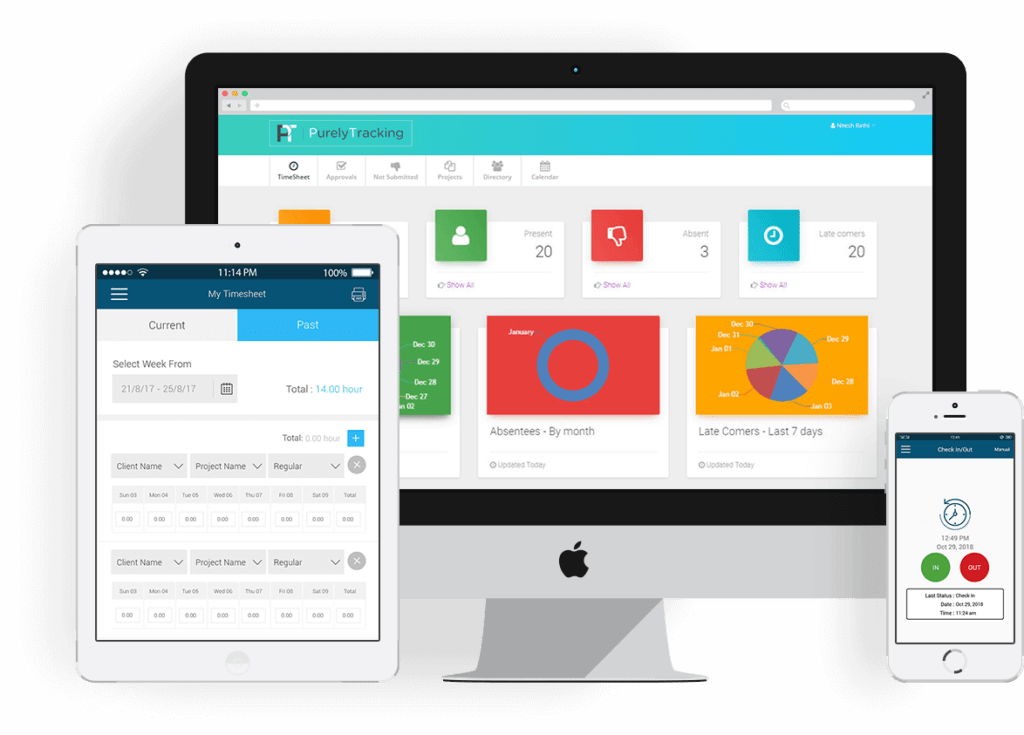 Paperwork is something that's very common and unpleasant in healthcare. TrackSmart eliminates all the tedious activities and allows you to digitize all the important data. It's especially suitable for businesses which need to deal with HR, organize staff's work, and everything related.
Main features:
Attendance with reporting, attendance tracking, timesheets, self-service (ability to request vacation days, granting supervisors permission to approve time-off requests and time sheets in-app, etc.)
Scheduling with work schedules, payroll, ability to see if a shift is fully scheduled 
TimeClock with labor cost calculator to make sure employee schedules stay within your budget, billable and non-billable hours, autoscheduler
Mobile app
Pricing:
Prices vary for each of the three modules: