Time tracking for consultants
March 25, 2022
by Lorea Lastiri
No comments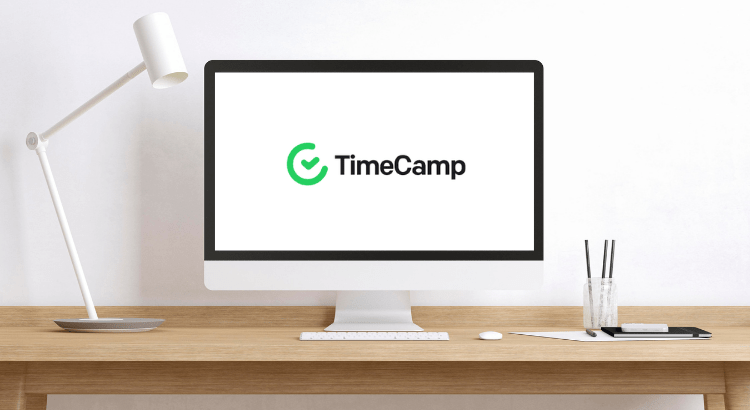 Time tracking refers to the manual or automated recording of the hours worked to fulfill assigned tasks. In consulting business, clients usually pay consultants for the hours they spent working on a certain project. That is why consultants must track their time. 
However, manual tracking consumes much time and is prone to errors. Fortunately, various time tracking software does the tracking for consultants. 
From tracking time, accurate billing, work transparency, time tracking can do more wonders for you. So whether you are a freelance consultant or working in consulting firms, a time tracking app is a must for you. 
Tag along with us as we present the reasons why consultants track time, the best time tracking apps, and their key features. 
7 reasons consultants need to track their time
1. Track billable hours 
A good time tracking for consultants can help them accurately bill clients. Automatic time logs also track consulting hours efficiently and accurately.
The precise record of a time tracking app on their time and tasks help consultants eliminate the manual tracking error. 
This also prevents underpayment of consultants and overpayment of clients to their consultants. Additionally, the record can also be a basis in determining project profitability and estimation of project costs.
👉 Read also our article about Best Time Recording Apps!
2. Reduce administrative costs
In providing services and keeping the consulting business on the run, time tracking tools should not only include billable hours. It should also track time for the non-billable hours. 
Non-billable hours include administrative, marketing, and other tasks that keep consulting firms running. 
A good time tracking software will give you insights into the overall business costs, reducing the expenses and increasing profitability.
3. Improve project management
A good time tracking app can help improve both your time management and project management skills. The generated report from the tracking app can help identify which tasks take longer hours to complete. The report will also help you prioritize your tasks. 
Consultants can have many client projects and tasks at hand. It can be overwhelming, but you can manage your tasks or projects well when equipped with the right time tracking tool.
If you have a consulting firm, consultant time tracking software lets you measure employee capacity. This ensures that your team spends the right amount of time on each task, project, or client. 
4. Increase productivity 
A time tracking software for consultants can generate reports to give you insights into your productivity. This includes the time spent working on a certain task, the idle times, and the tracking of consulting hours.
Examining your productivity report from the tracked time, you will know the problems and areas of improvement. You can then strategize ways how to improve your productivity and time management skills, and develop time tracking habits to improve the quality of your service. 
5. Transparency of work 
Time tracking software gives data on the time the consultant worked as the basis for billing. It also provides reports on the client's current project, its progress, and whether the consultant followed the timeline and budget of the project. 
The reports from the time tracking app give transparency to the clients and assure them of the projects' progress. This, in turn, builds trust with the clients.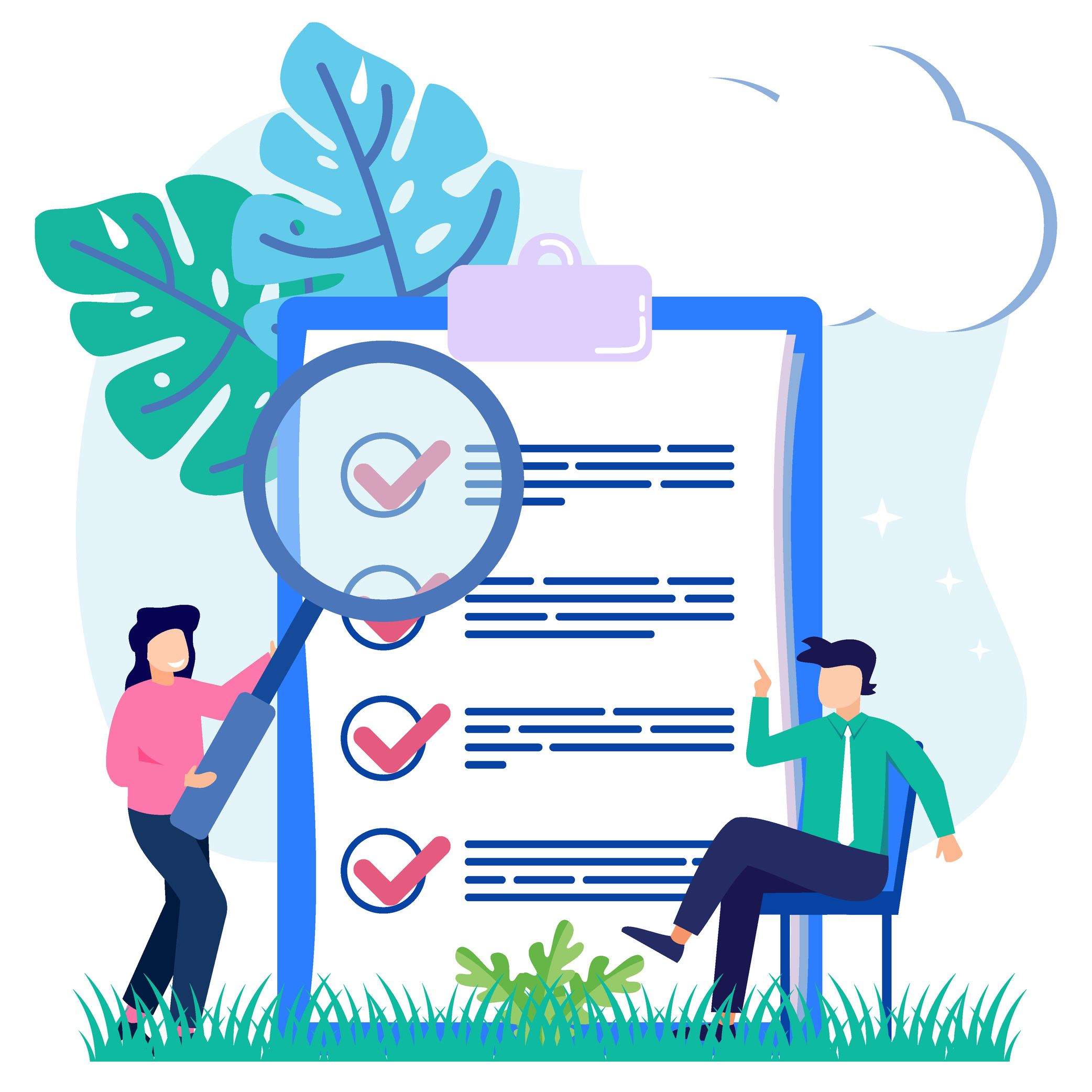 6. Increase profitability
All the time and tasks tracked and the reports generated from the time tracking tool can help calculate project profitability and increase your consulting business'  profitability. 
When you get to know more about your work as a consultant, you get to assess whether you are gaining from your work or not.
As a consultant, having data from a time tracking app will assist you in estimating the project costs. This will guide you in deciding how much you will bill clients next time.
You can easily establish trust with potential clients by showing your previous track records and client projects collated from your time tracking software. You can also explain the project costs and negotiate the rate of your services. 
7. Awareness of one's capacity
There is a limit on how many clients one consultant can take. Even with great management skills, accepting too many clients can compromise the quality of your consulting service. 
With time tracking software, you'll get a summary of tasks, info on time needed for each task, and estimated time of your existing projects to finish. These data will give you insights into how many clients you can accept and how many projects you can do.
Knowing your capacity and limit will prevent you from overworking and burnout.
5 best time tracking apps for consulting business
When you decide to use time tracking tools, you are moving one step forward to progress. To help you decide on which time tracking app to use, we have collated the top five best time tracking apps for consulting businesses. 
1. TimeCamp
TimeCamp does the consultant tracking for you, allowing you to focus more on other important tasks. The automatic time tracking during your work hours is a great feature of this time tracking app.
The time tracking tool also makes project management among teams non-intrusive. It makes your teammates feel safe when you monitor the team's activity.
The best thing about TimeCamp is that it's a free time tracking app that can cater to unlimited users and unlimited projects. It has limited features compared to the paid ones, but the limited features serve basic time tracking functions.
Key Features and Benefits
Track time automatically with just one click. 
Easy timesheet approval 
Tracks both productivity and idle tracking 
Has an option to the private mode when you want to take a break 
Automated reports are generated with the option of customizing your report
Allows team members to self-manage their time and help increase team's productivity
Works on web, mobile, and desktop, allowing you to work anywhere on any device
Easy integration to 100+ apps and business tools
Accurately bill clients and billing is customizable depending on people and projects
Smart assistance on invoicing by adjusting tax rates based on your country 
Integration with Paypal to allow clients to pay via the payment channel
Pricing:
Free – entirely free for unlimited users with unlimited projects
Starter – $3.99 per user/month billed monthly ($2.99 per user/month billed annually)
Basic – $7.99 per user/month billed monthly ($5.99 per user/month billed annually)
Pro – $10.99 per user/month billed monthly ($7.99 per user/month billed annually)
Enterprise – available for 100+ users with custom pricing
Start tracking time with TimeCamp
2. Toggl Track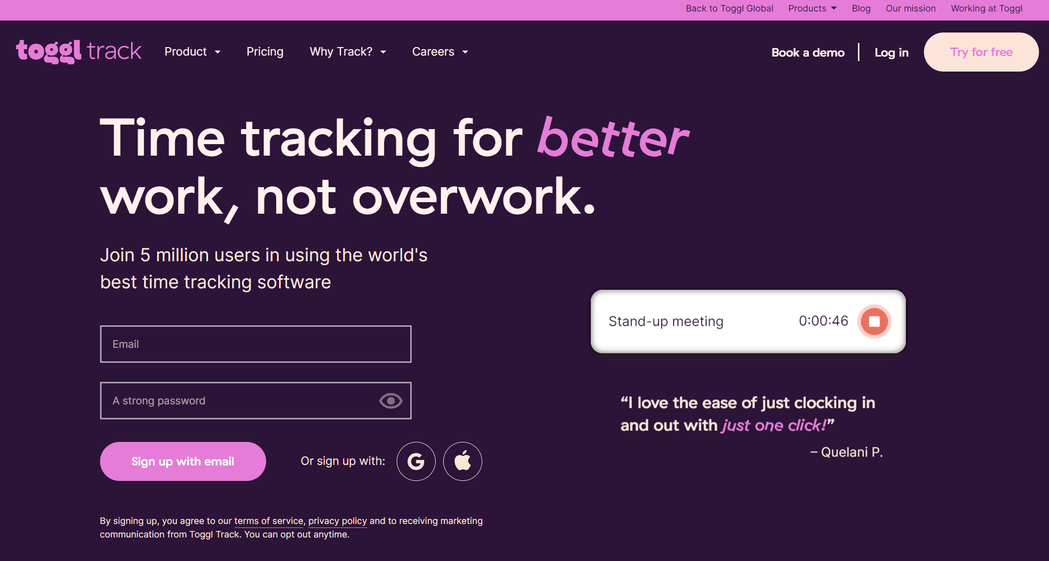 Toggl Track offers simple and easy time tracking software for consultants with a one-click feature across multiple platforms, even as a desktop app.
A consultant time tracking their team's tracking data should not feel intrusive. With Toggl Track, the consultant time tracking app respects the team's privacy while still giving access to the team's productivity.
Key Features and Benefits: 
Automated and manual tracking of time and tasks
Keep track of non-billable hours and other administrative tasks
Gives reminders, provide notifications, and can utilize the Promodoro technique to improve your time management skills
Accurate billing and payment
Integration of apps and tools and Chrome extension
Provides data and reports for improving project management tools
Access on team's workload to ensure team productivity while preventing from being intrusive
Pricing:
Free – up to 5 users only
Starter – $10 per user/month
Premium – $20 per user/month
3. Harvest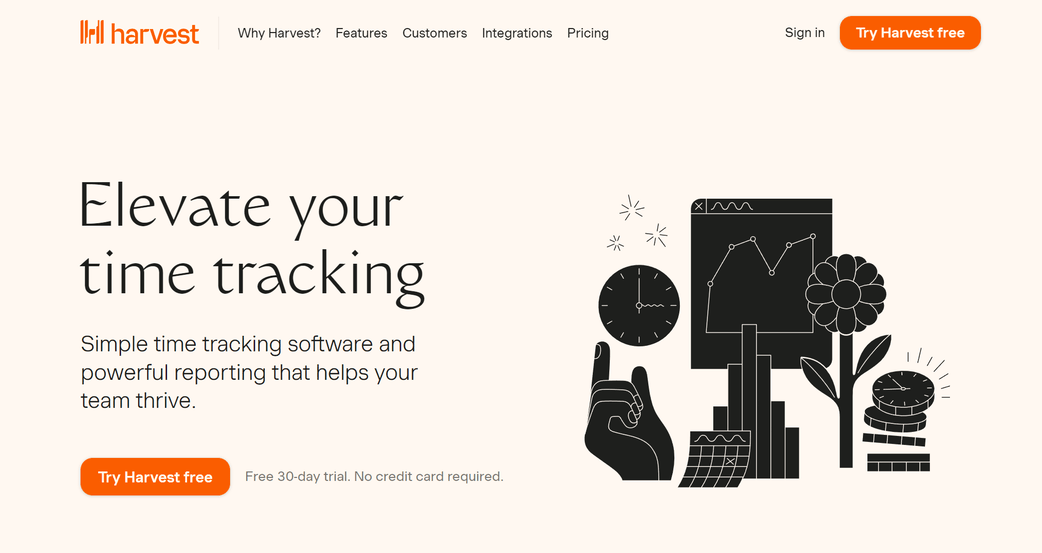 Harvest is a consultant time tracking tool that provides individuals or teams with a full setup, from tracking time and expenses down to invoices. It gives an invoice format suited for an individual or a team of consultants.  
Key Features and Benefits:
Tracks time on your desktop or mobile device
Provides report to check the progress of both your work and client projects
Keeps track of expenses to monitor budget 
The billing and invoice features integrate with Stripes and Paypal, allowing clients to pay from the said payment channels
Allows you to see your teammate's time and progress to better manage team projects
Integrates with more than seventy apps and tools and has a browser extension
Pricing: 
Free – 1 seat with 2 projects
Pro – 12 per seat/month 
4. Time Doctor
Time Doctor offers time tracking and productivity solutions to all, regardless of where you are working. They also provide detailed productivity reports, process billing, and invoices, and integrate with other apps and tools.
Key Features and Benefits:
Offers manual and automated time tracking regardless of whether you are online or offline
Tracks idle time to maintain focus during work
Compatible with Windows, Linux, iOS, Android, and Chrome to track time on various devices
Integrates with Wise, Paypal, and Gusto for convenient payment
Provide comprehensive reports to help you analyze and improve your or your team's performance
Send you automatic alerts when you are idle and to keep you on track on the time and tasks assigned
Gives insights into mouse and keyboard activities
Takes screenshots of user's desktop during work with the option of adjusting time interval of screenshots, enabling or disabling this feature, and deletion of the screenshots to maintain privacy
Pricing:
Time Doctor offers fourteen days trial for all users. After the trial period, here are the prices of their product: 
Basic – $7 per user/month 
Standard – $10 per user/month
Premium – $20 per user/month
5. Hubstaff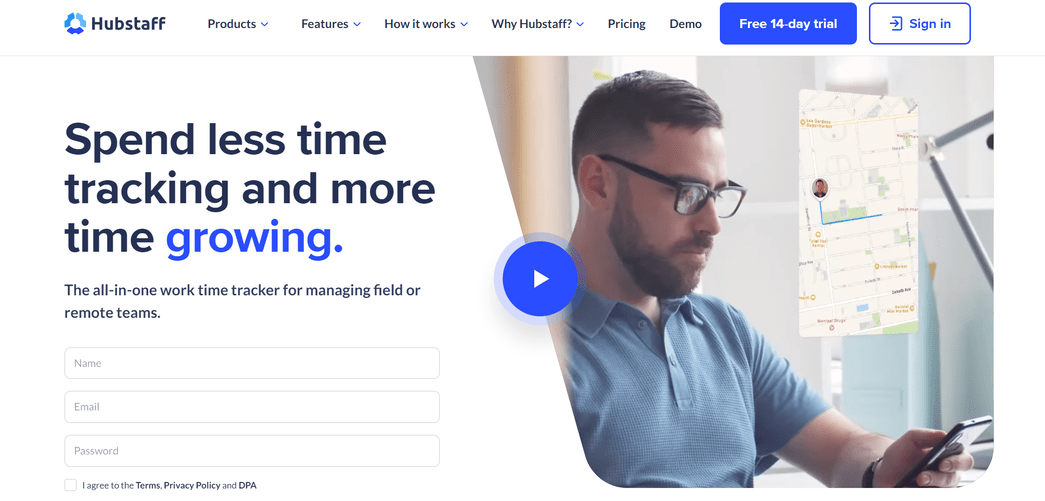 Hubstaff is tracking software for consultants that makes tracking time easy. It has lightweight apps compatible with the web, mobile, desktop, and Chrome. Aside from tracking time, it can also provide you with a productivity platform for visibility and easy monitoring of your personal and your team's tasks. 
Key Features and Benefits: 
Over 30 integrations of business tools and other apps
Generates report on your tasks, billable hours, and expenses
Has GPS tracking feature to track time based on location
Integrated with Payoneer, Paypal, Bitwage, and Wise to allow clients to pay you quickly after timesheet or project is done
Automated invoices based on your or your team's timesheets 
Detects your idle times
Offers options whether you screenshot your desktop while working
Pricing:
Time Free – 1 user only
Time Starter – $7 per user/month
Time Pro – $10 per user/month
Conclusion
Time tracking is a tedious yet vital task for every consultant. Good thing it is now made easy with all the available time tracker apps. 
We have presented the five best time tracking software for consultants to help you choose which one to avail of. But if you are new to consulting business or transitioning from manual time tracker to time tracker software, TimeCamp is the best choice. 
TimeCamp's Free plan is very cost-effective and packed with useful features. It allows many users with unlimited client projects, which is ideal for both freelance consultants and consulting firms.
Although the free version of the TimeCamp has fewer features than the paid subscription, it offers more than enough to deliver the purpose and basics of a time tracking tool for you and your consulting business. 
Sign up now to enjoy TimeCamp's free version!